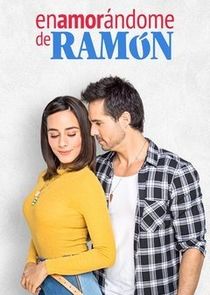 Enamorándome de Ramón (Falling in love with Ramón) is a Mexican telenovela produced by Lucero Suárez for Televisa. It is based on the Venezuelan telenovela written by Doris Seguí, Tomasa Tequiero produced in 2009. Filming began on December 1, 2016 at Televisa San Ángel. A total of 127 episodes have been confirmed so far. The series is starring José Ron as Ramón López and Esmeralda Pimentel as Fabiola Medina.
Series Overview
Rating
imDb Rating: 6.6 (32 Votes)
Metascore: N/A
Plot
Fabiola's parents are killed in a plane crash leaving her and her younger sister, Andrea, orphans. Their parents estate is divided equally among the girls. But at the reading of the will, ...
Details
Rated: N/A
Released: N/A
Runtime: 60 min
Genre: Drama
Director: N/A
Writer: N/A
Actors: José Ron, Esmeralda Pimentel, Marisol del Olmo, Marcelo Córdoba
Language: Spanish
Country: Mexico
Awards: N/A
Total Seasons: 1
Previous Episode
Episode 117
Episode 1x117; Jul 31, 2017
Previous Episodes 1x117: Episode 117 1x116: Episode 116 1x115: Episode 115 1x114: Episode 114 1x113: Episode 113 1x112: Episode 112 1x111: Episode 111 1x110: Episode 110 1x109: Episode 109

View All Episodes
Cast
Marcelo Córdoba as Julio
José Ron as Ramón
Marisol del Olmo as Juana
Esmeralda Pimentel as Fabiola
Barbara Torres as Luisa
Claudia Martín as Andrea
View Full Cast
Skip to:
Season 1
| Episode No. | No. Overall | Title | Airdate | Runtime | Summary |
| --- | --- | --- | --- | --- | --- |
| 1 | 1 | Juana recibe un millón de dólares | 2017-02-20 | 60 | |
| 2 | 2 | Fabiola desconfía de Juana | 2017-02-21 | 60 | |
| 3 | 3 | Sofía y Ramón se van de Tijuana | 2017-02-22 | 60 | |
| 4 | 4 | Fabiola y Andrea se despiden de sus padres | 2017-02-23 | 60 | |
| 5 | 5 | Sofía rompe el corazón de Ramón | 2017-02-24 | 60 | |
| 6 | 6 | Juana es humillada por Fabiola | 2017-02-27 | 60 | |
| 7 | 7 | Ramón se reencuentra con Juana | 2017-02-28 | 60 | |
| 8 | 8 | Hortensia denuncia a Juana por fraude | 2017-03-01 | 60 | |
| 9 | 9 | ¡Fabiola y Ramón trabajarán juntos! | 2017-03-02 | 60 | |
| 10 | 10 | ¡Ramón es asaltado! | 2017-03-03 | 60 | |
| 11 | 11 | Fabiola defiende a Ramón | 2017-03-06 | 60 | |
| 12 | 12 | Fabiola y Francisco se casaran | 2017-03-07 | 60 | |
| 13 | 13 | Ramón no quiere que Fabiola se case | 2017-03-08 | 60 | |
| 14 | 14 | Hortensia y Ramón discuten | 2017-03-09 | 60 | |
| 15 | 15 | Fabiola y Ramon hacen las paces | 2017-03-10 | 60 | |
| 16 | 16 | Hortensia acusa a Ramón de golpearla | 2017-03-13 | 60 | |
| 17 | 17 | Juana le suplica a Hortensia que saque a Ramón de la cárcel | 2017-03-14 | 60 | |
| 18 | 18 | Francisco cancela su boda con Fabiola | 2017-03-15 | 60 | |
| 19 | 19 | Ramón y Fabiola a punto de besarse | 2017-03-16 | 60 | |
| 20 | 20 | Hortensia quiere correr a Ramón del taller | 2017-03-17 | 60 | |
| 21 | 21 | Fabiola y Ramón se besan | 2017-03-20 | 60 | |
| 22 | 22 | ¡Fabiola y Ramón son novios! | 2017-03-21 | 60 | |
| 23 | 23 | ¡Virginia roba las evidencias! | 2017-03-22 | 60 | |
| 24 | 24 | Juana podría cobrar el seguro | 2017-03-23 | 60 | |
| 25 | 25 | ¡El video apareció! | 2017-03-24 | 60 | |
| 26 | 26 | Fabiola quiere saber de Sofía | 2017-03-27 | 60 | |
| 27 | 27 | Antonio le advierte a Juana que se cuide de Julio | 2017-03-28 | 60 | |
| 28 | 28 | Fabiola y Ramón sufren un accidente | 2017-03-29 | 60 | |
| 29 | 29 | Ramón le confiesa a Juana que es novio de Fabiola | 2017-03-30 | 60 | |
| 30 | 30 | Hortensia descubre el secreto de Fabiola | 2017-03-31 | 60 | |
| 31 | 31 | ¡Ramón arde en celos! | 2017-04-03 | 60 | |
| 32 | 32 | ¡Juana cobra el millón de dólares! | 2017-04-04 | 60 | |
| 33 | 33 | Hortensia levanta la orden de restricción | 2017-04-05 | 60 | |
| 34 | 34 | Dalia no acepta la relación de Fabiola y Ramón | 2017-04-06 | 60 | |
| 35 | 35 | Francisco quiere recuperar a Fabiola | 2017-04-07 | 60 | |
| 36 | 36 | Juana acepta la propuesta de Julio | 2017-04-10 | 60 | |
| 37 | 37 | ¡Ramón salva a Juana! | 2017-04-11 | 60 | |
| 38 | 38 | Virginia sufre un accidente | 2017-04-12 | 60 | |
| 39 | 39 | Virginia pierde la vida | 2017-04-13 | 60 | |
| 40 | 40 | Jorge decide alejarse de Andrea | 2017-04-14 | 60 | |
| 41 | 41 | ¡Andrea recupera la voz! | 2017-04-17 | 60 | |
| 42 | 42 | ¡Antonio recibe buenas noticias! | 2017-04-18 | 60 | |
| 43 | 43 | Ramón le demuestra su amor a Fabiola | 2017-04-19 | 60 | |
| 44 | 44 | ¡Fabiola y Ramón se van a casar! | 2017-04-20 | 60 | |
| 45 | 45 | Fabiola se fue a vivir con Ramón | 2017-04-21 | 60 | |
| 46 | 46 | Ramón busca un nuevo trabajo | 2017-04-24 | 60 | |
| 47 | 47 | ¡Sofía busca a Ramón! | 2017-04-25 | 60 | |
| 48 | 48 | Ramón escucha el mensaje de Sofía | 2017-04-26 | 60 | |
| 49 | 49 | Julio conquista a Juana | 2017-04-27 | 60 | |
| 50 | 50 | Sofía no pierde las esperanzas | 2017-04-28 | 60 | |
| 51 | 51 | Sofía y Ramón se reencuentran | 2017-05-01 | 60 | |
| 52 | 52 | Episode 52 | 2017-05-02 | 60 | |
| 53 | 53 | Episode 53 | 2017-05-03 | 60 | |
| 54 | 54 | Episode 54 | 2017-05-04 | 60 | |
| 55 | 55 | Episode 55 | 2017-05-05 | 60 | |
| 56 | 56 | Episode 56 | 2017-05-08 | 60 | |
| 57 | 57 | Episode 57 | 2017-05-09 | 60 | |
| 58 | 58 | Episode 58 | 2017-05-10 | 60 | |
| 59 | 59 | Episode 59 | 2017-05-11 | 60 | |
| 60 | 60 | Episode 60 | 2017-05-12 | 60 | |
| 61 | 61 | Episode 61 | 2017-05-15 | 60 | |
| 62 | 62 | Episode 62 | 2017-05-16 | 60 | |
| 63 | 63 | Episode 63 | 2017-05-17 | 60 | |
| 64 | 64 | Episode 64 | 2017-05-18 | 60 | |
| 65 | 65 | Episode 65 | 2017-05-19 | 60 | |
| 66 | 66 | Episode 66 | 2017-05-22 | 60 | |
| 67 | 67 | Episode 67 | 2017-05-23 | 60 | |
| 68 | 68 | Episode 68 | 2017-05-24 | 60 | |
| 69 | 69 | Episode 69 | 2017-05-25 | 60 | |
| 70 | 70 | Episode 70 | 2017-05-26 | 60 | |
| 71 | 71 | Episode 71 | 2017-05-29 | 60 | |
| 72 | 72 | Episode 72 | 2017-05-30 | 60 | |
| 73 | 73 | Episode 73 | 2017-05-31 | 60 | |
| 74 | 74 | Episode 74 | 2017-06-01 | 60 | |
| 75 | 75 | Episode 75 | 2017-06-02 | 60 | |
| 76 | 76 | Episode 76 | 2017-06-05 | 60 | |
| 77 | 77 | Episode 77 | 2017-06-06 | 60 | |
| 78 | 78 | Episode 78 | 2017-06-07 | 60 | |
| 79 | 79 | Episode 79 | 2017-06-08 | 60 | |
| 80 | 80 | Episode 80 | 2017-06-09 | 60 | |
| 81 | 81 | Episode 81 | 2017-06-12 | 60 | |
| 82 | 82 | Episode 82 | 2017-06-13 | 60 | |
| 83 | 83 | Episode 83 | 2017-06-14 | 60 | |
| 84 | 84 | Episode 84 | 2017-06-15 | 60 | |
| 85 | 85 | Episode 85 | 2017-06-16 | 60 | |
| 86 | 86 | Episode 86 | 2017-06-19 | 60 | |
| 87 | 87 | Episode 87 | 2017-06-20 | 60 | |
| 88 | 88 | Episode 88 | 2017-06-21 | 60 | |
| 89 | 89 | Episode 89 | 2017-06-22 | 60 | |
| 90 | 90 | Episode 90 | 2017-06-23 | 60 | |
| 91 | 91 | Episode 91 | 2017-06-26 | 60 | |
| 92 | 92 | Episode 92 | 2017-06-27 | 60 | |
| 93 | 93 | Episode 93 | 2017-06-28 | 60 | |
| 94 | 94 | Episode 94 | 2017-06-29 | 60 | |
| 95 | 95 | Episode 95 | 2017-06-30 | 60 | |
| 96 | 96 | Episode 96 | 2017-07-03 | 60 | |
| 97 | 97 | Episode 97 | 2017-07-04 | 60 | |
| 98 | 98 | Episode 98 | 2017-07-05 | 60 | |
| 99 | 99 | Episode 99 | 2017-07-06 | 60 | |
| 100 | 100 | Episode 100 | 2017-07-07 | 60 | |
| 101 | 101 | Episode 101 | 2017-07-10 | 60 | |
| 102 | 102 | Episode 102 | 2017-07-11 | 60 | |
| 103 | 103 | Episode 103 | 2017-07-12 | 60 | |
| 104 | 104 | Episode 104 | 2017-07-13 | 60 | |
| 105 | 105 | Episode 105 | 2017-07-14 | 60 | |
| 106 | 106 | Episode 106 | 2017-07-17 | 60 | |
| 107 | 107 | Episode 107 | 2017-07-18 | 60 | |
| 108 | 108 | Episode 108 | 2017-07-19 | 60 | |
| 109 | 109 | Episode 109 | 2017-07-20 | 60 | |
| 110 | 110 | Episode 110 | 2017-07-21 | 60 | |
| 111 | 111 | Episode 111 | 2017-07-24 | 60 | |
| 112 | 112 | Episode 112 | 2017-07-25 | 60 | |
| 113 | 113 | Episode 113 | 2017-07-26 | 60 | |
| 114 | 114 | Episode 114 | 2017-07-27 | 60 | |
| 115 | 115 | Episode 115 | 2017-07-28 | 60 | |
| 116 | 116 | Episode 116 | 2017-07-30 | 60 | |
| 117 | 117 | Episode 117 | 2017-07-31 | 60 | |
Series Cast
| | | | |
| --- | --- | --- | --- |
| | Marcelo Córdoba | as Julio | |
| | José Ron | as Ramón | |
| | Marisol del Olmo | as Juana | |
| | Esmeralda Pimentel | as Fabiola | |
| | Barbara Torres | as Luisa | |
| | Claudia Martín | as Andrea | |
| | Sachi Tamashiro | as Margarita | |
| | Arturo Carmona | as Antonio | |
Related News
TVMaze