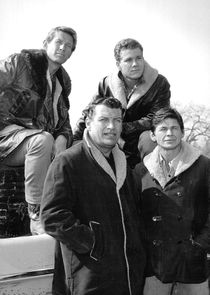 Empire is set on the sprawling Garret ranch in New Mexico. A multi-million dollar operation which included mining, oil, crop-raising, horse breeding, cattle and sheep herding.
Series Overview
Rating
imDb Rating: 8.5 (42 Votes)
Metascore: N/A
Plot
Jim Redigo is foreman for the enormous Garrett Ranch owned by matriarch Lucia with her children Tal and Constance. Redigo had his hands full managing people, machines, and animals with a specific interest in the attractive Connie.
Details
Rated: N/A
Released: 25 Sep 1962
Runtime: 60 min
Genre: Western, Drama
Director: N/A
Writer: Kathleen Hite
Actors: Richard Egan, Ryan O'Neal, Anne Seymour, Terry Moore
Language: English
Country: USA
Awards: 1 nomination.
Total Seasons: 1
Previous Episode
The Convention
Episode 1x32; May 14, 1963
There's no doubt about the attractiveness of our boys—Redigo, Moreno and Tal —but the script says they've no luck with women around the stockmen's convention this time. Not one of the series' best, but watching their manly strength and earthy morality at work, winning the girls and losing out one after the other, will hold your interest throughout.
Previous Episodes 1x32: The Convention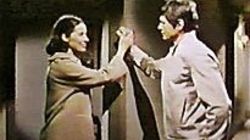 1x31: Between Friday and Monday 1x30: Duet for Eight Wheels (aka Ordeal) 1x29: 65 Miles is a Long, Long Way 1x28: Nobody Dies on Saturday (aka Breakout) 1x27: Arrow in the Sky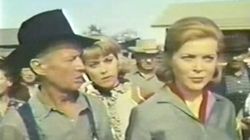 1x26: Hidden Asset 1x25: Burnout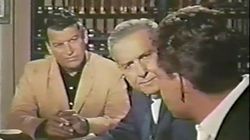 1x24: Down There the World

View All Episodes
Cast
Richard Egan as Jim Redigo
Ryan O'Neal as Tal Garrett
Charles Bronson as Paul Moreno
Warren Vanders as Chuck Davis
Anne Seymour as Lucia Garrett
Terry Moore as Connie Garrett
View Full Cast
Skip to:
Season 1
| Episode No. | No. Overall | Title | Airdate | Runtime | Summary |
| --- | --- | --- | --- | --- | --- |
| 1 | 1 | The Day the Empire Stood Still | 1962-09-25 | 60 | Ranch hands refuse to work with a man who was cleared of murder charge. |
| 2 | 2 | Ballard Number One | 1962-10-02 | 60 | With guest star Ed Begley. Jim Redigo opposes, ex-convict's attempted comeback as an oil man. Ex-con faces opposition on returning to Mesa after prison term for crooked business practices. |
| 3 | 3 | A Place to Put a Life | 1962-10-09 | 60 | The pressures of his job as Garrett Ranch foreman get to Jim Redlgo (Richard Egan) who quits (but we all know he'll be back, don't we?) to return to his own farm, being worked by a small family. When he arrives he finds the son of the family thinks the land belongs to him, the daughter is searching for love, and the mother is a good woman trying to perpetuate an idealistic view of her dead husband. Reactions are generally predictable, but the story is nevertheless absorbing. |
| 4 | 4 | Ride to a Fall | 1962-10-16 | 60 | Victor Jory and Claude Akins guest star in a drama about an aging meat packing tycoon who has trouble to keep up wth the times. |
| 5 | 5 | Long Past, Long Remembered | 1962-10-23 | 60 | A ruthless man uses his friendship with the Garrets to take possession of their holdings during a drought. |
| 6 | 6 | Walk Like a King | 1962-10-30 | 60 | With guests Ralph Meeker, Joanne Linville. Former Garrett ranch employe returns with new wealth, then marries and jeopardizes wife's life. |
| 7 | 7 | The Fire Dancer | 1962-11-13 | 60 | Itinerant firefighter (Frank Gorshin) offers to extinguish oil well fire that threatens Garret ranch. Frank Gorshin is very effective as a fire fighter with delusions of grandeur, in a story about an attempt to put out an oil well fire. Though his role tends to become psychiatrically monotonous, his performance manages to hold your interest. |
| 8 | 8 | The Tall Shadow | 1962-11-20 | 60 | Chuck, a soil engineer (Frank Overton), hired to save the Garret Ranch from drought and subsequent flood conditions, attempts to befriend the young son of the widow he plans to marry. |
| 9 | 9 | The Earth Mover | 1962-11-27 | 60 | Glenn Kassin wants to build a model city near Mesa, but the landowner refuses to sell. This series, sustained by the forceful emoting of star Richard Egan, adds a second powerful performer in guest Dan O'Herlihy, making for some good strong drama. O'Herlihy plays an industrialist who plans a gigantic construction project in Mesa. His aggressive ability convinces almost everyone to go along with his plans, except Redigo, who sees potential totalitarian evils in the man. |
| 10 | 10 | Pressure Lock (aka Deadline) | 1962-12-04 | 60 | In the midst of negotiating for oil rights, Redigo (Richard Egan) is called out of town---leaving Tal to handle the bargaining. Tal must deal with Hettie Burton, a troublesome businesswoman, and a hostile crew. Young Tal garret, directing his first drilling operation, faces trouble from a shrewed businesswoman and a hostile crew. Hettie Burton forces Tal to accept a three-week time limit on the well. When Tal asks for a needed extension, Hettie agrees if he will marry her granddaughter, Charlotte. |
| 11 | 11 | Echo of a Man | 1962-12-11 | 60 | The show's dual themes are dusting and lusting. Guests are John Dehner who dusts the Garrett crops against locusts, and Claire Griswold who lusts after Garret foreman Jim Redigo. Ranch engineer Dan Tabor resents a romantic relationship developing between his ward and Jim Redigo. |
| 12 | 12 | When the Gods Laugh | 1962-12-18 | 60 | James Gregory plays a thoroughly contemptible character, a sharecropper who uses his sensitive young son as a pawn in a get-rich-quick oil scheme. Gregory is fine, and so is Terry Moore, but the story of the "poor white trash" suddenly overwhelmed by riches, runs steadily downhill. |
| 13 | 13 | Green, Green Hills | 1962-12-25 | 60 | Arthur O'Connell and Joanna Moore guest star in a drama about a con artist and his daughter who scheme against the Garret holdings. |
| 14 | 14 | Stopover on the Way to the Moon | 1963-01-01 | 60 | When a twenty-year old itinerant ranch hand (Keir Dullea) damages Garret property, Jim Redigo (Richard Egan) gives him a choice of jail or a chance to work off the damage. |
| 15 | 15 | The Four Thumbs Story | 1963-01-08 | 60 | An Indian brave returns from the Korean conflict and has difficulty adjusting to civilian life. The story is noteworthy because it deals with Indians who are recognizable, real people. Ray Danton is Four Thumbs, a proud Navajo confined for 10 years In a mental hospital. He escapes and heads home. Even in his confused mental state, he is disillusioned by the apparent crass commercialism of his people. |
| 16 | 16 | End of an Image | 1963-01-15 | 60 | Citizens of a small town attempt to pervert justice to preserve the reputation of a war hero for whom the town is named. |
| 17 | 17 | The Loner | 1963-01-22 | 60 | Guest star Jeremy Slate gives a strong performance as the loner of the title, an honest and determined young man who rises unconventional tactics to get foreman Redigo (Richard Egan) to give him a job on the ranch. What gives the tale its spirit is the threat Slate poses to young Tal Garret (Ryan O'Neal), and it's the clash between these two that holds you right up to its medical-show-lnspired, melodramatic end. |
| 18 | 18 | Where the Hawk is Wheeling | 1963-01-29 | 60 | Absorbing entry featuring a valid flashback about the turbulent battle for power that followed the death of ranch owner Garret. Not only does it tell a suspenseful story about Jim Redigo's (Richard Egan) victory over an unscrupulous antagonist (Robert Culp), but it also establishes the strength and sensibility of the Redigo character we've come to admire in the series overall. |
| 19 | 19 | No Small Wars | 1963-02-05 | 60 | Guest star Robert Vaughn does a superb job as a hostile paraplegic who's lost his will to live. How his rehabilitation is accomplished through the ministrations of lovely Connie Garret will keep you troubled and fascinated throughout However, the only fault we find with the drama is the unlikely premise that Jim Redigo would have urged Connie to get involved, without thinking the problem through in the first place. |
| 20 | 20 | The Tiger Inside (aka The Hunted) | 1963-02-12 | 60 | Harold J Stone, Philip Abbott and Joyce Bulifant guest star. A lynch minded possee joins a manhunt for a young man who has injured his employer and eloped with his girl friend |
| 21 | 21 | Season of Growth | 1963-02-19 | 60 | Dan Bishop arrives to pursue his romance with Connie Garret but clashes with Jim Redigo over a business proposition. |
| 22 | 22 | Seven Days on Rough Street | 1963-02-26 | 60 | Ryan O'Neal (Tal) is the star of this episode and holds his own very nicely, indeed. He's fighting for his integrity in a battle of wits with rugged, granite-faced Charles Bronson, and the result is a bet he can take life in the raw like a man. The seven days of the title refer to Tal's endurance without a dime in Delgado, a strange town, and every one of them will sustain your interest. |
| 23 | 23 | A House in Order (aka Farewell) | 1963-03-05 | 60 | Lucie Garret, owner of the vast Garret holdings, learns she will die soon of an incurable disease. Her fatal illness develops simultaneously with a critical freeze which threatens the survival of the livestock. The woman uses this period to test her son and heir and to determine the disposition of her estate. |
| 24 | 24 | Down There the World | 1963-03-12 | 60 | A shrewd businesswoman (Joanna Barnes) acquires ownership of a processing plant vital to Garret Ranch mining activities. |
| 25 | 25 | Burnout | 1963-03-19 | 60 | Redigo tangles with the U.S. Forest Service when the Garret Ranch becomes involved in a water pollution problem complicated by murder. |
| 26 | 26 | Hidden Asset | 1963-03-26 | 60 | Well played, well written and thoughtful drama. Pushed to the limit by the bank's conditions for granting the Garret Ranch a loan, Jim Redigo is forced to admit he's got a lot of dead weight on his payroll. The mess he gets into with his frightened, aging workers and the opportunistic attorney who takes on their case, is handled with suspense and imagination. Richard Egan, Charles Bronson, and William Windom are excellent in this one. |
| 27 | 27 | Arrow in the Sky | 1963-04-09 | 60 | A former Hungarian freedom fighter enters the U.S. illegally to seek his young son. Guest star: Telly Savalas. . Though the familiar sweep of the Garet ranch takes a back seat tonight, guest star Telly Savalas manages to hold your interest as a bitter, broken Hungarian refugee, galvanized into action when he thinks he's found his long lost son. There's a particularly suspenseful scene in a barber shop run by former Hungarian freedom fighters. |
| 28 | 28 | Nobody Dies on Saturday (aka Breakout) | 1963-04-16 | 60 | Good suspenseful episode, well played by Richard Egan and Charles Bronson. as well as guest star Don Gordon. Don't be misled by the opening prison scenes. We're still involved with the Garret Ranch as escaped con killer Quinn (Gordon) goes gunning for Redigo who helped to put him in the clink. |
| 29 | 29 | 65 Miles is a Long, Long Way | 1963-04-23 | 60 | Claude Akins as a flamboyant promoter Involved in a comic, old-fashioned cattle drive. An entertaining hour. Never mind the complications, female or otherwise, in the storyline. Just watch Claude Akins and Richard Egan, two great big he-men, get each others' goats as a pair of unwilling business partners. Egan's Jim Redigo inevitably gets your votes, but opportunist-city-bred-swindler Horvath (Akins), provides some delightful chuckles on a trumped up but exciting cattle drive. |
| 30 | 30 | Duet for Eight Wheels (aka Ordeal) | 1963-04-30 | 60 | Paraplegic (Inger Stevens) tries to help Jim Redigo accept his fate when he is paralyzed by a fall and faces a wheelchair existence. Richard Egan does a particularly fine job with Jim Redigo here. He makes you believe in the paralysis he suffers from a stomping bout with a wild horse, and convinces you he'll fight his incapacity to the limit of his will. The script itself is tightly written and credible, except for a bit of romantic soap opera at the close, but Inger Stevens gives him superb support in the role of a beautiful, if disciplined paraplegic. |
| 31 | 31 | Between Friday and Monday | 1963-05-07 | 60 | Tune in for an hour with Joan Hackett and Charles Bronson who make this offbeat entry a must They play an unlikely but genuine pair of lovers with a kind of understatement that glows. She's a saintly young lady well on her way to a convent, and he's regular Paul Moreno, earthy and sound, in town on a Garret ranch spree. |
| 32 | 32 | The Convention | 1963-05-14 | 60 | There's no doubt about the attractiveness of our boys—Redigo, Moreno and Tal —but the script says they've no luck with women around the stockmen's convention this time. Not one of the series' best, but watching their manly strength and earthy morality at work, winning the girls and losing out one after the other, will hold your interest throughout. |
Series Cast
| | | | |
| --- | --- | --- | --- |
| | Richard Egan | as Jim Redigo | |
| | Ryan O'Neal | as Tal Garrett | |
| | Charles Bronson | as Paul Moreno | |
| | Warren Vanders | as Chuck Davis | |
| | Anne Seymour | as Lucia Garrett | |
| | Terry Moore | as Connie Garrett | |
| | Claude Akins | as Joe Horvath | |
| | Denver Pyle | as Tom Rawling | |
Series Crew
| | Position | Name |
| --- | --- | --- |
| | Producer | Frank R. Pierson |
| | Main Title Theme | Johnny Green |
| | Story Coordinator | Anthony Wilson |
| | Creator | Kathleen Hite |
| | Executive Producer | William Sackheim |
| | Director Of Photography | Charles S. Wilborn |
Related News
TVMaze