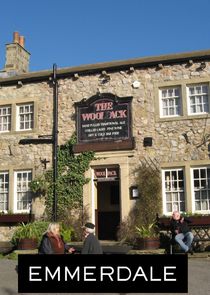 Emmerdale is a British soap focusing on the lives of several families and locals living around an estate, a farm and the nearby village in the Yorkshire Dales. It is the second longest British soap in television history since airing its first episode on ITV in 1972, as 'Emmerdale Farm', the show was renamed in 1989.
Series Overview
Rating
imDb Rating: 4.8 (2,589 Votes)
Metascore: N/A
Plot
A soap opera set in a fictional village in the Yorkshire Dales.
Details
Rated: TV-PG
Released: 16 Oct 1972
Runtime: 30 min
Genre: Drama, Romance
Director: N/A
Writer: Kevin Laffan
Actors: Lucy Pargeter, Mark Charnock, Jeff Hordley, Elizabeth Estensen
Language: English
Country: UK
Awards: 50 wins & 180 nominations.
Total Seasons: 1
Next Episode
Thursday 24th October
Episode 50x267; Oct 24, 2019
Bear suggests a name for the baby, Victoria is thrown by a discovery, and a plan reaches fruition.
Previous Episode
Wednesday 23rd October
Episode 50x266; Oct 23, 2019
The boat party are in jeopardy, Paddy races against the clock, and Charity arrives to chaos.
Episodes 50x269: Friday 25th October 50x268: Thursday 24th October 50x267: Thursday 24th October 50x266: Wednesday 23rd October 50x265: Tuesday 22nd October 50x264: Monday 21st October 50x263: Friday 18th October 50x262: Thursday 17th October 50x261: Thursday 17th October

View All Episodes
Cast
Lucy Pargeter as Chas Dingle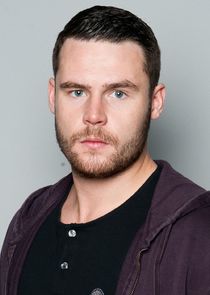 Daniel Webb as Aaron Dingle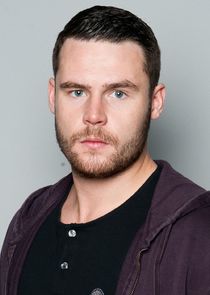 Danny Miller as Aaron Dingle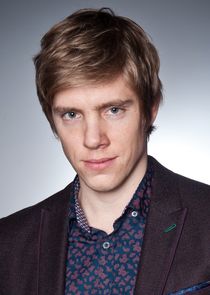 Richard Smith as Robert Sugden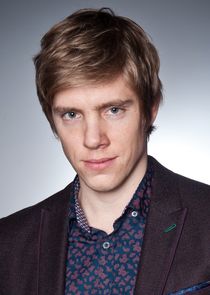 Christopher Smith as Robert Sugden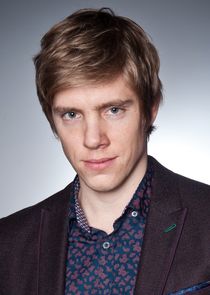 Karl Davies as Robert Sugden
View Full Cast
Skip to:
Season 1
| Episode No. | No. Overall | Title | Airdate | Runtime | Summary |
| --- | --- | --- | --- | --- | --- |
| 1 | 1 | Monday 16th October 1972 | 1972-10-16 | 30 | |
| 2 | 2 | Tuesday 17th October 1972 | 1972-10-17 | 30 | |
| 3 | 3 | Monday 23rd October 1972 | 1972-10-23 | 30 | |
| 4 | 4 | Tuesday 24th October 1972 | 1972-10-24 | 30 | |
| 5 | 5 | Monday 30th October 1972 | 1972-10-30 | 30 | |
| 6 | 6 | Tuesday 31st October 1972 | 1972-10-31 | 30 | |
| 7 | 7 | Monday 6th November 1972 | 1972-11-06 | 30 | |
| 8 | 8 | Tuesday 7th November 1972 | 1972-11-07 | 30 | |
| 9 | 9 | Monday 13th November 1972 | 1972-11-13 | 30 | |
| 10 | 10 | Tuesday 14th November 1972 | 1972-11-14 | 30 | |
| 11 | 11 | Monday 20th November 1972 | 1972-11-20 | 30 | |
| 12 | 12 | Tuesday 21st November 1972 | 1972-11-21 | 30 | |
| 13 | 13 | Monday 27th November 1972 | 1972-11-27 | 30 | |
| 14 | 14 | Tuesday 28th November 1972 | 1972-11-28 | 30 | |
| 15 | 15 | Monday 4th December 1972 | 1972-12-04 | 30 | |
| 16 | 16 | Tuesday 5th December 1972 | 1972-12-05 | 30 | |
| 17 | 17 | Monday 11th December 1972 | 1972-12-11 | 30 | |
| 18 | 18 | Tuesday 12th December 1972 | 1972-12-12 | 30 | |
| 19 | 19 | Monday 18th December 1972 | 1972-12-18 | 30 | |
| 20 | 20 | Tuesday 19th December 1972 | 1972-12-19 | 30 | |
Series Cast
| | | | |
| --- | --- | --- | --- |
| | Lucy Pargeter | as Chas Dingle | |
| | Daniel Webb | as Aaron Dingle | |
| | Danny Miller | as Aaron Dingle | |
| | Richard Smith | as Robert Sugden | |
| | Christopher Smith | as Robert Sugden | |
| | Karl Davies | as Robert Sugden | |
| | Ryan Hawley | as Robert Sugden | |
| | Gaynor Faye | as Megan Macey | |
| | Louise Marwood | as Chrissie White | |
| | Steve Halliwell | as Zak Dingle | |
| | Zoë Henry | as Rhona Goskirk | |
| | Emma Atkins | as Charity Dingle | |
| | Roxy Shahidi | as Leyla Harding | |
| | Dominic Brunt | as Paddy Kirk | |
| | Jeff Hordley | as Cain Dingle | |
| | Nicola Wheeler | as Nicola King | |
| | John Bowe | as Lawrence White | |
| | Nick Miles | as Jimmy King | |
| | Adam Fielding | as Kirin Kotecha | |
| | Rebecca Ryan | as Carly Hope | |
| | Michelle Hardwick | as Vanessa Woodfield | |
| | John Middleton | as Ashley Thomas | |
| | Rosie Bentham | as Gabby Thomas | |
| | Chris Chittell | as Eric Pollard | |
| | Amy Walsh | as Tracy Metcalfe | |
| | Gemma Atkinson | as Carly Hope | |
| | Jane Cox | as Lisa Dingle | |
| | Laura Norton | as Kerry Wyatt | |
| | Chris Bisson | as Jai Sharma | |
| | John McArdle | as Ronnie Hale | |
| | Joe Gill | as Finn Barton | |
| | Antony Audenshaw | as Bob Hope | |
| | Thomas Atkinson | as Lachlan White | |
| | Gillian Kearney | as Emma Barton | |
| | Emily Head | as Rebecca White | |
| | Nicola Stephenson | as Tess Harris | |
| | Charlotte Bellamy | as Laurel Thomas | |
| | Elizabeth Estensen | as Diane Sugden | |
| | Rik Makarem | as Nikhil Sharma | |
| | Isabel Hodgins | as Victoria Barton | |
| | Matthew Wolfenden | as David Metcalfe | |
| | Jonathan Wrather | as Pierce Harris | |
| | Joe-Warren Plant | as Jacob Gallagher | |
| | Michael Parr | as Ross Barton | |
| | Natalie J. Robb | as Moira Dingle | |
| | Ethan Kai | as Kasim Sabet | |
| | James Hooton | as Sam Dingle | |
| | Michael Praed | as Frank Clayton | |
| | Gerard Fletcher | as Gordon Livesy | |
| | Mark Charnock | as Marlon Dingle | |
| | Fiona Wade | as Priya Kotecha | |
| | Jessica Haywood | as Victoria Sugden | |
| | Samantha Giles | as Bernice White | |
| | Hannah Midgley | as Victoria Sugden | |
| | Emily Mather | as Belle Dingle | |
| | Effie Woods | as Priya Kotecha | |
| | Anthony Quinlan | as Pete Barton | |
| | Eden Taylor-Draper | as Belle Dingle | |
| | Frazer Hines | as Joe Sugden | |
| | Arthur Pentelow | as Henry Wilks | |
| | Sheila Mercier | as Annie Sugden Brearly | |
| | Gary Mavers | as Gordon Livesy | |
| | Liam Fox | as Dan Spencer | |
| | Ronald Magill | as Amos Brearly | |
| | Pasha Bocarie | as Rakesh Kotecha | |
| | Paula Wilcox | as Hilary Potts | |
| | Jason Merrells | as Declan Macey | |
| | James Sutton | as Ryan Lamb | |
| | Georgia Slowe | as Perdy Hyde-Sinclair | |
| | Alexander Fothergill | as Kirk Daggert | |
| | Bernard Archard | as Leonard Kempinski | |
| | Bill Ward | as James Barton | |
| | Kay Purcell | as Cynthia Daggert | |
| | Verity Rushworth | as Donna Windsor Dingle | |
| | Cleveland Campbell | as Danny Daggert | |
| | Kirk Smith | as Pete Collins | |
| | Toke Townley | as Sam Pearson | |
| | Maxwell Caulfield | as Mark Wylde | |
| | Samuel Anderson | as Ross Kirk | |
| | Wil Johnson | as Dominic Andrews | |
| | Debbi Blythe | as Marion Wilks | |
| | Frank Kelly | as Dermot Macey | |
| | Rupam Maxwell | as Lord Alex Oakwell | |
| | Roy Boyd | as Dryden Hogben | |
| | Tony Pitts | as Archie Brooks | |
| | Kelli Hollis | as Ali Spencer | |
| | Ross Kemp | as Graham Lodsworth | |
| | Jane Cameron | as Sophie Wright | |
| | Kelsey-Beth Crossley | as Scarlett Nicholls | |
| | Dee Whitehead | as Maggie Calder | |
| | Fionnuala Ellwood | as Lynn Whiteley | |
| | Jacqueline Pirie | as Tina Dingle | |
| | Ursula Holden Gill | as Alice Dingle | |
| | Chelsea Halfpenny | as Amy Wyatt | |
| | Dale Meeks | as Simon Meredith | |
| | Louise Beattie | as Laura Johnstone | |
| | Alison Ambler | as Hannah Tolly | |
| | Ciaran Griffiths | as Ben McCarthy | |
| | Lily Jane Stead | as Kayleigh Crow | |
| | Matthew Vaughan | as Michael Feldmann | |
| | Gary Turner | as Carlos Diaz | |
| | Sarah Neville | as Rebecca Cairns | |
| | Lynn Dalby | as Ruth Merrick | |
| | Paul McEwan | as Shane Doyle | |
| | Nicky Evans | as Roy Glover | |
| | Kathryn Apanowicz | as Helen Ackroyd | |
| | Grace Cassidy | as Hannah Barton | |
| | Bhasker Patel | as Rishi Sharma | |
| | Linda Lusardi | as Carrie Nicholls | |
| | Elspeth Brodie | as Lucy Calder | |
| | Jean Rogers | as Dolly Skilbeck | |
| | James Baxter | as Jake Doland | |
| | Annie Hulley | as Karen Moore | |
| | Dominic Power | as Cameron Murray | |
| | Paul Loughran | as Butch Dingle | |
| | Patrick Holt | as George Verney | |
| | Caroline Strong | as Mel Doland | |
| | Joseph Gilgun | as Eli Dingle | |
| | Heather Peace | as Anne Cullen | |
| | Roberta Kerr | as Jan Glover | |
| | Sapphire Elia | as Mia Macey | |
| | Janice McKenzie | as Gloria Weaver Pollard | |
| | Norman Bowler | as Frank Tate | |
| | Ben Freeman | as Scott Windsor | |
| | Linda Thorson | as Rosemary Sinclair | |
| | Camilla Power | as Jessica McAllister | |
| | Anne Charleston | as Lily Lovett | |
| | Matt Healy | as Matthew King | |
| | Freya Copeland | as Angie Reynolds | |
| | Naomi Lewis | as Elsa Feldmann | |
| | Madeleine Bowyer | as Frankie Smith | |
| | Kitty McGeever | as Lizzie Lakely | |
| | Jenny Tomasin | as Noreen Bell | |
| | Sally Walsh | as Lyn Hutchinson | |
| | Angela Cheyne | as Christine Sharp | |
| | Tom Adams | as Malcolm Bates | |
| | Edward Peel | as Tony Cairns | |
| | Amanda Donohoe | as Natasha Wylde | |
| | Charlie Hardwick | as Val Pollard | |
| | Suzanne Shaw | as Eve Birch | |
| | Matthew Booth | as Paul Marsden | |
| | Sarah Graham | as Charlotte Cairns | |
| | Meg Johnson | as Pearl Ladderbanks | |
| | Mark Powley | as Liam Hammond | |
| | Matthew Bose | as Paul Lambert | |
| | James Carlton | as Jason Kirk | |
| | Sally Knyvette | as Kate Hughes Sugden | |
| | Pauline Quirke | as Hazel Rhodes | |
| | Michelle Holmes | as Britt Woods | |
| | Isobel Steele | as Liv Flaherty | |
| | Richard Thorp | as Alan Turner | |
| | Julia Mallam | as Dawn Hope Woods | |
| | Deborah Chad | as Jane Barnet | |
| | Gail Harrison | as Marian Wilks | |
| | Susan Duerden | as Claudia Nash | |
| | Stephen McGann | as Sean Reynolds | |
| | Claire King | as Kim Tate | |
| | Susan Penhaligon | as Jean Hope | |
| | Andy Devine | as Shadrach Dingle | |
| | Nathan Gladwell | as Syd Woolfe | |
| | Tonicha Jeronimo | as Linda Fowler | |
| | Luke Tittensor | as Daz Hopwood | |
| | Brendan Price | as Bernard McAllister | |
| | Richard Grieve | as Jonny Foster | |
| | Jason Hain | as Craig Calder | |
| | Teddy Turner | as Bill Whiteley | |
| | Carolyn Pickles | as Shelly Williams | |
| | Johnny Leeze | as Ned Glover | |
| | Michael Jayston | as Donald De Souza | |
| | Kenneth Farrington | as Tom King | |
| | Glenda McKay | as Rachel Hughes Tate | |
| | Carolyn Moody | as Alison Gibbons | |
| | Adam Thomas | as Adam Barton | |
| | Robert Thomas Beck | as Gavin Ferris | |
| | Alicya Eyo | as Ruby Haswell | |
| | Billy Hartman | as Terry Woods | |
| | Freddie Jones | as Sandy Thomas | |
| | Oscar Lloyd | as Will Wylde | |
| | Ray Ashcroft | as Ronnie Marsden | |
| | Cy Chadwick | as Nick Bates | |
| | Denise Black | as Joanie Wright | |
| | Anna Brecon | as Lady Tara Oakwell | |
| | Paula Tilbrook | as Betty Eagleton | |
| | Roxanne Pallett | as Jo Sugden | |
| | Mark Elstob | as Andrew Fraser | |
| | Hugh Manning | as Rev. Donald Hinton | |
| | Tom Lister | as Carl King | |
| | Christopher Villiers | as Grayson Sinclair | |
| | Kevin Pallister | as Graham Clark | |
| | Shirley Stelfox | as Edna Birch | |
| | Sian Reese-Williams | as Gennie Walker | |
| | Lorraine Chase | as Steph Stokes | |
| | Stuart Wade | as Brian Ian Francis "Biff" Fowler | |
| | Jenny Hanley | as Briddy Middleton | |
| | Micah Balfour | as Jermaine Bailey | |
| | Steve Evets | as Tom Shepherd | |
| | Paul Opacic | as Steve Marchant | |
| | Katherine Dow Blyton | as Harriet Finch | |
| | Sally Oliver | as Lexi Nicholls King | |
| | Sheree Murphy | as Tricia Stokes Fisher Dingle | |
| | Rachel Ambler | as Emma Nightingale | |
| | Sherrie Hewson | as Lesley Meredith | |
| | Gemma Oaten | as Rachel Breckle | |
| | Andy Wear | as Jude Watson | |
| | Connor Lee | as TJ Woods | |
| | Raine Davison | as Eve Birch | |
| | Ian Sharrock | as Jackie Merrick | |
| | Paul Fox | as Will Cairns | |
| | Nigel Betts | as Eddie Hope | |
| | Paul Maxwell | as Ed Hathersage | |
| | James Thornton | as John Barton | |
| | Patsy Kensit | as Sadie King | |
| | Anne Marie Jowett | as Kirsty Hutchinson | |
| | Jo Kendall | as Peggy Sugden Skilbeck | |
| | Charley Webb | as Debbie Dingle | |
| | Lyndon Ogbourne | as Nathan Wylde | |
| | Danielle Henry | as Latisha Daggert | |
| | Ayden Callaghan | as Miles De Souza | |
| | Stan Richards | as Seth Armstrong | |
| | Kurtis Stacey | as Alex Moss | |
| | Shaun Prendergast | as Greg Doland | |
| | Hayley Tamaddon | as Delilah "Del" Dingle | |
| | Adele Silva | as Kelly Windsor Glover | |
| | Jamie Shelton | as Robbie Lawson | |
| | John Nayagam | as Hari Prasad | |
| | Ruth Abram | as Jess Weston | |
| | Jane Hutcheson | as Sandie Merrick | |
| | Jonny McPherson | as Liam Cavanagh | |
| | Alex Carter | as Jamie Hope | |
| | Noah Huntley | as Luke McAllister | |
| | Ruth Holden | as Meg Armstrong | |
| | Andrew Whipp | as Callum Rennie | |
| | Patrick Mower | as Rodney Blackstock | |
| | Sophie Powles | as Holly Barton | |
| | Richard Shelton | as Adam Forsythe | |
| | Claudia Malkovich | as Dee Pollard | |
| | Siobhan Finneran | as Heather Hutchinson | |
| | Tom Mannion | as Steve Hardland | |
| | Lisa Riley | as Mandy Dingle Kirk | |
| | Duncan Preston | as Doug Potts | |
| | Clive Hornby | as Jack Sugden | |
| | Mark Jardine | as Phil Weston | |
| | Amanda Wenban | as Angharad McAllister | |
| | Rachel Davies | as Shirley Foster Turner | |
| | Graeme Hawley | as Martin Crow | |
| | Alun Lewis | as Victor Windsor | |
| | Kelvin Fletcher | as Andy Sugden | |
| | Luke Roskell | as Sean Spencer | |
| | Kerry Stacey | as Toni Daggert | |
| | Seamus Gubbins | as Ray Mullan | |
| | Helen Weir | as Pat Merrick Sugden | |
| | Natalie Anderson | as Alicia Gallagher | |
| | Polly Hemingway | as Kathy Gimbel | |
| | Diana Davies | as Caroline Bates | |
| | Marc Silcock | as Jackson Walsh | |
| | Corrinne Wicks | as Ella Hart | |
| | Leah Bracknell | as Zoe Tate | |
| | David Crellin | as Billy Hopwood | |
| | Tim Vincent | as Adam Forrester | |
| | Amy Nuttall | as Chloe Atkinson | |
| | Ian Kelsey | as Dave Glover | |
| | Lesley Dunlop | as Brenda Hope | |
| | Emily Symons | as Louise Appleton | |
| | Peter Amory | as Chris Tate | |
| | Jenna Coleman | as Jasmine Thomas | |
| | Kim Thomson | as Faye Lamb | |
| | Vicky Binns | as Ollie Reynolds | |
| | Phil Atkinson | as Tony Bell | |
| | Tendai Rinomhota | as Gemma Andrews | |
| | Peter Martin | as Len Reynolds | |
| | Bridget Fry | as Virginia West | |
| | Godfrey James | as Harry Mowlam | |
| | Patrick Connolly | as Dean Adlington | |
| | Alice Coulthard | as Maisie Wylde | |
| | Malcolm Stoddard | as Lord Michael Thornfield | |
| | Jim Millea | as Pete Whiteley | |
| | Sammy Winward | as Katie Addyman Sugden | |
| | Deena Payne | as Viv Windsor Hope | |
| | Malandra Burrows | as Kathy Bates Merrick Tate Glover | |
| | Rebecca Loudonsack | as Emma Cairns | |
| | Kate Dove | as Elizabeth Feldmann Pollard | |
Series Crew
| | Position | Name |
| --- | --- | --- |
| | Executive Producer | Keith Richardson |
| | Executive Producer | David Cunliffe |
| | Executive Producer | Steve November |
| | Executive Producer | John Whiston |
| | Associate Producer | John Michael Phillips |
| | Associate Producer | Lisa Williams |
| | Executive Producer | Michael Glynn |
| | Creator | Kevin Laffan |
| | Producer | Ian MacLeod |
Related News
TVMaze