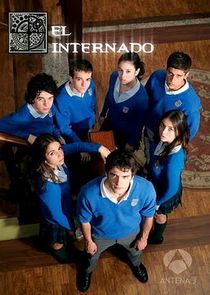 El Internado Laguna Negra (Spanish, 'The Boarding School Black Lagoon') was a Spanish television drama thriller focusing on the students of a fictional boarding school in a forest, where teenagers are sent by their parents to study. The boarding school is situated in a forest far from the city, on the outskirts on which macabre events occur.
Series Overview
Rating
imDb Rating: 8.2 (3,463 Votes)
Metascore: N/A
Plot
Students at a boarding school find that the school is full of mysteries and secrets.
Details
Rated: N/A
Released: 24 May 2007
Runtime: 75 min
Genre: Mystery
Director: N/A
Writer: Laura Belloso, Juan Carlos Cueto, Rocío Martínez Llano, Daniel Écija
Actors: Marta Torné, Martiño Rivas, Raúl Fernández de Pablo, Yon González
Language: Spanish
Country: Spain
Awards: 6 wins & 16 nominations.
Total Seasons: 7
Previous Episode
El fin
Episode 7x15; Oct 13, 2010
Previous Episodes 7x15: El fin 7x14: La luz 7x13: El último aliento 7x12: Hasta que la muerte nos separe 7x11: Los últimos recuerdos 7x10: La última dosis 7x9: El principio del fin 7x8: El último deseo 7x7: El asesino de Carolina

View All Episodes
Cast
Ana de Armas as Carolina Leal Solís
Yon González as Iván Noiret León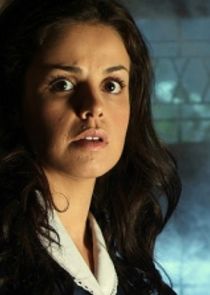 Marta Torné as María Almagro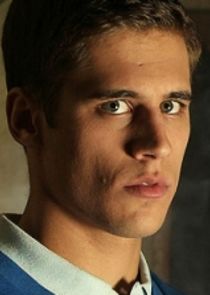 Martiño Rivas as Marcos Novoa Pazos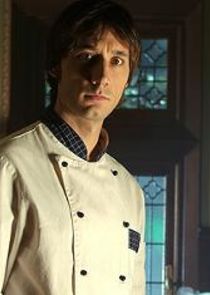 Raúl Fernández as Fermín de Pablo
Elena Furiase as Victoria Martínez González
View Full Cast
Skip to:
Season 1
| Episode No. | No. Overall | Title | Airdate | Runtime | Summary |
| --- | --- | --- | --- | --- | --- |
| 1 | 1 | Los monstruos no hacen cosquillas | 2007-05-24 | 80 | |
| 2 | 2 | Todo el mundo tiene un secreto | 2007-05-31 | 80 | |
| 3 | 3 | Ojos que no ven | 2007-06-07 | 80 | |
| 4 | 4 | Un mensaje en una botella | 2007-06-14 | 80 | |
| 5 | 5 | Un cadáver en la Laguna | 2007-06-21 | 80 | |
| 6 | 6 | La noche de Santa Isabel | 2007-06-28 | 80 | |
Season 2
| Episode No. | No. Overall | Title | Airdate | Runtime | Summary |
| --- | --- | --- | --- | --- | --- |
| 1 | 7 | ¿Con qué sueñan los peces? | 2007-11-07 | 80 | |
| 2 | 8 | Persiguiendo luciérnagas | 2007-11-14 | 80 | |
| 3 | 9 | El anillo | 2007-11-21 | 80 | |
| 4 | 10 | La caja de música | 2007-11-28 | 80 | |
| 5 | 11 | En orden alfabético | 2007-12-05 | 80 | |
| 6 | 12 | Ver para creer | 2007-12-12 | 80 | |
| 7 | 13 | Mi amigo el monstruo | 2007-12-19 | 80 | |
| 8 | 14 | El polo norte | 2008-01-02 | 80 | |
Season 3
| Episode No. | No. Overall | Title | Airdate | Runtime | Summary |
| --- | --- | --- | --- | --- | --- |
| 1 | 15 | El búho | 2008-04-23 | 80 | |
| 2 | 16 | 8 milímetros | 2008-04-30 | 80 | |
| 3 | 17 | El soldadito de plomo | 2008-05-07 | 80 | |
| 4 | 18 | En el fondo del mar | 2008-05-14 | 80 | |
| 5 | 19 | La vida es sueño | 2008-05-28 | 80 | |
| 6 | 20 | La peor cárcel del mundo | 2008-06-04 | 80 | |
| 7 | 21 | El fantasma de la profesora decapitada | 2008-06-11 | 80 | |
| 8 | 22 | Los cinco vengadores | 2008-06-18 | 80 | |
| 9 | 23 | La noche del fuego | 2008-06-25 | 80 | |
Season 4
| Episode No. | No. Overall | Title | Airdate | Runtime | Summary |
| --- | --- | --- | --- | --- | --- |
| 1 | 24 | La maldición | 2008-10-22 | 80 | |
| 2 | 25 | La sala del tesoro | 2008-10-29 | 80 | |
| 3 | 26 | El secreto mejor guardado | 2008-11-05 | 80 | |
| 4 | 27 | Premonición | 2008-11-12 | 80 | |
| 5 | 28 | El exorcismo | 2008-11-19 | 80 | |
| 6 | 29 | Escrito en las estrellas | 2008-11-26 | 80 | |
| 7 | 30 | Un buen soldado | 2008-12-03 | 80 | |
| 8 | 31 | La llave | 2008-12-10 | 80 | |
| 9 | 32 | El unicornio | 2008-12-17 | 80 | |
| 10 | 33 | Un punto en el mar | 2009-01-07 | 80 | |
| 11 | 34 | La noche de las dos lunas | 2009-01-15 | 80 | |
Season 5
| Episode No. | No. Overall | Title | Airdate | Runtime | Summary |
| --- | --- | --- | --- | --- | --- |
| 1 | 35 | El cuaderno del doctor Wulf | 2009-05-12 | 80 | |
| 2 | 36 | Amnesia | 2009-05-19 | 80 | |
| 3 | 37 | El hombre del saco | 2009-05-26 | 80 | |
| 4 | 38 | La novia cadaver | 2009-06-02 | 80 | |
| 5 | 39 | La promesa | 2009-06-09 | 80 | |
| 6 | 40 | El vampiro | 2009-06-16 | 80 | |
| 7 | 41 | El rey de la baraja | 2009-06-23 | 80 | |
| 8 | 42 | Paula en el país de las maravillas | 2009-06-30 | 80 | |
| 9 | 43 | El último día | 2009-07-07 | 80 | |
Season 6
| Episode No. | No. Overall | Title | Airdate | Runtime | Summary |
| --- | --- | --- | --- | --- | --- |
| 1 | 44 | Los monstruos vienen de noche | 2009-11-16 | 80 | |
| 2 | 45 | Las galletas del porvenir | 2009-11-23 | 80 | |
| 3 | 46 | El hombre lobo | 2009-11-30 | 80 | |
| 4 | 47 | La traición | 2009-12-07 | 80 | |
| 5 | 48 | El baile de los culpables | 2009-12-14 | 80 | |
| 6 | 49 | Paula y el lobo | 2010-01-11 | 80 | |
| 7 | 50 | La leyenda de Eva | 2010-01-18 | 80 | |
| 8 | 51 | La princesa de hielo | 2010-01-25 | 80 | |
| 9 | 52 | El extraterrestre | 2010-02-01 | 80 | |
| 10 | 53 | La habitación número 13 | 2010-02-08 | 80 | |
| 11 | 54 | El mago | 2010-02-15 | 80 | |
| 12 | 55 | Alaska | 2010-02-22 | 80 | |
| 13 | 56 | Después de la luz | 2010-03-01 | 80 | |
Season 7
| Episode No. | No. Overall | Title | Airdate | Runtime | Summary |
| --- | --- | --- | --- | --- | --- |
| 1 | 57 | El protocolo | 2010-06-02 | 80 | |
| 2 | 58 | La amenaza | 2010-06-09 | 80 | |
| 3 | 59 | El hombre misterioso | 2010-06-16 | 80 | |
| 4 | 60 | El tesoro | 2010-06-23 | 80 | |
| 5 | 61 | El centro de la tierra | 2010-06-30 | 80 | |
| 6 | 62 | Los tres pétalos | 2010-07-07 | 80 | |
| 7 | 63 | El asesino de Carolina | 2010-07-14 | 80 | |
| 8 | 64 | El último deseo | 2010-07-21 | 80 | |
| 9 | 65 | El principio del fin | 2010-09-06 | 80 | |
| 10 | 66 | La última dosis | 2010-09-13 | 80 | |
| 11 | 67 | Los últimos recuerdos | 2010-09-20 | 80 | |
| 12 | 68 | Hasta que la muerte nos separe | 2010-09-27 | 80 | |
| 13 | 69 | El último aliento | 2010-10-04 | 80 | |
| 14 | 70 | La luz | 2010-10-11 | 80 | |
| 15 | 71 | El fin | 2010-10-13 | 80 | |
Series Cast
| | | | |
| --- | --- | --- | --- |
| | Ana de Armas | as Carolina Leal Solís | |
| | Yon González | as Iván Noiret León | |
| | Marta Torné | as María Almagro | |
| | Martiño Rivas | as Marcos Novoa Pazos | |
| | Raúl Fernández | as Fermín de Pablo | |
| | Elena Furiase | as Victoria Martínez González | |
| | Daniel Retuerta | as Roque Sánchez Navas | |
| | Carlota García | as Paula Novoa Pazos | |
| | Denisse Peña | as Evelyn Pons | |
| | Blanca Suárez | as Julia Medina | |
| | Amparo Baró | as Jacinta García | |
| | Natalia Millán | as Elsa Fernández Campos | |
| | Marta Hazas | as Amelia Ugarte Roldán | |
Related News
TVMaze