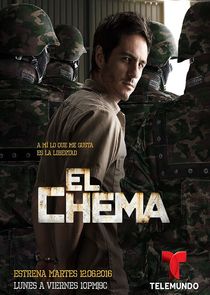 El Chema is an American telenovela produced by Telemundo. It is a spin-off of the telenovela El Señor de los Cielos. The series is starring Mauricio Ochmann as "El Chema". El Chema tells the story of how Chema Venegas (Ochmann) got his start in organized crime and rose through the ranks to become the head of the cartel he runs in "El Señor de los Cielos." El Chema began breaking the law at a young age, transporting marijuana across the US-Mexican border when he was just a boy. Little by little, he worked his way up to become a successful and skillful leader, earning his place through bloodshed and brutality, in the history of drug trafficking. Since he was a young man, El Chema has been one of the most important public enemies of both the U.S and Mexican governments.
Series Overview
Rating
imDb Rating: 7.0 (226 Votes)
Metascore: N/A
Plot
Inspired by true events, This is the story of the most notorious drug kingpin the world had ever seen. A man known as El Chapo, the biggest international drug lord in history. The most ...
Details
Rated: TV-14
Released: 06 Dec 2016
Runtime: 43 min
Genre: Action, Crime
Director: N/A
Writer: Luis Zelkowicz
Actors: Mauricio Ochmann, Julio Bracho, Fernando Noriega, Itatí Cantoral
Language: Spanish
Country: Mexico
Awards: N/A
Total Seasons: 1
Previous Episode
Episode 83
Episode 1x83; Mar 31, 2017
The most fascinating of all time drug dealer, which no prison has been stopped.
Previous Episodes 1x83: Episode 83 1x82: Episode 82 1x81: Episode 81 1x80: Episode 80 1x79: Episode 79 1x78: Episode 78 1x77: Episode 77 1x76: Episode 76 1x75: Episode 75

View All Episodes
Cast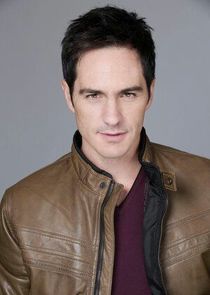 Mauricio Ochmann as José María 'Chema' Venegas
Rodrigo Abed as César Silva de la Garza
Rafael Amaya as Aurelio Casillas
Juan Ignacio Aranda as Ramiro Silva de la Garza
Carmen Aub as Rutila Casillas
Omar Ayala as Comandante Bustillos
View Full Cast
Skip to:
Season 1
| Episode No. | No. Overall | Title | Airdate | Runtime | Summary |
| --- | --- | --- | --- | --- | --- |
| 1 | 1 | Episode 1 | 2016-12-06 | 60 | |
| 2 | 2 | Episode 2 | 2016-12-07 | 60 | |
| 3 | 3 | Episode 3 | 2016-12-08 | 60 | |
| 4 | 4 | Episode 4 | 2016-12-09 | 60 | |
| 5 | 5 | Episode 5 | 2016-12-12 | 60 | |
| 6 | 6 | Episode 6 | 2016-12-13 | 60 | |
| 7 | 7 | Episode 7 | 2016-12-14 | 60 | |
| 8 | 8 | Episode 8 | 2016-12-15 | 60 | |
| 9 | 9 | Episode 9 | 2016-12-16 | 60 | |
| 10 | 10 | Episode 10 | 2016-12-19 | 60 | |
| 11 | 11 | Episode 11 | 2016-12-20 | 60 | |
| 12 | 12 | Episode 12 | 2016-12-21 | 60 | |
| 13 | 13 | Episode 13 | 2016-12-22 | 60 | |
| 14 | 14 | Episode 14 | 2016-12-23 | 60 | |
| 15 | 15 | Episode 15 | 2016-12-26 | 60 | |
| 16 | 16 | Episode 16 | 2016-12-27 | 60 | |
| 17 | 17 | Episode 17 | 2016-12-28 | 60 | |
| 18 | 18 | Episode 18 | 2016-12-29 | 60 | |
| 19 | 19 | Episode 19 | 2016-12-30 | 60 | |
| 20 | 20 | Episode 20 | 2017-01-02 | 60 | |
| 21 | 21 | Episode 21 | 2017-01-03 | 60 | |
| 22 | 22 | Episode 22 | 2017-01-04 | 60 | |
| 23 | 23 | Episode 23 | 2017-01-05 | 60 | |
| 24 | 24 | Episode 24 | 2017-01-06 | 60 | |
| 25 | 25 | Episode 25 | 2017-01-09 | 60 | |
| 26 | 26 | Episode 26 | 2017-01-10 | 60 | |
| 27 | 27 | Episode 27 | 2017-01-11 | 60 | |
| 28 | 28 | Episode 28 | 2017-01-12 | 60 | |
| 29 | 29 | Episode 29 | 2017-01-13 | 60 | |
| 30 | 30 | Episode 30 | 2017-01-16 | 60 | |
| 31 | 31 | Episode 31 | 2017-01-17 | 60 | |
| 32 | 32 | Episode 32 | 2017-01-18 | 60 | |
| 33 | 33 | Episode 33 | 2017-01-19 | 60 | |
| 34 | 34 | Episode 34 | 2017-01-20 | 60 | |
| 35 | 35 | Episode 35 | 2017-01-23 | 60 | |
| 36 | 36 | Episode 36 | 2017-01-24 | 60 | |
| 37 | 37 | Episode 37 | 2017-01-25 | 60 | |
| 38 | 38 | Episode 38 | 2017-01-26 | 60 | |
| 39 | 39 | Episode 39 | 2017-01-27 | 60 | |
| 40 | 40 | Episode 40 | 2017-01-30 | 60 | |
| 41 | 41 | Episode 41 | 2017-01-31 | 60 | |
| 42 | 42 | Episode 42 | 2017-02-01 | 60 | The most fascinating of all time drug dealer, which no prison has been stopped. |
| 43 | 43 | Episode 43 | 2017-02-02 | 60 | The most fascinating of all time drug dealer, which no prison has been stopped. |
| 44 | 44 | Episode 44 | 2017-02-03 | 60 | The most fascinating of all time drug dealer, which no prison has been stopped. |
| 45 | 45 | Episode 45 | 2017-02-06 | 60 | The most fascinating of all time drug dealer, which no prison has been stopped. |
| 46 | 46 | Episode 46 | 2017-02-07 | 60 | The most fascinating of all time drug dealer, which no prison has been stopped. |
| 47 | 47 | Episode 47 | 2017-02-08 | 60 | The most fascinating of all time drug dealer, which no prison has been stopped. |
| 48 | 48 | Episode 48 | 2017-02-09 | 60 | The most fascinating of all time drug dealer, which no prison has been stopped. |
| 49 | 49 | Episode 49 | 2017-02-10 | 60 | The most fascinating of all time drug dealer, which no prison has been stopped. |
| 50 | 50 | Episode 50 | 2017-02-13 | 60 | The most fascinating of all time drug dealer, which no prison has been stopped. |
| 51 | 51 | Episode 51 | 2017-02-14 | 60 | The most fascinating of all time drug dealer, which no prison has been stopped. |
| 52 | 52 | Episode 52 | 2017-02-15 | 60 | The most fascinating of all time drug dealer, which no prison has been stopped. |
| 53 | 53 | Episode 53 | 2017-02-16 | 60 | The most fascinating of all time drug dealer, which no prison has been stopped. |
| 54 | 54 | Episode 54 | 2017-02-17 | 60 | The most fascinating of all time drug dealer, which no prison has been stopped. |
| 55 | 55 | Episode 55 | 2017-02-20 | 60 | The most fascinating of all time drug dealer, which no prison has been stopped. |
| 56 | 56 | Episode 56 | 2017-02-21 | 60 | The most fascinating of all time drug dealer, which no prison has been stopped. |
| 57 | 57 | Episode 57 | 2017-02-22 | 60 | The most fascinating of all time drug dealer, which no prison has been stopped. |
| 58 | 58 | Episode 58 | 2017-02-23 | 60 | The most fascinating of all time drug dealer, which no prison has been stopped. |
| 59 | 59 | Episode 59 | 2017-02-24 | 60 | The most fascinating of all time drug dealer, which no prison has been stopped. |
| 60 | 60 | Episode 60 | 2017-02-27 | 60 | The most fascinating of all time drug dealer, which no prison has been stopped. |
| 61 | 61 | Episode 61 | 2017-02-28 | 60 | The most fascinating of all time drug dealer, which no prison has been stopped. |
| 62 | 62 | Episode 62 | 2017-03-01 | 60 | The most fascinating of all time drug dealer, which no prison has been stopped. |
| 63 | 63 | Episode 63 | 2017-03-02 | 60 | The most fascinating of all time drug dealer, which no prison has been stopped. |
| 64 | 64 | Episode 64 | 2017-03-03 | 60 | The most fascinating of all time drug dealer, which no prison has been stopped. |
| 65 | 65 | Episode 65 | 2017-03-06 | 60 | The most fascinating of all time drug dealer, which no prison has been stopped. |
| 66 | 66 | Episode 66 | 2017-03-07 | 60 | The most fascinating of all time drug dealer, which no prison has been stopped. |
| 67 | 67 | Episode 67 | 2017-03-08 | 60 | The most fascinating of all time drug dealer, which no prison has been stopped. |
| 68 | 68 | Episode 68 | 2017-03-09 | 60 | The most fascinating of all time drug dealer, which no prison has been stopped. |
| 69 | 69 | Episode 69 | 2017-03-10 | 60 | The most fascinating of all time drug dealer, which no prison has been stopped. |
| 70 | 70 | Episode 70 | 2017-03-13 | 60 | The most fascinating of all time drug dealer, which no prison has been stopped. |
| 71 | 71 | Episode 71 | 2017-03-14 | 60 | The most fascinating of all time drug dealer, which no prison has been stopped. |
| 72 | 72 | Episode 72 | 2017-03-15 | 60 | The most fascinating of all time drug dealer, which no prison has been stopped. |
| 73 | 73 | Episode 73 | 2017-03-16 | 60 | The most fascinating of all time drug dealer, which no prison has been stopped. |
| 74 | 74 | Episode 74 | 2017-03-17 | 60 | The most fascinating of all time drug dealer, which no prison has been stopped. |
| 75 | 75 | Episode 75 | 2017-03-20 | 60 | The most fascinating of all time drug dealer, which no prison has been stopped. |
| 76 | 76 | Episode 76 | 2017-03-21 | 60 | The most fascinating of all time drug dealer, which no prison has been stopped. |
| 77 | 77 | Episode 77 | 2017-03-22 | 60 | The most fascinating of all time drug dealer, which no prison has been stopped. |
| 78 | 78 | Episode 78 | 2017-03-23 | 60 | The most fascinating of all time drug dealer, which no prison has been stopped. |
| 79 | 79 | Episode 79 | 2017-03-24 | 60 | The most fascinating of all time drug dealer, which no prison has been stopped. |
| 80 | 80 | Episode 80 | 2017-03-27 | 60 | The most fascinating of all time drug dealer, which no prison has been stopped. |
| 81 | 81 | Episode 81 | 2017-03-29 | 60 | The most fascinating of all time drug dealer, which no prison has been stopped. |
| 82 | 82 | Episode 82 | 2017-03-30 | 60 | The most fascinating of all time drug dealer, which no prison has been stopped. |
| 83 | 83 | Episode 83 | 2017-03-31 | 60 | The most fascinating of all time drug dealer, which no prison has been stopped. |
Series Cast
| | | | |
| --- | --- | --- | --- |
| | Mauricio Ochmann | as José María 'Chema' Venegas | |
| | Rodrigo Abed | as César Silva de la Garza | |
| | Rafael Amaya | as Aurelio Casillas | |
| | Juan Ignacio Aranda | as Ramiro Silva de la Garza | |
| | Carmen Aub | as Rutila Casillas | |
| | Omar Ayala | as Comandante Bustillos | |
| | Bianca Calderón | as Roxana Mondragón | |
| | Itatí Cantoral | as Blanca | |
| | Fernanda Castillo | as Mónica Robles | |
| | Lorena del Castillo | as Oficial Evelyn García | |
Related News
TVMaze