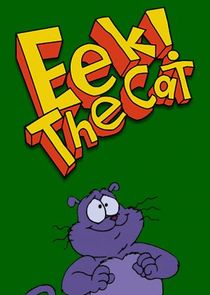 Eek! the Cat is a chubby purple cat who lives in a cartoon world and his Motto is "It never hurts to help", well sometimes for Eek it does, but he always gets hurt and his adventures spoof many movies and TV shows. The Thunderlizards are a group of misfit dim-witted dinosaurs who set out to destroy two cavemen named Bill and Scooter and always fail in the process, while Scooter is always trying to show Bill his new inventions.
Series Overview
Rating
imDb Rating: 7.1 (2,609 Votes)
Metascore: N/A
Plot
The comical misadventures of Eek, a kind-hearted anthropomorphic purple cat who finds himself in constant mortal danger while trying to help others. The show had two more segments - The Terrible Thunderlizards and Klutter.
Details
Rated: N/A
Released: 11 Sep 1992
Runtime: 30 min
Genre: Animation, Adventure, Comedy, Family
Director: N/A
Writer: Savage Steve Holland, Bill Kopp
Actors: Tawny Kitaen, Charlie Adler, Bill Kopp, Elizabeth Daily
Language: English
Country: Canada, USA
Awards: 1 win & 3 nominations.
Total Seasons: 5
Previous Episode
Rock-Eek 6
Episode 5x13; Aug 01, 1997
Previous Episodes 5x13: Rock-Eek 6 5x12: The Sound of MusEek / Oh...the Humanity 5x11: The FugEektive 5x10: Eekscaliber 5x9: Show Squirls 5x8: Nightmare on Elmo St. / Night of the Living Duds 5x7: The Island of Dr. Meow / Home O' Sapien Alone 5x6: Fists of Furry 5x5: Snowbored

View All Episodes
Skip to:
Season 1
| Episode No. | No. Overall | Title | Airdate | Runtime | Summary |
| --- | --- | --- | --- | --- | --- |
| 1 | 1 | MiserEek | 1992-09-11 | 30 | |
| 2 | 2 | Bearz 'n the Hood | 1992-09-18 | 30 | |
| 3 | 3 | Catsanova | 1992-09-25 | 30 | |
| 4 | 4 | Eek vs. the Flying Saucers | 1992-10-02 | 30 | |
| 5 | 5 | HallowEek | 1992-10-09 | 30 | |
| 6 | 6 | Cape Fur | 1992-10-16 | 30 | |
| 7 | 7 | HawaiiEek 5-0 | 1992-10-23 | 30 | |
| 8 | 8 | Eek's International Adventure | 1992-10-30 | 30 | |
| 9 | 9 | Great Balls of Fur! | 1992-11-06 | 30 | |
| 10 | 10 | The Whining Pirates of Tortuga | 1992-11-13 | 30 | |
| 11 | 11 | The Eekcidental Tourist | 1992-11-20 | 30 | |
| 12 | 12 | The Eeksterminator | 1992-11-27 | 30 | |
| 13 | 13 | It's a Wonderful Nine Lives | 1992-12-04 | 30 | |
Season 2
| Episode No. | No. Overall | Title | Airdate | Runtime | Summary |
| --- | --- | --- | --- | --- | --- |
| 1 | 14 | Shark Therapy / Speed FrEek | 1993-09-25 | 30 | |
| 2 | 15 | Rocketship to Jupiter / Eek's Funny Thing That He Does | 1993-10-02 | 30 | |
| 3 | 16 | Eekpocalypse Now! / Eex Men | 1993-10-09 | 30 | |
| 4 | 17 | Quadrapedia / Night on Squishy Mountain | 1993-11-06 | 30 | |
| 5 | 18 | Star TrEek / Eeking Out a Living | 1993-11-13 | 30 | |
| 6 | 19 | Meat the Thunderlizards / The Great Eekscape | 1993-11-20 | 30 | |
| 7 | 20 | The Lava My Life / Eek Goes to the Hot Spot | 1993-11-27 | 30 | |
| 8 | 21 | Tar and Away | 1993-12-04 | 30 | |
| 9 | 22 | It's a Very Merry Eek's Mas | 1993-12-05 | 30 | |
| 10 | 23 | Always Eat Your Spinach | 1993-12-18 | 30 | |
| 11 | 24 | All About Babs | 1994-01-01 | 30 | |
| 12 | 25 | The Frying Game | 1994-01-08 | 30 | |
| 13 | 26 | Ice Age Kapades / Something's Abyss | 1994-01-15 | 30 | |
| 14 | 27 | The Unbearable Lightness of Being Scooter / Thundersaurus Wrecks | 1994-01-22 | 30 | |
| 15 | 28 | A Sharkwork Orange / Let's Make a Wheel | 1994-02-05 | 30 | |
| 16 | 29 | T-Rex, Lies, and Videotape | 1994-02-19 | 30 | |
| 17 | 30 | Mountain Groan | 1994-02-26 | 30 | |
Season 3
| Episode No. | No. Overall | Title | Airdate | Runtime | Summary |
| --- | --- | --- | --- | --- | --- |
| 1 | 31 | Paws / In the Line of Fur | 1994-09-10 | 30 | |
| 2 | 32 | Chariots of Fur / Honey I Shrunk the Cat | 1994-09-17 | 30 | |
| 3 | 33 | Shark Doggy Dog / Fatal Eektraction | 1994-09-24 | 30 | |
| 4 | 34 | The Good, the Bad and the Squishy / Birth of a Notion | 1994-10-08 | 30 | |
| 5 | 35 | Eek's SnEek PEek / The Thunder Years | 1994-10-15 | 30 | |
| 6 | 36 | The Eex Files / The Hurting Show | 1994-11-05 | 30 | |
| 7 | 37 | Paw Sores / T-Rex and Sympathy | 1994-11-12 | 30 | |
| 8 | 38 | The Eeksorcist / Boo Thunder | 1994-11-19 | 30 | |
| 9 | 39 | Lord of the Fleas / Postcards from the X-Zone | 1994-11-26 | 30 | |
| 10 | 40 | Eekstremely Dull / Planet of the Crepes | 1995-02-04 | 30 | |
| 11 | 41 | Eeksy Rider / A Sharkdog Day Afternoon | 1995-02-18 | 30 | |
| 12 | 42 | Rebel Without the Claws / Cromagnon Farce | 1995-02-18 | 30 | |
| 13 | 43 | This Eek's Your Life | 1995-05-06 | 30 | |
| 14 | 44 | Try Hard | 1995-07-08 | 30 | |
Season 4
| Episode No. | No. Overall | Title | Airdate | Runtime | Summary |
| --- | --- | --- | --- | --- | --- |
| 1 | 45 | Valley of the Dogs / Klutter | 1995-09-09 | 30 | |
| 2 | 46 | Pup Fiction / The Klutter and I | 1995-09-16 | 30 | |
| 3 | 47 | Natural Bored Kittens / Lizard of Aaaahs | 1995-09-23 | 30 | |
| 4 | 48 | OutbrEek / Arctic Blast | 1995-09-30 | 30 | |
| 5 | 49 | Octopussy Cat / Mixed Klutter | 1995-10-07 | 30 | |
| 6 | 50 | Going to Eekstremes / Bi-Pedator | 1995-10-21 | 30 | |
| 7 | 51 | Dazed and Eekstremely Confuzed / FrankenKlutter | 1995-11-04 | 30 | |
| 8 | 52 | Eek Space 9 / The Yawn of Man | 1995-11-11 | 30 | |
| 9 | 53 | The GraduEek / Peanut, Klutter, and Jelly | 1995-11-18 | 30 | |
| 10 | 54 | PolitEekly Correct / Whatta Woild | 1995-11-25 | 30 | |
| 11 | 55 | Night of the Living Spuds | 1996-01-29 | 30 | |
| 12 | 56 | Goop Dreams | 1996-01-30 | 30 | |
| 13 | 57 | It's a Thunderful Life | 1996-02-01 | 30 | |
| 14 | 58 | Thunder & Frightning | 1996-02-05 | 30 | |
| 15 | 59 | The Ghost of Goober Bottom Pond | 1995-10-06 | 30 | |
| 16 | 60 | The Thunder of It All | 1996-02-07 | 30 | |
| 17 | 61 | Bonfire of the Vanna Tea | 1996-02-08 | 30 | |
| 18 | 62 | The Magnificent 5½ | 1996-02-16 | 30 | |
Season 5
| Episode No. | No. Overall | Title | Airdate | Runtime | Summary |
| --- | --- | --- | --- | --- | --- |
| 1 | 63 | DiabolEek | 1996-09-06 | 30 | |
| 2 | 64 | Pre-hysteric Man / Molten Rock-N-Roll | 1996-09-13 | 30 | |
| 3 | 65 | MystEek Pizza | 1996-09-16 | 30 | |
| 4 | 66 | Eek Bin Ein Berliner / Thunder Valley | 1996-09-20 | 30 | |
| 5 | 67 | Snowbored | 1996-10-14 | 30 | |
| 6 | 68 | Fists of Furry | 1996-10-28 | 30 | |
| 7 | 69 | The Island of Dr. Meow / Home O' Sapien Alone | 1997-07-07 | 30 | |
| 8 | 70 | Nightmare on Elmo St. / Night of the Living Duds | 1997-07-14 | 30 | |
| 9 | 71 | Show Squirls | 1997-07-18 | 30 | |
| 10 | 72 | Eekscaliber | 1997-07-21 | 30 | |
| 11 | 73 | The FugEektive | 1997-07-25 | 30 | |
| 12 | 74 | The Sound of MusEek / Oh...the Humanity | 1997-07-28 | 30 | |
| 13 | 75 | Rock-Eek 6 | 1997-08-01 | 30 | |
Related News
TVMaze