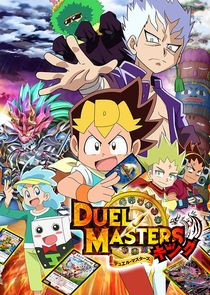 Who's the kid with the spiky hair?! Meet Shobu Kirifuda, son of legendary (and missing) Kaijudo Master Shori Kirifuda. Shobu's just an ordinary kid, with one big difference - Shobu has the potential to be the World's Greatest Duelist! With best friends Rekuta, Sayuki and Mimi cheering him on, Shobu's dueling skills are increasing and he's learning valuable lessons about friendship, destiny and winning. Under the watchful eye of the mysterious Knight, Shobu learns to harness the power of the Flaming Hand and gains better control over both the ferocious creatures in the Zone and a steady stream of wacky (and sometimes evil!) opponents. Come along with Shobue and his friends as he follows the path to becoming a champion duelist and maybe... someday... a Kaijudo Master!
Series Overview
Rating
imDb Rating: 5.3 (445 Votes)
Metascore: N/A
Plot
A ten year old boy wants to become the best duelist, like his father in the duel masters world.
Details
Rated: TV-Y7
Released: 27 Feb 2004
Runtime: N/A
Genre: Animation, Family
Director: N/A
Writer: Shigenobu Matsumoto
Actors: Doug Erholtz, Lisa Enochs, Milton Lawrence, Brahan Lee
Language: English
Country: USA
Awards: N/A
Total Seasons: 2
Previous Episode
Episode 4
Episode 16x4; Apr 26, 2020
Previous Episodes 16x8: Episode 8 16x7: Episode 7 16x6: Episode 6 16x5: Episode 5 16x4: Episode 4 16x3: Episode 3 16x2: Episode 2 16x1: Episode 1 15x51: Episode 51

View All Episodes
Cast
Yumiko Kobayashi as Shōbu Kirifuda
Hidetoshi Nakamura as Master
Junko Minagawa as Hakuoh
Naoki Tatsuta as Maruo Kadoko
Saeko Chiba as Sayuki Manaka
Saki Nakajima as Mimi Tasogare
View Full Cast
Skip to:
Season 1
| Episode No. | No. Overall | Title | Airdate | Runtime | Summary |
| --- | --- | --- | --- | --- | --- |
| 1 | 1 | Playing with a Full Deck | 2002-10-21 | 25 | |
| 2 | 2 | It's Not Easy Being Green | 2002-10-28 | 25 | |
| 3 | 3 | Toru, Toru, Toru, Part 1 | 2002-11-04 | 25 | |
| 4 | 4 | Toru, Toru, Toru, Part 2 | 2002-11-11 | 25 | |
| 5 | 5 | I'll Be a Monkey's Brother | 2002-11-18 | 25 | |
| 6 | 6 | Wok on the Wildside | 2002-11-25 | 25 | |
| 7 | 7 | White Boys Can't Charm | 2002-12-02 | 25 | |
| 8 | 8 | Duels of the Futures Past | 2002-12-09 | 25 | |
| 9 | 9 | A Goblin Shall Lead Them | 2002-12-16 | 25 | |
| 10 | 10 | Shobu Gets Decked | 2002-12-23 | 25 | |
| 11 | 11 | Ballad of Kintaro, Part 1 | 2003-01-06 | 25 | |
| 12 | 12 | Ballad of Kintaro, Part 2 | 2003-01-13 | 25 | |
| 13 | 13 | Looney Mikuni, Part 1 | 2003-01-20 | 25 | |
| 14 | 14 | Looney Mikuni, Part 2 | 2003-01-27 | 25 | |
| 15 | 15 | A Strange Twist of Fate | 2003-02-03 | 25 | |
| 16 | 16 | Yes, Master | 2003-02-10 | 25 | |
| 17 | 17 | Oh Brother, Where Art Thou | | 25 | |
| 18 | 18 | Cable Guy | | 25 | |
| 19 | 19 | Once More with Feeling | | 25 | |
| 20 | 20 | Kokujo Fights Back | | 25 | |
| 21 | 21 | The One Where Shobu Duels Hakuoh | | 25 | |
| 22 | 22 | Just Duel It | 2003-03-03 | 25 | |
| 23 | 23 | The Crying Game | 2003-03-10 | 25 | |
| 24 | 24 | Do You Really Want to Hurt Me? | 2003-03-17 | 25 | |
| 25 | 25 | Something Wacky This Way Comes | 2003-03-24 | 25 | |
| 26 | 26 | What's a Mana with You? | 2003-03-31 | 25 | |
Season 2
| Episode No. | No. Overall | Title | Airdate | Runtime | Summary |
| --- | --- | --- | --- | --- | --- |
| 1 | 27 | Charge!!! | 2004-04-19 | 25 | |
| 2 | 28 | The Curtains Open On The Battle Arena | 2004-04-26 | 25 | |
| 3 | 29 | The Shady Network Seige | 2004-05-17 | 25 | |
| 4 | 30 | Obstacle | 2004-05-24 | 25 | |
| 5 | 31 | The Last Duel | 2004-06-14 | 25 | |
| 6 | 32 | Duel Dojo!! | 2004-06-21 | 25 | |
| 7 | 33 | The Kiddies Fight To The Finish! | 2004-07-12 | 25 | |
| 8 | 34 | Dragon Mask, Shrouded In Mystery! | 2004-07-19 | 25 | |
| 9 | 35 | The Strongest Duellist?! | 2004-08-09 | 25 | |
| 10 | 36 | You are Your Own Enemy! | 2004-08-16 | 25 | |
| 11 | 37 | Duel In The Name Of Love! | 2004-09-06 | 25 | |
| 12 | 38 | Gyujiro Turned Over A New Leaf! | 2004-09-13 | 25 | |
| 13 | 39 | Aye~! Bucket Man! | 2004-10-04 | 25 | |
| 14 | 40 | An Angel VS The Reaper | 2004-10-11 | 25 | |
| 15 | 41 | Invasion Of The Creepy Crawlies, And What-Not! | 2004-11-01 | 25 | |
| 16 | 42 | A Two-Sided Duel | 2004-11-08 | 25 | |
| 17 | 43 | Perfect Duel | 2004-11-29 | 25 | |
| 18 | 44 | Beat Shobu!! | 2004-12-20 | 25 | |
| 19 | 45 | The Mysterious Yu Fua | 2004-12-27 | 25 | |
| 20 | 46 | A Hint Of Awakening | 2005-01-17 | 25 | |
| 21 | 47 | A Brand New Deck | 2005-01-24 | 25 | |
| 22 | 48 | The Truth Behind Yu Fua! | 2005-02-14 | 25 | |
| 23 | 49 | Awakened!! | 2005-03-07 | 25 | |
| 24 | 50 | Thy Name Is Zakira | 2005-03-14 | 25 | |
| 25 | 51 | Bucket Man VS Shobu! | 2005-04-04 | 25 | |
| 26 | 52 | Conclusion! | 2005-04-11 | 25 | |
| 27 | 53 | He Lost His Memory | 2005-05-02 | 25 | |
| 28 | 54 | On The Road To Fua Castle! | 2005-05-09 | 25 | |
| 29 | 55 | Duel Festival | 2005-05-30 | 25 | |
| 30 | 56 | The Cursed Card | 2005-06-20 | 25 | |
| 31 | 57 | The Fua Castle Express | 2005-06-27 | 25 | |
| 32 | 58 | Yu, A Precious Child All By Her Lonesome | 2005-07-18 | 25 | |
| 33 | 59 | The Village Of Whatchumicallit, Or Something! | 2005-07-25 | 25 | |
| 34 | 60 | It's Sink Or Swim At Something-Or-Other Waterfalls! | 2005-08-15 | 25 | |
| 35 | 61 | Lucky Duellist | 2005-08-22 | 25 | |
| 36 | 62 | Double Duel! | 2005-09-12 | 25 | |
| 37 | 63 | The Prodigy Awakens | 2005-09-19 | 25 | |
| 38 | 64 | Fua Castle | 2005-10-10 | 25 | |
| 39 | 65 | Storm The Castle! | 2005-10-17 | 25 | |
| 40 | 66 | Friendship | 2005-11-07 | 25 | |
| 41 | 67 | The Card Of Life | 2005-11-14 | 25 | |
| 42 | 68 | Both of Them, On the Brink | 2005-12-05 | 25 | |
| 43 | 69 | The Dark Avenger | 2005-12-12 | 25 | |
| 44 | 70 | I Have A 0% Chance Of Victory?! | 2006-01-02 | 25 | |
| 45 | 71 | Connected By Fate | 2006-01-09 | 25 | |
| 46 | 72 | Mimi And White | 2006-01-30 | 25 | |
| 47 | 73 | Hopelessness | 2006-02-20 | 25 | |
| 48 | 74 | Time Limit | 2006-02-27 | 25 | |
| 49 | 75 | Death Can't Die | 2006-03-06 | 25 | |
| 50 | 76 | Zakira Takes a Stand | 2006-03-13 | 25 | |
| 51 | 77 | Revalations | 2006-03-20 | 25 | |
| 52 | 78 | The Last And Final Hope | 2006-03-27 | 25 | |
Series Cast
| | | | |
| --- | --- | --- | --- |
| | Yumiko Kobayashi | as Shōbu Kirifuda | |
| | Hidetoshi Nakamura | as Master | |
| | Junko Minagawa | as Hakuoh | |
| | Naoki Tatsuta | as Maruo Kadoko | |
| | Saeko Chiba | as Sayuki Manaka | |
| | Saki Nakajima | as Mimi Tasogare | |
| | Yuka Imai | as Rekuta Kadoko | |
| | Eriko Hirata | as Benchan | |
| | Ryuuzou Ishino | as Bucchake | |
| | Yuuka Nakatsukasa | as Yodel | |
| | Fumie Mizusawa | as Chūjirō | |
| | Fumie Mizusawa | as Lucifer | |
| | Hana Sato | as Justice/Masayoshi Kamase | |
| | Karin Nanami | as Kojirō | |
| | Karin Nanami | as Rena | |
| | Kouzou Mito | as Dobin-sensei | |
| | Masayoshi Sugawara | as Hokaben | |
| | Misako Tomioka | as Helen | |
| | Miyu Matsuki | as Reiko Oka | |
| | Naomi Shindoh | as Sasori Busujima | |
| | Nobuyuki Hiyama | as Kojirō | |
| | Sakura Tange | as Lulu Takigawa | |
| | Taiki Matsuno | as Kaeru Idochū | |
| | Chisa Yuuki | as Daijirō | |
| | Yumiko Kobayashi | as Katta Kirifuda | |
| | Jun Fukushima | as Basara Akagiyama | |
| | Setsuji Satō | as Naretarō Mina | |
| | Yu Kobayashi | as Dewey Mouse | |
| | Yumiko Kobayashi | as Joe Kirifuda | |
| | Aki Toyosaki | as Momo Uraraka | |
| | Kōji Takeda | as Hunter | |
| | Kumiko Watanabe | as Kabamaro | |
| | Masayoshi Sugawara | as Colonel Rabbit | |
| | Rie Kugimiya | as Pyonko-hime | |
| | Rika Morinaga | as Kokinpurian | |
| | Ryō Nishitani | as Shachō | |
| | Setsuji Satō | as Decky | |
| | Toshiyuki Toyonaga | as Kira | |
| | Masakazu Morita | as Zero | |
| | Minoru Shiraishi | as Bolts | |
| | Misako Tomioka | as Totento | |
| | Taketora | as Kabuto Oni | |
| | Yuka Maruyama | as Dragonfly | |
| | Kumiko Watanabe | as Smartphone | |
| | Taichi Ichikawa | as Cap | |
| | Rie Murakawa | as Conny | |
| | Ryohei Kimura | as Abaku Onifuda | |
Related News
TVMaze