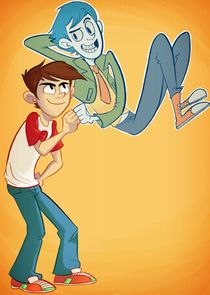 For Spencer Wright, a 14-year-old budding filmmaker, Beverly Heights is the ultimate thrill ride. But, being the new kid at a high school populated by Hollywood royalty, he's an outsider with no ticket in. He's the kind of kid who gets his allowance in cash, not stock options; finding himself amid all this bling and stardom is intimidating. Luckily, he's got an all-access pass in the form of his best friend, the ghost of pop star Billy Joe Cobra!
Series Overview
Rating
imDb Rating: 6.2 (106 Votes)
Metascore: N/A
Plot
Best friends 12 year-old Spencer Wright and the ghost of pop star Billy Joe Cobra spend their days in Beverly Heights making amateur horror movies and getting caught up in supernatural hijinks.
Details
Rated: N/A
Released: 02 Feb 2013
Runtime: 11 min
Genre: Animation
Director: N/A
Writer: Jan Van Rijsselberge
Actors: Rasmus Hardiker, Beardyman, Nathalie Bienaimé, Christophe Lemoine
Language: English
Country: France, UK
Awards: N/A
Total Seasons: 1
Previous Episode
Evil Billy
Episode 1x52; Dec 08, 2013
Previous Episodes 1x52: Evil Billy 1x51: The Wright Kind of Christmas 1x50: Evil Wig 1x49: The Hat 1x48: The Sleepover 1x47: Ponzi's Got Talent 1x46: Cheer Up 1x45: Three's a Crowd 1x44: The Substitute

View All Episodes
Skip to:
Season 1
| Episode No. | No. Overall | Title | Airdate | Runtime | Summary |
| --- | --- | --- | --- | --- | --- |
| 1 | 1 | Scaring Mallory | 2013-02-02 | 12 | When Billy scares Mallory enough to make her consider moving out of town, Spencer must try and convince her to stay. |
| 2 | 2 | Billy Joe Cobra Museum | 2013-02-02 | 12 | To raise money, Spencer turns the mansion into the Billy Joe Cobra museum, but runs into problems when Billy Joe becomes annoyed by the guests. |
| 3 | 3 | Billy Joe the Scholar | 2013-02-03 | 12 | Spencer runs into trouble when he takes advantage of Billy by tricking him into doing his homework. |
| 4 | 4 | Cuckoos Nest | 2013-02-03 | 12 | |
| 5 | 5 | School of Rockers | 2013-02-09 | 12 | Spencer runs into trouble during the school's talent contest. |
| 6 | 6 | How to Impress Ladies | 2013-02-09 | 12 | Billy helps Spencer find a date to the Shorty Awards. |
| 7 | 7 | The Ghost of Spencer Wright | 2013-02-10 | 12 | Billy turns Spencer into a ghost. |
| 8 | 8 | Axe Maniac | 2013-02-10 | 12 | Billy feels neglected when Spencer pays more attention to a new video game than to him. |
| 9 | 9 | Sports Hero | 2013-02-16 | 12 | Spencer tries to become more popular by being a sports star so people will notice his films. |
| 10 | 10 | Biopic Trap | 2013-02-16 | 12 | Spencer has to find a way to save his reputation when he's forced to direct a biography of Principal Ponzi. |
| 11 | 11 | Pool Monster | 2013-02-17 | 12 | When Billy's ectoplasm contaminates Spencer's goldfish, it mutates into a piranha that the two must dispose from the family pool. |
| 12 | 12 | The Uninvited | 2013-02-17 | 12 | Spencer has to find a way to get rid of Kleet after Jessica develops a crush on him. |
| 13 | 13 | Billy Joe's Last Fan | 2013-02-23 | 12 | Hoover pretends to be a fan of Billy in order to capture him. |
| 14 | 14 | Let's Do Lunch | 2013-02-23 | 12 | Spencer pretends to be an accomplished director in order to get a big-time movie producer to hire him. |
| 15 | 15 | Billy Do Joe | 2013-02-24 | 12 | Spencer's attempt at a kung fu film goes awry when he casts Kleet as the villain. |
| 16 | 16 | Billy Blob | 2013-02-24 | 12 | Spencer uses a blob of gum mutated by Billy's ectoplasm in his new movie, but has to stop it when it begins expanding and swallowing everything in sight. |
| 17 | 17 | True Party | 2013-03-02 | 12 | Spencer throws a birthday party for Rajeev on Billy's private jet. |
| 18 | 18 | Phantom of the Popera | 2013-03-02 | 12 | Spencer lies to Billy in order to attend a pop star's concert and hang out with Mallory. |
| 19 | 19 | Rock 'n' Home | 2013-03-03 | 12 | Spencer has to prove to his parents that he is responsible enough to stay home alone. |
| 20 | 20 | Ghost Mascot | 2013-03-03 | 12 | |
| 21 | 21 | Best Day Ever | 2013-04-20 | 12 | |
| 22 | 22 | Trouble with Hairy | 2013-04-21 | 12 | |
| 23 | 23 | School of Terror | 2013-04-27 | 12 | |
| 24 | 24 | Where's Wendy | 2013-04-28 | 12 | |
| 25 | 25 | The Candidate | 2013-05-04 | 12 | |
| 26 | 26 | For the Birds | 2013-05-05 | 12 | |
| 27 | 27 | Little Billy | 2013-05-11 | 12 | |
| 28 | 28 | Lolo in Love | 2013-05-12 | 12 | |
| 29 | 29 | Billy's Achilles | 2013-05-18 | 12 | |
| 30 | 30 | Reality Showdown | 2013-05-19 | 12 | |
| 31 | 31 | A Place in the Sun | 2013-05-25 | 12 | |
| 32 | 32 | Copycat Cobra | 2013-05-26 | 12 | |
| 33 | 33 | Bad Publicity | 2013-09-07 | 12 | |
| 34 | 34 | Soccer Star | 2013-09-07 | 12 | |
| 35 | 35 | Billy, Billy, Billy, Billy, Billy | 2013-09-08 | 12 | |
| 36 | 36 | And the Winner Is... | 2013-09-08 | 12 | |
| 37 | 37 | House Haunts | 2013-09-14 | 12 | |
| 38 | 38 | House of Horrors | 2013-09-14 | 12 | |
| 39 | 39 | The Blair Wright Project | 2013-09-15 | 12 | |
| 40 | 40 | Zombie Love | 2013-09-14 | 12 | |
| 41 | 41 | Summertime Rules! | 2013-09-21 | 12 | |
| 42 | 42 | Merman | 2013-09-21 | 12 | |
| 43 | 43 | Escape from Beverly Beverly High | 2013-09-22 | 12 | |
| 44 | 44 | The Substitute | 2013-09-22 | 12 | |
| 45 | 45 | Three's a Crowd | 2013-09-28 | 12 | |
| 46 | 46 | Cheer Up | 2013-09-28 | 12 | |
| 47 | 47 | Ponzi's Got Talent | 2013-09-29 | 12 | |
| 48 | 48 | The Sleepover | 2013-09-29 | 12 | |
| 49 | 49 | The Hat | 2013-12-07 | 12 | |
| 50 | 50 | Evil Wig | 2013-12-14 | 12 | |
| 51 | 51 | The Wright Kind of Christmas | 2013-12-15 | 12 | |
| 52 | 52 | Evil Billy | 2013-12-08 | 12 | |
Related News
TVMaze