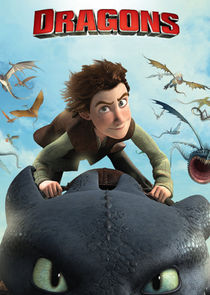 DreamWorks Dragons picks up where the critically-acclaimed feature film, How to Train Your Dragon, left off, this weekly animated series follows the continuing adventures of Hiccup and his dragon Toothless on the island of Berk, along with the band of dragon trainers, all of whom now have dragons of their own!

Through their training, the kids are finding out the cool things dragons can do. Not only will they learn more about their dragons, they'll also discover new ones and battle against enemies as they explore worlds they never dreamed existed.
Series Overview
Rating
imDb Rating: 8.0 (8,809 Votes)
Metascore: N/A
Plot
The further adventures of Hiccup and his friends on the Island of Berk.
Details
Rated: TV-PG
Released: 07 Aug 2012
Runtime: 22 min
Genre: Animation, Short, Action, Adventure, Comedy, Family, Fantasy
Director: N/A
Writer: N/A
Actors: America Ferrera, Jay Baruchel, T.J. Miller, Zack Pearlman
Language: English
Country: USA
Awards: Won 1 Primetime Emmy. Another 5 wins & 16 nominations.
Total Seasons: 3
Previous Episode
Cast Out (Part II)
Episode 2x20; Mar 05, 2014
Hiccup is forced to work with Alvin in order to save his father from Dagur's wrath. But when Alvin and Mildew help him discover what the Screaming Death has been after all along, he comes up with a plan to end the war between the Outcasts and Berk, stop Dagur, get rid of the Screaming Death, and save Berk once and for all.
Previous Episodes 2x20: Cast Out (Part II) 2x19: Cast Out (Part I) 2x18: Bing! Bang! Boom! 2x17: Smoke Gets in Your Eyes 2x16: The Eel Effect


2x15: A Tale of Two Dragons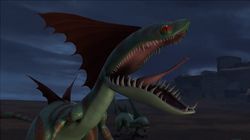 2x14: Frozen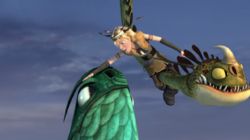 2x13: Free Scauldy 2x12: The Flight Stuff

View All Episodes
Cast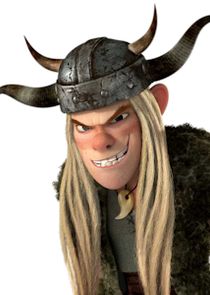 T.J. Miller as Tuffnut Thorston
Jay Baruchel as Hiccup Haddock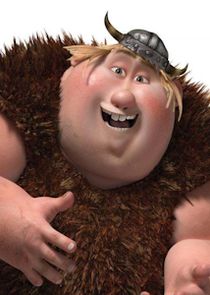 Christopher Mintz-Plasse as Fishlegs Ingerman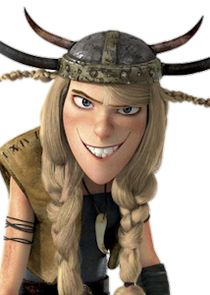 Julie Marcus as Ruffnut Thorston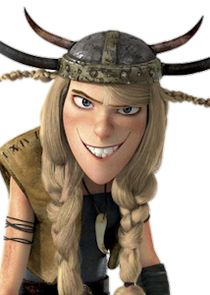 Andrée Vermeulen as Ruffnut Thorston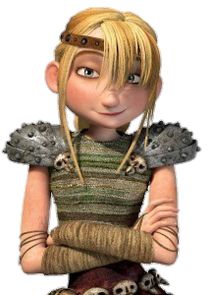 America Ferrera as Astrid Hofferson
View Full Cast
Skip to:
Season 1
| Episode No. | No. Overall | Title | Airdate | Runtime | Summary |
| --- | --- | --- | --- | --- | --- |
| 1 | 1 | How to Start a Dragon Academy | 2012-08-07 | 30 | Having made peace and now living among the Vikings, the dragons' natural behavior leads to chaos on the Isle of Berk. This causes Stoick to reconsider allowing the dragons to roam freely on Berk. It is up to Hiccup and his friends to convince him otherwise. |
| 2 | 2 | Viking for Hire | 2012-08-07 | 30 | The peace with the dragons has put Gobber out of business as a weaponry blacksmith. Feeling responsible, Hiccup tries to help find a new job for Gobber, however Gobber's slightly eccentric and overenthusiastic personality makes this difficult. |
| 3 | 3 | Animal House | 2012-09-04 | 30 | The dragons unintentionally cripple Berk's food productivity by terrifying the local livestock, and with the year's first winter storm coming, the dragon-riding Viking youths of Berk must try and familiarize the local animals with their dragon companions if they are to have enough food for the winter. |
| 4 | 4 | The Terrible Twos | 2012-09-11 | 30 | Hiccup finds an injured baby dragon in the woods. Noting that this dragon is an undocumented species, he takes it in for care and closer study. The teens name it a "Typhoomerang", but Toothless appears jealous and does not warm up to the energetic newcomer. Meanwhile, the baby's mother makes her way toward Berk to find her lost son. |
| 5 | 5 | In Dragons We Trust | 2012-09-18 | 30 | The dragons are blamed for vandalism, and Hiccup tries to prove their innocence by forming a night patrol called the "Dragon United Monitoring Brigade" (DUMB), but not in time to prevent the dragons' banishment from the island. Hiccup begins to suspect that Mildew is responsible for the damage. |
| 6 | 6 | Alvin and the Outcasts | 2012-09-25 | 30 | Continuing from the previous episode, Hiccup attempts to find evidence that Mildew caused the damage to the village, hoping to exonerate the banished dragons. Meanwhile, Alvin the Treacherous of the Outcast Tribe launches a raid on the Isle of Berk in order to find and capture the "Dragon Conqueror". |
| 7 | 7 | How to Pick Your Dragon | 2012-10-03 | 30 | Hiccup convinces Stoick to ride a dragon to aid him in his duties as chief, but he quickly insists on riding Toothless on a regular basis, to both Toothless and Hiccup's dismay. Meanwhile, a mysterious dragon has been attacking the tribe's fishing ships. |
| 8 | 8 | Portrait of Hiccup as a Buff Young Man | 2012-10-10 | 30 | A traditional painted portrait of Berk's Chief and his son exaggerates Hiccup's muscularity and size and causes him to worry that he is not Stoick's ideal son. Hiccup is determined to prove himself by accomplishing the treasure-hunting quest of Hamish II, a quest that even Stoick and Gobber had not been able to complete. |
| 9 | 9 | Dragon Flower | 2012-10-17 | 30 | Immediately after the visit of the renowned Trader Johann, all dragons on the Isle of Berk are mysteriously falling ill. When Mildew is discovered responsible, he is forced to help Hiccup, Stoick, and Gobber find and capture a ferocious water dragon called the Scauldron in order to concoct an antidote before it is too late (after the Scauldron bites Mildew's butt). |
| 10 | 10 | Heather Report (Part 1) | 2012-11-14 | 30 | The teens of Berk find a mysterious girl named Heather on Thor's Beach. While Hiccup and the other teens openly welcome the newcomer, Astrid's jealousy turns to suspicion when she notices Heather is taking an unusual interest in the Book of Dragons. Unfortunately it is found she was working with the Outcasts and, despite the Dragon Riders' effort, she manages to give the ancient Book of Dragons to Alvin. |
| 11 | 11 | Heather Report (Part II) | 2012-11-21 | 30 | Heather's betrayal to Berk caused the Book of Dragons to fall into Alvin the Treacherous' hands, and Heather's imprisonment on Berk. In order to get the book back from Alvin, Astrid disguises herself as Heather and goes into Outcast Territory. Towards the end of her mission, Astrid learns and confirms Heather's true motives for helping the Outcasts-freeing her parents. |
| 12 | 12 | Thawfest | 2012-11-28 | 30 | Berk's annual festive sporting competition, the Thawfest games, is underway and all the teens are participating with the dragons for the first time in Viking history. Hiccup is determined to finally best Snotlout, who constantly gloats about being the reigning Thawfest champion, but Hiccup's successes begin to make him arrogant and boastful, much to Astrid's displeasure and disappointment. |
| 13 | 13 | When Lightning Strikes | 2012-12-05 | 30 | Sudden lightning storms are endangering the residents of Berk and it is believed that Thor is angry at the island. Mildew leads the superstitious villagers into blaming Toothless, "the unholy offspring of [lightning] and death itself", for the lightning, leaving Hiccup to find the true answers for Thor's sudden destructive anger. |
| 14 | 14 | What Flies Beneath | 2013-02-06 | 30 | Toothless encounters a Whispering Death, that happens to be a rival from his past. Blinded by their grudge against each other, Toothless runs away to confront the rival alone. Hiccup must find Toothless and reason with him before the rivalry turns fatal. |
| 15 | 15 | Twinsanity | 2013-02-13 | 30 | Dagur the Deranged visits Berk to renew a peace treaty between the Hooligan Tribe of Berk and the Berserkers, and the dragons are put into hiding to dispel rumours that Berk is training a dragon army, which will make Dagur cancel the treaty. But when Ruffnut and Tuffnut begin to fight, their dragon, Barf and Belch, is left out of control. The Viking teenagers must bring the twins back together to control their dragon and avoid provoking Dagur to war. |
| 16 | 16 | Defiant One | 2013-02-20 | 30 | Caught in a waterspout, Toothless' prosthetic tail is damaged, rendering him unable to fly and thus leaving him, Hiccup and Snotlout stranded on Outcast Island. The three must work together to repair the damage, overcome the rivalry between Hiccup and Snotlout and return home to Berk before they are captured by Alvin and the Outcasts. |
| 17 | 17 | Breakneck Bog | 2013-02-27 | 30 | When Hiccup discovers Trader Johann's ship was shipwrecked in a rumored haunted bog with a gift made for him by his mother, he will stop at nothing to retrieve it -not even being followed by a "fog monster". |
| 18 | 18 | Gem of a Different Color | 2013-03-06 | 30 | When Snotlout and the villagers mistake color-changing dragon eggs for gems that bring good fortune, Fishlegs, who is responsible for the eggs' discovery, must take a stand against Snotlout,who is trying to sell the eggs, and reunite them with their Changewing mothers before they destroy Berk. |
| 19 | 19 | We Are a Family (Part 1) | 2013-03-13 | 30 | During Berk's annual Bork week celebrations, Hiccup is granted access to Bork the Bold's private and personal archives. When he finds information and a map about an island inhabited by Night Furies within Bork's notes, Hiccup is determined to bring Toothless to his family. After discovering that the Bork notes are fakes made by the Outcasts, the duo tries to flee, but are captured by Alvin. |
| 20 | 20 | We Are a Family (Part 2) | 2013-03-20 | 30 | After being captured, Hiccup discovers that Mildew has joined the Outcasts. However, Mildew is also imprisoned when he's no longer of any use to Alvin now that he has Hiccup. Hiccup reluctantly allows Mildew to help him find Toothless and escape Outcast Island, a final test for Mildew's loyalty to Berk. After Hiccup and Toothless escape, Mildew betrays the Dragon Riders, revealing that Mildew's imprisonment has also been a trick, allowing Alvin to train a Whispering Death. |
Season 2
| Episode No. | No. Overall | Title | Airdate | Runtime | Summary |
| --- | --- | --- | --- | --- | --- |
| 1 | 21 | Live and Let Fly | 2013-09-19 | 30 | Concerned that Alvin and the Outcast Tribe are planning an attack on Berk, Stoick institutes flight restrictions on the dragon academy. Certain that Alvin will also use his newfound dragon-training knowledge to bolster any attack, Hiccup forms a secret "Dragon Flight Club" in order to train the kids to defend Berk against a potential dragon army-not realizing that Stoick's flight ban was for everyone except Stoick himself. Alvin and the Outcasts then attack Berk, and while the riders are defending against the attack, Savage plant Whispering Death eggs in the caverns under Berk... |
| 2 | 22 | The Iron Gronckle | 2013-09-26 | 30 | Fishlegs discovers that Meatlug can produce "Gronckle Iron", a lightweight but extremely strong metal. Because their slow speed had previously allowed an Outcast boat to escape, Fishlegs decides that producing Gronckle Iron is a more helpful task than flying with the other teens, until Meatlug ends up ingesting a magnetic rock, attracting all the metal in the village-including Hiccup's metal leg. |
| 3 | 23 | The Night and the Fury | 2013-10-03 | 30 | When Hiccup and the others go to Dragon Island to train their stealth and survival instincts without the help of their dragons, Hiccup reluctantly gets caught up in dragon-hunting with Dagur the Deranged, who is also on the island to find and kill Toothless in order to restore the honor of the Berserkers. |
| 4 | 24 | Tunnel Vision | 2013-10-10 | 30 | When the town's well runs dry, Hiccup and Toothless discover the group of baby Whispering Death dragons in the tunnels underneath the village planted there by Alvin and the Outcasts, and discover a new dragon subspecies, the Screaming Death. The teens must drive the Screaming Death and the Whispering Death hatchlings away from the village before they destroy Berk. |
| 5 | 25 | Race to Fireworm Island | 2013-10-17 | 30 | When Hookfang's flame goes out after Snotlout pushes his training too hard, the kids have to figure out how to reignite it with the burning heat of Fireworm dragons before it's too late, but not before discovering that Fireworms act similar to bees in a beehive, and they have an angry queen, too! |
| 6 | 26 | Fright of Passage | 2013-10-24 | 30 | Every decade, Aurvandil's Fire arrives to Berk, inviting a ghostly dragon, the Flightmare, to the village. Astrid, with the help of Hiccup and Fishlegs, is determined to defeat this dragon, which seemingly "froze" her uncle with fear, in order to restore her family name. Meanwhile, Ruffnut and Tuffnut create a bunker at the Academy to hide from the Flightmare, allowing everyone in except Snotlout, instead demanding a superfluous amount of unusual tasks, such as bringing rainbow chickens, singing Terrible Terrors, and fish dressed like Stoick to mess around with him. |
| 7 | 27 | Worst in Show | 2013-11-07 | 30 | When the team has an argument about who is the best dragon trainer, a "competition" take place to see who is the best dragon trainer despite Hiccup the only member who keeps telling them that it is not a competition. They each receive a Terrible Terror and are given one day to train it and teach it tricks, such as head butting, controlled fire shooting, and some dog-like tricks. While wrapped up in trying to beat Snotlout, Fishlegs fails to notice that Meatlug caught Outcasts sneaking into Berk, which leads to her being captured! |
| 8 | 28 | Appetite for Destruction | 2013-11-14 | 30 | When the nearby islands begin to disappear and the dragons that used to inhabit them begin migrating to Dragon Island, the teens discover that the cause of this is the Screaming Death, who has returned seeking vengeance. The Screaming Death happened to be digging shafts underneath the island that were large enough to cause the islands to collapse into the sea, forcing dragons to abandon their homes. The teens have to stop the Screaming Death before it causes Berk to collapse. |
| 9 | 29 | Zippleback Down | 2013-11-21 | 30 | Barf and Belch are Tuffnut's only guard when he gets caught in an old dragon trap in the forest. Things go from bad to worse when Tuffnut is faced with not only a fully-grown Torch (the young Typhoomerang that the gang befriended in Season One), but also an incoming deadly forest fire that threatens him and both the dragons. |
| 10 | 30 | A View to a Skrill (Part I) | 2013-12-05 | 30 | When the dragon riders discover a Skrill, a lightning-powered dragon revered by the Berserkers,that happens to be frozen in ice, they scramble to get it off Berk. But when the Skrill is thawed out and unleashed, Hiccup and Toothless are faced with a battle between both the Skrill and Dagur the Deranged's Berserker armada (also hunting the Skrill) which could prove to be more than Hiccup and Toothless can handle. During the battle, the twins witness Alvin in an Outcast ship capturing the Skrill... |
| 11 | 31 | A View to a Skrill (Part II) | 2013-12-05 | 30 | When Alvin the Treacherous captures the Skrill, Hiccup, Ruffnut, and Tuffnut go undercover to discover that a truce is in the process of being formed between the Outcasts and the Berserkers to invade Berk with the Skrill as their weapon. Dagur is giving Alvin the support of his vast fleet in exchange for the Skrill, but the truce is uneasy. The trio must now flee to release the Skrill from their control before the truce can be settled. However, Dagur betrays Alvin, claiming that because the Skrill is the Beserker's emblem, that they have full control over it, and gets rid of him. Dagur then attempts to take on Hiccup and Toothless with the Skrill, but he doesn't have Hiccup or Alvin's experience with dragons and the dangerous Skrill proves more than either of them can handle. Hiccup and Toothless manage to lure the Skrill into a glacier, freezing it once again. |
| 12 | 32 | The Flight Stuff | 2014-01-08 | 30 | Snotlout becomes convinced he is dying having seen "The five signs of Valhalla", claiming that after seeing a singing tree, falling chickens, and sheep chasing him, etc, that he would die, and wants young Gustav to be his replacement including taking care of Hookfang in case he died. But when Snotlout "miraculously" recovers (the five signs he saw were really pranks played by Ruffnut and Tuffnut), he takes his dragon back, and Gustav decides to get a dragon of his own (named Fanghook) and join the academy… whether they want him to or not, especially as the Dragon Riders plan to stop Dagur the Deranged's new plan. |
| 13 | 33 | Free Scauldy | 2014-01-15 | 30 | While on patrol for the Screaming Death, Hiccup, Toothless, Fishlegs and the twins discover an injured Scauldron on Changewing island. The Scauldron rebuffs their attempts for help, so no one but Ruffnut seems to calm it down. She trains the dragon and the gang are able to help it. Ruffnut sacrifices her long braids in order to finish the support for the wing before the Changewings get them. |
| 14 | 34 | Frozen | 2014-01-22 | 30 | After rescuing Trader Johann, Hiccup and Toothless return from a mission to find Berk mysteriously empty. They discover that the village has been overrun by Speed Stingers, a non-flying dragon that move at blindingly fast speeds and can paralyze their victims with their tails. The Speed Stingers have trekked across the frozen sea to Berk and driven everyone out of town. Now, Hiccup must find a way to drive the Speed Stinger horde away from Berk before their next raid. |
| 15 | 35 | A Tale of Two Dragons | 2014-01-29 | 30 | Hiccup must mend fences between Astrid and Snotlout when Stormfly and Hookfang start fighting more ferociously than ever. Astrid and Snotlout must grudgingly work together to find the cause of the feud, if they want their dragons to stay in the academy. Meanwhile, Fishlegs discovers Dragon Root, which could end up affecting not just Stormfly and Hookfang, but all their dragons. |
| 16 | 36 | The Eel Effect | 2014-02-05 | 30 | While gathering an eel for medicine for an Eel Pox epidemic on Berk, Toothless eats a red eel attacking Hiccup after he falls into eel infested waters. This causes Toothless to come down with the dragons' version of Eel Pox, skittish and uncontrollable fire power. To make things worse the ingredients needed to cure the illness are in Toothless' satchel and all but Fishlegs has been caught sick. With little time to lose, Hiccup and Fishlegs must find a way to cure Toothless and get the stuff for the cure back to Berk. |
| 17 | 37 | Smoke Gets in Your Eyes | 2014-02-12 | 30 | When Trader Johann delivers mass quantities of metal to Berk that came from Breakneck Bog, the island becomes infested with Smothering Smokebreaths, that steal the town's metal to build a new nest. With no metal, and especially no weapons to protect their village, Hiccup and the others must find a way to get rid of the rogue dragons, only to discover that the Smokebreaths' appearance was planned as an attack by Dagur the Deranged. |
| 18 | 38 | Bing! Bang! Boom! | 2014-02-19 | 30 | When three baby Thunderdrums follow Hiccup and Stoick back to Berk, the trio of Dragons prove to be a handful for the Dragon Academy to train. When the baby dragons are forced to live on Dragon Island after nearly destroying Berk, the group learns they can't survive without a parent, so Stoick releases Thornado so he can take care of them, the two parting reluctantly. |
| 19 | 39 | Cast Out (Part I) | 2014-02-26 | 30 | After Snotlout accidentally puts Astrid in a near-death situation, Hiccup suspends him from the academy for disobeying the rules one time too many. However after he and Hookfang are ambushed by the Screaming Death on Snotlout's secret island, "Snotland"', he is rescued by Alvin the Treacherous, who has returned to Berk, claiming he is there to make amends with the Vikings. Despite the fact that nobody trusts him, Alvin's warnings allow them to defeat Dagur's invasion, but before they can destroy Dagur he captures Stoick; Dagur flees back to Outcast Island with his captive, demanding Hiccup and Toothless in exchange for Stoick's life. |
| 20 | 40 | Cast Out (Part II) | 2014-03-05 | 30 | Hiccup is forced to work with Alvin in order to save his father from Dagur's wrath. But when Alvin and Mildew help him discover what the Screaming Death has been after all along, he comes up with a plan to end the war between the Outcasts and Berk, stop Dagur, get rid of the Screaming Death, and save Berk once and for all. |
Season 3
| Episode No. | No. Overall | Title | Airdate | Runtime | Summary |
| --- | --- | --- | --- | --- | --- |
Series Cast
| | | | |
| --- | --- | --- | --- |
| | T.J. Miller | as Tuffnut Thorston | |
| | Jay Baruchel | as Hiccup Haddock | |
| | Christopher Mintz-Plasse | as Fishlegs Ingerman | |
| | Julie Marcus | as Ruffnut Thorston | |
| | Andrée Vermeulen | as Ruffnut Thorston | |
| | America Ferrera | as Astrid Hofferson | |
| | Zack Pearlman | as Snotlout Jorgenson | |
| | Nolan North | as Stoick Haddock | |
| | Chris Edgerly | as Gobber | |
Series Crew
| | Position | Name |
| --- | --- | --- |
| | Executive Producer | Michael Teverbaugh |
| | Executive Producer | Douglas Sloan |
| | Supervising Producer | Douglas Sloan |
| | Executive Producer | Linda Teverbaugh |
| | Executive Producer | Art Brown |
| | Supervising Producer | Art Brown |
| | Co-Executive Producer | Sandra Rabins |
| | Co-Producer | Jim Cooper |
Related News
TVMaze