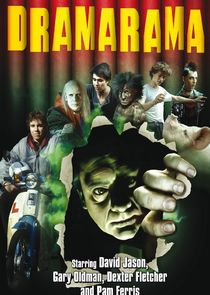 Dramarama was a British children's anthology series broadcast on ITV between 12 September 1983 – 21 August 1989.
Providing a showcase for some of Britain s most accomplished screenwriters, Dramarama was an acclaimed series which became a staple part of children s television viewing and is still widely remembered today.
Spooky aired shortly before the main series was broadcast, exploring the supernatural vein that would appear throughout Dramarama's run.
The screenplays venture into the dark corners of the imagination to create some of the most spine-tingling scenes ever seen on children's television!
Series Overview
Rating
imDb Rating: 7.2 (79 Votes)
Metascore: N/A
Plot
A series of plays for children which featured the supernatural frequently and science fiction occasionally.
Details
Rated: N/A
Released: 12 Sep 1983
Runtime: N/A
Genre: Drama, Family, Fantasy
Director: N/A
Writer: N/A
Actors: Denyse Alexander, Ian Kirkby, Christopher Biggins, Bill Wallis
Language: English
Country: UK
Awards: N/A
Total Seasons: 7
Previous Episode
In the Pink
Episode 7x11; Aug 21, 1989
Previous Episodes 7x11: In the Pink 7x10: Mitchin' 7x9: Just Wild About Harry 7x8: Snakes and Loofahs 7x7: Rosie the Great 7x6: The Pisces Connection 7x5: Monstrous 7x4: Back to Front 7x3: Badger

View All Episodes
Skip to:
Season 1
| Episode No. | No. Overall | Title | Airdate | Runtime | Summary |
| --- | --- | --- | --- | --- | --- |
| 1 | 1 | Mighty Mum and the Petnappers | 1983-09-12 | 25 | |
| 2 | 2 | Rip It Up | 1983-09-19 | 25 | |
| 3 | 3 | The Venchie | 1983-09-26 | 25 | |
| 4 | 4 | Jack and the Computer | 1983-10-03 | 25 | |
| 5 | 5 | Because I Say So | 1983-10-10 | 25 | |
| 6 | 6 | Bully for Cosmo | 1983-10-17 | 25 | |
| 7 | 7 | Messages | 1983-10-24 | 25 | |
| 8 | 8 | The Young Person's Guide to Getting Their Ball Back | 1983-10-31 | 25 | |
| 9 | 9 | Sweet Revenge | 1983-11-07 | 25 | |
Season 2
| Episode No. | No. Overall | Title | Airdate | Runtime | Summary |
| --- | --- | --- | --- | --- | --- |
| 1 | 10 | Night of the Narrow Boats | 1984-05-14 | 25 | |
| 2 | 11 | Fowl Pest | 1984-05-21 | 25 | |
| 3 | 12 | Dodger, Bonzo and the Rest | 1984-05-28 | 25 | |
| 4 | 13 | Que Sera | 1984-06-04 | 25 | |
| 5 | 14 | Stalemate | 1984-06-11 | 25 | |
| 6 | 15 | Snoop! | 1984-06-25 | 25 | |
| 7 | 16 | Mr. Stabs | 1984-07-02 | 25 | |
| 8 | 17 | Josephine Jo | 1984-07-09 | 25 | |
| 9 | 18 | The Purple People Eater | 1984-07-16 | 25 | |
| 10 | 19 | On Your Tod | 1984-07-23 | 25 | |
| 11 | 20 | The Old Firm: Two for Starters | 1984-07-30 | 25 | |
| 12 | 21 | Rachel and Rosie | 1984-08-06 | 25 | |
Season 3
| Episode No. | No. Overall | Title | Airdate | Runtime | Summary |
| --- | --- | --- | --- | --- | --- |
| 1 | 22 | Easy | 1985-04-01 | 25 | |
| 2 | 23 | The Coal Princess | 1985-04-15 | 25 | |
| 3 | 24 | Look At Me | 1985-04-22 | 25 | |
| 4 | 25 | The Young Person's Guide to Going Backwards in the World | 1985-04-29 | 25 | |
| 5 | 26 | The Audition | 1985-05-13 | 25 | |
| 6 | 27 | The Universe Downstairs | 1985-05-20 | 25 | |
| 7 | 28 | A Proper Little Nooryeff | 1985-06-03 | 25 | |
| 8 | 29 | Frog | 1985-06-10 | 25 | |
| 9 | 30 | Private Eye | 1985-06-17 | 25 | |
| 10 | 31 | Emily | 1985-06-24 | 25 | |
| 11 | 32 | Silver | 1985-07-01 | 25 | |
| 12 | 33 | The Golden Conch | 1985-07-08 | 25 | |
| 13 | 34 | Purple Passion Video | 1985-07-15 | 25 | |
Season 4
| Episode No. | No. Overall | Title | Airdate | Runtime | Summary |
| --- | --- | --- | --- | --- | --- |
| 1 | 35 | The Come-Uppance of Captain Katt | 1986-06-30 | 25 | |
| 2 | 36 | A Couple of Charlies | 1986-07-07 | 25 | |
| 3 | 37 | Wayfarers | 1986-07-14 | 25 | |
| 4 | 38 | Play Acting | 1986-07-21 | 25 | |
| 5 | 39 | Last Days at Black Bert's | 1986-07-28 | 25 | |
| 6 | 40 | Maureen Reid Where Are You? | 1986-08-04 | 25 | |
| 7 | 41 | Flashback | 1986-08-11 | 25 | |
| 8 | 42 | Direct Action | 1986-08-18 | 25 | |
| 9 | 43 | Waiting for Elvis | 1986-09-01 | 25 | |
| 10 | 44 | Just a Game | 1986-09-08 | 25 | |
| 11 | 45 | Flyaway Friend | 1986-09-15 | 25 | |
| 12 | 46 | Pig Ignorance | 1986-09-22 | 25 | |
| 13 | 47 | Jessie's Place | 1986-09-29 | 25 | |
| 14 | 48 | Frankie's Hat | 1986-10-06 | 25 | |
Season 5
| Episode No. | No. Overall | Title | Airdate | Runtime | Summary |
| --- | --- | --- | --- | --- | --- |
| 1 | 49 | Cannondrum | 1987-03-30 | 25 | |
| 2 | 50 | Snap | 1987-04-06 | 25 | |
| 3 | 51 | The Horrible Story | 1987-04-13 | 25 | |
| 4 | 52 | My Friend Julie | 1987-04-27 | 25 | |
| 5 | 53 | The Creature Beyond Torches' End | 1987-05-11 | 25 | |
| 6 | 54 | My Mum's a Courgette | 1987-05-18 | 25 | |
| 7 | 55 | Brainwaves | 1987-06-08 | 25 | |
| 8 | 56 | Undertow of the Armada | 1987-06-15 | 25 | |
| 9 | 57 | Stan's First Night | 1987-06-22 | 25 | |
| 10 | 58 | Living Doll | 1987-06-29 | 25 | |
| 11 | 59 | Peter | 1987-07-03 | 25 | |
| 12 | 60 | The Halt | 1987-07-06 | 25 | |
| 13 | 61 | Tam | 1987-07-13 | 25 | |
| 14 | 62 | A Spirited Performance | 1987-08-10 | 25 | |
| 15 | 63 | Badger on the Barge | 1987-08-24 | 25 | |
Season 6
| Episode No. | No. Overall | Title | Airdate | Runtime | Summary |
| --- | --- | --- | --- | --- | --- |
| 1 | 64 | Forever Young | 1988-05-09 | 25 | |
| 2 | 65 | The Macramé Man | 1988-05-16 | 25 | |
| 3 | 66 | The Wrong Button | 1988-05-23 | 25 | |
| 4 | 67 | Bubbles | 1988-06-06 | 25 | |
| 5 | 68 | Blackbird Singing in the Dead of Night | 1988-06-13 | 25 | |
| 6 | 69 | Big T for Trouble | 1988-06-20 | 25 | |
| 7 | 70 | Room for One More | 1988-06-27 | 25 | |
| 8 | 71 | Making Waves | 1988-07-04 | 25 | |
| 9 | 72 | Just a Normal Girl | 1988-07-11 | 25 | |
| 10 | 73 | Now You See Them | 1988-07-18 | 25 | |
| 11 | 74 | Bogeymen | 1988-07-25 | 25 | |
| 12 | 75 | The Alien | 1988-08-01 | 25 | |
| 13 | 76 | The Secret of Croftmore | 1988-08-08 | 25 | |
| 14 | 77 | The Bubblegum Brigade | 1988-08-15 | 25 | |
| 15 | 78 | Playing for Wales | 1988-08-22 | 25 | |
| 16 | 79 | Snap Decision | 1988-08-29 | 25 | |
Season 7
| Episode No. | No. Overall | Title | Airdate | Runtime | Summary |
| --- | --- | --- | --- | --- | --- |
| 1 | 80 | Codzmorf | 1989-06-12 | 25 | |
| 2 | 81 | Ghost Story | 1989-06-19 | 25 | |
| 3 | 82 | Badger | 1989-06-26 | 25 | |
| 4 | 83 | Back to Front | 1989-07-03 | 25 | |
| 5 | 84 | Monstrous | 1989-07-10 | 25 | |
| 6 | 85 | The Pisces Connection | 1989-07-17 | 25 | |
| 7 | 86 | Rosie the Great | 1989-07-24 | 25 | |
| 8 | 87 | Snakes and Loofahs | 1989-07-31 | 25 | |
| 9 | 88 | Just Wild About Harry | 1989-08-07 | 25 | |
| 10 | 89 | Mitchin' | 1989-08-14 | 25 | |
| 11 | 90 | In the Pink | 1989-08-21 | 25 | |
Series Crew
| | Position | Name |
| --- | --- | --- |
| | Creator | Anna Home |
Related News
TVMaze