This long-running show created by Jack Webb features the criminal investigations of police detective Joe Friday. Webb prided himself on making the cases as "realistic" as possible, with many of the cases taken from the files of the LAPD. The series was based on the popular radio series, and subsequently inspired three revivals in the 60s, 1989, and 2003.
Series Overview
Rating
imDb Rating: 7.5 (1,621 Votes)
Metascore: N/A
Plot
Sgt. Joe Friday and his partners methodically investigate crimes in Los Angeles.
Details
Rated: N/A
Released: 16 Dec 1951
Runtime: 30 min
Genre: Crime, Drama, Mystery
Director: N/A
Writer: Jack Webb
Actors: Jack Webb
Language: English
Country: USA
Awards: Won 5 Primetime Emmys. Another 4 wins & 12 nominations.
Total Seasons: 8
Previous Episode
The Big Red
Episode 8x39; Aug 23, 1959
Previous Episodes 8x39: The Big Red 8x38: The Big Counterfeit 8x37: The Big .38 8x36: The Big Operator 8x35: The Big Appetite 8x34: The Big Infant 8x33: The Big Byron 8x32: The Big Bray 8x31: The Big Carnation

View All Episodes
Cast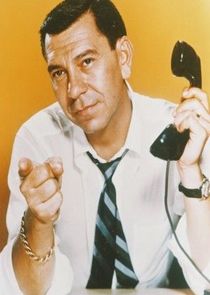 Jack Webb as Sgt. Joe Friday
Barton Yarborough as Sgt. Ben Romero
Barney Phillips as Sgt. Ed Jacobs
Herb Ellis as Off. Frank Smith
Ben Alexander as Off. Frank Smith
View Full Cast
Skip to:
Season 1
| Episode No. | No. Overall | Title | Airdate | Runtime | Summary |
| --- | --- | --- | --- | --- | --- |
| 1 | 1 | The Human Bomb | 1951-12-16 | 30 | |
| 2 | 2 | The Big Actor | 1952-01-03 | 30 | |
| 3 | 3 | The Big Death | 1952-01-17 | 30 | |
| 4 | 4 | The Big Mother | 1952-01-31 | 30 | |
| 5 | 5 | The Big Cast | 1952-02-14 | 30 | |
| 6 | 6 | The Big Speech | 1952-02-28 | 30 | |
| 7 | 7 | The Big Parrot | 1952-03-13 | 30 | |
| 8 | 8 | The Big Moody | 1952-03-27 | 30 | |
| 9 | 9 | The Big Blast | 1952-04-10 | 30 | |
| 10 | 10 | The Big Trial | 1952-04-24 | 30 | |
| 11 | 11 | The Big September Man | 1952-05-08 | 30 | |
| 12 | 12 | The Big Phone Call | 1952-05-22 | 30 | |
| 13 | 13 | The Big Casing | 1952-06-05 | 30 | |
| 14 | 14 | The Big Lamp | 1952-06-19 | 30 | |
Season 2
| Episode No. | No. Overall | Title | Airdate | Runtime | Summary |
| --- | --- | --- | --- | --- | --- |
| 1 | 15 | The Big Jump | 1952-09-11 | 30 | |
| 2 | 16 | The Big Sorrow | 1952-09-25 | 30 | |
| 3 | 17 | The Big Elevator | 1952-10-09 | 30 | |
| 4 | 18 | The Big Seventeen | 1952-11-06 | 30 | |
| 5 | 19 | The Big Trio | 1952-11-20 | 30 | |
| 6 | 20 | The Big Imposter | 1952-12-04 | 30 | |
| 7 | 21 | The Big .22 Rifle for Christmas | 1952-12-18 | 30 | |
| 8 | 22 | The Big Cop | 1953-01-18 | 30 | |
| 9 | 23 | The Big Grandma | 1953-01-08 | 30 | |
| 10 | 24 | The Big Whiff | 1953-01-15 | 30 | |
| 11 | 25 | The Big Show | 1953-01-22 | 30 | |
| 12 | 26 | The Big Safe | 1953-01-29 | 30 | |
| 13 | 27 | The Big Church | 1953-02-05 | 30 | |
| 14 | 28 | The Big Hate | 1953-02-12 | 30 | |
| 15 | 29 | The Big Shakedown | 1953-02-19 | 30 | |
| 16 | 30 | The Big Rose | 1953-02-26 | 30 | |
| 17 | 31 | The Big Building | 1953-03-05 | 30 | |
| 18 | 32 | The Big Run | 1953-03-12 | 30 | |
| 19 | 33 | The Big Break | 1953-03-19 | 30 | |
| 20 | 34 | The Big Light | 1953-03-26 | 30 | |
| 21 | 35 | The Big Waiter | 1953-04-02 | 30 | |
| 22 | 36 | The Big Test | 1953-04-09 | 30 | |
| 23 | 37 | The Big Lay-Out | 1953-04-16 | 30 | |
| 24 | 38 | The Big Fire | 1953-04-23 | 30 | |
| 25 | 39 | The Big Ray | 1953-04-30 | 30 | |
| 26 | 40 | The Big Frank | 1953-05-07 | 30 | |
| 27 | 41 | The Big Lease | 1953-05-14 | 30 | |
| 28 | 42 | The Big Hands | 1953-05-21 | 30 | |
| 29 | 43 | The Big Fourth | 1953-05-28 | 30 | |
| 30 | 44 | The Big Market | 1953-06-04 | 30 | |
| 31 | 45 | The Big Friend | 1953-06-11 | 30 | |
| 32 | 46 | The Big Barrette | 1953-06-18 | 30 | |
| 33 | 47 | The Big Dance | 1953-06-25 | 30 | |
Season 3
| Episode No. | No. Overall | Title | Airdate | Runtime | Summary |
| --- | --- | --- | --- | --- | --- |
| 1 | 48 | The Big White Rat | 1953-09-03 | 30 | |
| 2 | 49 | The Big Revolt | 1953-09-10 | 30 | |
| 3 | 50 | The Big Bull | 1953-09-17 | 30 | |
| 4 | 51 | The Big Betty | 1953-09-24 | 30 | |
| 5 | 52 | The Big Sophomore | 1953-10-01 | 30 | |
| 6 | 53 | The Big Pill | 1953-10-08 | 30 | |
| 7 | 54 | The Big Lie | 1953-10-15 | 30 | |
| 8 | 55 | The Big Fake | 1953-10-22 | 30 | |
| 9 | 56 | The Big Dream | 1953-10-29 | 30 | |
| 10 | 57 | The Big Guilt | 1953-11-05 | 30 | |
| 11 | 58 | The Big Will | 1953-11-12 | 30 | |
| 12 | 59 | The Big In-Laws | 1953-11-19 | 30 | |
| 13 | 60 | The Big Lilly | 1953-11-26 | 30 | |
| 14 | 61 | The Big Kill | 1953-12-03 | 30 | |
| 15 | 62 | The Big Lover | 1953-12-10 | 30 | |
| 16 | 63 | The Big Thief | 1953-12-17 | 30 | |
| 17 | 64 | The Big Little Jesus | 1953-12-24 | 30 | |
| 18 | 65 | The Big Eavesdrop | 1953-12-31 | 30 | |
| 19 | 66 | The Big Trunk | 1954-01-07 | 30 | |
| 20 | 67 | The Big Youngster | 1954-01-14 | 30 | |
| 21 | 68 | The Big Boys | 1954-01-21 | 30 | |
| 22 | 69 | The Big Ham | 1954-01-28 | 30 | |
| 23 | 70 | The Big Chance | 1954-02-04 | 30 | |
| 24 | 71 | The Big Children | 1954-02-11 | 30 | |
| 25 | 72 | The Big Poison | 1954-02-18 | 30 | |
| 26 | 73 | The Big Quack | 1954-02-25 | 30 | |
| 27 | 74 | The Big Winchester | 1954-03-04 | 30 | |
| 28 | 75 | The Big Shoplift | 1954-03-11 | 30 | |
| 29 | 76 | The Big Hit-Run Killer | 1954-03-18 | 30 | |
| 30 | 77 | The Big Drink | 1954-03-25 | 30 | |
| 31 | 78 | The Big Girl | 1954-04-01 | 30 | |
| 32 | 79 | The Big Mattress | 1954-04-08 | 30 | |
| 33 | 80 | The Big Pug | 1954-04-15 | 30 | |
| 34 | 81 | The Big Frame | 1954-04-22 | 30 | |
| 35 | 82 | The Big Plant | 1954-04-29 | 30 | |
| 36 | 83 | The Big Check | 1954-05-06 | 30 | |
| 37 | 84 | The Big Threat | 1954-05-13 | 30 | |
| 38 | 85 | The Big Dare | 1954-05-20 | 30 | |
| 39 | 86 | The Big False Make | 1954-05-27 | 30 | |
Season 4
| Episode No. | No. Overall | Title | Airdate | Runtime | Summary |
| --- | --- | --- | --- | --- | --- |
| 1 | 87 | The Big Producer | 1954-08-26 | 30 | |
| 2 | 88 | The Big Fraud | 1954-09-02 | 30 | |
| 3 | 89 | The Big Crime | 1954-09-09 | 30 | |
| 4 | 90 | The Big Pair | 1954-09-16 | 30 | |
| 5 | 91 | The Big Escape | 1954-09-23 | 30 | |
| 6 | 92 | The Big Kid | 1954-09-30 | 30 | |
| 7 | 93 | The Big Missing | 1954-10-07 | 30 | |
| 8 | 94 | The Big Bar | 1954-10-14 | 30 | |
| 9 | 95 | The Big Present | 1954-10-21 | 30 | |
| 10 | 96 | The Big Gangster (Part 1) | 1954-10-28 | 30 | |
| 11 | 97 | The Big Gangster (Part 2) | 1954-11-04 | 30 | |
| 12 | 98 | The Big New Years | 1954-11-11 | 30 | |
| 13 | 99 | The Big Want Ad | 1954-11-18 | 30 | |
| 14 | 100 | The Big Affair | 1954-11-25 | 30 | |
| 15 | 101 | The Big Bible | 1954-12-02 | 30 | |
| 16 | 102 | The Big Bindle | 1954-12-09 | 30 | |
| 17 | 103 | The Big Office | 1954-12-16 | 30 | |
| 18 | 104 | The Big Rod | 1954-12-30 | 30 | |
| 19 | 105 | The Big Rescue | 1955-01-06 | 30 | |
| 20 | 106 | The Big Family | 1955-01-13 | 30 | |
| 21 | 107 | The Big Shock | 1955-01-20 | 30 | |
| 22 | 108 | The Big Screen | 1955-01-27 | 30 | |
| 23 | 109 | The Big TV | 1955-02-03 | 30 | |
| 24 | 110 | The Big Dog | 1955-02-10 | 30 | |
| 25 | 111 | The Big Underground | 1955-02-17 | 30 | |
| 26 | 112 | The Big Key | 1955-02-24 | 30 | |
| 27 | 113 | The Big Mailman | 1955-03-03 | 30 | |
| 28 | 114 | The Big Customer | 1955-03-10 | 30 | |
| 29 | 115 | The Big Tar Baby | 1955-03-17 | 30 | |
| 30 | 116 | The Big Number | 1955-03-24 | 30 | |
| 31 | 117 | The Big Mask | 1955-03-31 | 30 | |
| 32 | 118 | The Big Sucker | 1955-04-07 | 30 | |
| 33 | 119 | The Big Mustache | 1955-04-14 | 30 | |
| 34 | 120 | The Big Heel | 1955-04-21 | 30 | |
| 35 | 121 | The Big Gone | 1955-04-28 | 30 | |
| 36 | 122 | The Big Student | 1955-05-05 | 30 | |
| 37 | 123 | The Big Watch | 1955-05-12 | 30 | |
| 38 | 124 | The Big Dig | 1955-05-19 | 30 | |
| 39 | 125 | The Big Mug | 1955-05-26 | 30 | |
Season 5
| Episode No. | No. Overall | Title | Airdate | Runtime | Summary |
| --- | --- | --- | --- | --- | --- |
| 1 | 126 | The Big Pipe | 1955-09-19 | 30 | |
| 2 | 127 | The Big Chet | 1955-09-08 | 30 | |
| 3 | 128 | The Big No Rain | 1955-09-15 | 30 | |
| 4 | 129 | The Big Lift | 1955-09-22 | 30 | |
| 5 | 130 | The Big Confession | 1955-09-29 | 30 | |
| 6 | 131 | The Big Gap | 1955-10-06 | 30 | |
| 7 | 132 | The Big Look | 1955-10-13 | 30 | |
| 8 | 133 | The Big Glasses | 1955-10-20 | 30 | |
| 9 | 134 | The Big Bird | 1955-10-27 | 30 | |
| 10 | 135 | The Big Laugh | 1955-11-03 | 30 | |
| 11 | 136 | The Big Smoke | 1955-11-10 | 30 | |
| 12 | 137 | The Big Bounce | 1955-11-17 | 30 | |
| 13 | 138 | The Big Shot | 1955-11-24 | 30 | |
| 14 | 139 | The Big Locker | 1955-12-01 | 30 | |
| 15 | 140 | The Big Note | 1955-12-08 | 30 | |
| 16 | 141 | The Big Genius | 1955-12-15 | 30 | |
| 17 | 142 | The Big Reminisce | 1955-12-29 | 30 | |
| 18 | 143 | The Big Tour | 1956-01-05 | 30 | |
| 19 | 144 | The Big Sisters | 1956-01-12 | 30 | |
| 20 | 145 | The Big Ruling | 1956-01-19 | 30 | |
| 21 | 146 | The Big Fall Guy | 1956-01-26 | 30 | |
| 22 | 147 | The Big Set | 1956-02-02 | 30 | |
| 23 | 148 | The Big Child | 1956-02-09 | 30 | |
| 24 | 149 | The Big Slug | 1956-02-16 | 30 | |
| 25 | 150 | The Big Daughter | 1956-02-23 | 30 | |
| 26 | 151 | The Big No Suicide | 1956-03-01 | 30 | |
| 27 | 152 | The Big Siege | 1956-03-08 | 30 | |
| 28 | 153 | The Big Mama | 1956-03-15 | 30 | |
| 29 | 154 | The Big Revision | 1956-03-22 | 30 | |
| 30 | 155 | The Big Ex-Blonde | 1956-03-29 | 30 | |
| 31 | 156 | The Big Bobo | 1956-04-05 | 30 | |
| 32 | 157 | The Big Rush | 1956-04-12 | 30 | |
| 33 | 158 | The Big Setup | 1956-04-19 | 30 | |
| 34 | 159 | The Big Deal | 1956-04-26 | 30 | |
| 35 | 160 | The Big Wish | 1956-05-03 | 30 | |
| 36 | 161 | The Big Hate | 1956-05-10 | 30 | |
| 37 | 162 | The Big Housemaid | 1956-05-17 | 30 | |
| 38 | 163 | The Big Gift | 1956-05-24 | 30 | |
| 39 | 164 | The Big Savage | 1956-05-31 | 30 | |
Season 6
| Episode No. | No. Overall | Title | Airdate | Runtime | Summary |
| --- | --- | --- | --- | --- | --- |
| 1 | 165 | The Big Cat | 1956-09-27 | 30 | |
| 2 | 166 | The Big Misses | 1956-10-11 | 30 | |
| 3 | 167 | The Big Beer | 1956-10-18 | 30 | |
| 4 | 168 | The Big Net | 1956-10-25 | 30 | |
| 5 | 169 | The Big Convertable | 1956-11-01 | 30 | |
| 6 | 170 | The Big Limp | 1956-11-08 | 30 | |
| 7 | 171 | The Big Tattoo | 1956-11-15 | 30 | |
| 8 | 172 | The Big Odd | 1956-11-22 | 30 | |
| 9 | 173 | The Big Bill | 1956-11-29 | 30 | |
| 10 | 174 | The Big Search | 1956-12-06 | 30 | |
| 11 | 175 | The Big Talk | 1956-12-13 | 30 | |
| 12 | 176 | The Big Doting Mother | 1956-12-20 | 30 | |
| 13 | 177 | The Big Handcuffs | 1956-12-27 | 30 | |
| 14 | 178 | The Big Father | 1957-01-03 | 30 | |
| 15 | 179 | The Big Switch | 1957-01-10 | 30 | |
| 16 | 180 | The Big Steal | 1957-01-17 | 30 | |
| 17 | 181 | The Big Manikin | 1957-01-24 | 30 | |
| 18 | 182 | The Big No Tooth | 1957-01-31 | 30 | |
| 19 | 183 | The Big Skip | 1957-02-07 | 30 | |
| 20 | 184 | The Big Fin | 1957-02-14 | 30 | |
| 21 | 185 | The Big Game | 1957-02-21 | 30 | |
| 22 | 186 | The Big Coins | 1957-02-28 | 30 | |
| 23 | 187 | The Big Close | 1957-03-07 | 30 | |
| 24 | 188 | The Big Tie | 1957-03-14 | 30 | |
| 25 | 189 | The Big Cup | 1957-03-21 | 30 | |
| 26 | 190 | The Big Truck | 1957-03-28 | 30 | |
| 27 | 191 | The Big Saint | 1957-04-04 | 30 | |
| 28 | 192 | The Big Match | 1957-04-11 | 30 | |
| 29 | 193 | The Big Help | 1957-04-18 | 30 | |
| 30 | 194 | The Big Celebration | 1957-04-25 | 30 | |
| 31 | 195 | The Big Cry Baby | 1957-05-02 | 30 | |
| 32 | 196 | The Big Lesson | 1957-05-09 | 30 | |
| 33 | 197 | The Big Soldier | 1957-05-16 | 30 | |
| 34 | 198 | The Big Make | 1957-05-23 | 30 | |
Season 7
| Episode No. | No. Overall | Title | Airdate | Runtime | Summary |
| --- | --- | --- | --- | --- | --- |
| 1 | 199 | The Big Constitution | 1957-09-26 | 30 | |
| 2 | 200 | The Big Candy Box | 1957-10-03 | 30 | |
| 3 | 201 | The Big Button | 1957-10-10 | 30 | |
| 4 | 202 | The Big Yak | 1957-10-17 | 30 | |
| 5 | 203 | The Big Howard | 1957-10-24 | 30 | |
| 6 | 204 | The Big Tomato Cans | 1957-10-31 | 30 | |
| 7 | 205 | The Big Dip | 1957-11-07 | 30 | |
| 8 | 206 | The Big License Plates | 1957-11-14 | 30 | |
| 9 | 207 | The Big Blank | 1957-11-21 | 30 | |
| 10 | 208 | The Big Tease | 1957-11-28 | 30 | |
| 11 | 209 | The Big Love | 1957-12-25 | 30 | |
| 12 | 210 | The Big Red Wagon | 1957-12-12 | 30 | |
| 13 | 211 | The Big Prescription | 1957-12-19 | 30 | |
| 14 | 212 | The Big Full Moon | 1957-12-26 | 30 | |
| 15 | 213 | The Big Jade | 1958-01-02 | 30 | |
| 16 | 214 | The Big Tip | 1958-01-09 | 30 | |
| 17 | 215 | The Big Stubby | 1958-01-16 | 30 | |
| 18 | 216 | The Big Baby Face | 1958-01-23 | 30 | |
| 19 | 217 | The Big Lip | 1958-01-30 | 30 | |
| 20 | 218 | The Big Boot | 1958-02-13 | 30 | |
| 21 | 219 | The Big Rip | 1958-02-20 | 30 | |
| 22 | 220 | The Big Excuse | 1958-02-27 | 30 | |
| 23 | 221 | The Big Knot | 1958-03-03 | 30 | |
| 24 | 222 | The Big Hobby | 1958-03-13 | 30 | |
| 25 | 223 | The Big Organizer | 1958-03-20 | 30 | |
| 26 | 224 | The Big Gent | 1958-03-27 | 30 | |
| 27 | 225 | The Big Wardrobe | 1958-04-03 | 30 | |
| 28 | 226 | The Big War | 1958-04-10 | 30 | |
| 29 | 227 | The Big Bad Count | 1958-04-17 | 30 | |
| 30 | 228 | The Big Evans | 1958-04-24 | 30 | |
| 31 | 229 | The Big Pack Rat | 1958-05-01 | 30 | |
| 32 | 230 | The Big Honeymoon | 1958-05-08 | 30 | |
| 33 | 231 | The Big Eyes | 1958-05-15 | 30 | |
| 34 | 232 | The Big Cracker Box | 1958-05-22 | 30 | |
| 35 | 233 | The Big Perfume Bottle | 1958-05-29 | 30 | |
| 36 | 234 | The Big Bed | 1958-06-05 | 30 | |
| 37 | 235 | The Big Ruthie | 1958-06-12 | 30 | |
| 38 | 236 | The Big Grifter | 1958-06-19 | 30 | |
| 39 | 237 | The Big Irony | 1958-06-26 | 30 | |
Season 8
| Episode No. | No. Overall | Title | Airdate | Runtime | Summary |
| --- | --- | --- | --- | --- | --- |
| 1 | 238 | The Big Beating | 1958-09-23 | 30 | |
| 2 | 239 | The Big Weet Annie | 1958-09-30 | 30 | |
| 3 | 240 | The Big Star | 1958-10-07 | 30 | |
| 4 | 241 | The Big Oskar | 1958-10-14 | 30 | |
| 5 | 242 | The Big Little Boy | 1958-10-21 | 30 | |
| 6 | 243 | The Big Voice | 1958-10-28 | 30 | |
| 7 | 244 | The Big Jukebox | 1958-11-04 | 30 | |
| 8 | 245 | The Big Doll | 1958-11-11 | 30 | |
| 9 | 246 | The Big Border | 1958-11-18 | 30 | |
| 10 | 247 | The Big Nazi | 1958-11-25 | 30 | |
| 11 | 248 | The Big Hot Rod | 1958-12-02 | 30 | |
| 12 | 249 | The Big Green Monkey | 1958-12-09 | 30 | |
| 13 | 250 | The Big Hype | 1958-12-16 | 30 | |
| 14 | 251 | The Big Maria | 1958-12-23 | 30 | |
| 15 | 252 | The Big Donation | 1958-12-30 | 30 | |
| 16 | 253 | The Big Malcolm | 1959-01-06 | 30 | |
| 17 | 254 | The Big Smart Girl | 1959-01-13 | 30 | |
| 18 | 255 | The Big Doctor | 1959-01-20 | 30 | |
| 19 | 256 | The Big Signet | 1959-01-27 | 30 | |
| 20 | 257 | The Big Accident | 1959-02-03 | 30 | |
| 21 | 258 | The Big Mailman | 1959-02-10 | 30 | |
| 22 | 259 | The Big Sour | 1959-02-17 | 30 | |
| 23 | 260 | The Big Roll | 1959-02-24 | 30 | |
| 24 | 261 | The Big Thirteen | 1959-03-10 | 30 | |
| 25 | 262 | The Big Starlet | 1959-03-17 | 30 | |
| 26 | 263 | The Big Holdup | 1959-03-24 | 30 | |
| 27 | 264 | The Big Name | 1959-03-31 | 30 | |
| 28 | 265 | The Big Couple | 1959-04-07 | 30 | |
| 29 | 266 | The Big Squeeze | 1959-04-14 | 30 | |
| 30 | 267 | The Big Picture | 1959-04-21 | 30 | |
| 31 | 268 | The Big Carnation | 1959-04-28 | 30 | |
| 32 | 269 | The Big Bray | 1959-07-07 | 30 | |
| 33 | 270 | The Big Byron | 1959-07-12 | 30 | |
| 34 | 271 | The Big Infant | 1959-07-19 | 30 | |
| 35 | 272 | The Big Appetite | 1959-07-26 | 30 | |
| 36 | 273 | The Big Operator | 1959-08-02 | 30 | |
| 37 | 274 | The Big .38 | 1959-08-09 | 30 | |
| 38 | 275 | The Big Counterfeit | 1959-08-16 | 30 | |
| 39 | 276 | The Big Red | 1959-08-23 | 30 | |
Series Cast
| | | | |
| --- | --- | --- | --- |
| | Jack Webb | as Sgt. Joe Friday | |
| | Barton Yarborough | as Sgt. Ben Romero | |
| | Barney Phillips | as Sgt. Ed Jacobs | |
| | Herb Ellis | as Off. Frank Smith | |
| | Ben Alexander | as Off. Frank Smith | |
Series Crew
| | Position | Name |
| --- | --- | --- |
| | Executive Producer | Stanley Meyer |
Related News
TVMaze