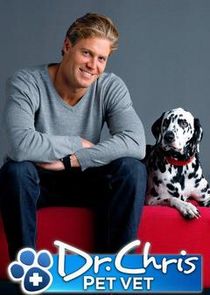 Chronicling the adventures of Dr. Chris Brown, Dr. Chris Pet Vet gives viewers unique insights into the life of one of the world's busiest vets and the animals to whom he's devoted his life. For those animals that require special services, Dr. Chris calls on his good friend and colleague Dr. Lisa Chimes, who works at an animal hospital specializing in unique animal care. Each episode of Dr. Chris Pet Vet delivers not only a carefully crafted mix of human and animal interest stories, but also features a variety of animals undergoing a range of medical procedures from elective surgery to highly advanced medical procedures.
Series Overview
Rating
imDb Rating: 8.6 (51 Votes)
Metascore: N/A
Plot
This show is about life as a vet
Details
Rated: TV-G
Released: 28 Sep 2013
Runtime: N/A
Genre: Documentary, Family
Director: N/A
Writer: N/A
Actors: Chris Brown, Alex Rain, Lisa Chimes
Language: English
Country: USA
Awards: N/A
Total Seasons: 5
Previous Episode
The Gang's All Here
Episode 6x26; May 25, 2019
Previous Episodes 6x26: The Gang's All Here 6x25: Landing on Your Feet 6x24: Pet in Need 6x23: High Stakes on the High Seas 6x22: What's Hop, Doc? 6x21: Family Matters 6x20: A Familiar Face 6x19: Sticking Your Neck Out 6x18: A Delicate Procedure

View All Episodes
Skip to:
Season 1
| Episode No. | No. Overall | Title | Airdate | Runtime | Summary |
| --- | --- | --- | --- | --- | --- |
| 1 | 1 | Lucky Duck | 2013-09-28 | 30 | |
| 21 | 2 | All Creatures Great & Very Small | 2014-09-27 | 30 | |
| 29 | 3 | Walk-Ins Welcome | 2014-11-22 | 30 | |
Season 2
| Episode No. | No. Overall | Title | Airdate | Runtime | Summary |
| --- | --- | --- | --- | --- | --- |
| 1 | 4 | All Creatures Great & Very Small | 2014-09-27 | 30 | |
| 2 | 5 | New Addition to the Family | 2014-10-04 | 30 | |
| 3 | 6 | Orphaned and Alone | 2014-10-11 | 30 | |
| 4 | 7 | In a Heartbeat | 2014-10-18 | 30 | |
| 5 | 8 | Napolean Bone-apart | 2014-10-25 | 30 | |
| 6 | 9 | Ball Point Pencil | 2014-11-01 | 30 | |
| 7 | 10 | Turtle Race | 2014-11-08 | 30 | |
| 8 | 11 | Tick Tock | 2014-11-15 | 30 | |
| 12 | 12 | A Pug's Life | 2015-01-31 | 30 | |
| 13 | 13 | I'm Goanna Get You | 2015-02-07 | 30 | |
| 14 | 14 | Jewel of the Night | 2015-02-14 | 30 | |
| 15 | 15 | Fostering Care | 2015-02-21 | 30 | |
| 17 | 16 | The Tortoise and the Hare | 2015-04-18 | 30 | |
| 18 | 17 | Who Let the Dogs Out | 2015-04-25 | 30 | |
| 19 | 18 | A Gift Horse | 2015-05-02 | 30 | |
| 20 | 19 | In Stitches | 2015-05-09 | 30 | |
| 21 | 20 | Tick Toxin | 2015-05-16 | 30 | |
| 22 | 21 | Monkey Business | 2015-07-04 | 30 | |
| 23 | 22 | A Titch in Time | 2015-07-11 | 30 | |
| 24 | 23 | At Sash | 2015-07-18 | 30 | |
| 25 | 24 | Eggs-Actly | 2015-07-25 | 30 | |
Season 3
| Episode No. | No. Overall | Title | Airdate | Runtime | Summary |
| --- | --- | --- | --- | --- | --- |
| 1 | 25 | Twice the Chris | 2015-10-03 | 30 | |
| 2 | 26 | Straight from the Horse's Mouth | 2015-10-10 | 30 | |
| 3 | 27 | Fish Out of Water | 2015-10-17 | 30 | |
| 4 | 28 | Twice the Andrew | 2015-10-24 | 30 | |
| 5 | 29 | Inspiring Faith | 2015-10-31 | 30 | |
| 6 | 30 | Peccary Pedicure | 2015-11-07 | 30 | |
| 7 | 31 | CB's Radio | 2015-11-14 | 30 | |
| 8 | 32 | Kettle's On | 2015-11-21 | 30 | |
| 9 | 33 | Un-Blinded by Science | 2016-01-16 | 30 | |
| 10 | 34 | Big Mamma's House | 2016-01-23 | 30 | |
| 11 | 35 | Puppies & Ducklings | 2016-01-30 | 30 | |
| 12 | 36 | I'll Be Bawk! | 2016-02-06 | 30 | Chris treats a 12-week-old puppy for heat stroke; a shih tzu gets a blood transfusion; a chicken needs treatment after a run-in with a child. |
| 13 | 37 | Even More Babies | 2016-02-13 | 30 | A big day for a baby cheetah; six puppies with serious medical conditions are abandoned; a baby cockatoo falls out of a nest. |
| 14 | 38 | Devil May Care | 2016-02-20 | 30 | A baby Tasmanian devil has an injured leg; a trainee police dog has a lump on its jaw; a three-legged cow has overgrown hooves. |
| 15 | 39 | When the Chips Are Down | 2016-02-27 | 30 | Chris is called to remove a venomous sea snake; Mitzi the kitten has trouble walking after getting a new microchip. |
| 16 | 40 | Neil Diamond's Sweetie | 2016-03-05 | 30 | A golden retriever is giving birth to a large litter of puppies that will become assistance dogs; a tiny kitten falls off a scratching post; a diamond python is hit by a vehicle. |
| 17 | 41 | Doggy Paddle & Water Dragons | 2016-03-12 | 30 | Chris tries to help a puppy with a rare condition by using water therapy; a cat and a snake need help after battling it out; a water dragon terrorizes some locals. |
| 18 | 42 | Bottlenose Bucky | 2016-04-02 | 30 | Chris heads to Coffs Harbor to help a dolphin which has suspicious lumps growing in its mouth. |
| 19 | 43 | Man About Town | 2016-04-09 | 30 | Chris checks on a litter of guide dogs; a small fish with a large growth; a house with 1,000 cats; turtle rescue group. |
| 20 | 44 | Walkabout | 2016-04-16 | 30 | Chris visits the owner of a shelter for abandoned donkeys to try to diagnose one that has developed a strange walk; a miniature dachshund becomes paralyzed. |
| 21 | 45 | Giant Problems | 2016-04-23 | 30 | A 500-pound pig named Burpy needs his tusks trimmed; a Bernese Mountain dog has a high temperature. |
| 22 | 46 | Why Did the Duck Cross the Road? | 2016-04-30 | 30 | Chris must help a baby Tasmanian Devil who has injured his leg. Will Chris survive his encounter with this angry little devil? And, a mother has led her 10 ducklings into danger and only the courageous efforts of a young couple will save them all; and Ox the pug may have swallowed a safety pin. |
| 23 | 47 | Black Swan | 2016-05-07 | 30 | A critically ill swan has been found trapped in a soccer net. Has Chris arrived in time to help save this emaciated bird? At SASH, a worried owner rushes in with her beloved cat after he was struck down by a paralysis tick for the third time this year. Can Lisa save Toby? |
| 24 | 48 | Got Milk Fever? | 2016-05-14 | 30 | Dr. Chris volunteers to care for some animals at the Kyabram Veterinary Clinic; a Bearded Dragon with a lump on it's leg; a cow is unable to stand after giving birth; baby koala health assessment. |
| 25 | 49 | Couture Canines | 2016-05-21 | 30 | The first two patients of the day are Pretty Pooches. Their owner runs a grooming school specializing in "extreme styling" and she's certainly put her best work into her beloved dogs. Then, as summer temperatures soar, British Bulldog Stanley is struggling to breathe. Andrew Marchevsky is left with no other option but to operate. And, can two of the vet nurses convince Chris to adopt a new furry family member? |
| 26 | 50 | Namesake | 2016-05-28 | 30 | Chris visits the Cairns Turtle Rehabilitation Center where an endangered sea turtle arrives after being hit by a motorboat. Can Chris save the day? And while the doc's away, Neil gets to play. At SASH, Andrew Marchevsky must save a shitzu who is having trouble walking and is in terrible pain. Can anything be done to help this homeless pooch? |
Season 4
| Episode No. | No. Overall | Title | Airdate | Runtime | Summary |
| --- | --- | --- | --- | --- | --- |
| 1 | 51 | This Little Piggie | 2016-10-01 | 30 | Chris helps a family that wants to adopt a mini pig; a 10-week-old puppy has a swollen face. |
| 2 | 52 | Disconnect the Dots | 2016-10-08 | 30 | An orphaned lamb is adopted by a dalmatian, but the lamb's future is in doubt; a family pet may have been eating rocks. |
| 3 | 53 | Dig the Pig | 2016-10-15 | 30 | A mini pig's obsessive digging gets it in serious trouble; a Cavalier King Charles spaniel collapses at home; Chris and Neil volunteer at a charity pet clinic. |
| 4 | 54 | Little Orphan Gizmo | 2016-10-22 | 30 | Chris has trouble treating little Gizmo's chronic ear infection; Shiver the Pomeranian needs help after being mauled by two large dogs. |
| 5 | 55 | The Pelican Twins | 2016-10-29 | 30 | A sick pelican chick with a swollen neck; removing a deadly funnel web spider from the home of a woman and her two daughters. |
| 6 | 56 | Civic Duty | 2016-11-12 | 30 | Chris heads to the Kyabram Vet Clinic to help a friend with a Maltese terrier at risk of losing her unborn puppies; two police dogs give blood. |
| 7 | 57 | African Adventure | 2016-11-19 | 30 | Chris travels to northern Kenya to visit a zookeeper fighting to save endangered animals; an orphaned rhino needs attention; women who are saving wildlife. |
| 8 | 58 | A Birdie and a Hole-in-One | 2016-11-26 | 30 | A dog with a cleft palate needs help after several failed operations; a bird has dangerous swelling in its throat due to something it swallowed. |
| 9 | 59 | A Week with Wiek | 2017-01-14 | 30 | In Thailand, Chris works with wildlife crusader, Edwin Wiek; Edwin and his team care for animals ranging from elephants to monkeys. |
| 10 | 60 | Charley Horse | 2017-01-21 | 30 | Chris responds to a call from Safe Haven Horse rescue, where a lump growing on a gelding's eye; an animal is in agony after accidentally being jumped on by one of his teenage owners. |
| 11 | 61 | Cute as a Button | 2017-01-28 | 30 | Lisa and her husband Brad have some exciting news that they are about to share with their two pets. |
| 12 | 62 | The Hole Story | 2017-02-04 | 30 | Chris helps with a mini pig whose obsessive digging has gotten him into trouble; a puppy has a swollen face; a dangerous spider needs to be captured. |
| 13 | 63 | Adore the Lion-Ador | 2017-02-11 | 30 | A four-week-old lion cub is brought to the clinic for a medical checkup; a large reticulated python has a strange lump on its back. |
| 14 | 64 | Toothaches & Pedicures | 2017-02-18 | 30 | At the Halls Gap Zoo, a Lemur that has a bad canine tooth may be pregnant; some sheep have hoof issues; a dog swallowed a sewing needle. |
| 15 | 65 | Small Wonders | 2017-02-25 | 30 | Dr. Chris fixes some dental issues for a dog owned by an inspirational young girl with a brittle bone disease; three puppies may have been bitten by deadly ticks; a dog has a skateboard obsession. |
| 16 | 66 | Jersey's Sore | 2017-03-04 | 30 | As brush fires rage outside the city, Dr. Chris rushes to help treat a baby alpaca named Jersey; Dr. Lisa helps prepare a family that is thinking of adopting two Great Dane puppies. |
| 17 | 67 | Take Care | 2017-03-11 | 30 | A prized cheetah at a safari park has stopped eating; an animal is injured after being jumped on by one of its teenage owners |
| 18 | 68 | Lumpy Jaw | 2017-04-01 | 30 | Dr. Chris is called to help a kangaroo with a nasty lump under its chin; Dr. Lisa tries to help save dogs affected by deadly ticks. |
| 19 | 69 | Snoopy & Sunny | 2017-04-08 | 30 | A Jack Russell terrier suffers strange attacks; a baby sun conure parrot damages his leg in a crash landing. |
| 20 | 70 | The Tooth Fairy | 2017-04-15 | 30 | A young dog suffers from a rare brittle bone disorder; a shorthaired pointer can't walk normally; an alligator named Horse. |
| 21 | 71 | Unusual Pets | 2017-04-22 | 30 | A young family prepares for the challenges of owning a mini pig; an orphaned lamb that was adopted by a loving Dalmation; a dog with a skateboarding obsession. |
| 22 | 72 | Flying Problems | 2017-04-29 | 30 | Dr. Chris helps at the local bat hospital where a micro-bat is covered in mysterious goo; a 6-year-old aspiring vet helps diagnose Dr Lisa's listless puppy; a wild currawong arrives at the clinic with a wooden skewer through its wing. |
| 23 | 73 | The Singing Dalmatian | 2017-05-06 | 30 | Pluto the singing Dalmatian has lost his voice, and Dr. Chris fears that the cause may be sinister; a snake needs to have a piece of scale removed. |
| 24 | 74 | The Heart of the Matter | 2017-05-13 | 30 | A small dog has a heart murmur; a giant alligator named Elvis needs treatment. |
| 25 | 75 | 17-Foot-Long Monsters | 2017-05-20 | 30 | Dr. Chris treats a 17-foot-long crocodile with a wounded snout; a large scrub python concerns a neighborhood. |
| 26 | 76 | Tiny Smiles | 2017-05-27 | 30 | Dr. Chris tends to the dog of an inspirational 7-year-old who suffers from a brittle bone disease; a 6-year-old aspiring vet helps Dr. Lisa diagnose her listless puppy named Jelly. |
Season 5
| Episode No. | No. Overall | Title | Airdate | Runtime | Summary |
| --- | --- | --- | --- | --- | --- |
| 1 | 77 | Courageous Kitty | 2017-09-30 | 30 | Dr. Chris treats an abandoned kitten with extensive injuries before finding her a new home. |
| 2 | 78 | Hog Dog | 2017-10-07 | 30 | A West Highland terrier has a persistent ear problem; a howling dog has a swollen face. |
| 3 | 79 | Biggy Ziggy | 2017-10-14 | 30 | Dr. Chris educates the owner of an overweight cat; Dr. Lisa deals with three abandoned kittens. |
| 4 | 80 | Birthday Party | 2017-10-14 | 30 | Dr. Chris visits a big, boisterous lion cub; a cat that swallowed a ribbon from a birthday present; Dr. Chris helps get a cranky koala down from a tree. |
| 5 | 81 | Bloss You | 2017-10-28 | 30 | Dr. Chris meets Lulu, a labradoodle with a chronic sneezing problem; Chris fears Lulu may have a tumor; a cockatiel crashes on its owner's floor. |
| 6 | 82 | Twisted Kitten | 2017-11-04 | 30 | Chris treats a kitten with leg problems; Lisa looks for the cause of an echidna's bleeding beak. |
| 7 | 83 | Walking Wombat | 2017-11-11 | 30 | |
| 8 | 84 | Cujo the Cavoodle | 2017-11-18 | 30 | |
| 9 | 85 | Little Orphan Brûlée | 2018-01-13 | 30 | |
| 10 | 86 | Dot & Dash | 2018-01-20 | 30 | |
| 11 | 87 | Dr. Chris in China | 2018-01-27 | 30 | |
| 12 | 88 | The Lion Cub | 2018-02-03 | 30 | |
| 13 | 89 | Chris and the Colorful Chickens | 2018-02-10 | 30 | |
| 14 | 90 | Scratching the Surface | 2018-02-17 | 30 | |
| 15 | 91 | This Little Piglet Had One | 2018-02-24 | 30 | |
| 16 | 92 | My Little Pretty | 2018-03-03 | 30 | |
| 17 | 93 | Tiny Patients, Big Problems | 2018-03-10 | 30 | |
| 18 | 94 | City Vet, Country Clinic | 2018-03-31 | 30 | |
| 19 | 95 | Visting Vet | 2018-04-07 | 30 | |
Series Cast
| | | | |
| --- | --- | --- | --- |
| | Dr. Chris Brown | as Host | |
Related News
TVMaze