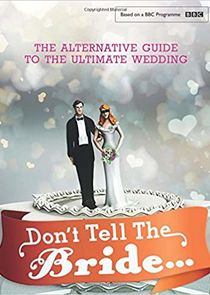 The groom is put in charge of the big day, with the budget and every detail of the brides dream wedding day in their control. Originally airing on BBC Three, the show moved to Sky in 2016 and to E4 in 2017.
Series Overview
Rating
imDb Rating: 5.8 (95 Votes)
Metascore: N/A
Plot
Series in which bridegrooms take responsibility for every aspect of their upcoming weddings.
Details
Rated: N/A
Released: 08 Nov 2007
Runtime: N/A
Genre: Reality-TV
Director: N/A
Writer: N/A
Actors: Rebekah Staton, Ruth Jones
Language: English
Country: UK
Awards: N/A
Total Seasons: 9
Previous Episode
Kirsty & Leon
Episode 14x30; Mar 16, 2020
Previous Episodes 14x30: Kirsty & Leon 14x29: Harry & Charlotte 14x28: Liam & Kandi 14x27: Ukraine: Andy & Anna 14x26: Christmas in the Snow: Liam & Georgia 14x25: Steve & Leona 14x24: Don't Spook the Bride: Sam & Ezra 14x23: Jake & Rosie 14x22: Liam & Chelsey

View All Episodes
Cast
Rebekah Staton as Narrator
Ruth Jones as Narrator
Zoë Ball as Narrator
View Full Cast
Skip to:
Season 1
| Episode No. | No. Overall | Title | Airdate | Runtime | Summary |
| --- | --- | --- | --- | --- | --- |
| 1 | 1 | Sam & Katy | 2007-11-08 | 60 | |
| 2 | 2 | JP & Mayita | 2007-11-22 | 60 | |
| 3 | 3 | Lee & Sophie | 2007-11-29 | 60 | |
| 4 | 4 | Andy & Serina | 2007-12-06 | 60 | |
| 5 | 5 | Vu & Naomi | 2007-12-13 | 60 | |
| 6 | 6 | Jason & Cassy | 2007-12-20 | 60 | |
Season 2
| Episode No. | No. Overall | Title | Airdate | Runtime | Summary |
| --- | --- | --- | --- | --- | --- |
| 1 | 7 | Laila & Nick | 2008-08-26 | 60 | |
| 2 | 8 | Paula & Rodney | 2008-09-02 | 60 | |
| 3 | 9 | Pippa & Tony | 2008-09-09 | 60 | |
| 4 | 10 | Hollie & James | 2008-09-16 | 60 | |
| 5 | 11 | Linda & James | 2008-09-23 | 60 | |
| 6 | 12 | Stephen & Shelley | 2008-09-30 | 60 | |
Season 3
| Episode No. | No. Overall | Title | Airdate | Runtime | Summary |
| --- | --- | --- | --- | --- | --- |
| 1 | 13 | Ritesh & Sheena | 2009-09-01 | 60 | |
| 2 | 14 | Richard & Catherine | 2009-09-08 | 60 | |
| 3 | 15 | Wayne & Leanne | 2009-09-15 | 60 | |
| 4 | 16 | Darnell & Katie | 2009-09-22 | 60 | |
| 5 | 17 | Luke & Lauren | 2009-09-29 | 60 | |
| 6 | 18 | Luke & Gemma | 2009-10-06 | 60 | |
| 7 | 19 | Sean & Laura | 2009-10-13 | 60 | |
| 8 | 20 | Stuart & Vicki | 2009-10-20 | 60 | |
| 9 | 21 | Jonny & Ayca | 2009-10-27 | 60 | |
| 10 | 22 | Emma & Patrick | 2009-11-03 | 60 | |
| 11 | 23 | Paul & Emily | 2009-11-10 | 60 | |
Season 4
| Episode No. | No. Overall | Title | Airdate | Runtime | Summary |
| --- | --- | --- | --- | --- | --- |
| 1 | 24 | Ryan & Fern | 2010-08-17 | 60 | |
| 2 | 25 | Hannah & Andy | 2010-08-24 | 60 | |
| 3 | 26 | Sally & Colin | 2010-08-31 | 60 | |
| 4 | 27 | Ian & Reanna | 2010-09-07 | 60 | |
| 5 | 28 | Tom & Lotty | 2010-09-14 | 60 | |
| 6 | 29 | Simon & Kaleigh | 2010-09-21 | 60 | |
| 7 | 30 | James & Charlotte | 2010-09-28 | 60 | |
| 8 | 31 | Dan & Mark | 2010-10-05 | 60 | |
| 9 | 32 | Mitch & Laura | 2010-10-12 | 60 | |
| 10 | 33 | James & Mercy | 2010-10-19 | 60 | |
| 11 | 34 | Nathan & Nicky | 2010-10-26 | 60 | |
| 12 | 35 | Hywel & Beca | 2010-11-02 | 60 | |
Season 5
| Episode No. | No. Overall | Title | Airdate | Runtime | Summary |
| --- | --- | --- | --- | --- | --- |
| 1 | 36 | John & Jackie | 2011-09-06 | 60 | |
| 2 | 37 | Josh & Stacie | 2011-09-13 | 60 | |
| 3 | 38 | Cameron & Sarah Jane | 2011-09-20 | 60 | |
| 4 | 39 | David & Lucy | 2011-09-27 | 60 | |
| 5 | 40 | Harry & Mellissa | 2011-10-04 | 60 | |
| 6 | 41 | Luke & Alex | 2011-10-11 | 60 | |
| 7 | 42 | Alex & Kara | 2011-10-25 | 60 | |
| 8 | 43 | Steven & Kayleigh | 2011-11-01 | 60 | |
| 9 | 44 | Andrew & Amanda | 2011-11-08 | 60 | |
| 10 | 45 | Charles & Lauren | 2011-11-15 | 60 | |
| 11 | 46 | Anna & Sian | 2011-11-22 | 60 | |
| 12 | 47 | Nick & Victoria | 2011-11-29 | 60 | |
Season 6
| Episode No. | No. Overall | Title | Airdate | Runtime | Summary |
| --- | --- | --- | --- | --- | --- |
| 1 | 48 | Best Ever | 2012-08-14 | 60 | |
| 2 | 49 | Ben & Sarah | 2012-08-14 | 60 | |
| 3 | 50 | Mike & Katie | 2012-08-21 | 60 | |
| 4 | 51 | Nathan & Nikki | 2012-08-28 | 60 | |
| 5 | 52 | Adam & Lydia | 2012-09-04 | 60 | |
| 6 | 53 | Mark & Jill | 2012-09-11 | 60 | |
| 7 | 54 | Martyn & Terri | 2012-09-18 | 60 | |
| 8 | 55 | Chris & Corinne | 2012-09-25 | 60 | |
| 9 | 56 | Anthony & Holly | 2012-10-02 | 60 | |
| 10 | 57 | Ian & Hayley | 2012-10-09 | 60 | |
| 11 | 58 | Terry & Melissa | 2012-10-16 | 60 | |
| 12 | 59 | Noel & Jemma | 2012-10-23 | 60 | |
| 13 | 60 | Mike & Becky | 2012-10-30 | 60 | |
Season 7
| Episode No. | No. Overall | Title | Airdate | Runtime | Summary |
| --- | --- | --- | --- | --- | --- |
| 1 | 61 | Jade & Levi | 2013-08-20 | 60 | |
| 2 | 62 | Rian & Matt | 2013-08-27 | 60 | |
| 3 | 63 | Lynn & Liam | 2013-09-03 | 60 | |
| 4 | 64 | Zindzi & Louis | 2013-09-10 | 60 | |
| 5 | 65 | Emily & Joe | 2013-09-17 | 60 | |
| 6 | 66 | Lloyd & Victoria | 2013-09-24 | 60 | |
| 7 | 67 | Perry & Lauren | 2013-10-01 | 60 | |
| 8 | 68 | Rhiana & Rory | 2013-10-08 | 60 | |
| 9 | 69 | Daina & Ahmet | 2013-10-15 | 60 | |
| 10 | 70 | Trish & Kev | 2013-10-22 | 60 | |
| 11 | 71 | Kallie & Grantt | 2013-10-29 | 60 | |
| 12 | 72 | Jess & Luke | 2013-11-05 | 60 | |
Season 8
| Episode No. | No. Overall | Title | Airdate | Runtime | Summary |
| --- | --- | --- | --- | --- | --- |
| 1 | 73 | Jay & Ian | 2014-08-05 | 60 | |
| 2 | 74 | Verity & Scott | 2014-08-12 | 60 | |
| 3 | 75 | Rosie & David | 2014-08-19 | 60 | |
| 4 | 76 | Nicole & Sean | 2014-08-26 | 60 | |
| 5 | 77 | Dani & Adam | 2014-09-02 | 60 | |
| 6 | 78 | Elle & David | 2014-09-09 | 60 | |
| 7 | 79 | Hollie & James | 2014-09-16 | 60 | |
| 8 | 80 | Alex & Mark | 2014-09-23 | 60 | |
| 9 | 81 | Rena & Wesley | 2014-09-30 | 60 | |
| 10 | 82 | Ellie & Craig | 2014-10-07 | 60 | |
| 11 | 83 | Jack & James | 2014-10-14 | 60 | |
| 12 | 84 | Don't Tell the Bride: Let It Snow! | 2014-12-22 | 60 | |
Season 9
| Episode No. | No. Overall | Title | Airdate | Runtime | Summary |
| --- | --- | --- | --- | --- | --- |
| 1 | 85 | Jenni & Andrew | 2015-06-24 | 60 | |
| 2 | 86 | Nikki & Stephen | 2015-07-01 | 60 | |
| 3 | 87 | Kelly & Mark | 2015-07-08 | 60 | |
| 4 | 88 | Sacha & Jason | 2015-07-15 | 60 | |
| 5 | 89 | Jacquie & Darren | 2015-07-22 | 60 | |
| 6 | 90 | Sandra & Dean | 2015-07-29 | 60 | |
Series Cast
| | | | |
| --- | --- | --- | --- |
| | Rebekah Staton | as Narrator | |
| | Ruth Jones | as Narrator | |
| | Zoë Ball | as Narrator | |
Related News
TVMaze