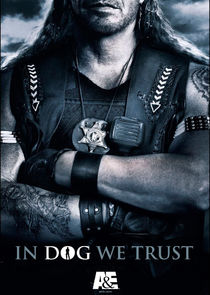 The world's most famous bounty hunter, Duane "Dog" Chapman, is back with action-packed, high-stakes hunts from Hawaii to Colorado, tracking down fugitives along side his wife Beth and fearless family-based posse. The intensity of bounty hunting is taking its toll on the Chapman family this year - Baby Lyssa has a run-in with the law after a night of drinking, Duane Lee is fighting with Dog and Beth about his responsibilities to the family business and Leland is stuck in the middle. Dog and Beth are trying to keep the family working together, and in this season, they have some of the most adrenaline fueled, heart pumping chases and catches to date.
Series Overview
Rating
imDb Rating: 4.9 (4,053 Votes)
Metascore: N/A
Plot
This series follows the exploits of real-life bounty hunter "Dog" Chapman and his family chasing down actual fugitives in the Hawaiian Islands. It grew out of an episode of A&E's "Take This...
Details
Rated: N/A
Released: 06 Aug 2003
Runtime: 30 min
Genre: Adventure, Crime, Reality-TV
Director: N/A
Writer: N/A
Actors: Duane 'Dog' Chapman, Leland Chapman, Beth Chapman, Tim Chapman
Language: English
Country: USA
Awards: N/A
Total Seasons: 8
Previous Episode
Mid-Course Correction
Episode 8x30; Jun 23, 2012
Previous Episodes 8x30: Mid-Course Correction 8x29: Big Brother 8x28: God Looks on the Heart 8x27: Behind the Scenes (2) 8x26: Behind the Scenes (1) 8x25: Luck Be a Lady (2) 8x24: Luck Be a Lady (1) 8x23: Bus Stop Bruiser 8x22: Who's the Boss

View All Episodes
Skip to:
Season 1
| Episode No. | No. Overall | Title | Airdate | Runtime | Summary |
| --- | --- | --- | --- | --- | --- |
| 1 | 1 | Meet the Chapmans | 2004-08-31 | 30 | |
| 2 | 2 | Father and Son | 2004-08-31 | 30 | |
| 3 | 3 | The Competition | 2004-09-07 | 30 | |
| 4 | 4 | A Walk on the Wild Side | 2004-09-07 | 30 | |
| 5 | 5 | Bounty Hunters Have Hearts, Too | 2004-09-14 | 30 | |
| 6 | 6 | Love's Labors Lost and Found | 2004-09-21 | 30 | |
| 7 | 7 | The Godfather of Waikiki | 2004-09-28 | 30 | |
| 8 | 8 | Hide and Seek (1) | 2004-10-05 | 30 | |
| 9 | 9 | Hide and Seek (2) | 2004-10-05 | 30 | |
| 10 | 10 | Justin's Big Day | 2004-10-12 | 30 | |
| 11 | 11 | It's Good to Be Home | 2004-10-26 | 30 | |
| 12 | 12 | You Can't Go Home Again | 2004-11-09 | 30 | |
| 13 | 13 | A Family Feud | 2004-11-23 | 30 | |
| 14 | 14 | Sons and Daughters | 2004-12-07 | 30 | |
| 15 | 15 | The Sweep | 2004-12-21 | 30 | |
| 16 | 16 | Stress Management | 2005-01-04 | 30 | |
| 17 | 17 | Where There's Smoke... | 2005-01-11 | 30 | |
| 18 | 18 | Second Chances | 2005-01-25 | 30 | |
Season 2
| Episode No. | No. Overall | Title | Airdate | Runtime | Summary |
| --- | --- | --- | --- | --- | --- |
| 1 | 19 | Baby's Back in Town | 2005-04-05 | 30 | |
| 2 | 20 | Surprise! Surprise! | 2005-04-05 | 30 | |
| 3 | 21 | No Ice in Paradise | 2005-04-12 | 30 | |
| 4 | 22 | Fathers in Law | 2005-04-19 | 30 | |
| 5 | 23 | Son of Dog | 2005-05-10 | 30 | |
| 6 | 24 | Bosco the Clown | 2005-05-17 | 30 | |
| 7 | 25 | Brother's Keeper | 2005-05-31 | 30 | |
| 8 | 26 | Mama's Boys | 2005-06-07 | 30 | |
| 9 | 27 | Lost in Paradise | 2005-06-21 | 30 | |
| 10 | 28 | Coaching Day | 2005-07-12 | 30 | |
| 11 | 29 | The Women of Waikiki | 2005-07-19 | 30 | |
| 12 | 30 | To Capture One's Own | 2005-07-26 | 30 | |
| 13 | 31 | This Dog Can Hunt (1) | 2005-08-23 | 30 | |
| 14 | 32 | This Dog Can Hunt (2) | 2005-08-23 | 30 | |
| 15 | 33 | Big Bags and Boxers | 2005-08-30 | 30 | |
| 16 | 34 | Cats & Dogs | 2005-08-30 | 30 | |
| 17 | 35 | Destiny Love | 2005-09-06 | 30 | |
| 18 | 36 | If You Knew Nanu | 2005-10-11 | 30 | |
| 19 | 37 | Double Trouble | 2005-10-18 | 30 | |
| 20 | 38 | Big Island, Small Town | 2005-11-01 | 30 | |
| 21 | 39 | Jonah is Missing | 2005-11-22 | 30 | |
| 22 | 40 | Suga on My Cuffs | 2005-11-29 | 30 | |
| 23 | 41 | Mothers and Daughters | 2006-01-03 | 30 | |
| 24 | 42 | Dog is Smokin' | 2006-01-31 | 30 | |
Season 3
| Episode No. | No. Overall | Title | Airdate | Runtime | Summary |
| --- | --- | --- | --- | --- | --- |
| 1 | 43 | California, Here Dog Comes | 2006-03-21 | 30 | |
| 2 | 44 | You Snooze, You Lose | 2006-03-28 | 30 | |
| 3 | 45 | Judgment Day | 2006-03-28 | 30 | |
| 4 | 46 | Do Unto Others | 2006-04-04 | 30 | |
| 5 | 47 | Moms & Dads | 2006-04-11 | 30 | |
| 6 | 48 | A Helping Hand | 2006-04-25 | 30 | |
| 7 | 49 | Take Your Daughter to Work Day | 2006-05-02 | 30 | |
| 8 | 50 | In Sickness and In Health | 2006-05-09 | 30 | |
| 9 | 51 | If the Shirt Fits... | 2006-05-16 | 30 | |
| 10 | 52 | The Thief Who Stole Christmas | 2006-05-30 | 30 | |
| 11 | 53 | Rock-a-Bye Bounty | 2006-06-06 | 30 | |
| 12 | 54 | Father-Hood | 2006-06-13 | 30 | |
| 13 | 55 | Cops and Criminals | 2006-07-11 | 30 | |
| 14 | 56 | Out of Sight | 2006-07-18 | 30 | |
| 15 | 57 | Cupid in Cuffs | 2006-07-25 | 30 | |
| 16 | 58 | Bustin' with Justin | 2006-08-15 | 30 | |
| 17 | 59 | Run Fugitive, Run | 2006-08-15 | 30 | |
| 18 | 60 | Vegas or Bust | 2006-08-29 | 30 | |
| 19 | 61 | Playing Possum | 2006-09-05 | 30 | |
| 20 | 62 | Rainy Day Woman | 2006-09-12 | 30 | |
| 21 | 63 | Ticket to Ride | 2006-09-19 | 30 | |
| 22 | 64 | Mother Knows Best | 2006-10-03 | 30 | |
| 23 | 65 | Irons in the Fire | 2006-10-10 | 30 | |
| 24 | 66 | Rocky Mountain Roundup | 2006-10-17 | 30 | |
| 25 | 67 | This One's for You | 2006-10-24 | 30 | |
| 26 | 68 | Baby Lyssa Steps Up | 2006-11-07 | 30 | |
| 27 | 69 | Running on Empty | 2006-11-28 | 30 | |
Season 4
| Episode No. | No. Overall | Title | Airdate | Runtime | Summary |
| --- | --- | --- | --- | --- | --- |
| 1 | 70 | The Mystery of Mona Lisa | 2007-04-10 | 30 | |
| 2 | 71 | Rusty Cuffs | 2007-04-17 | 30 | |
| 3 | 72 | Make a Wish | 2007-04-24 | 30 | |
| 4 | 73 | Tough Love | 2007-05-01 | 30 | |
| 5 | 74 | Surprise Ending | 2007-05-08 | 30 | |
| 6 | 75 | The Big Wipe-Out | 2007-05-15 | 30 | |
| 7 | 76 | You Can Bet on It! | 2007-05-29 | 30 | |
| 8 | 77 | Fly Boy | 2007-06-05 | 30 | |
| 9 | 78 | Guns & Ice | 2007-06-12 | 30 | |
| 10 | 79 | The Good Fight | 2007-06-19 | 30 | |
| 11 | 80 | The Last Call | 2007-06-26 | 30 | |
| 12 | 81 | The Smackdown of Baby Lyssa | 2007-07-24 | 30 | |
| 13 | 82 | A Friend in Need | 2007-07-31 | 30 | |
| 14 | 83 | Your Lying Eyes | 2007-08-07 | 30 | |
| 15 | 84 | Crime Don't Pay | 2007-08-21 | 30 | |
| 16 | 85 | Twisted Love | 2007-08-28 | 30 | |
| 17 | 86 | Where the Wild Things Are | 2007-09-04 | 30 | |
| 18 | 87 | No Love Still | 2007-09-25 | 30 | |
| 19 | 88 | Day of the Dog | 2007-10-16 | 30 | |
| 20 | 89 | The Time to Cry | 2007-10-23 | 30 | |
| 21 | 90 | Up on the Roof (1) | 2008-07-16 | 30 | |
| 22 | 91 | Up on the Roof (2) | 2008-07-16 | 30 | |
| 23 | 92 | Family Business (1) | 2008-07-23 | 30 | |
| 24 | 93 | Family Business (2) | 2008-07-23 | 30 | |
| 25 | 94 | Felons Interrupted (1) | 2008-07-30 | 30 | |
| 26 | 95 | Felons Interrupted (2) | 2008-07-30 | 30 | |
| 27 | 96 | Let It Snow | 2008-08-06 | 30 | |
| 28 | 97 | Rush from Judgment | 2008-08-13 | 30 | |
| 29 | 98 | Burn & Return | 2008-08-20 | 30 | |
| 30 | 99 | Stormy Weather | 2008-08-27 | 30 | |
| 31 | 100 | One for the Money | 2008-09-03 | 30 | |
| 32 | 101 | Reality Check | 2008-09-10 | 30 | |
| 33 | 102 | No Piece of Cake | 2008-09-17 | 30 | |
| 34 | 103 | Prayers and Mace | 2008-09-24 | 30 | |
| 35 | 104 | New Dog in Town | 2008-10-01 | 30 | |
| 36 | 105 | Trick or Treat | 2008-10-08 | 30 | |
| 37 | 106 | Girl Trouble (1) | 2008-10-15 | 30 | |
| 38 | 107 | Girl Trouble (2) | 2008-10-15 | 30 | |
| 39 | 108 | Seeing the Light | 2008-10-22 | 30 | |
| 40 | 109 | When a Stranger Calls | 2008-10-29 | 30 | |
Season 5
| Episode No. | No. Overall | Title | Airdate | Runtime | Summary |
| --- | --- | --- | --- | --- | --- |
| 1 | 110 | Tricks of the Trade | 2008-11-05 | 30 | |
| 2 | 111 | Jack & Jill (1) | 2009-02-04 | 30 | |
| 3 | 112 | Jack & Jill (2) | 2009-02-04 | 30 | |
| 4 | 113 | Island Hopper | 2009-02-11 | 30 | |
| 5 | 114 | Nice Guy's Finish Last | 2009-02-18 | 30 | |
| 6 | 115 | No Fly Zone | 2009-03-04 | 30 | |
| 7 | 116 | Teaching Moment | 2009-03-11 | 30 | |
| 8 | 117 | Mission of Mercy | 2009-03-18 | 30 | |
| 9 | 118 | Practice Makes Perfect | 2009-03-25 | 30 | |
| 10 | 119 | Save the Dogs | 2009-04-01 | 30 | |
| 11 | 120 | Back Behind Bars | 2009-04-08 | 30 | |
| 12 | 121 | Family Man | 2009-04-15 | 30 | |
| 13 | 122 | All in the Family | 2009-04-22 | 30 | |
| 14 | 123 | Mother Courage (1) | 2009-05-27 | 30 | |
| 15 | 124 | Mother Courage (2) | 2009-05-27 | 30 | |
| 16 | 125 | Bounty Boot Camp (1) | 2009-06-03 | 30 | |
| 17 | 126 | Bounty Boot Camp (2) | 2009-06-03 | 30 | |
| 18 | 127 | Friends and Neighbors (1) | 2009-06-10 | 30 | |
| 19 | 128 | Friends and Neighbors (2) | 2009-06-10 | 30 | |
| 20 | 129 | The Set-Up (1) | 2009-06-17 | 30 | |
| 21 | 130 | The Set-Up (2) | 2009-06-17 | 30 | |
| 22 | 131 | The Searchers (1) | 2009-06-24 | 30 | |
| 23 | 132 | The Searchers (2) | 2009-06-24 | 30 | |
| 24 | 133 | Buddha's Delight (1) | 2009-08-12 | 30 | |
| 25 | 134 | Buddha's Delight (2) | 2009-08-12 | 30 | |
| 26 | 135 | Three's Company (1) | 2009-08-19 | 30 | |
| 27 | 136 | Three's Company (2) | 2009-08-19 | 30 | |
| 28 | 137 | Strip Search | 2009-08-26 | 30 | |
| 29 | 138 | Secret Places | 2009-09-02 | 30 | |
| 30 | 139 | Father of the Bride (1) | 2009-09-09 | 30 | |
| 31 | 140 | Father of the Bride (2) | 2009-09-09 | 30 | |
Season 6
| Episode No. | No. Overall | Title | Airdate | Runtime | Summary |
| --- | --- | --- | --- | --- | --- |
| 1 | 141 | Wrong Turn (1) | 2009-12-02 | 30 | |
| 2 | 142 | Wrong Turn (2) | 2009-12-02 | 30 | |
| 3 | 143 | Midnight Run (1) | 2009-12-09 | 30 | |
| 4 | 144 | Midnight Run (2) | 2009-12-09 | 30 | |
| 5 | 145 | Easy Rider (1) | 2009-12-16 | 30 | |
| 6 | 146 | Easy Rider (2) | 2009-12-16 | 30 | |
| 7 | 147 | The Hunt for Santa (1) | 2009-12-23 | 30 | |
| 8 | 148 | The Hunt for Santa (2) | 2009-12-23 | 30 | |
| 9 | 149 | Call Waiting | 2009-12-30 | 30 | |
| 10 | 150 | Kid Stuff | 2010-01-06 | 30 | |
| 11 | 151 | Easy Does It | 2010-01-13 | 30 | |
| 12 | 152 | Ghost Rider | 2010-01-20 | 30 | |
| 13 | 153 | Back in the Hood | 2010-01-27 | 30 | |
| 14 | 154 | One for the Road | 2010-02-03 | 30 | |
| 15 | 155 | Bait and Switch (1) | 2010-03-10 | 30 | |
| 16 | 156 | Bait and Switch (2) | 2010-03-10 | 30 | |
| 17 | 157 | True Identity | 2010-03-17 | 30 | |
| 18 | 158 | Secrets and Lies | 2010-03-24 | 30 | |
| 19 | 159 | Match Point | 2010-03-31 | 30 | |
| 20 | 160 | Menehune Mischief | 2010-04-07 | 30 | |
| 21 | 161 | Mister Mom | 2010-04-14 | 30 | |
| 22 | 162 | Bait & Snitch | 2010-04-21 | 30 | |
| 23 | 163 | Scared Straight | 2010-04-28 | 30 | |
| 24 | 164 | All My Children (1) | 2010-06-02 | 30 | |
| 25 | 165 | All My Children (2) | 2010-06-02 | 30 | |
| 26 | 166 | Rumble in the Jungle (1) | 2010-06-09 | 30 | |
| 27 | 167 | Rumble in the Jungle (2) | 2010-06-09 | 30 | |
| 28 | 168 | Bounty Baby (1) | 2010-06-16 | 30 | |
| 29 | 169 | Bounty Baby (2) | 2010-06-16 | 30 | |
| 30 | 170 | Rain Check (1) | 2010-06-23 | 30 | |
| 31 | 171 | Rain Check (2) | 2010-06-23 | 30 | |
| 32 | 172 | Love on the Run | 2010-08-04 | 30 | |
| 33 | 173 | Jump Start | 2010-08-11 | 30 | |
Season 7
| Episode No. | No. Overall | Title | Airdate | Runtime | Summary |
| --- | --- | --- | --- | --- | --- |
| 1 | 174 | The Ice Man (1) | 2010-10-06 | 30 | |
| 2 | 175 | The Ice Man (2) | 2010-10-06 | 30 | |
| 3 | 176 | Trouble in Paradise (1) | 2010-10-13 | 30 | |
| 4 | 177 | Trouble in Paradise (2) | 2010-10-13 | 30 | |
| 5 | 178 | Girl Power | 2010-10-20 | 30 | |
| 6 | 179 | Prodigal Son | 2010-10-27 | 30 | |
| 7 | 180 | Family Ties | 2010-11-03 | 30 | |
| 8 | 181 | Special Delivery | 2010-12-01 | 30 | |
| 9 | 182 | Surface Scratches | 2010-12-01 | 30 | |
| 10 | 183 | The Great Debate | 2010-12-08 | 30 | |
| 11 | 184 | Facebooked | 2010-12-15 | 30 | |
| 12 | 185 | Mano-a-Mano | 2010-12-22 | 30 | |
| 13 | 186 | The Road Show: Where Mercy is Shown (1) | 2010-12-29 | 30 | |
| 14 | 187 | The Road Show: Where Mercy is Shown (2) | 2010-12-29 | 30 | |
| 15 | 188 | The Road Show: Where Mercy is Shown (3) | 2010-12-29 | 30 | |
| 16 | 189 | The Road Show: Where Mercy is Shown (4) | 2010-12-29 | 30 | |
| 17 | 190 | The Comeback Kid (1) | 2011-01-12 | 30 | |
| 18 | 191 | The Comeback Kid (2) | 2011-01-12 | 30 | |
| 19 | 192 | Tent City (1) | 2011-01-19 | 30 | |
| 20 | 193 | Tent City (2) | 2011-01-19 | 30 | |
| 21 | 194 | Dead of Night (1) | 2011-01-26 | 30 | |
| 22 | 195 | Dead of Night (2) | 2011-01-26 | 30 | |
| 23 | 196 | The Montrose Files: The Million Dollar Man Pt. 1 (1) | 2011-03-02 | 30 | |
| 24 | 197 | The Montrose Files: The Million Dollar Man Pt. 1 (2) | 2011-03-02 | 30 | |
| 25 | 198 | The Montrose Files: The Million Dollar Man Pt. 2 (1) | 2011-03-09 | 30 | |
| 26 | 199 | The Montrose Files: The Million Dollar Man Pt. 2 (2) | 2011-03-09 | 30 | |
| 27 | 200 | The Montrose Files: From Dawn till Dusk (1) | 2011-03-16 | 30 | |
| 28 | 201 | The Montrose Files: From Dawn till Dusk (2) | 2011-03-16 | 30 | |
| 29 | 202 | The Montrose Files: The More the Merrier (1) | 2011-03-23 | 30 | |
| 30 | 203 | The Montrose Files: The More the Merrier (2) | 2011-03-23 | 30 | |
| 31 | 204 | Oh Brother, Where Art Thou? (1) | 2011-03-30 | 30 | |
| 32 | 205 | Oh Brother, Where Art Thou? (2) | 2011-03-30 | 30 | |
| 33 | 206 | Cap and Gown (1) | 2011-04-06 | 30 | |
| 34 | 207 | Cap and Gown (2) | 2011-04-06 | 30 | |
Season 8
| Episode No. | No. Overall | Title | Airdate | Runtime | Summary |
| --- | --- | --- | --- | --- | --- |
| 1 | 208 | And Baby Makes Three (1) | 2012-01-04 | 30 | |
| 2 | 209 | And Baby Makes Three (2) | 2012-01-04 | 30 | |
| 3 | 210 | The Tender Trap (1) | 2012-01-11 | 30 | |
| 4 | 211 | The Tender Trap (2) | 2012-01-11 | 30 | |
| 5 | 212 | Greed is Good (1) | 2012-01-18 | 30 | |
| 6 | 213 | Greed is Good (2) | 2012-01-18 | 30 | |
| 7 | 214 | Tears for Fears (1) | 2012-01-25 | 30 | |
| 8 | 215 | Tears for Fears (2) | 2012-01-25 | 30 | |
| 9 | 216 | Picture This | 2012-02-01 | 30 | |
| 10 | 217 | Tag, You're It | 2012-02-01 | 30 | |
| 11 | 218 | A Family Affair (1) | 2012-02-08 | 30 | |
| 12 | 219 | A Family Affair (2) | 2012-02-08 | 30 | |
| 13 | 220 | Training Day | 2012-03-21 | 30 | |
| 14 | 221 | Cutting the Apron Strings | 2012-03-21 | 30 | |
| 15 | 222 | Short Handed | 2012-03-28 | 30 | |
| 16 | 223 | Photo Op | 2012-03-28 | 30 | |
| 17 | 224 | A House Divided | 2012-04-04 | 30 | |
| 18 | 225 | All Grown Up | 2012-04-04 | 30 | |
| 19 | 226 | Fight Like a Girl | 2012-04-11 | 30 | |
| 20 | 227 | A Higher Power | 2012-04-18 | 30 | |
| 21 | 228 | Ties That Bind | 2012-04-25 | 30 | |
| 22 | 229 | Who's the Boss | 2012-05-02 | 30 | |
| 23 | 230 | Bus Stop Bruiser | 2012-05-09 | 30 | |
| 24 | 231 | Luck Be a Lady (1) | 2012-06-02 | 30 | |
| 25 | 232 | Luck Be a Lady (2) | 2012-06-02 | 30 | |
| 26 | 233 | Behind the Scenes (1) | 2012-06-09 | 30 | |
| 27 | 234 | Behind the Scenes (2) | 2012-06-09 | 30 | |
| 28 | 235 | God Looks on the Heart | 2012-06-16 | 30 | |
| 29 | 236 | Big Brother | 2012-06-16 | 30 | |
| 30 | 237 | Mid-Course Correction | 2012-06-23 | 30 | |
Series Crew
| | Position | Name |
| --- | --- | --- |
| | Co-Executive Producer | Boris Lee Krutonog |
| | Executive Producer | Daniel Elias |
| | Executive Producer | David Houts |
| | Executive Producer | Nancy Dubuc |
| | Supervising Producer | Lucas Platt |
| | Associate Producer | Courtney Reilly |
| | Associate Producer | Cindi Creager |
Related News
TVMaze