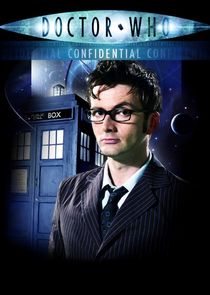 Specially filmed for BBC Three as a companion piece to Doctor Who, Doctor Who Confidential aims to give a taste of the excitement and the energy that surrounds the show. The programme includes behind-the-scenes filming and interviews with the cast, writers and production team as they bring our favourite Time Lord back to our screens.
Series Overview
Rating
imDb Rating: 8.0 (738 Votes)
Metascore: N/A
Plot
Behind the scenes of the making of Doctor Who with the cast, crew and directors.
Details
Rated: N/A
Released: 26 Mar 2005
Runtime: 30 min
Genre: Documentary
Director: N/A
Writer: N/A
Actors: Russell T. Davies, David Tennant, Steven Moffat, Phil Collinson
Language: English
Country: UK
Awards: N/A
Total Seasons: 6
Previous Episode
Behind the Scenes of The Name of the Doctor
Episode 7x14; May 18, 2013
Previous Episodes 7x14: Behind the Scenes of The Name of the Doctor 7x13: Behind the Scenes of Nightmare in Silver 7x12: Behind the Scenes of The Crimson Horror 7x11: Behind the Scenes of Journey to the Centre of the TARDIS 7x10: Behind the Scenes of Hide 7x9: Behind the Scenes of Cold War 7x8: Behind the Scenes of The Rings of Akhaten 7x7: Behind the Scenes of The Bells of Saint John 7x6: Clara's First Christmas

View All Episodes
Skip to:
Season 1
| Episode No. | No. Overall | Title | Airdate | Runtime | Summary |
| --- | --- | --- | --- | --- | --- |
| 1 | 1 | Bringing Back the Doctor | 2005-03-26 | 45 | |
| 2 | 2 | The Good, the Bad and the Ugly | 2005-04-02 | 45 | |
| 3 | 3 | TARDIS Tales | 2005-04-09 | 45 | |
| 4 | 4 | I Get a Side-Kick Out of You | 2005-04-16 | 45 | |
| 5 | 5 | Why on Earth? | 2005-04-23 | 45 | |
| 6 | 6 | Dalek | 2005-04-30 | 45 | |
| 7 | 7 | The Dark Side | 2005-05-07 | 45 | |
| 8 | 8 | Time Trouble | 2005-05-14 | 45 | |
| 9 | 9 | Special Effects | 2005-05-21 | 45 | |
| 10 | 10 | Weird Science | 2005-05-28 | 45 | |
| 11 | 11 | Unsung Heroes and Violent Death | 2005-06-04 | 45 | |
| 12 | 12 | The World of Who | 2005-06-11 | 45 | |
| 13 | 13 | The Last Battle | 2005-06-18 | 45 | |
Season 2
| Episode No. | No. Overall | Title | Airdate | Runtime | Summary |
| --- | --- | --- | --- | --- | --- |
| 1 | 14 | New, New Doctor | 2006-04-15 | 45 | |
| 2 | 15 | Fear Factor | 2006-04-22 | 45 | |
| 3 | 16 | Friends Reunited | 2006-04-29 | 45 | |
| 4 | 17 | Script to Screen | 2006-05-06 | 45 | |
| 5 | 18 | Cybermen | 2006-05-13 | 45 | |
| 6 | 19 | From Zero to Hero | 2006-05-20 | 45 | |
| 7 | 20 | The Writer's Tale | 2006-05-27 | 45 | |
| 8 | 21 | You've Got the Look | 2006-06-03 | 45 | |
| 9 | 22 | Myths and Legends | 2006-06-10 | 45 | |
| 10 | 23 | New World of Who | 2006-06-17 | 45 | |
| 11 | 24 | The Fright Stuff | 2006-06-24 | 45 | |
| 12 | 25 | Welcome to Torchwood | 2006-07-01 | 45 | |
| 13 | 26 | Finale | 2006-07-08 | 45 | |
Season 3
| Episode No. | No. Overall | Title | Airdate | Runtime | Summary |
| --- | --- | --- | --- | --- | --- |
| 1 | 27 | Meet Martha Jones | 2007-03-31 | 45 | |
| 2 | 28 | Stage Fright | 2007-04-07 | 45 | |
| 3 | 29 | Are We There Yet? | 2007-04-14 | 45 | |
| 4 | 30 | A New York Story | 2007-04-21 | 45 | |
| 5 | 31 | Making Manhattan | 2007-04-28 | 45 | |
| 6 | 32 | Monsters Inc | 2007-05-05 | 45 | |
| 7 | 33 | Space Craft | 2007-05-19 | 45 | |
| 8 | 34 | Alter Ego | 2007-05-26 | 45 | |
| 9 | 35 | Bad Blood | 2007-06-02 | 45 | |
| 10 | 36 | Do You Remember the First Time? | 2007-06-09 | 45 | |
| 11 | 37 | 'ello, 'ello, 'ello | 2007-06-16 | 45 | |
| 12 | 38 | The Saxon Mystery | 2007-06-23 | 45 | |
| 13 | 39 | The Valiant Quest | 2007-06-30 | 45 | |
Season 4
| Episode No. | No. Overall | Title | Airdate | Runtime | Summary |
| --- | --- | --- | --- | --- | --- |
| 1 | 40 | A Noble Return | 2008-04-05 | 45 | |
| 2 | 41 | The Italian Job | 2008-04-12 | 45 | |
| 3 | 42 | Oods and Ends | 2008-04-19 | 45 | |
| 4 | 43 | Send in the Clones | 2008-04-26 | 45 | |
| 5 | 44 | Sontar-Ha! | 2008-05-03 | 45 | |
| 6 | 45 | Sins of the Fathers | 2008-05-10 | 45 | |
| 7 | 46 | Nemesis | 2008-05-17 | 45 | |
| 8 | 47 | Shadow Play | 2008-05-31 | 45 | |
| 9 | 48 | River Runs Deep | 2008-06-07 | 45 | |
| 10 | 49 | Look Who's Talking | 2008-06-14 | 45 | |
| 11 | 50 | Here Come the Girls | 2008-06-21 | 45 | |
| 12 | 51 | Friends and Foe | 2008-06-28 | 45 | |
| 13 | 52 | The End of an Era | 2008-07-05 | 45 | |
Season 5
| Episode No. | No. Overall | Title | Airdate | Runtime | Summary |
| --- | --- | --- | --- | --- | --- |
| 1 | 53 | Call Me the Doctor | 2010-04-03 | 45 | |
| 2 | 54 | All About the Girl | 2010-04-10 | 45 | |
| 3 | 55 | War Games | 2010-04-17 | 45 | |
| 4 | 56 | Eyes Wide Open | 2010-04-24 | 45 | |
| 5 | 57 | Blinded by the Light | 2010-05-01 | 45 | |
| 6 | 58 | Death in Venice | 2010-05-08 | 45 | |
| 7 | 59 | Arthurian Legend | 2010-05-15 | 45 | |
| 8 | 60 | After Effects | 2010-05-22 | 45 | |
| 9 | 61 | What Goes on Tour ... | 2010-05-29 | 45 | |
| 10 | 62 | A Brush with Genius | 2010-06-05 | 45 | |
| 11 | 63 | Extra Time | 2010-06-12 | 45 | |
| 12 | 64 | Alien Abduction | 2010-06-19 | 45 | |
| 13 | 65 | Out of Time | 2010-06-26 | 45 | |
Season 6
| Episode No. | No. Overall | Title | Airdate | Runtime | Summary |
| --- | --- | --- | --- | --- | --- |
| 1 | 66 | Coming to America | 2011-04-23 | 45 | |
| 2 | 67 | Breaking the Silence | 2011-04-30 | 45 | |
| 3 | 68 | Ship Ahoy! | 2011-05-07 | 45 | |
| 4 | 69 | Bigger on the Inside | 2011-05-14 | 45 | |
| 5 | 70 | Double Trouble | 2011-05-21 | 45 | |
| 6 | 71 | Take Two | 2011-05-28 | 45 | |
| 7 | 72 | The Born Identity | 2011-06-04 | 45 | |
| 8 | 73 | River Runs Wild | 2011-08-27 | 45 | |
| 9 | 74 | About a Boy | 2011-09-03 | 45 | |
| 10 | 75 | What Dreams May Come | 2011-09-10 | 45 | |
| 11 | 76 | Heartbreak Hotel | 2011-09-17 | 45 | |
| 12 | 77 | Open All Hours | 2011-09-24 | 45 | |
| 13 | 78 | When Time Froze | 2011-10-01 | 45 | |
Related News
TVMaze