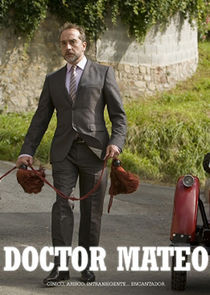 Doctor Mateo was a Spanish television comedy drama produced by Notro Films for Antena 3. It is an adaptation of the British series Doc Martin.
Series Overview
Rating
imDb Rating: 6.2 (225 Votes)
Metascore: N/A
Plot
Fresh comedy shot in a charmed Asturian Village (North Spain). A city doctor moves running from his past.
Details
Rated: N/A
Released: 22 Feb 2009
Runtime: 70 min
Genre: Comedy
Director: N/A
Writer: N/A
Actors: Gonzalo de Castro, Natalia Verbeke, Rosario Pardo, Alex O'Dogherty
Language: Spanish
Country: Spain
Awards: 5 wins & 8 nominations.
Total Seasons: 5
Previous Episode
De cómo hay cadenas que son imposibles de romper
Episode 5x12; Jul 17, 2011
Previous Episodes 5x12: De cómo hay cadenas que son imposibles de romper 5x11: De cómo Mateo volvió a soñar con Tom y de lo que éste le dijo 5x10: De cómo Mateo tuvo que convertir el amor en amistad 5x9: De cómo la culpa hizo caer a Mateo 5x8: De cómo San Martín demuestra que es un pueblo ejemplar 5x7: De cómo Mateo dejó sin fabes con almejas a San Martín 5x6: De cómo Mateo recuperó a Adriana de entre los muertos... 5x5: De cómo en San Martín el que no corre, navega 5x4: De cómo Mateo descubre que siempre puede meter la pata más

View All Episodes
Cast
Lulú Palomares as Carol Díaz
Rodrigo Castellanos as Pedro
María Esteve as Elena
Daniel Freire as Tom
Javi Coll as Antonio
Gonzalo Kindelán as Riqui
View Full Cast
Skip to:
Season 1
| Episode No. | No. Overall | Title | Airdate | Runtime | Summary |
| --- | --- | --- | --- | --- | --- |
| 1 | 1 | De cómo el doctor Sancristóbal llegó a San Martín del Sella el día de la patrona | 2009-02-22 | 80 | |
| 2 | 2 | De lo que ocurrió aquella noche en la que ponían Grease en el cine de verano | 2009-02-22 | 80 | |
| 3 | 3 | De cómo aquella noche en la taberna un hombre peleaba consigo mismo | 2009-03-01 | 80 | |
| 4 | 4 | De cómo Mateo descubre una vez más que al final, en San Martín del Sella todo se sabe | 2009-03-08 | 80 | |
| 5 | 5 | De cómo Mateo amaga pero no da | 2009-03-15 | 80 | |
| 6 | 6 | De cómo en San Martín todo es cuesta arriba | 2009-03-22 | 80 | |
| 7 | 7 | De lo que pasó Elvis, David Bowie y Bustamante | 2009-03-29 | 80 | |
| 8 | 8 | De cómo los bosques de San Martín son tan espesos como Mateo cuando bebe | 2009-04-05 | 80 | |
| 9 | 9 | De cómo el tiempo no pasa en San Martín | 2009-04-12 | 80 | |
| 10 | 10 | De cómo Mateo la lía el día que decide improvisar | 2009-04-19 | 80 | |
Season 2
| Episode No. | No. Overall | Title | Airdate | Runtime | Summary |
| --- | --- | --- | --- | --- | --- |
| 1 | 11 | De cómo Mateo se da cuenta que hay días y días y hoy es uno de esos | 2009-09-06 | 80 | |
| 2 | 12 | De cómo Mateo siempre será Mateo | 2009-09-13 | 80 | |
| 3 | 13 | De cómo Mateo acaba el viaje que nunca empezó | 2009-09-20 | 80 | |
| 4 | 14 | De cómo se conocieron Mateo y Míster Asperger | 2009-09-27 | 80 | |
| 5 | 15 | De cómo los mejores amigos son los que siempre están ahí, aunque no estén | 2009-10-04 | 80 | |
| 6 | 16 | De cómo Mateo deja de ser Mateo, sin dejar de ser Mateo | 2009-10-11 | 80 | |
| 7 | 17 | De cómo espacio y tiempo son relativos, y siempre coinciden en el peor momento | 2009-10-18 | 80 | |
| 8 | 18 | De cómo la vida sigue, a no ser que estés muerto | 2009-10-25 | 80 | |
| 9 | 19 | De cómo las cosas son como son y no se puede hacer nada para remediarlo | 2009-11-01 | 80 | |
| 10 | 20 | De cómo cuando se rompen las reglas puede que las cosas salgan bien | 2009-11-08 | 80 | |
| 11 | 21 | De cómo consejos vendo, que para mí no tengo | 2009-11-15 | 80 | |
| 12 | 22 | De cómo la cuchara que elijas, con esa has de comer | 2009-11-22 | 80 | |
| 13 | 23 | De cómo el humo ciega los ojos de San Martín | 2009-11-29 | 80 | |
| 14 | 24 | De cómo Mateo saca billete de vuelta | 2009-12-06 | 80 | |
Season 3
| Episode No. | No. Overall | Title | Airdate | Runtime | Summary |
| --- | --- | --- | --- | --- | --- |
| 1 | 25 | De cómo por San Tritón la vida te da un buen revolcón | 2010-05-02 | 80 | |
| 2 | 26 | De cómo Mateo se da cuenta de que no se da cuenta | 2010-05-09 | 80 | |
| 3 | 27 | De cómo un hombre asume su yo y sus circunstancias | 2010-05-16 | 80 | |
| 4 | 28 | De cómo le temperamento cambia como cambian las estaciones | 2010-05-23 | 80 | |
| 5 | 29 | De cómo el tiempo pasa y no hay cuerpo que lo aguante | 2010-05-30 | 80 | |
| 6 | 30 | De cómo el deseo póstumo de una madre nos puede complicar el día | 2010-06-06 | 80 | |
Season 4
| Episode No. | No. Overall | Title | Airdate | Runtime | Summary |
| --- | --- | --- | --- | --- | --- |
| 1 | 31 | De cómo, a veces, es difícil llamar a las cosas por su nombre | 2010-09-19 | 80 | |
| 2 | 32 | De cómo lo mejor es no meneallo | 2010-09-26 | 80 | |
| 3 | 33 | De cómo un pepinillo se cruza con un cartero, un hombre desnudo entra en un bar de San Frutos (por no hablar de las elecciones) | 2010-10-03 | 80 | |
| 4 | 34 | De cómo Adriana comprende lo que es la soledad y Mateo que nunca más volverá a estar solo | 2010-10-10 | 80 | |
| 5 | 35 | De cómo los estreses de una boda matan a felices y perdices | 2010-10-17 | 80 | |
| 6 | 36 | De cómo el día de tu boda, ni te cases ni te embarques | 2010-10-24 | 80 | |
| 7 | 37 | De cómo los hombres tienen lo que tienen y valen para lo que valen y punto | 2010-10-31 | 80 | |
| 8 | 38 | De cómo a veces tomamos el camino que no necesariamente elegimos | 2010-11-07 | 80 | |
| 9 | 39 | De cómo es difícil empezar algo cuando aún no sabes si acabó lo anterior | 2010-11-14 | 80 | |
| 10 | 40 | De cómo de fútbol y de medicina todo el mundo opina | 2010-11-21 | 80 | |
| 11 | 41 | De cómo Santa Digna Inocencia ni es Recatada, ni Virgen, ni Mártir | 2010-11-28 | 80 | |
| 12 | 42 | De cómo Mateo comprende que eso que siente son celos y no indigestión | 2010-12-12 | 80 | |
Season 5
| Episode No. | No. Overall | Title | Airdate | Runtime | Summary |
| --- | --- | --- | --- | --- | --- |
| 1 | 43 | De cómo Mateo se recuperó, volvió e intentó tomarse las cosas de otra manera | 2011-04-24 | 80 | |
| 2 | 44 | De cómo Mateo reúne a Tom con las gaviotas | 2011-05-01 | 80 | |
| 3 | 45 | De cómo Ava Gardner pasó por San Martín del Sella y se quedó para siempre | 2011-05-08 | 80 | |
| 4 | 46 | De cómo Mateo descubre que siempre puede meter la pata más | 2011-05-15 | 80 | |
| 5 | 47 | De cómo en San Martín el que no corre, navega | 2011-05-29 | 80 | |
| 6 | 48 | De cómo Mateo recuperó a Adriana de entre los muertos... | 2011-06-05 | 80 | |
| 7 | 49 | De cómo Mateo dejó sin fabes con almejas a San Martín | 2011-06-12 | 80 | |
| 8 | 50 | De cómo San Martín demuestra que es un pueblo ejemplar | 2011-06-19 | 80 | |
| 9 | 51 | De cómo la culpa hizo caer a Mateo | 2011-06-26 | 80 | |
| 10 | 52 | De cómo Mateo tuvo que convertir el amor en amistad | 2011-07-03 | 80 | |
| 11 | 53 | De cómo Mateo volvió a soñar con Tom y de lo que éste le dijo | 2011-07-10 | 80 | |
| 12 | 54 | De cómo hay cadenas que son imposibles de romper | 2011-07-17 | 80 | |
Series Cast
| | | | |
| --- | --- | --- | --- |
| | Lulú Palomares | as Carol Díaz | |
| | Rodrigo Castellanos | as Pedro | |
| | María Esteve | as Elena | |
| | Daniel Freire | as Tom | |
| | Javi Coll | as Antonio | |
| | Gonzalo Kindelán | as Riqui | |
| | Álex O'Dogherty | as Alfredo Escobar | |
| | Gonzalo de Castro | as Mateo Sancristóbal | |
| | Rosario Pardo | as Tía Juana | |
| | Natalia Verbeke | as Adriana Pozuelo | |
Related News
TVMaze