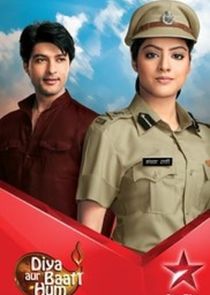 Diya Aur Baati Hum is the story of Sandhya's struggles, who dreams of becoming an IPS officer. She dreams to break the boundaries of her confined existence of middle class values. The story is also about Sooraj, who is a self made man. Sooraj runs a famous sweet shop near his house. Sooraj and Sandhya get married under strained circumstances. Sandhya will not be able to finish her graduation. Soon she is part of the family she does not even know. This story is about Sandhya's struggle to fulfill her dream and a journey where she finds help from the most unlikely quarter - a husband who can make it possible.
Series Overview
Rating
imDb Rating: 6.4 (1,284 Votes)
Metascore: N/A
Plot
About a woman and her family with intense Indian family drama.
Details
Rated: N/A
Released: 29 Aug 2011
Runtime: N/A
Genre: Drama, Romance
Director: N/A
Writer: N/A
Actors: Neelu Vaghela, Anas Rashid, Deepika Singh, Gautam Gulati
Language: Hindi
Country: India
Awards: N/A
Total Seasons: 1
Previous Episode
Episode 1487
Episode 28x162; Sep 10, 2016
Previous Episodes 28x162: Episode 1487 28x161: Episode 1486 28x160: Episode 1485 28x159: Episode 1484 28x158: Episode 1483 28x157: Episode 1482 28x156: Episode 1481 28x155: Episode 1480 28x154: Episode 1479

View All Episodes
Skip to:
Season 1
| Episode No. | No. Overall | Title | Airdate | Runtime | Summary |
| --- | --- | --- | --- | --- | --- |
| 1 | 1 | Sandhya's IPS dream | 2011-08-29 | 30 | |
| 2 | 2 | Sandhya's name on a wedding card | 2011-08-30 | 20 | |
| 3 | 3 | Bhabho is furios | 2011-08-31 | 20 | |
| 4 | 4 | Bhabho is shocked to see the card | 2011-09-01 | 20 | |
| 5 | 5 | Sooraj buys a gift for Kavita | 2011-09-02 | 20 | |
| 6 | 6 | Bhabho is angry with Sooraj | 2011-09-05 | 20 | |
| 7 | 7 | Sooraj tries to pacify Bhabho | 2011-09-06 | 20 | |
| 8 | 8 | Kanchan dies in the blast | 2011-09-07 | 20 | |
| 9 | 9 | Sandhya cremates her parents | 2011-09-08 | 20 | |
| 10 | 10 | The missing bride | 2011-09-09 | 20 | |
| 11 | 11 | Sooraj consoles Santosh | 2011-09-12 | 20 | |
| 12 | 12 | The neighbours tease Santosh | 2011-09-13 | 20 | |
| 13 | 13 | Ankur under pressure | 2011-09-14 | 20 | |
| 14 | 14 | Row over Sanhya's marriage | 2011-09-15 | 20 | |
| 15 | 15 | Sandhya accues Ankur | 2011-09-16 | 20 | |
| 16 | 16 | Ankur meets Kisna | 2011-09-19 | 20 | |
| 17 | 17 | Ankur calls Sandhya selfish | 2011-09-20 | 20 | |
| 18 | 18 | Ankur visit Sooraj's shop | 2011-09-21 | 20 | |
| 19 | 19 | Santosh meets Sandhya | 2011-09-22 | 20 | |
| 20 | 20 | Sandhya agrees to marry Sooraj | 2011-09-23 | 20 | |
| 21 | 21 | Santosh plans grand arrangements for Sooraj's marriage | 2011-09-26 | 20 | |
| 22 | 22 | Sooraj's pre-marital rituals | 2011-09-27 | 20 | |
| 23 | 23 | Sooraj leaves to marry Sandhya | 2011-09-28 | 20 | |
| 24 | 24 | Ankita's fallacy breaks | 2011-09-29 | 20 | |
| 25 | 25 | Sooraj and Sandhya get married | 2011-09-30 | 20 | |
| 26 | 26 | Flood in Sooraj's house | 2011-10-01 | 20 | |
| 27 | 27 | Santosh welcomes Sandhya | 2011-10-03 | 20 | |
| 28 | 28 | Sandhya sleeps in wet clothes | 2011-10-04 | 20 | |
| 29 | 29 | Meenakshi plots against Sandhya | 2011-10-05 | 20 | |
| 30 | 30 | Sandhya feels nauseous | 2011-10-06 | 20 | |
| 31 | 31 | Santosh spots Sandhya's books | 2011-10-07 | 20 | |
| 32 | 32 | Vikram tricks Santosh | 2011-10-10 | 20 | |
| 33 | 33 | Sandhya sits on the roof of a bus | 2011-10-11 | 20 | |
| 34 | 34 | Sandhya gets bitten by an insect | 2011-10-12 | 20 | |
| 35 | 35 | Sandhya learns to make tea | 2011-10-13 | 20 | |
| 36 | 36 | Sandhya accused of steapling | 2011-10-14 | 20 | |
| 37 | 37 | Sooraj apologises to Sandhya | 2011-10-17 | 20 | |
| 38 | 38 | Sandhya finds out about Sooraj | 2011-10-18 | 20 | |
| 39 | 39 | Sandhya feels disappointed | 2011-10-19 | 20 | |
| 40 | 40 | Burglary at Sooraj's house | 2011-10-20 | 20 | |
| 41 | 41 | Vikram, Meenakshi and mohit lie | 2011-10-21 | 20 | |
| 42 | 42 | Santosh learns about theft | 2011-10-24 | 20 | |
| 43 | 43 | Vikram slaps Meenakshi | 2011-10-25 | 20 | |
| 44 | 44 | Sooraj's gift for Sandhya | 2011-10-26 | 20 | |
| 45 | 45 | Meenakshi provokes Sandhya | 2011-10-27 | 20 | |
| 46 | 46 | santosh scolds Sandhya | 2011-10-28 | 20 | |
| 47 | 47 | Sandhya taunts Ankur for lying | 2011-10-31 | 20 | |
| 48 | 48 | Santosh's dual behavior | 2011-11-01 | 20 | |
| 49 | 49 | Sandhya and Sooraj's first night | 2011-11-02 | 20 | |
| 50 | 50 | Sandhya gets her certificates | 2011-11-03 | 20 | |
| 51 | 51 | Sandhya is upset | 2011-11-04 | 20 | |
| 52 | 52 | Sandhya delays ritual | 2011-11-07 | 20 | |
| 53 | 53 | Santosh tests Sandhya's cooking | 2011-11-08 | 20 | |
| 54 | 54 | Sandhya prepares sweet through a cook book | 2011-11-09 | 20 | |
| 55 | 55 | Santosh appreciates Sandhya | 2011-11-10 | 20 | |
| 56 | 56 | Sandhya learns the truth | 2011-11-11 | 20 | |
| 57 | 57 | College girls insult Sooraj and Chotu | 2011-11-14 | 20 | |
| 58 | 58 | Sandhya gets upset with Sooraj | 2011-11-15 | 20 | |
| 59 | 59 | Santosh's quarrel with Sandhya | 2011-11-16 | 20 | |
| 60 | 60 | Sooraj request Sandhya to express | 2011-11-17 | 20 | |
| 61 | 61 | Sandhya is given another task | 2011-11-18 | 20 | |
| 62 | 62 | Meenakshi and Vikram cheat Sooraj | 2011-11-19 | 20 | |
| 63 | 63 | Sandhya gets praises | 2011-11-21 | 20 | |
| 64 | 64 | Sandhya is to prove her innocence | 2011-11-22 | 20 | |
| 65 | 65 | Vikram panics | 2011-11-23 | 20 | |
| 66 | 66 | Will Sooraj confess his feelings? | 2011-11-24 | 20 | |
| 67 | 67 | Sooraj wonders | 2011-11-25 | 20 | |
| 68 | 68 | Sandhya is punished for voting | 2011-11-28 | 20 | |
| 69 | 69 | Santosh blames Sooraj | 2011-11-29 | 20 | |
| 70 | 70 | Sooraj upsets Santosh | 2011-11-30 | 20 | |
| 71 | 71 | Sandhya reconciles with Santosh | 2011-12-01 | 20 | |
| 72 | 72 | Sandhya loses her recipe book | 2011-12-02 | 20 | |
| 73 | 73 | Sooraj helps Sandhya cook | 2011-12-05 | 20 | |
| 74 | 74 | Sooraj and Sandhya cook together | 2011-12-06 | 20 | |
| 75 | 75 | Sandhya cools for the guests | 2011-12-07 | 20 | |
| 76 | 76 | Sandhya's cooking is praised | 2011-12-08 | 20 | |
Related News
TVMaze