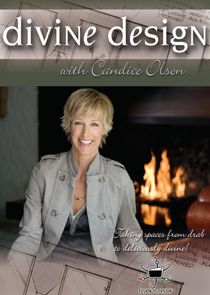 Divine Design is a Canadian interior design show which airs on W Network in Canada and HGTV in the United States. It is hosted by Candice Olson, one of Canada's top designers. In the show, Olson heads a team of artisans and skilled labourers that includes Paul Daly (carpenter), Lorne Hogan (carpenter), Chico Garcia (electrician), Edmond Joseph (seamster), Terry Edward Briceland (seamster), and Andrew Downward (painter). The half-hour show features Olson's step-by-step interior redesign of a client's living space mixed with campy comedy shorts before each commercial break.
At the start of each show, Candice meets the home owners and discusses the issues with the room. Next, Candice reveals her point of inspiration, illustrations and colour scheme to the audience. The room is cleared of all contents, then the walls are painted. Next, the lights are installed. The carpenter generally constructs at least one new custom piece in addition to helping to reset the room with all new furniture. Occasionally, Candice will use the room's existing furniture—if she does, she generally re-upholsters it. Then, the seamster hangs curtains and makes accent pillows. Finally, the room is accessorized. At the end of the show, the room is "revealed" to the homeowners. Usually before or after ads, small comedic skits are performed, such as one episode where she is seen swinging Tarzan style from lighting wiring (episode number unknown).
Throughout the program, Candice chooses a handful of specific pieces or techniques to highlight. She refers to her "elevations" and room illustrations to help guide viewers through her vision. Candice often dislikes matching furniture sets, which she calls "matchy, matchy." For example, she will often choose two very different looking nightstands for a bedroom. Candice prefers to use recessed lighting in almost all cases, using spotlights to highlight artwork or other focal points.
Series Overview
Rating
imDb Rating: 8.2 (151 Votes)
Metascore: N/A
Plot
Designer Candice Olson renovates and refurbish rooms in homeowners homes from bedrooms to kitchens she puts her creative spin on the homeowners visions or lack thereof.
Details
Rated: N/A
Released: N/A
Runtime: 30 min
Genre: Reality-TV
Director: N/A
Writer: N/A
Actors: Candice Olson
Language: English
Country: USA, Canada
Awards: 1 nomination.
Total Seasons: 16
Previous Episode
A Warm and Welcoming 'Home' for Residents of a Shelter
Episode 16x13; May 15, 2010
Previous Episodes 16x13: A Warm and Welcoming 'Home' for Residents of a Shelter 16x12: Goodbye Old Crumbling, Blue Bathroom! 16x11: Granny Suite Gets a Rock Star Treatment 16x10: A Family Room for All Seasons 16x9: A Kitchen Face-Lift 16x8: Bright New Living-Dining Room 16x7: Basement Becomes a Family Room 16x6: Fabulous Functional Kitchen 16x5: Adventurous Bedroom Retreat

View All Episodes
Skip to:
Season 1
| Episode No. | No. Overall | Title | Airdate | Runtime | Summary |
| --- | --- | --- | --- | --- | --- |
| 1 | 1 | Joyce and Andrew's Kitchen | 2003-06-06 | 30 | Renovating the kitchen in a home formerly occupied by rowdy college students. |
| 2 | 2 | Drew and Susan's Living/Dining Room | 2003-06-06 | 30 | A couple expecting their first child wants to redo their living room to accommodate the baby and a new entertainment unit. |
| 3 | 3 | Sue's Family Room | 2003-06-13 | 30 | Family room becomes a comfortable area for the homeowners and their pets. |
| 4 | 4 | Melanie's Living Room/Dining Room | 2003-06-13 | 30 | |
| 5 | 5 | Susanne and Mark's Master Bedroom | 2003-06-30 | 30 | Homeowners want their dated bedroom turned into a romantic retreat. |
| 6 | 6 | Esther's Daughter's Pool House | 2003-07-07 | 30 | A garage/storage space is converted into a guest bedroom complete with a kitchenette. With Candice Olson. |
| 7 | 7 | Rosemarie's Son's Attic | 2003-07-14 | 30 | A couple wants to create an attic haven where their two sons can hang out with their friends. With Candice Olson. |
| 8 | 8 | Paula's Basement | 2003-07-21 | 30 | Basement storage space is transformed into a functional playroom. |
| 9 | 9 | Lyvia and Paul's Dining Room | 2003-07-28 | 30 | Switching a home's living room and dining room locations to accommodate sit-down dinners for up to 35 people. |
| 11 | 10 | Dawn's Art Studio | 2003-08-11 | 30 | Converting a bedroom into an art studio. With Candice Olson. |
| 12 | 11 | Diane's Teenage Boy's Bedroom | 2003-08-18 | 30 | Creating a stylish bedroom for a teenage boy. With Candice Olson. |
| 13 | 12 | Marna and Bernie's Master Bedroom | 2003-08-25 | 30 | Streamlining a master bedroom with a hodge-podge of furniture. |
Season 2
| Episode No. | No. Overall | Title | Airdate | Runtime | Summary |
| --- | --- | --- | --- | --- | --- |
| 1 | 13 | Holly and David's Basement | 2003-09-29 | 30 | Large basement becomes an area for relaxing and entertaining. |
| 2 | 14 | Nola's Teenage Girl's Bedroom | 2003-09-30 | 30 | An active, outgoing teenager gets a room to match her personality. |
| 3 | 15 | Pina and Helder's Dining Room | 2003-10-06 | 30 | An empty dining room becomes the perfect setting for an elegant birthday celebration. With Candice Olson. |
| 4 | 16 | Angela and Tim's Bathroom | 2003-10-07 | 30 | The design team creates a bathroom space fit for two. With Candice Olson. |
| 6 | 17 | Mark's Home Office | 2003-10-14 | 30 | A guy's bedroom in a funky new loft is transformed into a contemporary and masculine office space. Host: Candice Olson. |
| 7 | 18 | Kathy and Shawn's Kitchen | 2003-10-20 | 30 | A professional chef wants a great kitchen at home. Host: Candice Olson. |
| 8 | 19 | Pat's Living Room | 2003-10-21 | 30 | For the first time in 20 years, a homeowner wants to update her living room in time for her niece's bridal shower. |
| 9 | 20 | Scott and Kelly's Bathroom | 2003-10-27 | 30 | A couple with a baby on the way wants to transform their typical bathroom into a soothing oasis. Host: Candice Olson. |
| 10 | 21 | Robyn's Guest Bedroom | 2003-10-28 | 30 | Turning a busy guest bedroom into a place for relaxation. Host: Candice Olson. |
| 11 | 22 | Patrice's Home Office | 2003-11-03 | 30 | A child-like room is turned into an office that is suitable for business and pleasure. |
| 12 | 23 | Alison and Peter's Living Room | 2003-11-08 | 30 | Candice Olson and her team mixes sophistication and comfort in a family room. |
| 13 | 24 | Monica and Terry's Kitchen | 2013-11-14 | 30 | A couple who hosts clients in their kitchen needs to have it updated for a big meeting. Candice Olson. |
Season 3
| Episode No. | No. Overall | Title | Airdate | Runtime | Summary |
| --- | --- | --- | --- | --- | --- |
Season 4
| Episode No. | No. Overall | Title | Airdate | Runtime | Summary |
| --- | --- | --- | --- | --- | --- |
| 2 | 25 | Wanda's Living Room | 2004-04-09 | 30 | A traditional living room is transformed into an elegant and contemporary space. |
| 3 | 26 | Patty and Allen's Master Bedroom | 2004-04-16 | 30 | A multifunctional bedroom is transformed into a colorful and organized retreat. |
| 4 | 27 | Zsoka and Martin's Kitchen | 2004-04-24 | 30 | A kitchen gets a new look by updating cabinets and replacing the old countertops and appliances. |
| 5 | 28 | Len and Enid's Master Bedroom | 2004-04-29 | 30 | Redesigning a master bedroom that has a floral theme and country pine. |
| 6 | 29 | Lisa and Andrew's Living/Dining Room | 2004-05-15 | 30 | New paint, built-ins for a media center and storage improve a family's living/dining room. |
| 7 | 30 | Jennifer and Talia's Bedroom | 2004-05-22 | 30 | A room shared by sisters for 17 years needs updating now that they are adults |
| 9 | 31 | Julia and Mark's Living/Dining Room | 2004-06-12 | 30 | Updating a large living/dining room with 1980s furniture and finishes. |
| 10 | 32 | Wendy's Bathroom | 2004-06-25 | 30 | Rescuing a 1980s bathroom from its charmless state. Host: Candice Olson. |
| 11 | 33 | Diane and Sara's Basement | 2004-07-22 | 30 | Turning a basement into a multifunctional space for storage, arts and crafts, laundry and more. Host: Candice Olson. |
| 12 | 34 | Jane and Phil's Ensuite | 2004-07-29 | 30 | An out of date bathroom is transformed into a Zen-like oasis. |
| 13 | 35 | Linda's Kitchen | 2004-09-16 | 30 | Renovating a kitchen that dates to the 1930s. With Candice Olson. |
Season 5
| Episode No. | No. Overall | Title | Airdate | Runtime | Summary |
| --- | --- | --- | --- | --- | --- |
Season 6
| Episode No. | No. Overall | Title | Airdate | Runtime | Summary |
| --- | --- | --- | --- | --- | --- |
Season 7
| Episode No. | No. Overall | Title | Airdate | Runtime | Summary |
| --- | --- | --- | --- | --- | --- |
Season 8
| Episode No. | No. Overall | Title | Airdate | Runtime | Summary |
| --- | --- | --- | --- | --- | --- |
Season 9
| Episode No. | No. Overall | Title | Airdate | Runtime | Summary |
| --- | --- | --- | --- | --- | --- |
Season 10
| Episode No. | No. Overall | Title | Airdate | Runtime | Summary |
| --- | --- | --- | --- | --- | --- |
Season 11
| Episode No. | No. Overall | Title | Airdate | Runtime | Summary |
| --- | --- | --- | --- | --- | --- |
Season 12
| Episode No. | No. Overall | Title | Airdate | Runtime | Summary |
| --- | --- | --- | --- | --- | --- |
| 7 | 36 | Outdated to Updated | 2008-06-05 | 30 | |
Season 13
| Episode No. | No. Overall | Title | Airdate | Runtime | Summary |
| --- | --- | --- | --- | --- | --- |
Season 14
| Episode No. | No. Overall | Title | Airdate | Runtime | Summary |
| --- | --- | --- | --- | --- | --- |
| 1 | 37 | A Total Main Floor Makeover | 2009-01-17 | 30 | |
| 2 | 38 | An Asian-Inspired Family Room to Match a Couple's Incredible Garden | 2009-01-24 | 30 | |
| 3 | 39 | A Man's Living Room Needs a Woman's Touch Before His Fiancee Moves In | 2009-01-31 | 30 | |
| 4 | 40 | Candice Finds Inspiration in a Home's View of the Woods | 2009-02-21 | 30 | |
| 5 | 41 | A Girl's Bedroom, Inspired by Her Own Tales | 2009-02-28 | 30 | |
| 6 | 42 | A Dull Basement Becomes a Work of Art | 2009-03-14 | 30 | |
| 7 | 43 | Dreamy Bedroom Come True | 2009-03-21 | 30 | |
| 8 | 44 | Basement Family Room | 2009-04-25 | 30 | |
| 9 | 45 | A Bland Living Room is Given Stylish Comfort | 2009-05-23 | 30 | |
| 10 | 46 | Loft Landing | 2009-06-06 | 30 | |
| 11 | 47 | A Chic Kitchen Makeover in an Urban Loft | 2009-06-20 | 30 | |
| 12 | 48 | Attic Master Bedroom Retreat | 2009-07-11 | 30 | |
| 13 | 49 | An Oversized Closet is Converted into an Art Room | 2009-07-18 | 30 | |
Season 15
| Episode No. | No. Overall | Title | Airdate | Runtime | Summary |
| --- | --- | --- | --- | --- | --- |
| 1 | 50 | Bright and Beautiful Living Room | 2009-08-22 | 30 | |
| 2 | 51 | A Heroic Master Suite | 2009-08-29 | 30 | |
| 3 | 52 | Candice and the Design Debate | 2009-09-12 | 30 | |
| 4 | 53 | A Stylist's Stylish New Kitchen | 2009-10-10 | 30 | |
| 5 | 54 | Third Floor Bedroom Getaway | 2009-11-14 | 30 | |
| 6 | 55 | Creating a Festive and Functional Dining Room | 2009-11-21 | 30 | |
| 7 | 56 | Family, Food and Holiday Fun | 2009-11-27 | 30 | |
| 8 | 57 | The Basement Bunch | 2009-12-26 | 30 | |
| 9 | 58 | A Living Room for Lovebirds | 2010-01-02 | 30 | |
| 10 | 59 | Oohs and Aahs Over a Spa | 2010-01-09 | 30 | |
| 11 | 60 | Updating a '60s Era Kitchen | 2010-01-16 | 30 | |
| 12 | 61 | A Writer's Retreat | 2010-01-23 | 30 | |
| 13 | 62 | Home Office Home Run | 2010-01-30 | 30 | |
Season 16
| Episode No. | No. Overall | Title | Airdate | Runtime | Summary |
| --- | --- | --- | --- | --- | --- |
| 1 | 63 | A Warm, Cozy Basement | 2010-02-06 | 30 | |
| 2 | 64 | Awkward Bedroom Transformation | 2010-02-13 | 30 | |
| 3 | 65 | Festive Basement Cantina | 2010-02-20 | 30 | |
| 4 | 66 | Rustic Chic Great Room | 2010-02-27 | 30 | |
| 5 | 67 | Adventurous Bedroom Retreat | 2010-03-06 | 30 | |
| 6 | 68 | Fabulous Functional Kitchen | 2010-03-13 | 30 | |
| 7 | 69 | Basement Becomes a Family Room | 2010-03-20 | 30 | |
| 8 | 70 | Bright New Living-Dining Room | 2010-03-27 | 30 | |
| 9 | 71 | A Kitchen Face-Lift | 2010-04-03 | 30 | |
| 10 | 72 | A Family Room for All Seasons | 2010-04-17 | 30 | |
| 11 | 73 | Granny Suite Gets a Rock Star Treatment | 2010-05-01 | 30 | |
| 12 | 74 | Goodbye Old Crumbling, Blue Bathroom! | 2010-05-08 | 30 | |
| 13 | 75 | A Warm and Welcoming 'Home' for Residents of a Shelter | 2010-05-15 | 30 | |
Series Cast
| | | | |
| --- | --- | --- | --- |
| | Candice Olson | as Host | |
Related News
TVMaze