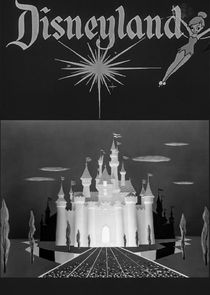 Originally hosted by Walt Disney himself, the series presented animated cartoons and other material (some original, some pre-existing) from the studio library. The show originally even featured one-hour edits of such then-recent Disney films as Alice in Wonderland, and in other cases, telecasts of complete Disney films split into two or more one-hour episodes.Occasionally, a more educational segment, such as The Story of the Animated Drawing, would be featured.
Series Overview
Rating
imDb Rating: 8.5 (1,546 Votes)
Metascore: N/A
Plot
A Disney-produced anthology covering many different genres.
Details
Rated: Unrated
Released: 27 Oct 1954
Runtime: 120 min
Genre: Adventure, Drama, Family
Director: N/A
Writer: N/A
Actors: Walt Disney
Language: English
Country: USA
Awards: Nominated for 1 Oscar. Another 15 wins & 20 nominations.
Total Seasons: 36
Previous Episode
Where to Eat in Disney's California Adventure
Episode 41x2; Feb 10, 2001
Previous Episodes 41x2: Where to Eat in Disney's California Adventure 41x1: What to Do In Disney's California Adventure 40x1: Disneys Animal Kingdom: The First Adventure 39x12: Disneys Hunchback Of Notre Dame: Festival Of Fools 39x11: Disney's Most Unlikely Hero's 39x10: Encino Woman 39x9: Walt Disney World's Happy Easter Parade 39x8: The Little Riders 39x7: Disney's Champions On Ice

View All Episodes
Skip to:
Season 1
| Episode No. | No. Overall | Title | Airdate | Runtime | Summary |
| --- | --- | --- | --- | --- | --- |
| 1 | 1 | The Disneyland Story | 1954-10-27 | 60 | |
| 2 | 2 | Alice In Wonderland ( Edited Movie Version) | 1954-11-03 | 60 | |
| 3 | 3 | Prarie / Seal Island | 1954-11-10 | 60 | |
| 4 | 4 | The Donald Duck Story | 1954-11-17 | 60 | |
| 5 | 5 | So Dear To my Heart | 1954-11-24 | 60 | |
| 6 | 6 | A Story Of Dogs | 1954-12-01 | 60 | |
| 7 | 7 | Operation Undersea | 1954-12-08 | 60 | |
| 8 | 8 | Davy Crockett : Indian Fighter | 1954-12-15 | 60 | |
| 9 | 9 | A Present For Donald | 1954-12-22 | 60 | |
| 10 | 10 | Beaver Valley / Cameras In Africa | 1954-12-29 | 60 | |
| 11 | 11 | Treasure Island ( Part 1 ) | 1955-01-05 | 60 | |
| 12 | 12 | Treasure Island ( Part 2 ) | 1955-01-12 | 60 | |
| 13 | 13 | Monsters Of The Deep | 1955-01-19 | 60 | |
| 14 | 14 | Davy Crockett : Goes To Congress | 1955-01-26 | 60 | |
| 15 | 15 | The Wind In The Willows | 1955-02-02 | 60 | |
| 16 | 16 | A Progress Report / Natures Half Acre | 1955-02-09 | 60 | |
| 17 | 17 | Calvacade Of Songs | 1955-02-16 | 60 | |
| 18 | 18 | Davy Crockett : At The Alamo | 1955-02-23 | 60 | |
| 19 | 19 | From Aesop To Hans Christian Anderson | 1955-03-02 | 60 | |
| 20 | 20 | Man In Space | 1955-03-09 | 60 | |
| 21 | 21 | The Pre-Opening Report From Disneyland | 1955-07-13 | 60 | |
| 22 | 22 | Dateline: Disneyland | 1955-07-17 | 60 | |
Season 2
| Episode No. | No. Overall | Title | Airdate | Runtime | Summary |
| --- | --- | --- | --- | --- | --- |
| 1 | 23 | Dumbo ( The Edited Movie) | 1955-09-14 | 60 | |
| 2 | 24 | Behind The True-Life Cameras | 1955-09-21 | 60 | |
| 3 | 25 | Bongo | 1953-09-28 | 60 | |
| 4 | 26 | People and Places- Tiburon, Sardinia, Morocco/ Icebreakers | 1955-10-05 | 60 | |
| 5 | 27 | The Adventures of Mickey Mouse | 1955-10-12 | 60 | |
| 6 | 28 | The Story of the Silly Symphony | 1955-10-19 | 60 | |
| 7 | 29 | The Legend of Sleepy Hollow | 1955-10-26 | 60 | |
| 8 | 30 | The Story of Robin Hood (1) | 1955-11-02 | 60 | |
| 9 | 31 | The Story of Robin Hood (2) | 1955-11-09 | 60 | |
| 10 | 32 | Davy Crockett: Keelboat Race | 1955-11-16 | 60 | |
| 11 | 33 | The Story of the Animated Drawing | 1955-11-30 | 60 | |
| 12 | 34 | The Goofy Success Story | 1955-12-07 | 60 | |
| 13 | 35 | Davy Crockett: The River Pirates | 1955-12-14 | 60 | |
| 14 | 36 | Man and the Moon | 1955-12-28 | 60 | |
| 15 | 37 | When Knighthood Was in Flower (1) | 1956-01-04 | 60 | |
| 16 | 38 | When Knighthood Was in Flower (2) | 1956-01-11 | 60 | |
| 17 | 39 | A Tribute to Joel Chandler Harris | 1956-01-18 | 60 | |
| 18 | 40 | A Day in the Life of Donald Duck | 1956-02-01 | 60 | |
| 19 | 41 | Survival in Nature | 1956-02-08 | 60 | |
| 20 | 42 | Our Unsung Villains | 1956-02-15 | 60 | |
| 21 | 43 | A Trip Thru Adventureland/ Water Birds | 1956-02-29 | 60 | |
| 22 | 44 | On Vacation | 1956-03-07 | 60 | |
| 23 | 45 | Stormy the Thoroughbred | 1956-03-14 | 60 | |
| 24 | 46 | The Goofy Sports Story | 1956-03-21 | 60 | |
| 25 | 47 | Where Do the Stories Come From? | 1956-04-04 | 60 | |
| 26 | 48 | Behind the Scenes with Fess Parker | 1956-05-30 | 60 | |
Season 3
| Episode No. | No. Overall | Title | Airdate | Runtime | Summary |
| --- | --- | --- | --- | --- | --- |
| 1 | 49 | Antarctica- Past and Present | 1956-09-12 | 60 | |
| 2 | 50 | The Great Cat Family | 1956-09-19 | 60 | |
| 3 | 51 | Searching for Nature's Mysteries | 1956-09-26 | 60 | |
| 4 | 52 | Rob Roy (1) | 1956-10-03 | 60 | |
| 5 | 53 | Rob Roy (2) | 1956-10-10 | 60 | |
| 6 | 54 | Goofy's Cavalcade of Sports | 1956-10-17 | 60 | |
| 7 | 55 | Behind the Cameras at Lapland/ Alaskan Eskimo | 1956-10-24 | 60 | |
| 8 | 56 | The Plausible Impossible | 1956-10-31 | 60 | |
| 9 | 57 | Cameras in Samoa/ The Holland Story | 1956-11-07 | 60 | |
| 10 | 58 | Along the Oregon Trail | 1956-11-14 | 60 | |
| 11 | 59 | At Home with Donald Duck | 1956-11-21 | 60 | |
| 12 | 60 | Pluto's Day | 1956-12-12 | 60 | |
| 13 | 61 | Your Host, Donald Duck | 1957-01-16 | 60 | |
| 14 | 62 | Our Friend, the Atom | 1957-01-23 | 60 | |
| 15 | 63 | All About Magic | 1957-01-30 | 60 | |
| 16 | 64 | Tricks of Our Trade | 1957-02-13 | 60 | |
| 17 | 65 | The Crisler Story/ Prowlers of the Everglades | 1957-02-27 | 60 | |
| 18 | 66 | Man in Flight | 1957-03-06 | 60 | |
| 19 | 67 | The Adventure Story | 1957-03-20 | 60 | |
| 20 | 68 | Donald's Award | 1957-03-27 | 60 | |
| 21 | 69 | Disneyland, the Park / Pecos Bill | 1957-04-03 | 60 | |
| 22 | 70 | People of the Desert | 1957-04-10 | 60 | |
| 23 | 71 | More About the Silly Symphonies | 1957-04-17 | 60 | |
| 24 | 72 | Yellowstone Story / Bear Country | 1957-05-01 | 60 | |
| 25 | 73 | The Liberty Story | 1957-05-29 | 60 | |
| 26 | 74 | Antarctica- Operation Deep Freeze | 1957-06-05 | 60 | |
Season 4
| Episode No. | No. Overall | Title | Airdate | Runtime | Summary |
| --- | --- | --- | --- | --- | --- |
| 1 | 75 | The Fourth Anniversary Show | 1957-09-11 | 60 | |
| 2 | 76 | Four Fabulous Characters | 1957-09-18 | 60 | |
| 3 | 77 | Adventure in Wildwood Heart | 1957-09-25 | 60 | |
| 4 | 78 | Saga Of Andy Burnett: Andy's Initiation | 1957-10-02 | 60 | |
| 5 | 79 | Saga Of Andy Burnett: Andy's First Chore | 1957-10-09 | 60 | |
| 6 | 80 | Saga Of Andy Burnett: Andy's Love Affair | 1957-10-16 | 60 | |
| 7 | 81 | Duck for Hire | 1957-10-23 | 60 | |
| 8 | 82 | Adventures in Fantasy | 1957-11-06 | 60 | |
| 9 | 83 | To the South Pole for Science | 1957-11-13 | 60 | |
| 10 | 84 | The Best Doggoned Dog in the World | 1957-11-20 | 60 | |
| 11 | 85 | How to Relax | 1957-11-27 | 60 | |
| 12 | 86 | Mars and Beyond | 1957-12-04 | 60 | |
| 13 | 87 | The Horse of the West | 1957-12-11 | 60 | |
| 14 | 88 | Faraway Places: High, Hot and Wet | 1958-01-01 | 60 | |
| 15 | 89 | Saludos Amigos | 1958-01-08 | 60 | |
| 16 | 90 | Donald's Weekend | 1958-01-15 | 60 | |
| 17 | 91 | The Littlest Outlaw (1) | 1958-01-22 | 60 | |
| 18 | 92 | The Littlest Outlaw (2) | 1958-01-29 | 60 | |
| 19 | 93 | The Saga Of Andy Burnett: The Land of Enemies | 1958-02-26 | 60 | |
| 20 | 94 | Saga Of Andy Burnett: White Man's Medicine | 1958-03-05 | 60 | |
| 21 | 95 | Saga Of Andy Burnett: The Big Council | 1958-03-12 | 60 | |
| 22 | 96 | Magic and Music | 1958-03-19 | 60 | |
| 23 | 97 | An Adventure in the Magic Kingdom | 1958-04-09 | 60 | |
| 24 | 98 | Four Tales of a Mouse | 1958-04-16 | 60 | |
| 25 | 99 | An Adventure in Art | 1958-04-30 | 60 | |
| 26 | 100 | Magic Highway, U.S.A. | 1958-05-14 | 60 | |
Season 5
| Episode No. | No. Overall | Title | Airdate | Runtime | Summary |
| --- | --- | --- | --- | --- | --- |
| 1 | 101 | The Nine Lives of Elfego Baca | 1958-10-03 | 60 | |
| 2 | 102 | The Pigeon That Worked a Miracle | 1958-10-10 | 60 | |
| 3 | 103 | Elfego Baca: Four Down and Five Lives to Go | 1958-10-17 | 60 | |
| 4 | 104 | Rusty and the Falcon | 1958-10-24 | 60 | |
| 5 | 105 | Texas John Slaughter | 1958-10-31 | 60 | |
| 6 | 106 | His Majesty, King of the Beasts | 1958-11-07 | 60 | |
| 7 | 107 | Texas John Slaughter: Ambush at Laredo | 1958-11-14 | 60 | |
| 8 | 108 | Johnny Tremain (1) | 1958-11-21 | 60 | |
| 9 | 109 | Johnny Tremain (2) | 1958-11-28 | 60 | |
| 10 | 110 | Elfego Baca: Lawman or Gunman | 1958-12-05 | 60 | |
| 11 | 111 | Elfego Baca: Law and Order, Incorporated | 1958-12-12 | 60 | |
| 12 | 112 | From All of Us to All of You | 1958-12-19 | 60 | |
| 13 | 113 | Texas John Slaughter: Killers from Kansas | 1959-01-09 | 60 | |
| 14 | 114 | Noik | 1959-01-16 | 60 | |
| 15 | 115 | Texas John Slaughter: Showdown at Sandoval | 1959-01-23 | 60 | |
| 16 | 116 | The Peter Tchaikovsky Story | 1959-01-30 | 60 | |
| 17 | 117 | Elfego Baca: Attorney at Law | 1959-02-06 | 60 | |
| 18 | 118 | Duck Flies Coop | 1959-02-13 | 60 | |
| 19 | 119 | Elfego Baca: The Griswold Murder | 1959-02-20 | 60 | |
| 20 | 120 | The Adventures of Chip 'N Dale | 1959-02-27 | 60 | |
| 21 | 121 | Texas John Slaughter: The Man from Bitter Creek | 1959-03-06 | 60 | |
| 22 | 122 | Highway to Trouble | 1959-03-13 | 60 | |
| 23 | 123 | Texas John Slaughter: The Slaughter Trail | 1959-03-20 | 60 | |
| 24 | 124 | Toot, Whistle, Plunk and Boom | 1959-03-27 | 60 | |
| 25 | 125 | The Wetback Hound | 1959-04-24 | 60 | |
| 26 | 126 | I Captured the King of the Leprechauns | 1959-05-29 | 60 | |
| 27 | 127 | Kodak Presents: Disneyland '59 | 1959-06-15 | 60 | |
Season 6
| Episode No. | No. Overall | Title | Airdate | Runtime | Summary |
| --- | --- | --- | --- | --- | --- |
| 1 | 128 | Moochie of the Little League (1) | 1959-10-02 | 60 | |
| 2 | 129 | Moochie of the Little League (2) | 1959-10-09 | 60 | |
| 3 | 130 | Killers of the High Country | 1959-10-16 | 60 | |
| 4 | 131 | The Birth of the Swamp Fox | 1959-10-23 | 60 | |
| 5 | 132 | Swamp Fox: Brother Against Brother | 1959-10-30 | 60 | |
| 6 | 133 | Perilous Assignment | 1959-11-06 | 60 | |
| 7 | 134 | Elfego Baca: Move Along, Mustangers | 1959-11-13 | 60 | |
| 8 | 135 | Elfego Baca: Mustang Man, Mustang Maid | 1959-11-20 | 60 | |
| 9 | 136 | A Storm Called Maria | 1959-11-27 | 60 | |
| 10 | 137 | Texas John Slaughter: The Robber Stallion | 1959-12-04 | 60 | |
| 11 | 138 | Texas John Slaughter: Wild Horse Revenge | 1959-12-11 | 60 | |
| 12 | 139 | Texas John Slaughter: Range War at Tombstone | 1959-12-18 | 60 | |
| 13 | 140 | Swamp Fox: Tory Vengeance | 1960-01-01 | 60 | |
| 14 | 141 | Swamp Fox: Day of Reckoning | 1960-01-08 | 60 | |
| 15 | 142 | Swamp Fox: Redcoat Strategy | 1960-01-15 | 60 | |
| 16 | 143 | Swamp Fox: A Case of Treason | 1960-01-22 | 60 | |
| 17 | 144 | Wild Burro Of The West | 1960-01-29 | 60 | |
| 18 | 145 | Two Happy Amigos | 1960-02-05 | 60 | |
| 19 | 146 | Texas John Slaughter: Desperado from Tombstone | 1960-02-12 | 60 | |
| 20 | 147 | Texas John Slaughter: Apache Friendship | 1960-02-19 | 60 | |
| 21 | 148 | Texas John Slaughter: Kentucky Gunslick | 1960-02-26 | 60 | |
| 22 | 149 | Texas John Slaughter: Geronimo's Revenge | 1960-03-04 | 60 | |
| 23 | 150 | This is Your Life, Donald Duck | 1960-03-11 | 60 | |
| 24 | 151 | Elfego Baca: Friendly Enemies at Law | 1960-03-18 | 60 | |
| 25 | 152 | Elfego Baca: Gus Tomlin is Dead | 1960-03-25 | 60 | |
| 26 | 153 | The Mad Hermit of Chimney Butte | 1960-04-01 | 60 | |
Season 7
| Episode No. | No. Overall | Title | Airdate | Runtime | Summary |
| --- | --- | --- | --- | --- | --- |
| 1 | 154 | Rapids Ahead/ Bear Country | 1960-10-16 | 60 | |
| 2 | 155 | Zorro: El Bandido | 1960-10-30 | 60 | |
| 3 | 156 | Zorro: Adios El Cuchillo | 1960-11-06 | 60 | |
| 4 | 157 | Donald's Silver Anniversary | 1960-11-13 | 60 | |
| 5 | 158 | Moochie of Pop Warner Football (1) | 1960-11-20 | 60 | |
| 6 | 159 | Moochie of Pop Warner Football (2) | 1960-11-27 | 60 | |
| 7 | 160 | Daniel Boone: The Warrior's Path | 1960-12-04 | 60 | |
| 8 | 161 | Daniel Boone And Chase the Buffalo | 1960-12-11 | 60 | |
| 9 | 162 | Escape to Paradise / Water Birds | 1960-12-18 | 60 | |
| 10 | 163 | Zorro: The Postponed Wedding | 1961-01-01 | 60 | |
| 11 | 164 | Swamp Fox: A Woman's Courage | 1961-01-08 | 60 | |
| 12 | 165 | Swamp Fox: Horses for Greene | 1961-01-15 | 60 | |
| 13 | 166 | A Salute to Father | 1961-01-22 | 60 | |
| 14 | 167 | Texas John Slaughter: End of the Trail | 1961-01-29 | 60 | |
| 15 | 168 | Texas John Slaughter: A Holster Full of Law | 1961-02-05 | 60 | |
| 16 | 169 | Bell Telephone Hour: The Sounds Of America ( From Disneyland) | 1961-02-17 | 60 | |
| 17 | 170 | Westward Ho! The Wagons (1) | 1961-02-19 | 60 | |
| 18 | 171 | Westward Ho! The Wagons (2) | 1961-02-26 | 60 | |
| 19 | 172 | The Coyote's Lament | 1961-03-05 | 60 | |
| 20 | 173 | Daniel Boone: The Wilderness Road | 1961-03-12 | 60 | |
| 21 | 174 | Daniel Boone : The Promised Land | 1961-03-19 | 60 | |
| 22 | 175 | Man in Flight II | 1961-03-26 | 60 | |
| 23 | 176 | Zorro: Auld Acquaintance | 1961-04-02 | 60 | |
| 24 | 177 | Battle for Survival | 1961-04-09 | 60 | |
| 25 | 178 | Texas John Slaughter: Trip to Tuscon | 1961-04-16 | 60 | |
| 26 | 179 | Texas John Slaughter: Frank Clell's in Town | 1961-04-23 | 60 | |
| 27 | 180 | Flash, the Teenage Otter | 1961-04-30 | 60 | |
| 28 | 181 | Andrew's Raiders (1) | 1961-05-07 | 60 | |
| 29 | 182 | Andrew's Raiders (2) | 1961-05-14 | 60 | |
| 30 | 183 | Wonders of the Water World | 1961-05-21 | 60 | |
| 31 | 184 | Disneyland '61 / Olympic Elk | 1961-05-28 | 60 | |
| 32 | 185 | The Titlemakers / Nature's Half Acre | 1961-06-11 | 60 | |
Season 8
| Episode No. | No. Overall | Title | Airdate | Runtime | Summary |
| --- | --- | --- | --- | --- | --- |
| 1 | 186 | An Adventure in Color / Mathemagic Land | 1961-09-24 | 60 | |
| 2 | 187 | The Horsemasters (1) | 1961-10-01 | 60 | |
| 3 | 188 | The Horsemasters (2) | 1961-10-08 | 60 | |
| 4 | 189 | Chico, the Mismatched Coyote | 1961-10-15 | 60 | |
| 5 | 190 | The Hunting Instinct | 1961-10-22 | 60 | |
| 6 | 191 | Inside Donald Duck | 1961-11-05 | 60 | |
| 7 | 192 | The Light in the Forest (1) | 1961-11-12 | 60 | |
| 8 | 193 | The Light in the Forest (2) | 1961-11-19 | 60 | |
| 9 | 194 | Holiday for Henpecked Husbands | 1961-11-26 | 60 | |
| 10 | 195 | A Fire Called Jeremiah | 1961-12-03 | 60 | |
| 11 | 196 | Kids is Kids | 1961-12-10 | 60 | |
| 12 | 197 | Backstage Party (Babes In Toyland) | 1961-12-17 | 60 | |
| 13 | 198 | The Silver Skates (1) | 1962-01-07 | 60 | |
| 14 | 199 | The Silver Skates (2) | 1962-01-14 | 60 | |
| 15 | 200 | Sancho, the Homing Steer (1) | 1962-01-21 | 60 | |
| 16 | 201 | Sancho, the Homing Steer (2) | 1962-01-28 | 60 | |
| 17 | 202 | Fantasy on Skis | 1962-02-04 | 60 | |
| 18 | 203 | Comancho (1) | 1962-02-18 | 60 | |
| 19 | 204 | Comancho (2) | 1962-02-25 | 60 | |
| 20 | 205 | Carnival Time | 1962-03-04 | 60 | |
| 21 | 206 | The Prince and the Pauper (1) | 1962-03-11 | 60 | |
| 22 | 207 | The Prince and the Pauper (2) | 1962-03-18 | 60 | |
| 23 | 208 | The Prince and the Pauper (3) | 1962-03-25 | 60 | |
| 24 | 209 | Spy in the Sky | 1962-04-01 | 60 | |
| 25 | 210 | Von Drake in Spain | 1962-04-08 | 60 | |
| 26 | 211 | Disneyland After Dark | 1962-04-15 | 60 | |
Season 9
| Episode No. | No. Overall | Title | Airdate | Runtime | Summary |
| --- | --- | --- | --- | --- | --- |
| 1 | 212 | The Golden Horseshoe Revue | 1962-09-23 | 60 | |
| 2 | 213 | Escapade in Florence (1) | 1962-09-30 | 60 | |
| 3 | 214 | Escapade in Florence (2) | 1962-10-07 | 60 | |
| 4 | 215 | The Silver Fox and Sam Davenport | 1962-10-14 | 60 | |
| 5 | 216 | Man is His Own Worst Enemy | 1962-10-21 | 60 | |
| 6 | 217 | Sammy, the Way-Out Seal (1) | 1962-10-28 | 60 | |
| 7 | 218 | Sammy, the Way-Out Seal (2) | 1962-11-04 | 60 | |
| 8 | 219 | The Magnificent Rebel (1) | 1962-11-18 | 60 | |
| 9 | 220 | The Magnificent Rebel (2) | 1962-11-25 | 60 | |
| 10 | 221 | The Mooncussers (1) | 1962-12-02 | 60 | |
| 11 | 222 | The Mooncussers (2) | 1962-12-09 | 60 | |
| 12 | 223 | Hurricane Hannah | 1962-12-16 | 60 | |
| 13 | 224 | Holiday Time at Disneyland | 1962-12-23 | 60 | |
| 14 | 225 | Three Tall Tales | 1963-01-06 | 60 | |
| 15 | 226 | Little Dog Lost | 1963-01-13 | 60 | |
| 16 | 227 | Johnny Shiloh (1) | 1963-01-20 | 60 | |
| 17 | 228 | Johnny Shiloh (2) | 1963-01-27 | 60 | |
| 18 | 229 | Greta, the Misfit Greyhound | 1963-02-03 | 60 | |
| 19 | 230 | Inside Outer Space | 1963-02-10 | 60 | |
| 20 | 231 | Banner in the Sky (1) | 1963-02-17 | 60 | |
| 21 | 232 | Banner in the Sky (2) | 1963-02-24 | 60 | |
| 22 | 233 | A Square Peg in a Round Hole | 1963-03-03 | 60 | |
| 23 | 234 | The Horse With the Flying Tail | 1963-03-10 | 60 | |
| 24 | 235 | Kidnapped (1) | 1963-03-17 | 60 | |
| 25 | 236 | Kidnapped (2) | 1963-03-24 | 60 | |
Season 10
| Episode No. | No. Overall | Title | Airdate | Runtime | Summary |
| --- | --- | --- | --- | --- | --- |
| 1 | 237 | The Horse Without a Head (1) | 1963-09-29 | 60 | |
| 2 | 238 | The Horse Without a Head (2) | 1963-10-06 | 60 | |
| 3 | 239 | Fly With Von Drake | 1963-10-13 | 60 | |
| 4 | 240 | The Wahoo Bobcat | 1963-10-20 | 60 | |
| 5 | 241 | The Waltz King (1) | 1963-10-27 | 60 | |
| 6 | 242 | The Waltz King (2) | 1963-11-03 | 60 | |
| 7 | 243 | The Truth About Mother Goose | 1963-11-17 | 60 | |
| 8 | 244 | Pollyanna (1) | 1963-12-01 | 60 | |
| 9 | 245 | Pollyanna (2) | 1963-12-08 | 60 | |
| 10 | 246 | Pollyanna (3) | 1963-12-15 | 60 | |
| 11 | 247 | From All of Us to All of You #2 | 1963-12-22 | 60 | |
| 12 | 248 | The Ballad of Hector the Stowaway Dog (1) | 1964-01-05 | 60 | |
| 13 | 249 | The Ballad of Hector the Stowaway Dog (2) | 1964-01-12 | 60 | |
| 14 | 250 | Mediterranean Cruise | 1964-01-19 | 60 | |
| 15 | 251 | The Restless Sea | 1964-01-24 | 60 | |
| 16 | 252 | Bristle Face (1) | 1964-01-26 | 60 | |
| 17 | 253 | Bristle Face (2) | 1964-02-02 | 60 | |
| 18 | 254 | The Scarecrow of Romney Marsh (1) | 1964-02-09 | 60 | |
| 19 | 255 | The Scarecrow of Romney Marsh (2) | 1964-02-16 | 60 | |
| 20 | 256 | The Scarecrow of Romney Marsh (3) | 1964-02-23 | 60 | |
| 21 | 257 | The Legend of Two Gypsy Dogs | 1964-03-01 | 60 | |
| 22 | 258 | For the Love of Willadeen (1) | 1964-03-08 | 60 | |
| 23 | 259 | For the Love of Willadeen (2) | 1964-03-15 | 60 | |
| 24 | 260 | In Shape with Von Drake | 1964-03-22 | 60 | |
| 25 | 261 | Greyfrier's Bobby (1) | 1964-03-29 | 60 | |
| 26 | 262 | Greyfrier's Bobby (2) | 1964-04-05 | 60 | |
| 27 | 263 | Jungle Cat | 1964-04-12 | 60 | |
| 28 | 264 | Disneyland Goes to the World's Fair | 1964-05-17 | 60 | |
Season 11
| Episode No. | No. Overall | Title | Airdate | Runtime | Summary |
| --- | --- | --- | --- | --- | --- |
| 1 | 265 | The Hound That Thought He Was a Raccoon | 1964-09-20 | 60 | |
| 2 | 266 | Nikki, Wild Dog of the North (1) | 1964-09-27 | 60 | |
| 3 | 267 | Nikki, Wild Dog of the North (2) | 1964-10-04 | 60 | |
| 4 | 268 | A Rag, A Bone, A Box of Junk | 1964-10-11 | 60 | |
| 5 | 269 | The Tenderfoot (1) | 1964-10-18 | 60 | |
| 6 | 270 | The Tenderfoot (2) | 1964-10-25 | 60 | |
| 7 | 271 | The Tenderfoot (3) | 1964-11-01 | 60 | |
| 8 | 272 | One Day at Teton Marsh | 1964-11-08 | 60 | |
| 9 | 273 | Ben and Me / Peter and the Wolf | 1964-11-15 | 60 | |
| 10 | 274 | Toby Tyler (1) | 1964-11-22 | 60 | |
| 11 | 275 | Toby Tyler (2) | 1964-11-29 | 60 | |
| 12 | 276 | Big Red (1) | 1954-12-06 | 60 | |
| 13 | 277 | Big Red (2) | 1964-12-13 | 60 | |
| 14 | 278 | Disneyland 10th Anniversary | 1965-01-03 | 60 | |
| 15 | 279 | Ida, the Offbeat Eagle | 1965-01-10 | 60 | |
| 16 | 280 | Gallagher (1) | 1965-01-24 | 60 | |
| 17 | 281 | Gallegher (2) | 1965-01-31 | 60 | |
| 18 | 282 | Gallegher (3) | 1965-02-07 | 60 | |
| 19 | 283 | An Otter in the Family | 1965-02-21 | 60 | |
| 20 | 284 | Almost Angels (1) | 1965-02-28 | 60 | |
| 21 | 285 | Almost Angels (2) | 1965-03-07 | 60 | |
| 22 | 286 | Kilroy I | 1965-03-14 | 60 | |
| 23 | 287 | Kilroy II | 1965-03-21 | 60 | |
| 24 | 288 | Kilroy III | 1965-03-28 | 60 | |
| 25 | 289 | Kilroy IV | 1965-04-04 | 60 | |
Season 12
| Episode No. | No. Overall | Title | Airdate | Runtime | Summary |
| --- | --- | --- | --- | --- | --- |
| 1 | 290 | The Yellowstone Cubs | 1965-09-19 | 60 | |
| 2 | 291 | Further Adventures Of Ghallagher : A Case of Murder | 1965-09-26 | 60 | |
| 3 | 292 | Further Adventures Of Ghallagher: The Big Swindle | 1965-10-03 | 60 | |
| 4 | 293 | Further Adventures Of Ghallagher: The Daily Press vs. City Hall | 1965-10-10 | 60 | |
| 5 | 294 | Flight of the White Stallions (1) | 1965-10-17 | 60 | |
| 6 | 295 | Flight of the White Stallions (2) | 1965-10-24 | 60 | |
| 7 | 296 | Jack Benny Hour Goes To Disneyland | 1965-11-03 | 60 | |
| 8 | 297 | Minado the Wolverine | 1965-11-07 | 60 | |
| 9 | 298 | The Three Lives of Thomasina (1) | 1965-11-14 | 60 | |
| 10 | 299 | The Three Lives of Thomasina (2) | 1965-11-21 | 60 | |
| 11 | 300 | The Three Lives of Thomasina (3) | 1965-11-28 | 60 | |
| 12 | 301 | Summer Magic (1) | 1965-12-05 | 60 | |
| 13 | 302 | Summer Magic (2) | 1965-12-12 | 60 | |
| 14 | 303 | A Country Coyote Goes Hollywood | 1965-12-19 | 60 | |
| 15 | 304 | Moon Pilot (1) | 1966-01-16 | 60 | |
| 16 | 305 | Moon Pilot (2) | 1966-01-23 | 60 | |
| 17 | 306 | Music for Everybody | 1966-01-30 | 60 | |
| 18 | 307 | The Legend of Young Dick Turpin (1) | 1966-02-13 | 60 | |
| 19 | 308 | The Legend of Young Dick Turpin (2) | 1966-02-20 | 60 | |
| 20 | 309 | Ballerina (1) | 1966-02-27 | 60 | |
| 21 | 310 | Ballerina (2) | 1966-03-06 | 60 | |
| 22 | 311 | Run, Light Buck, Run | 1966-03-13 | 60 | |
| 23 | 312 | A Tiger Walks (1) | 1966-03-20 | 60 | |
| 24 | 313 | A Tiger Walks (2) | 1966-03-27 | 60 | |
| 25 | 314 | Concho, The Coyote Who Wasn't | 1966-04-10 | 60 | |
Season 13
| Episode No. | No. Overall | Title | Airdate | Runtime | Summary |
| --- | --- | --- | --- | --- | --- |
| 1 | 315 | Emil and the Detective (1) | 1966-09-11 | 60 | |
| 2 | 316 | Emil and the Detective (2) | 1966-09-18 | 60 | |
| 3 | 317 | The Legend of El Blanco | 1966-09-25 | 60 | |
| 4 | 318 | Savage Sam (1) | 1966-10-02 | 60 | |
| 5 | 319 | Savage Sam (2) | 1966-10-09 | 60 | |
| 6 | 320 | The 101 Problems of Hercules | 1966-10-16 | 60 | |
| 7 | 321 | Ghallagher Goes West: Showdown with the Sundown Kid | 1966-10-23 | 60 | |
| 8 | 322 | Ghallagher Goes West: Crusading Reporter | 1966-10-30 | 60 | |
| 9 | 323 | A Ranger's Guide to Nature | 1966-11-13 | 60 | |
| 10 | 324 | The Moon-Spinners (1) | 1966-11-20 | 60 | |
| 11 | 325 | The Moon-Spinners (2) | 1966-11-27 | 60 | |
| 12 | 326 | The Moon-Spinners (3) | 1966-12-04 | 60 | |
| 13 | 327 | Joker, the Amiable Ocelot | 1966-12-11 | 60 | |
| 14 | 328 | Disneyland Around the Seasons | 1965-12-18 | 60 | |
| 15 | 329 | Willie and the Yank (1) | 1967-01-08 | 60 | |
| 16 | 330 | Willie and the Yank (2) | 1967-01-15 | 60 | |
| 17 | 331 | Willie and the Yank (3) | 1967-01-22 | 60 | |
| 18 | 332 | Ghallagher Goes West: Tragedy on the Trail | 1967-01-29 | 60 | |
| 19 | 333 | Ghallagher Goes West: Trial by Terror | 1967-02-05 | 60 | |
| 20 | 334 | The Boy Who Flew With Condors | 1967-02-19 | 60 | |
| 21 | 335 | Atta Girl, Kelly! (1) | 1967-03-05 | 60 | |
| 22 | 336 | Atta Girl, Kelly! (2) | 1967-03-12 | 60 | |
| 23 | 337 | Man on Wheels | 1967-03-26 | 60 | |
| 24 | 338 | Salute to Alaska, A | 1967-04-02 | 60 | |
Season 14
| Episode No. | No. Overall | Title | Airdate | Runtime | Summary |
| --- | --- | --- | --- | --- | --- |
| 1 | 339 | The Tattooed Police Horse | 1967-09-10 | 60 | |
| 2 | 340 | The Not So Lonely Lighthouse Keeper | 1967-09-17 | 60 | |
| 3 | 341 | How the West was Lost | 1967-09-24 | 60 | |
| 4 | 342 | The Fighting Prince of Donegal (1) | 1967-10-01 | 60 | |
| 5 | 343 | The Fighting Prince of Donegal (2) | 1967-10-08 | 60 | |
| 6 | 344 | The Fighting Prince of Donegal (3) | 1967-10-15 | 60 | |
| 7 | 345 | Run, Appaloosa, Run | 1967-10-22 | 60 | |
| 8 | 346 | One Day at Beetle Rock | 1967-11-19 | 60 | |
| 9 | 347 | The Monkey's Uncle (1) | 1967-11-26 | 60 | |
| 10 | 348 | The Monkey's Uncle (2) | 1967-12-03 | 60 | |
| 11 | 349 | A Boy Called Nuttin' (1) | 1967-12-07 | 60 | |
| 12 | 350 | A Boy Called Nuttin' (2) | 1967-12-17 | 60 | |
| 13 | 351 | From All of Us to All of You #3 | 1967-12-24 | 60 | |
| 14 | 352 | Way Down Cellar (1) | 1968-01-07 | 60 | |
| 15 | 353 | Way Down Cellar (2) | 1968-01-14 | 60 | |
| 16 | 354 | Disneyland: From the Pirates of the Caribbean to the World of Tomorrow | 1968-01-21 | 60 | |
| 17 | 355 | Pablo and the Dancing Chihuahua (1) | 1968-01-28 | 60 | |
| 18 | 356 | Pablo and the Dancing Chihuahua (2) | 1968-02-04 | 60 | |
| 19 | 357 | My Family is a Menagerie | 1968-02-11 | 60 | |
| 20 | 358 | The Young Loner (1) | 1968-02-25 | 60 | |
| 21 | 359 | The Young Loner (2) | 1968-03-03 | 60 | |
| 22 | 360 | Wild Heart | 1968-03-10 | 60 | |
| 23 | 361 | The Ranger of Brownstone | 1968-03-17 | 60 | |
| 24 | 362 | The Mystery of Edward Simms (1) | 1968-03-31 | 60 | |
| 25 | 363 | The Mystery of Edward Simms (2) | 1968-04-07 | 60 | |
| 26 | 364 | Ten Who Dared | 1968-04-14 | 60 | |
| 27 | 365 | Nature's Charter Tours | 1968-04-28 | 60 | |
Season 15
| Episode No. | No. Overall | Title | Airdate | Runtime | Summary |
| --- | --- | --- | --- | --- | --- |
| 1 | 366 | The Legend of the Boy and the Eagle | 1968-09-15 | 60 | |
| 2 | 367 | Boomerang, Dog of Many Talents (1) | 1968-09-22 | 60 | |
| 3 | 368 | Boomerang, Dog of Many Talents (2) | 1968-09-29 | 60 | |
| 4 | 369 | Pacifically Peeking | 1968-10-06 | 60 | |
| 5 | 370 | Brimstone, the Amish Horse | 1968-10-27 | 60 | |
| 6 | 371 | The Ugly Dachshund (1) | 1968-11-03 | 60 | |
| 7 | 372 | The Ugly Dachshund (2) | 1968-11-10 | 60 | |
| 8 | 373 | The Treasure of San Bosco Reef (1) | 1968-11-24 | 60 | |
| 9 | 374 | The Treasure of San Bosco Reef (2) | 1968-12-01 | 60 | |
| 10 | 375 | The Owl That Didn't Give a Hoot | 1968-12-15 | 60 | |
| 11 | 376 | The Mickey Mouse Anniversary Show | 1968-12-22 | 60 | |
| 12 | 377 | Solomon, the Sea Turtle | 1969-01-05 | 60 | |
| 13 | 378 | Those Calloways (1) | 1969-01-12 | 60 | |
| 14 | 379 | Those Calloways (2) | 1969-01-19 | 60 | |
| 15 | 380 | Those Calloways (3) | 1969-01-26 | 60 | |
| 16 | 381 | Pancho, the Fastest Paw in the West | 1969-02-02 | 60 | |
| 17 | 382 | The Secret of Boyne Castle (1) | 1969-02-09 | 60 | |
| 18 | 383 | The Secret of Boyne Castle (2) | 1969-02-16 | 60 | |
| 19 | 384 | The Secret of Boyne Castle (3) | 1969-02-23 | 60 | |
| 20 | 385 | Nature's Better Built Homes | 1969-03-02 | 60 | |
| 21 | 386 | Ride a Northbound Horse (1) | 1969-03-16 | 60 | |
| 22 | 387 | Ride a Northbound Horse (2) | 1969-03-23 | 60 | |
Season 16
| Episode No. | No. Overall | Title | Airdate | Runtime | Summary |
| --- | --- | --- | --- | --- | --- |
| 1 | 388 | Wild Geese Calling | 1969-09-14 | 60 | |
| 2 | 389 | My Dog, the Thief (1) | 1969-09-21 | 60 | |
| 3 | 390 | My Dog, the Thief (2) | 1969-09-28 | 60 | |
| 4 | 391 | The Feather Farm | 1969-10-26 | 60 | |
| 5 | 392 | Charlie, the Lonesome Cougar (1) | 1969-11-02 | 60 | |
| 6 | 393 | Charlie, the Lonesome Cougar (2) | 1969-11-09 | 60 | |
| 7 | 394 | Varda, the Peregrine Falcon | 1969-11-16 | 60 | |
| 8 | 395 | Secrets of the Pirate's Inn (1) | 1969-11-23 | 60 | |
| 9 | 396 | Secrets of the Pirate's Inn (2) | 1969-11-30 | 60 | |
| 10 | 397 | Inky, the Crow | 1969-12-07 | 60 | |
| 11 | 398 | Babes in Toyland (1) | 1969-12-21 | 60 | |
| 12 | 399 | Babes in Toyland (2) | 1969-12-28 | 60 | |
| 13 | 400 | Bon Voyage (1) | 1970-01-11 | 60 | |
| 14 | 401 | Bon Voyage (2) | 1970-01-18 | 60 | |
| 15 | 402 | Bon Voyage (3) | 1970-01-25 | 60 | |
| 16 | 403 | Smoke (1) | 1970-02-01 | 60 | |
| 17 | 404 | Smoke (2) | 1970-02-08 | 60 | |
| 18 | 405 | Menace on the Mountain (1) | 1970-03-01 | 60 | |
| 19 | 406 | Menace on the Mountain (2) | 1970-03-08 | 60 | |
| 20 | 407 | Disneyland Showtime | 1970-03-22 | 60 | |
| 21 | 408 | Nature's Strangest Oddballs | 1970-03-29 | 60 | |
Season 17
| Episode No. | No. Overall | Title | Airdate | Runtime | Summary |
| --- | --- | --- | --- | --- | --- |
| 1 | 409 | Christobalito, the Calypso Colt | 1970-09-13 | 60 | |
| 2 | 410 | The Boy Who Stole the Elephant (1) | 1970-09-20 | 60 | |
| 3 | 411 | The Boy Who Stole the Elephant (2) | 1970-09-27 | 60 | |
| 4 | 412 | The Wacky Zoo of Morgan City (1) | 1970-10-18 | 60 | |
| 5 | 413 | The Wacky Zoo of Morgan City (2) | 1970-10-25 | 60 | |
| 6 | 414 | Snow Bear (1) | 1970-11-01 | 60 | |
| 7 | 415 | Snow Bear (2) | 1970-11-08 | 60 | |
| 8 | 416 | Monkeys, Go Home! (1) | 1970-11-15 | 60 | |
| 9 | 417 | Monkeys, Go Home! (2) | 1970-11-22 | 60 | |
| 10 | 418 | 29-Nov-1970 Hang Your Hat on the Wind | 1970-11-29 | 60 | |
| 11 | 419 | It's Tough to be a Bird | 1970-12-13 | 60 | |
| 12 | 420 | From All of Us to All of You #4 | 1970-12-20 | 60 | |
| 13 | 421 | Three Without Fear (1) | 1971-01-03 | 60 | |
| 14 | 422 | Three Without Fear (2) | 1971-01-10 | 60 | |
| 15 | 423 | The Adventures of Bullwhip Green (1) | 1971-01-17 | 60 | |
| 16 | 424 | The Adventures of Bullwhip Green (2) | 1971-01-24 | 60 | |
| 17 | 425 | The Adventures of Bullwhip Green (3) | 1971-01-31 | 60 | |
| 18 | 426 | Bayou Boy (1) | 1971-02-07 | 60 | |
| 19 | 427 | Bayou Boy (2) | 1971-02-14 | 60 | |
| 20 | 428 | Hamad and the Pirates (1) | 1971-03-07 | 60 | |
| 21 | 429 | Hamad and the Pirates (2) | 1971-03-14 | 60 | |
Season 18
| Episode No. | No. Overall | Title | Airdate | Runtime | Summary |
| --- | --- | --- | --- | --- | --- |
| 1 | 430 | Charlie Crawfoot and the Coati Mundi | 1971-09-19 | 60 | |
| 2 | 431 | Hacksaw (1) | 1971-09-26 | 60 | |
| 3 | 432 | Hacksaw (2) | 1971-10-03 | 60 | |
| 4 | 433 | The Grand Opening Of Walt Disney World | 1971-10-29 | 60 | |
| 5 | 434 | Strange Monster of Strawberry Cove (1) | 1971-10-31 | 60 | |
| 6 | 435 | Strange Monster of Strawberry Cove (2) | 1971-11-07 | 60 | |
| 7 | 436 | The Horse in the Grey Flannel Suit (1) | 1971-11-14 | 60 | |
| 8 | 437 | The Horse in the Grey Flannel Suit (2) | 1971-11-21 | 60 | |
| 9 | 438 | Lefty, the Dingaling Lynx | 1971-11-28 | 60 | |
| 10 | 439 | Disney on Parade | 1971-12-19 | 60 | |
| 11 | 440 | Mountain Born | 1972-01-09 | 60 | |
| 12 | 441 | One And Only Genuine, Original, Family Band (1) | 1972-01-23 | 60 | |
| 13 | 442 | One And Only Genuine, Original, Family Band (2) | 1972-01-30 | 60 | |
| 14 | 443 | Justin Morgan had a Horse (1) | 1972-02-06 | 60 | |
| 15 | 444 | Justin Morgan had a Horse (2) | 1972-02-13 | 60 | |
| 16 | 445 | The City Fox | 1972-02-20 | 60 | |
| 17 | 446 | Change, Guardian of the Mayan Treasure | 1972-03-19 | 60 | |
| 18 | 447 | Michael O'Hara the Fourth (1) | 1972-03-26 | 60 | |
| 19 | 448 | Michael O'Hara the Fourth (2) | 1972-04-02 | 60 | |
| 20 | 449 | Dad, Can I Borrow the Car? | 1972-04-09 | 60 | |
Season 19
| Episode No. | No. Overall | Title | Airdate | Runtime | Summary |
| --- | --- | --- | --- | --- | --- |
| 1 | 450 | The Computer Wore Tennis Shoes (1) | 1972-09-17 | 60 | |
| 2 | 451 | The Computer Wore Tennis Shoes (2) | 1972-09-24 | 60 | |
| 3 | 452 | The Nashville Coyote | 1972-10-01 | 60 | |
| 4 | 453 | High Flying Spy (1) | 1972-10-22 | 60 | |
| 5 | 454 | High Flying Spy (2) | 1972-10-29 | 60 | |
| 6 | 455 | High Flying Spy (3) | 1972-11-05 | 60 | |
| 7 | 456 | Nosey the Sweetest Skunk in the West | 1972-11-19 | 60 | |
| 8 | 457 | The Julie Andrews Hour : Disneyland | 1972-11-22 | 60 | |
| 9 | 458 | Chander, the Black Leopard of Ceylon (1) | 1972-11-26 | 60 | |
| 10 | 459 | Chander, the Black Leopard of Ceylon (2) | 1972-12-03 | 60 | |
| 11 | 460 | Salty, the Hijacked Harbor Sea | 1972-12-17 | 60 | |
| 12 | 461 | The Mystery in Dracula's Castle (1) | 1973-01-07 | 60 | |
| 13 | 462 | The Mystery of Dracula's Castle (2) | 1973-01-14 | 60 | |
| 14 | 463 | Fifty Happy Years | 1973-01-21 | 60 | |
| 15 | 464 | Rascal (1) | 1973-02-11 | 60 | |
| 16 | 465 | Rascal (2) | 1973-02-18 | 60 | |
| 17 | 466 | Chester, Yesterday's Horse | 1973-03-04 | 60 | |
| 18 | 467 | The Little Shepard Dog of Catalina | 1973-03-11 | 60 | |
| 19 | 468 | The Boy and the Bronc Buster (1) | 1973-03-18 | 60 | |
| 20 | 469 | The Boy and the Bronc Buster (2) | 1973-03-25 | 60 | |
| 21 | 470 | Call it Courage | 1973-04-01 | 60 | |
Season 20
| Episode No. | No. Overall | Title | Airdate | Runtime | Summary |
| --- | --- | --- | --- | --- | --- |
| 1 | 471 | The Barefoot Executive (1) | 1973-09-16 | 60 | |
| 2 | 472 | The Barefoot Executive (2) | 1973-09-23 | 60 | |
| 3 | 473 | Fire on Kelly Island | 1973-09-30 | 60 | |
| 4 | 474 | Mustang (1) | 1973-10-07 | 60 | |
| 5 | 475 | Mustang (2) | 1973-10-21 | 60 | |
| 6 | 476 | Walt Disney - A Golden Anniversary Salute | 1973-10-25 | 60 | |
| 7 | 477 | King of the Grizzlies (1) | 1973-10-27 | 60 | |
| 8 | 478 | King of the Grizzlies (2) | 1973-11-04 | 60 | |
| 9 | 479 | Run, Cougar, Run (1) | 1973-11-25 | 60 | |
| 10 | 480 | Run, Cougar, Run (2) | 1973-12-02 | 60 | |
| 11 | 481 | The Proud Bird from Shanghai | 1973-12-16 | 60 | |
| 12 | 482 | From All of Us to All of You #5 | 1973-12-23 | 60 | |
| 13 | 483 | The Whiz Kid and the Mystery at Riverton (1) | 1974-01-06 | 60 | |
| 14 | 484 | The Whiz Kid and the Mystery at Riverton (2) | 1974-01-13 | 60 | |
| 15 | 485 | Hogwild (1) | 1974-01-20 | 60 | |
| 16 | 486 | Hogwild (2) | 1974-01-27 | 60 | |
| 17 | 487 | Carlo the Sierra Coyote | 1974-02-03 | 60 | |
| 18 | 488 | 20,000 Leagues Under The Sea / Beaver Valley | 1974-02-23 | 60 | |
| 19 | 489 | Ringo, the Refugee Raccoon | 1974-03-03 | 60 | |
| 20 | 490 | Diamonds on Wheels (1) | 1974-03-10 | 60 | |
| 21 | 491 | Diamonds on Wheels (2) | 1974-03-17 | 60 | |
| 22 | 492 | Diamonds on Wheels (3) | 1974-03-24 | 60 | |
| 23 | 493 | The Magic of Walt Disney World | 1974-03-31 | 60 | |
| 24 | 494 | Sandy In Disneyland | 1974-04-10 | 60 | |
| 25 | 495 | Herbie Day At Disneyland | 1974-07-11 | 60 | |
Season 21
| Episode No. | No. Overall | Title | Airdate | Runtime | Summary |
| --- | --- | --- | --- | --- | --- |
| 1 | 496 | The Million Dollar Duck (1) | 1974-09-15 | 60 | |
| 2 | 497 | The Million Dollar Duck (2) | 1974-09-22 | 60 | |
| 3 | 498 | Shokee, the Everglades Panther | 1974-09-29 | 60 | |
| 4 | 499 | Return of the Big Cat (1) | 1974-10-06 | 60 | |
| 5 | 500 | Return of the Big Cat (2) | 1974-10-13 | 60 | |
| 6 | 501 | Two Against the Arctic (1) | 1974-10-20 | 60 | |
| 7 | 502 | Two Against the Arctic (2) | 1974-10-27 | 60 | |
| 8 | 503 | Adventure in Satan's Canyon | 1974-11-03 | 60 | |
| 9 | 504 | Runaway on the Rogue River | 1974-12-01 | 60 | |
| 10 | 505 | Stub, the Best Cow Dog in the West | 1974-12-08 | 60 | |
| 11 | 506 | Three Lives Of Thomasina / Arizona Sheepdog | 1974-12-14 | 60 | |
| 12 | 507 | The Sky's the Limit (1) | 1975-01-19 | 60 | |
| 13 | 508 | The Sky's the Limit (2) | 1975-01-26 | 60 | |
| 14 | 509 | Wild Country (1) | 1975-02-03 | 60 | |
| 15 | 510 | Wild Country (2) | 1975-03-02 | 60 | |
| 16 | 511 | Pollyanna / Natures Strangest Creatures | 1975-03-08 | 60 | |
| 17 | 512 | The Footloose Goose | 1975-03-09 | 60 | |
| 18 | 513 | Deacon, the High Noon Dog | 1975-03-16 | 60 | |
| 19 | 514 | Welcome to the World | 1975-03-23 | 60 | |
Season 22
| Episode No. | No. Overall | Title | Airdate | Runtime | Summary |
| --- | --- | --- | --- | --- | --- |
| 1 | 515 | The Boy Who Talked to Badgers (1) | 1975-09-14 | 60 | |
| 2 | 516 | The Boy Who Talked to Bagders (2) | 1975-09-21 | 60 | |
| 3 | 517 | The Outlaw Cats of Colossal Cave | 1975-09-28 | 60 | |
| 4 | 518 | The Secret of the Pond (1) | 1975-10-05 | 60 | |
| 5 | 519 | The Secret of the Pond (2) | 1975-10-12 | 60 | |
| 6 | 520 | Seems There Was This Moose | 1975-10-19 | 60 | |
| 7 | 521 | Now You See Him, Now You Don't (2-hour) | 1975-10-26 | 60 | |
| 8 | 522 | Absent Minded Professor / Hurricane Hannah | 1975-11-01 | 60 | |
| 9 | 523 | Napoleon and Samantha (2-hour) | 1975-11-02 | 60 | |
| 10 | 524 | Twister, Bull From the Sky | 1976-01-04 | 60 | |
| 11 | 525 | The Whiz Kid and the Carnival Caper (1) | 1976-01-11 | 60 | |
| 12 | 526 | The Whiz Kid and the Carnival Caper (2) | 1976-01-18 | 60 | |
| 13 | 527 | The Bears and I (1) | 1976-02-01 | 60 | |
| 14 | 528 | The Bears and I (2) | 1976-02-08 | 60 | |
| 15 | 529 | Superdad (2-hour) | 1976-02-15 | 60 | |
| 16 | 530 | The Survival of Sam the Pelican | 1976-02-29 | 60 | |
| 17 | 531 | The Flight of the Grey Wolf (1) | 1976-03-14 | 60 | |
| 18 | 532 | The Flight of the Grey Wolf (2) | 1976-03-21 | 60 | |
| 19 | 533 | Walt Disney's America On Parade | 1976-04-03 | 60 | |
| 20 | 534 | That Darn Cat / Bear Country | 1976-05-01 | 60 | |
| 21 | 535 | The Parent Trap (2-hour) | 1976-05-16 | 60 | |
| 22 | 536 | Superstar Goofy | 1976-07-25 | 60 | |
Season 23
| Episode No. | No. Overall | Title | Airdate | Runtime | Summary |
| --- | --- | --- | --- | --- | --- |
| 1 | 537 | One Little Indian (1) | 1976-09-26 | 60 | |
| 2 | 538 | One Little Indian (2) | 1976-10-03 | 60 | |
| 3 | 539 | The Biscuit Eater (1) | 1976-10-10 | 60 | |
| 4 | 540 | The Biscuit Eater (2) | 1976-10-17 | 60 | |
| 5 | 541 | 20,000 Leagues Under the Sea (2-hour) | 1976-10-24 | 60 | |
| 6 | 542 | Secret of Old Glory Mine | 1976-10-31 | 60 | |
| 7 | 543 | The Apple Dumpling Gang (2-hour) | 1976-11-14 | 60 | |
| 8 | 544 | The Moonspinners / Prowlers Of The Everglades | 1976-11-26 | 60 | |
| 9 | 545 | Disney's Greatest Dog Stars | 1976-11-28 | 60 | |
| 10 | 546 | Christmas In Disneyland | 1976-12-06 | 60 | |
| 11 | 547 | Lt. Robinson Crusoe U.S.N. | 1976-12-11 | 60 | |
| 12 | 548 | The Golden Dog | 1977-01-02 | 60 | |
| 13 | 549 | Kit Carson and the Mountain Men (1) | 1977-01-09 | 60 | |
| 14 | 550 | Kit Carson and the Mountain Men (2) | 1977-01-16 | 60 | |
| 15 | 551 | A Horse Called Comanche / Wonders Of The Water World | 1977-01-29 | 60 | |
| 16 | 552 | Barry of the Great St. Bernard (1) | 1977-01-30 | 60 | |
| 17 | 553 | Barry of the Great St. Bernard (2) | 1977-02-06 | 60 | |
| 18 | 554 | Go West, Young Dog | 1977-02-20 | 60 | |
| 19 | 555 | Strongest Man in the World | 1977-02-27 | 60 | |
| 20 | 556 | The Ghost of Cypress Swamp | 1977-03-13 | 60 | |
| 21 | 557 | The Track of the African Bongo (1) | 1977-04-03 | 60 | |
| 22 | 558 | The Track of the African Bongo (2) | 1977-04-10 | 60 | |
| 23 | 559 | The Castaway Cowboy (2-hour) | 1977-05-08 | 60 | |
| 24 | 560 | Disney's Greatest Villains | 1977-05-15 | 60 | |
| 25 | 561 | Bluegrass Special | 1977-05-22 | 60 | |
Season 24
| Episode No. | No. Overall | Title | Airdate | Runtime | Summary |
| --- | --- | --- | --- | --- | --- |
| 1 | 562 | Gus | 1977-09-18 | 60 | |
| 2 | 563 | The Treasure of Matecumbe (2-hour) | 1977-10-02 | 60 | |
| 3 | 564 | Charley for the Angel (2-hour) | 1977-10-16 | 60 | |
| 4 | 565 | The Incredible Journey (1963) | 1977-10-23 | 60 | |
| 5 | 566 | Halloween Hall O' Fame | 1977-10-30 | 60 | |
| 6 | 567 | The Mouseketeers at Walt Disney World | 1977-11-20 | 60 | |
| 7 | 568 | From All of Us to All of You #6 | 1977-12-25 | 60 | |
| 8 | 569 | Three on the Run | 1978-01-08 | 60 | |
| 9 | 570 | Journey to the Valley of the Emu | 1978-01-22 | 60 | |
| 10 | 571 | The Shaggy Dog (2-hour) | 1978-01-29 | 60 | |
| 11 | 572 | The Million Dollar Dixie Deliverance | 1978-02-05 | 60 | |
| 12 | 573 | Race for Survival | 1978-03-05 | 60 | |
| 13 | 574 | Trail of Danger (1) | 1978-03-12 | 60 | |
| 14 | 575 | Trail of Danger (2) | 1978-03-19 | 60 | |
| 15 | 576 | Mixed Nuts | 1978-03-26 | 60 | |
| 16 | 577 | Child of Glass (2-hour) | 1978-05-14 | 60 | |
| 17 | 578 | The Young Runaways (2-hour) | 1978-05-28 | 60 | |
| 18 | 579 | A Tale of Two Critters | 1978-06-04 | 60 | |
Season 25
| Episode No. | No. Overall | Title | Airdate | Runtime | Summary |
| --- | --- | --- | --- | --- | --- |
| 1 | 580 | NBC Salutes the 25th Anniversary of The Wonderful World of Disney ( 1) | 1978-09-13 | 60 | |
| 2 | 581 | NBC Salutes the 25th Anniversary of The Wonderful World of Disney (2) | 1978-09-17 | 60 | |
| 3 | 582 | The Shaggy D.A. (2-hour) | 1978-09-24 | 60 | |
| 4 | 583 | In Search of the Castaways (1) | 1978-10-01 | 60 | |
| 5 | 584 | In Search of the Castaways (2) | 1978-10-08 | 60 | |
| 6 | 585 | The Gnome-Mobile (1) | 1978-10-29 | 60 | |
| 7 | 586 | The Gnome-Mobile (2) | 1978-11-05 | 60 | |
| 8 | 587 | The Boatniks (2-hour) | 1978-11-12 | 60 | |
| 9 | 588 | Mickey's 50 | 1978-11-19 | 60 | |
| 10 | 589 | Christmas at Walt Disney World | 1978-12-10 | 60 | |
| 11 | 590 | Donovan's Kid (1) | 1979-01-07 | 60 | |
| 12 | 591 | Donovan's Kid (2) | 1979-01-14 | 60 | |
| 13 | 592 | Shadow of Fear (1) | 1979-01-28 | 60 | |
| 14 | 593 | Shadow of Fear (2) | 1979-02-04 | 60 | |
| 15 | 594 | Ride a Wild Pony (1) | 1979-02-11 | 60 | |
| 16 | 595 | Ride a Wild Pony (2) | 1979-02-18 | 60 | |
| 17 | 596 | Never a Dull Moment (2-hour) | 1979-03-04 | 60 | |
| 18 | 597 | The Omega Connection (2-hour) | 1979-03-18 | 60 | |
| 19 | 598 | Born to Run (1) | 1979-03-25 | 60 | |
| 20 | 599 | Born to Run (2) | 1979-04-01 | 60 | |
| 21 | 600 | The Sky Trap (2-hour) | 1979-05-13 | 60 | |
Season 26
| Episode No. | No. Overall | Title | Airdate | Runtime | Summary |
| --- | --- | --- | --- | --- | --- |
| 1 | 601 | The Absent-Minded Professor (1) | 1979-09-09 | 60 | |
| 2 | 602 | The Absent-Minded Professor (2) | 1979-09-16 | 60 | |
| 3 | 603 | The Love Bug (2-hour) | 1979-09-23 | 60 | |
| 4 | 604 | Baseball Fever | 1979-10-14 | 60 | |
| 5 | 605 | Black Holes: Monsters That Eat Space And Time | 1979-11-15 | 60 | |
| 6 | 606 | Major Effects | 1979-12-16 | 60 | |
| 7 | 607 | From All of Us to all of You #7 | 1979-12-23 | 60 | |
| 8 | 608 | That Darn Cat! | 1980-01-13 | 60 | |
| 9 | 609 | Mickey's Greatest Adventures | 1980-01-20 | 60 | |
| 10 | 610 | Donald's Valentine's Day Salute | 1980-02-10 | 60 | |
| 11 | 611 | Escape to Witch Mountain | 1980-02-17 | 60 | |
| 12 | 612 | Kraft Salutes Disneyland's 25th Anniversary | 1980-03-06 | 60 | |
| 13 | 613 | The Kids Who Knew Too Much | 1980-03-09 | 60 | |
| 14 | 614 | Son of Flubber | 1980-03-16 | 60 | |
| 15 | 615 | Disney's Oscar Winners | 1980-04-13 | 60 | |
| 16 | 616 | HBO Presents: Walt Disney's Snow White Live | 1980-04-15 | 60 | |
| 17 | 617 | The Sultan and the Rock Star | 1980-04-20 | 60 | |
| 18 | 618 | Secret of Lost Valley (1) | 1980-04-27 | 60 | |
| 19 | 619 | Secret of Lost Valley (2) | 1980-05-04 | 60 | |
| 20 | 620 | Misadventures of Chip N' Dale | 1980-07-27 | 60 | |
Season 27
| Episode No. | No. Overall | Title | Airdate | Runtime | Summary |
| --- | --- | --- | --- | --- | --- |
| 1 | 621 | Disneyland's 25th Anniversary Show | 1980-09-14 | 60 | |
| 2 | 622 | Lefty | 1980-10-22 | 60 | |
| 3 | 623 | Old Yeller (1) | 1980-11-09 | 60 | |
| 4 | 624 | Old Yeller (2) | 1980-11-16 | 60 | |
| 5 | 625 | The Mouseketeer Reunion | 1980-11-23 | 60 | |
| 6 | 626 | The Ghosts of Buxley Hall (1) | 1980-12-21 | 60 | |
| 7 | 627 | The Ghosts of Buxley Hall (2) | 1981-01-04 | 60 | |
| 8 | 628 | Disney Animation: The Illusion of Life | 1981-04-26 | 60 | |
| 9 | 629 | Follow Me, Boys (1) | 1981-08-02 | 60 | |
| 10 | 630 | Follow Me, Boys (2) | 1981-08-16 | 60 | |
Season 28
| Episode No. | No. Overall | Title | Airdate | Runtime | Summary |
| --- | --- | --- | --- | --- | --- |
| 1 | 631 | The Love Bug (1) | 1981-09-26 | 60 | |
| 2 | 632 | Florida's Disney Decade | 1981-10-02 | 60 | |
| 3 | 633 | The Love Bug (2) | 1981-10-03 | 60 | |
| 4 | 634 | Herbie Rides Again (1) | 1981-10-10 | 60 | |
| 5 | 635 | Herbie Rides Again (2) | 1981-10-17 | 60 | |
| 6 | 636 | A Disney Halloween | 1981-10-24 | 60 | |
| 7 | 637 | The Last Flight of Noah's Ark (1) | 1981-10-31 | 60 | |
| 8 | 638 | The Last Flight of Noah's Ark (2) | 1981-11-07 | 60 | |
| 9 | 639 | A Disney Storybook (1) | 1981-11-14 | 60 | |
| 10 | 640 | A Disney Storybook (2) | 1981-11-21 | 60 | |
| 11 | 641 | The Cherokee Trail | 1981-11-28 | 60 | |
| 12 | 642 | A Magical Disney Christmas | 1981-12-05 | 60 | |
| 13 | 643 | Walt Disney...One Man's Dream | 1981-12-12 | 60 | |
| 14 | 644 | Man's Hunting Instinct | 1982-01-02 | 60 | |
| 15 | 645 | Tales of the Apple Dumpling Gang | 1982-01-16 | 60 | |
| 16 | 646 | Kraft Salutes Walt Disney World's 10th Anniversary | 1982-01-21 | 60 | |
| 17 | 647 | Donald and Jose, Ole! | 1982-01-23 | 60 | |
| 18 | 648 | The Cat from Outer Space (1) | 1982-01-30 | 60 | |
| 19 | 649 | The Cat from Outer Space (2) | 1982-02-06 | 60 | |
| 20 | 650 | A Disney Valentine | 1982-02-13 | 60 | |
| 21 | 651 | Beyond Witch Mountain | 1982-02-20 | 60 | |
| 22 | 652 | A Spaceman in King Arthur's Court (1) | 1982-02-27 | 60 | |
| 23 | 653 | A Spaceman in King Arthur's Court (2) | 1982-03-06 | 60 | |
| 24 | 654 | The Adventures of Pollyanna | 1982-04-10 | 60 | |
| 25 | 655 | A Disney Vacation | 1982-05-01 | 60 | |
| 26 | 656 | The Strongest Man In The World | 1982-05-01 | 60 | |
| 27 | 657 | Computers Are People Too! ( 30 Minute) | 1982-05-23 | 60 | |
| 28 | 658 | Pluto and His Friends | 1982-07-31 | 60 | |
Season 29
| Episode No. | No. Overall | Title | Airdate | Runtime | Summary |
| --- | --- | --- | --- | --- | --- |
| 1 | 659 | A Dream Called Walt Disney World ( 30 Minute) | 1982-09-19 | 60 | |
| 2 | 660 | The Apple Dumpling Gang Rides Again (1) | 1982-08-25 | 60 | |
| 3 | 661 | The Apple Dumpling Gang Rides Again (2) | 1982-10-02 | 60 | |
| 4 | 662 | Freaky Friday (1) | 1982-10-09 | 60 | |
| 5 | 663 | Freaky Friday (2) | 1982-10-16 | 60 | |
| 6 | 664 | EPCOT Center: The Opening Celebration | 1982-10-23 | 60 | |
| 7 | 665 | Disney's Halloween Treat | 1982-10-30 | 60 | |
| 8 | 666 | No Deposit, No Return (1) | 1982-11-06 | 60 | |
| 9 | 667 | No Deposit, No Return (2) | 1982-11-13 | 60 | |
| 10 | 668 | Blackbeard's Ghost (1) | 1982-11-20 | 60 | |
| 11 | 669 | Blackbeard's Ghost (2) | 1982-11-27 | 60 | |
| 12 | 670 | A Disney Christmas Gift | 1982-12-04 | 60 | |
| 13 | 671 | Winnie the Pooh and Friends | 1982-12-11 | 60 | |
| 14 | 672 | Walt Disney's Mickey and Donald | 1983-01-01 | 60 | |
| 15 | 673 | Wold's Greatest Athlete (1) | 1983-01-04 | 60 | |
| 16 | 674 | World's Greatest Athlete (2) | 1983-01-11 | 60 | |
| 17 | 675 | Ferdinand the Bull and Mickey | 1983-01-18 | 60 | |
| 18 | 676 | A Valentine from Disney | 1983-02-08 | 60 | |
| 19 | 677 | Believe You Can ... And You Can! | 1983-04-21 | 60 | |
| 20 | 678 | Mickey and Donald Kidding Around | 1983-05-03 | 60 | |
| 21 | 679 | Sport Goofy | 1983-05-27 | 60 | |
| 22 | 680 | The Fairest Of Them All | 1983-06-03 | 60 | |
| 23 | 681 | Sport Goofy 2 | 1983-09-16 | 60 | |
| 24 | 682 | Sport Goofy 3 | 1983-11-24 | 60 | |
| 25 | 683 | Disney's All Star Valentine Party | 1984-02-14 | 60 | |
| 26 | 684 | Disney's All Star Mother's Day Album | 1984-05-11 | 60 | |
| 27 | 685 | Sport Goofy's Olympic Games Special | 1984-06-08 | 60 | |
| 28 | 686 | Sport Goofy: Getting Wet | 1984-09-14 | 60 | |
| 29 | 687 | Donald Duck's 50th Birthday | 1984-11-13 | 60 | |
| 30 | 688 | Sport Goofy: Snowtime | 1984-11-30 | 60 | |
| 31 | 689 | Mickey's Christmas Carole | 1984-12-04 | 60 | |
| 32 | 690 | Sport Goofy: Happy Holidays | 1984-12-14 | 60 | |
| 33 | 691 | Walt Disney World's Very Merry Christmas Parade 1984 | 1984-12-25 | 60 | |
| 34 | 692 | Disneyland's 30th Anniversary Celebration | 1985-02-18 | 60 | |
| 35 | 693 | Walt Disney World's Happy Easter Parade 1985 | 1985-04-07 | 60 | |
| 36 | 694 | Walt Disney World's Very Merry Christmas Parade 1985 | 1985-12-25 | 60 | |
| 37 | 695 | Disney's Living Seas | 1986-01-24 | 60 | |
Season 30
| Episode No. | No. Overall | Title | Airdate | Runtime | Summary |
| --- | --- | --- | --- | --- | --- |
| 1 | 696 | Help Wanted: Kids | 1986-02-02 | 60 | |
| 2 | 697 | Time Flyer | 1986-02-09 | 60 | |
| 3 | 698 | Disney's DTV Valentine | 1986-02-14 | 60 | |
| 4 | 699 | The Last Electric Knight | 1986-02-16 | 60 | |
| 5 | 700 | 2 1/2 Dads | 1986-02-16 | 60 | |
| 6 | 701 | The Girl Who Spelled Freedom | 1986-02-23 | 60 | |
| 7 | 702 | The Undergrads | 1986-03-02 | 60 | |
| 8 | 703 | The Richest Cat in the World | 1986-03-09 | 60 | |
| 9 | 704 | Disney Goes to the Oscars | 1986-03-23 | 60 | |
| 10 | 705 | Walt Disney World's Happy Easter Parade 1986 | 1986-03-30 | 60 | |
| 11 | 706 | I-Man | 1986-04-06 | 60 | |
| 12 | 707 | A Fighting Choice | 1986-04-13 | 60 | |
| 13 | 708 | Mr. Boogedy | 1986-04-20 | 60 | |
| 14 | 709 | Robin Hood | 1986-04-27 | 60 | |
| 15 | 710 | Young Again | 1986-05-11 | 60 | |
| 16 | 711 | The Deacon Street Deer | 1986-05-18 | 60 | |
| 17 | 712 | Fuzzbucket | 1986-05-18 | 60 | |
| 18 | 713 | Disneyland's Summer Vacation Party | 1986-05-23 | 60 | |
| 19 | 714 | Casebusters | 1986-05-25 | 60 | |
| 20 | 715 | My Town | 1986-05-25 | 60 | |
| 21 | 716 | Candleshoe | 1986-06-22 | 60 | |
Season 31
| Episode No. | No. Overall | Title | Airdate | Runtime | Summary |
| --- | --- | --- | --- | --- | --- |
| 1 | 717 | Disney's Captain EO Grand Opening | 1986-09-20 | 60 | |
| 2 | 718 | Pete's Dragon | 1986-09-21 | 60 | |
| 3 | 719 | Hero in the Family | 1986-09-28 | 60 | |
| 4 | 720 | Little Spies | 1986-10-05 | 60 | |
| 5 | 721 | The B.R.A.T. Patrol | 1986-10-26 | 60 | |
| 6 | 722 | Ask Max | 1986-11-02 | 60 | |
| 7 | 723 | Walt Disney World's 15th Anniversary Celebration | 1986-11-09 | 60 | |
| 8 | 724 | The Leftovers | 1986-11-16 | 60 | |
| 9 | 725 | The Thanksgiving Promise | 1986-11-23 | 60 | |
| 10 | 726 | Disney's Fluppy Dogs ( 30 minute) | 1986-11-27 | 60 | |
| 11 | 727 | Sunday Drive | 1986-11-30 | 60 | |
| 12 | 728 | Swiss Family Robinson | 1986-12-07 | 60 | |
| 13 | 729 | The Christmas Star | 1986-12-14 | 60 | |
| 14 | 730 | Walt Disney World's Very Merry Christmas Parade 1986 | 1986-12-25 | 60 | |
| 15 | 731 | Tiger Town / Star Tours | 1986-12-28 | 60 | |
| 16 | 732 | Herbie Goes Bananas | 1987-01-11 | 60 | |
| 17 | 733 | Great Moments in Disney Animation | 1987-01-18 | 60 | |
| 18 | 734 | Double Switch | 1987-01-25 | 60 | |
| 19 | 735 | You Ruined My Life | 1987-02-01 | 60 | |
| 20 | 736 | The Liberators | 1987-02-08 | 60 | |
| 21 | 737 | Disney's DTV Doggone Valentine | 1987-02-13 | 60 | |
| 22 | 738 | Parent Trap 2 | 1987-02-22 | 60 | |
| 23 | 739 | Big Foot | 1987-03-08 | 60 | |
| 24 | 740 | Young Harry Houdini | 1987-03-15 | 60 | |
| 25 | 741 | Bedknobs and Broomsticks | 1987-03-22 | 60 | |
| 26 | 742 | Down And Out With Donald Duck | 1987-03-25 | 60 | |
| 27 | 743 | Waco And Rhinehart | 1987-03-27 | 60 | |
| 28 | 744 | Double Agent | 1987-03-29 | 60 | |
| 29 | 745 | Bride of Boogedy | 1987-04-12 | 60 | |
| 30 | 746 | Walt Disney World's Happy Easter Parade 1987 | 1987-04-19 | 60 | |
| 31 | 747 | Our Planet Tonight | 1987-04-22 | 60 | |
| 32 | 748 | The Devil and Max Devlin | 1987-04-26 | 60 | |
| 33 | 749 | Mary Poppins | 1987-05-03 | 60 | |
| 34 | 750 | North Avenue Irregulars | 1987-05-10 | 60 | |
| 35 | 751 | Spot Marks the X | 1987-05-17 | 60 | |
| 36 | 752 | Disney's Golden Anniversary Of Snow White And The Seven Dwarfs | 1987-05-22 | 60 | |
| 37 | 753 | Down the Long Hills | 1987-05-24 | 60 | |
| 38 | 754 | All New Adventure Of Disney's Sport Goofy | 1987-05-27 | 60 | |
| 39 | 755 | Mickey And Nora (30 Minute) | 1987-06-26 | 60 | |
| 40 | 756 | Good Morning Miss Bliss | 1987-07-11 | 60 | |
| 41 | 757 | Cameo By Night | 1987-07-12 | 60 | |
| 42 | 758 | Ducktales: Treasure Of The Golden Suns | 1987-09-18 | 60 | |
Season 32
| Episode No. | No. Overall | Title | Airdate | Runtime | Summary |
| --- | --- | --- | --- | --- | --- |
| 1 | 759 | The Journey of Natty Gann (1) | 1987-10-04 | 60 | |
| 2 | 760 | The Journey of Natty Gann (2) | 1987-10-11 | 60 | |
| 3 | 761 | Funny You Don't Look 200: A Constitutional Vaudeville | 1987-10-12 | 60 | |
| 4 | 762 | Disney's DTV Monster Hits | 1987-10-30 | 60 | |
| 5 | 763 | Return of the Shaggy Dog | 1987-11-01 | 60 | |
| 6 | 764 | Winnie the Pooh and Tigger Too | 1987-11-15 | 60 | |
| 7 | 765 | Walt Disney World Celebrity Circus | 1987-11-27 | 60 | |
| 8 | 766 | Student Exchange (1) | 1987-11-29 | 60 | |
| 9 | 767 | Student Exchange (2) | 1987-12-06 | 60 | |
| 10 | 768 | Not Quite Human (1) | 1987-12-20 | 60 | |
| 11 | 769 | Walt Disney World's Verry Merry Christmas Parade 1987 | 1987-12-25 | 60 | |
| 12 | 770 | Not Quite Human (2) | 1987-12-27 | 60 | |
| 13 | 771 | Flight of the Navigator (1) | 1988-01-03 | 60 | |
| 14 | 772 | Flight of the Navigator (2) | 1988-01-10 | 60 | |
| 15 | 773 | Earth*Star Voyager (1) | 1988-01-17 | 60 | |
| 16 | 774 | Earth*Star Voyager (2) | 1988-01-24 | 60 | |
| 17 | 775 | Rock and Roll Mom | 1988-02-07 | 60 | |
| 18 | 776 | Disney Magic In The Magic Kingdom | 1988-02-12 | 60 | |
| 19 | 777 | 14 Going on 30 (1) | 1988-03-06 | 60 | |
| 20 | 778 | 14 Going on 30 (2) | 1988-03-13 | 60 | |
| 21 | 779 | Totally Minnie | 1988-03-25 | 60 | |
| 22 | 780 | Walt Disney World's Happy Easter Parade 1988 | 1988-04-03 | 60 | |
| 23 | 781 | Splash Too (1) | 1988-05-04 | 60 | |
| 24 | 782 | Splash, Too (2) | 1988-05-08 | 60 | |
| 25 | 783 | Captain EO Backstage | 1988-05-15 | 60 | |
| 26 | 784 | Justin Case | 1988-05-15 | 60 | |
| 27 | 785 | Meet the Munceys | 1988-05-22 | 60 | |
| 28 | 786 | Walt Disney World's 4th Of July Spectacular | 1988-07-04 | 60 | |
| 29 | 787 | Tickets Please | 1988-09-06 | 60 | |
| 30 | 788 | Roger Rabbit And The Secrets Of Toontown | 1988-09-13 | 60 | |
Season 33
| Episode No. | No. Overall | Title | Airdate | Runtime | Summary |
| --- | --- | --- | --- | --- | --- |
| 1 | 789 | The Magical World of Disney : An Introduction | 1988-10-09 | 60 | |
| 2 | 790 | Disney's All-American Sports Nuts | 1988-10-16 | 60 | |
| 3 | 791 | Mickey's 60th Birthday | 1988-11-13 | 60 | |
| 4 | 792 | Davy Crockett: Rainbow in the Thunder | 1988-11-20 | 60 | |
| 5 | 793 | Ducktales: Time Is Money | 1988-11-25 | 60 | |
| 6 | 794 | The Absent Minded Professor ( Harry Anderson) | 1988-11-27 | 60 | |
| 7 | 795 | Disneyland's All-Star Comedy Circus | 1988-12-11 | 60 | |
| 8 | 796 | Davy Crockett: A Natural Man | 1988-12-18 | 60 | |
| 9 | 797 | One Magic Christmas | 1988-12-23 | 60 | |
| 10 | 798 | Alice In Wonderland | 1988-12-24 | 60 | |
| 11 | 799 | Disney's Golden Anniversary of Snow White and the Seven Dwarfs | 1988-12-25 | 60 | |
| 12 | 800 | Walt Disney's Very Merry Xmas Parade 1988 | 1988-12-25 | 60 | |
| 13 | 801 | An All-New Adventure of Disney's Sport Goofy | 1989-01-01 | 60 | |
| 14 | 802 | Dinosaur...Secret of the Lost Legend | 1989-01-08 | 60 | |
| 15 | 803 | Davy Crockett: Guardian Spirit | 1989-01-13 | 60 | |
| 16 | 804 | Wild Jack (#1) | 1989-01-15 | 60 | |
| 17 | 805 | Winnie the Pooh & A Day for Eeyore | 1989-01-29 | 60 | |
| 18 | 806 | Save the Dog | 1989-02-05 | 60 | |
| 19 | 807 | Mickey's Happy Valentine Special | 1989-02-12 | 60 | |
| 20 | 808 | Bedknobs And Broomsticks | 1989-02-12 | 60 | |
| 21 | 809 | Benji, the Hunted | 1989-02-19 | 60 | |
| 22 | 810 | The Absent-Minded Professor: Trading Places (Harry Anderson) | 1989-02-26 | 60 | |
| 23 | 811 | Winnie the Pooh and the Blustery Day | 1989-03-05 | 60 | |
| 24 | 812 | Super Ducktales | 1989-03-26 | 60 | |
| 25 | 813 | Walt Disney World's Happy Easter Parade 1989 | 1989-03-26 | 60 | |
| 26 | 814 | Parent Trap 3 (1) | 1989-04-09 | 60 | |
| 27 | 815 | Parent Trap 3 (2) | 1989-04-16 | 60 | |
| 28 | 816 | The Disney-MGM Studios Theme Park Grand Opening | 1989-04-30 | 60 | |
| 29 | 817 | Blast To The Past ( 1 hr.) | 1989-05-20 | 60 | |
| 30 | 818 | Lots of Luck | 1989-05-28 | 60 | |
| 31 | 819 | Davy Crockett: A Letter to Polly | 1989-06-11 | 60 | |
| 32 | 820 | Davy Crockett: Warrior's Farewell | 1989-06-18 | 60 | |
| 33 | 821 | Walt Disney World's 4th Of July Spectacular (89) | 1989-07-04 | 60 | |
| 34 | 822 | Adventures In Babysitting (30 minute) | 1989-07-07 | 60 | |
| 35 | 823 | Wild Jack (#2) | 1989-07-09 | 60 | |
| 36 | 824 | Wild Jack (#3) | 1989-07-16 | 60 | |
| 37 | 825 | Disney's Magic in the Magic Kingdom | 1989-07-23 | 60 | |
| 38 | 826 | Devil And Max Devlin | 1989-08-12 | 60 | |
| 39 | 827 | Ernest Goes To Splash Mountain | 1989-08-19 | 60 | |
| 40 | 828 | Chip And Dale Rescue Rangers To The Rescue | 1989-09-30 | 60 | |
Season 34
| Episode No. | No. Overall | Title | Airdate | Runtime | Summary |
| --- | --- | --- | --- | --- | --- |
| 1 | 829 | Brand New Life: Above and Beyond Therapy | 1989-10-01 | 60 | |
| 2 | 830 | Brand New Life: I Fought the Law | 1989-10-15 | 60 | |
| 3 | 831 | Brand New Life: Private School | 1989-10-22 | 60 | |
| 4 | 832 | Ernest Goes to Camp (1) | 1989-10-29 | 60 | |
| 5 | 833 | Ernest Goes to Camp (2) | 1989-11-05 | 60 | |
| 6 | 834 | Polly | 1989-11-12 | 60 | |
| 7 | 835 | Parent Trap 4 : Hawaiian Honeymoon (1) | 1989-11-19 | 60 | |
| 8 | 836 | Parent Trap 4 : Hawaiian Honeymoon (2) | 1989-11-26 | 60 | |
| 9 | 837 | A Mother's Courage: The Mary Thomas Story (1) | 1989-12-03 | 60 | |
| 10 | 838 | A Mother's Courage: The Mary Thomas Story (2) | 1989-12-10 | 60 | |
| 11 | 839 | A Muppet Family Christmas | 1989-12-24 | 60 | |
| 12 | 840 | Walt Disney World's Very Merry Christmas Parade 1989 | 1989-12-25 | 60 | |
| 13 | 841 | Brand New Life: Children of a Legal Mom | 1990-01-07 | 60 | |
| 14 | 842 | Exile | 1990-01-14 | 60 | |
| 15 | 843 | Blue Bayou | 1990-01-15 | 60 | |
| 16 | 844 | Winnie the Pooh and the Honey Tree | 1990-01-21 | 60 | |
| 17 | 845 | Disneyland's 35th Anniversary Celebration | 1990-02-04 | 60 | |
| 18 | 846 | A DuckTales Valentine | 1990-02-11 | 60 | |
| 19 | 847 | Can't Buy Me Love | 1990-03-04 | 60 | |
| 20 | 848 | Sky High #1 | 1990-03-11 | 60 | |
| 21 | 849 | The Rescue | 1990-03-25 | 60 | |
| 22 | 850 | Not Quite Human II | 1990-04-01 | 60 | |
| 23 | 851 | Walt Disney World's Happy Easter Parade 1990 | 1990-04-15 | 60 | |
| 24 | 852 | Brand New Life: Even Housekeepers Sing The Blues | 1990-04-15 | 60 | |
| 25 | 853 | Cartoon All Stars To The Rescue | 1990-04-21 | 60 | |
| 26 | 854 | Spooner (1) | 1990-04-22 | 60 | |
| 27 | 855 | Spooner (2) | 1990-04-29 | 60 | |
| 28 | 856 | The Muppets at Walt Disney World | 1990-05-06 | 60 | |
| 29 | 857 | Dick Tracey: Behind The Badge - Behind The Scenes (30min) | 1990-06-13 | 60 | |
| 30 | 858 | We'll Take Manhattan | 1990-06-16 | 60 | |
| 31 | 859 | Apperances | 1990-06-17 | 60 | |
| 32 | 860 | Brand New Life: The Honeymooners | 1990-06-24 | 60 | |
| 33 | 861 | Walt Disney World's 4th Of July Spectacular (90) | 1990-07-04 | 60 | |
| 34 | 862 | Bar Girls (30 minutes) | 1990-07-05 | 60 | |
| 35 | 863 | Blossom ( 30 min) | 1990-07-05 | 60 | |
| 36 | 864 | Turner And Hooch (30 min) | 1990-07-09 | 60 | |
| 37 | 865 | A Friendship in Vienna | 1990-07-15 | 60 | |
| 38 | 866 | Jungle Book Reunion (30 min) | 1990-07-19 | 60 | |
| 39 | 867 | The Knife And Gun Club (1hr) | 1990-07-30 | 60 | |
| 40 | 868 | Ducktales: The Movie Special | 1990-08-01 | 60 | |
| 41 | 869 | Anna (30 min) | 1990-08-25 | 60 | |
| 42 | 870 | Sky High #2 | 1990-08-26 | 60 | |
Season 35
| Episode No. | No. Overall | Title | Airdate | Runtime | Summary |
| --- | --- | --- | --- | --- | --- |
| 1 | 871 | Tale Spin: Blunder And Lightning | 1990-09-07 | 60 | |
| 2 | 872 | Back To Hannibal: The Return Of Tom Sawyer And Huckleberry Finn | 1990-10-21 | 60 | |
| 3 | 873 | Polly Comin' Home | 1990-11-18 | 60 | |
| 4 | 874 | The Muppets Celebrate Jim Henson | 1990-11-21 | 60 | |
| 5 | 875 | A Mom For Christmas | 1990-12-17 | 60 | |
| 6 | 876 | Disney Christmas On Ice | 1990-12-21 | 60 | |
| 7 | 877 | Disney World's Very Merry Christmas Parade 1990 | 1990-12-25 | 60 | |
| 8 | 878 | Steven Banks Show (30min) | 1991-01-12 | 60 | |
| 9 | 879 | Bejeweled | 1991-01-20 | 60 | |
| 10 | 880 | New Kids On The Block At Disney MGM'S Studios: Wildest Dreams | 1991-01-25 | 60 | |
| 11 | 881 | Tag Team | 1991-01-26 | 60 | |
| 12 | 882 | Walt Disney World's Happy Easter Parade (1991) | 1991-03-31 | 60 | |
| 13 | 883 | 100 Lives Of Black Jack Savage | 1991-03-31 | 60 | |
| 14 | 884 | Perfect Harmony | 1991-03-31 | 60 | |
| 15 | 885 | She Stood Alone | 1991-04-15 | 60 | |
| 16 | 886 | The Best Of Disney: 50 Years Of Magic | 1991-05-20 | 60 | |
| 17 | 887 | Plymouth (Pilot) | 1991-05-26 | 60 | |
| 18 | 888 | Our Shining Moment | 1991-06-02 | 60 | |
| 19 | 889 | The Rocketeer: Excitement In The Air | 1991-06-22 | 60 | |
| 20 | 890 | Disney's Great American Celebration | 1991-07-04 | 60 | |
| 21 | 891 | Queen: The Days Of Our Lives | 1991-08-11 | 60 | |
| 22 | 892 | Acting Sheriff (30 min) | 1991-08-17 | 60 | |
| 23 | 893 | Darkwing Duck Premiere / Back To School With The Mickey Mouse Club | 1991-09-08 | 60 | |
Season 36
| Episode No. | No. Overall | Title | Airdate | Runtime | Summary |
| --- | --- | --- | --- | --- | --- |
| 1 | 894 | The Dream Is Alive: The 20th Anniversary Celebration Of Walt Disney World | 1991-10-25 | 60 | |
| 2 | 895 | Who Framed Roger Rabbit ( Special Edition) | 1991-11-12 | 60 | |
| 3 | 896 | Mark Twain And Me | 1991-11-22 | 60 | |
| 4 | 897 | Honey I Shrunk The Kids (pt 1) | 1991-11-26 | 60 | |
| 5 | 898 | Honey i Shrunk The Kids (pt2) | 1991-12-02 | 60 | |
| 6 | 899 | Whinnie The Pooh And Christmas Too / Making Of Beauty And The Beast | 1991-12-14 | 60 | |
| 7 | 900 | In The Nick Of Time | 1991-12-16 | 60 | |
| 8 | 901 | Walt Disney World's Very Merry Christmas Parade 1991 | 1991-12-25 | 60 | |
| 9 | 902 | White Fang | 1992-01-04 | 60 | |
| 10 | 903 | Shipwrecked! | 1992-02-29 | 60 | |
| 11 | 904 | Newsies! Newsies! See All About It (30min) | 1992-03-28 | 60 | |
| 12 | 905 | Grand Opening Of Euro Disney | 1992-04-11 | 60 | |
| 13 | 906 | Walt Disney World's Happy Easter Parade 1992 | 1992-04-19 | 60 | |
| 14 | 907 | Dayo | 1992-05-03 | 60 | |
| 15 | 908 | Walt Disney World: 20 Magical Years | 1992-05-11 | 60 | |
| 16 | 909 | Still Not Quite Human | 1992-05-31 | 60 | |
| 17 | 910 | Celebrate The Spirit: Disney's All Star 4th Of July Spectacular | 1992-07-04 | 60 | |
| 18 | 911 | Disney's Goof Troop (2hr format) | 1992-09-05 | 60 | |
| 19 | 912 | The Little Mermaid: Whale Of A Tale (30min) | 1992-09-11 | 60 | |
| 20 | 913 | A Goof Troop Christmas | 1992-12-05 | 60 | |
| 21 | 914 | Best Of Country '92: Countdown At The Neon Armadillo | 1992-12-10 | 60 | |
| 22 | 915 | Making Of A Muppet Christmas Carol | 1992-12-11 | 60 | |
| 23 | 916 | Disney Christmas Fantasy On Ice | 1992-12-19 | 60 | |
| 24 | 917 | Walt Disney World's Very merry Christmas Parade 1992 | 1992-12-25 | 60 | |
| 25 | 918 | Ernest Green Story | 1993-01-17 | 60 | |
| 26 | 919 | Going To Mickey's Toontown (30min) | 1993-01-25 | 60 | |
| 27 | 920 | The Best Of Disney Music: A Legacy In Song Part 1 | 1993-02-03 | 60 | |
| 28 | 921 | Dick Tracy | 1993-02-14 | 60 | |
| 29 | 922 | Spies | 1993-03-07 | 60 | |
| 30 | 923 | The Miracle Child | 1993-04-06 | 60 | |
| 31 | 924 | Walt Disney World Happy Easter Parade | 1993-04-11 | 60 | |
| 32 | 925 | The Best Of Disney Music: A Legacy in Song Part 2 | 1993-05-21 | 60 | |
| 33 | 926 | Walt Disney World Journey Into Magic | 1993-05-23 | 60 | |
| 34 | 927 | Disneyland Presents Tales Of Toontown | 1993-07-10 | 60 | |
| 35 | 928 | Country Estates | 1993-07-10 | 60 | |
| 36 | 929 | Heidi | 1993-07-18 | 60 | |
| 37 | 930 | The Magic Of Aladdin | 1993-07-18 | 60 | |
| 38 | 931 | Going Bonkers | 1993-09-04 | 60 | |
| 39 | 932 | Making Of NHL's Mighty Ducks | 1993-10-10 | 60 | |
| 40 | 933 | Disney's Countdown To Kids Day | 1993-11-21 | 60 | |
| 41 | 934 | Making Of Aladdin | 1993-12-08 | 60 | |
| 42 | 935 | A Musical Christmas At Walt Disney World | 1993-12-18 | 60 | |
| 43 | 936 | Walt Disney World's Very Merry Christmas Parade 1993 | 1993-12-25 | 60 | |
Related News
TVMaze