Amped up with powers that make them faster, stronger and more agile than ever, the Dinotrux are back to face new challenges and meet new friends.
Series Overview
Rating
imDb Rating: 7.1 (65 Votes)
Metascore: N/A
Plot
In this new season of dinotrux Ty and the others meet new friends as well as face new challenges both normal and supercharged.
Details
Rated: TV-Y7
Released: 10 Nov 2017
Runtime: 24 min
Genre: Animation, Short, Action, Adventure, Comedy, Family
Director: N/A
Writer: N/A
Actors: Ashleigh Ball, Richard Ian Cox, Brian Drummond, Andrew Francis
Language: English
Country: USA
Awards: 2 nominations.
Total Seasons: 3
Previous Episode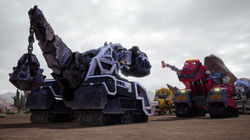 Ty vs. D-Structs
Episode 3x13; Aug 03, 2018
When Revvit gets kidnapped by the D-Brothers, Ty embarks on a dangerous mission that leads to a final showdown with D-Structs.
Previous Episodes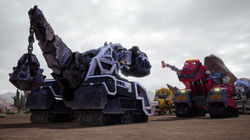 3x13: Ty vs. D-Structs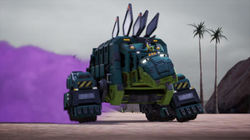 3x12: Ore Hunt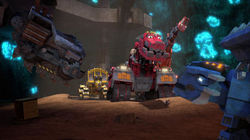 3x11: Lil' Dread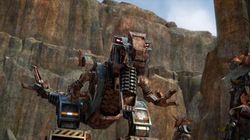 3x10: Shredadon


3x9: Silent Trux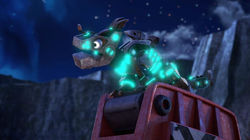 3x8: Scraptool Apprentice


3x7: Ankylodump Games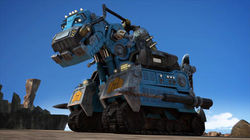 3x6: Crabcavator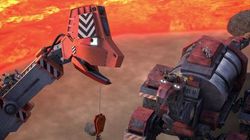 3x5: Part Kart

View All Episodes
Skip to:
Season 1
| Episode No. | No. Overall | Title | Airdate | Runtime | Summary |
| --- | --- | --- | --- | --- | --- |
| 1 | 1 | Superchargers | 2017-11-10 | 30 | When the Dinotrux discover a batch of special bugs that will supercharge their abilities, they must figure out how to use the new power responsibly. |
| 2 | 2 | Super Scraptors | 2017-11-10 | 30 | After Skrap-It steals the Dinotrux's supply of superchargers and accidentally spills them, the crater is overrun by an army of Super Scraptors. |
| 3 | 3 | Diamond Bit | 2017-11-10 | 30 | Ty gets stuck in a Shockarachnid web, forcing Revvit and Click-Clack to head off on a journey to find a bit made of diamonds that can cut him loose. |
| 4 | 4 | Shootout | 2017-11-10 | 30 | Garby accidentally eats too many superchargers, turning him into a jittery mess. But his hyperactive state might help fend off some Scrapadactyls. |
| 5 | 5 | Downshift | 2017-11-10 | 30 | When Dozer overheats, he has to work hard to not lose his temper as the other Dinotrux help get him to mineral baths with healing powers. |
| 6 | 6 | Xee | 2017-11-10 | 30 | A storm blows Revvit, Click-Clack and Waldo to a forest far away from home, where they befriend a resourceful tool named Xee who lives in solitude. |
Season 2
| Episode No. | No. Overall | Title | Airdate | Runtime | Summary |
| --- | --- | --- | --- | --- | --- |
| 1 | 7 | D-Stroy | 2018-03-23 | 30 | Dozer takes it personally when Skya thinks his idea won't work. D-Structs's plan to hoard all the superchargers leads him to his mean older brother. |
| 2 | 8 | Doom Run | 2018-03-23 | 30 | With Skya ailing, the Dinotrux must face off with the hostile Speed Trux in a dangerous "Doom Race" to win the part that will fix her. |
| 3 | 9 | Goldtrux | 2018-03-23 | 30 | Waldo impresses the crater with his special new multi-tool, but a selfish, gold-obsessed trux wants the tool for himself and kidnaps Waldo. |
| 4 | 10 | Cliffhanger | 2018-03-23 | 30 | When the Pteracopters locate a huge ore deposit, they need Skya's help to get it out. Click-Clack worries that nobody trusts him to do a good job. |
| 5 | 11 | Magnodozer | 2018-03-23 | 30 | The Dinotrux discover a canyon that's full of superchargers, but they'll need all of Dozer's power to clear a path they can fit through. |
| 6 | 12 | Liftasaurs | 2018-03-23 | 30 | When the Dinotrux go to the edge of the crater to find some supplies, they get caught in a feud between competing herds of Liftasaurs. |
| 7 | 13 | Bad Build | 2018-03-23 | 30 | D-Stroy pops in on D-Structs and proposes a plan to defeat the Dinotrux, and Ty's "trux it up" response might not be enough to hold them off. |
Season 3
| Episode No. | No. Overall | Title | Airdate | Runtime | Summary |
| --- | --- | --- | --- | --- | --- |
| 1 | 14 | Renegades | 2018-08-03 | 30 | On the run from D-Structs and D-Stroy, the Trux devise a plan to build an awesome hideaway so they can lead a rebellion from a safe, secure location. |
| 2 | 15 | Dyscrapadons | 2018-08-03 | 30 | When Flapjaw the Pteracopter's landing gear is damaged by Dyscrapadons, the Trux have to come up with a plan to repair him in midair. |
| 3 | 16 | Opposites | 2018-08-03 | 30 | When the Trux meet another group of Trux who look just like them but have different personalities, they team up to fool D-Structs and D-Stroy. |
| 4 | 17 | Drillipedes | 2018-08-03 | 30 | With the Trux in need of repairs, the Tools try a new tunnel route to get parts. But on the way, they discover dangerous Drillipedes! |
| 5 | 18 | Part Kart | 2018-08-03 | 30 | The Trux build a mobile "part kart" for repairs out on the road, which comes in handy when Skya gets stranded with a Trux that needs help fast. |
| 6 | 19 | Crabcavator | 2018-08-03 | 30 | The Dinotrux go aquatic when they learn that the part they need to fix Click-Clack can only be found at the bottom of the sea. |
| 7 | 20 | Ankylodump Games | 2018-08-03 | 30 | Ton-Ton wants to live out his dream of participating in the Ankylodump Games. But doing so could put him and the other Trux in danger. |
| 8 | 21 | Scraptool Apprentice | 2018-08-03 | 30 | After Skrap-It's plan to please D-Structs and D-Stroy goes wrong, the Trux have to deal with a bunch of supercharged Scraptools. |
| 9 | 22 | Silent Trux | 2018-08-03 | 30 | The Trux eat some tainted ore that makes them lose their voices, then have to race against D-Structs and D-Stroy to find the remedy. |
| 10 | 23 | Shredadon | 2018-08-03 | 30 | While collecting scrap in a canyon, the Trux and Tools come face-to-face with a frightful Shredadon -- but may need its help to leave its lair. |
| 11 | 24 | Lil' Dread | 2018-08-03 | 30 | Ton-Ton befriends a baby Dreadtrux but learns the hard way that even "Lil' Dread" can cause major chaos in the renegade base. |
| 12 | 25 | Ore Hunt | 2018-08-03 | 30 | Garby accidentally leads D-Structs and D-Stroy to the base, but the Trux find a way to fight back by keeping a special ore away from the D-Bros. |
| 13 | 26 | Ty vs. D-Structs | 2018-08-03 | 30 | When Revvit gets kidnapped by the D-Brothers, Ty embarks on a dangerous mission that leads to a final showdown with D-Structs. |
Related News
TVMaze