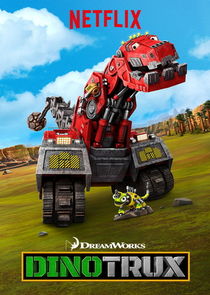 Dinotrux is an all-new action-packed original series featuring hybrid dinosaur-construction characters who are set to build and battle over three seasons. Based on Chris Gall's award-winning book series, DreamWorks Animation's Dinotrux is set in a fantastical world filled with lava-flowing volcanoes, lush forests and a megaton cast of loveable characters who are half-dinosaur, half-mechanical construction vehicle and all fun!
Series Overview
Rating
imDb Rating: 7.1 (344 Votes)
Metascore: N/A
Plot
Animals like the Craneosauraus, Garbageadon and Tyrannosaurus Trux (part dinosaurs and part truck) exist in a fictional prehistoric era.
Details
Rated: TV-PG
Released: 14 Aug 2015
Runtime: N/A
Genre: Animation, Action, Comedy, Family
Director: N/A
Writer: N/A
Actors: Andrew Francis, Richard Ian Cox, Ashleigh Ball, Brian Drummond
Language: English, French
Country: USA
Awards: 2 wins & 4 nominations.
Total Seasons: 5
Previous Episode
Dreadtrux Part 2
Episode 5x6; Aug 18, 2017
With the mighty Dreadtrux threatening to destroy the crater, Ty considers working with D-Structs to save both of their homes.
Previous Episodes

5x6: Dreadtrux Part 2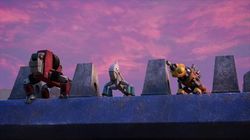 5x5: Dreadtrux Part 1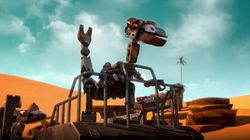 5x4: Junktools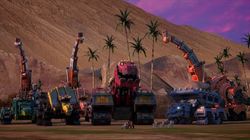 5x3: The Return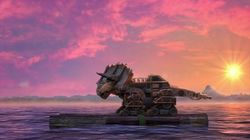 5x2: Aquadons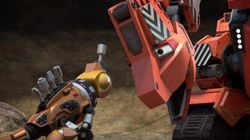 5x1: Imposters


4x7: Bridge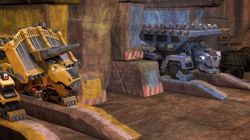 4x6: Gearwigs


4x5: Garby's Gang

View All Episodes
Skip to:
Season 1
| Episode No. | No. Overall | Title | Airdate | Runtime | Summary |
| --- | --- | --- | --- | --- | --- |
| 1 | 1 | Ty and Revvit | 2015-08-14 | 30 | Meet Ty Rux and his buddy Revvit as they join forces with the giant Dinotrux team that are half dinosaur, half construction truck and full-on fun! |
| 2 | 2 | Scrapadactyls | 2015-08-14 | 30 | When Revvit and his Reptool friends wander out of their ravine, the Dinotrux must save them from a flock of wild Scrapadactyls. |
| 3 | 3 | Garage | 2015-08-14 | 30 | The Dinotrux build a garage to keep the Reptools safe, but D-Structs tries to ruin their plans by turning the friends against each other. |
| 4 | 4 | Scraptors | 2015-08-14 | 30 | Ty Rux leads the Dinotrux on a nighttime raid to save Ton-Ton, who's been snatched by a pack of Scraptors and taken to their hive in Scraptor Valley. |
| 5 | 5 | Pit | 2015-08-14 | 30 | D-Structs traps the Dinotrux in a deep sinkhole -- but he forgets about tiny Revvit, who comes up with a plan to help his much-bigger friends. |
| 6 | 6 | Garby | 2015-08-14 | 30 | Just as Ty Rux welcomes a loud and smelly Stegarbasaurus to the crater, Revvit disappears and the gang sets out on a dangerous rescue mission. |
| 7 | 7 | Desert | 2015-08-14 | 30 | Under orders from D-Structs, Skrap-it steals one of Garby's parts, sending the Dinotrux on a trek through the desert to find help for their friend. |
| 8 | 8 | Tortools | 2015-08-14 | 30 | The Dinotrux find a nest of Tortool eggs. The hatchlings think Dozer is their mother and start causing chaos, painting everything in sight. |
| 9 | 9 | Sandstorm | 2015-08-14 | 30 | The Dinotrux get caught in a powerful sandstorm that stops them in their tracks. Ty Rux and the Reptools must find a way to save them. |
| 10 | 10 | Fake Ravine | 2015-08-14 | 30 | When the Dinotrux settle together in the crater, D-Structs decides to go after their most important resource: the Reptools. |
Season 2
| Episode No. | No. Overall | Title | Airdate | Runtime | Summary |
| --- | --- | --- | --- | --- | --- |
| 1 | 11 | New Tail | 2016-03-11 | 30 | D-Structs loses his wrecking ball tail and wants to prove he's still dangerous, but when he gets stuck the crew must decide if they will save him. |
| 2 | 12 | Ottos | 2016-03-11 | 30 | While exploring the site of a meteor crash, the Dinotrux meet a new band of helpful and friendly Reptools: Hex Wrenches who are all named Otto. |
| 3 | 13 | Night | 2016-03-11 | 30 | The crew uses Lightning Bitbugs to light up the garage when Dozer needs a late-night repair, but they need a new plan after Scrapadactyls attack. |
| 4 | 14 | Rollodons | 2016-03-11 | 30 | When oozing tar fills the cracks of the crater, the Dinotrux need a plan to herd the roaming Rollodons and pave over the sticky mess. |
| 5 | 15 | Lair | 2016-03-11 | 30 | D-Structs steals the gang's scrap metal panels to build himself a new lair, sparking a fight over the precious resource. Ty plans a clever rescue. |
| 6 | 16 | Battering Ram | 2016-03-11 | 30 | Skya helps Ace figure out who stole parts from the garage, but when D-Structs traps the two sleuths in a cave they must build a way out. |
| 7 | 17 | Racetrack | 2016-03-11 | 30 | Ton-Ton introduces his old crew, a trio of fellow Ankylodumps. They're so wild and crazy that the Dinotrux build them a racetrack just for joyriding. |
| 8 | 18 | Gluphosaurs | 2016-03-11 | 30 | D-Structs tricks the Gluphosaurs into believing that the Dinotrux are their enemies, resulting in a very sticky situation for the gang. |
| 9 | 19 | Towaconstrictors | 2016-03-11 | 30 | The Dinotrux and friends are delighted when Revvit maps a path to an enchanted forest, until the crew finds out it's inhabited by Towaconstrictors. |
| 10 | 20 | Desert Scraptors | 2016-03-11 | 30 | D-Structs plans to have the Desert Scraptors attack Ty and the crew, but everything changes when the Scraptors think Click-Clack is their leader. |
| 11 | 21 | Water | 2016-03-11 | 30 | The Flatirons is suffering a drought, so the Dinotrux crew builds an aqueduct to bring in needed water. D-Structs tries to sabotage their plan. |
| 12 | 22 | Wind | 2016-03-11 | 30 | A fierce windstorm traps the gang inside the garage, but they try to make the best of it -- until the food runs out and they must find an escape. |
| 13 | 23 | Lightning | 2016-03-11 | 30 | When D-Structs' sidekick Skrap-It is struck by lightning, he suddenly becomes a genius with a foolproof plan to get rid of the Dinotrux. |
Season 3
| Episode No. | No. Overall | Title | Airdate | Runtime | Summary |
| --- | --- | --- | --- | --- | --- |
| 1 | 24 | Slide | 2016-10-07 | 30 | Ton-Ton wants the Dinotrux to build a slide. Revvit and Ty say it's impossible, but with teamwork and creativity, they might just pull it off. |
| 2 | 25 | Drillasaurs | 2016-10-07 | 30 | When a greedy group of Drillasaurs shows up to dig for diamonds in the crater, the Dinotrux make a deal with them. Skya pushes herself too far. |
| 3 | 26 | Volcano | 2016-10-07 | 30 | When a volcano eruption threatens their crater, Ty and Revvit come up with a plan to save their home as D-Structs tries to ruin their build. |
| 4 | 27 | Sawmetradon | 2016-10-07 | 30 | The Dinotrux work to save a band of Reptools who are under attack by an evil Sawmetradon that's going to destroy all their homes. |
| 5 | 28 | Speed | 2016-10-07 | 30 | When Skrap-It loosens Ty's master cylinder, Ty can't stop moving and the Dinotrux have to figure out a way to slow him down. |
| 6 | 29 | Flynt | 2016-10-07 | 30 | A big fire in the crater threatens the Dinotrux, so Ty has to go get help from a grumpy water-filled Hydrodon named Flynt. |
| 7 | 30 | Wings | 2016-10-07 | 30 | The Ottos are in danger, but the only way to reach them is to fly. The Dinotrux build some wings for Ton-Ton to complete the mission. |
| 8 | 31 | Slamtools | 2016-10-07 | 30 | A band of Slamtools makes a deal with D-Structs to trap the Dinotrux and steal their ore, so Garby and Click-Clack have to come to the rescue. |
| 9 | 32 | Blayde | 2016-10-07 | 30 | Dozer and the other Dinotrux work together to outsmart a bully named Blayde, who used to be Dozer's friend before turning evil. |
| 10 | 33 | Battle | 2016-10-07 | 30 | D-Structs gets a special spark bug that makes him super strong, so the Dinotrux come up with a plan to deactivate it and find their own super charger. |
| 11 | 34 | Cementasaurs | 2016-10-07 | 30 | Thanks to a couple of Cementasaurs, Ty is stuck and sinking in wet cement! The other Dinotrux and the Reptools have to find a way to get him out. |
| 12 | 35 | Eggs | 2016-10-07 | 30 | An earthquake separates a herd of Ankylodumps from their eggs, so Ton-Ton scoops them up and works with the other Dinotrux to keep them safe. |
| 13 | 36 | Pounder | 2016-10-07 | 30 | A Poundersaurolophus is on the loose, pounding everything in sight. The Dinotrux have to find a way to stop it from flattening them too. |
| 14 | 37 | Shockarachids | 2016-10-07 | 30 | Dozer and Skya become separated from the rest of the crew and get attacked by a group of Shockarachnids, high-voltage spiders with a vicious bite. |
| 15 | 38 | Scaretrux | 2016-10-07 | 30 | The Reptools get trapped by Scraptors and build a Scaretrux to keep them away, but Skrap-It wants to steal the fake T-Trux to impress D-Structs. |
| 16 | 39 | Magnet Mountain | 2016-10-07 | 30 | The Dinotrux have been trapped inside a magnetic mountain by D-Structs, Splitter, Blayde and Pounder! Revvit helps Ty break them free. |
Season 4
| Episode No. | No. Overall | Title | Airdate | Runtime | Summary |
| --- | --- | --- | --- | --- | --- |
| 1 | 40 | Pteracopters | 2017-03-31 | 30 | When a band of Pteracopters crash-lands in the crater, the Dinotrux help them rescue a friend who's been taken out by stealth Scrapadactyls. |
| 2 | 41 | Snowblazer | 2017-03-31 | 30 | While trying to get home from a snowy area north of their crater, the gang meets a lonely but helpful Trux named Snowblazer who helps them navigate. |
| 3 | 42 | Picktools | 2017-03-31 | 30 | When the crew gets stuck on a sheet of thin ice, they run into a group of Picktools, which appear to be trying to crack the ice around them. |
| 4 | 43 | Ton-Ton & Skrap-It | 2017-03-31 | 30 | After fighting gets them stuck in a dangerous situation, enemies Skrap-It and Ton-Ton must join forces to save themselves. |
| 5 | 44 | Garby's Gang | 2017-03-31 | 30 | Garby has to develop confidence as a leader when he's left in charge of the Flatirons while Ty and the others are stuck far away from home. |
| 6 | 45 | Gearwigs | 2017-03-31 | 30 | Click-Clack climbs out of his comfort zone to make sure his ideas are heard when the Dinotrux hatch a plan to stop D-Structs from stealing supplies. |
| 7 | 46 | Bridge | 2017-03-31 | 30 | A group of Trux displaced by a volcano comes to Ty for help, and the gang has to work together to build a bridge to welcome their new guests. |
Season 5
| Episode No. | No. Overall | Title | Airdate | Runtime | Summary |
| --- | --- | --- | --- | --- | --- |
| 1 | 47 | Imposters | 2017-08-18 | 30 | Ty has trouble keeping all of the new Trux organized and cooperative, and D-Structs comes up with a plan that throws the crater into even more chaos. |
| 2 | 48 | Aquadons | 2017-08-18 | 30 | To escape big trouble, the Dinotrux quickly put together a raft and hit the sea. But there might be danger lurking in the water, too. |
| 3 | 49 | The Return | 2017-08-18 | 30 | The Dinotrux return to the crater from their travels to find that D-Structs has taken over and built a huge wall to keep them out. |
| 4 | 50 | Junktools | 2017-08-18 | 30 | When the crew is forced to spend a night in the desert to avoid a sandstorm, they wake up the next day without their most important parts. |
| 5 | 51 | Dreadtrux Part 1 | 2017-08-18 | 30 | The Dinotrux investigate when all of the other trux in the crater start running away from a mysterious mountain that may be coming alive. |
| 6 | 52 | Dreadtrux Part 2 | 2017-08-18 | 30 | With the mighty Dreadtrux threatening to destroy the crater, Ty considers working with D-Structs to save both of their homes. |
Series Crew
| | Position | Name |
| --- | --- | --- |
| | Creator | Chris Gall |
| | Composer | Jake Monaco |
Related News
TVMaze