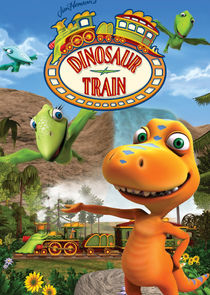 Dinosaur Train is an animated series created by Craig Bartlett. The series features a curious young Tyrannosaurus Rex named Buddy who, together with his adopted Pteranodon family, takes the Dinosaur Train to meet, explore, and have adventures with all kinds of dinosaurs. It is produced by The Jim Henson Company in association with Media Development Authority, Sparky Animation, FableVision, and Snee-Oosh, Inc.
It is the second show by The Jim Henson Company to use CGI animation.
Series Overview
Rating
imDb Rating: 6.6 (563 Votes)
Metascore: N/A
Plot
Friendly dinosaurs climb aboard a train to visit different times throughout the prehistoric age, learning about dinosaurs and having fun adventures.
Details
Rated: TV-Y
Released: 07 Sep 2009
Runtime: 28 min
Genre: Animation, Family
Director: N/A
Writer: Craig Bartlett
Actors: Ian James Corlett, Erika-Shaye Gair, Claire Margaret Corlett, Ellen Kennedy
Language: English
Country: USA, UK, Canada
Awards: 8 nominations.
Total Seasons: 7
Previous Episode
We're Not All Dinosaurs
Episode 5x10; Aug 30, 2019
Previous Episodes 5x10: We're Not All Dinosaurs 5x9: Don's Hole-iday 5x8: A Brand New Species Part 2 5x7: A Brand New Species Part 1 5x6: A Clubhouse of Their Own 5x5: Gilbert the Conductor 5x4: Mom Was a Kid Once Part 2 5x3: Mom Was a Kid Once Part 1 5x2: How Many Horns?

View All Episodes
Skip to:
Season 1
| Episode No. | No. Overall | Title | Airdate | Runtime | Summary |
| --- | --- | --- | --- | --- | --- |
| 1 | 1 | Valley of the Stygimolochs | 2009-09-07 | 22 | |
| 2 | 2 | Tiny Loves Fish | 2009-09-07 | 22 | |
| 3 | 3 | The Call of the Wild Corythosaurus | 2009-09-07 | 22 | |
| 4 | 4 | Triceratops for Lunch | 2009-09-07 | 22 | |
| 5 | 5 | Beating the Heat | 2009-09-07 | 22 | |
| 6 | 6 | Flowers for Mom | 2009-09-07 | 22 | |
| 7 | 7 | I'm a T. Rex! | 2009-09-07 | 22 | |
| 8 | 8 | Ned the Quadruped | 2009-09-07 | 22 | |
| 9 | 9 | One Smart Dinosaur | 2009-09-11 | 22 | |
| 10 | 10 | Petey the Peteinosaurus | 2009-09-11 | 22 | |
| 11 | 11 | Fast Friends | 2009-09-17 | 22 | |
| 12 | 12 | T. Rex Teeth | 2009-09-17 | 22 | |
| 13 | 13 | Now with Feathers! | 2009-09-18 | 22 | |
| 14 | 14 | A Frill a Minute | 2009-09-18 | 22 | |
| 15 | 15 | One Big Dinosaur | 2009-09-21 | 22 | |
| 16 | 16 | Play Date with Annie | 2009-09-21 | 22 | |
| 17 | 17 | Armored Like an Ankylosaurus | 2009-09-22 | 22 | |
| 18 | 18 | Campout! | 2009-09-22 | 22 | |
| 19 | 19 | Laura the Giganotosaurus | 2009-09-29 | 22 | |
| 20 | 20 | Dinosaur Poop! | 2009-09-29 | 22 | |
| 21 | 21 | Derek the Deinonychus | 2009-09-30 | 22 | |
| 22 | 22 | Don's Dragonfly | 2009-09-30 | 22 | |
| 23 | 23 | One Small Dinosaur | 2009-10-01 | 22 | |
| 24 | 24 | T. Rex Migration | 2009-10-01 | 22 | |
| 25 | 25 | Hootin' Hadrosaurs | 2009-11-10 | 22 | |
| 26 | 26 | Surprise Party | 2009-11-10 | 22 | |
| 27 | 27 | The Theropod Club | 2009-11-11 | 22 | |
| 28 | 28 | Hatching Party | 2009-11-11 | 22 | |
| 29 | 29 | The Old Spinosaurs and the Sea | 2009-11-12 | 22 | |
| 30 | 30 | A Spiky Tail Tale | 2009-11-12 | 22 | |
| 31 | 31 | Night Train | 2009-09-30 | 22 | |
| 32 | 32 | Fossil Fred | 2009-09-30 | 22 | |
| 33 | 33 | Dinosaurs in the Snow | 2009-12-14 | 22 | |
| 34 | 34 | Cretaceous Conifers | 2009-12-14 | 22 | |
| 35 | 35 | The Burrowers | 2010-01-18 | 22 | |
| 36 | 36 | Shiny's Sea Shells | 2010-01-18 | 22 | |
| 37 | 37 | King Cryolophosaurus | 2010-02-15 | 22 | |
| 38 | 38 | Buddy the Tracker | 2010-02-15 | 22 | |
| 39 | 39 | The Old Bird | 2010-02-16 | 22 | |
| 40 | 40 | Diamond Don | 2010-02-16 | 22 | |
| 41 | 41 | Dinosaur Camouflage | 2010-04-12 | 22 | |
| 42 | 42 | Family Scavenger Hunt | 2010-04-12 | 22 | |
| 43 | 43 | Have You Heard About the Herd? | 2010-04-13 | 22 | |
| 44 | 44 | Jess Hesperornis | 2010-04-13 | 22 | |
| 45 | 45 | Triassic Turtle | 2010-05-03 | 22 | |
| 46 | 46 | Tank's Baby Brother | 2010-05-03 | 22 | |
| 47 | 47 | Erma Eoraptor | 2010-05-04 | 22 | |
| 48 | 48 | Under the Volcano | 2010-05-04 | 22 | |
| 49 | 49 | Pteranodon Family World Tour | 2010-05-24 | 22 | |
| 50 | 50 | Gilbert the Junior Conductor | 2010-05-24 | 22 | |
| 51 | 51 | Confuciusornis Says | 2010-05-25 | 22 | |
| 52 | 52 | Tiny's Tiny Doll | 2010-05-25 | 22 | |
| 53 | 53 | Iggy Iguanodom | 2010-05-26 | 22 | |
| 54 | 54 | Shiny Can't Sleep | 2010-05-26 | 22 | |
| 55 | 55 | Kenny Kentrosaurus | 2010-05-27 | 22 | |
| 56 | 56 | Don and the Troodons | 2010-05-27 | 22 | |
| 57 | 57 | New Neighbors | 2010-07-12 | 22 | |
| 58 | 58 | Don's Collection | 2010-07-12 | 22 | |
| 59 | 59 | Long Claws | 2010-06-28 | 22 | |
| 60 | 60 | Tank's Sleep Over | 2010-06-28 | 22 | |
| 61 | 61 | The Wing Kings | 2010-07-13 | 22 | |
| 62 | 62 | The Big Mud Pit | 2010-07-13 | 22 | |
| 63 | 63 | Buck-Tooth Bucky | 2010-09-27 | 22 | |
| 64 | 64 | Tiny's Tiny Friend | 2010-09-27 | 22 | |
| 65 | 65 | An Armored Tail Tale | 2010-11-08 | 22 | |
| 66 | 66 | Pterosaur Flying Club | 2010-11-08 | 22 | |
| 67 | 67 | Great Big Stomping Dinosaur Feet! | 2010-12-06 | 22 | |
| 68 | 68 | Hornucopia! | 2010-12-06 | 22 | |
| 69 | 69 | The Good Mom | 2011-01-17 | 22 | |
| 70 | 70 | Diamond Anniversary | 2011-01-17 | 22 | |
| 71 | 71 | Elmer Elasmosaurus | 2010-09-28 | 22 | |
| 72 | 72 | Dinosaur Block Party | 2010-09-28 | 22 | |
| 73 | 73 | Carla Cretoxyrhina | 2010-10-11 | 22 | |
| 74 | 74 | Train Trouble | 2010-10-11 | 22 | |
| 75 | 75 | The Amazing Michelinoceras Brothers | 2010-11-19 | 22 | |
| 76 | 76 | Dads' Day Out | 2010-11-19 | 22 | |
| 77 | 77 | Paulie Pliosaurus | 2010-08-23 | 22 | |
| 78 | 78 | Elmer Visits the Desert | 2010-08-23 | 22 | |
| 79 | 79 | Junior Conductor Jamboree | 2011-05-06 | 22 | |
| 80 | 80 | Troodon Train Day | 2011-05-06 | 22 | |
Season 2
| Episode No. | No. Overall | Title | Airdate | Runtime | Summary |
| --- | --- | --- | --- | --- | --- |
| 1 | 81 | Dinosaur Big City (1) | 2011-09-06 | 22 | |
| 2 | 82 | Dinosaur Big City (2) | 2011-09-06 | 22 | |
| 3 | 83 | Dinosaur Big City (3) | 2011-09-07 | 22 | |
| 4 | 84 | Dinosaur Big City (4) | 2011-09-07 | 22 | |
| 5 | 85 | Haunted Roundhouse | 2011-10-20 | 22 | |
| 6 | 86 | Big Pond Pumpkin Patch | 2011-10-20 | 22 | |
| 7 | 87 | Stargazing on the Night Train | 2011-11-14 | 22 | |
| 8 | 88 | Get Into Nature! | 2011-11-14 | 22 | |
| 9 | 89 | Shiny and Snakes | 2011-11-15 | 22 | |
| 10 | 90 | Tiny Loves Flowers | 2011-11-15 | 22 | |
| 11 | 91 | Buddy Explores the Tyrannosaurs | 2011-11-16 | 22 | |
| 12 | 92 | Rainy Day Fight | 2011-11-16 | 22 | |
| 13 | 93 | That's Not a Dinosaur! | 2011-11-17 | 22 | |
| 14 | 94 | Tiny's Garden | 2011-11-17 | 22 | |
| 15 | 95 | Don's Winter Wish | 2011-12-05 | 22 | |
| 16 | 96 | Festival of Lights | 2011-12-05 | 22 | |
| 17 | 97 | The Earthquake | 2012-02-06 | 22 | |
| 18 | 98 | The Nursery Car | 2012-02-06 | 22 | |
| 19 | 99 | The Lost Bird | 2012-02-07 | 22 | |
| 20 | 100 | The Forest Fire | 2012-02-07 | 22 | |
| 21 | 101 | Dry Times at Pteradon Terrace | 2012-02-08 | 22 | |
| 22 | 102 | Big Misty Sea Fishing Contest | 2012-02-08 | 22 | |
| 23 | 103 | Hurricane at Pteradon Terrace | 2012-02-09 | 22 | |
| 24 | 104 | Rafting the Cretaceous | 2012-02-09 | 22 | |
| 25 | 105 | Dinos A-Z (1): The Big Idea | 2012-05-14 | 22 | |
| 26 | 106 | Dinos A-Z (2): Spread the Word | 2012-05-14 | 22 | |
| 27 | 107 | Dinos A-Z (3): Classification | 2012-05-14 | 22 | |
| 28 | 108 | Dinos A-Z (4): Picnic | 2012-05-14 | 22 | |
| 29 | 109 | Remember the Alamosaurus | 2012-08-13 | 22 | |
| 30 | 110 | Sunrise, Sunset | 2012-08-13 | 22 | |
| 31 | 111 | A Heck of a Neck | 2012-08-14 | 22 | |
| 32 | 112 | Gilbert Visits the Nest | 2012-08-14 | 22 | |
| 33 | 113 | An Apatosaurus Adventure | 2012-08-15 | 22 | |
| 34 | 114 | Nature Art | 2012-08-15 | 22 | |
| 35 | 115 | Arnie Rides the Flatcar | 2012-08-16 | 22 | |
| 36 | 116 | Old Reliable | 2012-08-16 | 22 | |
| 37 | 117 | Tiny and the Crocodile | 2012-12-10 | 22 | |
| 38 | 118 | Meet the Grandparents | 2012-12-10 | 22 | |
| 39 | 119 | The Egg Stealer? | 2012-12-11 | 22 | |
| 40 | 120 | To the Grandparents' Nest We Go! | 2012-12-11 | 22 | |
| 41 | 121 | Double-Crested Trouble | 2012-12-12 | 22 | |
| 42 | 122 | Erma and the Conductor | 2012-12-12 | 22 | |
| 43 | 123 | Dome-Headed Dinosaur | 2012-12-13 | 22 | |
| 44 | 124 | Treasure Hunt | 2012-12-13 | 22 | |
| 45 | 125 | Dinosaur Train Submarine: Otto Opthalmosaurus | 2013-02-18 | 22 | |
| 46 | 126 | Dinosaur Train Submarine: Shoshana Shonosaurus | 2013-02-18 | 22 | |
| 47 | 127 | Dinosaur Train Submarine: Maisie Mosasaurus | 2013-02-18 | 22 | |
| 48 | 128 | Dinosaur Train Submarine: A Sea Turtle Tale | 2013-02-18 | 22 | |
| 49 | 129 | King Meets Crystal | 2013-02-19 | 22 | |
| 50 | 130 | All Kinds of Families | 2013-02-20 | 22 | |
| 51 | 131 | Date Night | 2013-02-21 | 22 | |
| 52 | 132 | Rocket Train | 2013-02-22 | 22 | |
Season 3
| Episode No. | No. Overall | Title | Airdate | Runtime | Summary |
| --- | --- | --- | --- | --- | --- |
| 1 | 133 | Adventure Camp: Rafting | 2014-01-21 | 22 | |
| 2 | 134 | Adventure Camp: Mountain Climbing | 2014-01-21 | 22 | |
| 3 | 135 | Adventure Camp: Ziplining | 2014-01-22 | 22 | |
| 4 | 136 | Adventure Camp: Canyon Hiking | 2014-01-22 | 22 | |
| 5 | 137 | Classic in the Jurassic: Turtle and Theropod Race | 2014-08-18 | 22 | |
| 6 | 138 | Hungry, Hungry Carnivores | 2014-08-18 | 22 | |
| 7 | 139 | Classic in the Jurassic: Air Obstacle Race | 2014-08-19 | 22 | |
| 8 | 140 | King and Crystal, Live! | 2014-08-19 | 22 | |
| 9 | 141 | Classic in the Jurassic: Air, Water, and Land | 2014-08-20 | 22 | |
| 10 | 142 | Desert Day and Night | 2014-08-20 | 22 | |
| 11 | 143 | Classic in the Jurassic: Ultimate Face-Off | 2014-08-21 | 22 | |
| 12 | 144 | Back in Time | 2014-08-21 | 22 | |
| 13 | 145 | Solar Train | 2014-10-06 | 22 | |
| 14 | 146 | Birdwatching | 2014-10-06 | 22 | |
| 15 | 147 | Rocket Train Surprise Party | 2014-10-06 | 22 | |
| 16 | 148 | Cloudy with a Chance of Fun | 2014-10-06 | 22 | |
| 17 | 149 | One Big Frog | 2014-10-27 | 22 | |
| 18 | 150 | Caving with Vlad | 2014-10-27 | 22 | |
| 19 | 151 | Tiny's Fishing Friend | 2015-04-20 | 22 | |
| 20 | 152 | Butterflies | 2015-04-20 | 22 | |
| 21 | 153 | Best-Ever Babysitter | 2015-04-21 | 22 | |
| 22 | 154 | Plant a Tree | 2015-04-21 | 22 | |
| 23 | 155 | Zeppelin: Waterfalls | 2015-07-01 | 22 | |
| 24 | 156 | Zeppelin: Atoll | 2015-07-01 | 22 | |
| 25 | 157 | Zeppelin: Pangaea | 2015-07-01 | 22 | |
| 26 | 158 | Zeppelin: Crater | 2015-07-01 | 22 | |
Season 4
| Episode No. | No. Overall | Title | Airdate | Runtime | Summary |
| --- | --- | --- | --- | --- | --- |
| 1 | 159 | Trains, Submarines and Zeppelins (1) | 2015-12-07 | 22 | |
| 2 | 160 | Trains, Submarines and Zeppelins (2) | 2015-12-07 | 22 | |
| 3 | 161 | Rollin' on the Riverboat (1) | 2016-03-07 | 22 | |
| 4 | 162 | Rollin' on the Riverboat (2) | 2016-03-07 | 22 | |
| 5 | 163 | Nest Swap | 2016-03-08 | 22 | |
| 6 | 164 | The Herd is the Word | 2016-03-08 | 22 | |
| 7 | 165 | Stop and Smell the Flowers | 2016-03-09 | 22 | |
| 8 | 166 | Moms' Campout | 2016-03-09 | 22 | |
| 9 | 167 | Where Have All the Lizards Gone? | 2016-03-10 | 22 | |
| 10 | 168 | Conductor's Sleepover | 2016-03-10 | 22 | |
| 11 | 169 | Junior Conductors Academy (1) | 2016-04-06 | 22 | |
| 12 | 170 | Junior Conductors Academy (2) | 2016-04-06 | 22 | |
| 13 | 171 | Crystal and King Benefit Concert (1) | 2016-04-25 | 22 | |
| 14 | 172 | Crystal and King Benefit Concert (2) | 2016-04-25 | 22 | |
| 15 | 173 | Spooky Tree | 2016-10-17 | 22 | |
| 16 | 174 | Spinosaurus Super Model | 2016-10-17 | 22 | |
| 17 | 175 | What's at the Center of the Earth? (1): Layers | 2017-02-20 | 22 | |
| 18 | 176 | What's at the Center of the Earth? (2): Fossils | 2017-02-20 | 22 | |
| 19 | 177 | What's at the Center of the Earth? (3): Troglobites | 2017-02-20 | 22 | |
| 20 | 178 | What's at the Center of the Earth? (4): Minerals | 2017-02-20 | 22 | |
Season 5
| Episode No. | No. Overall | Title | Airdate | Runtime | Summary |
| --- | --- | --- | --- | --- | --- |
| 1 | 179 | The Tiny-saur Train | 2019-08-26 | 22 | |
| 2 | 180 | How Many Horns? | 2019-08-26 | 22 | |
| 3 | 181 | Mom Was a Kid Once Part 1 | 2019-08-27 | 22 | |
| 4 | 182 | Mom Was a Kid Once Part 2 | 2019-08-27 | 22 | |
| 5 | 183 | Gilbert the Conductor | 2019-08-28 | 22 | |
| 6 | 184 | A Clubhouse of Their Own | 2019-08-28 | 22 | |
| 7 | 185 | A Brand New Species Part 1 | 2019-08-29 | 22 | |
| 8 | 186 | A Brand New Species Part 2 | 2019-08-29 | 22 | |
| 9 | 187 | Don's Hole-iday | 2019-08-26 | 22 | |
| 10 | 188 | We're Not All Dinosaurs | 2019-08-30 | 22 | |
Season 6
| Episode No. | No. Overall | Title | Airdate | Runtime | Summary |
| --- | --- | --- | --- | --- | --- |
Season 7
| Episode No. | No. Overall | Title | Airdate | Runtime | Summary |
| --- | --- | --- | --- | --- | --- |
Related News
TVMaze