Everyone in the world uses smartphone applications today. Unknown to them, creatures called Appli Monsters, also known as Appmon, reside in these applications. Appmon are artificially intelligent lifeforms with the ability to think and act for themselves, functioning in the space between the real and digital worlds and acting as intermediaries between man and system. However, lurking in the ocean of the Internet is a heinous artificially intelligent "last boss," Leviathan, who uses a virus to control the Appmon and hack into the system in order to control the human world from the Internet.
Seventh-grader Haru Shinkai, acquires an Appli Drive and materializes Gatchmon, a search app, using an Appmon Chip. What is the mystery behind the Appli Drive, the presence of the mysterious field between the real and digital worlds where the Appmon reside, and the "App Gattai" which allows two Appmon to evolve into one? What exactly is Leviathan's aim? The buddy story of the odd pairing of Haru and Gatchmon, who travel around the Internet in the present day, begins now!
Series Overview
Rating
imDb Rating: 7.4 (45 Votes)
Metascore: N/A
Plot
N/A
Details
Rated: TV-PG
Released: 01 Oct 2016
Runtime: N/A
Genre: Action, Adventure
Director: N/A
Writer: N/A
Actors: Kokoro Kikuchi, Yumi Uchiyama
Language: Japanese
Country: Japan
Awards: N/A
Total Seasons: 1
Previous Episode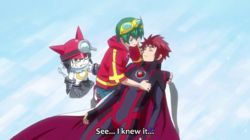 Our Singularity
Episode 1x52; Sep 30, 2017
Previous Episodes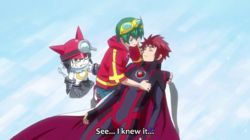 1x52: Our Singularity


1x51: The Dream of Artificial Intelligence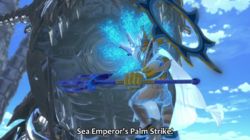 1x50: The Bond of Hope! Haru and Gaiamon!!


1x49: The Miraculous Final Evolution! The God Appmon Advent!


1x48: Starting! The Design of Humanity Application!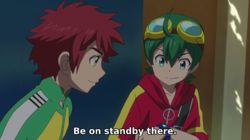 1x47: The Truth About Yūjin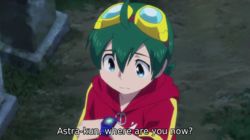 1x46: The Oath Beneath the Starry Sky! The Great


1x45: The Big Crash!? Gatchmon vs Agumon!


1x44: Chasing to the Fugitive, Bootmon!

View All Episodes
Cast
Tetsu Shiratori as Feikumon
Motoko Kumai as Dokamon
Daisuke Sakaguchi as Hackmon
Ayumi Tsunematsu as Beautymon
Yumi Uchiyama as Haru Shinkai
Yū Shimamura as Offmon
View Full Cast
Skip to:
Season 1
| Episode No. | No. Overall | Title | Airdate | Runtime | Summary |
| --- | --- | --- | --- | --- | --- |
| 1 | 1 | The Search Result is Haru Shinkai! Gatchmon Appears! | 2016-10-01 | 25 | |
| 2 | 2 | The Mysterious Navigator! I Am Navimon! | 2016-10-08 | 25 | |
| 3 | 3 | The Character I've Raised is Naked!? Roleplaymon's School Dungeon! | 2016-10-15 | 25 | |
| 4 | 4 | Thank the Costume Master! Cameramon's Halloween Scandal! | 2016-10-22 | 25 | |
| 5 | 5 | A Dokkan Punch to Your Heart! Eri is an Appmon Idol! | 2016-10-29 | 25 | |
| 6 | 6 | The Best Gourmet Report! Gourmet Appli, Perorimon! | 2016-11-05 | 25 | |
| 7 | 7 | The Third Appli Drive! Torajirou is the Apptuber! | 2016-11-12 | 25 | |
| 8 | 8 | "The Super Suck Big Pinch!? Asutora's Great "Interesting Animation" Operation!" | 2016-11-19 | 25 | |
| 9 | 9 | Aim at the Rated Number One! Appmon Championship in Cyber Arena! | 2016-11-26 | 25 | |
| 10 | 10 | The Appmon's Long-Awaited! The Legend Seven Code Meeting! | 2016-12-03 | 25 | |
| 11 | 11 | Dive Into the Sea of Net! Chasing to the Super Hacker, Rei! | 2016-12-10 | 25 | |
| 12 | 12 | Defeating Sakushimon with Super Applink! | 2016-12-17 | 25 | |
| 13 | 13 | The Christmas Disappeared!? The Calendar Thief Calendarmon! | 2016-12-24 | 25 | |
| 14 | 14 | The City Becomes Puzzle Game!? Puzzlemon Runaway! | 2017-01-07 | 25 | |
| 15 | 15 | See Through the Future? Mysterious Fortune Teller: Tellermon | 2017-01-14 | 25 | |
| 16 | 16 | The Message That Transcends Time The Truth About the AppliDrive | 2017-01-21 | 25 | |
| 17 | 17 | Eri is Multiplying by Copy-paste?! Reclaim, the Stage of Dreams! | 2017-01-28 | 25 | |
| 18 | 18 | Haru and Yūjin's Bond - Stop! Rampaging Resshamon! | 2017-02-04 | 25 | |
| 19 | 19 | The Net Ocean is a Big Pinch! The Time is Here, Ultimate AppFusion!! | 2017-02-11 | 25 | |
| 20 | 20 | Goodbye Astra!? Dreamon's Nightmare! | 2017-02-18 | 25 | |
| 21 | 21 | The Way to the Top Idol! Coachmon's Intensive Training! | 2017-02-25 | 25 | |
| 22 | 22 | Lend Me Your Power Rei and Hackmon, Encounter in That Day | 2017-03-04 | 25 | |
| 23 | 23 | Take Back the Seven Code Appmon! Showdown Ultimate vs Ultimate! | 2017-03-11 | 25 | |
| 24 | 24 | Super Giant Cometmon Invasion!? Open the Door, Dantemon! | 2017-03-18 | 25 | |
| 25 | 25 | Infiltrating to the Deep Web at Last! The Mysterious Cyber Kowloon! | 2017-03-25 | 25 | |
| 26 | 26 | I Am the Protagonist!? Encounter with Gatchmon | 2017-04-01 | 25 | |
| 27 | 27 | The Fifth AppliDriver! | 2017-04-08 | 25 | |
| 28 | 28 | Appli Drive DUO! Offmon Appears | 2017-04-15 | 25 | |
| 29 | 29 | A Buddy Cancellation!? Gatchmon Runs Away | 2017-04-22 | 25 | |
| 30 | 30 | Dokamon's Love!? Gourmet Appli-Mary Perrot Attack | 2017-04-29 | 25 | |
| 31 | 31 | Journey with a Companion!? Tripmon's Trip of Fear | 2017-05-06 | 25 | |
| 32 | 32 | Take Out Everyone! Remove Offmon's Evil Pillar! | 2017-05-13 | 25 | |
| 33 | 33 | The Senior High School Student CEO! Naito Unryūji Appears! | 2017-05-20 | 25 | |
| 34 | 34 | Thank You Future! Welcome to the City of Artificial Intelligence! | 2017-05-27 | 25 | |
| 35 | 35 | Aim to Be the God 9! The General Election of AppliYama 470! | 2017-06-03 | 25 | |
| 36 | 36 | The Conclusion of General Election! The Hand of Devil Approaching to Eri! | 2017-06-10 | 25 | |
| 37 | 37 | Invasion! The Ultimate Appmons, Ultimate 4! | 2017-06-17 | 25 | |
| 38 | 38 | Take Back the Gatchmon! Grandpa Den'emon's Trial! | 2017-06-24 | 25 | |
| 39 | 39 | The New Power! The AppliDrive DUO! | 2017-07-01 | 25 | |
| 40 | 40 | Ultimate 4 Returns! Cloud's Challenge Letter! | 2017-07-08 | 25 | |
| 41 | 41 | The Ultimate Fierce Fighting! Globemon vs. Charismon! | 2017-07-15 | 25 | |
| 42 | 42 | Rei's Determination! The Great | 2017-07-22 | 25 | |
| 43 | 43 | Wake Up, Sleepmon! The Appmon Championship Reopening!! | 2017-07-29 | 25 | |
| 44 | 44 | Chasing to the Fugitive, Bootmon! | 2017-08-05 | 25 | |
| 45 | 45 | The Big Crash!? Gatchmon vs Agumon! | 2017-08-12 | 25 | |
| 46 | 46 | The Oath Beneath the Starry Sky! The Great | 2017-08-19 | 25 | |
| 47 | 47 | The Truth About Yūjin | 2017-08-26 | 25 | |
| 48 | 48 | Starting! The Design of Humanity Application! | 2017-09-02 | 25 | |
| 49 | 49 | The Miraculous Final Evolution! The God Appmon Advent! | 2017-09-09 | 25 | |
| 50 | 50 | The Bond of Hope! Haru and Gaiamon!! | 2017-09-16 | 25 | |
| 51 | 51 | The Dream of Artificial Intelligence | 2017-09-23 | 25 | |
| 52 | 52 | Our Singularity | 2017-09-30 | 25 | |
Series Cast
| | | | |
| --- | --- | --- | --- |
| | Tetsu Shiratori | as Feikumon | |
| | Motoko Kumai | as Dokamon | |
| | Daisuke Sakaguchi | as Hackmon | |
| | Ayumi Tsunematsu | as Beautymon | |
| | Yumi Uchiyama | as Haru Shinkai | |
| | Yū Shimamura | as Offmon | |
| | Takehito Koyasu | as Biomon | |
| | Mitsuo Iwata | as Messemon | |
| | Shiori Izawa | as Mienumon | |
| | Shiho Kokido | as Torajirou Asuka | |
| | Tsuyoshi Koyama | as Coachmon | |
| | Shun Horie | as Navimon | |
| | Nao Tamura | as Musimon | |
| | Kousuke Okano | as Cameramon | |
| | Makoto Furukawa | as Yūjin Ōzora | |
| | Umeka Shouji | as Eri Karan | |
| | Mai Fuchigami | as Aoi Kashiki | |
| | Toshiyuki Toyonaga | as Rei Katsura | |
| | Kokoro Kikuchi | as Gatchmon | |
| | Yuichi Nakamura | as Charismon | |
| | Ryou Hirohashi | as Watson | |
Related News
TVMaze