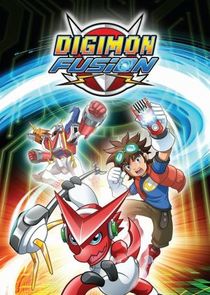 Digimon Fusion is the all-new animated series and sixth installment of the Digimon franchise. The action packed series follows Mikey, a human boy, who is transported into the digital world and must team up with his new "Digimon" or "Digital Monster" friends to defeat evil once and for all. New fusion powers allow Digimon to combine and fuse, creating endless battle possibilities.
Series Overview
Rating
imDb Rating: 7.0 (362 Votes)
Metascore: N/A
Plot
Three kids get transported to the Digital World where they must save its specific zones with the help of Shoutmon, an energetic digimon inhabiting the world.
Details
Rated: N/A
Released: N/A
Runtime: N/A
Genre: Animation, Action, Adventure, Sci-Fi
Director: N/A
Writer: N/A
Actors: Nicolas Roye, Melissa Fahn, Colleen O'Shaughnessey, Derek Stephen Prince
Language: English, Japanese
Country: Japan
Awards: N/A
Total Seasons: 2
Previous Episode
Get Fired Up, Tagiru! The Digimon Hunt for All the Glory!
Episode 3x25; Mar 25, 2012
Previous Episodes 3x25: Get Fired Up, Tagiru! The Digimon Hunt for All the Glory! 3x24: The Great Gathering of Legendary Heroes! The Digimon All-Stars Showdown!! 3x23: Now Revealed! The Secret of the Digimon Hunt 3x22: The Golden Insect! The Mystery of MetallifeKuwagamon 3x21: The Theme Park of Dreams, DigimonLand! 3x20: The Rare Cards Have Disappeared! The Invincible RookChessmon 3x19: The Great Undersea Adventure! Find the Treasure Digimon of Dreams! 3x18: The Great Gathering of UFOs and Dinosaurs! Ekakimon of Dreams 3x17: Resemblance or None at All? The Thief in Disguise, Betsumon

View All Episodes
Cast
Minami Takayama as Mikey Kudo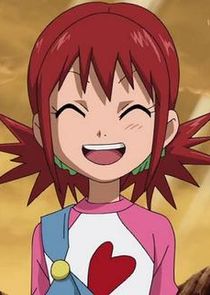 Ryoko Shiraishi as Angie Hinomoto
Daisuke Kishio as Jeremy Tsurgi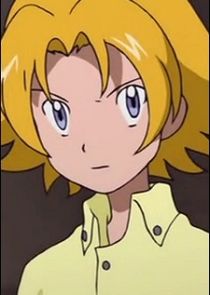 Kanae Oki as Ewan Amano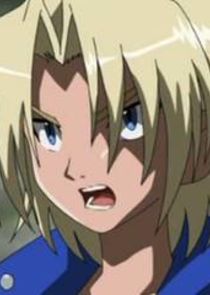 Takeshi Kusao as Christopher Aonuma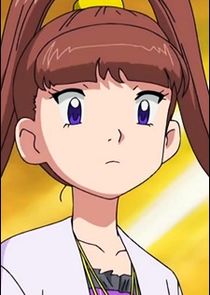 Houko Kuwashima as Nene Amano
View Full Cast
Skip to:
Season 1
| Episode No. | No. Overall | Title | Airdate | Runtime | Summary |
| --- | --- | --- | --- | --- | --- |
| 1 | 1 | Mikey Goes to Another World | 2010-07-06 | 30 | Mikey, Angie and Jeremy are pulled into another world; Mikey meets a kind Digimon who needs help to battle a Digimon of the evil Bagra Empire. |
| 2 | 2 | He is Shoutmon, Hear Him Roar | 2010-07-13 | 30 | The Bagra Army attacks the village where Shoutmon lives; Mikey learns that Shoutmon wants to become King of the Digital World. |
| 3 | 3 | A Rival Appears | 2010-07-20 | 30 | Tactimon unleashes Drimogemon to attack the Village of Light; Mikey, Angie, Jeremy and the Digimon must work together to survive. |
| 4 | 4 | Island Zone in Chaos! | 2010-07-27 | 30 | The gang seek the Code Crown in the Island Zone, but Neptunmon's troops cause problems for them. |
| 5 | 5 | Thanks for the Digicards | 2010-08-03 | 30 | Mikey has to avoid Flymon while he obtains the Code Crown and recovers some vital DigiMemories. |
| 6 | 6 | Crisis or Conquest | 2010-08-10 | 30 | Christopher offers to help battle the Seadramons, but he wants the DigiMemory Card in return. |
| 7 | 7 | Danger Erupts | 2010-08-17 | 30 | Mikey's team relax in a hot spring, but enemies appear and injure Mikey, so the team need assistance from Cutemon and Dorulumon. |
| 8 | 8 | Meltdown in the Magma Zone | 2010-08-24 | 30 | The team get trapped in a cave and Mikey can free them, but only if he sacrifices his Fusion Loader. |
| 9 | 9 | Dorulumon's True Colors! | 2010-08-31 | 30 | Tactimon abducts Mikey and Dorulumon, so Mikey's pals try to rescue them while Christopher diverts Tactimon's attention. |
| 10 | 10 | The Rival Champions! | 2010-09-14 | 30 | Mikey rescues Knightmon from an icy lake, and Knightmon brings Mikey back to his castle, believing that Mikey is the guy for whom his princess has been searching. |
| 11 | 11 | Ice to See You, Angie! | 2010-09-14 | 30 | Angie worries about what a Beastmon was murmuring while it slept, and then Angie sees her family's reflection in a mirror in the castle. |
| 12 | 12 | Treasure, Traps and Trouble - Oh My! | 2010-10-12 | 30 | Mikey's team look for treasure in the Sand Zone, but they fall into an underground Bagra base and encounter Blastmon. |
| 13 | 13 | Mikey, Warrior of Light! | 2010-10-19 | 30 | Reapmon fires on Mikey's team until he gets distracted by a newly uncovered goddess statue. |
| 14 | 14 | Showdown in the Sand Zone! | 2010-10-26 | 30 | Reapmon needs help from Mikey's team, so Pharoahmon advises using the Fusion Loader to save him. |
| 15 | 15 | Trouble in Paradise | 2010-11-02 | 30 | Mikey and his pals enter the Sky Zone, a place with a powerful police force. |
| 16 | 16 | A Dark Cloud Over the Sky Zone! | 2010-11-16 | 30 | Lucemon becomes the president of the Sky Zone, but soon his secret maliciousness is revealed when he discharges harmful phantom mist into the air. |
| 17 | 17 | Clash in the Clouds | 2010-11-23 | 30 | Nene gets abducted by Lucemon, so Mickey persuades Shoutmon and the crew to mount a rescue. |
| 18 | 18 | Welcome in the Jungle Zone! | 2010-11-30 | 30 | The team get separated in the Jungle Zone, so Dorulumon has a crew look for Angie and Jeremy while Tactimon and Bagra forces hunt for Mickey and Shoutmon. |
| 19 | 19 | Rumble in the Jungle Zone! | 2010-12-07 | 30 | Angie and Jeremy must perform a special dance so that Mikey can enter the jungle's sacred zone. |
| 20 | 20 | Train of Terror! | 2010-12-14 | 30 | Mikey loses his Fusion Loader to Grand Locomon; Christopher gets abducted by AxeKnightmon. |
| 21 | 21 | Disaster in the Dust Zone! | 2010-12-21 | 30 | Mikey's team escape from AxeKnightmon, who's imprisoned Nene. |
| 22 | 22 | Lost in Digital Space | 2011-01-11 | 30 | The Fusion Fighters travel to the next zone, but their journey is halted by Digimon Arukadhimon. |
| 23 | 23 | Laughing All the Way to the Code Crown! | 2011-01-18 | 30 | A princess must be rescued from Bagra Forces, so Mikey's team seek the Warrior Zone's code crown to use as a bargaining chip. |
| 24 | 24 | Monitamission Impossible | 2011-01-25 | 30 | The Monitamons' village needs protecting from attacking minions sent by Musyamon; at the same time, Jeremy heads up a rescue mission to save the princess. |
| 25 | 25 | Showdown in Shaky Town! | 2011-02-01 | 30 | Blastmon battles Christopher for 34 code crowns, but the Disc Zone starts to crumble. Meanwhile, doubts about Shoutman's strength surface after his DigiFusion vanishes. |
| 26 | 26 | Shoutmon - Bogus King or the Real Thing? | 2011-02-08 | 30 | Mikey gathers a large crowd at the Warrior Zone, where Shoutmon wonders about his own abilities to serve as a leader. |
| 27 | 27 | Sweet Zone Bake-Off! | 2011-02-15 | 30 | The Fusion Fighters battle the Bagra Forces in a bake-off, and the winners get the Sweet Zone. |
| 28 | 28 | Battle in the Digital Depths | 2011-02-22 | 30 | A rescue mission is mounted in the Digital Depths, where the Sweet Zone's Digimon and Cutemon's parents are in danger of losing their data. |
| 29 | 29 | Fall of the Final Code Crown | 2011-03-01 | 30 | Mikey defeats Grademon and obtains the last Code Crown, but then Tactimon challenges him to battle for all 108 Code Crowns. |
| 30 | 30 | When Worlds Collide | 2011-03-08 | 30 | Mikey and his pals return to Earth, but they realize they have to go back to the DigiWorld to help others. However, Tactimon disrupts their plans. |
Season 2
| Episode No. | No. Overall | Title | Airdate | Runtime | Summary |
| --- | --- | --- | --- | --- | --- |
| 1 | 31 | Back to the Digital World! Hot Time in Dragonland! | 2011-04-03 | 30 | Mikey and Shoutmon find the Digital World divided into seven sections, each ruled by a dark general. |
| 2 | 32 | Take a Stand, Christopher! Fusion Fighters' Rescue Mission! | 2011-04-10 | 30 | A rescue mission gets underway when a dark general named Dorbickmon tries to delete some Fusion Fighters. |
| 3 | 33 | Vampire Land and the Moonlight General | 2011-04-17 | 30 | A trip to Vampire Land reveals that some Digimon have been abducted by NeoMyotismon, one of the dark generals. |
| 4 | 34 | Hang On, Greymon! The Rise of Shoutmon DX | 2011-04-24 | 30 | NeoMyotismon absorbs Metal Greymon, so Mikey and Shoutman seek assistance from the White Lopmon. |
| 5 | 35 | The Power Drain: The Hunters of Honeyland | 2011-05-01 | 30 | The gang go to Honeyland, where digi-honey is being made from the drained energy of Digimon. While there, they meet a possible new ally in their fight against one of the dark generals. |
| 6 | 36 | Sweet Revenge: The Horrors of Honeyland! | 2011-05-08 | 30 | The gang experience terror at Honeyland's theme park, which is run by the region's dark general. |
| 7 | 37 | Ewan and the Land of Illusion | 2011-05-15 | 30 | Nene learns troubling news about her brother: He's become one of Lord Bagra's generals. |
| 8 | 38 | Psyche-Out in Cyber Land! | 2011-05-22 | 30 | A young girl from Cyber Land wants to join the team, but Dorulumon is suspicious about her. |
| 9 | 39 | The Water Tiger's Slippery Trap | 2011-05-29 | 30 | A shape-shifting dark general uses tricks and traps on Mikey and his pals. |
| 10 | 40 | Gold Land and the Irate Pirate! | 2011-06-05 | 30 | Mikey and his pals join a pirate crew in order to save Shoutmon and some other team members. |
| 11 | 41 | Ballistamon's Bad News Blast from the Past! | 2011-06-12 | 30 | Baillistamon's evil side is unleashed, so Shoutmon tries to transform him back to his old self. |
| 12 | 42 | Deep Trouble in Canyon Land! | 2011-06-26 | 30 | Christopher wants to go on a solo mission to defeat the Dark General of Canyon Land. |
| 13 | 43 | Great Fusion! The Power of Friendship | 2011-07-03 | 30 | Christopher turns on the Fusion Fighters and sets out to defeat Mikey and Shoutmon. |
| 14 | 44 | Regeneration Frustration! | 2011-07-17 | 30 | The Fusion Fighters pour their energy into the fight against Dark General Gravimon, who in addition to his fearsome army and ability to re-constitute his body, has set his sights on taking the power of X7 for himself. |
| 15 | 45 | Dark Side of the Sun | 2011-07-24 | 30 | The Fusion Fighters are divided on whether or not they can trust Apollomon, the Dark General of Bright Land, who claims he is secretly on their side and needs their help to defeat Lord Bagra. |
| 16 | 46 | The Dark Side of Bright Land | 2011-07-31 | 30 | Falling into Bright Land's underworld, the Fusion Fighters find themselves landed on ambiguous place. Soon, they spot and enter a white castle. While they found a throne and a crystal placed in the middle of the castle, Ewan send out a two ways virtual communication through the crystal from the dark castle, informing that they have landed into Hell's Field, declaring a battle. But the battle is unique as the losing group's general would be killed upon defeat. Christopher makes the decision to accept the offer to Mikey and Nene's shock. But Christopher reveals intent to make Ewan understand that the battle is not a game. As the battles take off, AxeKnightmon and Whispered's followers battle Shoutmon ×5, Beelzemon and Mervamon while Christopher has Cyberdramon attack Whispered and Sethmon. As Ewan predicts that the battle goes according to his will, he unexpectedly encounters with Mikey who strikes the black castle directly with MetalGreymon holding off Tuwarmon. While the fights goes on, a terrified Ewan flees from Mikey before taking a sword with the intent to settle things out in a duel. |
| 17 | 47 | The Battle of the Young Generals | 2011-08-07 | 30 | Taiki ends up facing Yuu in a sword fight and is losing against him. By then, Whispered appears and reports of Kiriha's defeat along with DarkKnightmon and Lilithmon chasing Nene, Shoutmon ×5, Beelzebumon and Mervamon. Yuu then reveals how he got to the Digital World and his encountering with DarkKnightmon, making the boy to unfold his true nature. Realizing the truth behind the facade, Taiki picks himself up and defeats Yuu while convincing that what DarkKnightmon said was nothing but lies. But, even with Nene's attempt to further convince him, Yuu refuses to believe and instead DigiXros DeadlyAxemon, all of Whispered's minions and Hell's fields' evil energy into Tuwarmon, assuming Deadly Tuwarmon Hell Mode. However, as the Xros Heart members gathered to form Shoutmon ×7 and cause some damages on Tuwarmon, Yuu begins to self doubt his faith in DarkKnightmon. Badly injured, Tuwarmon along with Yuu is forced to withdraw from the battle, who then asks him if Taiki is telling the truth. |
| 18 | 48 | Beezlemon's Revenge! | 2011-08-14 | 30 | Ewan's family comes to grips with the notion that the Digital World is not a game; Mikey and the Fusion Fighters must escape the underworld. |
| 19 | 49 | The Darkest Dark General of All! | 2011-08-21 | 30 | As Apollomon Whispered grows stronger, Mikey must come to terms with the fact that his ally may be lost forever; the Fusion Fighters regroup. |
| 20 | 50 | Prison Land | 2011-08-28 | 30 | The Fusion Fighters arrive at Lord Bagra's castle; all seven of the Dark Generals have regenerated to battle the Fighters. |
| 21 | 51 | Rotten to the Digi-Core! | 2011-09-11 | 30 | In an attempt to save his friends, Mikey allows Axeknightmon to extract his Digi-Core and is sent to the holding cell of Prison Land. |
| 22 | 52 | D5 and the Brotherhood of Evil! | 2011-09-18 | 30 | After escaping Prison Land, Mikey and the Fusion Fighters come face-to-face with Lord Bagra; Lord Bagra absorbs the Dark Code Crown and becomes stronger. |
| 23 | 53 | The Darkness Before the Dawn | 2011-09-18 | 30 | After witnessing Axeknightmon's treachery, the Fusion Fighters fear all hope is lost; the Fighters receive some unexpected help from a pair of old friends. |
| 24 | 54 | Final Fusion! The Fight for Earth! | 2011-09-25 | 30 | With both the human and the Digital World invaded by MegaDarkness Bagramon, the Fusion Fighters have one last hope; Mikey sets out to save Shoutmon; good and evil Digimon clash in an epic battle. |
Series Cast
| | | | |
| --- | --- | --- | --- |
| | Minami Takayama | as Mikey Kudo | |
| | Ryoko Shiraishi | as Angie Hinomoto | |
| | Daisuke Kishio | as Jeremy Tsurgi | |
| | Kanae Oki | as Ewan Amano | |
| | Takeshi Kusao | as Christopher Aonuma | |
| | Houko Kuwashima | as Nene Amano | |
Series Crew
| | Position | Name |
| --- | --- | --- |
| | Creator | Tetsuya Endo |
Related News
TVMaze