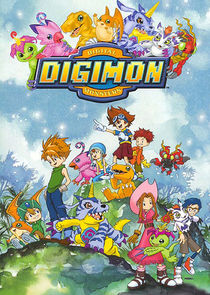 While at summer camp, seven kids - Tai, Matt, Sora, Izzy, Mimi, Joe, and T.K. - come across seven Digivices and are transported to a strange digital world. In this new world they make friends with creatures that call themselves Digimon - short for Digital Monsters - who were born to defend their world from various evil forces. The children learn they have the ability to help their new Digimon friends digivolve into different Digital Monsters and fight as a team to defend enemies and ultimately find their way home.
Series Overview
Rating
imDb Rating: 7.3 (19,426 Votes)
Metascore: N/A
Plot
A group of young teens is unexpectedly sent to the mysterious Digital World and paired up with their own powerful, morphing monster called the Digimon. Together the entire group set out on an adventure to fight evil and save the world.
Details
Rated: TV-Y7
Released: 14 Aug 1999
Runtime: 24 min
Genre: Animation, Action, Adventure, Family, Fantasy, Sci-Fi, Thriller
Director: N/A
Writer: N/A
Actors: Steve Blum, Mona Marshall, Tifanie Christun, Derek Stephen Prince
Language: English, Japanese
Country: Japan
Awards: N/A
Total Seasons: 4
Previous Episode
The Ultimate Farewell
Episode 5x48; Nov 01, 2008
Previous Episodes 5x48: The Ultimate Farewell 5x47: The Data Squad's Final Battle 5x46: The Truth About BanchoLeomon 5x45: A Family Quarrel! 5x44: Human Potential 5x43: Justice Equals Power! 5x42: Thomas Bursts on the Scene! 5x41: Father and Son Destiny 5x40: The Royal Knights Assemble

View All Episodes
Cast
Barbara Goodson as Nancy Takaishi
Barbara Goodson as Seiko Hata
Beau Billingslea as Ogremon
Bob Buchholz as Additional Voices
Brad MacDonald as Kazu
Brian Beacock as Takato Matsuki
View Full Cast
Skip to:
Season 1
| Episode No. | No. Overall | Title | Airdate | Runtime | Summary |
| --- | --- | --- | --- | --- | --- |
| 1 | 1 | And So It Begins... | 1999-08-14 | 30 | |
| 2 | 2 | The Birth of Greymon | 1999-08-21 | 30 | |
| 3 | 3 | Garurumon | 1999-08-28 | 30 | |
| 4 | 4 | Biyomon Gets Firepower | 1999-09-04 | 30 | |
| 5 | 5 | Kabuterimon's Electro Shocker | 1999-09-11 | 30 | |
| 6 | 6 | Togemon in Toy Town | 1999-09-20 | 30 | |
| 7 | 7 | Ikkakumon's Harpoon Torpedo | 1999-09-21 | 30 | |
| 8 | 8 | Evil Shows His Face | 1999-09-22 | 30 | |
| 9 | 9 | Subzero Ice Punch! | 1999-09-23 | 30 | |
| 10 | 10 | A Clue from the Digi-Past | 1999-09-24 | 30 | |
| 11 | 11 | The Dancing Digimon | 1999-09-25 | 30 | |
| 12 | 12 | DigiBaby Boom | 1999-09-30 | 30 | |
| 13 | 13 | The Legend of the Digidestined | 1999-10-01 | 30 | |
| 14 | 14 | Departure for a New Continent | 1999-10-02 | 30 | |
| 15 | 15 | The Dark Network of Etemon | 1999-10-04 | 30 | |
| 16 | 16 | The Arrival of Skullgreymon | 1999-10-05 | 30 | |
| 17 | 17 | The Crest of Sincerity | 1999-10-06 | 30 | |
| 18 | 18 | The Piximon Cometh | 1999-10-07 | 30 | |
| 19 | 19 | The Prisoner of the Pyramid (1) | 1999-10-08 | 30 | |
| 20 | 20 | The Earthquake of MetalGreymon (2) | 1999-10-09 | 30 | |
| 21 | 21 | Home Away from Home | 1999-10-16 | 30 | |
| 22 | 22 | Forget About It! | 1999-10-23 | 30 | |
| 23 | 23 | WereGarurumon's Diner | 1999-10-30 | 30 | |
| 24 | 24 | No Questions, Please | 1999-11-06 | 30 | |
| 25 | 25 | Princess Karaoke | 1999-11-06 | 30 | |
| 26 | 26 | Sora's Crest of Love | 1999-11-13 | 30 | |
| 27 | 27 | The Gateway to Home (1) | 1999-11-20 | 30 | |
| 28 | 28 | It's All in the Cards (2) | 1999-11-27 | 30 | |
| 29 | 29 | Return to Highton View Terrace | 1999-12-11 | 30 | |
| 30 | 30 | Almost Home Free | 1999-12-11 | 30 | |
| 31 | 31 | The Eighth Digivice | 1999-12-18 | 30 | |
| 32 | 32 | Gatomon Comes Calling | 1999-12-18 | 30 | |
| 33 | 33 | Out on the Town | 2000-01-29 | 30 | |
| 34 | 34 | The Eighth Child Revealed | 2000-02-05 | 30 | |
| 35 | 35 | Flower Power | 2000-02-05 | 30 | |
| 36 | 36 | City Under Siege (1) | 2000-02-12 | 30 | |
| 37 | 37 | Wizardmon's Gift (2) | 2000-02-12 | 30 | |
| 38 | 38 | Prophecy (1) | 2000-02-19 | 30 | |
| 39 | 39 | The Battle for Earth (2) | 2000-02-19 | 30 | |
| 40 | 40 | Enter the Dark Masters | 2000-02-26 | 30 | |
| 41 | 41 | Sea-Sick and Tired | 2000-02-26 | 30 | |
| 42 | 42 | Under Pressure | 2000-03-04 | 30 | |
| 43 | 43 | Playing Games | 2000-03-25 | 30 | |
| 44 | 44 | Trash Day | 2000-04-01 | 30 | |
| 45 | 45 | The Ultimate Clash | 2000-04-08 | 30 | |
| 46 | 46 | Etemon's Comeback Tour | 2000-04-15 | 30 | |
| 47 | 47 | Ogremon's Honor | 2000-04-22 | 30 | |
| 48 | 48 | My Sister's Keeper | 2000-04-29 | 30 | |
| 49 | 49 | The Crest of Light | 2000-05-06 | 30 | |
| 50 | 50 | Joe's Battle | 2000-05-13 | 30 | |
| 51 | 51 | The Crest of Friendship | 2000-05-20 | 30 | |
| 52 | 52 | Piedmon's Last Jest | 2000-05-20 | 30 | |
| 53 | 53 | Now Apocalymon (1) | 2000-06-24 | 30 | |
| 54 | 54 | The Fate of Two Worlds (2) | 2000-06-24 | 30 | |
Season 2
| Episode No. | No. Overall | Title | Airdate | Runtime | Summary |
| --- | --- | --- | --- | --- | --- |
| 1 | 55 | Enter Flamedramon | 2000-08-19 | 30 | |
| 2 | 56 | The Digiteam Complete | 2000-08-19 | 30 | |
| 3 | 57 | A New Digitude | 2000-08-26 | 30 | |
| 4 | 58 | Iron Vegiemon | 2000-08-26 | 30 | |
| 5 | 59 | Old Reliable | 2000-09-02 | 30 | |
| 6 | 60 | Family Picnic | 2000-09-02 | 30 | |
| 7 | 61 | Guardian Angel | 2000-09-09 | 30 | |
| 8 | 62 | Ken's Secret | 2000-09-16 | 30 | |
| 9 | 63 | The Emperor's New Home (1) | 2000-09-23 | 30 | |
| 10 | 64 | The Captive Digimon (2) | 2000-09-30 | 30 | |
| 11 | 65 | Storm of Friendship (3) | 2000-10-07 | 30 | |
| 12 | 66 | The Good, the Bad, and the Digi | 2000-10-14 | 30 | |
| 13 | 67 | His Master's Voice | 2000-10-21 | 30 | |
| 14 | 68 | The Samurai of Sincerity | 2000-10-28 | 30 | |
| 15 | 69 | Big Trouble in Little Edo | 2000-11-04 | 30 | |
| 16 | 70 | 20,000 Digi-Leagues Under the Sea | 2000-11-04 | 30 | |
| 17 | 71 | Ghost of a Chance | 2000-11-11 | 30 | |
| 18 | 72 | Run Yolei Run (1) | 2000-11-11 | 30 | |
| 19 | 73 | An Old Enemy Returns (2) | 2000-11-18 | 30 | |
| 20 | 74 | The Darkness Before Dawn (3) | 2000-11-18 | 30 | |
| 21 | 75 | The Crest of Kindness (4) | 2000-11-18 | 30 | |
| 22 | 76 | Davis Cries Wolfmon | 2000-12-02 | 30 | |
| 23 | 77 | Genesis of Evil | 2000-12-02 | 30 | |
| 24 | 78 | If I Had a Tail Hammer | 2000-12-09 | 30 | |
| 25 | 79 | Spirit Needle | 2000-12-09 | 30 | |
| 26 | 80 | United We Stand (1) | 2001-02-03 | 30 | |
| 27 | 81 | Fusion Confusion (2) | 2001-02-03 | 30 | |
| 28 | 82 | The Insect Master's Trap (1) | 2001-02-03 | 30 | |
| 29 | 83 | Arukenimon's Tangled Web (2) | 2001-02-10 | 30 | |
| 30 | 84 | Ultimate Anti-Hero | 2001-02-10 | 30 | |
| 31 | 85 | Opposites Attract | 2001-02-17 | 30 | |
| 32 | 86 | If I Only Had a Heart | 2001-02-17 | 30 | |
| 33 | 87 | A Chance Encounter | 2001-02-24 | 30 | |
| 34 | 88 | Destiny in Doubt | 2001-02-24 | 30 | |
| 35 | 89 | Cody Takes a Stand | 2001-03-03 | 30 | |
| 36 | 90 | Stone Soup (1) | 2001-03-10 | 30 | |
| 37 | 91 | Kyoto Dragon (2) | 2001-03-17 | 30 | |
| 38 | 92 | A Very Digi Christmas | 2001-03-24 | 30 | |
| 39 | 93 | Dramon Power | 2001-03-31 | 30 | |
| 40 | 94 | Digimon World Tour (1) | 2001-04-07 | 30 | |
| 41 | 95 | Digimon World Tour (2) | 2001-04-14 | 30 | |
| 42 | 96 | Digimon World Tour (3) | 2001-04-21 | 30 | |
| 43 | 97 | Invasion of the Daemon Corps | 2001-04-28 | 30 | |
| 44 | 98 | Dark Sun, Dark Spore | 2001-04-28 | 30 | |
| 45 | 99 | The Dark Gate | 2001-05-05 | 30 | |
| 46 | 100 | Duel of the WarGreymon | 2001-05-05 | 30 | |
| 47 | 101 | BlackWarGreymon's Destiny | 2001-05-12 | 30 | |
| 48 | 102 | Oikawa's Shame (1) | 2001-05-12 | 30 | |
| 49 | 103 | The Last Temptation of the DigiDestined (2) | 2001-05-19 | 30 | |
| 50 | 104 | A Million Points of Light (3) | 2001-05-19 | 30 | |
Season 3
| Episode No. | No. Overall | Title | Airdate | Runtime | Summary |
| --- | --- | --- | --- | --- | --- |
| 1 | 105 | Guilmon Comes Alive (1) | 2001-09-01 | 30 | |
| 2 | 106 | Digimon, Digimon Everywhere (2) | 2001-09-01 | 30 | |
| 3 | 107 | To Fight or Not to Fight | 2001-09-08 | 30 | |
| 4 | 108 | It Came from the Other Side | 2001-09-08 | 30 | |
| 5 | 109 | Dream a Little Dream | 2001-09-15 | 30 | |
| 6 | 110 | O Partner, Where Art Thou? | 2001-09-15 | 30 | |
| 7 | 111 | Now You See It, Now You Don't | 2001-09-22 | 30 | |
| 8 | 112 | A Question of Trust | 2001-09-29 | 30 | |
| 9 | 113 | Not as Seen on TV | 2001-09-29 | 30 | |
| 10 | 114 | The Icemon Cometh | 2001-10-06 | 30 | |
| 11 | 115 | Much Ado About Musyamon | 2001-10-06 | 30 | |
| 12 | 116 | Divided They Stand | 2001-10-13 | 30 | |
| 13 | 117 | Juggernaut | 2001-10-20 | 30 | |
| 14 | 118 | Grow Mon Grow | 2001-10-27 | 30 | |
| 15 | 119 | Snakes, Trains, and Digimon (1) | 2001-11-03 | 30 | |
| 16 | 120 | Back to Nature, Back to Battle (2) | 2001-11-03 | 30 | |
| 17 | 121 | Duel with the Deva (3) | 2001-11-03 | 30 | |
| 18 | 122 | Digital Beauty | 2001-11-10 | 30 | |
| 19 | 123 | Impmon's Last Stand | 2001-11-10 | 30 | |
| 20 | 124 | Out of the Blue | 2001-11-17 | 30 | |
| 21 | 125 | Jeri's Quest | 2001-11-17 | 30 | |
| 22 | 126 | The Boar Wars | 2001-11-24 | 30 | |
| 23 | 127 | A World Apart | 2001-12-01 | 30 | |
| 24 | 128 | The Journey Begins | 2001-12-08 | 30 | |
| 25 | 129 | Brave New Digital World | 2001-12-15 | 30 | |
| 26 | 130 | Kazu and Kenta's Excellent Adventure | 2002-02-09 | 30 | |
| 27 | 131 | Motorcycle Madness | 2002-02-09 | 30 | |
| 28 | 132 | Blame It on Ryo | 2002-02-16 | 30 | |
| 29 | 133 | Goliath | 2002-02-16 | 30 | |
| 30 | 134 | The Imperfect Storm | 2002-02-23 | 30 | |
| 31 | 135 | Kazu's Upgrade | 2002-02-23 | 30 | |
| 32 | 136 | Shibumi Speaks | 2002-03-02 | 30 | |
| 33 | 137 | Rabbit Transit | 2002-03-02 | 30 | |
| 34 | 138 | Lionheart | 2002-03-09 | 30 | |
| 35 | 139 | Give a Little Bit | 2002-03-09 | 30 | |
| 36 | 140 | The Battle Within | 2002-03-16 | 30 | |
| 37 | 141 | No Mon is an Island | 2002-03-16 | 30 | |
| 38 | 142 | Azulongmon Explains It All | 2002-03-23 | 30 | |
| 39 | 143 | Song of Sakuyamon | 2002-03-30 | 30 | |
| 40 | 144 | Janyu's Ark | 2002-04-06 | 30 | |
| 41 | 145 | Homeward Bound | 2002-04-13 | 30 | |
| 42 | 146 | Reunion | 2002-04-20 | 30 | |
| 43 | 147 | Beelzemon's Big Day | 2002-04-27 | 30 | |
| 44 | 148 | The Messenger | 2002-05-04 | 30 | |
| 45 | 149 | The D-Reaper's Disguise | 2002-05-11 | 30 | |
| 46 | 150 | When is a Mon Justimon? | 2002-05-11 | 30 | |
| 47 | 151 | His Kingdom for a Horse | 2002-05-18 | 30 | |
| 48 | 152 | Shadow of the Beast King | 2002-05-18 | 30 | |
| 49 | 153 | D-Reaper's Feast | 2002-06-01 | 30 | |
| 50 | 154 | Jeri Fights Back (1) | 2002-06-08 | 30 | |
| 51 | 155 | Such Sweet Sorrow (2) | 2002-06-08 | 30 | |
Season 4
| Episode No. | No. Overall | Title | Airdate | Runtime | Summary |
| --- | --- | --- | --- | --- | --- |
| 1 | 156 | All Aboard | 2002-09-09 | 30 | |
| 2 | 157 | Lobomon: Warrior of Light | 2002-09-16 | 30 | |
| 3 | 158 | Kumamon Baby, Light My Fire | 2002-09-23 | 30 | |
| 4 | 159 | Kazemon Kicks It | 2002-09-30 | 30 | |
| 5 | 160 | Ladies and Gentlemen: The Beetlemon | 2002-10-07 | 30 | |
| 6 | 161 | A Molehill Out of a Mountain | 2002-10-14 | 30 | |
| 7 | 162 | Island of Misfit Boys | 2002-10-21 | 30 | |
| 8 | 163 | The Odd One Out | 2002-10-28 | 30 | |
| 9 | 164 | Welcome to My Nightmare | 2002-11-11 | 30 | |
| 10 | 165 | Can't Keep a Grumblemon Down | 2002-11-12 | 30 | |
| 11 | 166 | A Hunka Hunka BurningGreymon (1) | 2002-11-13 | 30 | |
| 12 | 167 | Fear and Loathing in Los Arboles (2) | 2002-11-14 | 30 | |
| 13 | 168 | Better an Egg Than an Egg Shell | 2002-11-15 | 30 | |
| 14 | 169 | No Whamon | 2002-11-18 | 30 | |
| 15 | 170 | Beastie Girl (1) | 2002-11-19 | 30 | |
| 16 | 171 | The Swiss Family Digimon (2) | 2002-11-20 | 30 | |
| 17 | 172 | Bizarre Bazaar | 2002-11-21 | 30 | |
| 18 | 173 | Trailmon vs. Trailmon | 2002-11-22 | 30 | |
| 19 | 174 | You Want Fries with That? | 2002-12-16 | 30 | |
| 20 | 175 | From Dawn to Duskmon (1) | 2002-12-17 | 30 | |
| 21 | 176 | Darkest Before Duskmon (2) | 2002-12-18 | 30 | |
| 22 | 177 | Home Again, Takuya Returns (3) | 2002-12-19 | 30 | |
| 23 | 178 | Sockit Takuya | 2003-02-10 | 30 | |
| 24 | 179 | Alone But Never Alone | 2003-02-11 | 30 | |
| 25 | 180 | The Dark Heart of Friendship | 2003-02-12 | 30 | |
| 26 | 181 | Zoe's Unbeelievable Adventure | 2003-02-13 | 30 | |
| 27 | 182 | Stuck in Sakkakumon with You | 2003-02-14 | 30 | |
| 28 | 183 | Darkness Before the Dawn | 2003-02-17 | 30 | |
| 29 | 184 | Phantasmagoric Sakkakumon | 2003-02-18 | 30 | |
| 30 | 185 | O, Brother, Who Art Thou? | 2003-02-19 | 30 | |
| 31 | 186 | Workin' on the Train Gang | 2003-02-20 | 30 | |
| 32 | 187 | My Brother in Spirit (1) | 2003-03-24 | 30 | |
| 33 | 188 | Ne'er the Twins Shall Meet (2) | 2003-03-25 | 30 | |
| 34 | 189 | Operation: Free Ophanimon | 2003-03-26 | 30 | |
| 35 | 190 | Takuya and Koji's Evolution Revolution | 2003-03-27 | 30 | |
| 36 | 191 | Ice Ice Baby | 2003-03-28 | 30 | |
| 37 | 192 | Cherubimania | 2003-05-11 | 30 | |
| 38 | 193 | It Can't Be! Lucemon Reappears | 2003-05-12 | 30 | |
| 39 | 194 | The Man in the Moon is You | 2003-05-13 | 30 | |
| 40 | 195 | The Bully Pulpit (1) | 2003-05-14 | 30 | |
| 41 | 196 | Jerks and the Beanstalk (2) | 2003-05-15 | 30 | |
| 42 | 197 | Glean Eggs and Scram | 2003-05-16 | 30 | |
| 43 | 198 | Bad to the Bones | 2003-07-06 | 30 | |
| 44 | 199 | Now You See It, Now You Don't | 2003-07-07 | 30 | |
| 45 | 200 | All Aboard the Tag Team Express | 2003-07-08 | 30 | |
| 46 | 201 | To Make the World Go Away | 2003-07-09 | 30 | |
| 47 | 202 | When Knights Fall... (1) | 2003-07-10 | 30 | |
| 48 | 203 | The Brothers Yin and Yang (2) | 2003-07-11 | 30 | |
| 49 | 204 | Lucemon on the Loose (3) | 2003-07-13 | 30 | |
| 50 | 205 | End of the Line (4) | 2003-07-14 | 30 | |
Series Cast
| | | | |
| --- | --- | --- | --- |
| | Barbara Goodson | as Nancy Takaishi | |
| | Barbara Goodson | as Seiko Hata | |
| | Beau Billingslea | as Ogremon | |
| | Bob Buchholz | as Additional Voices | |
| | Brad MacDonald | as Kazu | |
| | Brian Beacock | as Takato Matsuki | |
| | Brian Beacock | as Gallantmon | |
| | Brian Beacock | as Bokomon | |
| | Crispin Freeman | as Kouichi Kimura | |
| | Crispin Freeman | as Duskmon | |
| | Crispin Freeman | as Velgemon | |
| | Crispin Freeman | as Lowemon | |
| | Crispin Freeman | as JagerLowemon | |
| | Dave Mallow | as Angemon | |
| | Dave Wittenberg | as Henry Wong | |
| | Dave Wittenberg | as MegaGargomon | |
| | Dave Wittenberg | as Trailmon | |
| | Dave Wittenberg | as EmperorG | |
| | Derek Stephen Prince | as DemiDevimon; Ken Ichijouji | |
| | Derek Stephen Prince | as Veemon | |
| | Derek Stephen Prince | as DemiVeemon | |
| | Derek Stephen Prince | as X-Veemon | |
| | Derek Stephen Prince | as Paildramon | |
| | George C. Cole | as Paildramon | |
| | Derek Stephen Prince | as Imperialdramon | |
| | George C. Cole | as Imperialdramon | |
| | George C. Cole | as Wormmon | |
| | Jamieson Price | as Oikawa | |
| | Kirk Thornton | as Tsunomon | |
| | Kirk Thornton | as Gabumon | |
| | Kirk Thornton | as Garurumon | |
| | Kirk Thornton | as WereGarurumon | |
| | Kirk Thornton | as MetalGarurumon | |
| | Kirk Thornton | as Mummymon | |
| | Kirk Thornton | as Takehiro Mats | |
| | Lara Jill Miller | as Kari Kamiya | |
| | Mari Devon | as Togemon | |
| | Mary Elizabeth McGlynn | as Rika's Mom | |
| | Mary Elizabeth McGlynn | as D-Power | |
| | Mary Elizabeth McGlynn | as Ophanimon | |
| | Michael Sorich | as Zudomon | |
| | Michelle Ruff | as Antylamon | |
| | Mona Marshall | as Izzy Izumi | |
| | Mona Marshall | as Terriermon | |
| | Mona Marshall | as Gargomon | |
| | Mona Marshall | as Rapidmon | |
| | Mona Marshall | as Me | |
| | Peggy O'Neal | as June Motomiya | |
| | Philece Sampler | as Mimi Tachikawa | |
| | Philece Sampler | as Cody Hida | |
| | Philece Sampler | as Yoshie Matsu | |
| | R. Martin Klein | as Gomamon | |
| | R. Martin Klein | as Ikkakumon | |
| | R. Martin Klein | as Bukamon | |
| | Richard Epcar | as Etemon | |
| | Richard Epcar | as MetalEtemon | |
| | Richard Epcar | as Myotismon | |
| | Richard Epcar | as VenomMyotismon | |
| | Richard Epcar | as MaloMyotismon | |
| | Richard Steven Horvitz | as Birdramon | |
| | Richard Steven Horvitz | as Garudamon | |
| | Robert Axelrod | as Armadillomon | |
| | Steve Staley | as Ryo Akiyama | |
| | Lex Lang | as Justimon | |
| | Steve Staley | as Justimon | |
| | Steve Staley | as Koji Minamoto | |
| | Steve Staley | as Lobomon | |
| | Steve Staley | as KendoGarurumon | |
| | Steven Jay Blum | as Pururumon | |
| | Steven Jay Blum | as Flamedramon | |
| | Steven Jay Blum | as Raidramon | |
| | Steven Jay Blum | as Magnamon | |
| | Steven Jay Blum | as Guilmon | |
| | Steven Jay Blum | as Growlmon | |
| | Steven Jay Blum | as WarGrowlmon | |
| | Steven Jay Blum | as Gallan | |
| | Susumu Chiba | as Mitsuo yamaki | |
| | Tom Wyner | as Narrator | |
| | Tom Wyner | as Additional Voices | |
| | Wendee Lee | as TK | |
| | Wendee Lee | as Daisy | |
| | Wendee Lee | as Minomon | |
| | Wendee Lee | as Mako | |
| | Dave Mallow | as MagnaAngemon | |
| | Dave Mallow | as Pegasusmon | |
| | Dave Mallow | as Shakkoumon | |
| | George C. Cole | as Stingmon | |
| | George C. Cole | as Leomon | |
| | Jamieson Price | as Mr. Wong | |
| | Lara Jill Miller | as Nami Asagi | |
| | Mari Devon | as Arukenimon | |
| | Mari Devon | as Renamon | |
| | Mari Devon | as Ky | |
| | Michael Sorich | as Andromon | |
| | Michael Sorich | as Elecmon | |
| | Michelle Ruff | as Lopmon | |
| | Michelle Ruff | as Zoe Orimoto | |
| | Michelle Ruff | as Kazemon | |
| | Michelle Ruff | as Zephyrmon | |
| | Peggy O'Neal | as Tally | |
| | Peggy O'Neal | as Suzie Wong | |
| | Robert Axelrod | as Ankylomon | |
| | Robert Axelrod | as Shakkoumon | |
| | Robert Axelrod | as Wizardmon | |
| | Michael Sorich | as Neemon | |
| | Michael Sorich | as Sukamon | |
| | Lex Lang | as WarGreymon | |
| | Lex Lang | as Cyberdramon | |
| | Dan Woren | as Agumon | |