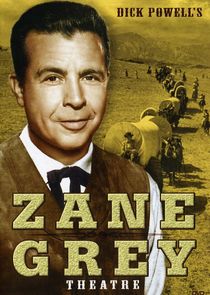 Dick Powell's Zane Grey Theatre, sometimes simply called Zane Grey Theatre, is an American Western anthology series which ran on CBS from October 5, 1956 - May 18, 1961.
Series Overview
Rating
imDb Rating: 7.6 (327 Votes)
Metascore: N/A
Plot
An anthology based (earlier more so than later) on the novels and stories of Zane Grey. Dick Powell was often the star, as well as the host.
Details
Rated: TV-PG
Released: 05 Oct 1956
Runtime: 25 min
Genre: Western
Director: N/A
Writer: Luke Short, Charles A. Wallace
Actors: Dick Powell
Language: English
Country: USA
Awards: 1 win.
Total Seasons: 5
Previous Episode
Jericho
Episode 5x30; May 18, 1961
Previous Episodes 5x30: Jericho 5x29: Image of a Drawn Sword 5x28: Storm Over Eden 5x27: The Release 5x26: Man from Everywhere 5x25: The Atoner 5x24: The Empty Shell 5x23: A Warm Day in Heaven 5x22: Knight of the Sun

View All Episodes
Skip to:
Season 1
| Episode No. | No. Overall | Title | Airdate | Runtime | Summary |
| --- | --- | --- | --- | --- | --- |
| 1 | 1 | You Only Run Once | 1956-10-05 | 30 | |
| 2 | 2 | The Fearful Courage | 1956-10-12 | 30 | Louise Brandon flees from her ranch after her husband is killed by a gunman who has been paid to get the deed to her land, by violence if necessary. James Whitmore stars as a hermit who's not eager to help Louise flee a murderous gunslinger. |
| 3 | 3 | The Long Road Home | 1956-10-19 | 30 | |
| 4 | 4 | The Unrelenting Sky | 1956-10-26 | 30 | A rancher and his wife run into more hardship than happiness as they struggle to settle on their Arizona homestead. |
| 5 | 5 | The Lariat | 1956-11-02 | 30 | |
| 6 | 6 | Death Watch | 1956-11-09 | 30 | In a desert, four ragged survivors of a frontier regiment tensely await help, fearing that any minute the Apaches infesting the desert will discover their hiding place. |
| 7 | 7 | Stage to Tucson | 1956-11-16 | 30 | |
| 8 | 8 | A Quiet Sunday in San Ardo | 1956-11-23 | 30 | |
| 9 | 9 | Vengeance Canyon | 1956-11-30 | 30 | |
| 10 | 10 | Return to Nowhere | 1956-12-07 | 30 | |
| 11 | 11 | Courage is a Gun | 1956-12-14 | 30 | |
| 12 | 12 | Muletown Gold Strike | 1956-12-21 | 30 | |
| 13 | 13 | Stars Over Texas | 1956-12-28 | 30 | |
| 14 | 14 | The Three Graves | 1957-01-04 | 30 | |
| 15 | 15 | No Man Living | 1957-01-11 | 30 | |
| 16 | 16 | Time of Decision | 1957-01-18 | 30 | |
| 17 | 17 | Until the Man Dies | 1957-01-25 | 30 | |
| 18 | 18 | Back Trail | 1957-02-01 | 30 | |
| 19 | 19 | Dangerous Orders | 1957-02-08 | 30 | |
| 20 | 20 | The Necessary Breed | 1957-02-15 | 30 | |
| 21 | 21 | Village of Fear | 1957-03-01 | 30 | |
| 22 | 22 | Black Creek Encounter | 1957-03-08 | 30 | |
| 23 | 23 | There Were Four | 1957-03-15 | 30 | |
| 24 | 24 | Fugitive | 1957-03-22 | 30 | |
| 25 | 25 | A Time to Live | 1957-04-05 | 30 | |
| 26 | 26 | Black is for Grief | 1957-04-12 | 30 | |
| 27 | 27 | Badge of Honor | 1957-05-03 | 30 | |
| 28 | 28 | Decision at Wilson's Creek | 1957-05-17 | 30 | |
| 29 | 29 | Man on the Run | 1957-06-21 | 30 | |
Season 2
| Episode No. | No. Overall | Title | Airdate | Runtime | Summary |
| --- | --- | --- | --- | --- | --- |
| 1 | 30 | The Deserters | 1957-10-04 | 30 | |
| 2 | 31 | Blood in the Dust | 1957-10-11 | 30 | |
| 3 | 32 | A Gun is for Killing | 1957-10-18 | 30 | |
| 4 | 33 | Proud Woman | 1957-10-25 | 30 | |
| 5 | 34 | Ride a Lonely Trail | 1957-11-02 | 30 | |
| 6 | 35 | The Promise | 1957-11-08 | 30 | |
| 7 | 36 | Episode in Darkness | 1957-11-15 | 30 | |
| 8 | 37 | The Open Cell | 1957-11-22 | 30 | |
| 9 | 38 | A Man to Look Up To | 1957-11-29 | 30 | |
| 10 | 39 | The Bitter Land | 1957-12-06 | 30 | |
| 11 | 40 | Gift from a Gunman | 1957-12-13 | 30 | |
| 12 | 41 | A Gun for My Bride | 1957-12-27 | 30 | |
| 13 | 42 | Man Unforgiving | 1958-01-03 | 30 | |
| 14 | 43 | Trial by Fear | 1958-01-10 | 30 | |
| 15 | 44 | The Freighter | 1958-01-17 | 30 | |
| 16 | 45 | This Man Must Die | 1958-01-24 | 30 | |
| 17 | 46 | Wire | 1958-01-31 | 30 | |
| 18 | 47 | License to Kill | 1958-02-07 | 30 | |
| 19 | 48 | Sundown at Bitter Creek | 1958-02-14 | 30 | |
| 20 | 49 | The Stranger | 1958-02-28 | 30 | |
| 21 | 50 | The Sharpshooter | 1958-03-07 | 30 | |
| 22 | 51 | Man of Fear | 1958-03-14 | 30 | |
| 23 | 52 | The Doctor Keeps a Promise | 1958-03-21 | 30 | |
| 24 | 53 | Three Days to Death | 1958-04-04 | 30 | |
| 25 | 54 | Shadow of a Dead Man | 1958-04-11 | 30 | |
| 26 | 55 | Debt of Gratitude | 1958-04-18 | 30 | |
| 27 | 56 | A Handful of Ashes | 1958-05-02 | 30 | |
| 28 | 57 | Threat of Violence | 1958-05-23 | 30 | |
| 29 | 58 | Utopia, Wyoming | 1958-06-06 | 30 | |
Season 3
| Episode No. | No. Overall | Title | Airdate | Runtime | Summary |
| --- | --- | --- | --- | --- | --- |
| 1 | 59 | Trail to Nowhere | 1958-10-02 | 30 | |
| 2 | 60 | The Scaffold | 1958-10-09 | 30 | |
| 3 | 61 | Homecoming | 1958-10-23 | 30 | |
| 4 | 62 | The Accuser | 1958-10-30 | 30 | |
| 5 | 63 | Legacy of a Legend | 1958-11-06 | 30 | |
| 6 | 64 | To Sit in Judgment | 1958-11-13 | 30 | |
| 7 | 65 | The Tall Shadow | 1958-11-20 | 30 | |
| 8 | 66 | The Vaunted | 1958-11-27 | 30 | |
| 9 | 67 | Pressure Point | 1958-12-04 | 30 | |
| 10 | 68 | Bury Me Dead | 1958-12-11 | 30 | |
| 11 | 69 | Let the Man Die | 1958-12-18 | 30 | |
| 12 | 70 | Medal for Valor | 1958-12-25 | 30 | |
| 13 | 71 | Living is a Lonesome Thing | 1959-01-01 | 30 | |
| 14 | 72 | Day of the Killing | 1959-01-08 | 30 | |
| 15 | 73 | Hang the Heart High | 1959-01-15 | 30 | |
| 16 | 74 | Welcome Home a Stranger | 1959-01-22 | 30 | |
| 17 | 75 | Trail Incident | 1959-01-29 | 30 | |
| 18 | 76 | Make It Look Good | 1959-02-05 | 30 | |
| 19 | 77 | A Thread of Respect | 1959-02-12 | 30 | |
| 20 | 78 | Deadfall | 1959-02-19 | 30 | |
| 21 | 79 | The Last Raid | 1959-02-26 | 30 | |
| 22 | 80 | Man Alone | 1959-03-05 | 30 | |
| 23 | 81 | Hanging Fever | 1959-03-12 | 30 | |
| 24 | 82 | Trouble at Tres Cruces | 1959-03-26 | 30 | |
| 25 | 83 | Heritage | 1959-04-02 | 30 | |
| 26 | 84 | The Sunrise Gun | 1959-04-16 | 30 | |
| 27 | 85 | Checkmate | 1959-04-30 | 30 | |
| 28 | 86 | Mission to Marathon | 1959-05-14 | 30 | |
| 29 | 87 | The Law and the Gun | 1959-06-04 | 30 | |
Season 4
| Episode No. | No. Overall | Title | Airdate | Runtime | Summary |
| --- | --- | --- | --- | --- | --- |
| 1 | 88 | Interrogation | 1959-10-01 | 30 | |
| 2 | 89 | The Lone Woman | 1959-10-08 | 30 | |
| 3 | 90 | Confession | 1959-10-15 | 30 | |
| 4 | 91 | The Lonely Gun | 1959-10-22 | 30 | |
| 5 | 92 | Hand on the Latch | 1959-10-29 | 30 | |
| 6 | 93 | Shadows | 1959-11-05 | 30 | |
| 7 | 94 | Mission | 1959-11-12 | 30 | |
| 8 | 95 | Lonesome Road | 1959-11-19 | 30 | |
| 9 | 96 | King of the Valley | 1959-11-26 | 30 | |
| 10 | 97 | Rebel Ranger | 1959-12-03 | 30 | |
| 11 | 98 | Death in a Wood | 1959-12-17 | 30 | |
| 12 | 99 | The Grubstake | 1959-12-24 | 30 | |
| 13 | 100 | The Ghost | 1959-12-31 | 30 | |
| 14 | 101 | Miss Jenny | 1960-01-07 | 30 | |
| 15 | 102 | The Reckoning | 1960-01-14 | 30 | |
| 16 | 103 | Wayfarers | 1960-01-21 | 30 | |
| 17 | 104 | Picture of Sal | 1960-01-28 | 30 | |
| 18 | 105 | Never Too Late | 1960-02-04 | 30 | |
| 19 | 106 | Man in the Middle | 1960-02-11 | 30 | |
| 20 | 107 | Guns for Garibaldi | 1960-02-18 | 30 | |
| 21 | 108 | The Sunday Man | 1960-02-25 | 30 | |
| 22 | 109 | Set-Up | 1960-03-03 | 30 | |
| 23 | 110 | A Small Town That Died | 1960-03-10 | 30 | |
| 24 | 111 | Killer Instinct | 1960-03-17 | 30 | |
| 25 | 112 | Sundown Smith | 1960-03-24 | 30 | |
| 26 | 113 | Calico Bait | 1960-03-31 | 30 | |
| 27 | 114 | Seed of Evil | 1960-04-07 | 30 | |
| 28 | 115 | Deception | 1960-04-14 | 30 | |
| 29 | 116 | Stagecoach to Yuma | 1960-05-05 | 30 | |
Season 5
| Episode No. | No. Overall | Title | Airdate | Runtime | Summary |
| --- | --- | --- | --- | --- | --- |
| 1 | 117 | A Gun for Willie | 1960-10-06 | 30 | |
| 2 | 118 | Desert Flight | 1960-10-13 | 30 | |
| 3 | 119 | Cry Hope! Cry Hate! | 1960-10-20 | 30 | |
| 4 | 120 | The Ox | 1960-11-03 | 30 | |
| 5 | 121 | So Young the Savage Land | 1960-11-20 | 30 | |
| 6 | 122 | Ransom | 1960-11-17 | 30 | |
| 7 | 123 | The Last Bugle | 1960-11-24 | 30 | |
| 8 | 124 | The Black Wagon | 1960-12-01 | 30 | |
| 9 | 125 | Knife of Hate | 1960-12-08 | 30 | |
| 10 | 126 | The Mormons | 1960-12-15 | 30 | |
| 11 | 127 | The Man from Yesterday | 1960-12-22 | 30 | |
| 12 | 128 | Morning Incident | 1960-12-29 | 30 | |
| 13 | 129 | Ambush | 1961-01-05 | 30 | |
| 14 | 130 | One Must Die | 1961-01-12 | 30 | |
| 15 | 131 | The Long Shadow | 1961-01-19 | 30 | |
| 16 | 132 | Blood Red | 1961-01-29 | 30 | |
| 17 | 133 | Honor Bright | 1961-02-02 | 30 | |
| 18 | 134 | The Broken Wing | 1961-02-09 | 30 | |
| 19 | 135 | The Silent Sentry | 1961-02-16 | 30 | |
| 20 | 136 | The Bible Man | 1961-02-23 | 30 | |
| 21 | 137 | The Scar | 1961-03-02 | 30 | |
| 22 | 138 | Knight of the Sun | 1961-03-09 | 30 | |
| 23 | 139 | A Warm Day in Heaven | 1961-03-23 | 30 | |
| 24 | 140 | The Empty Shell | 1961-03-30 | 30 | |
| 25 | 141 | The Atoner | 1961-04-06 | 30 | |
| 26 | 142 | Man from Everywhere | 1961-04-13 | 30 | |
| 27 | 143 | The Release | 1961-04-27 | 30 | |
| 28 | 144 | Storm Over Eden | 1961-05-04 | 30 | |
| 29 | 145 | Image of a Drawn Sword | 1961-05-11 | 30 | |
| 30 | 146 | Jericho | 1961-05-18 | 30 | |
Series Cast
| | | | |
| --- | --- | --- | --- |
| | Dick Powell | as Host | |
Series Crew
| | Position | Name |
| --- | --- | --- |
| | Creator | Luke Short |
| | Creator | Charles A. Wallace |
Related News
TVMaze