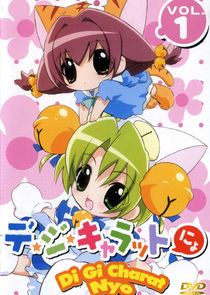 This show follows Dejiko (Di Gi Charat), Puchiko (Petit Charat), and Gema as they travel to earth for Dejiko's "princess training". soon after they crash land they meet two brothers who own a toy store, who offer them a room to stay in. Later they meet a school girl named Usada, but she insists on being called Rabi~en~rose (Dejiko constantly calls her Usada just to annoy her). she soon discovers she can fly with her rabbit ears. But she is not alone with her magical abilities, Dejiko also has a powerful eye beam attack that is enabled whenever she gets mad, and a magical bag containing many items to help her with her training. Dejiko and Rabi~en~rose are both obsessed with becoming idols.
Series Overview
Rating
imDb Rating: 6.8 (24 Votes)
Metascore: N/A
Plot
Dejiko continues her training to become the Princess of Di Gi Charat, along with her two friends Rabi~En~Rose and Puchiko!
Details
Rated: N/A
Released: 06 Apr 2003
Runtime: 13 min
Genre: Animation, Comedy, Family
Director: N/A
Writer: Koge Donbo
Actors: Shion Hirota, Taliesin Jaffe
Language: English, Japanese
Country: Japan
Awards: N/A
Total Seasons: 1
Previous Episode
Di Gi Charat Returns to the Planet-nyo
Episode 1x104; Mar 28, 2004
Previous Episodes 1x104: Di Gi Charat Returns to the Planet-nyo 1x103: Princess School Festival-nyo 1x102: Digiko no Sakubun Happyou nyo 1x101: Chotto dake Oneesan kibun nyo 1x100: Shoutengai ni Princess School nyo 1x99: Princess School Seven Wonders-nyo 1x98: Digiko no Karei na Tabi nyo 1x97: Kaeri Michi de Yori Michi nyo 1x96: Me kara Beam ha Oshimaika nyo?

View All Episodes
Skip to:
Season 1
| Episode No. | No. Overall | Title | Airdate | Runtime | Summary |
| --- | --- | --- | --- | --- | --- |
| 1 | 1 | It's Dejiko-nyo! | 2003-04-06 | 15 | |
| 2 | 2 | Together With Puchiko-nyo? | 2003-04-06 | 15 | |
| 3 | 3 | The Riddle Cell Phone-nyo | 2003-04-13 | 15 | |
| 4 | 4 | I Won't Call You Rabi~En~Rose-nyo | 2003-04-13 | 15 | |
| 5 | 5 | Baked Puchiko is Delicious-nyu | 2003-04-20 | 15 | |
| 6 | 6 | Dejiko is a Princess-nyo | 2003-04-20 | 15 | |
| 7 | 7 | A Splendid Day for Usada-nyo | 2003-04-27 | 15 | |
| 8 | 8 | A Public Bath Called | 2003-04-27 | 15 | |
| 9 | 9 | Usada's Bo-Bo School -nyo! | 2003-05-04 | 15 | |
| 10 | 10 | Nazo no Omise ni Otsukai nyo | 2003-05-04 | 15 | |
| 11 | 11 | Ayatori Meijinsen nyo | 2003-05-11 | 15 | |
| 12 | 12 | Amaenbou da nyo | 2003-05-11 | 15 | |
| 13 | 13 | Shoutengai de Oouridashi nyo | 2003-05-18 | 15 | |
| 14 | 14 | Oouridashi de Kayou Show nyo | 2003-05-18 | 15 | |
| 15 | 15 | Itokono Neechan ka nyo | 2003-05-25 | 15 | |
| 16 | 16 | Digiko Megane ha Kowai nyo | 2003-05-25 | 15 | |
| 17 | 17 | Digiko no Wagashizukuri nyo | 2003-06-01 | 15 | |
| 18 | 18 | Kiyoshi, You're Great-nyo! | 2003-06-01 | 15 | |
| 19 | 19 | Derorin Chirorin nyo | 2003-06-08 | 15 | |
| 20 | 20 | Himashiyu kara waita nyo | 2003-06-08 | 15 | |
| 21 | 21 | Manmaru Jinja no ikimono nyo | 2003-06-15 | 15 | |
| 22 | 22 | Kowai Picnic nyo | 2003-06-15 | 15 | |
| 23 | 23 | Shoutengai ni terebi ga kita nyo | 2003-06-22 | 15 | |
| 24 | 24 | Puchiko ranking happyou nyu | 2003-06-22 | 15 | |
| 25 | 25 | Princess shugyou ha ii choushi nyo | 2003-06-29 | 15 | |
| 26 | 26 | Are You Homesick-nyo? | 2003-06-29 | 15 | |
| 27 | 27 | Rabi-en tanjou no Himitsu | 2003-07-06 | 15 | |
| 28 | 28 | Mekara Beam wo dasanai nyo | 2003-07-06 | 15 | |
| 29 | 29 | Akihabara ni Otsukai nyo | 2003-07-13 | 15 | |
| 30 | 30 | Korega Manatsu no Akihabara nyo | 2003-07-13 | 15 | |
| 31 | 31 | Linna? Daredesitaka nyo | 2003-07-20 | 15 | |
| 32 | 32 | Linna Nemurimakuri nyo | 2003-07-20 | 15 | |
| 33 | 33 | Natsumatsuri ga yattekuru nyo | 2003-07-27 | 15 | |
| 34 | 34 | Iyoiyo Natsumatsuri nyo | 2003-07-27 | 15 | |
| 35 | 35 | Kowai Hanashi nyo | 2003-08-03 | 15 | |
| 36 | 36 | Ujaja kan no Yuurei-chan nyo | 2003-08-03 | 15 | |
| 37 | 37 | Aqua-chan ga Tsureta nyo | 2003-08-10 | 15 | |
| 38 | 38 | Umi de Koi no Natsu! Sugu-n Gema | 2003-08-10 | 15 | |
| 39 | 39 | Digiko, Eiga ni Shutsuen suru nyo | 2003-08-17 | 15 | |
| 40 | 40 | Akari to Kyouen suru nyo | 2003-08-17 | 15 | |
| 41 | 41 | Sashisuseso ga Umareta nyo | 2003-08-24 | 15 | |
| 42 | 42 | Digiko Furima ni Chousen nyo | 2003-08-24 | 15 | |
| 43 | 43 | Digiko wo Mamoru Knight da nyo | 2003-08-31 | 15 | |
| 44 | 44 | Kaasama ga kita nyo | 2003-08-31 | 15 | |
| 45 | 45 | Uchuujin Shuurai nyo | 2003-09-07 | 15 | |
| 46 | 46 | Puchiko Shiawase wo Sagasu nyu | 2003-09-07 | 15 | |
| 47 | 47 | Mike to Deka zakana Arawareta nyo | 2003-09-14 | 15 | |
| 48 | 48 | Densetsu no Sao ga Hoshii nyo | 2003-09-14 | 15 | |
| 49 | 49 | Kinoko gari ha Tanoshii nyo | 2003-09-21 | 15 | |
| 50 | 50 | Omochan ga Nakunaru nyo | 2003-09-21 | 15 | |
| 51 | 51 | Magikano Misuteki Tour nyo | 2003-09-28 | 15 | |
| 52 | 52 | Digiko Kaeru nyo | 2003-09-28 | 15 | |
| 53 | 53 | Piyoko ha Aku no Shuryou nyo | 2003-10-05 | 15 | |
| 54 | 54 | Ryakushite Bugedan nyo | 2003-10-05 | 15 | |
| 55 | 55 | Kareida-san ga Kuru nyo | 2003-10-12 | 15 | |
| 56 | 56 | Kareida-san pinch nyo | 2003-10-12 | 15 | |
| 57 | 57 | Dejiko is Number One-nyo! | 2003-10-19 | 15 | |
| 58 | 58 | Mekara Beam ha Akogare nyu | 2003-10-19 | 15 | |
| 59 | 59 | Nanikaya de arubaito nyo | 2003-10-26 | 15 | |
| 60 | 60 | Yasushi tai Riku nazo no taiketsu nyo | 2003-10-26 | 15 | |
| 61 | 61 | Shouwakusei ga Gekitotsu nyo! | 2003-11-02 | 15 | |
| 62 | 62 | Digiko no Warashibe chouja nyo | 2003-11-02 | 15 | |
| 63 | 63 | Gosenzo-sama ga yattekita nyo | 2003-11-09 | 15 | |
| 64 | 64 | Digiko kira kira nyo | 2003-11-09 | 15 | |
| 65 | 65 | Bugedan Puchiko wo Nerau nyo | 2003-11-16 | 15 | |
| 66 | 66 | Bugedan Usada wo Naerau nyo | 2003-11-16 | 15 | |
| 67 | 67 | Piyoko no Gokuaku Item nyo | 2003-11-23 | 15 | |
| 68 | 68 | DiGi Charat to ha nandesuka | 2003-11-23 | 15 | |
| 69 | 69 | Kiyoshi wo Sagasu nyo | 2003-11-30 | 15 | |
| 70 | 70 | Warui Yokan ni goshoutai nyo | 2003-11-30 | 15 | |
| 71 | 71 | Fushigi no Kuni no Usamimi-chan | 2003-12-07 | 15 | |
| 72 | 72 | Digiko mo Usamimi Hoshii nyo | 2003-12-07 | 15 | |
| 73 | 73 | Nenmatsu Akihabara ni Iku nyo | 2003-12-14 | 15 | |
| 74 | 74 | Akihabara 7 nin Musume nyo | 2003-12-14 | 15 | |
| 75 | 75 | Shoutengai mo Christmas nyo | 2003-12-21 | 15 | |
| 76 | 76 | Santa-san no Otetudai nyo | 2003-12-21 | 15 | |
| 77 | 77 | Let's Find the Golden Door -nyo! | 2003-12-28 | 15 | |
| 78 | 78 | Can We Really Find the Golden Door -nyo? | 2003-12-28 | 15 | |
| 79 | 79 | The Princess School -nyo! | 2004-01-04 | 15 | |
| 80 | 80 | Usada, the Bo-Bo Princess -nyo! | 2004-01-04 | 15 | |
| 81 | 81 | Kyuushoku ha Uresii nyo | 2004-01-11 | 15 | |
| 82 | 82 | Puri Puri Bu- Kessei yo | 2004-01-11 | 15 | |
| 83 | 83 | Kagai Jugyou ni Odekake nyo | 2004-01-18 | 15 | |
| 84 | 84 | Princess kun Toujousa! | 2004-01-18 | 15 | |
| 85 | 85 | The Costumes Store -nyo! | 2004-01-25 | 15 | |
| 86 | 86 | I Need to Act as a Princess -nyo! | 2004-01-25 | 15 | |
| 87 | 87 | An Elegant Lesson -nyo! | 2004-02-01 | 15 | |
| 88 | 88 | The Princesses' Music Group is Born -nyo! | 2004-02-01 | 15 | |
| 89 | 89 | Rod P Shishakai Akihabara nyo | 2004-02-08 | 15 | |
| 90 | 90 | Kuma King Ge Dan Akihabara nyo | 2004-02-08 | 15 | |
| 91 | 91 | Valentine no Choco wo Mamoru nyo | 2004-02-15 | 15 | |
| 92 | 92 | Fushigi-kun ni Arigato nyo | 2004-02-15 | 15 | |
| 93 | 93 | Akari no Shigotoba ni iku nyo | 2004-02-22 | 15 | |
| 94 | 94 | Yukiyama de Yahhohho- nyo | 2004-02-22 | 15 | |
| 95 | 95 | Princess Tenkousei ga Kuru nyo | 2004-02-29 | 15 | |
| 96 | 96 | Me kara Beam ha Oshimaika nyo? | 2004-02-29 | 15 | |
| 97 | 97 | Kaeri Michi de Yori Michi nyo | 2004-03-07 | 15 | |
| 98 | 98 | Digiko no Karei na Tabi nyo | 2004-03-07 | 15 | |
| 99 | 99 | Princess School Seven Wonders-nyo | 2004-03-14 | 15 | |
| 100 | 100 | Shoutengai ni Princess School nyo | 2004-03-14 | 15 | |
| 101 | 101 | Chotto dake Oneesan kibun nyo | 2004-03-21 | 15 | |
| 102 | 102 | Digiko no Sakubun Happyou nyo | 2004-03-21 | 15 | |
| 103 | 103 | Princess School Festival-nyo | 2004-03-28 | 15 | |
| 104 | 104 | Di Gi Charat Returns to the Planet-nyo | 2004-03-28 | 15 | |
Related News
TVMaze