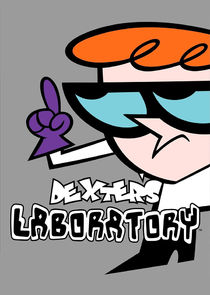 Deep in the depths of his secret laboratory, boy genius Dexter computes, experiments, invents and builds incredible creations like mom robots, interdimensional portals, talking animals, brain replacements and stealth dodgeball devices, until his ditzy sister Dee Dee ruins his overly-executed plans … if only he could fit her into a test tube!
Series Overview
Rating
imDb Rating: 7.9 (39,424 Votes)
Metascore: N/A
Plot
The misadventures of a boy genius and his annoying sister.
Details
Rated: TV-G
Released: 24 Mar 1996
Runtime: 23 min
Genre: Animation, Comedy, Family, Sci-Fi
Director: N/A
Writer: Genndy Tartakovsky
Actors: Kath Soucie, Jeff Bennett, Christine Cavanaugh, Frank Welker
Language: English
Country: USA
Awards: Nominated for 4 Primetime Emmys. Another 2 wins & 15 nominations.
Total Seasons: 5
Previous Episode
They Got Chops/Poetic Injustice/Comedy of Feathers
Episode 4x13; Nov 20, 2003
Previous Episodes 4x13: They Got Chops/Poetic Injustice/Comedy of Feathers 4x12: The Lab of Tomorrow/Garage Sale/Chicken Scratch 4x11: Tee Party/Dexter's Wacky Races 4x10: Voice Over/Blonde Leading the Blonde/Comic Stripper 4x9: Height Unseen/Bygone Errors/Folly Calls 4x8: Babe Sitter/Mountain Mandark/2Geniuses 2Gether 4Ever 4x7: Dexter the Barbarian/Tuber Time/Sore Eyes 4x6: School Girl Crushed/Chess Mom/Father Knows Least 4x5: Head Band/Stuffed Animal House/Used Ink

View All Episodes
Cast
Kath Soucie as Mom
Kath Soucie as Dexter's computer
Frank Welker as Monkey
Kath Soucie as Agent HoneyDew
Frank Welker as Krunk
Kath Soucie as Mandark's Mom
View Full Cast
Skip to:
Season 1
Episode No.
No. Overall
Title
Airdate
Runtime
Summary
1
1
Dexter's Laboratory
1995-02-26
30
2
2
The Big Sister
1996-03-10
30
3
3
Old Man Dexter
1996-03-17
30
4
4
Dimwit Dexter,Brain Drain,Dumb Like Dee Dee
1996-04-14
30
5
5
Dee Dee Deemensional/Dial MAGNUS for Monkey: Magmanamamus/Maternal Kombat Ligthing
1996-04-28
30
6
6
Dexter Dodgeball/Dial M for Monkey: Rasslor/Dexter's Assistant
1996-05-05
30
7
7
Dexter's Rival/Dial M for Monkey: Simion
1996-05-12
30

The new kid in school, Mandark, steals Dexter's spotlight and bruises his ego by having a bigger and better laboratory. Seeking revenge on mankind, a super space chimp tries to get Monkey to help him destroy the human race.

8
8
Double Trouble/Dial M for Monkey: Barbequor
1996-05-19
30
9
9
Jurassic Pooch/Dial M for Monkey: Orgon Grindor
1996-05-26
30
10
10
Dee Dee's Room/Dial M for Monkey: Huntor
1996-06-02
30
11
11
Star Spangled Sidekicks/The Justice Friends: TV Super Pals/Game Over
1996-11-20
30
12
12
Babysitter Blues/The Justice Friends: Valhallen's Room/Dream Machine
1996-11-27
30
13
13
Dollhouse Drama/The Justice Friends: Krunk's Date/The Big Cheese
1996-12-04
30
14
14
Way of the Dee Dee/The Justice Friends: Say Uncle Sam/Tribe Called Girl
1996-12-11
30
15
15
Spacecase/The Justice Friends: Ratman/Dexter's Debt
1996-12-18
30
16
16
Dexter's Rival/The Justice Friends: Bee Where?/Mandarker
1996-12-25
30
17
17
Inflata Dee Dee/The Justice Friends: Can't Nap/Monstory
1997-01-01
30

Inflata Dee Dee. Dee Dee inflates Dexter's hydro-plasmatic suit and constantly floats in the air, prompting Dexter to try and bring her down.

Can't Nap: After fellow Justice Friend White Tiger helps Valhallen stop a super-villain, the latter invites him to spend the night in his apartment, forgetting that Major Glory is allergic to cats.

Monstory. Not interested in hearing Dee Dee's long-winded story, Dexter gives her a silencing formula to keep her quiet. To his horror, he finds out that the formula he gave her turned her into a giant monster, who is still bent on telling her story. When he realizes that nothing can make her quiet, he decides to become a giant monster himself. Dexter's giant monster form looks like Godzilla and Dee Dee's giant monster form looks like an alien type giant monster.
Season 2
Episode No.
No. Overall
Title
Airdate
Runtime
Summary
1
18
Beard to Be Feared/Quackor the Fowl/Ant Pants
1997-07-16
30

Beard to Be Feared: After watching an Action Hank movie on television, Dexter grows a beard like him to try to be cool, but is soon mistaken by the police for Action Hank himself.

Quackor the Fowl: Mandark decides to bring his lab duck Quackor for show and tell to counter Dexter and his lab monkey. Despite the fact that neither creature displays anything remarkable at school, Quackor is actually a supervillain going by the name of Quackor the Fowl, a fact not known to Mandark, similar to how Dexter is unaware that his lab monkey is a superhero.

Ant Pants: When Dexter catches Dee Dee killing some ants, he shrinks themselves to ant-size to take her inside an ant colony so that she can learn how organized the ants are. However, he eventu

2
19
Mom and Jerry/Chubby Cheese/That Crazy Robot
1997-07-23
30

Mom and Jerry: Dexter accidentally switches his brain with that of a mouse's and must avoid his mother when she decides to exterminate him.

Chubby Cheese: While out for dinner at the Chubby Cheese pizza restaurant, Dexter tries to slow down the "Whack the Weasel" machine to win a stuffed Monkey doll before Dee Dee does. When he gets captured by security for tampering with the machine, he falls into the hands of a mad scientist who seeks to use him as his assistant. DeeDee wins the monkey doll and realizes that Dexter is missing. She tries to tell her Mom, but she doesn't understand. Since it was time to go, DeeDee somehow sees that Dexter was in trouble, so she goes into the employee office. When she sees that the security has captured Dexter,the employees try to destroy her. Luckily, Dexter breaks free and grabs DeeDee. When the security catches DeeDee, Dexter jumps into the air, and took DeeDee. They fly out of the restaurant and crash through the back window of their own car, as it leaves the restaurant.

That Crazy Robot: One of Dexter's robots becomes Dee Dee's servant when she removes a wrench that froze him up and tries to destroy anyone who is mean to Dee Dee, including her friends, her mother and Dexter himself.

3
20
D & DD/Hamhocks and Armlocks
1997-07-30
30

D & DD. When Dexter's friends become completely tired of Dexter setting complicated traps he sets up as Game Master (as well as his cheating) while playing a RPG game, they put Dee Dee as Game Master in his place. She completely changes the style of play, which annoys Dexter but impresses his friends.

Hamhocks and Armlocks. Dexter's father is challenged to an arm wrestling match by a man named Earl at a truck stop. Stunned at the strength of Earl and his determination to beat his father, Dexter attaches a robotic arm to his father to enable him to win.

4
21
Hunger Strikes/The Koos is Loose/Morning Stretch
1997-08-06
30

Hunger Strikes: After being denied dessert by his parents for not eating his vegetables, Dexter uses radiation therapy so that he can like them, but it causes a severe side effect that turns him into an Incredible Hulk-like character if he goes too long without them.

The Koos Is Loose: Dee Dee's imaginary friend Koosalagoopagoop (Dom DeLuise) suddenly comes to life and starts annoying Dexter.

Morning Stretch: After staying up late at his lab, Dexter oversleeps and wakes up one minute before the school bus arrives. With no time to do his morning chores and homework, he pulls out a secret prototype device, which will convert his last 30 seconds into 30 minutes. unaware that the school has been closed due to a snowdown.

5
22
Dee Dee Locks and the Ness Monster/Backfire/Book 'Em
1997-08-13
30

Dee Dee Locks and the Ness Monster: Dexter's mother asks him to read a story to Dee Dee, who is sick. However, Dee Dee becomes bored of Dexter's story and invents her own story, Dee Dee Locks and the Loch Ness Monster, which is a spoof of Goldilocks and the Three Bears.

Backfire: Dexter tries to supe up the family car with anti-matter in an attempt to shorten road trips with his family due to Dee Dee's annoying nature, but ends up accidentally fusing Dee Dee with the car, causing mayhem.

Book 'Em: When Dee Dee causes Dexter to take a book from the library without checking it out by mistake, they sneak into the library at night to put it back without getting caught, but when Dee Dee's antics cause Dexter to scream at her to keep quiet, they get caught anyway.


6
23
Sister's Got a Brand New Bag/Shoo, Shoe Gnomes/Lab of the Lost
1997-08-20
30
7
24
Labels/Game Show/Fantastic Boyage
1997-08-27
30
8
25
Filet of Soul/Golden Diskette
1997-09-03
30
9
26
Snowdown/ *figure not included/Mock 5
1997-09-10
30
10
27
Ewww That's Growth/Nuclear Confusion/Germ Warfare
1997-09-17
30
11
28
A Hard Day's Day/Road Rash/Ocean Commotion
1997-09-24
30
12
29
The Bus Boy/The Justice Friends: Things That Go Bonk in the Night/Ol' McDexter
1997-10-01
30
13
30
Sassy Come Home/Photo Finish
1997-10-08
30
14
31
Star Check Unconventional/Dexter is Dirty/Ice Cream Scream
1997-10-15
30
15
32
Decode of Honor/World's Greatest Mom/Ultrajerk 2000
1997-10-22
30
16
33
Techno Turtle/Surprise!/Got Your Goat
1997-10-29
30
17
34
Dee Dee Be Deep/911/Down in the Dumps
1997-11-05
30
18
35
Unfortunate Cookie/The Muffin King
1997-11-12
30
19
36
Picture Day/Now That's a Stretch/Dexter Detention
1997-11-19
30
20
37
Don't Be a Baby/Dial M for Monkey: Peltra/G.I.R.L. Squad
1997-11-26
30
21
38
Sports-a-Poppin'/Koos a la Goop a Goop/Project Dee Dee
1997-12-03
30
22
39
Topped Off/Dee Dee's Tail/No Power Trip
1998-01-14
30
23
40
Sister Mom/The Laughing/Dexter's Lab: A Story
1998-01-21
30
24
41
Coupon for Craziness/Better Off Wet
1998-01-28
30
25
42
Critical Gas/Let's Save the World You Jerk!/Average Joe
1998-02-04
30
26
43
Rushmore Rumble/A Boy and His Bug/You Vegetabelieve It!
1998-02-11
30
27
44
Aye Aye Eyes/Dee Dee and the Man
1998-02-18
30
28
45
Old Flame/Don't Be a Hero/My Favorite Martian
1998-02-25
30
29
46
Paper Route Bout/The Old Switcharooms/Trick or Treehouse
1998-03-04
30
30
47
Quiet Riot/Accent You Hate/Catch of the Day
1998-03-11
30
31
48
Dad is Disturbed/Framed/That's Using Your Head
1998-03-18
30
32
49
DiM/Just an Old Fashioned Lab Song.../Repairanoid
1998-03-25
30
33
50
Sdrawkcab/The Continuum of Cartoon Fools/Sun, Surf, and Science
1998-04-01
30
34
51
Big Bots/Gooey Aliens That Control Your Mind/Misplaced in Space
1998-04-08
30
35
52
Dee Dee's Rival/Pslightly Psycho/Game for a Game
1998-04-15
30
36
53
Blackfoot and Slim/Trapped with a Vengeance/The Parrot Trap
1998-04-22
30
37
54
Dexter and Computress Get Mandark!/The Justice Friends: Pain in the Mouth/Dexter Vs. Santa's Claws
1998-04-29
30
38
55
Dyno-Might/LABretto
1998-05-06
30
39
56
Last But Not Beast
1998-06-15
30
Season 3
| Episode No. | No. Overall | Title | Airdate | Runtime | Summary |
| --- | --- | --- | --- | --- | --- |
| 1 | 57 | Streaky Clean/A Dad Cartoon/Sole Brother | 2001-11-16 | 30 | |
| 2 | 58 | Mind Over Chatter/A Quakor Cartoon/Momdark | 2001-11-16 | 30 | |
| 3 | 59 | Copping an Aptitude/A Failed Lab Experiment/The Grand-Daddy of All Inventions | 2001-11-30 | 30 | |
| 4 | 60 | Poppa Wheely/A Mom Cartoon/The Mock Side of the Moon | 2002-01-18 | 30 | |
| 5 | 61 | If Memory Serves/A Mandark Cartoon/Tele Trauma | 2002-02-22 | 30 | |
| 6 | 62 | A Boy Named Sue/Lab on the Run | 2002-03-29 | 30 | |
| 7 | 63 | Dos Boot/A Dee Dee Cartoon/Would You Like That In The Can | 2002-06-07 | 30 | |
| 8 | 64 | That Magic Moment/A Silent Cartoon/Opposites Attract | 2002-06-14 | 30 | |
| 9 | 65 | Comic Relief/A Third Dad Cartoon/RoboDexo 3000 | 2002-06-21 | 30 | |
| 10 | 66 | Glove at First Sight/A Mom & Dad Cartoon/Smells Like Victory | 2002-06-28 | 30 | |
| 11 | 67 | Oh, Brother?/Another Dad Cartoon/Bar Exam | 2002-07-05 | 30 | |
| 12 | 68 | Jeepers, Creepers, Where is Peepers?/Go, Dexter Family, Go! | 2002-07-12 | 30 | |
| 13 | 69 | Scare Tactics/My Dad vs. Your Dad | 2002-09-20 | 30 | |
Season 4
| Episode No. | No. Overall | Title | Airdate | Runtime | Summary |
| --- | --- | --- | --- | --- | --- |
| 1 | 70 | Beau Tie/Remember Me/Overlabbing | 2002-11-22 | 30 | |
| 2 | 71 | Sis-Tem Error/Bad Cable Manners/Dexter's Library | 2003-04-25 | 30 | |
| 3 | 72 | The Scrying Game/Monstrosi-Dee Dee/Dad Man Walking | 2003-05-02 | 30 | |
| 4 | 73 | Dexter's Little Dilemma/Faux Chapeau/D2 | 2003-05-09 | 30 | |
| 5 | 74 | Head Band/Stuffed Animal House/Used Ink | 2003-05-16 | 30 | |
| 6 | 75 | School Girl Crushed/Chess Mom/Father Knows Least | 2003-05-23 | 30 | |
| 7 | 76 | Dexter the Barbarian/Tuber Time/Sore Eyes | 2003-05-30 | 30 | |
| 8 | 77 | Babe Sitter/Mountain Mandark/2Geniuses 2Gether 4Ever | 2003-09-05 | 30 | |
| 9 | 78 | Height Unseen/Bygone Errors/Folly Calls | 2003-09-12 | 30 | |
| 10 | 79 | Voice Over/Blonde Leading the Blonde/Comic Stripper | 2003-09-19 | 30 | |
| 11 | 80 | Tee Party/Dexter's Wacky Races | 2003-09-26 | 30 | |
| 12 | 81 | The Lab of Tomorrow/Garage Sale/Chicken Scratch | 2003-11-04 | 30 | |
| 13 | 82 | They Got Chops/Poetic Injustice/Comedy of Feathers | 2003-11-20 | 30 | |
Season 5
| Episode No. | No. Overall | Title | Airdate | Runtime | Summary |
| --- | --- | --- | --- | --- | --- |
Series Cast
| | | | |
| --- | --- | --- | --- |
| | Kath Soucie | as Mom | |
| | Kath Soucie | as Dexter's computer | |
| | Frank Welker | as Monkey | |
| | Kath Soucie | as Agent HoneyDew | |
| | Frank Welker | as Krunk | |
| | Kath Soucie | as Mandark's Mom | |
| | Frank Welker | as Mr. Levinski | |
| | Rob Paulsen | as Major Glory | |
| | Tom Kenny | as ValHallen | |
| | Candi Milo | as Dexter | |
| | Allison Moore | as Dee Dee | |
| | Eddie Deezen | as Mandark | |
| | Jeff Bennett | as Dad | |
| | Jeff Bennett | as Mandark's Dad | |
| | Kathryn Cressida | as Dee Dee | |
| | Christine Cavanaugh | as Dexter | |
Series Crew
| | Position | Name |
| --- | --- | --- |
| | Creator | Genndy Tartakovsky |
| | Executive Producer | Genndy Tartakovsky |
| | Executive Producer | Larry Huber |
| | Executive Producer | Buzz Potamkin |
| | Executive Producer | Sherry Gunther |
| | Associate Producer | Donna Castricone |
| | Associate Producer | Debby Hindman |
Related News
TVMaze