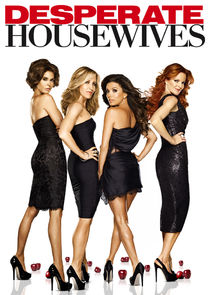 In the town of Fairview there's a street called Wisteria Lane; a peaceful cul-de-sac with manicured lawns and beautiful houses. It's a place where you know all your neighbors and your neighbors know all about you. It's the perfect suburban fantasy. But, behind every picket fence there are secrets. And, in every seemingly happy home, you'll find jealousy, lust, passion, and sometimes…murder.
Series Overview
Rating
imDb Rating: 7.4 (111,327 Votes)
Metascore: N/A
Plot
Secrets and truths unfold through the lives of female friends in one suburban neighborhood, after the mysterious suicide of a neighbor.
Details
Rated: TV-14
Released: 03 Oct 2004
Runtime: 45 min
Genre: Comedy, Drama, Mystery, Romance
Director: N/A
Writer: Marc Cherry
Actors: Teri Hatcher, Felicity Huffman, Marcia Cross, Eva Longoria
Language: English
Country: USA
Awards: Won 3 Golden Globes. Another 62 wins & 182 nominations.
Total Seasons: 8
Previous Episode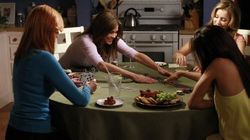 Finishing the Hat (2)
Episode 8x23; May 13, 2012
The conclusion of the series finale.
Previous Episodes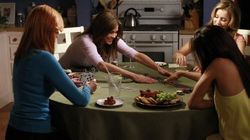 8x23: Finishing the Hat (2)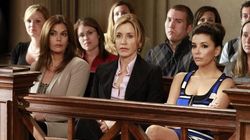 8x22: Give Me the Blame (1)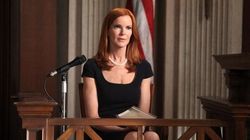 8x21: The People Will Hear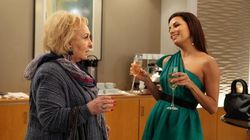 8x20: Lost My Power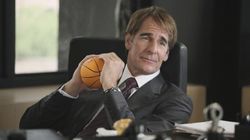 8x19: With So Little to Be Sure Of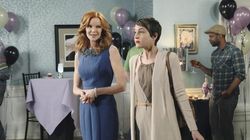 8x18: Any Moment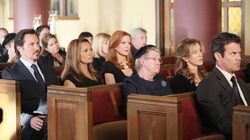 8x17: Women and Death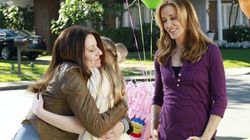 8x16: You Take for Granted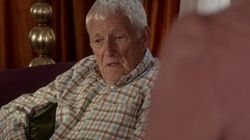 8x15: She Needs Me

View All Episodes
Cast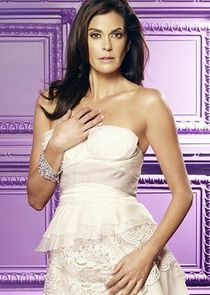 Teri Hatcher as Susan Mayer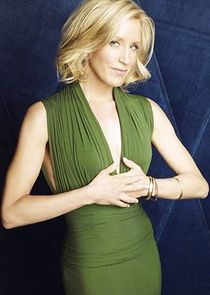 Felicity Huffman as Lynette Scavo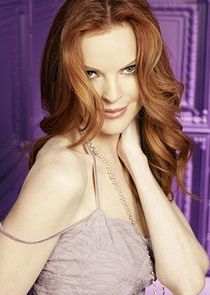 Marcia Cross as Bree Van de Kamp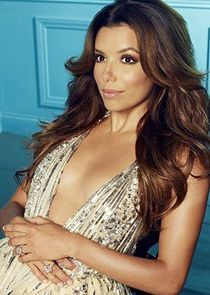 Eva Longoria as Gabrielle Solis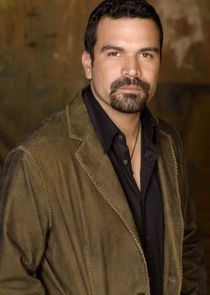 Ricardo Antonio Chavira as Carlos Solis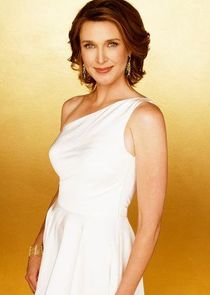 Brenda Strong as Mary Alice Young
View Full Cast
Skip to:
Season 1
| Episode No. | No. Overall | Title | Airdate | Runtime | Summary |
| --- | --- | --- | --- | --- | --- |
| 1 | 1 | Pilot | 2004-10-03 | 43 | One day in the suburb of Wisteria Lane, residents are shaken up by the sudden suicide of Mary Alice Young. At her wake, her four close friends and the main characters, Susan Mayer, Lynette Scavo, Bree Van de Kamp and Gabrielle Solis, are introduced. All of them lead seemingly perfect lives, trying to keep their problems from each other. Susan and Edie Britt fight over the new neighborhood resident and plumber Mike Delfino. Lynette's children cause a ruckus in the Youngs' pool, putting her in an embarrassing position. Gabrielle is having an affair with her teenage gardener John Rowland, because she is neglected and treated condescendingly by her busy husband, Carlos. Bree's husband Rex collapses from an allergic reaction at a diner, shortly after asking her for a divorce. Susan accidentally burns Edie's house down, after going over to see if she was with Mike. While the ladies put away Mary Alice's belongings, they discover a mysterious blackmail note addressed to her, leaving them to wonder what she had done. |
| 2 | 2 | Ah, But Underneath | 2004-10-10 | 43 | The ladies contemplate telling Mary Alice's husband Paul about the blackmail note, while he retrieves a mysterious toy chest from underneath his pool. Gabrielle suspects Carlos is catching onto her affair, and that John may be falling in love with her. Bree suggests to Rex that they should enroll in marriage counselling. While helping Edie salvage her belongings, Martha Huber finds a piece of evidence that might implicate Susan – her measuring cup. Edie and Susan continue to fight over Mike's affections as he invites both of them over for dinner, with his dog having to pay the price. Frustrated by her children's behavior, Lynette resorts to an extreme discipline technique, which ultimately backfires. Rex blames Bree for their marital problems in their first counselling session with Dr. Goldfine. Paul throws the toy chest into the town lake. |
| 3 | 3 | Pretty Little Picture | 2004-10-17 | 43 | At Susan's urging, the ladies decide to throw a dinner party in Mary Alice's honor. A little girl catches Gabrielle kissing John and blackmails her into buying her gifts. Lynette's husband Tom volunteers to babysit the kids while she is at the party. Meanwhile, Mary Alice's son, Zach, finds the revolver his mother used to kill herself. Dr. Goldfine suggests private sessions for the Van de Kamps, at the reluctance of Bree. Susan calls her ex-husband Karl over to talk about their problems, which eventually results in her locking herself out of her house naked. At the party, Rex tells everyone about their marriage counselling sessions. In anger, Bree humiliates him in front of the others, causing Rex to move out on her. Susan tells Karl that she is over him, with his lover, Brandi apologizing to her about her involvement in ending their marriage. Bree raids Dr Goldfine's tapes to find out what Rex had said in his session, finding a tape with Mary Alice's name instead. Paul puts up the Youngs' house for sale. |
| 4 | 4 | Who's That Woman? | 2004-10-24 | 43 | Lynette denies that her twins have attention deficit disorder, but proposes a solution by asking for them to be separated. The housewives listen to Mary Alice's session tape and find out about her real name. Edie attempts to arouse Mike by seductively washing her car, however Susan wins him over when he asks her out. Martha Huber uses Susan's measuring cup as her involvement in Edie's house fire to blackmail her, causing her to compromise her relationship with Mike. She gets her daughter, Julie, to sneak into Martha's house and retrieve the cup. Carlos becomes suspicious that Gabrielle is cheating on him, but goes after the wrong man. Bree struggles with her rebellious son, Andrew, who is angry about Rex moving out. After, the ladies finally tell Paul about the blackmail note, he hires a private investigator named Mr. Shaw to track down who sent it. |
| 5 | 5 | Come in, Stranger | 2004-10-31 | 43 | A break-in at Wisteria Lane causes distress among the neighbors. Susan is asked out on a date by a police officer, which she accepts after Mike acts coldly towards her. Gabrielle's mother-in-law, Juanita, arrives after being called by Carlos, who wanted her to help him find out if Gabrielle is cheating on him. Unknown to the residents, Mike is revealed to be the burglar, as he left his screwdriver behind. Lynette and Tom consider enrolling the twins into Barcliff Academy, a private school. Lynette tries to tire them out so that they will appear docile when they are brought in for observation. As Rex takes the children away for the weekend, Bree bonds with Zach after inviting him over for dinner, and he reveals to her that he may know why his mother killed herself. |
| 6 | 6 | Running to Stand Still | 2004-11-07 | 43 | The housewives discuss the sudden disappearance of Zach, who is later revealed to have been checked into a juvenile rehabilitation facility by Paul. Carlos, with his mother's help, becomes desperate to find out with whom Gabrielle is having affair. Lynette argues with another mother named Maisy Gibbons at Barcliff Academy about her decision to make a "politically correct" play about Little Red Riding Hood. Gabrielle worries that John may be losing interest in her when she sees him with Bree's daughter, Danielle. Susan investigates more into the mystery surrounding the Young family. Dr. Goldfine suggests that the Van de Kamps hire a "sex surrogate", much to Bree's disbelief. Gabrielle takes advantage of Juanita's gambling problem to spend more time with John. Lynette take some of the twins' ADD medication to help her prepare the costumes for the play. Julie helps Susan by breaking in to Zach's ward, where he mentions the name "Dana". |
| 7 | 7 | Anything You Can Do | 2004-11-21 | 43 | Susan tells the other housewives about the name "Dana". Juanita discovers that Gabrielle is seeing John and becomes more determined to catch them together. Paul suspects through that Edie might have sent the blackmail note to his wife. Lynette steadily becomes more dependent on the twin's medication. Rex reveals to Bree that he has filed for a divorce and tries to win over the children with gifts. Mike has an unexpected house guest named Kendra, causing him to cancel his date with Susan. Unknown to her, Kendra was sent by her father who has hired Mike to find her missing sister. Gabrielle offers Danielle a modeling job in New York City as an effort to get her away from John. Lynette sabotages Tom's promotion while under the influence of the medication. An intoxicated Andrew Van de Kamp runs over Juanita, moments after she photographed John and Gabrielle having sex. |
| 8 | 8 | Guilty | 2004-11-28 | 43 | Bree discovers that Andrew's drunk driving has put Juanita in a coma, and she and Rex try to save him from prosecution by covering up the crime. But later, Bree is shocked when Andrew shows no remorse for what he has done. Meanwhile, John tells Gabrielle that he confessed their affair to a priest. Susan decides to find out the real reason Mike has moved to Wisteria Lane. Susan watches Mikes house while he is away and discovers a gun and a few wads of cash, but later gets stuck in his bathroom floor. When Mike finds her along with his things, he realizes Susan cannot trust him and breaks up with her. Lynette reaches the breaking point of her addiction to the A.D.D. pills and comes clean about it to Bree and Susan. After a confrontation with Edie, Mr. Shaw learns that Martha Huber was Mary Alice's blackmailer. Mike makes up with Susan and they have sex for the first time, while Paul confronts and strangles to death the remorseless Martha Huber for her involvement in his wife's suicide. |
| 9 | 9 | Suspicious Minds | 2004-12-12 | 43 | Gabrielle decides to hold a charity fashion show on the street. While looking for dresses, the women discuss the sudden disappearance of Martha Huber, while Paul buries her in a forest. Lynette uses her business skills to "poach" herself a nanny. Bree and Rex try to figure out the best way to punish their sociopath son Andrew when he continues to show no guilt after putting Juanita in a coma, and for finding marijuana in his room. Meanwhile, Susan confronts Gabrielle after finding out about her and John, forcing her to come clean. John's mother, Helen, also finds out that he is seeing a housewife. However, she assumes it is Susan. Paul is told that Zach has escaped from the mental institution, only to be found in Julie's room. After Susan is humiliated at the fashion show by Helen, Gabrielle finally tells her about the affair. Carlos is arrested, claiming he was "set up" by his business partner. |
| 10 | 10 | Come Back to Me | 2004-12-19 | 43 | Maisy Gibbons returns, and her secret life of being the neighborhood prostitute intersects with Bree's, when she finds out Rex has been seeing her after he has a heart attack. Gabrielle has a financial downturn after Carlos is sentenced for importing goods manufactured by slave labor. Edie becomes suspicious of Martha Huber's whereabouts. A jealous Lynette videotapes her new nanny Claire, fearing that she is getting along too well with her kids. Susan and Mike discover that Zach is being taken care of by Julie, after they find him sneaking around the house. Gabrielle resorts to stashing her belongings in Bree's garage after her car is repossessed. Julie feels that Susan has betrayed her by sending Zach back to his father. |
| 11 | 11 | Move On | 2005-01-09 | 43 | Edie organizes a neighborhood search for Martha Huber, while her sinister sister Felicia Tillman comes to Wisteria Lane to investigate her disappearance. Now separated from Rex, Bree asks the local pharmacist George Williams out on a date, much to Rex's envy. Mike fears that Susan may be still in love with her ex-husband, Karl. Paul plants Martha's stolen jewelry in Mike's garage, fearing that the police may discover his secret. After accidentally seeing Claire sneaking around the house naked, Tom is aroused and has sex with Lynette. When she finds out about the incident, she fires Claire. Gabrielle, desperate for money, decides to return to modelling. |
| 12 | 12 | Every Day a Little Death | 2005-01-16 | 43 | The residents of Wisteria Lane finally discover Martha Huber's body. After finding out that she left behind a journal, Susan confesses to Edie about burning down her house as a last resort. When Bree and George go shooting, George attempts to kiss Bree, but ends shooting himself in the foot. Lynette enrolls in a yoga class, but has problems putting her children into the day care center. Carlos is released on bail, but to Gabrielle's discontent, he cannot resume working due to being under house arrest. Mike's reason is moving in is revealed when he meets with Noah Taylor, his employer, who wants him to find "Deirdre", who has been missing for more than 10 years. |
| 13 | 13 | Your Fault | 2005-01-23 | 43 | When Lynette's father-in-law Rodney Scavo visits, she learns that he has been cheating on his wife and that Tom has known about it. Susan dislikes Julie's growing romance towards Zach, and decides to chaperon the school dance to watch over them. Paul ensures that Susan does not know too much about the secret surrounding the Youngs. Bree ignores Rex's attempts to resolve things, while their divorce lawyers sort out their possession, claiming she wants "revenge" for cheating on her. Gabrielle is approached by John's parents, who ask her to convince him to go to college, as he is already eighteen. John, however, plans to leave home and proposes marriage to Gabrielle, which she declines, claiming she still loves Carlos. |
| 14 | 14 | Love Is in the Air | 2005-02-13 | 43 | Susan looks forward to a romantic Valentine's Day with Mike. Mike, however, gets himself shot while breaking into a house searching for answers about "Deirdre". Bree reconciles her relationship with Rex, saying that she is ready to work on improving their marriage, but she is shocked when he reveals his sexual desires. Lynette's neighbor across the street, Mrs. McCluskey, complains that her boys have been stealing from her. Gabrielle continues to look for work as in the mattress store, as well as the cosmetics department. Felicia Tillman stumbles upon a clue to the Young family's past when she recognizes Mary Alice in a photo as a Utah hospital nurse by her real name, Angela. Lynette shows Susan a piece of Martha Huber's jewelry that her boys stole from Mike's garage, arousing Susan's suspicion that Mike might have killed her. |
| 15 | 15 | Impossible | 2005-02-20 | 43 | Mike is arrested for the murder of Martha Huber. Susan bails him out by telling the police that they were together on the night of the murder, but is later heartbroken when she discovers his criminal record and soon breaks up with him. John's roommate Justin blackmails Gabrielle into having sex with him by becoming their new gardener. Tom has a promotion as vice president of his company, but Lynette discourages him from taking it, fearing that she will have to look after her wild children for longer hours. After finding a condom in the laundry, Bree discovers that Danielle is planning to lose her virginity to John, and persuades him to break up with her. While Zach is throwing a pool party for the neighborhood teenagers, Julie is disturbed by his sadistic mentality and ends their relationship. Susan discovers Andrew and Justin making out in the pool, forcing Andrew to claim that he is not gay. |
| 16 | 16 | The Ladies Who Lunch | 2005-03-27 | 43 | When Maisy Gibbons is arrested for solicitation, Bree attempts to bribe her to remove Rex's name from her book of clients, before it goes public. Gabrielle and Carlos face a sewage disaster but cannot afford to fix it. Lynette tries to defend her twins, when they are suspected for a head lice outbreak at Barcliff Academy. She discovers, however, that the outbreak was caused by another student and tries to get his mother to stop spreading rumors about her twins. Depressed over her break-up with Mike, Susan bonds with Edie. She confides in her grief with Edie and suggests to her they break into Paul's house to find evidence about his involvement in Martha Huber's murder. |
| 17 | 17 | There Won't Be Trumpets | 2005-04-03 | 43 | Juanita Solis finally awakens from her coma, but dies after falling down the stairs before she could reveal Gabrielle's affair with John to Carlos. The residents attend Juanita's funeral, where Gabrielle argues with Carlos about getting his mother a crypt. However, Gabrielle also finds out that the hospital was negligent of mother-in-law's death and in return, they offer her a seven-figure settlement. Lynette befriends a deaf woman named Alisa Stevens (Marlee Matlin) whose daughter attends Barcliff Academy with the twins, but is infuriated by her husband who takes advantage of her disability to insult her behind her back. After a series of violent outbursts by Andrew, Bree and Rex contemplate putting him in Camp Hennessy, a teenage rehabilitation camp. Susan finds herself attracted to Edie's new contractor, but Edie prevents her from dating him. Mike tries to explain his past by giving Susan a confession letter, which she hesitates to read. |
| 18 | 18 | Children Will Listen | 2005-04-10 | 43 | Susan's eccentric mother, Sophie Bremmer, pays an unexpected visit after she and her boyfriend, Morty, break up. The police find the toy chest Paul threw into the lake, with the remains of a body inside it. When questioned about the chest, Zach defends his father. After finding out about the hospital settlement check, Carlos physically forces Gabrielle to sign a post-nuptial agreement as he prepares to serve his prison sentence. As a result, Gabrielle goes back to John. Lynette's close friendship with Bree is tested after Bree spanks Porter while babysitting Lynette's children. Rex and Bree visit Andrew at Camp Hennessy, where he reveals that he might be gay. Felicia Tillman tells Zach more sinister details about his family's past, and he discovers that "Dana" was his birth name. |
| 19 | 19 | Live Alone and Like It | 2005-04-17 | 43 | Lynette befriends her cranky old neighbor Mrs. McCluskey, after saving her from a collapse. However, she starts to regret it when Mrs. McCluskey does not leave her alone. Bree struggles to cope with Andrew's sexual orientation as he comes home from Camp Hennessy. At his mother's request, Andrew consults with a priest, to whom he reveals his sadistic ideas to emotionally destroy his mother. Mike discovers from Noah Taylor that the remains inside Paul Young's toy chest were Deirdre's. Gabrielle resumes her affair with John after being financially declined by Carlos. Sophie decides to get dates for her and Susan, as an effort to help her daughter get over Mike, who gets beaten up by corrupt detective. Carlos finally decides to tear up the post-nup, and regains Gabrielle's respect. |
| 20 | 20 | Fear No More | 2005-05-01 | 43 | Gabrielle plans a "farewell party" for Carlos, who is about to serve his eight-month jail sentence, but she later retaliates in rage after discovering that she is pregnant after he tampered with her birth control pills. George Williams returns and tries to steal Bree away from Rex. Bree is unaware that George has an ulterior motive. Lynette is jealous when an ex-girlfriend of Tom's is now working in his company and asks Edie for advice. Zach starts stalking Julie in order to resolve their relationship. Edie blames Susan when Paul questions her about breaking into his house, causing him to lie to Susan and fabricate a false history about Mary Alice, which she does not believe. When Susan's kitchen catches fire, she blames Paul as the arsonist. After finding out about the toy chest and who it belonged to, Mike decides to investigate Paul and tells the already suspicious Susan to stay away from him. |
| 21 | 21 | Sunday in the Park with George | 2005-05-08 | 43 | Edie spies on Bree having dinner with George and confronts her about it, making her feel guilty about being intimate with him. Rex's health starts to depreciate after George tampers with his heart medication. Lynette tries to revitalize her sex life with Tom, whom she fears is losing interest due to his busy work schedule. Susan hires Mr. Shaw to investigate the Young family, unaware that he is already working for Paul. After confronting Noah Taylor, Susan learns that Mike shot a police officer in self-defense and decides to forgive him. When questioned about the birth control pills, Carlos lies to Gabrielle and claims that his mother tampered with them. Gabrielle tells John about her pregnancy, making him worry that he may be the father. Sophie's boyfriend Morty proposes marriage to her and asks her to move out, which relieves Susan from taking care of her. Felicia plots to drive Paul out of the neighborhood, to help Zach know the truth about his family. |
| 22 | 22 | Goodbye for Now | 2005-05-15 | 43 | Edie is annoyed when Susan and Mike move in together, and tries to intervene via the other wives. Lynette tries to keep Tom's ex-girlfriend Annabel from coming between them, and her actions result in him losing his job. George lies to Bree about information he finds regarding her and Rex's sex life, and when Bree confronts Rex about it, he has another heart attack. Carlos' prison sentence is increased to eight years, after he beats up John's roommate Justin thinking that he is the one having an affair with his wife, while Gabrielle decides to leave Carlos after discovering he was really the one who tampered with her pills. Mike pursues Paul after Felicia gives him Martha Huber's journal detailing Mary Alice's past and about what happened to Deirdre, and Susan decides to follow him. Felicia takes Zach into her home, while Martha Huber's journal lands in the hands of Susan and Julie. Betty Applewhite moves in to Wisteria Lane with her adolescent son, Matthew in the middle of the night. |
| 23 | 23 | One Wonderful Day | 2005-05-22 | 43 | |
Season 2
| Episode No. | No. Overall | Title | Airdate | Runtime | Summary |
| --- | --- | --- | --- | --- | --- |
| 1 | 24 | Next | 2005-09-25 | 43 | Lynette goes back to work; Gabrielle struggles with her pregnancy and Carlos in jail; Bree deals with Rex's death; Susan learns more about Mike's past. |
| 2 | 25 | You Could Drive a Person Crazy | 2005-10-02 | 43 | Susan seethes when she finds out about Edie and Karl; Lynette begins her new job and Tom begins his, as a househusband; Carlos has a favor to ask of Gaby; and Bree's mother-in-law continues to drive her crazy. |
| 3 | 26 | You'll Never Get Away From Me | 2005-10-09 | 43 | Bree's mother-in-law, Phyllis, gets her in trouble with the law; Susan tries to accept Edie's new role in Julie's life; Lynette's boss-from-hell makes her miss Parker's first day of kindergarten; and Gabrielle and John meet again. |
| 4 | 27 | My Heart Belongs to Daddy | 2005-10-16 | 43 | Gabrielle visits Carlos in prison and fireworks ensue; Lynette learns that Parker has an imaginary friend; and Susan helps Mike search for Zach. |
| 5 | 28 | They Asked Me Why I Believe In You | 2005-10-23 | 43 | Susan's book agent, Lonny, is in a financial bind; Gaby hires a big-time lawyer to defend Carlos; Lynette must go bar hopping with Nina, who's constantly prowling for men; and Bree reburies Rex, but the police case isn't interred with him. |
| 6 | 29 | I Wish I Could Forget You | 2005-11-06 | 43 | While Gaby tries to spring Carlos from jail, Michael and Susan face a crisis in their relationship, and Susan's mother returns, as does Paul Young. Meanwhile, Bree's horrified about her feelings for George. |
| 7 | 30 | Color and Light | 2005-11-13 | 43 | Tom and Lynette learn more about their new neighbors; Gaby reminisces with old friends; Bree has a big question to answer; and Betty suffers a major loss. |
| 8 | 31 | The Sun Won't Set | 2005-11-20 | 43 | As Sophie and Morty tie the knot, Susan learns a secret about her father. Meanwhile, there are developments in the Gaby-Carlos and Bree-George relationships, and an intruder is on the loose on Wisteria Lane. |
| 9 | 32 | That's Good, That's Bad | 2005-11-27 | 43 | George stalks Bree; Susan tries to begin a relationship with her father; Carlos is paroled and returns a new man---so new that Gabrielle barely recognizes him. |
| 10 | 33 | Coming Home | 2005-12-04 | 43 | New VP Lynette wants a day-care center at her ad agency, Gaby fights with Sister Mary Bernard over Carlos's humanitarian mission to Africa, and Andrew Van de Kamp returns from reform school. |
| 11 | 34 | One More Kiss | 2006-01-08 | 43 | Lynette catches Gabrielle kissing Tom; Mike tries to bond with Zach, which threatens Paul; Andrew attempts to blackmail Bree; and Wisteria Lane becomes more and more suspicious of the Applewhites. |
| 12 | 35 | We're Gonna Be All Right | 2006-01-15 | 43 | Bree is arrested; Susan meets Dr. Right; old photos of Gaby turn up on the Internet; Noah Taylor finally contacts Mike Delfino; and the Scavo kids catch chicken pox, alarming Tom, who has never had it. |
| 13 | 36 | There's Something About a War | 2006-01-22 | 43 | Dr. Ron tells Susan that she needs surgery, but she's reluctant to have him operate on her; Bree and Betty learn that they have more in common than they thought; and Gabrielle and Sister Mary Bernard square off. |
| 14 | 37 | Silly People | 2006-02-12 | 43 | Tom tries to bond with his new boss; Karl makes Susan an offer she can't refuse; Bree plays sleuth at Betty's house; and Gabrielle puts her house in order. |
| 15 | 38 | Thank You So Much | 2006-02-19 | 43 | Gaby's mom shows up, and Carlos learns more about why this mother-daughter relationship is so messed up. Meanwhile, Karl has a question to pop, and Lynette discovers the extent of Bree's drinking problem |
| 16 | 39 | There Is No Other Way | 2006-03-12 | 43 | Carlos and Gaby have a problem with their adoption; Susan finally goes under the knife; Paul Young turns up again in Noah Taylor's life; Tom has trouble accepting Lynette as his boss; and it's open warfare between Bree and Andrew. |
| 17 | 40 | Could I Leave You? | 2006-03-26 | 43 | Dr. Ron finds out about Susan's remarriage, and she asks him to meet Karl; Gaby and Carlos look for a baby to adopt; Bree takes a step to deal with her drinking problem in response to Andrew's extortion; and Lynette's new employee has mothering issues. |
| 18 | 41 | Everybody Says Don't | 2006-04-02 | 43 | Lynette must give a court deposition about Bree's drinking; Gaby and Carlos take their adoption process into their own hands; and Karl and Edie have an engagement party. |
| 19 | 42 | Don't Look at Me | 2006-04-16 | 43 | Carlos and Gaby get temporary custody of baby Lily; Bree's father and stepmother come to town to mediate her dispute with Andrew; and Susan suddenly finds Karl back in her life. |
| 20 | 43 | It Wasn't Meant to Happen | 2006-04-30 | 43 | Karl breaks up with Edie, who doesn't know that Susan is the "other woman"; Lynette tries to help Ed with his sex life; Bree discovers that Peter has another addiction; and Lily's father claims his daughter. |
| 21 | 44 | I Know Things Now | 2006-05-07 | 43 | Tom gets fired; Bree and Andrew arrive at an impasse; Edie's PI gets the goods on Susan and Karl; Betty underestimates Matthew; and Gaby and Carlos reach an agreement with Xiao-Mei. |
| 22 | 45 | No One Is Alone | 2006-05-14 | 43 | As Felicia Tilman continues her campaign against Paul Young, Lynette receives disturbing news, Bree reaches the end of her tether and Susan starts all over again. And for Gaby, Carlos and Xiao-Mei, baby makes four. |
| 23 | 46 | Remember (1) | 2006-05-21 | 43 | In Part 1 of two, Susan moves into a trailer while Betty's attempt to move away from Wisteria Lane unobtrusively fails miserably; Lynette learns about the other woman in Tom's life; Gaby has a surrogate peek into Xiao-Mei's past; Bree's sanitarium "rest" proves less than restful; and Zach, needing money for Paul's legal bills, requires prodding to act decisively. Meanwhile, flashbacks recall move-in day for the Wisteria ladies. |
| 24 | 47 | Remember (2) | 2006-05-21 | 43 | Conclusion. Susan plans to propose to Mike, who visits Orson to get a chipped tooth fixed; Bree strains under the sanitarium's restraints; Gaby meets a blast from her past, while Lynette meets a blast from Tom's past; and Danielle learns the truth about Matthew. |
Season 3
| Episode No. | No. Overall | Title | Airdate | Runtime | Summary |
| --- | --- | --- | --- | --- | --- |
| 1 | 48 | Listen to the Rain on the Roof | 2006-09-24 | 43 | Mike is still in a coma after being run over by Orson---who proposes to Bree. Meanwhile, Susan, who has been lovingly caring for Mike, meets Ian, who has been lovingly caring for his comatose wife; the pregnant Xiao-Mei is very demanding of Gaby, who's divorcing Carlos; and Lynette tries to embrace stepmotherhood, but Nora isn't making it easy. |
| 2 | 49 | It Takes Two | 2006-10-01 | 43 | Bree and Orson wed; Susan and Ian go on a date; Edie has an unexpected visitor; and Xiao-Mei makes a delivery. |
| 3 | 50 | A Weekend In the Country | 2006-10-08 | 43 | As Bree's honeymoon ends (with the reappearance of Andrew), Gaby encounters a new John Rowland, and Susan and Ian spend a weekend in the country. Meanwhile, Nora has something to tell Lynette about Tom. |
| 4 | 51 | Like It Was | 2006-10-15 | 60 | Edie moves in on the suddenly sentient Mike while Ian and Susan are off on a romantic getaway; and Lynette goes to bat for her son Parker, who's floundering in Little League. Meanwhile, Andrew Van De Kamp returns home with lurid stories of life on the street. Carlos returns home as well, not that Gaby is pleased to see him. |
| 5 | 52 | Nice She Ain't | 2006-10-22 | 60 | Carlos and Gaby's divorce gets downright nasty, as does Susan's battle with Edie over Mike; Bree must deal with Danielle's affair with her history teacher; and Lynette must deal with Tom's "dream." |
| 6 | 53 | Sweetheart, I Have to Confess | 2006-10-29 | 60 | Carolyn Bigsby confronts Bree with Orson's hidden past while Carolyn's husband, Harvey, confides in Orson about his own; Susan professes her love for Ian while Nora professes her support for Tom; and Carlos and Gaby kiss and make up. Or do they? |
| 7 | 54 | Bang | 2006-11-05 | 60 | A hostage crisis at a Fairview supermarket leads to tragedy. |
| 8 | 55 | Children and Art | 2006-11-12 | 60 | Bree meets Orson's mother, although Orson doesn't like it. Meanwhile, Gaby decides to get back into modeling; Susan refuses to allow Julie to see Austin; and Lynette is suspicious of her new neighbor. |
| 9 | 56 | Beautiful Girls | 2006-11-19 | 60 | Lynette is growing more concerned about her mysterious new neighbor; Susan and Ian take their relationship up a notch, but his butler is not amused; Gaby trains young pageant hopefuls, but their mothers are not amused; and Orson's mother has some things to say that are unsettling to Bree. |
| 10 | 57 | The Miracle Song | 2006-11-26 | 60 | The residents of Wisteria Lane have a holiday block party; Gaby has a new love interest; and Susan's relationship with Ian kicks up a notch. |
| 11 | 58 | No Fits, No Fights, No Feuds | 2007-01-07 | 60 | Gaby accuses Carlos of trying to sabotage her new relationship with Bill; Tom and Lynette try to make Kayla feel like she's part of the family; and Bree welcomes a surprise dinner guest. |
| 12 | 59 | Not While I'm Around | 2007-01-14 | 60 | Gabrielle's secret admirer is revealed; Tom's pizzeria faces an uncertain future; and Wisteria Lane gets a new resident. |
| 13 | 60 | Come Play Wiz Me | 2007-01-21 | 60 | Lynette and Tom face challenges as Pizzeria Scavo prepares for its grand opening, and Gaby can't avoid her not-so-secret admirer, Zach. Meanwhile, Alma reveals a devious plan. |
| 14 | 61 | I Remember That | 2007-02-11 | 60 | Orson opens up to Bree about his past, while Mike begins to remember his; Lynette and Tom's business relationship takes a turn for the worse after Tom hires Austin to work at the pizzeria; and Zach takes notice---and umbrage---when one of his lawyers dates Gaby. |
| 15 | 62 | The Little Things You Do Together | 2007-02-18 | 60 | Amid a medical emergency and marriage proposals, Pizzeria Scavo opens for business. |
| 16 | 63 | My Husband, the Pig | 2007-03-04 | 60 | Edie gets an unexpected visit from her 8-year-old son; Gaby meets a very rich guy, but they don't exactly hit it off; Danielle's unexpected pregnancy affects not only her and Austin but Julie as well; Mike and Ian face off; and Tom and Lynette celebrate (if that's the word for it) their ninth anniversary. Rex Van De Kamp (Steven Culp) is the narrator. |
| 17 | 64 | Dress Big | 2007-04-08 | 60 | Susan discovers a secret about her future in-laws while Mike regains more of his memories of Susan; the Scavos squabble over restaurant uniforms; and a lovelorn (if that's the word for it) Edie eyes Carlos while Gaby finally finds something to like about Victor Lang. She also meets Victor's ex-wife. |
| 18 | 65 | Liaisons | 2007-04-15 | 60 | Once again, Mike comes between Susan and Ian; the Gaby-Victor sparring match goes into the next round; and Edie's budding relationship with Carlos hits a snag. Meanwhile, Lynette is at her wit's end at the restaurant, and the ailing Tom (who's driving Mrs. McCluskey crazy at home) won't let her hire a highly qualified chef because of his checkered past. |
| 19 | 66 | God, That's Good | 2007-04-22 | 60 | Susan calls off her wedding and realizes she must choose between Ian and Mike; Gaby decides it's time to stand by her man; and a blackout shuts down the pizza ovens at Scavo's, giving Rick an opportunity to shine. It also thaws out freezers on Wisteria Lane and lands Mrs. McCluskey in hot water. |
| 20 | 67 | Gossip | 2007-04-29 | 60 | Gaby, annoyed that Carlos is dating Edie, does something about it; Kayla tells Tom she saw Lynette flirting with Rick; Wisteria Lane is full of gossip about the dead body found in Mrs. McCluskey's freezer; and Susan decides between Ian and Mike. |
| 21 | 68 | Into the Woods | 2007-05-06 | 60 | Susan gets lost in the woods while looking for Mike; Gaby goes to jail; and Lynette realizes she loves another man. |
| 22 | 69 | What Would We Do Without You? | 2007-05-13 | 60 | While Wisteria Lane is abuzz with Gaby's wedding plans, Susan pops the question to Mike. Meanwhile, Edie schemes to get Carlos to move in with her, and Lynette has a health scare. |
| 23 | 70 | Getting Married Today | 2007-05-20 | 60 | Bree and Orson return to Wisteria Lane for Gaby and Victor's fairy-tale wedding as Susan makes plans for her nuptials. Meanwhile, Lynette's estranged mother shows up on her doorstep, and Carlos makes a discovery about Edie. |
Season 4
| Episode No. | No. Overall | Title | Airdate | Runtime | Summary |
| --- | --- | --- | --- | --- | --- |
| 1 | 71 | Now You Know | 2007-09-30 | 60 | Former Wisteria Lane resident Katherine Mayfair moves back onto the cul-de-sac with her new husband, Adam, a gynecologist who treats Susan, and her daughter, Dylan, who can't remember her onetime best friend Julie. Meanwhile, news about Edie spreads, and Lynette's chemotherapy is wearing her down. As is the fact that she's keeping her cancer a secret. Bree's secret---her fake pregnancy---is also becoming a problem. |
| 2 | 72 | Smiles of a Summer Night | 2007-10-07 | 60 | Lynette kicks Tom out of her chemotherapy sessions, Susan is mistaken for a stripper, and Bree attempts to steal a prize-winning recipe. |
| 3 | 73 | The Game | 2007-10-14 | 60 | Bree gossips about what she overheard in the Mayfair house and reluctantly recommends a gynecologist to Susan; Stella makes brownies to help Lynette through chemotherapy; Edie buys an engagement ring for herself; and while Susan throws a charades party for the neighborhood, Julie and Dylan break into the locked room in the Mayfair house. |
| 4 | 74 | If There's Anything I Can't Stand | 2007-10-21 | 60 | Edie receives unexpected news at the gynecologist's office; an unexpected visitor discovers that Bree's pregnancy is a hoax; and Wisteria Lane welcomes a new, male couple. |
| 5 | 75 | Art Isn't Easy | 2007-10-28 | 60 | Bob and Lee's front-yard water sculpture prompts the Wisteria Lane neighborhood association into action; Edie finds out about Carlos' affair with Gaby, who's also being wooed by her former gardener, |
| 6 | 76 | Now I Know, Don't Be Scared | 2007-11-04 | 60 | Edie's biggest fear is realized when Carlos walks out on her; Susan finds Mike's father, who was thought to be dead; and a delivery at a Halloween party catches the Wisteria Lane residents by surprise. |
| 7 | 77 | You Can't Judge a Book by Its Cover | 2007-11-11 | 60 | Victor confronts Gaby about her affair with Carlos; Bree tells Susan that she thinks Mike is a drug addict; the arrival of Benjamin Tyson Hodge leads to a disagreement between Orson and Bree; and Lynette and her sisters meet to discuss their mother's care. |
| 8 | 78 | A Distant Past | 2007-11-25 | 60 | A mysterious stalker from Adam's past shows up on Wisteria Lane; Danielle's baby puts stress on Bree and Orson's marriage; Lynette has a reunion with her long-lost stepfather; Gaby and Carlos try to figure out how to explain Victor's disappearance. |
| 9 | 79 | Something's Coming | 2007-12-02 | 60 | A tornado strikes Wisteria Lane, forcing residents into basements, cellars and safe rooms, and destroying homes and lives. Meanwhile, Katherine learns the truth about the relationship between Adam and his stalker. |
| 10 | 80 | Welcome to Kanagawa | 2008-01-06 | 60 | Following the tornado, Wisteria Lane residents begin to rebuild their lives, but with Mrs. McCluskey's house completely destroyed, Lynette faces the possibility that her family and Ida Greenberg didn't survive. Meanwhile, Katherine finds out that someone knows the truth about her mysterious past. |
| 11 | 81 | Sunday | 2008-04-13 | 60 | Katherine can't keep some of her secrets from the women of Wisteria Lane; a surprise wedding ceremony has its share of secrets; Susan's hunky young cousin shares some unexpected revelations. |
| 12 | 82 | In Buddy's Eyes | 2008-04-20 | 60 | Gaby struggles with the reality of Carlos' blindness; someone from Lynette's past shows up at the pizzeria; Bree and Katherine decide to join forces to plan the Founder's Day Ball. |
| 13 | 83 | Hello, Little Girl | 2008-04-27 | 60 | Bree and Katherine decide to start a business together; Lynette tries to deny her feelings for another man; Mike learns the truth about his nearly fatal accident. |
| 14 | 84 | Opening Doors | 2008-05-04 | 60 | Lynette finds out who was responsible for setting the fire at Rick's restaurant; Susan reconnects with ex-husband Karl; Bree gives Orson an ultimatum. |
| 15 | 85 | Mother Said | 2008-05-11 | 60 | Susan's mother-in-law visits; Carlos and Gaby learn that their tenant is hiding a dark secret; war breaks out between Edie and Bree. |
| 16 | 86 | The Gun Song | 2008-05-18 | 60 | In Part 1 of the two-part fourth-season finale, Kayla accuses Lynette of child abuse; Susan and Mike have a disagreement about their newborn son following the death of Mike's grandfather; the police close in on Ellie; Bree's pastor returns from a mission in Korea; and Katherine's two husbands, Adam and Wayne, meet. |
| 17 | 87 | Free | 2008-05-18 | 60 | In the conclusion of the fourth-season finale, Katherine's secrets are revealed. But first, she begs off catering Bob and Lee's commitment ceremony, leaving Bree with her hands full. Meanwhile, Bob and Lee fight over the ice sculpture, and Tom Scavo steps in with advice; Orson keeps trying to win Bree back; Gaby gets a call from Ellie, who's on the lam; and Julie Mayer is accepted by Princeton, but Susan doesn't want to see her go. |
Season 5
| Episode No. | No. Overall | Title | Airdate | Runtime | Summary |
| --- | --- | --- | --- | --- | --- |
| 1 | 88 | You're Gonna Love Tomorrow | 2008-09-28 | 60 | It's five years later as the fifth-season opens, and Susan is trying to hide her relationship with a new man. Meanwhile, Gaby questions her maternal skills; Bree is about to publish a cookbook as her business partner, Katherine, bristles; Lynette catches her teenage twins (Charlie and Max Carver) spearheading illegal activities; and Edie returns to Wisteria Lane with a new man in town. |
| 2 | 89 | We're So Happy You're So Happy | 2008-10-05 | 60 | Gaby tries to salvage what's left of her social stature; Lynette discovers Porter's softer side; the men in Susan's life meet; Bree must juggle marriage and career; Edie once again sees just how hostile Wisteria Lane residents can be; and Mrs. McCluskey enlists Katherine's help in digging up info on new neighbor Dave. |
| 3 | 90 | Kids Ain't Like Everybody Else | 2008-10-12 | 60 | Danielle Van De Kamp is met with criticism when she returns to Wisteria Lane; Gaby and Susan get in a catfight following an altercation between their kids; Tom and Dave form a garage band after Lynette told Tom to get rid of his old things; and Katherine and Mrs. McCluskey invite Edie to lunch to press her for more information on Dave. |
| 4 | 91 | Back in Business | 2008-10-19 | 60 | Bree's success evokes jealousy on Wisteria Lane; Lynette, who misses using her business expertise, offers Bree unsolicited marketing advice; Mike feels as though he's not a part of MJ's life while Susan teaches their reluctant young son how to fall; and Gaby wants Carlos to be more amorous. Meanwhile, Dave's real reason for moving to Wisteria Lane begins to come into focus. |
| 5 | 92 | Mirror, Mirror | 2008-10-26 | 60 | Dave persuades Susan to throw a 70th-birthday party for Mrs. McCluskey, but his motives aren't entirely altruistic and Mrs. McCluskey isn't overjoyed; Jackson wants to ramp things up with Susan; Gaby fears she might be pregnant again; and Tom tells Lynette that he has sold the pizzeria. Meanwhile, events of the past five years come more clearly into focus. Among them: how the bond between Bree and Katherine developed. |
| 6 | 93 | There's Always a Woman | 2008-11-02 | 60 | Lynette suspects that Tom is having an affair; Susan tries to surprise Jackson; Mrs. McCluskey enlists her sister (Lily Tomlin) to dig up dirt on Dave; one of Carlos' clients makes him an offer; and the bond grows between Bree and Katherine. |
| 7 | 94 | What More Do I Need? | 2008-11-09 | 60 | Lynette and Tom learn an unsettling truth about Porter; Gaby suspects that Carlos' top client has ulterior motives; Mrs. McCluskey's sister unearths a disturbing fact about Dave; Bree's moment of weakness could bring her great embarrassment; Katherine's not-so-little secret is revealed; and Susan learns of Jackson's true passion. |
| 8 | 95 | City on Fire | 2008-11-16 | 60 | A fire erupts at the club where the garage band is playing; Julie Mayer returns with a surprise; Lynette learns about Porter and Anne Schilling; Gaby and Mrs. Hildebrand arrive at a fragile truce; Dave keeps avoiding Dr. Heller. |
| 9 | 96 | Me and My Town | 2008-11-30 | 60 | The road to recovery begins in the deadly fire's wake. Gaby and Carlos' injuries lead to a fortunate discovery, but others aren't so lucky: Lynette and Tom vow to protect son Porter at any cost, and Susan must learn to let go of the man she loves. Meanwhile, Orson's attempt at a good night's sleep puts Bree in a precarious (if amusing) position just prior her big cooking demonstration. |
| 10 | 97 | A Vision's Just a Vision | 2008-12-07 | 60 | Porter is arrested for starting the nightclub fire, and Lynette goes into full protection mode; Andrew and Alex let one cat out of a bag, and Bob and Lee let out another; Carlos regains his eyesight, and sees what Gaby has done for their family; M.J. isn't happy to see his dad date Katherine; and Dave begins to lose his grip. |
| 11 | 98 | Home Is the Place | 2009-01-04 | 60 | Bree clashes with Alex's mother for their sons' affections; Gaby urges Carlos to take a six-figure job, even though it means spending more time away from home; Susan turns to Lee for company while Jackson is away; Lynette catches Preston talking to Porter on the phone; and Edie grows weary of Dave, whose strange behavior hasn't abated. |
| 12 | 99 | Connect! Connect! | 2009-01-11 | 60 | Susan and Edie accidentally lock themselves in a basement; Bree encounters someone who'll stand up to her; Gaby loses control of her girls and turns to Carlos for help; Lynette's search for Porter leads to her mom; Katherine and Mike define their relationship; and Dave's plan for revenge takes a new turn after Edie throws him out. |
| 13 | 100 | The Best Thing That Could Have Happened | 2009-01-18 | 60 | When neighborhood handyman Eli Scruggs dies, the housewives realize just how much he affected their lives. Gaby recalls how Eli helped her make friends when she arrived; Lynette remembers how he came to her aid when she was overwhelmed and neglecting Penny; Susan reflects on how he lent her his shoulder to cry on each time a man walked out on her; Edie looks back on their special friendship; and Bree thinks fondly of his small gesture that had a big effect. |
| 14 | 101 | Mama Spent Money When She Had None | 2009-02-08 | 60 | Bree buys a new car while Lynette and Tom resolve to sell his Mustang for extra cash; Susan is determined to send MJ to a school she and Mike can't afford; Gaby joins Edie's "boot camp" to get back into shape; and Lee wrestles with telling Lynette and Tom some disturbing facts about Dave. |
| 15 | 102 | In a World Where the Kings Are Employers | 2009-02-15 | 60 | Susan starts a job to provide for MJ---and becomes both angry and jealous when Mike lets Katherine babysit him; Lynette wants Tom to sell the recession-wracked pizzeria; Carlos gets a big bonus after Gaby discovers his boss's dirty little secret; Bree gives Andrew a raise, raising Orson's hackles; and Dave grows tired of the neighbors' suspicions of him. |
| 16 | 103 | Crime Doesn't Pay | 2009-03-08 | 60 | While helping Tom Scavo find a new job, Bree discovers something shocking about Orson; Carlos' adulterous boss uses Gaby as his cover; Edie probes Dave's past after a chance encounter with an old acquaintance. |
| 17 | 104 | The Story of Lucy and Jessie | 2009-03-15 | 60 | A teacher gets the wrong idea when Susan tries to impress her; Gaby, for reasons of her own, wants Carlos to hire Lynette; Bree is determined not to let Orson's bad habit embarrass her; and Edie digs deeper into Dave's past. |
| 18 | 105 | A Spark. To Pierce the Dark. | 2009-03-22 | 60 | Bree decides to sell her business; Lucy makes Lynette work overtime while Carlos' equally long hours upset Gaby; Karl Mayer enrolls his son in Susan's school; and Mike, Katherine and Dave finally go on their camping trip. Meanwhile, Edie finally discovers why Dave wanted to move to Wisteria Lane. |
| 19 | 106 | Look Into Their Eyes and You See What They Know | 2009-04-19 | 60 | The housewives reminisce about Edie: Susan recalls the first time they met; Lynette looks back on a night to remember; Gaby remembers a night of friendly competition; and Bree is reminded of her thoughtfulness toward Orson. |
| 20 | 107 | Rose's Turn | 2009-04-26 | 60 | Lynette and Orson are hiding something from Tom and Bree, respectively, but Katherine makes a confession to Mike, and Susan confides in Dave. Meanwhile, Tom is behaving oddly, and Gaby is covering for him. |
| 21 | 108 | Bargaining | 2009-05-03 | 60 | Bree hires a good lawyer and behaves badly to do it; Jackson pops back into Susan's life and pops a question; Tom and Lynette bargain for sex, while Dave does some bargaining of his own; Katherine plays dirty to win Mike; Gaby makes a deal with Juanita that tests her vanity. |
| 22 | 109 | Marry Me a Little | 2009-05-10 | 60 | There's deception aplenty on Wisteria Lane: Bree keeps Orson in the dark; Susan and Jackson try to fool the authorities; Katherine won't level with Mike; and Tom tries to hide his age. Meanwhile, a witness to Dave's crimes surfaces. |
| 23 | 110 | Everybody Says Don't | 2009-05-17 | 60 | Gaby runs into a down-on-her-luck old acquaintance; Tom decides to go back to school (much to Lynette's dismay); Orson threatens Bree with blackmail; and Susan accepts Dave's "friendly" gesture. |
| 24 | 111 | If It's Only in Your Head | 2009-05-17 | 60 | Orson takes a beating; Lynette adapts to Tom's decision to go back to school; Gaby's niece moves to Wisteria Lane; and Dave's "friendly" gesture proves to be anything but to Susan and MJ. |
Season 6
| Episode No. | No. Overall | Title | Airdate | Runtime | Summary |
| --- | --- | --- | --- | --- | --- |
| 1 | 112 | Nice Is Different Than Good | 2009-09-27 | 60 | Mike Delfino reveals his bride; Lynette faces another pregnancy; Bree struggles to free herself from both Orson and her inhibitions; Carlos' teen niece moves in; another family with a dark past moves onto Wisteria Lane. |
| 2 | 113 | Being Alive | 2009-10-04 | 60 | The Bolens face suspicion on Wisteria Lane. Meanwhile, Lynette keeps a secret from Susan; Gaby gives her niece Ana tips on how to get a guy to notice her; Bree's concerned about the effect of her affair with Karl on Susan; and Angie is determined to protect her son Danny and the family's dark past. |
| 3 | 114 | Never Judge a Lady by Her Lover | 2009-10-11 | 60 | Gaby runs into John Rowland; Bree considers a weekend tryst with Karl; Lynette and Tom tell their kids that she's pregnant again; and Susan is suspicious of Angie's son, Danny. |
| 4 | 115 | The God-Why-Don't-You-Love-Me Blues | 2009-10-18 | 60 | Katherine is falling apart after losing Mike, and Bree comes to her aid; the attention that John Rowland is showing Ana is getting to Gaby; Lynette shows her value at work in a new way; Susan learns that Julie is keeping secrets from her; and Angie throws a party for her son, Danny. |
| 5 | 116 | Everybody Ought to Have a Maid | 2009-10-25 | 60 | Susan and Katherine fight (literally) over Mike; Angie and Nick cover up the result of Danny's lapse in judgment; Gaby is determined to show that she's a good mother; a motel maid castigates Bree for her affair with Karl; and Lynette is annoyed when a handyman consistently seeks Tom's approval (and not hers) of his work. |
| 6 | 117 | Don't Walk on the Grass | 2009-11-01 | 60 | Bree drifts further away from Orson as she begins to fall for Karl; Katherine keeps trying to get Mike back as her conflict with Susan intensifies; Gaby gets Juanita expelled from school; Lynette learns that Tom is cheating on his midterm; and Angie covers for her mother. |
| 7 | 118 | Careful the Things You Say | 2009-11-08 | 60 | Susan thinks that Katherine might be Julie's assailant, and Lynette has her own suspicions as to who did it. Meanwhile, Angie invites a reluctant Bree and Orson to dinner, and she also confronts husband Nick about a secret he's keeping from her. |
| 8 | 119 | The Coffee Cup | 2009-11-15 | 60 | Susan discovers a Mike-Katherine connection that leads her to question her relationship with Mike; Gaby simply must get Juanita into Catholic school; Lynette's pregnancy becomes increasingly hard to hide; and Angie learns the truth about Bree's marriage as Bree tries to hide her affair. |
| 9 | 120 | Would I Think of Suicide? | 2009-11-29 | 60 | Angie decides to leave Wisteria Lane with her family; Bree's affair with Karl becomes harder to hide, causing Susan to clash with Bree; Lynette's pregnancy puts her at odds with Gaby; and Mike and Katherine's argument turns hurtful. |
| 10 | 121 | Boom Crunch | 2009-12-06 | 60 | A plane crashes on Wisteria Lane, endangering lives. Meanwhile, Gaby and Lynette's friendship founders; Bree and Orson reach an agreement about their marriage; Danny's mistake may prove costly for Angie; and Susan plans to help Katherine. |
| 11 | 122 | If... | 2010-01-03 | 60 | In the wake of the plane crash, the housewives play "What If...," reflecting on their life choices, and on how other choices might have led to different lives. For Susan it's a life with Karl, and for Bree it's one without Orson; and Lynette thinks about a future with her unborn twins. Meanwhile, Carlos imagines Gaby as an overprotective mom; and Angie ponders what could happen if her secrets were revealed. |
| 12 | 123 | You Gotta Get a Gimmick | 2010-01-10 | 60 | Susan hits upon stripping as a way to dial up the heat for Mike; Bree learns how difficult it will be to undo the pain that she has caused Orson; Lynette discovers what Tom's really up to; and Gaby is forced to come to terms with her ethnic heritage. |
| 13 | 124 | How About a Friendly Shrink? | 2010-01-17 | 60 | Katherine is seeing a psychiatrist, but Lynette won't see a couples' therapist. Meanwhile, Gaby and Susan are determined to find out if their kids are in the smartest group at school; and Angie disapproves of Danny's new girlfriend. |
| 14 | 125 | The Glamorous Life | 2010-01-31 | 60 | Gaby and Angie each think the other's a lousy mom; Susan befriends a stripper, then takes her under her wing; Lynette and Tom argue about their new therapist; and Bree fears that Orson might kill himself, so she keeps a watchful eye on him. |
| 15 | 126 | Lovely | 2010-02-21 | 60 | Robin turns heads (and makes a friend in Katherine) when Susan invites her home. The ex-stripper gives seduction tips to Bree, who wants to reengage Orson. And Gaby thinks Robin can help out with the troublesome Ana. But Lynette is wary. She has teen boys at home. |
| 16 | 127 | The Chase | 2010-02-28 | 60 | When Celia catches chicken pox, Gaby (who never had it) must stay away from her, so she stays with Bob and Lee---and experiences the single life again. Meanwhile, Lynette and Tom forget Penny's birthday; Bree hires a new employee who shows promise; Katherine makes a surprising discovery; and Angie worries about the missing Danny. |
| 17 | 128 | Chromolume #7 | 2010-03-14 | 60 | Gaby learns something about herself after running into onetime colleagues Heidi Klum and Paulina Porizkova while searching for Ana and Danny in New York with Angie. Meanwhile, Preston Scavo returns from Europe with a surprise; Bree discovers a surprising tie to her new employee, Sam; Mike, feeling emasculated, is determined to show Susan how manly he is; and Katherine is confused about her feelings for Robin. |
| 18 | 129 | My Two Young Men | 2010-03-21 | 60 | Angie's former boyfriend Patrick shows up; Gaby and Susan wage war with their kids as proxies; Bree invites Sam to a family dinner; Lynette is suspicious of Preston's fiancée; and Katherine comes out of the closet. |
| 19 | 130 | We All Deserve to Die | 2010-04-18 | 60 | Lynette discovers something about Irina; Gaby offers to help Bob and Lee without considering potential consequences; Bree begins to question Sam's motives; Susan helps Mike with his finances; and Danny meets Patrick without Angie's knowledge. |
| 20 | 131 | Epiphany | 2010-04-25 | 60 | Flashbacks focusing on the Fairview Strangler show him intruding on Gaby and Carlos during an intimate moment, and being offered a job and dating advice by Bree. In addition, Susan is seen encouraging his interest in art, and Lynette shows him kindness. |
| 21 | 132 | A Little Night Music | 2010-05-02 | 60 | Angie comes face to face with Patrick after spending 18 years running away from him; Gaby and Susan plan a scheme against their husbands; Lynette sees a dark side of Eddie; Bree meets Sam's mother. |
| 22 | 133 | The Ballad of Booth | 2010-05-09 | 60 | Lynette learns the truth about Eddie; Angie goes to Gaby for help when Patrick threatens Danny's life; Bree offers to pay Sam to walk away; and Susan and Mike's financial problem leads to a big sacrifice. |
| 23 | 134 | I Guess This Is Goodbye | 2010-05-16 | 60 | Gaby endangers herself to help Angie, who must meet Patrick's demands to protect Danny; the fates of Lynette and her unborn child lie in Eddie's hands; Susan faces her financial woes; and Bree considers confessing a long-held secret. |
Season 7
| Episode No. | No. Overall | Title | Airdate | Runtime | Summary |
| --- | --- | --- | --- | --- | --- |
| 1 | 135 | Remember Paul | 2010-09-26 | 60 | Season 7 opens with Vanessa Williams joining the cast as Lynette's rich friend Renee Perry, who makes an unexpected visit. Paul Young (Mark Moses) returns with his new wife after his release from prison, and they move into Susan's old house. Meanwhile, Susan is offered a job by the manager (Lainie Kazan) of the apartment building where she and Mike now live; the newly single Bree is tempted by her handyman (Brian Austin Green); and Carlos and Gaby are keeping secrets from each other. |
| 2 | 136 | You Must Meet My Wife | 2010-10-03 | 60 | Lynette thinks that Renee is spending too much time with Tom; Bree fires her handyman, Keith, after falling for him; Paul Young introduces his new wife around; Susan feels guilty about lying to Mike about her new job; and Gaby learns that Bree accidentally hit Juanita with her car. |
| 3 | 137 | Truly Content | 2010-10-10 | 60 | Susan discovers that her Internet work is being imitated; Gaby goes behind Carlos' back to hire a private investigator; Lynette isn't happy with Tom's depression treatment; and Renee invites Bree to go clubbing (and man-hunting). |
| 4 | 138 | The Thing That Counts is What's Inside | 2010-10-17 | 60 | Susan goes public (against her will) for Va-Va Broom; Gaby tells her secret to the other housewives; Keith proves to be a bone of contention for Bree and Renee; Paul Young buys back the house he lived in with Mary Alice, over the objections of his new wife, Beth; and Lynette takes advantage of Penny's offer to take care of the youngest Scavo. |
| 5 | 139 | Let Me Entertain You | 2010-10-24 | 60 | Susan upsets a Va-Va Broom client and Maxine notices; Renee and Gaby tell secrets about each other to the wrong people; Bree can't keep up with Keith in bed; Lynette is mad at Tom for asking his mother (Lois Smith) to be their baby's nanny without checking with her first; and housewife Emma Graham (Dana Glover) puts on a cabaret show with saxophonist Dave Koz. |
| 6 | 140 | Excited and Scared | 2010-10-31 | 60 | As Halloween nears, Susan tells Mike about Va-Va-Broom; Juanita becomes suspicious of her mother's interest in Grace; Lynette worries about her mother-in-law's memory lapses; Bree learns a secret about Keith; and Paul is encouraged to take Beth on a date to heat up their unromantic marriage. |
| 7 | 141 | A Humiliating Business | 2010-11-07 | 60 | Renee has a job offer for Lynette while Susan reluctantly accepts Lynette's offer to be Paige's nanny; Bree is reluctant to tell Keith that she's beginning menopause; Bob strikes up a friendship with Carlos; and Beth begins to suspect Paul's motives for returning to Wisteria Lane. |
| 8 | 142 | Sorry Grateful | 2010-11-14 | 60 | Thanksgiving on Wisteria Lane: Gaby and Carlos discover surprising things about the Sanchezes that could threaten their time with Grace, while Bree learns some of Keith's family secrets over dinner with his parents (John Schneider and Nancy Travis). Meanwhile, Susan butts heads with Lynette over her sleep-training techniques for baby Paige; Renee keeps reminding Tom about their past; and Beth tries to learn more about Paul's past. |
| 9 | 143 | Pleasant Little Kingdom | 2010-12-05 | 60 | Gaby desperately seeks a way to keep Grace in her life; Keith plans a special dinner with Bree; Tom's angry at Lynette for not telling the other housewives about his special attributes; Renee tells Susan a secret; Paul's Wisteria Lane plot emerges. |
| 10 | 144 | Down The Block There's a Riot | 2010-12-12 | 60 | Paul's nefarious plan for Wisteria Lane takes effect; Juanita discovers Gaby's secret; Bree invites Keith to move in with her; and Tom is confronted about a past indiscretion with Renee. |
| 11 | 145 | Assassins | 2011-01-02 | 60 | Susan's life hangs by a thread after being trampled during the Wisteria Lane riot. Meanwhile, Paul Young's fate is revealed; Keith moves in with Bree---and they get a visit from Orson; Gaby tries to fix her relationship with Juanita, but finds it tough to get rid of all traces of Grace; and Renee considers telling Lynette the truth about her past with Tom. |
| 12 | 146 | Where Do I Belong? | 2011-01-09 | 60 | Susan gets a shock when her mother (Lesley Ann Warren) and aunt (Valerie Harper) visit; Lynette seeks revenge after hearing of Tom's fling with Renee; Bree tries to befriend Beth Young; and Gaby turns obsessive over the loss of Grace. |
| 13 | 147 | I'm Still Here | 2011-01-16 | 60 | Lynette tries to stop her mother (Polly Bergen) from marrying an odious man (Larry Hagman); Bree learns disquieting things about Keith from his ex-girlfriend; Carlos worries about Gaby's obsession with a doll; Susan befriends a fellow dialysis patient who's depressed and curmudgeonly; Bob and Lee hire Renee to decorate their newly adopted daughter's bedroom; and Paul Young books a cabin in the woods for a getaway with Beth. |
| 14 | 148 | Flashback | 2011-02-13 | 60 | Lynette balks when her mother (Polly Bergen) asks her and the rest of the Scavos to pose for a family picture that includes her obnoxious new husband (Larry Hagman); Susan gets an unlikely kidney-transplant offer; Gaby won't confront her past in therapy sessions; Bree continues to keep Keith in the dark about the fact that he's a dad; and Mike wants to find out if his biological son Zach Young (Cody Kasch) was involved in the shooting of Zach's adoptive dad, Paul Young. |
| 15 | 149 | Farewell Letter | 2011-02-20 | 60 | Porter and Preston Scavo move out (but not too far); Gaby and Carlos visit her hometown and discover her impact on it; Keith wants Bree to move to Florida with him so he can be closer to his son; Susan uses her kidney woes to her advantage; and Paul sends Zach to rehab, then makes a decision about Beth. |
| 16 | 150 | Searching | 2011-03-06 | 60 | Susan learns that she needs a new kidney or she'll die, and Bree vows to get her one; Beth struggles to find her footing after Paul dumps her; Lynette tries to stop Renee from adopting a baby; and Gaby pressures Juanita to shine at her school talent show because she wants her to top Lee and Bob's talented daughter. |
| 17 | 151 | Everything's Different, Nothing's Changed | 2011-04-03 | 60 | Paul Young comes between Susan and her new kidney; Tom passes up a job opportunity out of loyalty to Carlos, infuriating Lynette; Bree's worried about Andrew's drinking; and Renee refuses to cancel a party following a Wisteria Lane resident's suicide attempt, to Gaby's shock. |
| 18 | 152 | Moments in the Woods | 2011-04-17 | 60 | Susan begins gambling what little money she and Mike have; Bree tries to stop Andrew from admitting to Carlos that it was he who accidentally killed his mother; Renee introduces Lynette to the world of frivolous and conspicuous consumption. |
| 19 | 153 | The Lies Ill-Concealed | 2011-04-24 | 60 | Gaby disobeys Carlos' order not to see Bree after he learns that it was Andrew who killed his mother; Susan dreams about Paul Young after receiving Beth's kidney; Lynette resents being Tom's "plus one" at a weekend business conference; and Felicia Tillman tries to get Mrs. McCluskey on her side in her campaign against Paul. |
| 20 | 154 | I'll Swallow Poison on Sunday | 2011-05-01 | 60 | Gaby, Juanita and Celia are staying with Bree, who must lay down the law to keep the girls from wrecking her house; Lynette clashes with Tom when he hires her and Renee to redecorate his office; Susan learns that Felicia Tillman is out of prison while she's nursing Paul back to health. |
| 21 | 155 | Then I Really Got Scared | 2011-05-08 | 60 | Paul's health is declining and he suspects that Susan is responsible for it; Lynette and Tom fight about their family vacation; Gaby lets Juanita watch a horror movie and soon regrets it; and Bree dates a detective, but doesn't trust him. |
| 22 | 156 | And Lots of Security... | 2011-05-15 | 60 | Season 7 finale (Part 1 of 2): Susan's accused of trying to murder Paul; Bree's attracted to Det. Chuck Vance, but suspects that he's gay; the Scavos spend a weekend at a B&B to work through their marital woes; and Gaby sees the stalker whom Juanita had told her about and decides to get a gun. |
| 23 | 157 | Come on Over for Dinner | 2011-05-15 | 60 | Season 7 finale (Conclusion): Wisteria Lane welcomes Susan back with a party that ends in murder. But first, a pistol-packin' Gaby stalks her stalker (Tony Plana); Lynette and Tom reflect on their B&B weekend; Bree meets Chuck Vance's wife (Anita Barone); and Renee is devastated when she learns that her ex is remarrying. |
Season 8
| Episode No. | No. Overall | Title | Airdate | Runtime | Summary |
| --- | --- | --- | --- | --- | --- |
| 1 | 158 | Secrets That I Never Want to Know | 2011-09-25 | 60 | As Season 8 begins, Susan, Gaby, Bree, Lynette and Carlos get rid of the body of Gaby's evil stepfather after Carlos killed him to protect Gaby. They feel guilty, and express it in their own ways. Meanwhile, sexy Ben Faulkner (Charles Mesure) moves in, and Renee shows an immediate interest. |
| 2 | 159 | Making the Connection | 2011-10-02 | 60 | Susan discovers a thrilling (if dangerous) way to ease her guilt over her role in the death of Gaby's evil stepfather; Gaby plans a sexy surprise for Carlos to help him regain his bedroom prowess; Bree discovers something in Chuck's past; Lynette and Tom have a hard time denying their kids' outlandish requests as their marital woes continue because neither wants to be seen as "the bad guy"; and Renee tries to win over hunky new neighbor Ben (Charles Mesure) by finding out what turns him on. |
| 3 | 160 | Watch While I Revise the World | 2011-10-09 | 60 | Mike suspects that Susan and Carlos are having an affair because of their shared guilt over the killing of Gaby's stepfather; Bree suspects that Chuck is investigating her; Lynette's sister (Sarah Paulson) arrives, and announces that she's engaged; and Lee asks Renee to help his daughter, Jenny, buy her first bra, and feels frozen out when Renee and Jenny bond. |
| 4 | 161 | School of Hard Knocks | 2011-10-16 | 60 | Gaby seeks to get even with the volunteer who banishes her to a faraway parking lot when she breaks school rules by dropping off Juanita in front of the building; Bree discovers that Danielle's new business might not be as wholesome as she thought; Lynette begins to suspect that Tom is dating; and Susan tries to cope with her guilt by taking an art class with a no-nonsense instructor (Miguel Ferrer). |
| 5 | 162 | The Art of Making Art | 2011-10-23 | 60 | Susan's art teacher, Andre (Miguel Ferrer) wants his students, Susan included, to disrobe in class; Bree's soup attracts the wrong type of clientele to the homeless shelter serving it; Renee takes a reluctant Lynette to a singles bar; volunteers don't take kindly to Gaby's lackadaisical approach to her duties as PTA president; and Carlos hits rock bottom when his guilt over Gaby's stepfather's killing overtakes him. |
| 6 | 163 | Witch's Lament | 2011-10-30 | 60 | Gaby, Bree and Lynette must dig up and move Alejandro's body after learning that Ben will be excavating on the very spot where Gaby's stepfather is buried; Susan discovers that her duties as Andre's intern don't involve art; Lynette tries to make a Halloween costume for Penny to keep from being outdone by Tom's new girlfriend; and Renee uses an enticement to spice up her first night of romance with Ben. |
| 7 | 164 | Always in Control | 2011-11-06 | 60 | Bree discovers who dug up Gaby's stepfather and is shocked; Lynette lies to Penny about Tom's new girlfriend; Susan searches desperately for her artistic muse to impress her hard-to-impress art teacher Andre; and Lee and Bob think that Juanita and Celia Solis are still bad kids, so they don't want to let Gaby and Carlos name them as the girls' legal guardians in their wills. |
| 8 | 165 | Suspicion Song | 2011-11-13 | 60 | Chuck begins to harass Bree as his suspicions about her role in Alejandro's disappearance grow; Andre wants Susan to show her paintings inspired by Alejandro's murder at a gallery; Lynette devises a plan to salvage her marriage as her 22nd anniversary nears; and Carlos' drinking begins interfering with work, prompting Gaby to intervene. |
| 9 | 166 | Putting It Together | 2011-12-04 | 60 | Chuck questions Gaby, Susan and Lynette individually about Alejandro's disappearance, and Bree becomes despondent when her friends blame her for their predicament: They say that Chuck is taking his anger at her out on them. Meanwhile, Lynette asks a favor of Tom that could upend his relationship with Jane (Andrea Parker); and Susan's art career could get a once-in-a-lifetime boost. |
| 10 | 167 | What's to Discuss, Old Friend? | 2012-01-08 | 60 | Abandoned by her fellow housewives, a desperate Bree prepares to kill herself. Meanwhile, Gaby suspects that Carlos may have been involved in Det. Chuck Vance's murder; Susan decides to pursue her art career in New York—with or without Mike; and an angry Tom decides not to go to Paris with his girlfriend after Lynette confesses that she's an accomplice to murder and could soon be arrested. |
| 11 | 168 | Who Can Say What's True? | 2012-01-15 | 60 | Gaby asks Lynette to help her woo an important company to sign with Carlos' firm; Renee talks Bree into going to a pickup bar; Mike finds inconsistencies in Ben's real-estate project; and a guilt-ridden Susan secretly visits Alejandro's family to see how they've been holding up in his absence. |
| 12 | 169 | What's the Good of Being Good | 2012-01-22 | 60 | Bree spins further out of control, fueled by alcohol and lust; Lynette goes on her first date since separating from Tom—with Renee's hairdresser; Ben has a surprise for Renee; Alejandro's widow suspects that he was murdered and confronts Susan about it; and Gaby discovers that Alejandro also abused his stepdaughter. |
| 13 | 170 | Is This What You Call Love? | 2012-02-12 | 60 | Susan is shocked to learn that Julie is pregnant; Lynette's first post-Tom sex doesn't end in fireworks; Juanita's upset when she doesn't get a Valentine from a boy she has a crush on, and Gaby tries to help her; Bree's drinking and lust continues unabated. |
| 14 | 171 | Get Out of My Life | 2012-02-19 | 60 | Susan discovers who the father of Julie's baby is; Orson makes it his duty to nurse Bree back to health; Mrs. McCluskey throws Roy out of her house and he finds refuge at the Solises, where he proves to be an effective disciplinarian to Juanita and Celia, so Gaby won't help him patch things up with Mrs. McCluskey; Porter and Preston Scavo are evicted from their apartment and want to move back home, but Lynette has other ideas; and Mike tells Renee about Ben's loan-shark problem. |
| 15 | 172 | She Needs Me | 2012-03-04 | 60 | Susan offers to help the father of Julie's baby raise the child; Bree agrees to go to Maine with Orson—perhaps for good; Karen pleads with Gaby not to tell Roy about her condition; and the loan shark who threatened Ben sets out to ruin Renee. |
| 16 | 173 | You Take for Granted | 2012-03-11 | 60 | Susan talks Mike into going to the police when she discovers that Ben's loan shark is out to get him; Mrs. McCluskey, who's dying of cancer, asks Bree to help her commit suicide; Tom's girlfriend, Jane, stuns Lynette at Penny's birthday party; Carlos behaves oddly on his first day back at work, and Gaby is worried. |
| 17 | 174 | Women and Death | 2012-03-18 | 60 | On the day of a beloved Wisteria Lane resident's funeral, each of the housewives recalls the effect this person had on her life. Meanwhile, Bree is stunned when she's called in for questioning about the murder of Gaby's stepfather, Alejandro. |
| 18 | 175 | Any Moment | 2012-03-25 | 60 | Julie worries about Susan's parenting skills after noticing her mother's laxity with MJ; Gaby tries to land a high-paying job after Carlos quits his; Andrew announces that he's getting married, and Bree smells a rat; Lynette sets out win Tom back; and Ben finally proposes to Renee. |
| 19 | 176 | With So Little to Be Sure Of | 2012-04-01 | 60 | Susan learns that Mike had been keeping a secret from her for years; Bree wants a high-powered lawyer when she becomes the prime suspect in the murder of Gaby's stepfather; Gaby discovers a sexy way to raise her personal-shopping commission; and Lynette continues to try to win Tom back—and Jane does all she can to thwart her. |
| 20 | 177 | Lost My Power | 2012-04-29 | 60 | Susan builds M.J. a car for the soapbox derby; a wealthy woman hires Gabrielle to become her personal shopper; Bree's attorney, Trip Weston, gets her to explain her actions; Lynette causes trouble between Tom and his girlfriend; Renee finds out Ben's secret about the late Alejandro Perez. |
| 21 | 178 | The People Will Hear | 2012-05-06 | 60 | Bree falls for her lawyer as her trial approaches; Lynette tries to stop Tom's transfer to India; Susan worries about Julie's assessment of Porter's parenting skills; the ladies are shocked by Gaby's nonchalance toward Bree's taking the fall for Carlos for the murder of her stepfather. |
| 22 | 179 | Give Me the Blame (1) | 2012-05-13 | 60 | Part 1 of 2: The flashback-filled series finale begins with Bree on trial for Alejandro's murder; Gaby busy at work—too busy to have time for Carlos; Renee and Ben preparing to wed, and Tom preparing to divorce Lynette; Susan planning to leave the lane to help Julie raise her soon-to-be-born baby; and Mrs. McCluskey about to enter a hospice. |
| 23 | 180 | Finishing the Hat (2) | 2012-05-13 | 60 | The conclusion of the series finale. |
Series Cast
| | | | |
| --- | --- | --- | --- |
| | Teri Hatcher | as Susan Mayer | |
| | Felicity Huffman | as Lynette Scavo | |
| | Marcia Cross | as Bree Van de Kamp | |
| | Eva Longoria | as Gabrielle Solis | |
| | Ricardo Antonio Chavira | as Carlos Solis | |
| | Brenda Strong | as Mary Alice Young | |
| | James Denton | as Mike Delfino | |
| | Doug Savant | as Tom Scavo | |
| | Nicollette Sheridan | as Edie Britt | |
| | Shawn Pyfrom | as Andrew Van de Kamp | |
| | Andrea Bowen | as Julie Mayer | |
| | Kyle MacLachlan | as Orson Hodge | |
| | Dana Delany | as Katherine Mayfair | |
| | Kathryn Joosten | as Karen McCluskey | |
| | Mark Moses | as Paul Young | |
| | Cody Kasch | as Zach Young | |
| | Darcy Rose Byrnes | as Penny Scavo | |
| | Madison De La Garza | as Juanita Solis II | |
| | Richard Burgi | as Karl Mayer | |
| | Mason Vale Cotton | as M.J. Delfino | |
| | Jesse Metcalfe | as John Rowland | |
| | Kevin Rahm | as Lee McDermott | |
| | Steven Culp | as Rex Van de Kamp | |
| | Alfre Woodard | as Betty Applewhite | |
| | Tuc Watkins | as Bob Hunter | |
| | Maiara Walsh | as Ana Solis | |
| | Neal McDonough | as Dave Williams | |
| | Drea de Matteo | as Angie Bolen | |
| | Charles Mesure | as Ben Faulkner | |
| | Vanessa Williams | as Renee Perry | |
| | Jonathan Cake | as Chuck Vance | |
Series Crew
| | Position | Name |
| --- | --- | --- |
| | Executive Producer | David Grossman |
| | Consulting Producer | Joe Keenan |
| | Executive Producer | Jeff Greenstein |
| | Executive Producer | Larry Shaw |
| | Associate Producer | Dana Wilson |
| | Co-Executive Producer | Marco Pennette |
| | Executive Producer | Marco Pennette |
| | Executive Producer | Bob Daily |
| | Co-Executive Producer | Alexandra Cunningham |
| | Consulting Producer | Alexandra Cunningham |
| | Creator | Marc Cherry |
| | Executive Producer | Marc Cherry |
| | Executive Producer | Sabrina Wind |
| | Executive Producer | George W. Perkins |
| | Supervising Producer | Jamie Gorenberg |
| | Co-Executive Producer | Chuck Ranberg |
| | Co-Executive Producer | Anne Flett-Giordano |
| | Co-Producer | Annie Weisman |
| | Executive Producer | Matt Berry |
| | Co-Executive Producer | Lori Kirkland Baker |
| | Executive Producer | John Pardee |
| | Co-Executive Producer | Sara Parriott |
| | Consulting Producer | Sara Parriott |
| | Co-Executive Producer | Josann McGibbon |
| | Consulting Producer | Josann McGibbon |
| | Executive Producer | Joey Murphy |
Related News
TVMaze