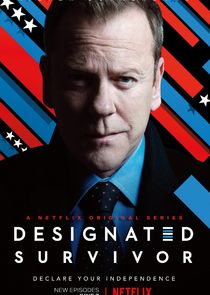 Kiefer Sutherland stars as Tom Kirkman, a lower-level cabinet member who is suddenly appointed President of the United States after a catastrophic attack on the US Capitol during the State of the Union, on the highly anticipated series Designated Survivor. In this dramatic thriller, Kirkman will struggle to keep the country and his own family from falling apart, while navigating the highly-volatile political arena and while leading the search to find who is responsible for the attack.
Series Overview
Rating
imDb Rating: 7.5 (69,974 Votes)
Metascore: N/A
Plot
A low-level Cabinet member becomes President of the United States after a catastrophic attack kills everyone above him in the line of succession.
Details
Rated: TV-14
Released: 21 Sep 2016
Runtime: 60 min
Genre: Action, Drama, Mystery, Thriller
Director: N/A
Writer: David Guggenheim
Actors: Kiefer Sutherland, Adan Canto, Italia Ricci, Kal Penn
Language: English
Country: USA
Awards: 3 wins & 3 nominations.
Total Seasons: 3
Previous Episode
#truthorconsequences
Episode 3x10; Jun 07, 2019
On election day, Kirkman turns to his therapist to assuage his conscience about the events -- and his own decisions -- of the momentous prior 36 hours.
Previous Episodes

3x10: #truthorconsequences


3x9: #undecided


3x8: #scaredsh*tless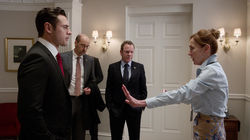 3x7: #identity/crisis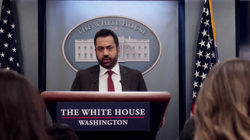 3x6: #whocares


3x5: #nothingpersonal


3x4: #makehistory


3x3: #privacyplease


3x2: #slipperyslope

View All Episodes
Cast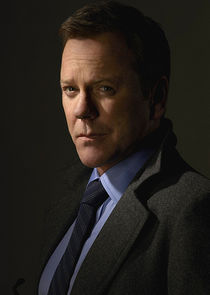 Kiefer Sutherland as Tom Kirkman
Adan Canto as Aaron Shore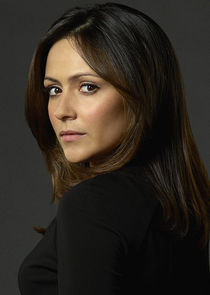 Italia Ricci as Emily Rhodes
Kal Penn as Seth Wright
Maggie Q as Hannah Wells
LaMonica Garrett as Mike Ritter
View Full Cast
Skip to:
Season 1
| Episode No. | No. Overall | Title | Airdate | Runtime | Summary |
| --- | --- | --- | --- | --- | --- |
| 1 | 1 | Pilot | 2016-09-21 | 60 | Tom Kirkman, a lower-level cabinet member, is suddenly appointed President of the United States after a catastrophic attack on the U.S. Capitol during the State of the Union. |
| 2 | 2 | The First Day | 2016-09-28 | 60 | Hours after the attack on the Capitol, President Kirkman steps into his role as Commander-in-Chief in the midst of chaos and confusion. Facing dangerous new challenges and adversaries, Kirman struggles to hold a country together that is on the brink of falling apart. |
| 3 | 3 | The Confession | 2016-10-05 | 60 | President Kirkman and his staff work to keep a high-level security breach of the White House a secret just as he's about to give his first television interview. Meanwhile, the FBI continues to investigate the Capitol bombing, and Agent Hannah Wells starts to develop her own theories about who was really behind the attack. |
| 4 | 4 | The Enemy | 2016-10-12 | 60 | Kirkman learns who is behind the attack and needs to grapple not only with the prospect of war, but brewing domestic troubles as well. Kirkman taps Emily to monitor the domestic situation, while Alex may be in for more than she bargains for when she seeks out help from Hookstraten. |
| 5 | 5 | The Mission | 2016-10-26 | 60 | Realizing his attempts at diplomacy with Algeria have failed, President Kirkman makes the difficult decision of sending Navy SEALs on a mission that will define his presidency. Meanwhile, as the investigation into the Capitol bombing continues, Agent Hannah Wells discovers more secrets than answers. |
| 6 | 6 | The Interrogation | 2016-11-09 | 60 | When shots ring out at The White House during a Governors Summit, President Kirkman's plans at electing a new Congress are thrown into turmoil, while Agent Hannah Wells continues investigating the Capitol bombing and makes one of her most shocking discoveries yet. |
| 7 | 7 | The Traitor | 2016-11-16 | 60 | When an American track-and-field coach heads to Russia, President Kirkman is thrust into a hostage exchange involving the CIA and the Russian government. Meanwhile, Agent Hannah Wells and Deputy Director Atwood's investigation into the Capitol bombing uncovers information that puts Atwood and his family's life at risk. |
| 8 | 8 | The Results | 2016-11-30 | 60 | On the eve of the country voting to elect a new House of Representatives, an unexpected development forces Kirkman to consider cancelling the elections entirely. Meanwhile, news has leaked about Majid Nassar's death, and Kirkman has to handle the fallout. |
| 9 | 9 | The Blueprint | 2016-12-07 | 60 | When classified government documents are leaked online, President Kirkman searches for the party responsible only to find that they have taken refuge inside a foreign embassy and are behind even his reach. Meanwhile, Agent Hannah Wells races furiously to gather evidence of MacLeish's involvement in the conspiracy before he can be confirmed as the country's next Vice President. |
| 10 | 10 | The Oath | 2016-12-14 | 60 | President Kirkman fears there could be a traitor in the White House when he discovers shocking information connected to the Capitol Bombing. Confiding in Emily, Kirkman puts her in charge of quietly investigating. Meanwhile, new information surfaces about Congressman MacLeish, raising concerns regarding his vice presidential nomination. |
| 11 | 11 | Warriors | 2017-03-08 | 60 | The nation reels from the aftermath of the shooting on the steps of the Capitol while Emily struggles with the knowledge there may be a traitor in the White House. Meanwhile, FBI Agent Hannah Wells grapples with her decision to reveal what she knows about the conspiracy behind the Capitol bombing. |
| 12 | 12 | The End of the Beginning | 2017-03-15 | 60 | Circles must tighten as a new discovery within the conspiracy emerges. Meanwhile, tension rises between Aaron and Emily as suspicions loom in the White House. A new lead places Agent Wells closer than before to the truth. |
| 13 | 13 | Backfire | 2017-03-22 | 60 | An investigative journalist shocks the White House when he reveals classified information during a press briefing and leaves Seth struggling to contain the damage from the leaked story. Meanwhile, Hannah unearths a key connection between MacLeish and the conspiracy. |
| 14 | 14 | Commander-in-Chief | 2017-03-29 | 60 | Turmoil in an African country forces President Kirkman to rely on an unlikely ally for help, as Hannah's investigation into the Capitol bombing takes an unexpected turn. Meanwhile, Emily settles into her new role as chief of staff while Aaron has to make a difficult choice. |
| 15 | 15 | One Hundred Days | 2017-04-05 | 60 | As President Kirkman releases an agenda to reset his presidency, Alex makes a controversial public statement that threatens to derail it. Meanwhile, FBI agent Hannah Wells unknowingly finds herself in the center of a dangerous trap while getting closer to the truth. |
| 16 | 16 | Party Lines | 2017-04-12 | 60 | President Kirkman forms an unlikely alliance in the hopes of passing his first bill while Agent Ritter is briefed by FBI Agent Hannah Wells about a new alarming threat to the nation. |
| 17 | 17 | The Ninth Seat | 2017-04-19 | 60 | President Kirkman struggles to put together a new Supreme Court; FBI Agent Hannah Wells goes undercover; Seth contends with journalist Abe Leonard, who returns from the Middle East with an explosive story. |
| 18 | 18 | Lazarus | 2017-04-26 | 60 | As President Kirkman considers candidates for Vice President, Kimble Hookstraten finds herself embroiled in scandal. Agent Wells and Jason Atwood return from North Dakota with a critical new lead while journalist Abe Leonard's investigation takes an unexpected turn. |
| 19 | 19 | Misalliance | 2017-05-03 | 60 | As the White House gears up for President Kirkman's first international summit, Kimble Hookstraten faces her toughest political battle yet when her speakership is challenged. Meanwhile, Alex wrestles with whether or not to bring the kids back to Washington. |
| 20 | 20 | Bombshell | 2017-05-10 | 60 | President Kirkman's first international summit is derailed when journalist Abe Leonard publishes an explosive article. Meanwhile, Hannah Wells uncovers the conspiracy's next target. |
| 21 | 21 | Brace for Impact | 2017-05-17 | 60 | Hannah Wells must stop the conspiracy from carrying out a final attack while President Kirkman authorizes a nationwide manhunt for the mastermind behind it all. |
Season 2
| Episode No. | No. Overall | Title | Airdate | Runtime | Summary |
| --- | --- | --- | --- | --- | --- |
| 1 | 22 | One Year In | 2017-09-27 | 60 | Now, one year into office, Kirkman is a Commander-in-Chief determined to rebuild the Capitol and capture the terrorists behind the catastrophic attack on the United States. When Ukrainian nationalists hijack a Russian Air flight, the president is faced with a hostage situation in which his diplomatic skills are put to the test. |
| 2 | 23 | Sting of the Tail | 2017-10-04 | 60 | FBI Agent Hannah Wells finally closes in on Patrick Lloyd, but when the president decides to take action during the White House Correspondents Dinner, members of the Homeland Security Council threaten to derail their plans. |
| 3 | 24 | Outbreak | 2017-10-11 | 60 | President Kirkman is faced with a viral pandemic that threatens to kill countless Americans while FBI Agent Hannah Wells and M16 Agent Damian Rennett discover evidence that could change the lives of members of the first family forever. |
| 4 | 25 | Equilibrium | 2017-10-18 | 60 | Tensions rise between America and Mexico when a Mexican citizen is shot during a border dispute regarding Mexican trade imports; and Kirkman and his staff must work quickly to resolve the situation and create a new trade deal. |
| 5 | 26 | Suckers | 2017-10-25 | 60 | When a senator appears on the national news and misrepresents a private conversation with the president, Kirkman must win back the American people's trust, while MI-6 Agent Damian Rennett joins forces with FBI Agent Hannah Wells to help solve an international murder. |
| 6 | 27 | Two Ships | 2017-11-01 | 60 | When a U.S. Navy ship containing secret surveillance becomes stranded in enemy waters, President Kirkman must negotiate the crew and ship's release. If captured, the technology on board would create a massive threat to national security. Meanwhile. Chief of Staff Emily Rhodes reconnects with someone from her childhood. |
| 7 | 28 | Family Ties | 2017-11-15 | 60 | When a Turkish activist ignites protests in the U.S., Turkey's president demands his extradition while the first family unknowingly finds themselves in the center of a battle that could threaten Leo's future. |
| 8 | 29 | Home | 2017-11-29 | 60 | While on a secret mission to Afghanistan, President Kirkman meets with two infamous warlords and must determine whom he can trust to hand over territories to the United States, while Seth has a run-in with Washington D.C. police that puts his job, reputation and future in the White House on the line. |
| 9 | 30 | Three-Letter Day | 2017-12-06 | 60 | After sorting through thousands of letters all requesting something of president, the White House staff are assigned three, with Emily, Seth, Aaron, Llyor and Kendra joining forces to get answers and possibly save a life. Meanwhile, Hannah and Damian continue to chase down leads to exonerate the first lady, but in the end, Hannah learns the truth may be closer than she thinks. |
| 10 | 31 | Line of Fire | 2017-12-13 | 60 | It's Christmas Day and President Kirkman is alerted to a group of religious extremists who refuse to evacuate when a forest fire threatens to engulf their cabin. Deploying Emily and Aaron to help diffuse the situation, Kirkman must act quickly to save multiple lives at stake. Meanwhile, the First Lady finally gives her testimony to the FBI director, while what happens next changes the lives of the Kirkman family forever. |
| 11 | 32 | Grief | 2018-02-28 | 60 | It's been ten weeks since his wife, Alex, was killed in a car accident; and President Kirkman's senior staff insist he seek professional help in dealing with his loss, forcing him to reluctantly see therapist Dr. Adam Louden. Meanwhile, FBI Agent Hannah Wells and Aaron Shore travel to Cuba as part of a trade delegation, but the trip does not go according to plan. With lives in the balance, Kirkman is challenged with a decision that will test his role as commander in chief during this time of personal tragedy. |
| 12 | 33 | The Final Frontier | 2018-03-07 | 60 | When a missile intended to bring water to stranded astronauts in space is hacked, President Kirkman must work with Russia and enlists the help of Dr. Andrea Frost to help save lives and find out who is behind the hack. Meanwhile, Hannah finds herself working with Damian again. |
| 13 | 34 | Original Sin | 2018-03-14 | 60 | When a video of the president visiting prison leaks to the media, his team works to minimize the fallout; while a surprise White House demonstration has deeper ties to the president than anyone first realizes. |
| 14 | 35 | In the Dark | 2018-03-21 | 60 | When a blackout threatens to shut down the government and causes chaos in the streets of Washington, D.C., President Kirkman joins forces with Mayor Ellenor Darby, but the partnership doesn't end there. |
| 15 | 36 | Summit | 2018-03-28 | 60 | As tensions between East and West Hanchu escalate, President Kirkman travels to Camp David to broker a peace treaty with the leaders of those countries; while back in Washington, D.C., Seth and Emily take a hard look at their relationship and decide how, and if, they will move forward as a couple. |
| 16 | 37 | Fallout | 2018-04-04 | 60 | President Kirkman and his staff have credible intelligence that a dirty bomb is on U.S. soil, thrusting the president into a high-stakes effort to find the bomb and stop it from detonating. Meanwhile, at the White House, Emily approaches Chuck to help her with something that has damaging and illegal consequences. |
| 17 | 38 | Overkill | 2018-04-11 | 60 | Following the deadly bomb explosion inside a D.C. metro station, President Kirkman declares war on Kunami. When the emir of that country sends his ambassador to negotiate, FBI Agent Hannah Wells learns the emir is hiding something that could have deadly consequences. |
| 18 | 39 | Kirkman Agonistes | 2018-04-18 | 60 | As more content from President Kirkman's confidential therapy sessions continues to leak out, Vice President Darby meets secretly with the entire Cabinet, resulting in attorney Ethan West looking into the president's past – while playing a large role in his future as commander in chief. |
| 19 | 40 | Capacity | 2018-04-25 | 60 | Attorney Ethan West calls on President Kirkman's closest advisors and staff as he begins his investigation. |
| 20 | 41 | Bad Reception | 2018-05-02 | 60 | President Kirkman negotiates with a foreign government to release an American held overseas, while attorney Ethan West continues his investigation. |
| 21 | 42 | Target | 2018-05-09 | 60 | White House Council Kendra Daynes finds herself in a dangerous situation that puts another White House staffer's life at risk, while Hannah Wells takes an unexpected trip for answers. |
| 22 | 43 | Run | 2018-05-16 | 60 | As President Kirkman continues to deal with the turmoil surrounding the hacker and congressional investigation, a natural disaster threatens the lives of two White House staffers. Meanwhile, Kirkman's closest allies are surprised when the president makes an announcement no one saw coming. |
Season 3
| Episode No. | No. Overall | Title | Airdate | Runtime | Summary |
| --- | --- | --- | --- | --- | --- |
| 1 | 44 | #thesystemisbroken | 2019-06-07 | 50 | Now running for office for the first time, Kirkman and his nascent campaign stumble out of the gate. Wells gets a critical reassignment. |
| 2 | 45 | #slipperyslope | 2019-06-07 | 49 | A heated debate over child marriage roils Kirkman's staff. Opioid addiction hits home for Mars. A biohacker turns Wells onto a chilling new threat. |
| 3 | 46 | #privacyplease | 2019-06-07 | 47 | A political attack on Kirkman puts privacy and transgender rights in the spotlight. Aaron weighs a major decision. Wells and Eli track a bioterrorist. |
| 4 | 47 | #makehistory | 2019-06-07 | 51 | Aaron's heritage and a widespread teachers' strike become polarizing issues, and Wells discovers a sinister pattern in a flu outbreak. |
| 5 | 48 | #nothingpersonal | 2019-06-07 | 51 | Emotions run high after despicable fake news goes viral, Isabel makes waves with a controversial appeal, and Wells finds a clue pointing to conspiracy. |
| 6 | 49 | #whocares | 2019-06-07 | 51 | A dying Guatemalan child in a Texas hospital brings immigration to the fore. A mugging opens Kirkman's eyes to the realities of life in the capital. |
| 7 | 50 | #identity/crisis | 2019-06-07 | 52 | A stray Russian bomber jeopardizes Seattle, Mars crusades against a drug company, and an event from Aaron's childhood vexes Kirkman's campaign. |
| 8 | 51 | #scaredsh*tless | 2019-06-07 | 51 | Kirkman mobilizes a frantic hunt for the bioterrorist. Lorraine plays hardball and pushes the opioid epidemic into the campaign fray. |
| 9 | 52 | #undecided | 2019-06-07 | 47 | Trailing in the polls, Kirkman weighs forcing the FBI's hand over the bioterrorism plot. Emily struggles with her mother's final wishes. |
| 10 | 53 | #truthorconsequences | 2019-06-07 | 53 | On election day, Kirkman turns to his therapist to assuage his conscience about the events -- and his own decisions -- of the momentous prior 36 hours. |
Series Cast
| | | | |
| --- | --- | --- | --- |
| | Kiefer Sutherland | as Tom Kirkman | |
| | Adan Canto | as Aaron Shore | |
| | Italia Ricci | as Emily Rhodes | |
| | Kal Penn | as Seth Wright | |
| | Maggie Q | as Hannah Wells | |
| | LaMonica Garrett | as Mike Ritter | |
| | Natascha McElhone | as Alex Kirkman | |
| | Paulo Costanzo | as Lyor Boone | |
| | Zoe McLellan | as Kendra Daynes | |
| | Ben Lawson | as Damian Rennett | |
| | Tanner Buchanan | as Leo Kirkman | |
Series Crew
| | Position | Name |
| --- | --- | --- |
| | Executive Producer | Neal Baer |
| | Co-Executive Producer | Ashley Gable |
| | Production Staff | Tom O'Brien |
| | Co-Executive Producer | Joe Lazarov |
| | Co-Executive Producer | Frederick E.O. Toye |
| | Co-Executive Producer | Chris Grismer |
| | Executive Producer | Mark Gordon |
| | Co-Executive Producer | Ann Kindberg |
| | Producer | Ann Kindberg |
| | Unit Production Manager | Ann Kindberg |
| | Co-Executive Producer | Sang Kyu Kim |
| | Supervising Producer | Sang Kyu Kim |
| | Second Unit Director | John Stead |
| | Consulting Producer | Bill Chais |
| | Consulting Producer | Scott Shepherd |
| | Production Staff | Tiffany Smith |
| | Executive Producer | Paul McGuigan |
| | Executive Producer | Peter Noah |
| | Executive Producer | Keith Eisner |
| | Consulting Producer | Barbie Kligman |
| | Consulting Producer | Kal Penn |
| | Consultant | Kal Penn |
| | Executive Producer | Simon Kinberg |
| | Co-Executive Producer | Jennifer Johnson |
| | Co-Executive Producer | Paul Redford |
| | Producer | Dana Ledoux Miller |
| | Executive Producer | Kiefer Sutherland |
| | Executive Producer | Jon Harmon Feldman |
| | Executive Producer | Amy B. Harris |
| | First Assistant Director | David Warry-Smith |
| | Story Editor | Pierluigi D. Cothran |
| | Co-Executive Producer | Jessica Grasl |
| | Consulting Producer | Tom Garrigus |
| | Executive Producer | Suzan Bymel |
| | Co-Executive Producer | Carol Flint |
| | Co-Producer | Hans van Doornewaard |
| | Producer | Hans van Doornewaard |
| | Executive Producer | Jeff Melvoin |
| | Co-Producer | Jenna Richman |
| | Producer | Michael Russell Gunn |
| | Production Staff | Scott Cowan |
| | Executive Producer | Nicholas Pepper |
| | Director Of Photography | Cort Fey |
| | Editor | James Coblentz |
| | Director Of Photography | Jeffrey C. Mygatt |
| | Production Designer | Cabot McMullen |
| | Casting | Robin D. Cook |
| | Director Of Photography | Adam Suschitzky |
| | Music | Sean Callery |
| | Main Title Theme | Sean Callery |
| | Director Of Photography | Colin Hoult |
| | Camera Operator | Dino Laurenza |
| | Camera Operator | Jayson Clute |
| | Director Of Photography | Michael Storey |
| | Creator | David Guggenheim |
| | Executive Producer | David Guggenheim |
| | Producer | Rich Klein |
| | Executive Producer | Aditya Sood |
| | Associate Producer | Josh Roberson |
| | Director Of Photography | M. David Mullen |
| | Editor | Monty DeGraff |
| | Music | Robert Lydecker |
| | First Assistant Director | Lee Cleary |
| | Second Assistant Director | Robin K. Flynn |
| | Casting | Liz Dean |
| | Costume Designer | Nancy Gould |
| | Makeup Department Head | Chris Pizzarelli |
| | Hair Department Head | Kelly Brennan |
| | Art Director | Mun Ying Kwun |
| | 1st Assistant Art Director | Marlon McLean |
| | 1st Assistant Art Director | John MacNeil |
| | Graphic Designer | Greg Gilmore |
| | Set Decorator | Enrico Campana |
| | Property Master | Derek Graham |
| | Construction Coordinator | Billy Vance |
| | Script Supervisor | Kathryn Buck |
| | Location Manager | Karen Perez |
| | Lighting Designer | David Breeze |
| | Key Grip | Paul Howden |
| | Camera Operator | Keith Murphy |
| | Camera Operator | Johnny Askwith |
| | Sound Mixer | Robert Woolfson |
| | Production Coordinator | Jillian Sabean |
| | Production Accountant | Siobhan Rowand |
| | Transport Coordinator | Mike Ryan |
| | Assistant Editor | Damien Smith |
| | Editor | Damien Smith |
| | Music Supervisor | Alexandra Patsavas |
| | Music Editor | Jeff Lingle |
| | Supervising Sound Editor | Michael Ferdie |
| | Re-Recording Mixer | Rick Ash |
| | Re-Recording Mixer | Mark Server |
| | Visual Effects Supervisor | Eric Hayden |
| | Production Staff | Janet Cormack |
| | Production Staff | Dan Pilditch |
| | Production Staff | Herb Reischl |
| | Production Staff | Craig Steele |
| | Production Staff | James Tamblyn |
| | Production Staff | Katherine Visconti |
| | Co-Producer | Wanda Chaffey |
| | Production Manager | Wanda Chaffey |
| | Production Designer | Franco de Cotiis |
| | Editor | Ned Bastille |
| | First Assistant Director | Rob Fowler |
| | Makeup Department Head | Brian Hui |
| | Hair Department Head | Katarina Chovanec |
| | Art Director | Michele Brady |
| | 1st Assistant Art Director | Max MacDonald |
| | 1st Assistant Art Director | Dwight Hendrickson |
| | 1st Assistant Art Director | Alexander Bosch |
| | Graphic Designer | Robert Nowacki |
| | Property Master | Fiona Andrew |
| | Script Supervisor | Bosede Williams |
| | Assistant Editor | Frank Openchowski |
| | Production Staff | Gabe Lamb |
| | Production Staff | Chris Livingston |
| | Production Staff | Russell Bennett |
| | Production Staff | Jason Edridge |
| | Production Staff | Kyle Kurbegovich |
| | Production Staff | Cathy Coulson |
| | First Assistant Director | Kim MacLachlan |
| | Second Assistant Director | Kim MacLachlan |
| | Editor | Pamela Malouf |
| | Location Manager | Luis Mendoza |
| | Assistant Editor | Kevin Thangchaipinyokul |
| | Production Staff | Angela Mancini |
| | Production Staff | Mel Peters |
| | Production Staff | Michael Purdon |
| | Production Staff | Blaine Twyne |
| | Production Staff | Mia Sturup |
| | Second Assistant Director | Joanne Tickle |
| | Associate Producer | Hilbert Hakim |
| | Production Staff | Benjamin Mercer |
| | Production Staff | Ashley Toste |
| | Production Staff | Annelie Desaulniers |
| | Production Staff | Matt Graver |
| | Production Staff | David Gruer |
| | Production Staff | Catherine Wallace |
| | Production Staff | Jim Saysana |
| | Production Staff | Lisa McDaris |
| | Production Staff | Liz Rowe |
| | Production Staff | John Bell |
| | Production Staff | Claude Fortin |
| | Production Staff | Augustina Sangavong |
| | Production Staff | Jeff Laidlaw |
| | Production Staff | Lisa Wong |
| | Production Staff | Eric Holmes |
| | Production Staff | Norma Jean Sanders |
| | Production Staff | Maz Teabi |
| | Second Assistant Director | Kira McCord |
| | Production Staff | Natasha R. Trotter |
| | Production Staff | Brie Dixon |
| | Production Staff | Deborah Vance |
| | Production Staff | Tish Northrup |
| | Production Staff | Farren Whittaker |
| | Production Staff | Andry Gianakakis |
| | Editor | David Beatty |
| | 1st Assistant Art Director | Barbara Agbaje |
| | Production Staff | Jenna Merhi |
| | Production Staff | Rick Jang |
| | Production Staff | Peter Raponi |
| | Production Staff | Chris Peters |
| | Production Staff | Trisha Harris |
| | Production Staff | James Lee |
| | Production Staff | Stephanie Massarella |
| | Production Staff | Paul Soin |
| | Production Staff | Chris Schillinger |
| | Production Staff | Jen Fisher |
| | Production Staff | Boris Radivojevic |
| | Production Staff | Marcus Rait |
| | Production Staff | Lee Hanlon |
| | Production Staff | Jennifer Leek |
| | Production Staff | Mairead MacCallum |
| | Production Staff | Tim Campbell |
| | Production Staff | Jodie Elliott |
| | Production Staff | Lesley MacCan |
| | Director Of Photography | Darran Tiernan |
| | First Assistant Director | Patrick Tidy |
| | Second Assistant Director | Jeff Muhsoldt |
| | Set Decorator | Gabriel Lamb |
| | Property Master | Chris Geggie |
| | Camera Operator | Rudy Katkic |
| | Post Production Coordinator | Leah Pablo |
| | Assistant Editor | Rachell Varnell |
| | Production Staff | Catherine Lang |
| | Assistant Production Manager | Catherine Lang |
| | Production Staff | Rebecca Dawes |
| | Production Staff | Stephen Clarke |
| | Production Staff | Andrew Clegg |
| | Production Staff | Robert Sonderer |
| | Second Assistant Director | Ken A. Smith |
| | Producer | Llewellyn Wells |
| | Staff Writer | Patrick Cunnane |
| | Staff Writer | Tracey Rice |
| | Editor | John L. Roberts |
| | Editor | Charissa Sanjarernsuithikul |
Related News
TVMaze