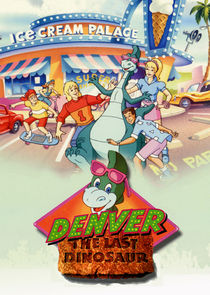 Denver's cool, charming, historical and adventurous, not your typical Barney. Denver and his loyal friends Jeremy, Wally, Shades, Mario, Heather, and Casey outwit unscrupulous concert promoter Morton Fizzback and other clueless Californians eager to exploit Denver's magical qualities.
Series Overview
Rating
imDb Rating: 6.4 (2,167 Votes)
Metascore: N/A
Plot
When an unusually intelligent dinosaur unexpectedly hatches from a fossilized egg in present-day California, a friendly group of human teenagers adopts him and teaches him how to hide from prying eyes and master skateboarding.
Details
Rated: TV-G
Released: 01 Apr 1988
Runtime: 30 min
Genre: Animation, Adventure, Comedy, Family, Fantasy
Director: N/A
Writer: Peter Keefe
Actors: James Swodec
Language: English
Country: USA
Awards: N/A
Total Seasons: 2
Previous Episode
There's No Business Like Snow Business
Episode 2x37; Nov 22, 1988
Dr. Funt and Morton Fizzback aspire to create a major snowstorm in Los Angeles.
Previous Episodes 2x37: There's No Business Like Snow Business 2x36: Viva Denver! 2x35: Big News Denver 2x34: Venice Beach Blast 2x33: Arabian Adventure 2x32: Pluto Needs People 2x31: Canatta 2x30: Bayou Blues 2x29: Dinos Are My Life

View All Episodes
Skip to:
Season 1
| Episode No. | No. Overall | Title | Airdate | Runtime | Summary |
| --- | --- | --- | --- | --- | --- |
| 1 | 1 | Denver, the Last Dinosaur | 1988-09-12 | 30 | Hour-long pilot episode. A group of children, Wally, Jeremy, Shades, and Mario, visit the La Brea Tar Pits and discover an egg which hatches to reveal a friendly dinosaur, which they name 'Denver'. However, the gang must protect Denver from the ambitious Dr. Funt, and the evil rock concert marketer, Morton Fizzback, who aspires to use Denver to make a profit. |
| 2 | 2 | In the Chips | 1988-09-13 | 30 | Denver follows Jeremy to his job at the store, where he hides in the storeroom and eats chips. |
| 3 | 3 | Videohhhh! | 1988-09-14 | 30 | Wally borrows his sister Heather's camera, so that he and his friends can make a video starring themselves. |
| 4 | 4 | The Monster of Lost Lake | 1988-09-15 | 30 | While out camping at a mountain lake with the boys, Denver is mistaken for a terrible monster. |
| 5 | 5 | Denver Makes the Grade | 1988-09-16 | 30 | The boys decide to do a science project on dinosaurs for the school science fair. |
| 6 | 6 | Big Top Denver | 1988-09-19 | 30 | Denver and the gang help Kip and his father save the circus by performing their specialty acts with the other circus performers. |
| 7 | 7 | The Misunderstanding | 1988-09-20 | 30 | Wally and Heather panic when they hear that their parents are planning to move out of town. |
| 8 | 8 | Lions, Tigers and Dinos | 1988-09-21 | 30 | Wally takes a job at the zoo, but on his first day, things take a turn for the worse as Denver is kidnapped by the self-serving Dr. Funt as part of his new high-tech exhibit. |
| 9 | 9 | Change of Heart | 1988-09-22 | 30 | Denver rescues the gang's arch-rival Scott, causing him to soften up and abandon his plans to expose Denver to the media, subsequently causing him to gain publicity and votes for the upcoming student election. |
| 10 | 10 | Broncosaurus | 1988-09-23 | 30 | While they are visiting Jeremy's Uncle Eli on his ranch, the gang and Denver attend a local rodeo. |
| 11 | 11 | Denver, Dino-Star! | 1988-09-26 | 30 | Casey's movie star cousin, Lana Lake, arrives in town and invites Casey, the boys and Denver to attend the filming of her latest sci-fi movie, 'Leapin' Lizards on the Loose'. |
| 12 | 12 | Dinoland | 1988-09-27 | 30 | Heather's new job makes for an exciting day of chases and thrills as Denver is mistaken for an employee of the park who is out to spy for a rival amusement park. Denver saves the day as he rescues five kids stuck on top of a roller coaster. |
| 13 | 13 | Winning! | 1988-09-28 | 30 | Denver and Jeremy enter a game show, only to find out that they are competing against Dr. Funt and Morton Fizzback. |
Season 2
| Episode No. | No. Overall | Title | Airdate | Runtime | Summary |
| --- | --- | --- | --- | --- | --- |
| 1 | 14 | Enter the Dino | 1988-09-29 | 30 | Shades develops a recent interest in karate, as well as in Nikko, the daughter of his instructor. |
| 2 | 15 | Radio Denver | 1988-09-30 | 30 | Wally's part-time job at the radio station, KAY-HIP, and the competition of the station with the rival radio station, KAY-LOUD, causes Denver to rise to fame as a radio star. |
| 3 | 16 | The Phantom of the Movie Theater | 1988-10-03 | 30 | When Heather and Wally's parents inform the two that they are expecting guests from out-of-town, they must hide Denver that the local movie theater, which is believed to be haunted. |
| 4 | 17 | Missing Links | 1988-10-04 | 30 | A boy genius, Freddy Facknitts, invents a time machine that sends Denver and Morton Fizzback into the past and into the middle of a crazy caveman competition called Mammothball. |
| 5 | 18 | Dog Gone Denver! | 1988-10-05 | 30 | When the boys enter Wally's dog, Rocky, in a dog relay race, they must also disguise Denver as a dog so that Rocky will perform better. |
| 6 | 19 | Party Time! | 1988-10-06 | 30 | Denver and Mario take jobs as children's entertainers, only to face to wrath the wrath of Douggie, the Dancing Clown, who attempts to sabotage the duo's entertaining efforts. |
| 7 | 20 | Aunt Shadie's Ghost Town | 1988-10-07 | 30 | While visiting Aunt Shadie's (Shades' aunt) house, the gang go on a wild minecart adventure in an attempt to retrieve the deeed to the town from some thieves who stole it. |
| 8 | 21 | Moviestarus | 1988-10-10 | 30 | While on a tour of Big Movie Studio, Denver falls in love with an animatronic dinofem. |
| 9 | 22 | Denver at Sea | 1988-10-11 | 30 | When disreputable treasure hunters kidnap a dolphin from a local marine research facility and use him to locate sunken treasure, Denver dives in to save the dolphin. |
| 10 | 23 | Ski Denver | 1988-10-12 | 30 | Heather and the boys take Denver to a mountain ski resort. |
| 11 | 24 | Beach Blanket Dino | 1988-10-13 | 30 | The secluded beach where Mario surfs and the kids play is taken over by Rad Tad and his group of Surf Dudes |
| 12 | 25 | History Repeats Itself | 1988-10-14 | 30 | Wally is in a predicament with Johnny Price, a boy who constantly plays practical jokes on him, Denver uses his magic eggshell to bring Wally back to a time where he was torment by the Pteranodon, causing Wally to find a solution to his predicament and befriending Johnny Price. |
| 13 | 26 | Battle of the Bands | 1988-10-17 | 30 | Denver and the group deck out in wild caveman attire and form a rock group, B.C Rock, to compete in the city wide talent contest, as does Freddy Facknitts (by forming a group of robots called Roborock). However, Dr. Funt and Morton Fizzback kidnap the robot band and Denver and the gang must rescue them. |
| 14 | 27 | The Comic Book Caper | 1988-10-18 | 30 | Denver, the boys, and Freddy Facknitts attend a comic book convention dressed as their favorite comic book characters. |
| 15 | 28 | Carnival | 1988-10-19 | 30 | Denver practices his magic act for the Charity Carnival when he and the gang get more than they bargain for. When Denver wins a rare historical artifact that was mistakenly donated for the raffle, he finds himself on the run from the shady Bird family who are out to get their priceless piece back. |
| 16 | 29 | Pen Pal | 1988-10-20 | 30 | Wally's attractive female pen pal fromSweden, Inga Vinga, comes for a visit. |
| 17 | 30 | China Town Caper | 1988-10-21 | 30 | Denver, dressed in a Chinese lion robe and headdress, leads a mad chase for dognappers in Chinatown during the Chinese New Year Parade. |
| 18 | 31 | Denver, the Lost Dinosaur | 1988-10-24 | 30 | When Denver, Casey and Freddy Facknitts accidentally become airborne in the latter's created aircraft, rumours of UFO sightings start to spread through the town. |
| 19 | 32 | Denver and the Cornstalk | 1988-10-25 | 30 | In an embellished version of 'Jack And the Beanstalk', Denver buys some magic corn kernels off Morton Fizzback, which are thrown into the ground and grow into a giant cornstalk, which Denver climbs to find the giantess of the castle (Bertha Bird). |
| 20 | 33 | Tee Time for Dinosaur | 1988-10-26 | 30 | Denver's mistaken identity at a golf tournament sets Fizzback and Funt off on a high-tech cheating spree, while the golf course Groundskeeper tries to capture what he believes to be theLoch Ness Monster. |
| 21 | 34 | Birthday Party from Outer Space | 1988-10-27 | 30 | The kids need Denver out of the way while they prepare a surprise birthday party for their dino-pal. But dino-sitter Freddy Facknitts gets them both into trouble when his "space ship" puts Dr. Funt, who thinks he is an alien from outer space, on their tail. |
| 22 | 35 | Food Wars | 1988-10-28 | 30 | Mario and Shades get jobs working for competing fast food stores, which jeopardizes their friendship, and eventually sparks a rivalry between them. |
| 23 | 36 | Jogging Denver (aka Dino-cise) | 1988-11-01 | 30 | Denver is put through his paces, participating in an exercise program with the kids while trying to hide a mischievous baby gorilla. |
| 24 | 37 | Denver, the Last Dragon | 1988-11-02 | 30 | While at a medieval fair, Denver and the gang wind up in a wacky jousting tournament, pitted against Morton Fizzback's Black Night. |
| 25 | 38 | High Flying Denver | 1988-11-03 | 30 | Morton Fizzback and Bertha Bird collaborate to seek Denver after he escapes from them in a hot-air balloon. |
| 26 | 39 | Denver at the Digs | 1988-11-04 | 30 | Denver and the gang help Jeremy's great-aunt Adelaide save a precious fossil from a land developer, who is aided by Dr. Funt. |
| 27 | 40 | Chef Denver | 1988-11-07 | 30 | Denver's new-found passion for gourmet cooking is challenged when he is asked to prepare the food for a party for Jeremy's new girlfriend. |
| 28 | 41 | Fizzback's Follies | 1988-11-08 | 30 | The gang play a hockey competition against Morton Fizzback's team of professional misfits, and the winner earns possession of Denver. |
| 29 | 42 | Dinos Are My Life | 1988-11-09 | 30 | Casey befriends Louden, a shy, withdrawn, new kid, who has a passion for dinosaurs. |
| 30 | 43 | Bayou Blues | 1988-11-10 | 30 | While on a mapping expedition with Jeremy's great-aunt Adelaide, Denver and the gang run into two bizarre alligator poachers, and a love-sick alligator, who mistakes Denver for one of his own kind. |
| 31 | 44 | Canatta | 1988-11-11 | 30 | The boys receive an invitation from their friend Senior Santos to spend a relaxing week at a resort located on the mythical island of Canatta. |
| 32 | 45 | Pluto Needs People | 1988-11-14 | 30 | Denver fantasizes about battling evil aliens from Pluto in a 1950's style sci-fi adventure. |
| 33 | 46 | Arabian Adventure | 1988-11-15 | 30 | Mario reads a story he wrote to Denver and the gang, which comes to life with the aid of their imaginations, leading them on an adventure involving a magic cavern filled with treasure, a flying carpet, and a genie in a lamp. |
| 34 | 47 | Venice Beach Blast | 1988-11-16 | 30 | Denver and the gang land themselves in trouble when they try to find a place to skateboard at California'sVenice Beach. |
| 35 | 48 | Big News Denver | 1988-11-17 | 30 | Denver is discovered by a newspaper reporter, who aspires to make Denver the topic of his newest front-page headline. |
| 36 | 49 | Viva Denver! | 1988-11-21 | 30 | When Shades' grandfather accidentally misdirects this year's annual Cinco de Mayo parade, Denver and the gang must save the festival. |
| 37 | 50 | There's No Business Like Snow Business | 1988-11-22 | 30 | Dr. Funt and Morton Fizzback aspire to create a major snowstorm in Los Angeles. |
Series Crew
| | Position | Name |
| --- | --- | --- |
| | Creator | Peter Keefe |
Related News
TVMaze