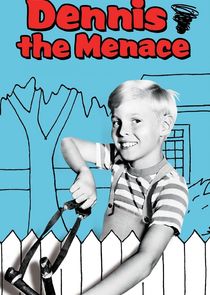 The comic misadventures of television's most well-meaning but misguided boy are back! The lovable Dennis Mitchell (Jay North) left a trail of chaos throughout his suburban neighborhood. Yet along with his friends and classmates Tommy (Billy Booth) and Margaret (Jeannie Russell), Dennis managed to pry his way into the hearts of millions from week to week. Based on the long-running comic strip by Hank Ketcham, this beloved CBS television series (1959 1963) stayed true to form, as Dennis's youthful curiosity always managed to get him into heaps of trouble . . . especially with his crotchety old neighbor Mr. Wilson (Joseph Kearns). Herbert Anderson and Gloria Henry starred as Dennis's parents who were always on hand with love and guidance but not necessarily the required supervision.
Series Overview
Rating
imDb Rating: 7.1 (1,679 Votes)
Metascore: N/A
Plot
Television episodes built around the same sorts of incidents found in Hank Ketcham's long-running comic strip.
Details
Rated: TV-G
Released: 04 Oct 1959
Runtime: 30 min
Genre: Comedy, Family
Director: N/A
Writer: N/A
Actors: Herbert Anderson, Jay North, Gloria Henry, Billy Booth
Language: English
Country: USA
Awards: 1 nomination.
Total Seasons: 4
Previous Episode
Aunt Emma Visits the Wilsons
Episode 4x38; Jul 07, 1963
Previous Episodes 4x38: Aunt Emma Visits the Wilsons 4x37: A Man Among Men 4x36: First Editions 4x35: Listen to the Mockingbird 4x34: The Lucky Rabbit's Foot 4x33: Hawaiian Love Song 4x32: Tuxedo Trouble 4x31: The Lost Dog 4x30: Never Say Dye

View All Episodes
Cast
Sylvia Field as Mrs. Wilson
Herbert Anderson as Henry Mitchell
Gloria Henry as Alice Mitchell
Joseph Kearns as George Wilson
Gale Gordon as John Wilson
Jay North as Dennis Mitchell
View Full Cast
Skip to:
Season 1
| Episode No. | No. Overall | Title | Airdate | Runtime | Summary |
| --- | --- | --- | --- | --- | --- |
| 1 | 1 | Dennis Goes to the Movies | 1959-10-04 | 30 | |
| 2 | 2 | Dennis and the Signpost | 1959-10-11 | 30 | |
| 3 | 3 | The Fishing Trip | 1959-10-18 | 30 | |
| 4 | 4 | Grandpa and Miss Cathcart | 1959-10-25 | 30 | |
| 5 | 5 | Innocents in Space | 1959-11-01 | 30 | |
| 6 | 6 | Dennis' Garden | 1959-11-08 | 30 | |
| 7 | 7 | The New Neighbors | 1959-11-15 | 30 | |
| 8 | 8 | Tenting Tonight | 1959-11-22 | 30 | |
| 9 | 9 | Dennis Sells Bottles | 1959-11-29 | 30 | |
| 10 | 10 | Mr. Wilson's Award | 1959-12-06 | 30 | |
| 11 | 11 | The Christmas Story (aka Dennis & Christmas) | 1959-12-20 | 30 | |
| 12 | 12 | Dennis and the Cowboy | 1959-12-27 | 30 | |
| 13 | 13 | Dennis Haunts a House | 1960-01-03 | 30 | |
| 14 | 14 | Dennis' Tree House | 1960-01-10 | 30 | |
| 15 | 15 | Dennis and the Rare Coin | 1960-01-17 | 30 | |
| 16 | 16 | Dennis and the Bike | 1960-01-24 | 30 | |
| 17 | 17 | Dennis and the Open House | 1960-02-07 | 30 | |
| 18 | 18 | Dennis and the Duck | 1960-02-14 | 30 | |
| 19 | 19 | Dennis and the Swing | 1960-02-21 | 30 | |
| 20 | 20 | Dennis and the Dog | 1960-02-28 | 30 | |
| 21 | 21 | Mr. Wilson's Sister | 1960-03-06 | 30 | |
| 22 | 22 | Dennis and the TV Set | 1960-03-13 | 30 | |
| 23 | 23 | Dennis Creates a Hero | 1960-03-20 | 30 | |
| 24 | 24 | Dennis' Paper Drive | 1960-04-10 | 30 | |
| 25 | 25 | Dennis and the Bees | 1960-04-17 | 30 | |
| 26 | 26 | Alice's Birthday | 1960-04-24 | 30 | |
| 27 | 27 | Dennis Becomes a Baby Sitter | 1960-05-01 | 30 | |
| 28 | 28 | Dennis and the Starlings | 1960-05-08 | 30 | |
| 29 | 29 | The Party Line | 1960-05-15 | 30 | |
| 30 | 30 | Dennis by Proxy | 1960-05-22 | 30 | |
| 31 | 31 | Dennis Runs Away | 1960-05-29 | 30 | |
| 32 | 32 | Miss Cathcart's Sunsuit | 1960-06-12 | 30 | |
Season 2
| Episode No. | No. Overall | Title | Airdate | Runtime | Summary |
| --- | --- | --- | --- | --- | --- |
| 1 | 33 | Out of Retirement | 1960-10-02 | 30 | |
| 2 | 34 | Dennis and the Wedding | 1960-10-09 | 30 | |
| 3 | 35 | Dennis and the Radio Set | 1960-10-16 | 30 | |
| 4 | 36 | Dennis and the Ham-pher | 1960-10-23 | 30 | |
| 5 | 37 | The Stock Certificate | 1960-10-30 | 30 | |
| 6 | 38 | Man of the House | 1960-11-06 | 30 | |
| 7 | 39 | The Rock Collection | 1960-11-13 | 30 | |
| 8 | 40 | Henry and Togetherness | 1960-11-20 | 30 | |
| 9 | 41 | Paint-up, Clean-up Week | 1960-11-27 | 30 | |
| 10 | 42 | Dennis Learns to Whistle | 1960-12-04 | 30 | |
| 11 | 43 | The Raffle Ticket | 1960-12-18 | 30 | |
| 12 | 44 | The Christmas Horse | 1960-12-25 | 30 | |
| 13 | 45 | Dennis' Allowance | 1961-01-01 | 30 | |
| 14 | 46 | Dennis' Penny Collection | 1961-01-08 | 30 | |
| 15 | 47 | Dennis, the Campaign Manager | 1961-01-15 | 30 | |
| 16 | 48 | Miss Cathcart's Friend | 1961-01-22 | 30 | |
| 17 | 49 | Pythias Was a Piker | 1961-01-29 | 30 | |
| 18 | 50 | Dennis and the Saxophone | 1961-02-05 | 30 | |
| 19 | 51 | Wilson Sleeps Over | 1961-02-12 | 30 | |
| 20 | 52 | Dennis' Birthday | 1961-02-19 | 30 | |
| 21 | 53 | Dennis Goes to Camp | 1961-02-26 | 30 | |
| 22 | 54 | Dennis' Tool Chest | 1961-03-05 | 30 | |
| 23 | 55 | The Going Away Gift | 1961-03-12 | 30 | |
| 24 | 56 | Dennis and the Fishing Rod | 1961-03-19 | 30 | |
| 25 | 57 | Dennis and the Good Example | 1961-03-26 | 30 | |
| 26 | 58 | Dennis' Obligation | 1961-04-02 | 30 | |
| 27 | 59 | The Dog Trainer | 1961-04-09 | 30 | |
| 28 | 60 | Woodman, Spare That Tree | 1961-04-16 | 30 | |
| 29 | 61 | The Boy Wonder | 1961-04-23 | 30 | |
| 30 | 62 | The Soapbox Derby | 1961-04-30 | 30 | |
| 31 | 63 | Dennis and the Camera | 1961-05-07 | 30 | |
| 32 | 64 | Dennis and the Miracle Plant Food | 1961-05-14 | 30 | |
| 33 | 65 | Dennis' Newspaper | 1961-05-21 | 30 | |
| 34 | 66 | Mr. Wilson's Paradise | 1961-05-28 | 30 | |
| 35 | 67 | The Fortune Cookie | 1961-06-04 | 30 | |
| 36 | 68 | The Pioneers | 1961-06-11 | 30 | |
| 37 | 69 | Father's Day for Mr. Wilson | 1961-06-18 | 30 | |
| 38 | 70 | Dennis and the Picnic | 1961-06-25 | 30 | |
Season 3
| Episode No. | No. Overall | Title | Airdate | Runtime | Summary |
| --- | --- | --- | --- | --- | --- |
| 1 | 71 | Trouble from Mars | 1961-10-01 | 30 | |
| 2 | 72 | Best Neighbor | 1961-10-08 | 30 | |
| 3 | 73 | Keep Off the Grass | 1961-10-15 | 30 | |
| 4 | 74 | Mr. Wilson's Safe | 1961-10-22 | 30 | |
| 5 | 75 | Haunted House | 1961-10-29 | 30 | |
| 6 | 76 | The School Play | 1961-11-05 | 30 | |
| 7 | 77 | The Fifty-Thousandth Customer | 1961-11-12 | 30 | |
| 8 | 78 | Dennis and the Pee Wee League | 1961-11-19 | 30 | |
| 9 | 79 | Mr. Wilson's Inheritance | 1961-11-26 | 30 | |
| 10 | 80 | Dennis Is a Genius | 1961-12-03 | 30 | |
| 11 | 81 | The Lucky Piece | 1961-12-17 | 30 | |
| 12 | 82 | The Fifteen Foot Christmas Tree | 1961-12-24 | 30 | |
| 13 | 83 | Dennis' Bank Account | 1961-12-31 | 30 | |
| 14 | 84 | Through Thick and Thin | 1962-01-07 | 30 | |
| 15 | 85 | Calling All Bird Lovers | 1962-01-14 | 30 | |
| 16 | 86 | Silence Is Golden | 1962-01-21 | 30 | |
| 17 | 87 | Dennis Has a Fling | 1962-01-28 | 30 | |
| 18 | 88 | Frog Jumping Contest | 1962-02-04 | 30 | |
| 19 | 89 | Where There's a Will | 1962-02-11 | 30 | |
| 20 | 90 | Mr. Wilson's Uncle | 1962-02-18 | 30 | |
| 21 | 91 | A Quiet Evening | 1962-02-25 | 30 | |
| 22 | 92 | The Private Eye | 1962-03-04 | 30 | |
| 23 | 93 | Mr. Wilson's Housekeeper | 1962-03-11 | 30 | |
| 24 | 94 | A Dog's Life | 1962-03-18 | 30 | |
| 25 | 95 | Dennis' Documentary Film | 1962-03-25 | 30 | |
| 26 | 96 | Horseless Carriage Club | 1962-04-01 | 30 | |
| 27 | 97 | Junior Pathfinders Ride Again | 1962-04-08 | 30 | |
| 28 | 98 | The Treasure Chest | 1962-04-15 | 30 | |
| 29 | 99 | Wilson Goes to the Dentist | 1962-04-29 | 30 | |
| 30 | 100 | The Man Next Door | 1962-05-06 | 30 | |
| 31 | 101 | Dennis and the Dodger | 1962-05-13 | 30 | |
| 32 | 102 | Dennis' Lovesick Friend | 1962-05-20 | 30 | |
| 33 | 103 | John Wilson's Cushion | 1962-05-27 | 30 | |
| 34 | 104 | John Wilson Wins a Chicken | 1962-06-03 | 30 | |
| 35 | 105 | The Bully | 1962-06-10 | 30 | |
| 36 | 106 | The Club Initiation | 1962-06-17 | 30 | |
| 37 | 107 | Community Picnic | 1962-06-24 | 30 | |
| 38 | 108 | Dennis and the Witch Doctor | 1962-07-01 | 30 | |
Season 4
| Episode No. | No. Overall | Title | Airdate | Runtime | Summary |
| --- | --- | --- | --- | --- | --- |
| 1 | 109 | The Chinese Girl | 1962-09-30 | 30 | |
| 2 | 110 | You Go Your Way | 1962-10-07 | 30 | |
| 3 | 111 | Dennis and the Circular Circumstances | 1962-10-14 | 30 | |
| 4 | 112 | The Little Judge | 1962-10-21 | 30 | |
| 5 | 113 | Poor Mr. Wilson | 1962-10-28 | 30 | |
| 6 | 114 | Dennis in Gypsyland | 1962-11-04 | 30 | |
| 7 | 115 | The New Principal | 1962-11-11 | 30 | |
| 8 | 116 | San Diego Safari | 1962-11-18 | 30 | |
| 9 | 117 | Dennis at Boot Camp | 1962-11-25 | 30 | |
| 10 | 118 | Henry's New Job | 1962-12-02 | 30 | |
| 11 | 119 | Wilson's Second Childhood | 1962-12-16 | 30 | |
| 12 | 120 | Jane Butterfield Says | 1962-12-23 | 30 | |
| 13 | 121 | Dennis and the Hermit | 1962-12-30 | 30 | |
| 14 | 122 | My Uncle Ned | 1963-01-06 | 30 | |
| 15 | 123 | Junior Astronaut | 1963-01-13 | 30 | |
| 16 | 124 | Wilson's Little White Lie | 1963-01-20 | 30 | |
| 17 | 125 | Dennis, the Rain Maker | 1963-01-27 | 30 | |
| 18 | 126 | The Creature with the Big Feet | 1963-02-03 | 30 | |
| 19 | 127 | Dennis, the Confused Cupid | 1963-02-10 | 30 | |
| 20 | 128 | Dennis Goes to Washington | 1963-02-17 | 30 | |
| 21 | 129 | The Big Basketball Game | 1963-02-24 | 30 | |
| 22 | 130 | Wilson's Allergy | 1963-03-03 | 30 | |
| 23 | 131 | Baby Booties | 1963-03-10 | 30 | |
| 24 | 132 | My Four Boys | 1963-03-17 | 30 | |
| 25 | 133 | Dennis and the Homing Pigeons | 1963-03-24 | 30 | |
| 26 | 134 | A Tax on Cats | 1963-03-31 | 30 | |
| 27 | 135 | The Uninvited Guest | 1963-04-07 | 30 | |
| 28 | 136 | Dennis Plays Robin Hood | 1963-04-14 | 30 | |
| 29 | 137 | The Three F's | 1963-04-21 | 30 | |
| 30 | 138 | Never Say Dye | 1963-04-28 | 30 | |
| 31 | 139 | The Lost Dog | 1963-05-05 | 30 | |
| 32 | 140 | Tuxedo Trouble | 1963-05-12 | 30 | |
| 33 | 141 | Hawaiian Love Song | 1963-05-19 | 30 | |
| 34 | 142 | The Lucky Rabbit's Foot | 1963-05-26 | 30 | |
| 35 | 143 | Listen to the Mockingbird | 1963-06-02 | 30 | |
| 36 | 144 | First Editions | 1963-06-09 | 30 | |
| 37 | 145 | A Man Among Men | 1963-06-16 | 30 | |
| 38 | 146 | Aunt Emma Visits the Wilsons | 1963-07-07 | 30 | |
Series Cast
| | | | |
| --- | --- | --- | --- |
| | Sylvia Field | as Mrs. Wilson | |
| | Herbert Anderson | as Henry Mitchell | |
| | Gloria Henry | as Alice Mitchell | |
| | Joseph Kearns | as George Wilson | |
| | Gale Gordon | as John Wilson | |
| | Jay North | as Dennis Mitchell | |
Series Crew
| | Position | Name |
| --- | --- | --- |
| | Executive Producer | Harry Ackerman |
Related News
TVMaze