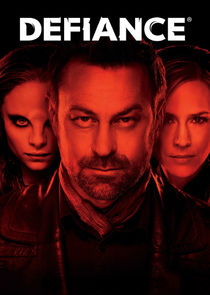 Set on a future Earth, Defiance introduces players and viewers to a world where humans and aliens live together on a planet ravaged by decades of war and transformed by alien terra-forming machines. It centers on Jeb Nolan, the law-keeper in a bustling frontier boomtown that is one of the new world's few oasis of civility and inclusion. Nolan is a former Marine who fought in the alien conflict and suffered the loss of his wife and child in the war. The trauma transformed him into a lone wanderer in the wilds of this new and dangerous world.
Series Overview
Rating
imDb Rating: 7.0 (38,761 Votes)
Metascore: N/A
Plot
Life in the city of Defiance, in a near future after the arrival of different alien lifeforms to Earth.
Details
Rated: TV-MA
Released: 15 Apr 2013
Runtime: 43 min
Genre: Action, Drama, Sci-Fi
Director: N/A
Writer: Kevin Murphy, Rockne S. O'Bannon, Michael Taylor
Actors: Grant Bowler, Julie Benz, Stephanie Leonidas, Tony Curran
Language: English, Hebrew
Country: USA
Awards: Nominated for 1 Primetime Emmy. Another 3 nominations.
Total Seasons: 3
Previous Episode
Upon the March We Fittest Die
Episode 3x13; Aug 28, 2015
A potential suicide mission is agreed to be the only way to end the Omec threat once and for all when Season 3 comes to a close.
Previous Episodes

3x13: Upon the March We Fittest Die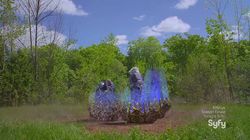 3x12: The Awakening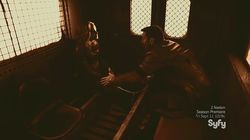 3x11: Of a Demon in My View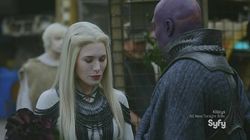 3x10: When Twilight Dims the Sky Above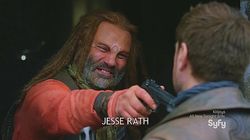 3x9: Ostinato in White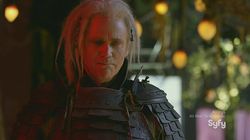 3x8: My Name is Datak Tarr and I Have Come to Kill You


3x7: The Beauty of Our Weapons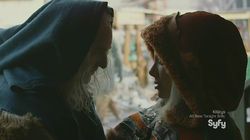 3x6: Where the Apples Fell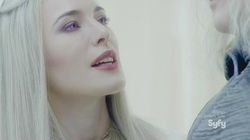 3x5: History Rhymes

View All Episodes
Cast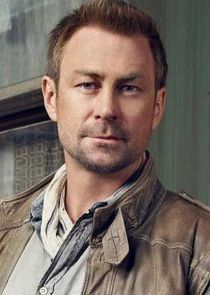 Grant Bowler as Joshua Nolan
Stephanie Leonidas as Irisa Nyira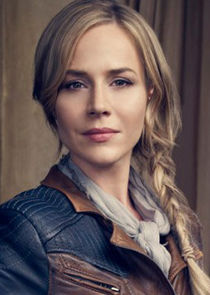 Julie Benz as Amanda Rosewater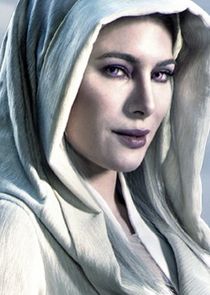 Jaime Murray as Stahma Tarr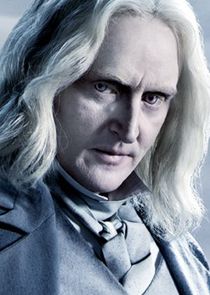 Tony Curran as Datak Tarr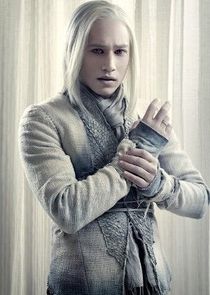 Jesse Rath as Alak Tarr
View Full Cast
Skip to:
Season 1
Episode No.
No. Overall
Title
Airdate
Runtime
Summary
1
1
Pilot
2013-04-15
60

The arrival of the mysterious Nolan and his charge Irisa to the town of Defiance marks a threat to the fragile peace that exists between the residents in the premiere of this futuristic drama, which is set in the year 2046, more than 30 years following a war between humans and aliens that left Earth forever changed.

Nolan sticks around to help Defiance defend itself from an attack; and under Mayor Amanda Rosewater's leadership, the aliens and humans of the town set their differences aside long enough to rally against a Volge threat.

2
2
Down in the Ground Where the Dead Men Go
2013-04-22
60

A killer is pursued; at the same time, Nolan and Datak come to blows over an ancient ritual.

3
3
The Devil in the Dark
2013-04-29
60

Irisa is forced to confront a disturbing power; at the same time, Defiance is invaded by a swarm of menacing Hellbugs.

4
4
A Well Respected Man
2013-05-06
60

Kenya is kidnapped; Rafe moves a step closer to learning the truth about his son's death.

5
5
The Serpent's Egg
2013-05-13
60

Nolan and Amanda find themselves in danger as they attempt to transport a prisoner out of town; and Irisa's mood grows dark after a run-in with the man she believes tortured her as a child.

6
6
Brothers in Arms
2013-05-20
60

An old war buddy catches up with Nolan at the same time a Castithan criminal with a history of violence enters the picture.

7
7
Goodbye Blue Sky
2013-06-03
60

Interesting relationships develop when the residents of Defiance are forced to stay indoors as a threatening Razor Rain storm approaches. Meanwhile, visions lead Irisa to the Spirit Riders and Sukar, who has fallen under the influence of a strange and mysterious force.

8
8
I Just Wasn't Made for These Times
2013-06-10
60

Nolan and Tommy encounter an American astronaut who has been in hypersleep for several decades.

9
9
If I Ever Leave This World Alive
2013-06-17
60

The Irathients are quarantined in the mines after Defiance is struck by a mysterious plague; and Amanda reconnects with an old flame from the Earth Republic.

10
10
The Bride Wore Black
2013-06-24
60

The body of a prominent businessman who disappeared nearly six years ago is discovered hidden in the walls of NeedWant, prompting an investigation by Nolan and Tommy that exposes many of the secrets held by the people of Defiance. It also causes unrest on the eve of Alak and Christie's wedding.

11
11
Past is Prologue
2013-07-01
60

Nolan's involvement in an accident on the eve of the election has the town questioning his role as lawman and Amanda's credentials as potential mayor.

12
12
Everything is Broken
2013-07-08
60

Amanda is locked in a bitter power struggle with Datak as the citizens of Defiance cast their votes for mayor. At the same time, Nolan is violently confronted by his past; and Irisa must decide whether or not to accept her destiny.
Season 2
| Episode No. | No. Overall | Title | Airdate | Runtime | Summary |
| --- | --- | --- | --- | --- | --- |
| 1 | 13 | The Opposite of Hallelujah | 2014-06-19 | 60 | In the Season 2 premiere, Nolan's search for Irisa leads him to "New Chicago" and "Angel Arc" Los Angeles. Meanwhile, back in Defiance, the Earth Republic appoints a charming, calculating and ambitious man named Niles Pottinger as mayor. |
| 2 | 14 | In My Secret Life | 2014-06-26 | 60 | Irisa is arrested upon her return to Defiance, but Nolan can arrange her release by capturing those responsible for an explosion that nearly killed Mayor Pottinger. Meanwhile, Stahma decides the only way to stay in control of her family's criminal enterprises is by ensuring that Datak stays behind bars. |
| 3 | 15 | The Cord and the Ax | 2014-07-03 | 60 | Irisa continues to experience blackouts at a terrifying and increasing rate, but she tries to keep a worried Nolan in the dark about her situation; and under Stahma's self-appointed leadership, the Tarr family business prospers, while an increasingly suspicious Datak remains locked up behind bars. |
| 4 | 16 | Beasts of Burden | 2014-07-10 | 60 | Nolan is ordered to hunt down and destroy those responsible for a vicious attack in the badlands on a badly shaken Pottinger and his caravan. Tensions flare when Nolan's investigation turns up evidence implicating one of Rafe's miners. Meanwhile, Datak sets his vengeful sights on reclaiming control over the family business. |
| 5 | 17 | Put the Damage On | 2014-07-17 | 60 | A stalker terrorizes Amanda. |
| 6 | 18 | This Woman's Work | 2014-07-24 | 60 | An Arkfall crash salvage mission led by Nolan leads to danger in the form of an alien race he has never encountered before; at the same time, Stahma makes a shocking power play after she's admonished by church elders for her growing sense of female empowerment; and Irisa begins confessing her deep, dark secrets to Tommy. |
| 7 | 19 | If You Could See Her Through My Eyes | 2014-07-31 | 60 | Datak turns to an unlikely ally for help after he's framed for a bizarre murder; and a mysterious stranger leads Irisa to discover more about her destiny. |
| 8 | 20 | Slouching Towards Bethlehem | 2014-08-07 | 60 | Nolan interrogates a suspected Votanis Collective spy in an effort to prevent a cataclysmic terrorist attack on New York. |
| 9 | 21 | Painted from Memory | 2014-08-14 | 60 | Doc Yewll works to keep her dark secret from coming out. |
| 10 | 22 | Bottom of the World | 2014-08-21 | 60 | A deadly mine collapse leaves Amanda and Pottinger trapped, and it's a race against the clock for Nolan and Rafe to save them. |
| 11 | 23 | Doll Parts | 2014-08-21 | 60 | Nolan searches for Irisa, leaving Amanda to take on the deputy's badge just as a shocking murder rocks Defiance. |
| 12 | 24 | All Things Must Pass | 2014-08-28 | 60 | Nolan races to save Tommy's life and stop Irisa; tensions between Amanda and Stahma lead to a showdown. |
| 13 | 25 | I Almost Prayed | 2014-08-28 | 60 | Season 2 comes to a close with Nolan fighting both the Earth Republic and old acquaintances to stop Irisa's destructive plan from becoming a reality. He's also determined to save his adoptive daughter from the Kaziri forces that have been possessing her before his own friends attempt to kill her. |
Season 3
| Episode No. | No. Overall | Title | Airdate | Runtime | Summary |
| --- | --- | --- | --- | --- | --- |
| 1 | 26 | The World We Seize | 2015-06-12 | 60 | In the Season 3 premiere, Nolan and Irisa are mysteriously rescued from their underground confinement just in time to discover that enemy forces are marching on the town of Defiance, which has fallen on hard times following the collapse of the gulanite mines. |
| 2 | 27 | The Last Unicorns | 2015-06-12 | 60 | Datak, Stahma and Rafe run into deadly complications on their quest to reunite their family; and Alak comes to realize just how unstable her mother-in-law is during their journey through the woods. |
| 3 | 28 | The Broken Bough | 2015-06-19 | 60 | Amanda negotiates with the Omec, a new alien race, for the future of Defiance; and the Tarrs return to find much changed and their loyalties tested between the humans, the Omec, and the Votanis Collective. Meanwhile, Nolan and Irisa encounter a survivor of Votanis Collective atrocities that can aid their first strike against Gen. Rahm Tak's oncoming army. |
| 4 | 29 | Dead Air | 2015-06-26 | 60 | Nolan and Amanda are captured while excavating a buried weapons cache; Berlin investigates a Votanis Collective bombing in the heart of Defiance and sees an opportunity to get revenge on Irisa; Stahma's clandestine relationship with the mysterious Omec leader T'evgin takes a turn. |
| 5 | 30 | History Rhymes | 2015-07-03 | 60 | Amanda and Doc Yewll must enlist the Omec for help rescuing Nolan and Irisa, who have fallen into an unexpected and potentially fatal tour of their own past. Meanwhile, Datak and Stahma prepare a decisive move against Gen. Rahm Tak, leader of the Votanis Collective. |
| 6 | 31 | Where the Apples Fell | 2015-07-10 | 60 | Nolan and Berlin pursue the Tarrs after their connection to the Votanis Collective is exposed; at the same time, Alak comes to grips with his future as a father. |
| 7 | 32 | The Beauty of Our Weapons | 2015-07-17 | 60 | A visiting arms dealer changes Defiance's fortunes, and divides Amanda, Nolan and Berlin; at the same time, Nolan encounters difficulty recruiting a militia to fight the oncoming Votanis Collective army. Elsewhere, Stahma's presence causes strife among the mysterious Omec; and Datak and Alak have a reckoning. |
| 8 | 33 | My Name is Datak Tarr and I Have Come to Kill You | 2015-07-24 | 60 | Defiance is under siege. As Nolan, Amanda, Irisa and the militia defend the town against the Votanis Collective, Datak recalls his father's chilling lessons and makes a pivotal decision, while Stahma takes an unexpected trip. |
| 9 | 34 | Ostinato in White | 2015-07-31 | 60 | A gruesome murder is committed by an unusual beast that's on the loose and being hunted down by Nolan and Irisa, while Doc Yewll delves into the surprising victim. Elsewhere, Amanda resists welcoming back Stahma; and T'evgin learns an unsettling truth about his daughter. |
| 10 | 35 | When Twilight Dims the Sky Above | 2015-08-07 | 60 | Amanda decides to ignore Nolan's skepticism and welcome an encouraging Votanis Collective delegation to Defiance. Meanwhile, Stahma's loyalties are tested by an unexpected arrival; and T'evgin takes another step towards acclimating to life on Earth. |
| 11 | 36 | Of a Demon in My View | 2015-08-14 | 60 | Nolan is unexpectedly freed from Votanis Collective custody, at which point Amanda, Irisa and Berlin rush to save him from Kindzi's clutches. Elsewhere, Datak regrets seeking Doc Ywell's help against the Omec; and something startling is witnessed in the mines. |
| 12 | 37 | The Awakening | 2015-08-21 | 60 | Nolan, Amanda and Irisa search for a way to stop invulnerable Kindzi from waking and transporting more Omec to Earth; Datak seeks escape from a deadly compound; and Stahma implores Alak for forgiveness before it's too late. |
| 13 | 38 | Upon the March We Fittest Die | 2015-08-28 | 60 | A potential suicide mission is agreed to be the only way to end the Omec threat once and for all when Season 3 comes to a close. |
Series Cast
| | | | |
| --- | --- | --- | --- |
| | Grant Bowler | as Joshua Nolan | |
| | Stephanie Leonidas | as Irisa Nyira | |
| | Julie Benz | as Amanda Rosewater | |
| | Jaime Murray | as Stahma Tarr | |
| | Tony Curran | as Datak Tarr | |
| | Jesse Rath | as Alak Tarr | |
| | Graham Greene | as Rafe McCawley | |
| | Anna Hopkins | as Jessica "Berlin" Rainer | |
| | James Murray | as Niles Pottinger | |
| | Mia Kirshner | as Kenya Rosewater | |
| | Nichole Galicia | as Kindzi | |
Series Crew
| | Position | Name |
| --- | --- | --- |
| | Executive Producer | Kevin Murphy |
| | Co-Executive Producer | Andrew Kreisberg |
| | Co-Executive Producer | Gabrielle Stanton |
| | Co-Producer | Bryan Q. Miller |
| | Consulting Producer | Bradley Thompson |
| | Consulting Producer | David Weddle |
| | Co-Executive Producer | Michael Nankin |
| | Supervising Producer | Michael Nankin |
| | Consulting Producer | Michael Taylor |
| | Executive Producer | Michael Taylor |
| | Consulting Producer | Darren Swimmer |
| | Executive Producer | Darren Swimmer |
| | Consulting Producer | Todd Slavkin |
| | Executive Producer | Todd Slavkin |
| | Executive Producer | Mark Winemaker |
| | Creator | Rockne S. O'Bannon |
| | Executive Producer | Rockne S. O'Bannon |
| | Executive Producer | Scott Stewart |
| | Co-Executive Producer | Norman Morrill |
| | Co-Executive Producer | Anupam Nigam |
| | Supervising Producer | Anupam Nigam |
| | Co-Producer | Michael D. Gibson |
| | Consulting Producer | Phoef Sutton |
| | Associate Producer | Michael Freeman |
| | Associate Producer | Ryan Greig |
| | Associate Producer | Amanda Alpert Muscat |
| | Associate Producer | Brian Alexander |
| | Associate Producer | Alexander Wood |
| | Co-Executive Producer | Paul M. Leonard |
| | Supervising Producer | Paula Yoo |
Related News
TVMaze