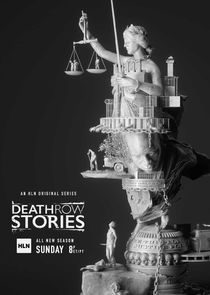 Death Row Stories is a series of one-hour documentaries. Each episode attempts to unravel the truth behind a different capital murder case. These stories call into question various beliefs surrounding America's justice system and the death penalty.
Series Overview
Rating
imDb Rating: 7.6 (220 Votes)
Metascore: N/A
Plot
Capital-murder cases are examined in this documentary series.
Details
Rated: N/A
Released: 09 Mar 2014
Runtime: N/A
Genre: Documentary, Crime
Director: N/A
Writer: N/A
Actors: Susan Sarandon
Language: English
Country: USA
Awards: N/A
Total Seasons: 3
Next Episode
Once Bitten, Twice Tried
Episode 5x8; May 31, 2020
Previous Episode
The Hit That Wasn't
Episode 5x7; May 24, 2020
Episodes 5x8: Once Bitten, Twice Tried 5x7: The Hit That Wasn't 5x6: The Wrong Gun 5x5: Death By The Bayou 5x4: Forensics By Fire 5x3: Predator or Prey? 5x2: Tale of the Tape 5x1: The Lost Boy 4x8: Memory of a Murder

View All Episodes
Skip to:
Season 1
| Episode No. | No. Overall | Title | Airdate | Runtime | Summary |
| --- | --- | --- | --- | --- | --- |
| 1 | 1 | Edward Lee Elmore: Innocence and the Intern | 2014-03-09 | 60 | Capital-murder cases are examined in this documentary series. First up: The case of Edward Lee Elmore is recalled. Elmore was convicted in 1982 for sexually assaulting and murdering a woman in Greenwood, S.C., and was released from prison in 2012. |
| 2 | 2 | Gloria Killian: Ride to the Rescue | 2014-03-16 | 60 | Examining the case of Gloria Killian, who was convicted of a 1981 murder and served more than 16 years in prison before being exonerated in 2002. |
| 3 | 3 | Joe D'Ambrosio: Blood & Water | 2014-03-23 | 60 | No one listened to 27-year old Army vet Joe D'Ambrosio's pleas of innocence in the 1988 murder of Tony Klann, until Father Neil Kookoothe began investigating and discovered a shocking cover-up. |
| 4 | 4 | James Duckett: Killer Cop | 2014-03-30 | 60 | Detective Marshall Frank attempts to exonerate his fellow cop James Duckett, who is sentenced to death for the rape and murder of an eleven year-old girl. |
| 5 | 5 | John Thompson: Rough Justice in the Big Easy | 2014-04-06 | 60 | When petty criminal John Thompson is convicted on capital murder charges, two successful Philadelphia lawyers agree to represent him, but soon discover that their legal rules don't necessarily apply in New Orleans. |
| 6 | 6 | Kris Maharaj: Murder in Miami | 2014-04-13 | 60 | Kris Maharaj went from wealthy businessman to Florida's death row. He claims he was framed for a double murder allegedly ordered by Colombian drug lord Pablo Escobar. Now, a judge has opened the door for a possible re-trial. |
| 7 | 7 | Timothy Hennis: Double Jeopardy | 2014-09-07 | 60 | Kris Maharaj went from wealthy businessman to Florida's death row. He claims he was framed for a double murder allegedly ordered by Colombian drug lord Pablo Escobar. Now, a judge has opened the door for a possible re-trial. |
| 8 | 8 | Nathan Dunlap: Eye for an Eye | 2014-09-07 | 60 | With a re-election campaign looming, Colorado Governor John Hickenlooper will decide the fate of seventeen year death row inmate Nathan Dunlap who was convicted of mass murder at a Chuck E. Cheese's restaurant in Aurora. |
Season 2
| Episode No. | No. Overall | Title | Airdate | Runtime | Summary |
| --- | --- | --- | --- | --- | --- |
| 1 | 9 | Mother vs. Texas | 2015-07-12 | 60 | A Texas mother is sentenced to death after being convicted of murdering her two young sons in their Dallas-area home. |
| 2 | 10 | Murder in Paris | 2015-07-19 | 60 | A small-town Illinois barfly is quickly sentenced to death for the alleged murder of a pair of newlyweds. |
| 3 | 11 | Murder on the Mountain | 2015-07-26 | 60 | An eight-year-old boy is the only survivor of a brutal family massacre in a California home. |
| 4 | 12 | Death, Lies and Videotape | 2015-08-02 | 60 | The execution-style killings of a Florida nightclub owner and two aspiring models are caught on camera. |
| 5 | 13 | The Wrong Man | 2015-08-09 | 60 | Two construction workers are brutally attacked in San Antonio, but one survives and is able to identify his assailant. |
| 6 | 14 | Cruel and Unusual: Botched Executions | 2015-08-16 | 60 | A report on botched executions in several states, including Ohio, Arizona and Oklahoma. |
Season 3
| Episode No. | No. Overall | Title | Airdate | Runtime | Summary |
| --- | --- | --- | --- | --- | --- |
| 1 | 15 | Two Brothers | 2018-03-18 | 60 | Two stepbrothers confess to the murder of an 11-year-old girl, but later claim their confession was coerced. After being convicted they spend 30 years in jail before potentially new evidence comes to light. |
| 2 | 16 | Nye Foul Play | 2018-03-25 | 60 | In 1995, Hank Skinner was sentenced to death for a New Year's Eve triple-homicide of his family. Skinner, discovered drunk, high, and covered in blood, claims he passed out on the couch at the time of the murders, with no recollection of the events. Five years later, students from the Northwestern University start to investigate the case, and discover that key physical evidence, including the murder weapon and a jacket likely worn by the assailant, were never tested for DNA. They also discover troubling evidence pointing to a possible alternate suspect. |
| 3 | 17 | Love Kills | 2018-04-01 | 60 | When 19-year-old Stacey Stites' body is found half-naked by the side of the road, her fiancé, police officer Jimmy Fennell, is cleared as a suspect. DNA is found to match Rodney Reed, a local man suspected in other sexual assault cases and he is sentenced to death. A decade after the crime, Stites' former fiancé is imprisoned for sexually assaulting a woman in his custody. When new forensic evidence casts doubt on the timeline of the crime, evidence shows Stites' death may have occurred while she was at home. |
| 4 | 18 | Snitch Work | 2018-04-08 | 60 | A 4-year-old girl from Philadelphia is found murdered, her body placed in a TV box. Police find no suspects, and the case goes cold. Years later, they arrest a neighbor, Walter Ogrod, for the crime. When an author seeking to write about the death penalty comes across Walter's case, he finds an investigation filled with holes, and a perpetrator who appears mentally unable to have confessed to the crime. The writer discovers a jailhouse snitch network and publishes a two-part article in the Philadelphia City Paper to reveal these injustices. Meanwhile, Walter Ogrod remains on death row, fighting a system determined to keep him there. |
| 5 | 19 | Mississippi Mother | 2018-04-22 | 60 | Sabrina Butler, a 17-year old African American woman, arrives at a Mississippi hospital with her baby dead on arrival. Nurses and doctors suspect foul play, and Sabrina cannot give straight answers about what happened to her baby. Sabrina is charged with capital murder and sentenced to death. Several years later, death penalty expert Clive Stafford Smith uncovers a corrupt system in which Mississippi medical examiners steer autopsy results to buttress the claims of law enforcement. Clive is able to get Sabrina a re-trial and seek out justice. |
| 6 | 20 | Murdered Babysitter | 2018-04-29 | 60 | A babysitter is found brutally murdered in Santa Ana, California, with five young children in the home left unscathed. The parents are quick to point to Kenneth Clair, a local transient who burglarized their home in the past. Clair is convicted of capital murder and sent to death row. But recent DNA analyses and allegations of corruption at the Orange County District Attorney's Office raise questions about the validity of this conviction. The DA's office denies the allegations and says the conviction should stand. |
| 7 | 21 | Feds vs. Outlaws | 2018-05-06 | 60 | Clarence "Smitty" Smith, the leader of the notorious biker club The Outlaws, is accused of a quadruple homicide in Fort Lauderdale. He beats the rap for the homicides, but is sentenced to death for car bombing of a federal witness in New Orleans. On appeal, Smitty is exonerated from death row, proving his innocence beyond question. But the Feds aren't done with Smitty – under the RICO act, they charge Smitty with all the murders in Ft. Lauderdale and New Orleans again, and this time they win. Should a man in his 70's be left to die in federal prison after being charged twice for his crimes? |
| 8 | 22 | Family Lies | 2018-05-13 | 60 | After a family of six is found brutally murdered in a rural Texas town, a perpetrator confesses to the crime. Police however, can't believe one man alone could murder six people, and Anthony Graves is named as an accomplice. Graves is sentenced to death, but maintains his innocence. His case is eventually taken up by a journalism professor who discovers a District Attorney engaged in misconduct who is intent on keeping a guiltless man in prison. |
Series Cast
| | | | |
| --- | --- | --- | --- |
| | Susan Sarandon | as Narrator | |
Related News
TVMaze