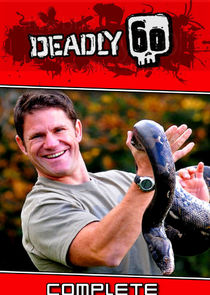 Deadly 60 is a British wildlife documentary programming aimed at children and young people, which is broadcast on CBBC
Each series sees Backshall and his camera crew (who are often themselves seen on screen) travelling the world in an attempt to find the 60 "most deadly" animals in the world. Each episode of the series features several animals and each sequence sees Backshall tracking the animal in its habitat, and giving details of what makes the animal notable, with particular emphasis on its impact on the wider ecosystem and the manner of its predatory behaviour; thus, why it is "deadly". With two series so far produced, 120 animals have to date been featured in the programme . When series 3 is over there will be 180 animals on the list.
Deadly 60 is distributed by BBC Worldwide to many other countries. Most prominently to the US on NatGeo Wild from August 2011.
Series Overview
Rating
imDb Rating: 8.3 (269 Votes)
Metascore: N/A
Plot
A lightly presented nature documentary series. In each season, adventurous British zoologist Steve Backshall travels around the world to select sixty of the most deadly and interesting ...
Details
Rated: N/A
Released: 28 May 2009
Runtime: N/A
Genre: Documentary
Director: N/A
Writer: N/A
Actors: Steve Backshall
Language: English
Country: UK
Awards: N/A
Total Seasons: 4
Previous Episode
Episode 11
Episode 4x11; Apr 27, 2020
Previous Episodes 4x11: Episode 11 4x10: Gabon Coast 4x9: Ecuador Jungle 4x8: Shark Rescue Special 4x7: Borneo 4x6: Ecuador Oceans 4x5: South Africa 4x4: Norway 4x3: Gabon Jungle

View All Episodes
Skip to:
Season 1
| Episode No. | No. Overall | Title | Airdate | Runtime | Summary |
| --- | --- | --- | --- | --- | --- |
| 1 | 1 | South Africa | 2009-05-27 | 30 | |
| 2 | 2 | South Africa | 2009-06-04 | 30 | |
| 3 | 3 | South Africa | 2009-06-11 | 30 | |
| 4 | 4 | Australia | 2009-06-18 | 30 | |
| 5 | 5 | Australia | 2009-06-25 | 30 | |
| 6 | 6 | Australia | 2009-07-02 | 30 | |
| 7 | 7 | Australia | 2009-07-09 | 30 | |
| 8 | 8 | India | 2009-07-16 | 30 | |
| 9 | 9 | India | 2009-07-23 | 30 | |
| 10 | 10 | Malaysia | 2009-07-30 | 30 | |
| 11 | 11 | Malaysia | 2009-08-06 | 30 | |
| 12 | 12 | United Kingdom | 2009-08-13 | 30 | |
| 13 | 13 | United Kingdom | 2009-08-20 | 30 | |
| 14 | 14 | Alaska | 2009-10-15 | 30 | |
| 15 | 15 | Arizona | 2009-10-22 | 30 | |
| 16 | 16 | Louisiana | 2009-10-29 | 30 | |
| 17 | 17 | Bahamas - Shark Special | 2009-11-05 | 30 | |
| 18 | 18 | Brazil | 2009-11-12 | 30 | |
| 19 | 19 | Brazil | 2009-11-19 | 30 | |
| 20 | 20 | Brazil | 2009-11-26 | 30 | |
| 21 | 21 | Killers | 2009-12-03 | 30 | |
| 22 | 22 | Weapons | 2009-12-10 | 30 | |
| 23 | 23 | Unseen | 2009-12-17 | 30 | |
| 24 | 24 | Behind the Scenes | 2009-12-24 | 30 | |
| 25 | 25 | Making of Alaska and South America | 2009-12-31 | 30 | |
| 26 | 26 | Endangered | 2010-01-07 | 30 | |
Season 2
| Episode No. | No. Overall | Title | Airdate | Runtime | Summary |
| --- | --- | --- | --- | --- | --- |
| 1 | 27 | Baja California, Mexico | 2010-07-08 | 30 | |
| 2 | 28 | British Columbia | 2010-07-15 | 30 | |
| 3 | 29 | Vancouver | 2010-07-22 | 30 | |
| 4 | 30 | Costa Rica (1) | 2010-07-29 | 30 | |
| 5 | 31 | Costa Rica (2) | 2010-08-05 | 30 | |
| 6 | 32 | Panama | 2010-08-05 | 30 | |
| 7 | 33 | Mozambique | 2010-08-19 | 30 | |
| 8 | 34 | South Africa | 2010-08-26 | 30 | |
| 9 | 35 | Namibia (1) | 2010-09-02 | 30 | |
| 10 | 36 | Namibia (2) | 2010-09-09 | 30 | |
| 11 | 37 | Madagascar | 2010-09-16 | 30 | |
| 12 | 38 | Uganda | 2010-09-23 | 30 | |
| 13 | 39 | Thailand | 2010-09-30 | 30 | |
| 14 | 40 | Philippines (1) | 2010-10-07 | 30 | |
| 15 | 41 | Philippines (2) | 2010-10-04 | 30 | |
| 16 | 42 | Romania | 2010-10-21 | 30 | |
| 17 | 43 | Norway | 2010-10-28 | 30 | |
| 18 | 44 | United Kingdom | 2010-11-04 | 30 | |
| 19 | 45 | Argentina | 2010-11-11 | 30 | |
| 20 | 46 | Peru | 2010-11-18 | 30 | |
| 21 | 47 | Making Of | 2010-11-25 | 30 | |
| 22 | 48 | Tracks and Signs | 2010-12-02 | 30 | |
| 23 | 49 | Inside Deadly 60 | 2010-12-09 | 30 | |
| 24 | 50 | Venom | 2010-12-16 | 30 | |
| 25 | 51 | Unseen Special | 2010-12-23 | 30 | |
| 26 | 52 | Endangered Special | 2010-12-30 | 30 | |
Season 3
| Episode No. | No. Overall | Title | Airdate | Runtime | Summary |
| --- | --- | --- | --- | --- | --- |
| 1 | 53 | Indonesia | 2012-03-26 | 30 | |
| 2 | 54 | Ethiopia | 2012-03-27 | 30 | |
| 3 | 55 | United Kingdom | 2012-03-28 | 30 | |
| 4 | 56 | Alaska | 2012-03-29 | 30 | |
| 5 | 57 | South Africa | 2012-03-30 | 30 | |
| 6 | 58 | Mexico 1 | 2012-05-07 | 30 | |
| 7 | 59 | Australia 1 | 2012-05-08 | 30 | |
| 8 | 60 | New Zealand | 2012-05-09 | 30 | |
| 9 | 61 | South Africa 2 | 2012-05-10 | 30 | |
| 10 | 62 | Australia 2 | 2012-05-11 | 30 | |
| 11 | 63 | South America 1 | 2012-06-04 | 30 | |
| 12 | 64 | Nepal | 2012-06-05 | 30 | |
| 13 | 65 | Mexico 2 | 2012-06-06 | 30 | |
| 14 | 66 | Venezuela | 2012-06-07 | 30 | |
| 15 | 67 | South America 2 | 2012-06-08 | 30 | |
| 16 | 68 | Sri Lanka 1 | 2012-08-20 | 30 | |
| 17 | 69 | Sri Lanka 2 | 2012-08-21 | 30 | |
| 18 | 70 | Southern States | 2012-08-22 | 30 | |
| 19 | 71 | Florida | 2012-08-23 | 30 | |
| 20 | 72 | Killer Shots | 2012-08-24 | 30 | |
| 21 | 73 | Parasites | 2012-08-25 | 30 | |
| 22 | 74 | Superpower | 2012-08-27 | 30 | |
| 23 | 75 | Deadly Neighbours | 2012-08-28 | 30 | |
| 24 | 76 | Self Defence | 2012-08-29 | 30 | |
| 25 | 77 | Endangered | 2012-08-30 | 30 | |
| 26 | 78 | Unseen | 2012-08-31 | 30 | |
Season 4
Episode No.
No. Overall
Title
Airdate
Runtime
Summary
1
79
Rhino Rescue Special
2020-02-17
30

Steve Backshall comes face to face with the world's deadliest animals and investigates the deadly threats to their survival.

2
80
Bali
2020-02-24
30

Steve sets sail to Bali for a diving adventure to find a giant ocean sunfish. He rescues fish trapped in an abandoned net and meets the teenagers fighting to ban plastic bags on the island.

3
81
Gabon Jungle
2020-03-02
30

Steve travels to Gabon for the first time. Exploring Loango National Park, Steve goes in search of crocodiles, surprisingly deadly chimpanzees and feisty forest elephants. 

4
82
Norway
2020-03-09
30

Steve heads to Norway to dive with the planet's ultimate predator - the orca. He also witnesses the northern lights and gets up close to the mighty mouth of a humpback whale.

5
83
South Africa
2020-03-16
30

Steve witnesses a serval hunting in the weird surroundings of a power station at night, puts snakes to the test in a chomp-off and meets a rare spider.

6
84
Ecuador Oceans
2020-03-23
30

Steve heads to Ecuador to dive with the giant manta ray. He also gets a unique view of the biggest baby on earth and rescues a turtle caught in a fishing line.

7
85
Borneo
2020-03-30
30

Steve gets strangled by a python on a night-time river expedition, climbs a 40-metre tree and finds out why our thirst for palm oil is threatening bears and orangutans. 

8
86
Shark Rescue Special
2020-04-06
30

Steve dives in the shark capital of the world, meets hammerhead and tiger sharks nose to nose and passionately explains why sharks need friends

9
87
Ecuador Jungle
2020-04-13
30

Steve heads to the Amazon rainforest in search of some of the deadliest critters on earth. From deadly snakes to freaky spiders, this episode may leave you hiding behind the sofa!

10
88
Gabon Coast
2020-04-20
30

Steve finds out who is boss as he faces a real-life King Kong. He gets up close to Africa's largest snake and stakes out a crocodile nest to try and catch a sneaky thief red-handed. 
 

11
89
Episode 11
2020-04-27
30
Series Cast
| | | | |
| --- | --- | --- | --- |
| | Steve Backshall | as Presenter | |
Related News
TVMaze