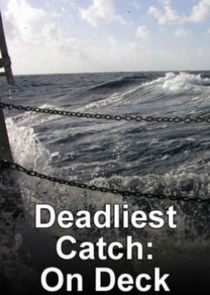 On Deadliest Catch: On Deck, get a closer look at jobs on an Alaskan crab fishing boat from the Deadliest Catch crews.
Series Overview
Rating
imDb Rating: N/A (N/A Votes)
Metascore: N/A
Plot
Episodes of Deadliest Catch (2005) with a little added footage, and overlay-ed social media pop-ups.
Details
Rated: N/A
Released: N/A
Runtime: N/A
Genre: Reality-TV
Director: N/A
Writer: N/A
Actors: N/A
Language: English
Country: USA
Awards: N/A
Total Seasons: 6
Previous Episode
Missing in Action
Episode 5x25; Sep 05, 2017
The fleet reacts when a crab boat disappears; Captain Sig makes an early exit; one last storm bears down on Captains Edgar, Bill, Sean and Jake as they finish out the season.
Previous Episodes 5x25: Missing in Action 5x24: Lost at Sea 5x23: Hillstrand's Last Catch 5x22: Man Down 5x21: 450 Mile Storm 5x20: Respect Earned 5x19: The Lasting Storm 5x18: The Long Storm 5x17: Dead-Stick

View All Episodes
Skip to:
Season 1
| Episode No. | No. Overall | Title | Airdate | Runtime | Summary |
| --- | --- | --- | --- | --- | --- |
| 1 | 1 | Opening Day: King Crab | 2013-04-15 | 60 | |
| 2 | 2 | Dagger in the Back | 2013-04-29 | 60 | |
| 3 | 3 | Blood in the Morning | 2013-05-06 | 60 | |
| 4 | 4 | Judgement Day | 2013-05-20 | 60 | |
| 5 | 5 | Fist to Face | 2013-05-27 | 60 | |
| 6 | 6 | Kicking Off with a Bang | 2013-06-10 | 60 | |
| 7 | 7 | The Storm of the Season | 2013-06-17 | 60 | |
| 8 | 8 | We're Not Gonna Take It | 2013-07-01 | 60 | |
| 9 | 9 | Listing Lover | 2013-07-08 | 60 | |
Season 2
| Episode No. | No. Overall | Title | Airdate | Runtime | Summary |
| --- | --- | --- | --- | --- | --- |
| 1 | 10 | Family Affair | 2014-05-05 | 60 | |
| 2 | 11 | Darwin's Law | 2014-05-19 | 60 | |
| 3 | 12 | Against the Law | 2014-05-19 | 60 | |
| 4 | 13 | On the Rocks | 2014-05-26 | 60 | |
| 5 | 14 | Falling Down | 2014-06-03 | 60 | |
| 6 | 15 | Lost at Sea | 2014-06-09 | 60 | |
| 7 | 16 | Cornelia Marie Blue | 2014-06-16 | 60 | |
| 8 | 17 | Skipper Harris in Training | 2014-06-19 | 60 | |
| 9 | 18 | Fisherman's Daughter | 2014-06-26 | 60 | |
| 10 | 19 | Blonde Ambition | 2014-07-07 | 60 | |
| 11 | 20 | Women Drivers | 2014-07-10 | 60 | |
| 12 | 21 | Greatest Game Ever Fished | 2014-07-17 | 60 | |
| 13 | 22 | Breaking Mandy | 2014-07-24 | 60 | |
| 14 | 23 | Sabotage | 2014-07-31 | 60 | |
| 15 | 24 | You'll Know My Name is the Lord... | 2014-08-08 | 60 | |
Season 3
| Episode No. | No. Overall | Title | Airdate | Runtime | Summary |
| --- | --- | --- | --- | --- | --- |
| 1 | 25 | Prodigal Son | 2015-04-28 | 60 | |
| 2 | 26 | The Ultimatum | 2015-05-05 | 60 | |
| 12 | 27 | New Blood, Old Wounds | 2015-08-12 | 60 | Wild Bill arranges a medical evacuation during an emergency. Jake attempts to redeem himself to Sig. |
Season 4
| Episode No. | No. Overall | Title | Airdate | Runtime | Summary |
| --- | --- | --- | --- | --- | --- |
| 1 | 28 | Carpe Diem | 2016-04-05 | 60 | |
| 2 | 29 | First Timers | 2016-04-12 | 60 | |
| 3 | 30 | No Good Deed... | 2016-04-19 | 60 | |
| 4 | 31 | Swedish Twins | 2016-04-26 | 60 | |
| 5 | 32 | Million-Dollar-Bet | 2016-05-03 | 60 | |
| 6 | 33 | 100% Injury Rate | 2016-05-10 | 60 | |
| 7 | 34 | Cold War | 2016-05-17 | 60 | |
| 8 | 35 | Winter is Coming | 2016-05-24 | 60 | |
| 9 | 36 | Into the Gale | 2016-05-31 | 60 | |
| 10 | 37 | Proving Grounds | 2016-06-07 | 60 | |
| 11 | 38 | Raw Deal | 2016-06-14 | 60 | |
| 12 | 39 | Winter Ablaze | 2016-06-21 | 60 | |
| 13 | 40 | Fire at Sea: Part 2 | 2016-07-12 | 60 | |
| 14 | 41 | Blood & Guts | 2016-07-19 | 60 | |
| 15 | 42 | Life or Death Decision | 2016-07-26 | 60 | |
| 16 | 43 | The Widowmaker: Beginning of the End | 2016-07-30 | 60 | Intense weather and more damage to his battered boat take a toll on Sig's heart. |
| 17 | 44 | The Widowmaker: Heartbreak | 2016-08-09 | 60 | The USCG attempts a dangerous medevac. Bill struggles with a water leak. Jake recruits an old friend. |
| 18 | 45 | The Widowmaker: Part 2 | 2016-09-13 | 120 | Sig fights to survive a massive heart attack; Bill learns a dark secret about his son; Josh fights to prove himself; Jake learns a valuable lesson; Jonathan appeals to the gods. |
Season 5
| Episode No. | No. Overall | Title | Airdate | Runtime | Summary |
| --- | --- | --- | --- | --- | --- |
| 1 | 46 | Legends Born and Broken | 2017-04-08 | 120 | The captains and their crews open up about the season that nearly took one of the fleet's most respected captains. |
| 2 | 47 | Heartache on the Bearing Sea | 2017-04-11 | 120 | Sig fights to survive a massive heart attack; Josh struggles to prove himself; Bill learns a dark secret about Zack. |
| 3 | 48 | Uncharted Territory | 2017-04-18 | 120 | The fleet struggles as crabs vanish; Capt. Sig resumes the helm after a major heart attack; Wild Bill debuts his own brand new boat in a crisis season; attempting to rescue a heart attack victim. |
| 4 | 49 | Seismic Shift | 2017-04-25 | 120 | The fall season begins with uncertainty; a seismic shift in sea temperature sends the fleet searching for displaced crab, while also fighting a large first storm. |
| 5 | 50 | Down in Flames | 2017-05-02 | 60 | Rising sea temperatures test the fleet; toxic smoke engulfs the Saga; Sean struggles to save the family business on the Brenna A; Wild Bill fears he could lose Nick to a terminal illness. |
| 6 | 51 | Crushing Blows | 2017-05-12 | 60 | Wild Bill uncovers the truth about Nick McGlashan's terminal illness; a damaging mechanical issue threatens to crush Jake's future; warming seas force Keith into the unknown. |
| 7 | 52 | Bad Moon | 2017-05-12 | 60 | Captains Johnathan and Andy fish together, possibly for the last time; Captain Jake deals with a belligerent deckhand; Captain Keith reaches his breaking point and sends a crew member packing. |
| 8 | 53 | On a Collision Course | 2017-05-19 | 60 | |
| 9 | 54 | Hail Mary, Full of Crab | 2017-05-23 | 60 | |
| 10 | 55 | Poisoned at Sea | 2017-05-23 | 60 | |
| 11 | 56 | Anchors Aweigh | 2017-05-30 | 120 | Captain Sig makes a life-changing decision; the Time Bandit takes on water and starts to sink; Captain Sean gambles on a new venture with a new crew; the Saga struggles to meet its quota. |
| 12 | 57 | 40-Foot Monsters | 2017-06-06 | 60 | Wild Bill struggles to pilot his new boat in big seas; Johnathan faces off with a massive swell in the perilous False Pass. |
| 13 | 58 | The Russian Line | 2017-06-13 | 60 | Competition doubles when the quota is cut in half; three captains arrive early for the winter season; Johnathan plots a dangerous 600-mile course to Russia. |
| 14 | 59 | Winter Season Strife | 2017-06-20 | 120 | Capt. Johnathan charts a treacherous 600-mile course to the Russian border; Capt. Sig faces the season that nearly killed him; a familiar face returns to the Summer Bay; the Saga loses one of its veterans. |
| 15 | 60 | Hurricane Alley | 2017-06-27 | 60 | |
| 16 | 61 | Arctic Mega Storm | 2017-07-11 | 60 | An Arctic mega-storm rocks the fleet; Sig plays cat-and-mouse with towering waves; Keith watches an 800-pound crab pot launch into a deckhand; Wild Bill fights for a comeback. |
| 17 | 62 | Dead-Stick | 2017-07-18 | 60 | Sig's stress takes a toll; Sean tries to dock in a hurricane; Keith is left dead-stick in massive seas; Jake motivates a defiant hand; Johnathan rolls the dice by Russia. |
| 18 | 63 | The Long Storm | 2017-08-01 | 120 | The fleet battles a massive arctic storm; Captain Sig's chest pains return, threatening the remainder of his season; Captain Jake struggles with a green crew and a defiant deckhand. |
| 19 | 64 | The Lasting Storm | 2017-08-08 | 120 | Sig, Johnathan and Jake attempt to run from a second arctic hurricane; Sig awaits news in the hospital; Wild Bill tries to stay out of harm's way while also handling dissention on deck; Sean lays down the law with Zack. |
| 20 | 65 | Respect Earned | 2017-08-08 | 60 | After suffering chest pains, Sig awaits news in the hospital; Wild Bill struggles to stay out of harm's way while also handling dissention on deck; Sean lays down the law with Zack. |
| 21 | 66 | 450 Mile Storm | 2017-08-15 | 60 | Sig, Johnathan and Jake attempt to run from a second arctic hurricane, but Keith refuses to heed the warnings; stress-induced chest pains threaten the remainder of Sig's season. |
| 22 | 67 | Man Down | 2017-08-15 | 60 | Sean faces a collision course with another boat, two deckhands get taken down on the Wizard, and Jake almost loses a deckhand. |
| 23 | 68 | Hillstrand's Last Catch | 2017-08-22 | 60 | Two old friends race to finish their seasons, but one hopes to cap a storied career; Johnathan Hillstrand wants to bid farewell in a blaze of glory. |
| 24 | 69 | Lost at Sea | 2017-08-29 | 60 | The U.S. Coast Guard scours the Bering Sea for a missing crab vessel while the fleet anxiously waits to discover the fate of its six-man crew; after a plea from his wife, Sig contemplates an early exit. |
| 25 | 70 | Missing in Action | 2017-09-05 | 60 | The fleet reacts when a crab boat disappears; Captain Sig makes an early exit; one last storm bears down on Captains Edgar, Bill, Sean and Jake as they finish out the season. |
Season 6
| Episode No. | No. Overall | Title | Airdate | Runtime | Summary |
| --- | --- | --- | --- | --- | --- |
Related News
TVMaze