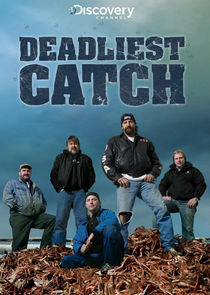 It's the deadliest job on earth: crab fishing off the Alaskan coast on the icy Bering Sea. These adventurers will battle Arctic weather, brutal waves, and a ticking clock for big money in this modern-day gold rush from which they may never return.
Series Overview
Rating
imDb Rating: 7.9 (7,297 Votes)
Metascore: N/A
Plot
A documentary series chronicling the real-life high-sea adventures of the Alaskan crab fishermen. This is the most deadliest profession in the world.
Details
Rated: TV-PG
Released: 15 Mar 2005
Runtime: 55 min
Genre: Documentary, Adventure, Reality-TV
Director: N/A
Writer: N/A
Actors: Mike Rowe, Sig Hansen, Keith Colburn, Edgar Hansen
Language: English
Country: USA
Awards: Won 16 Primetime Emmys. Another 11 wins & 70 nominations.
Total Seasons: 15
Previous Episode
Now or Never
Episode 15x21; Sep 10, 2019
In the season finale, with just ten pots to go, a crushing injury requires Coast Guard rescue. Josh and Casey face a huge loss when their offload gets cancelled. Sig gambles on an early finish, while Monte hauls more crab than the Wizard can hold.
Previous Episodes 15x21: Now or Never 15x20: Dead or Alive 15x19: Time and Tide Wait for No Man 15x18: Dark Ship 15x17: Unholy Alliance 15x16: Hell or High Water 15x15: Unbreakable 15x14: Devil's Cut 15x13: Crane Wreck

View All Episodes
Cast
Mike Rowe as Narrator
Bill Wichrowski as Captain Wild Bill Wichrowski (Cape Caution/Kodiak/Summer Bay)
Keith Coulburn as Captain Keith Colburn (Wizard)
Sig Hansen as Captain Sig Hansen (Northwestern)
Sean Dwyer as Captain Sean Dwyer (Brenna A)
Johnathan Hillstrand as Captain Johnathan Hillstrand (Time Bandit)
View Full Cast
Skip to:
Season 1
| Episode No. | No. Overall | Title | Airdate | Runtime | Summary |
| --- | --- | --- | --- | --- | --- |
| 1 | 1 | Greenhorns | 2005-04-12 | 60 | |
| 2 | 2 | Long Sleepless Nights | 2005-04-19 | 60 | |
| 3 | 3 | Lady Luck | 2005-04-26 | 60 | |
| 4 | 4 | Beat the Clock | 2005-05-03 | 60 | |
| 5 | 5 | Dead of Winter | 2005-05-10 | 60 | |
| 6 | 6 | Man Overboard | 2005-05-17 | 60 | |
| 7 | 7 | High Hopes | 2005-05-24 | 60 | |
| 8 | 8 | Good Fishing | 2005-05-31 | 60 | |
| 9 | 9 | The Clock's Ticking | 2005-06-07 | 60 | |
| 10 | 10 | The Final Run | 2005-06-14 | 60 | |
Season 2
| Episode No. | No. Overall | Title | Airdate | Runtime | Summary |
| --- | --- | --- | --- | --- | --- |
| 1 | 11 | Heading Out to Sea | 2006-03-28 | 60 | |
| 2 | 12 | Batten Down the Hatches | 2006-04-04 | 60 | |
| 3 | 13 | On the Crab | 2006-04-11 | 60 | |
| 4 | 14 | The Finish Line | 2006-04-18 | 60 | |
| 5 | 15 | Friends and Rivals | 2006-04-25 | 60 | |
| 6 | 16 | A New Hunt Begins | 2006-05-02 | 60 | |
| 7 | 17 | Smoke on the Water | 2006-05-09 | 60 | |
| 8 | 18 | Man vs. Ice | 2006-05-16 | 60 | |
| 9 | 19 | On the Edge | 2006-05-23 | 60 | |
| 10 | 20 | Pribilof Stare | 2006-05-30 | 60 | |
| 11 | 21 | Race Against the Ice | 2006-06-06 | 60 | |
| 12 | 22 | Cashing In | 2006-06-13 | 60 | |
Season 3
| Episode No. | No. Overall | Title | Airdate | Runtime | Summary |
| --- | --- | --- | --- | --- | --- |
| 1 | 23 | A Tragic Beginning | 2007-04-03 | 60 | |
| 2 | 24 | The Unforgiving Sea | 2007-04-10 | 60 | |
| 3 | 25 | Pain and Paybacks | 2007-04-17 | 60 | |
| 4 | 26 | Cheating Death | 2007-04-24 | 60 | |
| 5 | 27 | Bering Sea Salvation | 2007-05-01 | 60 | |
| 6 | 28 | The Last Lap | 2007-05-08 | 60 | |
| 7 | 29 | New Beginnings | 2007-05-15 | 60 | |
| 8 | 30 | Caught in the Storm | 2007-05-22 | 60 | |
| 9 | 31 | Crossing the Line | 2007-05-29 | 60 | |
| 10 | 32 | Trials of the Greenhorns | 2007-06-05 | 60 | |
| 11 | 33 | Ice and Open Water | 2007-06-12 | 60 | |
| 12 | 34 | A Frozen Finish | 2007-06-19 | 60 | |
Season 4
| Episode No. | No. Overall | Title | Airdate | Runtime | Summary |
| --- | --- | --- | --- | --- | --- |
| 1 | 35 | Get 'Em Back Safe! | 2008-04-15 | 60 | |
| 2 | 36 | Striking Out | 2008-04-15 | 60 | |
| 3 | 37 | A Numbers Game | 2008-04-22 | 60 | |
| 4 | 38 | Unsafe and Unsound | 2008-04-29 | 60 | |
| 5 | 39 | No Mercy | 2008-05-06 | 60 | |
| 6 | 40 | Racing the Clock | 2008-05-13 | 60 | |
| 7 | 41 | Seeking the Catch | 2008-05-20 | 60 | |
| 8 | 42 | No Season for Old Men | 2008-05-27 | 60 | |
| 9 | 43 | Storm Season | 2008-06-03 | 60 | |
| 10 | 44 | Blow Up | 2008-06-10 | 60 | |
| 11 | 45 | Big Weather, Big Trouble | 2008-06-17 | 60 | |
| 12 | 46 | Mortal Men | 2008-06-24 | 60 | |
| 13 | 47 | Fresh Blood | 2008-07-01 | 60 | |
| 14 | 48 | Changing Tides | 2008-07-08 | 60 | |
| 15 | 49 | Catch as Catch Can | 2008-07-15 | 60 | |
| 16 | 50 | The Final Hour | 2008-07-22 | 60 | |
Season 5
| Episode No. | No. Overall | Title | Airdate | Runtime | Summary |
| --- | --- | --- | --- | --- | --- |
| 1 | 51 | Everything on the Line | 2009-04-14 | 60 | |
| 2 | 52 | Red Skies in the Morning | 2009-04-21 | 60 | |
| 3 | 53 | Stay Focused or Die | 2009-04-28 | 60 | |
| 4 | 54 | Put Up or Shut Up | 2009-05-05 | 60 | |
| 5 | 55 | Long Haul, Short Fuses | 2009-05-12 | 60 | |
| 6 | 56 | Deadline | 2009-05-19 | 60 | |
| 7 | 57 | Down to the Wire | 2009-05-26 | 60 | |
| 8 | 58 | Payback Time | 2009-06-02 | 60 | |
| 9 | 59 | No Second Chances | 2009-06-09 | 60 | |
| 10 | 60 | Sea of Misery | 2009-06-16 | 60 | |
| 11 | 61 | Lockout | 2009-06-23 | 60 | |
| 12 | 62 | A Slap in the Face or a Kick in the Butt | 2009-06-30 | 60 | |
| 13 | 63 | Ends of the Earth | 2009-07-07 | 60 | |
| 14 | 64 | Bitter Tears | 2009-07-14 | 60 | |
| 15 | 65 | Day of Reckoning | 2009-07-21 | 60 | |
| 16 | 66 | Shipwrecked | 2009-07-28 | 60 | |
Season 6
| Episode No. | No. Overall | Title | Airdate | Runtime | Summary |
| --- | --- | --- | --- | --- | --- |
| 1 | 67 | Slow Burn | 2010-04-13 | 60 | |
| 2 | 68 | Breaking 'Em In | 2010-04-20 | 60 | |
| 3 | 69 | Sea Tested | 2010-04-27 | 60 | |
| 4 | 70 | Bering Sea Swim Club | 2010-05-04 | 60 | |
| 5 | 71 | Arctic Quest | 2010-05-11 | 60 | |
| 6 | 72 | False Pass | 2010-05-18 | 60 | |
| 7 | 73 | When Hell Freezes Over | 2010-05-25 | 60 | |
| 8 | 74 | We're Not in Kansas Anymore | 2010-06-01 | 60 | |
| 9 | 75 | Glory Days | 2010-06-08 | 60 | |
| 10 | 76 | The Darkened Seas | 2010-06-15 | 60 | |
| 11 | 77 | Blown Off Course | 2010-06-22 | 60 | |
| 12 | 78 | Empty Throne | 2010-06-29 | 60 | |
| 13 | 79 | Cain and Abel | 2010-07-06 | 60 | |
| 14 | 80 | Redemption Day | 2010-07-13 | 60 | |
| 15 | 81 | Valhalla | 2010-07-20 | 60 | |
| 16 | 82 | Endless | 2010-07-27 | 60 | |
Season 7
| Episode No. | No. Overall | Title | Airdate | Runtime | Summary |
| --- | --- | --- | --- | --- | --- |
| 1 | 83 | New Blood | 2011-04-12 | 60 | |
| 2 | 84 | Proving Grounds | 2011-04-19 | 60 | |
| 3 | 85 | Old Age and Treachery | 2011-04-26 | 60 | |
| 4 | 86 | Breaking Point | 2011-05-03 | 60 | |
| 5 | 87 | A Wing and a Prayer | 2011-05-10 | 60 | |
| 6 | 88 | Exit Wounds | 2011-05-17 | 60 | |
| 7 | 89 | Thick as Thieves | 2011-05-24 | 60 | |
| 8 | 90 | Graduation Day | 2011-05-31 | 60 | |
| 9 | 91 | Sea Change | 2011-06-07 | 60 | |
| 10 | 92 | Frontier Medicine | 2011-06-14 | 60 | |
| 11 | 93 | Birds, Bones and Blood | 2011-06-21 | 60 | |
| 12 | 94 | It's Not All Mai Tais and Yahtzee | 2011-06-28 | 60 | |
| 13 | 95 | Pirate School | 2011-07-05 | 60 | |
| 14 | 96 | The Island | 2011-07-12 | 60 | |
| 15 | 97 | I Smell a Nightmare | 2011-07-19 | 60 | |
| 16 | 98 | Mohawks and Madness, Goodness and Gladness | 2011-07-26 | 60 | |
Season 8
| Episode No. | No. Overall | Title | Airdate | Runtime | Summary |
| --- | --- | --- | --- | --- | --- |
| 1 | 99 | The Gamble | 2012-04-10 | 60 | |
| 2 | 100 | Turf War | 2012-04-17 | 60 | |
| 3 | 101 | Weak Links | 2012-04-24 | 60 | |
| 4 | 102 | The Hook | 2012-05-01 | 60 | |
| 5 | 103 | Alien Abduction | 2012-05-08 | 60 | |
| 6 | 104 | Vital Signs | 2012-05-15 | 60 | |
| 7 | 105 | I Don't Wanna Die | 2012-05-22 | 60 | |
| 8 | 106 | The Aftermath | 2012-05-29 | 60 | |
| 9 | 107 | Nowhere to Go But Down | 2012-06-05 | 60 | |
| 10 | 108 | Rise and Fall | 2012-06-12 | 60 | |
| 11 | 109 | No Exit | 2012-06-19 | 60 | |
| 12 | 110 | Collision Course | 2012-06-26 | 60 | |
| 13 | 111 | Landlocked | 2012-07-03 | 60 | |
| 14 | 112 | Fearless Leaders | 2012-07-10 | 60 | |
| 15 | 113 | Release the Beast | 2012-07-17 | 60 | |
| 16 | 114 | The Bitter, Bloody End | 2012-07-24 | 60 | |
Season 9
| Episode No. | No. Overall | Title | Airdate | Runtime | Summary |
| --- | --- | --- | --- | --- | --- |
| 1 | 115 | Mutiny on the Bering Sea | 2013-04-16 | 60 | |
| 2 | 116 | Dagger in the Back | 2013-04-23 | 60 | |
| 3 | 117 | Blood in the Morning | 2013-04-30 | 60 | |
| 4 | 118 | The Crooke & the Tangler | 2013-05-07 | 60 | |
| 5 | 119 | Judgment Day | 2013-05-14 | 60 | |
| 6 | 120 | Fist to the Face | 2013-05-21 | 60 | |
| 7 | 121 | Goodbye Jake | 2013-05-28 | 60 | |
| 8 | 122 | Kicking Off with a Bang | 2013-06-04 | 60 | |
| 9 | 123 | The Storm of the Season | 2013-06-11 | 60 | |
| 10 | 124 | Sleeping with the Enemy | 2013-06-18 | 60 | The fleet battles an arctic storm; Junior takes a risk; two greenhorns struggle to fit in; Elliott's problems on land continue, a greenhorn refuses to bow to superstition and upsets the crew of the Wizard. |
| 11 | 125 | We're Not Gonna Take It | 2013-06-25 | 60 | The fleet weathered the storm but the crab still are not biting; the captains push their crews too hard. |
| 12 | 126 | Listing Lover | 2013-07-02 | 60 | One of the hardest Opilio seasons on record; catastrophic breakdowns for crew members. |
| 13 | 127 | So You Wanna Be a Boat Owner... | 2013-07-09 | 60 | |
| 14 | 128 | Ship of Iron, Men of Steel | 2013-07-16 | 60 | Three weeks left in the Opilio season and the fleets prepare for their final push, Hydraulic problems are encountered on a ship and others encounter mechanical trouble. |
| 15 | 129 | Man Overboard | 2013-07-23 | 60 | Deckhands on board the Wizard are unable to lasso a walrus carcass; Freddy takes matters into his own hands. |
| 16 | 130 | The Final Battle | 2013-07-30 | 60 | |
Season 10
| Episode No. | No. Overall | Title | Airdate | Runtime | Summary |
| --- | --- | --- | --- | --- | --- |
| 1 | 131 | Careful What You Wish For | 2014-04-22 | 60 | |
| 2 | 132 | Family Affair | 2014-04-29 | 60 | |
| 3 | 133 | Darwin's Law | 2014-05-06 | 60 | |
| 4 | 134 | Against the Law | 2014-05-13 | 60 | |
| 5 | 135 | On the Rocks | 2014-05-20 | 60 | |
| 6 | 136 | Falling Down | 2014-05-27 | 60 | |
| 7 | 137 | Lost at Sea | 2014-06-03 | 60 | |
| 8 | 138 | Cornelia Marie Blue | 2014-06-10 | 60 | |
| 9 | 139 | Skipper Harris in Training | 2014-06-17 | 60 | |
| 10 | 140 | Fisherman's Daughter | 2014-06-24 | 60 | |
| 11 | 141 | Blonde Ambition | 2014-07-01 | 60 | |
| 12 | 142 | Women Drivers | 2014-07-08 | 60 | |
| 13 | 143 | Greatest Game Ever Fished | 2014-07-15 | 60 | |
| 14 | 144 | Breaking Mandy | 2014-07-22 | 60 | |
| 15 | 145 | Sabotage | 2014-07-29 | 60 | |
| 16 | 146 | You'll Know My Name is the Lord... | 2014-08-05 | 60 | |
Season 11
| Episode No. | No. Overall | Title | Airdate | Runtime | Summary |
| --- | --- | --- | --- | --- | --- |
| 1 | 147 | A Brotherhood Tested | 2015-04-14 | 60 | |
| 2 | 148 | Prodigal Son | 2015-04-21 | 60 | |
| 3 | 149 | Legend of the Cornelia Marie | 2015-04-28 | 60 | |
| 4 | 150 | Super Typhoon, Part 1 | 2015-05-05 | 60 | |
| 5 | 151 | Super Typhoon, Part 2 | 2015-05-12 | 60 | |
| 6 | 152 | Wasted Talent | 2015-05-19 | 60 | |
| 7 | 153 | Heavy Lies the Crown | 2015-05-26 | 60 | |
| 8 | 154 | Zero Hour | 2015-06-02 | 60 | |
| 9 | 155 | Hell's Bells | 2015-06-09 | 60 | |
| 10 | 156 | Lunatic Fringe | 2015-06-16 | 60 | |
| 11 | 157 | New Captain on the Block | 2015-06-23 | 60 | |
| 12 | 158 | 5-Year Storm, Part 1 | 2015-06-30 | 60 | The most menacing storm of opilio season moves in on the fleet. A rogue wave terrorizes the Cape Caution, ripping steel and timber. The Wizard crew races to plug a gushing leak. The Saga, captained by Jake Anderson, is nearly capsized by a 40-foot wave. |
| 13 | 159 | 5-Year Storm, Part 2 | 2015-07-14 | 60 | A 600-mile-wide arctic storm continues to ravage the fleet. Rookie skippers Jake Anderson and Josh Harris struggle just keep their heads above water while veteran captains Andy Hillstrand and Sig Hansen charge straight into the heart of the tempest. |
| 14 | 160 | Bite the Hand | 2015-07-21 | 60 | A second major storm slams the fleet. Rookie skipper Jake Anderson reaches out to Sig Hansen for help. Josh Harris arrives on the grounds weeks late. Captains Keith Colburn and Wild Bill Wichrowski struggle to keep their greenhorns in the game. |
| 15 | 161 | New Blood, Old Wounds | 2015-07-28 | 60 | The fleet battles mental and physical breakdowns late in the season; Captain Jake Anderson gets a shot at redemption; Keith props up ailing greenhorns. |
| 16 | 162 | Beastmode | 2015-08-04 | 60 | The crew of the Cornelia Marie make plans to watch a football game. A captain is lost on the Time Bandit whilst a huge mistake is made by the crew of the Cape Caution. |
| 17 | 163 | I'm the Captain | 2015-08-11 | 60 | The ice pack hits the fishing grounds causing rush for the captains as they attempt to finish out their seasons. |
| 18 | 164 | We Have Not Yet Begun to Fight | 2015-08-18 | 120 | Polar ice descends and each Skipper must choose flight or fight. The Saga is in danger of sinking & Jake must act fast to save his crew. Josh takes a huge gamble against Casey's wishes and heads towards the ice. Sig & Johnathan race to rescue gear. |
Season 12
| Episode No. | No. Overall | Title | Airdate | Runtime | Summary |
| --- | --- | --- | --- | --- | --- |
| 1 | 165 | Ticking Bomb | 2016-03-29 | 60 | (2 hour episode) The Time Bandit has a run-in with law enforcement; Sig torments Jake; Keith's fortunes change; Sean Dwyer fights for his father's legacy. |
| 2 | 166 | First Timers | 2016-04-05 | 60 | Sean Dwyer and his crew prepare for their first crab season on the Brenna A; Jake makes a mistake; Wild Bill deals with a deckhand; Keith gets support from Johnathon Hillstrand. |
| 3 | 167 | No Good Deed... | 2016-04-12 | 60 | |
| 4 | 168 | Swedish Twins | 2016-04-19 | 62 | Josh Harris takes over the Cornelia Marie; Sean Dwyer faces the angry sea; greenhorns on the Cape Caution are brought to attention; weather, mechanical failures and inexperienced crews create difficulties across the fleet. |
| 5 | 169 | Million-Dollar-Bet | 2016-04-26 | 62 | Jake Anderson attempts a treacherous shortcut with only one engine; Casey and Josh perform surgery at sea; Edgar Hansen works to make his mark as captain. |
| 6 | 170 | 100% Injury Rate | 2016-05-03 | 60 | Sean Dwyer has to choose between crab and a childhood friend; Wild Bill questions his son's status as a crabber and a man; injuries seem to run rampant throughout the ships. |
| 7 | 171 | Cold War | 2016-05-10 | 60 | |
| 8 | 172 | Winter is Coming | 2016-05-17 | 60 | |
| 9 | 173 | Into the Gale | 2016-05-24 | 60 | |
| 10 | 174 | Proving Grounds | 2016-05-31 | 60 | In the final throes of the season's first arctic storm, captains and crews battle for survival. While veterans fight the weather, rookie skipper Sean Dwyer stands fast, waiting out the storm, making his first trip of the year during blue skies. |
| 11 | 175 | Raw Deal | 2016-06-07 | 60 | |
| 12 | 176 | Settling the Score | 2016-06-14 | 60 | |
| 13 | 177 | Fire at Sea, Part 1 | 2016-06-21 | 60 | |
| 14 | 178 | Fire at Sea, Part 2 | 2016-07-05 | 60 | The crew aboard the Northwestern fight a fire in the engine room while out at sea. Elsewhere, a hefty pot goes flying after the hydraulics fail aboard the Saga. |
| 15 | 179 | Blood & Guts | 2016-07-12 | 60 | Shedding blood on the Time Bandit; A fight breaks out on the Wizard, Sig finishes dealing with his burned out boat then encounters another problem. |
| 16 | 180 | Life or Death Decision | 2016-07-19 | 60 | A rouge wave forces Zack to make a life-or-death decision; Jake bets on a Bering Sea crab myth; Sig gives his daughter Mandy a treat on the bridge. |
| 17 | 181 | The Widowmaker, Part 1 | 2016-07-26 | 60 | Intense weather and more damage to his battered boat take a toll on Sig's heart; the USCG attempts a dangerous medevac; Bill struggles with a water leak; Jake recruits an old friend. |
| 18 | 182 | The Widowmaker, Part 2 | 2016-08-02 | 60 | Sig fights to survive a massive heart attack. Bill learns a dark secret about his son Zack. On the Corneila Marie, Josh fights to prove himself. Jake learns a valuable lesson and Johnathan appeals to the gods. |
Season 13
| Episode No. | No. Overall | Title | Airdate | Runtime | Summary |
| --- | --- | --- | --- | --- | --- |
| 1 | 183 | Uncharted Territory | 2017-04-11 | 130 | The crabs have vanished, igniting a grueling hunt to save the fleet's way of life. Captain Sig resumes the helm after a major heart attack. Wild Bill debuts his own brand new boat in a crisis season. A rescue is attempted for a heart attack victim. |
| 2 | 184 | Seismic Shift | 2017-04-18 | 60 | The fall season begins with uncertainty; a seismic shift in sea temperature sends the fleet searching for displaced crab, while also fighting a large first storm |
| 3 | 185 | Down in Flames | 2017-04-25 | 60 | Rising sea temperatures test the fleet. Toxic smoke engulfs the Saga. Sean struggles to save the family business on the Brenna A. Wild Bill fears he could lose Nick to a terminal illness. |
| 4 | 186 | Crushing Blows | 2017-05-02 | 60 | Wild Bill uncovers the truth about Nick McGlashan's terminal illness; a damaging mechanical issue threatens to crush Jake's future; warming seas force Keith into the unknown. |
| 5 | 187 | Bad Moon | 2017-05-09 | 60 | Johnathan and Andy Hillstrand fish together for the last time; Keith's inattentive crew sends the Wizard on a collision course; a belligerent deckhand tests Jake's resolve as captain. |
| 6 | 188 | Hail Mary, Full of Crab | 2017-05-16 | 60 | A massive leak fills the Time Bandit; a fistfight tests Jake's resolve while heavy winds and a snapped anchor threaten to wreck his boat; Sig's greenhorn has an awkward question. |
| 7 | 189 | Poisoned at Sea | 2017-05-23 | 60 | A big decision weighs on Sig Hansen. Rookie captain Sean Dwyer gambles on a new venture with a new crew. Jake Anderson struggles to replace a lost anchor before his quota is taken away. |
| 8 | 190 | 40-Foot Monsters | 2017-05-30 | 60 | The last moments of the fall season bring its biggest storm. Wild Bill struggles to pilot his new boat in big seas. Johnathan faces off with a massive swell in the perilous False Pass. |
| 9 | 191 | The Russian Line | 2017-06-06 | 60 | Competition doubles when the quota is cut in half. Three captains arrive early for the winter season, but Johnathan goes one step further and plots a dangerous, 600-mile course to Russia. |
| 10 | 192 | Back to the Killing Season | 2017-06-13 | 60 | Sig returns to the season that nearly killed him. After a tough start, Keith and son struggle to prove themselves. Wild Bill gives Nick McGlashan a second chance. Jake lets go of a friend. |
| 11 | 193 | Hurricane Alley | 2017-06-20 | 60 | The first of multiple back-to-back hurricanes descend on the fleet; spotty fishing and mutiny converge to create the perfect storm. |
| 12 | 194 | Arctic Mega Storm | 2017-06-27 | 60 | An Arctic mega-storm rocks the fleet; Sig plays cat-and-mouse with towering waves; Keith watches an 800-pound crab pot launch into a deckhand; Wild Bill fights for a comeback. |
| 13 | 195 | Dead-Stick | 2017-07-11 | 60 | Sig's stress takes a toll. Sean tries to dock in a hurricane. Keith is left dead-stick in massive seas. Jake motivates a defiant hand. Johnathan rolls the dice by Russia. |
| 14 | 196 | 450 Mile Storm | 2017-07-18 | 60 | Sig, Johnathan and Jake attempt to run from a second arctic hurricane, but Keith refuses to heed the warnings; Stress-induced chest pains threaten the remainder of Sig's season. |
| 15 | 197 | Respect Earned | 2017-08-01 | 60 | After suffering chest pains, Sig awaits news in the hospital; Wild Bill struggles to stay out of harm's way while also handling dissention on deck; Sean lays down the law with Zack. |
| 16 | 198 | Man Down | 2017-08-08 | 60 | Sean is set on a collision course with another boat, two deckhands get taken down on the Wizard, and Jake almost loses a deckhand. |
| 17 | 199 | Hillstrand's Last Catch | 2017-08-15 | 60 | Two old friends race to finish their seasons, but one hopes to cap a storied career; Johnathan Hillstrand wants to bid farewell in a blaze of glory. |
| 18 | 200 | Lost at Sea | 2017-08-22 | 60 | The U.S. Coast Guard scours the Bering Sea for a missing crab vessel while the fleet anxiously waits to discover the fate of its six-man crew; after a plea from his wife, Sig contemplates an early exit. |
| 19 | 201 | Last Damn Arctic Storm | 2017-08-29 | 61 | In the wake of the Destination tragedy one last storm bears down on Egar, Bill, Sean and Jake; the Coast Guard attempts to save the crew of a fishing vessel while their boat takes on water. |
Season 14
| Episode No. | No. Overall | Title | Airdate | Runtime | Summary |
| --- | --- | --- | --- | --- | --- |
| 1 | 202 | Battle Lines | 2018-04-10 | 84 | Sig and Jake have a massive falling out, leading to new strategies and new alliances. Josh Harris returns to captain his father's boat. Sean plays dirty, but Wild Bill shows him he's messing with the wrong Captain. With big rewards, come big risks. |
| 2 | 203 | First Blood | 2018-04-17 | 60 | Bering Sea draws first blood in a daring Coast Guard rescue. Jake strives to become an independent Captain, & Keith offers to take him on as an apprentice, but accusations fly and suspicions grow as the captains plunge head first into a brutal start. |
| 3 | 204 | Dead in the Water | 2018-04-24 | 60 | Wild Bill risks it all on a new bait and fish strategy hoping it will pay off big. Sean and Casey forge an alliance, but when one strikes crab, will he betray it? A dangerous mistake jeopardizes Jake's offload. The Cornelia Marie is whipped by bad weather. |
| 4 | 205 | Salt Wounds | 2018-05-01 | 60 | Sig takes heads off the grid on a daring midnight mission to shake his rivals. The Cornelia Marie pays the price for a rotten alliance, and an injured deckhand could force the boat in early. Keith gets big news from his doctor on a mystery illness. |
| 5 | 206 | Collision Void | 2018-05-08 | 60 | As a flooding collision void threatens to sink him, Keith fights to keep the Wizard afloat. A missing boat part leaves Jake stranded at sea. Sig gets ready to pass the torch to Edgar, but the brotherly tension rises when he can't give up the reins. |
| 6 | 207 | Arctic Hurricane | 2018-05-15 | 60 | A massive arctic hurricane shocks the fleet with high winds and big waves. An unstable stack threatens to capsize the Saga. As the captains rush to pull and set pots before harbor, Wild Bill risks driving straight into the storm to snatch his quota. |
| 7 | 208 | Clash of Kings | 2018-05-22 | 60 | Jake makes a devil's bargain, huge crab for hidden perils, until his boat itself is on the line. Sig serves cold justice at sea, while Wild Bill chases a King Crab jackpot. The Cornelia Marie crew learns when you bet on a boat, the house always wins. |
| 8 | 209 | Becoming Captain | 2018-05-29 | 60 | On the brink of failure, Josh Harris discovers secret fishing grounds in his late father's logbooks. A deck mishap could end Jake's season. The Coast Guard braves pitching seas in an attempt to hoist an injured sailor from inside a ship's tank. |
| 9 | 210 | Purgatory | 2018-06-05 | 60 | Keith is forced to hand over the Wizard. Josh fights for the helm despite a bad showing. Major engine trouble threatens Wild Bill's season. |
| 10 | 211 | Winter's Curse | 2018-06-12 | 60 | A massive tidal surge threatens Josh and Monte as they chase their bounty deep into an arctic storm. Wild Bill hopes to get his broken boat off the dock. The rest of the fleet arrives for the start of Opilio. |
| 11 | 212 | Blackout | 2018-06-19 | 60 | A blackout leaves Jake Anderson and the crew of the Saga dark ship; and Keith Colburn hopes to recruit Josh Harris to save his business. |
| 12 | 213 | Winter's Fury | 2018-06-26 | 120 | The winter season unleashes 20-foot waves and 40-knot winds. The tension between the Wizard co-captains reaches a breaking point. |
| 13 | 214 | Baptism by Fire | 2018-07-10 | 60 | It's baptism by fire aboard the Northwestern as Mandy takes her 1st shift in heavy seas. The Wizard crew battles over one crewman who isn't pulling his weight on deck. Caught short on bait gear & battered by high seas, Wild Bill changes his strategy. |
| 14 | 215 | Supermoon Storm | 2018-07-17 | 60 | A 150 year old supermoon storm wreaks havoc on tides, churning undersea currents that rip pots right off their lines. The Coast Guard attempts a rescue mission in the heart of the storm, while Wild Bill faces his worst nightmare. |
| 15 | 216 | Greenhorn Overboard | 2018-07-31 | 60 | A greenhorn's life hangs in the balance as the Summer Bay crew scrambles to steal one of their own from the Sea's icy grip. Saga and Cornelia Marie battle colossal waves of the supermoon storm, while Mandy tackles her first haul in extreme weather. |
| 16 | 217 | Turf Wars | 2018-08-07 | 60 | Sig pushes Mandy to invade the Cornelia Marie's ground. As the Cornelia Marie's pots get tangled with the Northwestern's, Casey takes extreme measures to defend his turf. A Saga distress signal sends panic across the fleet. |
| 17 | 218 | No Safe Harbor | 2018-08-14 | 60 | A severe arctic gale batters the fleet, forcing captains to fight extreme wind and waves. For the second time, a greenhorn's life hangs in the balance on the Summer Bay. The Saga crew seeks shelter at St. Paul, where tidal forces snap Jake's anchor. |
| 18 | 219 | Blood and Water | 2018-08-21 | 60 | As rogue waves threaten to capsize their boats, Jake and Sean must make life or death decisions for their crews on deck. Wild Bill faces a choice that could end his career, and Keith returns to the Wizard put an unexpected end to his brother's rule. |
| 19 | 220 | Storm Surge | 2018-08-28 | 60 | Captains take on the steepest waves yet in an epic final surge to hit their quotas. Jake fights through a debilitating crew injury on deck. Josh gambles big on his crab count, while engine failure leaves Sig dead in the water. |
Season 15
| Episode No. | No. Overall | Title | Airdate | Runtime | Summary |
| --- | --- | --- | --- | --- | --- |
| 1 | 221 | Battle of Kings | 2019-04-09 | 120 | Hours before king season, a massive new boat with a renegade captain discovers the crab are all in one spot. As the fleet races to find the quarter billion-dollar hoard, captains battle each other and the Bering Sea to claim their share of the bounty. |
| 2 | 222 | Super Swarm | 2019-04-16 | 120 | Atop the king crab super swarm, full pots boil over into conflict as young guns Sean and Jake join forces to set down Sig. Keith and Harley reignite a decades old rivalry, and Sean faces the long arm of Alaska law when crab in his tank come up short. |
| 3 | 223 | Knife in the Ribs | 2019-04-23 | 60 | The first arctic storm of the season arrives, and Saga's deck boss takes a knife to the ribs. Josh and Casey's record-setting haul gets interrupted when a hand gets tangled in the coiler. Capt. Bill takes one last stab at motivating a lazy greenhorn. |
| 4 | 224 | Single Point of Failure | 2019-04-30 | 60 | A freak accident which threatens the Northwestern's crew happens while Mandy is at the helm. A launcher on the Southern Wind snaps at the worst possible moment. And the Wizard loses power to its forward lights. |
| 5 | 225 | Shifting Stack | 2019-05-07 | 60 | In the biggest storm of the season, Jake faces a life and death decision when a shifting stack threatens to capsize the Saga. Sig and Mandy haul through angry seas, while Josh and Casey gamble on quota but find there's more on the line than sheer numbers. |
| 6 | 226 | Blood in the Water | 2019-05-14 | 120 | The Bering Sea takes a brutal toll on captains and crew. Wild Bill calls the Cornelia for help. Jake confronts a disorderly crew, forcing his toughest decision yet as captain. Josh mans the helm as Casey makes a risky ship-to-ship transfer in high seas. |
| 7 | 227 | Winter is Here | 2019-05-21 | 120 | |
| 8 | 228 | Tough Inheritance | 2019-05-28 | 60 | |
| 9 | 229 | Russian Roulette | 2019-06-04 | 60 | |
| 10 | 230 | Curse of the Russian Line | 2019-06-11 | 60 | |
| 11 | 231 | Hell Hath No Fury | 2019-06-18 | 60 | |
| 12 | 232 | Sixty Foot Monster | 2019-06-25 | 60 | |
| 13 | 233 | Crane Wreck | 2019-07-09 | 60 | |
| 14 | 234 | Devil's Cut | 2019-07-16 | 60 | |
| 15 | 235 | Unbreakable | 2019-07-23 | 60 | |
| 16 | 236 | Hell or High Water | 2019-08-06 | 60 | Monte returns to co-captain the Wizard just as massive storms slam the fleet from the south. Jake risks hauling his pots in 30 foot seas to return to his family. Wild Bill goes farther north into the icy Arctic than any other boat in the fleet. |
| 17 | 237 | Unholy Alliance | 2019-08-13 | 60 | |
| 18 | 238 | Dark Ship | 2019-08-20 | 60 | |
| 19 | 239 | Time and Tide Wait for No Man | 2019-08-27 | 60 | |
| 20 | 240 | Dead or Alive | 2019-09-03 | 60 | |
| 21 | 241 | Now or Never | 2019-09-10 | 60 | In the season finale, with just ten pots to go, a crushing injury requires Coast Guard rescue. Josh and Casey face a huge loss when their offload gets cancelled. Sig gambles on an early finish, while Monte hauls more crab than the Wizard can hold. |
Series Cast
| | | | |
| --- | --- | --- | --- |
| | Mike Rowe | as Narrator | |
| | Bill Wichrowski | as Captain Wild Bill Wichrowski (Cape Caution/Kodiak/Summer Bay) | |
| | Keith Coulburn | as Captain Keith Colburn (Wizard) | |
| | Sig Hansen | as Captain Sig Hansen (Northwestern) | |
| | Sean Dwyer | as Captain Sean Dwyer (Brenna A) | |
| | Johnathan Hillstrand | as Captain Johnathan Hillstrand (Time Bandit) | |
| | Jake Anderson | as Captain Jake Anderson (The Saga) | |
| | Andy Hillstrand | as Captain Andy Hillstrand (Time Bandit) | |
| | Elliott Neese | as Captain Elliott Neese (Ramblin Rose) | |
| | Scott Campbell Jr. | as Captain Scott Campbell Jr. (Seabrooke) | |
| | Josh Harris | as Captain Josh Harris (Cornelia Marie) | |
| | Casey McManus | as Captain Casey McManus (Cornelia Marie) | |
| | Phil Harris | as Captain Phil Harris (Cornelia Marie) | |
Series Crew
| | Position | Name |
| --- | --- | --- |
| | Associate Producer | John Gray |
| | Creator | Thom Beers |
| | Executive Producer | Thom Beers |
| | Executive Producer | David McKillop |
| | Co-Executive Producer | Brian Catalina |
| | Co-Executive Producer | Tracy Green |
| | Co-Executive Producer | Jeff Conroy |
| | Supervising Producer | Jeff Conroy |
| | Supervising Producer | Lisa Tanzer |
| | Associate Producer | Ryan McNeill |
| | Associate Producer | Miles Abalia |
Related News
TVMaze