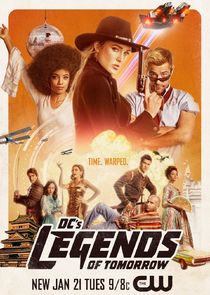 When heroes alone are not enough... the world needs legends. Having seen the future, one he will desperately try to prevent from happening, time-traveling rogue Rip Hunter is tasked with assembling a disparate group of both heroes and villains to confront an unstoppable threat - one in which not only is the planet at stake, but all of time itself. Can this ragtag team defeat an immortal threat unlike anything they have ever known?
Series Overview
Rating
imDb Rating: 6.8 (87,381 Votes)
Metascore: N/A
Plot
Time-travelling rogue Rip Hunter has to recruit a rag-tag team of heroes and villains to help prevent an apocalypse that could impact not only Earth, but all of time.
Details
Rated: TV-14
Released: 21 Jan 2016
Runtime: 42 min
Genre: Action, Adventure, Drama, Sci-Fi
Director: N/A
Writer: Greg Berlanti, Marc Guggenheim, Phil Klemmer, Andrew Kreisberg
Actors: Caity Lotz, Amy Louise Pemberton, Dominic Purcell, Brandon Routh
Language: English
Country: USA
Awards: 3 wins & 22 nominations.
Total Seasons: 6
Next Episode
The One Where We're Trapped On TV
Episode 5x14; May 26, 2020
After Charlie does the one thing that goes against her nature when it comes to her sisters, she tries to protect the Legends by scattering them in different television shows. Of course, in true Legends style some can't just be blissfully ignorant and happy but figure out a way to end up messing with the system.
Previous Episode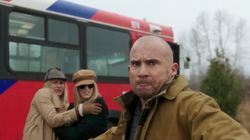 I Am Legends
Episode 5x13; May 19, 2020
After drinking from Chalice, the Legends have immortality for 24 hours, which gives them time get to the Waverider and use the Loom of Fate. However, they quickly discover that the sisters have stolen the Waverider and they are stuck at Constantine's house in the middle of nowhere in London during a Zombie Apocalypse. Meanwhile, Gary is left on the ship and once he discovers what is going on, he takes something important to the sisters.
Episodes 5x15: Swan Thong 5x14: The One Where We're Trapped On TV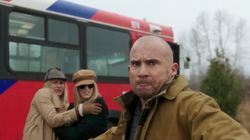 5x13: I Am Legends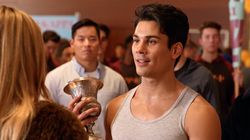 5x12: Freaks and Greeks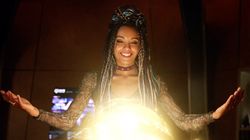 5x11: Ship Broken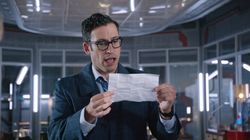 5x10: The Great British Fake Off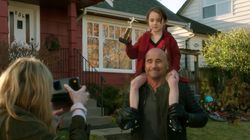 5x9: Zari, Not Zari


5x8: Romeo V. Juliet: Dawn of Justness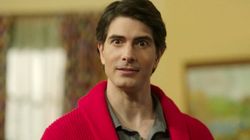 5x7: Mr. Parker's Cul-De-Sac

View All Episodes
Cast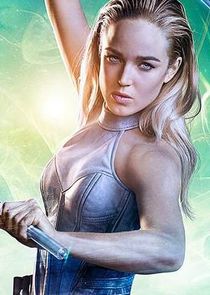 Caity Lotz as Sara Lance / White Canary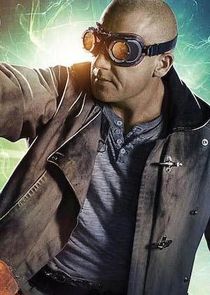 Dominic Purcell as Mick Rory / Heat Wave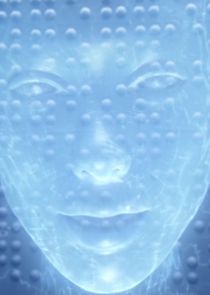 Amy Pemberton as Gideon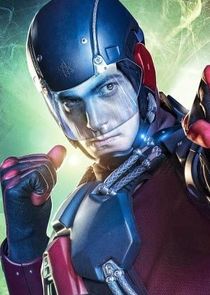 Brandon Routh as Ray Palmer / The Atom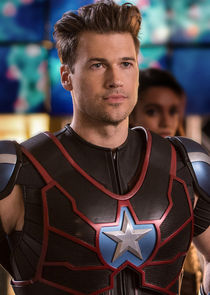 Nick Zano as Dr. Nathan Heywood / Citizen Steel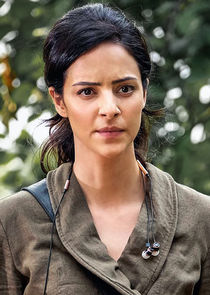 Tala Ashe as Zari Adrianna Tomaz
View Full Cast
Skip to:
Season 1
| Episode No. | No. Overall | Title | Airdate | Runtime | Summary |
| --- | --- | --- | --- | --- | --- |
| 1 | 1 | Pilot, Part 1 | 2016-01-21 | 60 | Rip Hunter, Time Master, assembles a team of heroes and villains from the year 2016 to battle Vandal Savage, who has conquered Earth in the year 2166. To stop Vandal, they must travel throughout the villain's timeline and stop him from amassing enough power to become a world-conquering tyrant. First stop: 1975 and a meeting with the academic who knows the most about Vandal. |
| 2 | 2 | Pilot, Part 2 | 2016-01-28 | 60 | The team goes after Savage's operation in Norway in 1975, but the mission goes bad when Savage detonates the nuclear warhead he is trying to sell. Atom loses a piece of his suit's technology, and Martin contacts his younger self in 1975 in the hopes of finding it. Meanwhile, Carter and Kendra learn of a dagger that can kill Savage for good, but Kendra has to recall her first life in order to use it. |
| 3 | 3 | Blood Ties | 2016-02-04 | 60 | With Waverider undergoing repairs in 1975, Sara and Rip set out to check the bank where Vandal keeps his money. Meanwhile, Ray and Martin try to save Kendra's life, and Len, Mick, and Jax take a trip to Central City. |
| 4 | 4 | White Knights | 2016-02-11 | 60 | The team gets a lead on Vandal in 1986, and travels to Russia to discover what he's trying to create. While Len and Ray try to get close to the lead scientist, Rip entertains an offer from the Time Masters Council. |
| 5 | 5 | Fail-Safe | 2016-02-18 | 60 | Rip sends Len and Sara in to rescue Martin, Ray, and Mick from the Russian gulag. However, he gives Sara secondary orders in case their rescue attempt fails. Meanwhile, Ray takes a beating for Mick, while Kendra helps Jax prove himself without becoming Firestorm. |
| 6 | 6 | Star City 2046 | 2016-02-25 | 60 | The team finds itself stranded in Star City 2046, in a future where Vandal has conquered Earth and the city's defenders have fallen. Despite Rip's warnings, Sara sets out to find Oliver Queen and help him fight the city's ruler: Grant Wilson, the new Deathstroke. |
| 7 | 7 | Marooned | 2016-03-03 | 60 | While trying to pick up Vandal's trail, Waverider receives a distress signal from a sister ship. Rip goes to investigate, only to discover that time pirates have set a trap for him and his crew. |
| 8 | 8 | Night of the Hawk | 2016-03-10 | 60 | The team tracks Savage to a small town in Oregon during the 1950s. Upon arrival, they discover there have been a recent string of murders and they suspect Savage is involved. |
| 9 | 9 | Left Behind | 2016-03-31 | 60 | Trapped in 1958 when Waverider leaves them behind, Ray and Kendra bond as a couple while Sara decides to return to the League of Assassins and Ra's al Ghul. Meanwhile, Chronos abducts Len and reveals his true identity. |
| 10 | 10 | Progeny | 2016-04-07 | 60 | The team convinces Rip not to kill Per Degaton, a boy who as an adult will help Vandal conquer the planet. However, Rip has other ideas and soon abducts the boy. Meanwhile, Kendra remembers more of her past with Carter, Ray meets an ancestor, and Sara tells Len to talk with the imprisoned Mick. |
| 11 | 11 | The Magnificent Eight | 2016-04-14 | 60 | When the team needs a place to hide out, Rip sets a course for the Old West. Upon arrival, they start a fight with a gang of outlaws, putting the small town in jeopardy. Luckily, an old friend of Rip's, Jonah Hex, steps in to save them. |
| 12 | 12 | Last Refuge | 2016-04-21 | 60 | The Time Masters send their top assassin, The Pilgrim, back in time to kill the team's younger selves and eliminate them from the timestream. Once the team removes their past selves from the time stream, they are forced to take refuge in the place where Rip grew up. |
| 13 | 13 | Leviathan | 2016-04-28 | 60 | The team goes after Vandal in 2146, and discover that he has a daughter. Meanwhile, Kendra discovers how she can kill Vandal but makes a startling discovery when she confronts the immortal tyrant. |
| 14 | 14 | River of Time | 2016-05-05 | 60 | The team attempts to return Vandal to the Vanishing Point for trial, after discovering that he has learned how to time travel and poses a threat to the timeline. However, the damaged Waverider may not be able to make the journey. Meanwhile, a captive Vandal attempts to turn the team against each other. |
| 15 | 15 | Destiny | 2016-05-12 | 60 | At the Vanishing Point, the Time Masters reveal the source of their power to Rip and how they've been manipulating the team... and why. Meanwhile, Mick is reprogrammed to serve as Chronos once more and hunt down Sara and Len, while Vandal travels to 2166 with Kendra to fulfill his destiny. |
| 16 | 16 | Legendary | 2016-05-19 | 60 | Rip returns his teammates to 2016 so that they can take up their original lives. However, they insist on completing their mission and the team soon begins hunting Vandal and his captives, Kendra and Carter. |
Season 2
| Episode No. | No. Overall | Title | Airdate | Runtime | Summary |
| --- | --- | --- | --- | --- | --- |
| 1 | 17 | Out of Time | 2016-10-13 | 60 | Historian Hank Heywood notices the presence of the Legends in the past, and contacts Oliver Queen. The two of them find Waverider--and Mick--in the waters of the Atlantic. Once revived, Mick tells them what happened to the team in 1942. |
| 2 | 18 | The Justice Society of America | 2016-10-20 | 60 | In 1942, the Legends are forced to team up with the Justice Society of America to recover a mystic amulet from the Nazis... unaware that Reverse Flash wants the Amulet for himself. Meanwhile, Nate meets his grandfather, Commander Steel, while Ray and JSA member Vixen bond. |
| 3 | 19 | Shogun | 2016-10-27 | 60 | Nate discovers that thanks to the Nazi serum, he can transform his skin into steel. However, in his first training session, he accidentally blasts himself and Ray out of the ship... and into 1641 Japan. Meanwhile, Jax and Martin discover a hidden compartment in Waverider and a cryptic message from a friend. |
| 4 | 20 | Abominations | 2016-11-03 | 60 | The team follows a stranded time pirate to Mississippi, 1863, and discover that the man has unleashed a bioweapon that transforms humans into zombie-like creatures. If they don't stop the zombies from overrunning Grant's army, history will be altered beyond repair. |
| 5 | 21 | Compromised | 2016-11-10 | 60 | The Legends trace a temporal aberration to the White House in 1987 and discover that Darhk is trying to obtain a rare item. Amaya teams up with a former JSA teammate, while Martin tries to convince his younger self to pay more attention to his wife before it's too late. Meanwhile, Mick has second thoughts about making Ray the new Captain Cold. |
| 6 | 22 | Outlaw Country | 2016-11-17 | 60 | The team detects a timequake in 1874 and travel to Colorado, where they meet their former ally Jonah Hex. Jonah is on the trail of an outlaw, Quentin Turnbull, and the team realize that Quentin is the reason for the timequake. Meanwhile, Amaya gives Mick advice on controlling his rage, and Martin has memories of a woman he doesn't know. |
| 7 | 23 | Invasion! | 2016-12-01 | 60 | The abducted heroes return to Earth and tell the others about the Dominators' plans. Meanwhile, Martin deals with the daughter he never had until he altered the timeline, while Steel, Vixen, and Heat Wave go back to 1951 to capture a Dominator. |
| 8 | 24 | The Chicago Way | 2016-12-08 | 60 | The team travel to Chicago, 1927, to prevent a timequake and find Damian and the mysterious speedster responsible... and they've teamed up with Malcolm Merlyn. As the villains try to regain the amulet the Legends took from them, Mick is plagued by hallucinations of an old friend. Meanwhile, Martin reveals the existence of his daughter to Jax. |
| 9 | 25 | Raiders of the Lost Art | 2017-01-24 | 60 | The team follow a temporal aberration to 1967 and find their former captain Rip Hunter... with no memory of who he is, and directing a student film. Damien and Malcolm arrive due to the Medallion, and the Legends soon realize that they're after something that Rip has... even if he doesn't know it. |
| 10 | 26 | The Legion of Doom | 2017-01-31 | 60 | While the Legends deal with Martin's daughter and try to work out the identity of the speedster opposing them, Malcolm and Damien have their own demands for Eobard while trying to tap into Rip's memories. |
| 11 | 27 | Turncoat | 2017-02-07 | 60 | The Legends trace a timequake to Christmas Day, 1776... and discover that George Washington has been killed. They try to save Washington's life but the mission goes awry when Mick is captured by the British, Sara is shot, Ray is trapped at six inches, and Nate and Amaya are the only ones left to track Mick and the missing Washington. |
| 12 | 28 | Camelot/3000 | 2017-02-21 | 60 | After Rip takes a fragment of the Spear from JSA member Dr. Mid-Nite in 3000, the Legends travel to 507 AD to stop Rip and Damien from acquiring another fragment hidden at the court of King Arthur. |
| 13 | 29 | Land of the Lost | 2017-03-07 | 60 | Rip forces Waverider down in 65 million B.C. While Ray, Nate, and Amaya seek out a lost piece of technology they need to restore the timeship, Jax and Sara enter Rip's subconscious in a desperate attempt to find the location of the last fragment of the Spear of Destiny. |
| 14 | 30 | Moonshot | 2017-03-14 | 60 | The Legends locate Henry Heywood in 1970, at Mission Control in Houston. They approach him and learn where he hid the fragment of the Spear... and that Eobard is planning to use Apollo 13 to gain the fragment for the Legion. |
| 15 | 31 | Fellowship of the Spear | 2017-03-21 | 60 | After stealing the remaining Spear fragment from the Legion, the team realizes that the relic is too dangerous for anyone to possess it. Destroying the Spear requires the blood of Christ, and the only place it can be found is at the Battle of Somme in 1916. However, to find the blood, the Legends need the help of soldier J.R.R. Tolkien. |
| 16 | 32 | Doomworld | 2017-03-28 | 60 | The Legion of Doom use the Spear to rewrite reality to their specifications. The Legends have no memory of their former existence, except for Mick... who is now partnered with Len. However, Nate soon realizes that something is wrong and sets out to restore his teammate's memories. |
| 17 | 33 | Aruba | 2017-04-04 | 60 | The 2017 team has no choice but to go back to 1916 and stop the Legion from getting the Spear of Destiny... even though if they meet their past selves it could a temporal calamity. |
Season 3
| Episode No. | No. Overall | Title | Airdate | Runtime | Summary |
| --- | --- | --- | --- | --- | --- |
| 1 | 34 | Aruba-Con | 2017-10-10 | 60 | After Rip creates a new Time Bureau and disbands the Legends, Ray, Nate, and Sara have difficulty returning to their old lives. When Mick spots Julius Caesar in Aruba, the team decides to get back together to show the Bureau how it's done. |
| 2 | 35 | Freakshow | 2017-10-17 | 60 | The team travels to 1870 to deal with what they think is a minor anachronism. They mess up and the threat level escalates, and most of the team is captured by P.T. Barnum. Meanwhile, Amaya returns to the team and tells Nate why she left. |
| 3 | 36 | Zari | 2017-10-24 | 60 | The team travels to 2042 in response to a Time Bureau distress call, and find a city under ARGUS control. They discover that an assassin is stalking a hactivist with a mysterious amulet. Meanwhile, Nate suggests that Amaya go on a vision quest to determine what is wrong with the Totem. |
| 4 | 37 | Phone Home | 2017-10-31 | 60 | The Legends travel to the 80s after they discover that Ray died there as a child. They soon learn that Young Ray is harboring a baby Dominator... and the government will stop at nothing to acquire it and eliminate Young Ray as a witness. Meanwhile, Jax and Mick discover that Martin may have betrayed the Legends to the Time Bureau. |
| 5 | 38 | Return of the Mack | 2017-11-07 | 60 | Nate tracks an outlier anachronism to 1895 London, where a series of mysterious deaths have occurred, apparently caused by a vampire. Rip is already on the scene, and asks the Legends for their help finding the killer... and an ancient evil. |
| 6 | 39 | Helen Hunt | 2017-11-14 | 60 | The team track an outlier to 1937 Hollywood, and find a time-displaced Helen of Troy... along with Damien, Eleanor, and Kuasa. As the Legends battle the villain, Helen's presence alters the timeline and threatens to strand the heroes in 1937. |
| 7 | 40 | Welcome to the Jungle | 2017-11-21 | 60 | The team sets out to investigate an anachronism in 1960s Vietnam, and discover that a strange creature is attacking both American and Vietnamese soldiers. Meanwhile, Mick meets a figure from his past, and Jax sets out to prove that he can be a hero without Firestorm. |
| 8 | 41 | Crisis on Earth-X, Part 4 | 2017-11-28 | 60 | Fuehrer Queen launches an attack on Earth-1's Central City after Oliver and the Legends reject his offer of a truce in exchange for Supergirl. |
| 9 | 42 | Beebo the God of War | 2017-12-05 | 60 | The team travels to 1000 AD to unravel a Level 12 Anachronism, and find a young Martin Stein held prisoner. Jax tries to work out how to warn Martin's younger self to save the older version, while Sara turns to the Time Bureau for help after Damien makes an appearance. |
| 10 | 43 | Daddy Darhkest | 2018-02-12 | 60 | John Constantine learns of Sara's involvement with a demon possession case that he's working, and tracks her down. While some of the Legends help him, Ray and Zari help the girl who is possessed, Mick watches football, and Nate and Amaya confront Amaya's granddaughter Kuasa. |
| 11 | 44 | Here I Go Again | 2018-02-19 | 60 | Zari attempts to hook up her computer assimilator to Gideon, but a ship's explosion knocks her back one hour in time... over, and over, and over again, and she's the only one who remembers what happened. Desperate, Zari tries to work out the cause of the time loop, escape it, and save her teammates. |
| 12 | 45 | The Curse of the Earth Totem | 2018-02-26 | 60 | While Sara goes on a date with Ava, the rest of the team go after the Fire and Earth Totems. Their quest takes them to the Bahamas in 1717, where Amaya poses as a pirate to find the "cursed" necklace. Meanwhile, Rip tries to recruit Wally into the Legends. |
| 13 | 46 | No Country for Old Dads | 2018-03-05 | 60 | When Ray admits that it would take the power of cold fusion to repair the Fire Totem, Nora takes him back to 1962 where a young Damien is trying to assassinate the unknown creator of the process. Meanwhile, the Legends try to track down the missing Ray, and Wally proves his value to the team. |
| 14 | 47 | Amazing Grace | 2018-03-12 | 60 | Rock and roll starts disappearing from Waverider, and the Legends soon discover that a mysterious event in 1950 Memphis turned the city into a ghost town. The team travel there and discover that Elvis Presley is at the heart of the anachronism... and he has the Death Totem. |
| 15 | 48 | Necromancing the Stone | 2018-03-19 | 60 | Sara gives into temptation and puts on the Death Totem... and Mallus possesses her body. Meanwhile, the Legends are trapped on Waverider and haunted by figures from their past, and Ava turns to John Constantine for help. |
| 16 | 49 | I, Ava | 2018-03-26 | 60 | Gary come to Waverider asking for helping finding a missing Ava. Sara and Ray go with him and find a mystery in 2213. Meanwhile, Zari helps Mick train with his new powers, while Nate and Wally travel to Detroit 2018 to help Amaya's depowered granddaughter Mari. |
| 17 | 50 | Guest Starring John Noble | 2018-04-02 | 60 | After the Legends stop Grodd from killing a young Barack Obama in 1992, Sara sends Nate and Wally to Zambesi in 1992 to stop Amaya from creating the Anachronism which will free Mallus from his time cage. Meanwhile, Damien offers an alliance to stop Mallus before he can finally take over Nora's body. To convince Nora to enter their trap, Ray seeks out John Noble for help because of the actor's uncanny vocal resemblance to Mallus. |
| 18 | 51 | The Good, the Bad and the Cuddly | 2018-04-09 | 60 | Unable to defeat Mallus, the Legends retreat to the Old West to regroup and figure out how to use the Totems. Zari bonds with Jonah and sends out a signal to the Legends' allies, while Mallus sends his own forces to recover the Totems. |
Season 4
| Episode No. | No. Overall | Title | Airdate | Runtime | Summary |
| --- | --- | --- | --- | --- | --- |
| 1 | 52 | The Virgin Gary | 2018-10-22 | 60 | After four months of returning the remaining anachronisms to their correct times, the Legends are ready for a break. But Constantine soon arrives with warnings of dark deeds, and the team is off to Woodstock to deal with a deceptively magical menace. |
| 2 | 53 | Witch Hunt | 2018-10-29 | 60 | The Legends travel to Salem 1692 to investigate a magical disturbance during the Witch Trials. Meanwhile, Nate stays in DC to try and reconnect with his father but it doesn't go so well. |
| 3 | 54 | Dancing Queen | 2018-11-05 | 60 | The Legends travel to London 1977 where Ray has to infiltrate a punk rock band to find a magical creature. Constantine pays a visit to his parents, while Nate deal with his first field assignment at the Time Bureau. |
| 4 | 55 | Wet Hot American Bummer | 2018-11-12 | 60 | When Gideon detects a magical event at a summer camp in 1995, Sara, Ava, Constantine, and Ray pose as camp counselors to investigate the mystery. Meanwhile, Mick has a heart-to-heart with the imprisoned Charlie. |
| 5 | 56 | Tagumo Attacks!!! | 2018-11-19 | 60 | When Gideon picks up a magical disturbance in Tokyo 1951, Sara, Zari, and Mick head there and take Charlie along to earn her keep. Meanwhile, Nate deals with true monsters when he has Thanksgiving dinner with his family, and Ray asks Nora to help Constantine. |
| 6 | 57 | Tender is the Nate | 2018-11-26 | 60 | Hank joins the Legends on a fact-finding mission to see why they cost so much, and Nate tags along. Meanwhile, Mona begins her new job at the Time Bureau, and ends up trapped with Ava and Nora. |
| 7 | 58 | Hell No, Dolly! | 2018-12-03 | 60 | The Legends learn of a Fugitive serial killer in 1838 New Orleans. However, when they arrive, the city stirs up memories in Constantine of his greatest love... and his greatest betrayal. While the team hunt down the serial killer, Constantine tries to alter history with unexpected results. |
| 8 | 59 | Legends of To-Meow-Meow | 2018-12-10 | 60 | After Constantine alters the timeline, he, Zari, and Charlie try to put right what once went wrong but end up making things worse. |
| 9 | 60 | Lucha De Apuestas | 2019-04-01 | 60 | Koname makes his way to Mexico City 1961 and becomes a masked luchador, El Lobo. The Legends track him there and try to recover him, and realize that Mona was telling the truth about the Men in Black who tried to abduct the Kaupe. Meanwhile, Ava chooses sides when Sara asks for her support. |
| 10 | 61 | The Getaway | 2019-04-08 | 60 | When President Nixon starts telling the truth non-stop in 1973, the Legends suspect magical involvement and travel there to learn what's going on. The Time Bureau is hot on their trail, and the team takes to the road in an RV when Hank and his people close in. |
| 11 | 62 | Séance and Sensibility | 2019-04-15 | 60 | While Nate attends Hank's wake, Constantine tries to summon Hank's spirit with some help from Mick. Meanwhile, the other Legends travel to 1802 England when Jane Austen's works start disappearing from the timeline. |
| 12 | 63 | The Eggplant, the Witch & the Wardrobe | 2019-04-22 | 60 | Sara, Nora, and Constantine find a missing Ava, and Sara enters her lover's purgatory when they discover Neron has removed her soul. Zari considers her relationship with Nate, and Nate finds out more about the theme park Hank had planned. |
| 13 | 64 | Egg MacGuffin | 2019-04-29 | 60 | Sara sends Nate and Zari on an "easy" mission to 1933 to recover a mysterious golden egg, while she and Ava have book club. Charlie and Mick go to Romanti-Con to make $20,000 off of Charlie pretending to be Mick's writer's psuedonym "Rebecca Silver", while Ray convinces an unlikely ally to help free him from Neron's grasp. |
| 14 | 65 | Nip | Stuck | 2019-05-06 | 60 | Neron traps the Legends in the Ice Age, and then tries to convince Constantine to open a stable portal to Hell by showing him his ancestor. Gary takes control of the Bureau and holds performance reviews to convince everyone that he's just the man they need. |
| 15 | 66 | Terms of Service | 2019-05-13 | 60 | The Legends go on the offensive against Neron, and their plan promptly falls apart. Nora becomes the new Fairy Godmother, Charlie is trapped by Neron, Zari loses the dragon egg, Mick becomes a big baby, Sara and Ava start dancing themselves to death, and Nate is trapped in Gary's high school nerdiness. In Hell, Constantine is forced to choose between the souls of Astra and Ray. |
| 16 | 67 | Hey, World! | 2019-05-20 | 60 | Constantine and Nora try to rescue Ray's soul from Hell, and discover that he's made a new friend. The Legends pose as three more publicly-known superheroes to bring people to Nate's Heyworld so they can defeat Neron's plan to generate enough fear to open the gates of Hell. Nate and Zari are both forced to make ultimate sacrifices if the plan is to succeed. |
Season 5
| Episode No. | No. Overall | Title | Airdate | Runtime | Summary |
| --- | --- | --- | --- | --- | --- |
| 1 | 68 | Crisis on Infinite Earths: Part Five | 2020-01-14 | 60 | Worlds lived, worlds died. Nothing will ever be the same. |
| 2 | 69 | Meet the Legends | 2020-01-21 | 60 | Sara, Ray and Mick are shocked to discover that the Legends have become famous. It seems that everyone except Sara is loving the spotlight, so much so that they invite a documentary crew on board the Waverider to film them as they investigate a strange new blip in the Timeline. The Legends discover that their new problem is none other than Rasputin, who happens to be straight out of hell, and it might be tougher than they thought. Meanwhile, Constantine thinks he knows the reason behind these new blips and informs the team that it won't be easy to defeat. |
| 3 | 70 | Miss Me, Kiss Me, Love Me | 2020-02-04 | 60 | When a new blip lands the Legends in 1947 Los Angeles, it puts them on the trail of Benjamin "Bugsy" Siegel who seems to take pleasure in fraternizing with Hollywood Elite. Sara, Ray and Constantine devise a plan to capture him while Ava and Rory sit on the sidelines for the time being. They soon realize that they need to worry less about Bugsy and more about his girlfriend. Ava is struggling with being on the sidelines with Rory. Meanwhile, Nate accompanies Behrad to his dad's birthday, where Nate meets Behrad's sister, Zari, who seems familiar to him. |
| 4 | 71 | Slay Anything | 2020-02-11 | 60 | When the Legends discover a new Encore, Sara, Rory and Ava end up crashing a high school reunion to attempt to stop a serial killer from finishing unfinished business. The Legends devise a plan to send Nate, Ray, Nora, Behrad and their hostage Zari, back in time to try and intervene in order to try to save everyone including them. Meanwhile, Constantine is annoyed that Charlie has been squatting in his old home, but it might be the blessing in disguise they were not looking for. |
| 5 | 72 | A Head of Her Time | 2020-02-18 | 60 | When Sara is called away on business, she leaves Ava in charge and Ava tries to impress the team as they try to take on their latest Encore, Marie Antionette. With Zari still on the ship, Behrad convinces the team to bring her along on the mission which they all hope isn't a mistake. Meanwhile, Constantine finally confronts someone from his past with the help of Charlie, which leads him on a journey through his past. |
| 6 | 73 | Mortal Khanbat | 2020-02-25 | 60 | With Sara still away from the Waverider, the Legends find a new Encore with Ava's new invention, the Prognosticator, and must now try to defeat Genghis Khan in 1990s Hong Kong. Constantine's life is hanging in the balance, and Ray, Nora and Gary all try to help him, but Constantine tries to make a deal with Astra instead. Meanwhile, Behrad has been confused about Charlie's recent behavior, but they all learn why Charlie is trying to out run her past and from what. |
| 7 | 74 | Mr. Parker's Cul-De-Sac | 2020-03-10 | 60 | Ray plans a date night for him and Nora, but all goes awry when an Encore shows up making the team think on their feet and create a lie to keep the Encore at bay. While trying to fool the Encore, Ava learns what Sara was really doing while she was away and confronts her. Charlie and Constantine make a deal to work together, which will benefit both of them. Meanwhile, Rory is upset when he gets negative comments about his book, so Zari helps track down who the critic is, and Rory gets more than he bargained for.  |
| 8 | 75 | Romeo V. Juliet: Dawn of Justness | 2020-03-17 | 60 | The Legends continue their hunt for pieces of the Loom of Fate and find themselves face to face with William Shakespeare. Ray, Nate, Rory, Constantine, Charlie and Behrad stay a little longer on the mission making things worse after lying to Sara. Meanwhile, Ray and Nora make another big life decision that leaves the team surprised and best buds, Nate and Ray, on the outs. |
| 9 | 76 | Zari, Not Zari | 2020-04-21 | 60 | Sara, Constantine and Charlie find themselves in British Columbia searching for another piece of the Loom, but they run into a problem they couldn't have foreseen. Zari has been having trouble feeling like herself, so she goes on meditative journey at the suggestion of Behrad. Meanwhile, Ava volunteers to try and help Rory with a personal problem. |
| 10 | 77 | The Great British Fake Off | 2020-04-28 | 60 | With Sara recuperating from her latest battle, Charlie starts to notice something might not be right with her. Still searching for the Loom, Constantine and Zari find themselves trapped in a 1910 boarding house with a slew of out-of-time Encores. Meanwhile, Ava, Gary and Rory take a trip while Nate and Charlie hold down the Waverider. |
| 11 | 78 | Ship Broken | 2020-05-05 | 60 | Everyone is eager to use the Loom of Fate, but the team must decide who they want to bring back first leaving Charlie to make a tough choice. Sara struggles to understand what has happened to her and with the help of Constantine and Ava, they try to figure out how to help her. Meanwhile, Rory has a guest on the ship that he is trying to impress. |
| 12 | 79 | Freaks and Greeks | 2020-05-12 | 60 | The Legends find themselves going back to college and form a sorority in order to try to retrieve an ancient artifact called the Chalice of Dionysus that will help Charlie operate the Loom of Fate. Proud to be back at his college, Nate falls under Dion's spell, letting him know of Sara, Astra, Ava and Charlie's plan to get the cup. Meanwhile, on a father-daughter weekend, Rory takes Lita on a college tour, but Rory bails on Lita for an unexpected reason. |
| 13 | 80 | I Am Legends | 2020-05-19 | 60 | After drinking from Chalice, the Legends have immortality for 24 hours, which gives them time get to the Waverider and use the Loom of Fate. However, they quickly discover that the sisters have stolen the Waverider and they are stuck at Constantine's house in the middle of nowhere in London during a Zombie Apocalypse. Meanwhile, Gary is left on the ship and once he discovers what is going on, he takes something important to the sisters. |
| 14 | 81 | The One Where We're Trapped On TV | 2020-05-26 | 60 | After Charlie does the one thing that goes against her nature when it comes to her sisters, she tries to protect the Legends by scattering them in different television shows. Of course, in true Legends style some can't just be blissfully ignorant and happy but figure out a way to end up messing with the system. |
| 15 | 82 | Swan Thong | 2020-06-02 | 60 | Still controlled by the Fates, the Legends find themselves in 1984-esque world, they soon discover that things aren't as they thought they would be. The Legends must convince the civilians to trust them and stand up for their right to choose, but the Fates don't make it easy by resurrecting the Encores once again. |
Season 6
| Episode No. | No. Overall | Title | Airdate | Runtime | Summary |
| --- | --- | --- | --- | --- | --- |
Series Cast
| | | | |
| --- | --- | --- | --- |
| | Caity Lotz | as Sara Lance / White Canary | |
| | Dominic Purcell | as Mick Rory / Heat Wave | |
| | Amy Pemberton | as Gideon | |
| | Brandon Routh | as Ray Palmer / The Atom | |
| | Nick Zano | as Dr. Nathan Heywood / Citizen Steel | |
| | Tala Ashe | as Zari Adrianna Tomaz | |
| | Franz Drameh | as Jefferson "Jax" Jackson / Firestorm | |
| | Victor Garber | as Professor Martin Stein / Firestorm | |
| | Jes Macallan | as Agent Ava Sharpe | |
| | Maisie Richardson-Sellers | as Amaya Jiwe / Vixen | |
| | Arthur Darvill | as Michael "Rip" Hunter | |
| | Courtney Ford | as Eleanor "Nora" Darhk | |
| | Maisie Richardson-Sellers | as Charlie | |
| | Wentworth Miller | as Len Snart / Captain Cold | |
| | Ciara Renee | as Kendra Saunders / Chay-Ara / Hawkgirl | |
| | Ramona Young | as Mona Wu | |
| | Olivia Swann | as Astra Logue | |
| | Matt Letscher | as Eobard Thawne / Reverse Flash | |
| | Keiynan Lonsdale | as Wally West / Kid Flash | |
| | Falk Hentschel | as Carter Hall / Cynthian Torgo / Prince Khufu / Hawkman | |
| | LaMonica Garrett | as Mobius / The Anti-Monitor | |
Series Crew
| | Position | Name |
| --- | --- | --- |
| | Developer | Andrew Kreisberg |
| | Executive Producer | Andrew Kreisberg |
| | Developer | Greg Berlanti |
| | Executive Producer | Greg Berlanti |
| | Consulting Producer | Marc Guggenheim |
| | Developer | Marc Guggenheim |
| | Executive Producer | Marc Guggenheim |
| | Co-Producer | Jennifer Lence |
| | Producer | Jennifer Lence |
| | Co-Producer | Carl Ogawa |
| | Producer | Carl Ogawa |
| | Consulting Producer | Ben Sokolowski |
| | Producer | Glen Winter |
| | Co-Executive Producer | Keto Shimizu |
| | Executive Producer | Keto Shimizu |
| | Executive Producer | Sarah Schechter |
| | Executive Producer | Chris Fedak |
| | Supervising Producer | Sarah Nicole Jones |
| | Producer | Sarah Nicole Jones |
| | Developer | Phil Klemmer |
| | Executive Producer | Phil Klemmer |
| | Co-Producer | Ray Utarnachitt |
| | Executive Story Editor | Ray Utarnachitt |
| | Supervising Producer | Ray Utarnachitt |
| | Producer | Ray Utarnachitt |
| | Producer | Vladimir Stefoff |
| | Editor | Kevin Mock |
| | Producer | Kevin Mock |
| | Co-Executive Producer | Grainne Godfree |
| | Executive Producer | Grainne Godfree |
| | Supervising Producer | Grainne Godfree |
| | Producer | Grainne Godfree |
| | Associate Producer | Brian Moraga |
| | Co-Producer | Geoff Garrett |
| | Producer | Geoff Garrett |
| | Co-Executive Producer | James Eagan |
| | Supervising Producer | James Eagan |
| | First Assistant Director | Mick MacKay |
| | Editor | David Crabtree |
| | Story Editor | Ubah Mohamed |
| | Music | Blake Neely |
| | Music Editor | Angela Claverie |
| | Music Supervisor | Season Kent |
| | Casting | Lyndsey Baldasare |
| | Music | Nathaniel Blume |
| | Director Of Photography | David Geddes |
| | Executive Story Editor | Matthew Maala |
| | Executive Producer | Kent Hodder |
| | Executive Producer | Nancy Bordson |
| | Executive Producer | Steve Mulholland |
| | Executive Producer | Tim Herbstrith |
| | Production Manager | Karl Petersen |
| | Editor | Bryan Wagner |
| | On-Line Editor | Bryan Wagner |
| | Editor | Pete Keffer |
| | Editor | Dave Keffer |
| | Graphic Designer | Tim Dahlen |
| | Graphic Designer | David Schwartz |
| | Assistant Editor | Ivan Kowalenko |
| | Production Assistant | Joy Phillips |
| | First Assistant Director | Nico Sachse |
| | Second Assistant Director | Florian Halbedl |
| | Director Of Photography | Mahlon Todd Williams |
| | Editor | Dexter N. Adriano |
| | Production Designer | Ian D. Thomas |
| | Set Decorator | Matthew Versteeg |
| | Property Master | Trinita Waller |
| | Art Director | Rick Willoughby |
| | Sound Mixer | Kristian Bailey |
| | Re-Recording Mixer | Joel D. Catalan |
| | Re-Recording Mixer | Mark Hensley |
| | Casting | Sean Cossey |
| | First Assistant Director | Michele E. Dutka |
| | Casting | JJ Ogilvy |
| | Editor | Andrew Kasch |
| | Production Manager | Catou Kearney |
| | Unit Production Manager | Catou Kearney |
| | Second Assistant Director | Tessa Mol |
| | Editor | Harry Jierjian |
| | Director Of Photography | Rickhard Buckmaster |
| | Second Assistant Director | Bryant Marshall |
| | Production Designer | Sheila Haley |
| | Editor | Carol Stutz |
| | Casting | David H. Rapaport |
| | Editor | Tom Runquist |
| | Editor | Talia Lidia |
| | Story Editor | Morgan Faust |
| | Music | Daniel James Chan |
| | Associate Producer | Trina Renee |
| | First Assistant Director | Michael Pohorly |
| | Second Assistant Director | Michelle Fitzpatrick |
| | First Assistant Director | Gordie Macdonald |
| | Second Assistant Director | Chris Garbasauskas |
| | Music | Sherri Chung |
| | Staff Writer | Tyron B. Carter |
| | Editor | Rhett Finch |
| | Casting Associate | Amy Wilson |
| | First Assistant Director | Yannick Leray |
| | Second Assistant Director | Yannick Leray |
| | Casting Associate | Tila Datta |
| | First Assistant Director | Patricia D. Walden |
| | Second Assistant Director | Johanne Michel |
| | Casting Associate | Emma Ward |
| | Second Assistant Director | Andrew Otter Niiranon |
| | Second Assistant Director | Michelle Bond |
| | Production Accountant | Bart Johnson |
Related News
TVMaze