DC Super Hero Girls features teenage versions of many female DC characters, all of whom attend a high school for superheroes run by Principal Amanda Waller. DC released a teaser for the cartoon last week and aired two more episodes to coincide with this weekend's New York Comic-Con. Characters featured in DC Super Hero Girls include Wonder Woman, Harley Quinn and Bumblebee.
Series Overview
Rating
imDb Rating: 6.1 (434 Votes)
Metascore: N/A
Plot
At Super Hero High, iconic Super Heroes like Wonder Woman, Supergirl, Batgirl, Harley Quinn, Bumblebee, Poison Ivy, and Katana navigate all the twists and turns of high school. United by ...
Details
Rated: TV-Y7
Released: 01 Oct 2015
Runtime: 3 min
Genre: Animation, Action, Adventure, Family, Sci-Fi
Director: N/A
Writer: N/A
Actors: Tara Strong, Grey Griffin, Mae Whitman, Anais Fairweather
Language: English
Country: USA
Awards: N/A
Total Seasons: 5
Previous Episode
My So Called Anti Life
Episode 5x23; Dec 27, 2018
Previous Episodes 5x23: My So Called Anti Life 5x22: Super Gift Swap 5x21: Fortress of Solidarity 5x20: Water Water Nowhere 5x19: Missing Martian 5x18: For The Girl Who Has Everything 5x17: Mindscape 5x16: Target Practice 5x15: Rolling Blunder

View All Episodes
Cast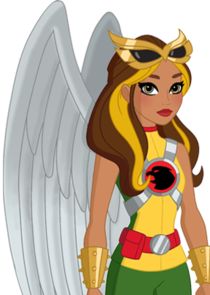 Nika Futterman as Hawkgirl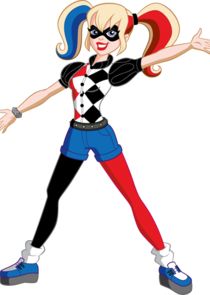 Tara Strong as Harley Quinn
Stephanie Sheh as Katana
Tara Strong as Poison Ivy
Ashley Eckstein as Cheetah
Yvette Nicole Brown as Principal Amanda Waller
View Full Cast
Skip to:
Season 1
| Episode No. | No. Overall | Title | Airdate | Runtime | Summary |
| --- | --- | --- | --- | --- | --- |
| 1 | 1 | Welcome to Super Hero High | 2015-10-01 | 5 | The school's official greeting video hosted by Principal Waller. Principal Waller introduces the school and curriculum to potential new students. |
| 2 | 2 | All About Super Hero High | 2015-10-09 | 5 | Wonder Woman arrives at Super Hero High. Waller introduces Bumblebee as the Ambassador to New Students. Bumblebee gives Wonder Woman the tour of Super Hero High and introduces her to some of the main Supers. |
| 3 | 3 | Roomies | 2015-10-09 | 5 | Wonder Woman meets her new dorm-mate, Harley Quinn. Harley is obsessed with the new girl, but Wonder Woman just wants some peace and quiet so she can study. In the end, Wonder Woman and Harley hit off their unexpected friendship. |
| 4 | 4 | Crazy Quiltin | 2015-10-22 | 5 | Wonder Woman is introduced to an important rite-of-passage for all new students at the school: creating your own iconic super hero suit. But super suit design is not Wonder Woman's forte. |
| 5 | 5 | Power Outage | 2015-11-05 | 5 | It's Wonder Woman's first day of Flyer's Ed and her chance to prove to Red Tornado, the instructor, what a great flyer she is. But her lap through the aerial obstacle course is fraught with disaster when Cheetah takes control of Wonder Woman's flight safety belt. |
| 6 | 6 | Fall Into Super Hero High | 2015-11-20 | 5 | Harley Quinn reveals she made a tribute video for her friends, which they learn is a montage of them screwing up while using their powers. Their embarrassment is heightened when they learn Harley has accidentally uploaded the video and it's gone viral! Seeing the absurdity and laughing at herself, Wonder Woman breaks the girls' stunned, mortified silence. The laugh catches on. Because of Wonder Woman's leadership, all the girls who were initially embarrassed are able to laugh at themselves. |
| 7 | 7 | Hero of the Month: Poison Ivy | 2016-01-28 | 5 | |
| 8 | 8 | Designing Disaster | 2015-12-17 | 5 | Wonder Woman finishes her super suit for Crazy Quilt's class and it's time to try it out. But the suit is a mish-mash of super hero tropes and isn't practical for saving the day. Her attempts to respond to a Save the Day drill end in disaster as her suit trips her up. |
| 9 | 9 | Weaponomics | 2016-01-14 | 5 | It's demonstration day in Lucius Fox's Weaponomics class. Catwoman wields her whip. Hawkgirl swings her mace. But when Wonder Woman demonstrates her lasso, a sneaky maneuver from Cheetah causes her to lasso Mr. Fox, who spills his secrets in the lasso's grip. The incident leads to Wonder Woman getting detention! |
| 10 | 10 | Clubbing | 2015-12-22 | 5 | Principal Waller tells Poison Ivy that she needs to join a club in order to fulfill her extracurricular requirements. However, clubs are not introverted Ivy's idea of fun. Hawkgirl and Bumblebee invite Ivy to join the Junior Detective Society. Miss Martian and Starfire give Ivy the pitch for the Model United Planets. Katana and Beast Boy want her for Band Club. But then, the glimmering test tubes of Science Club catch Ivy's eye. Ivy adds her name to the sign-up sheet manned by Frost and Flash. Later, during the first Science Club meeting, Ivy shows off her modified plants, which creates chaos for Star Sapphire. Ivy grins - clubs are fun! |
| 11 | 11 | Hero of the Month: Bumblebee | 2015-12-03 | 5 | |
| 12 | 12 | Saving the Day | 2016-02-11 | 5 | It's time for Wonder Woman to reveal her new super suit for Crazy Quilt's final grade. Bumblebee, Harley and Ivy watch from the sidelines in support of their friend. Wonder Woman steps onto the catwalk and reveals her new outfit. But before Crazy Quilt announces Wonder Woman's grade, the Save the Day alarm buzzes! Wearing her new costume, Wonder Woman leads Bumble Bee, Harley, and Ivy on a mission to save the day! They must save Mr. Fox who's stuck on top of the Amethyst! The girls save their teacher, but in the process, Wonder Woman discovers that Cheetah was behind this malicious deed. In the grip of Wonder Woman's lasso, Cheetah confesses all her crimes. |
| 13 | 13 | Hero of the Month: Wonder Woman | 2016-02-25 | 5 | Principal Waller makes her monthly announcement where she anoints a student as the Hero of the Month. This month, the H.O.M is Wonder Woman. Waller shows a video montage of Wonder Woman's exploits, which is mix of big heroic moments, and the small beats of friendship, laughter and fun. Wonder Woman's heroism isn't just about superpowers, but also about the amazing, caring person she is. |
Season 2
| Episode No. | No. Overall | Title | Airdate | Runtime | Summary |
| --- | --- | --- | --- | --- | --- |
| 1 | 14 | New Beginnings | 2016-04-21 | 60 | Wonder Woman arrives at Super Hero High. Waller introduces Bumblebee as the Ambassador to New Students. Bumblebee gives Wonder Woman the tour of Super Hero High and introduces her to some of the main Supers. |
| 2 | 15 | Hero of the Month: Supergirl | 2016-05-05 | 5 | |
| 3 | 16 | Batgirl vs. Supergirl | 2016-05-19 | 5 | Batgirl and Supergirl face-off in their greatest battle yet — the last piece of superfood cake! Find out who is quick enough to snag it. |
| 4 | 17 | Quinn-tessential Harley | 2016-06-02 | 5 | Harley Quinn's video blog has gone viral! Can she handle the responsibility of being a Super Hero AND a celebrity? |
| 5 | 18 | Hero of the Month: Harley Quinn | 2016-06-16 | 5 | TA-DA! Hero of the Month is Harley Quinn! She saves the day in crazy fun ways and laughs in the face of danger. |
| 6 | 19 | License to Fly | 2016-06-30 | 5 | The Batjet is ready for lift-off. But first, Batgirl must maneuver her way through the Flyer's Ed test. Find out if she has the skills to ace the exam! |
| 7 | 20 | Hero of the Month: Batgirl | 2016-07-14 | 5 | A round of applause for the newest Hero of the Month — Batgirl! She's the resident computer genius at Super Hero High and can solve problems faster than a calculator. w00t! |
| 8 | 21 | Doubles Trouble | 2016-07-28 | 5 | Katana chooses Supergirl as her tennis doubles partner, but Supergirl's powers are too much for the game. |
| 9 | 22 | Franken-Ivy | 2016-08-09 | 5 | Poison Ivy's new plant is growing faster than anyone expected. Can the DC Super Hero Girls stop it from taking over Metropolis? |
| 10 | 23 | Hero of the Month: Katana | 2016-08-11 | 5 | She's fast. She's fierce. She's fashionable. Give it up for Katana — an expert swordswoman and the newest Hero of the Month! |
| 11 | 24 | Dude, Where's My Invisible Jet? | 2016-08-25 | 5 | When Wonder Woman's invisible jet goes missing, her friends band together to form a search party. You'll never guess where they find it! |
| 12 | 25 | Hero of the Month: Frost | 2016-09-06 | 5 | Whether it's fighting super villains or solving complex chemistry equations, Frost always keeps her cool. See her in action as Hero of the Month! |
| 13 | 26 | Blunder Games | 2016-09-08 | 5 | Batgirl's instincts are put to the test in her Advanced Survival Skills final. But when her equipment malfunctions, she must rely on a different set of super powers. |
| 14 | 27 | Hawkgirl's Day Off | 2016-09-22 | 5 | As a break from classes and hall monitoring, Hawkgirl's friends treat her to a relaxing day at the SuperSpa. But the day takes a turn when the fearsome Mrs. Clayface makes a surprise appearance! |
| 15 | 28 | The Cheetah Who Cried Wolf | 2016-10-06 | 5 | Overcome with jealousy, Cheetah tries to become Hero of the Month after a series of staged (and failed) attempts. So when the evil Soloman Grundy actually attacks, no one believes Cheetah and she must take on the villain herself. |
| 16 | 29 | Hero of the Month: Hawkgirl | 2016-10-04 | 5 | Hawkgirl is a serious a force to be reckoned with. She's the best Hall Monitor at Super Hero High, a fearless defender of justice, and most of all, a loyal and loving friend. Congrats to the new Hero of the Month! |
| 17 | 30 | Ring of Mire | 2016-10-20 | 5 | When Star Sapphire accidentally drops her violet lantern ring down the sink, she dives into the sewer to find it — only to be greeted by the evil villain Croc! |
| 18 | 31 | Ultimate Accessory | 2016-11-03 | 5 | The pressure is on! Bumblebee must design a high-tech accessory for her Weaponomics class. Will her final product get a passing grade? |
| 19 | 32 | Hero of the Month: Star Sapphire | 2016-11-01 | 5 | Star Sapphire graces the halls of Super Hero High with the perfect OOTD, but she also knows how to lay down the law with her powerful violet lantern ring. Rock that Hero of the Month award, Star Sapphire! |
| 20 | 33 | Riddle of the Heart | 2016-11-17 | 5 | With her expert detective skills, Batgirl has always been able to solve mysteries in the blink of an eye...until now. Find out who's behind a series of puzzling new riddles. |
| 21 | 34 | Frost's Bite | 2016-12-01 | 5 | When Frost can't find a way to warm up, she takes her bitter coldness out on her classmates. Bundle up! |
| 22 | 35 | Hero of the Month: Cyborg and Starfire | 2016-11-29 | 5 | For the first time ever, Principal Waller is naming TWO Heroes of the Month — Cyborg and Starfire! Their teamwork and friendship prove that super powers are better together. Great work! |
| 23 | 36 | Odd Couple | 2016-12-15 | 5 | Surprise! Harley Quinn and Lady Shiva are paired up as partners for their Advanced Stakeout project. Can they look past their differences to catch the sly villain Cheshire? |
| 24 | 37 | Cold Blooded | 2016-12-29 | 5 | Frost has a cold, and every sneeze starts a mini snowstorm! |
| 25 | 38 | Hero of the Month: Lady Shiva | 2017-01-12 | 5 | It's clear that Lady Shiva has been training to become Hero of the Month. She's one of the only Super Heroes who can calculate AND dish out the perfect punch! |
| 26 | 39 | Hero of the Month: Beast Boy | 2017-02-09 | 5 | Hero of the Month goes to Beast Boy! Whether he transforms into a ferocious crocodile or an friendly octopus, Beast Boy always saves the day in unexpected ways. |
Season 3
| Episode No. | No. Overall | Title | Airdate | Runtime | Summary |
| --- | --- | --- | --- | --- | --- |
| 1 | 40 | Batnapped | 2017-01-26 | 5 | Batgirl is kidnapped by Killer Moth, who wants to make her his partner! Too bad Batgirl already has a partner -- Supergirl! |
| 2 | 41 | Surprise | 2017-02-02 | 5 | Harley Quinn enlists the help of Katana and Bumblebee in hiding a surprise birthday present for Batgirl in her dorm room. But when they sneak into Batgirl's dorm, they are accosted by Batgirl's booby traps. |
| 3 | 42 | Hero of the Month: Beast Boy | 2017-02-09 | 5 | Hero of the Month goes to Beast Boy! Whether he transforms into a ferocious crocodile or an friendly octopus, Beast Boy always saves the day in unexpected ways. |
| 4 | 43 | Tales from the Kryptomites Part 1 | 2017-02-16 | 5 | Lena Luthor uses kryptonite remnants from Supergirl's ship to create living Kryptomites. |
| 5 | 44 | Tales from the Kryptomites Part 2 | 2017-02-23 | 5 | The supers must save Metropolis from the army of Kryptomites. |
| 6 | 45 | Seeing Red | 2017-03-02 | 5 | A red Kryptomite loose at Super Hero High brings out everyone's mean side. |
| 7 | 46 | Spring Prison Break | 2017-03-09 | 5 | Frost reads her "How I Spent Spring Break" essay and we flashback to the tale of how Katana and Frost formed the first "Task Force X" to stop Lashina from breaking the Female Furies out of Belle Reve. During the battle between the SHH Heroes and the Furies, Barda redeems herself and joins the side of the good guys. |
| 8 | 47 | Around Metropolis in 80 Seconds | 2017-03-16 | 5 | Wonder Woman and Supergirl are facing off to see who's fastest, but when they keep tying, they decide to race sans-superpowers. Harley hates to be left out and joins the race. As Wonder Woman and Supergirl zoom around Metropolis, they spot a bank robbery in progress and compete to see who can catch the criminals first. While they're distracted, Harley wins the race. |
| 9 | 48 | For Art's Sake | 2017-05-04 | 5 | It's the SHH Student Art Fundraiser and the Double Dare Twins have stolen masterpiece from the show! It's up to Katana and Supergirl to stop them and recover the painting. But when Supergirl is knocked out by kryptonite and Katana's sword is stolen, Katana must improvise and use her art supplies to defeat the Double Dare Twins. |
| 10 | 49 | Wildside Part 1 | 2017-05-11 | 5 | Batgirl, Beast Boy and Starfire are picnicking in the park when Lion-Mane's menagerie of entranced animals attack the park! The heroes must save the citizens and stop Lion-Mane. |
| 11 | 50 | Wildside Part 2 | 2017-05-18 | 5 | With Lion-Mane subdued, Batgirl, Starfire, and Beast Boy must find all the escaped zoo animals and return them to the zoo. |
| 12 | 51 | Day of Fun-Ship | 2017-06-01 | 5 | Starfire and Blackfire must protect the zoo from King Shark. The sisters realize they have more in common than they thought. |
| 13 | 52 | Ares Up There | 2017-06-08 | 4 | When Wonder Woman is home for a holiday, Ares, the god of war, attacks. |
| 14 | 53 | Stealth 101 Part 1 | 2017-06-15 | 4 | Batgirl and Poison Ivy are partnered for Crazy Quilt's stealth suit design project. |
| 15 | 54 | Stealth 101 Part 2 | 2017-06-22 | 5 | Batgirl and Poison Ivy learn to appreciate each other's style as they fight Killer Moth. |
| 16 | 55 | A Fury Scorned | 2017-06-29 | 5 | Lashina breaks into Belle Reve and poisons Commissioner Gordon. Batgirl and Hawkgirl must find the antidote before it's too late! |
| 17 | 56 | Body Electric | 2017-07-06 | 5 | Giganta causes an electric blackout and Batgirl enlists the help of Thunder and Lightning. |
| 18 | 57 | Techless Tuesday | 2017-07-13 | 5 | Mrs. Clayface steals all of Batgirl's gadgets in an effort to break her husband out of Arkham. |
| 19 | 58 | Fresh Ares Part 1 | 2017-07-20 | 5 | Peaced-out Ares comes to Metropolis to see Wonder Woman, but his peaceful outlook is ruined when Catwoman steals the amulet of Harmonia. |
| 20 | 59 | Fresh Ares Part 2 | 2017-07-27 | 5 | As Ares rains destruction on Metropolis, the supers must recover the amulet of Harmonia |
| 21 | 60 | Fresh Ares Part 3 | 2017-08-03 | 5 | |
| 22 | 61 | Gorilla Warfare | 2017-10-26 | 5 | |
| 23 | 62 | Fight Flub | 2017-11-02 | 5 | |
| 24 | 63 | Jetsetters | 2017-11-09 | 5 | |
| 25 | 64 | A New Perry-spective | 2017-11-16 | 5 | |
| 26 | 65 | Dog Day After School | 2017-11-23 | 5 | |
| 27 | 66 | It's A Superful Life | 2017-11-30 | 5 | The heroes want to make this an extra special holiday by brightening the lives of Metropolis citizens. |
Season 4
| Episode No. | No. Overall | Title | Airdate | Runtime | Summary |
| --- | --- | --- | --- | --- | --- |
| 1 | 67 | Ring Me Maybe Part 1 | 2018-01-18 | 5 | Green Lantern is leaving Earth and joining the Green Lantern Corp, but will Earth be safe before a new Green Lantern is called? |
| 2 | 68 | Ring Me Maybe Part 2 | 2018-01-25 | 5 | |
| 3 | 69 | Ring Me Maybe Part 3 | 2018-02-01 | 5 | Jessica Cruz has been chosen as Earth's new Green Lantern! But will fear keep her from stopping Sinestro and embracing her powers? |
| 4 | 70 | Ring Me Maybe Part 4 | 2018-02-08 | 5 | Jessica Cruz conquers her fears and faces Sinestro with a little help from her super hero friends! |
| 5 | 71 | Fish Out of Water Part 1 | 2018-02-15 | 5 | Mera is having a hard time adjusting to her life at Super Hero High, but with the help of her new friends, Super Hero High will feel like home. |
| 6 | 72 | Fish Out of Water Part 2 | 2018-02-22 | 5 | |
| 7 | 73 | Gone To The Dogs Part 1 | 2018-03-01 | 5 | Batgirl and Supergirl may be best friends, but their dogs Krypto and Ace are still getting to know each other! Can they put aside their differences to help save the day? |
| 8 | 74 | Gone to the Dogs Part 2 | 2018-03-08 | 5 | |
| 9 | 75 | Pets Peeved Part 1 | 2018-03-15 | 5 | The Super Pets are on the verge of failing their first class at Super Hero High, but when the Animilitia traps the heroes, the Super Pets must prove their heroic mettle to save their owners. |
| 10 | 76 | Pets Peeved Part 2 | 2018-03-22 | 5 | |
| 11 | 77 | Ha-Ha Horticulture | 2018-03-29 | 5 | When Ivy's plant experiment goes awry and puts the whole school to sleep, it's up to her and Harley to find the antidote. |
| 12 | 78 | Truth of the Lasso Part 1 | 2018-04-05 | 5 | |
| 13 | 79 | Truth of the Lasso Part 2 | 2018-04-12 | 5 | |
| 14 | 80 | Truth of the Lasso Part 3 | 2018-04-19 | 5 | |
| 15 | 81 | Truth of the Lasso Part 4 | 2018-04-26 | 5 | |
| 16 | 82 | Nevermore Part 1 | 2018-05-03 | 5 | Trigon wants his daughter Raven to follow in his footsteps and rule the Underworld, but Raven isn't so sure… |
| 17 | 83 | Nevermore Part 2 | 2018-05-10 | 5 | Raven helps save Metropolis after her portal causes an Earthquake, and discovers she wants to study at Super Hero High! |
| 18 | 84 | Nevermore Part 3 | 2018-05-17 | 5 | |
| 19 | 85 | Nevermore Part 4 | 2018-05-24 | 5 | |
| 20 | 86 | Drive Me Crazy | 2018-05-31 | 5 | |
| 21 | 87 | Tamaranean Dance Club Part 1 | 2018-06-07 | 5 | |
| 22 | 88 | Tamaranean Dance Club Part 2 | 2018-06-14 | 5 | |
| 23 | 89 | Fly By Night | 2018-06-21 | 5 | |
| 24 | 90 | By the Yearbook | 2018-06-28 | 5 | |
Season 5
| Episode No. | No. Overall | Title | Airdate | Runtime | Summary |
| --- | --- | --- | --- | --- | --- |
| 1 | 91 | Spell-Shocked (1) | 2018-08-02 | 5 | |
| 2 | 92 | Spell-Shocked (2) | 2018-08-09 | 5 | |
| 3 | 93 | Kidnapped | 2018-08-16 | 5 | |
| 4 | 94 | Bottle Episode | 2018-08-23 | 5 | Supergirl must save the Bottled City of Kandor from her school trash processor. |
| 5 | 95 | Career Day | 2018-08-30 | 5 | |
| 6 | 96 | Mood Ring | 2018-09-06 | 5 | |
| 7 | 97 | Stage Fright | 2018-09-13 | 5 | |
| 8 | 98 | Hackgirl | 2018-09-20 | 5 | |
| 9 | 99 | My New Best Friend | 2018-09-27 | 5 | |
| 10 | 100 | Anti Hall Monitor Part 1 | 2018-10-04 | 5 | |
| 11 | 101 | Anti Hall Monitor Part 2 | 2018-10-11 | 5 | |
| 12 | 102 | Haunted Harley | 2018-10-18 | 5 | |
| 13 | 103 | All Pets Are Off | 2018-10-25 | 5 | |
| 14 | 104 | The Wobble | 2018-11-01 | 5 | |
| 15 | 105 | Rolling Blunder | 2018-11-08 | 5 | |
| 16 | 106 | Target Practice | 2018-11-15 | 5 | |
| 17 | 107 | Mindscape | 2018-11-22 | 5 | |
| 18 | 108 | For The Girl Who Has Everything | 2018-11-29 | 5 | |
| 19 | 109 | Missing Martian | 2018-12-06 | 5 | |
| 20 | 110 | Water Water Nowhere | 2018-12-13 | 5 | |
| 21 | 111 | Fortress of Solidarity | 2018-12-20 | 5 | |
| 22 | 112 | Super Gift Swap | 2018-12-22 | 5 | |
| 23 | 113 | My So Called Anti Life | 2018-12-27 | 5 | |
Series Cast
| | | | |
| --- | --- | --- | --- |
| | Nika Futterman | as Hawkgirl | |
| | Tara Strong | as Harley Quinn | |
| | Stephanie Sheh | as Katana | |
| | Tara Strong | as Poison Ivy | |
| | Ashley Eckstein | as Cheetah | |
| | Yvette Nicole Brown | as Principal Amanda Waller | |
| | Jessica DiCicco | as Starfire | |
| | Danica McKellar | as Killer Frost | |
| | Grey Griffin | as Wonder Woman | |
| | Greg Cipes | as Beast Boy | |
| | Anais Fairweather | as Supergirl | |
| | Mae Whitman | as Batgirl/Barbara Gordon | |
| | Karen Strassman | as Star Sapphire | |
| | Teala Dunn | as Bumblebee | |
| | Josh Keaton | as Hal Jordan | |
| | Josh Keaton | as Flash/Barry Allen | |
Related News
TVMaze