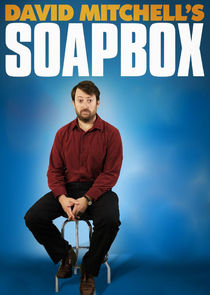 In the hit series from the star of Peep Show, QI and That Mitchell And Webb Look, comedy genius David Mitchell vents his spleen on modern life in this award winning series of hilarious rants. No subject is off limits. David's targets include the elderly, lying politicians and Anne Robinson. And if necrophilia, the Welsh, the oddly familiar Camelopard and mysterious King Cnut are your thing, look no further. This is British comedy at its most irreverent and brilliantly observed. Have you ever worried that you're not passionate enough about sofas? How to pronounce the word "valet"? Or what to do with a half-dead mouse? Are you confused about public mastication, inflatable hover-forts or the proper etiquette when signing someone's boobs? Well fear not, David is on your side and has the answers.
Series Overview
Rating
imDb Rating: 7.9 (193 Votes)
Metascore: N/A
Plot
David Mitchell presents a series of short comedy rants.
Details
Rated: N/A
Released: 06 Feb 2009
Runtime: N/A
Genre: Short, Comedy
Director: N/A
Writer: N/A
Actors: David Mitchell
Language: English
Country: UK
Awards: N/A
Total Seasons: 4
Previous Episode
Living in the Moment
Episode 4x22; Nov 08, 2012
Previous Episodes 4x22: Living in the Moment 4x21: Social Signals 4x20: Richard III 4x19: Signing Autographs 4x18: I Wouldn't Have Minded, But... 4x17: What the Hell is Going On? 4x16: Choice is a Bad Idea 4x15: Emotional Intelligence Quiz 4x14: Downton Abbey

View All Episodes
Skip to:
Season 1
| Episode No. | No. Overall | Title | Airdate | Runtime | Summary |
| --- | --- | --- | --- | --- | --- |
| 1 | 1 | Mouse in My House | 2009-02-06 | 3 | |
| 2 | 2 | Giving Flowers | 2009-02-12 | 3 | |
| 3 | 3 | Allegiance to the Welsh | 2009-02-19 | 3 | |
| 4 | 4 | Declining Respect for the Elderly | 2009-02-26 | 3 | |
| 5 | 5 | Beer Advertisement | 2009-03-06 | 3 | |
| 6 | 6 | Unusually Smart-Looking Men | 2009-03-12 | 3 | |
| 7 | 7 | TV Rudeness | 2009-03-19 | 3 | |
| 8 | 8 | Standards of Spelling | 2009-03-26 | 3 | |
| 9 | 9 | Consensus | 2009-04-02 | 3 | |
| 10 | 10 | The Phrase 'Rape and Pilage' | 2009-04-16 | 3 | |
| 11 | 11 | Asking Inappropriate Questions | 2009-04-23 | 3 | |
| 12 | 12 | Passion | 2009-04-30 | 3 | |
| 13 | 13 | Compliments | 2009-05-07 | 3 | |
| 14 | 14 | Male Grooming | 2009-05-13 | 3 | |
| 15 | 15 | Man Flu | 2009-05-28 | 3 | |
| 16 | 16 | Men's Reticence to Go to the Doctor | 2009-06-03 | 3 | |
| 17 | 17 | The Merits of... Necrophilia | 2009-06-11 | 3 | |
| 18 | 18 | Hauliers | 2009-06-18 | 3 | |
| 19 | 19 | The Gaelic Language | 2009-06-25 | 3 | |
| 20 | 20 | Special Quiz | 2009-07-02 | 3 | |
| 21 | 21 | Quiz Winner | 2009-07-23 | 3 | |
| 22 | 22 | Birthday Cards | 2009-08-06 | 3 | |
| 23 | 23 | Brits' Attitude to Food | 2009-08-13 | 3 | |
| 24 | 24 | Waste in Politics | 2009-08-20 | 3 | |
Season 2
| Episode No. | No. Overall | Title | Airdate | Runtime | Summary |
| --- | --- | --- | --- | --- | --- |
| 1 | 25 | King Cnut and Mythical Heroes | 2010-05-13 | 3 | |
| 2 | 26 | Dear America... | 2010-05-20 | 3 | |
| 3 | 27 | Haircut | 2010-05-27 | 3 | |
| 4 | 28 | Personal Debts | 2010-06-03 | 3 | |
| 5 | 29 | Authenticity | 2010-06-10 | 3 | |
| 6 | 30 | References | 2010-06-17 | 3 | |
| 7 | 31 | Lying Liars | 2010-06-24 | 3 | |
| 8 | 32 | Origins of the Word 'Camelopard' | 2010-07-01 | 3 | |
| 9 | 33 | Climate Change | 2010-07-08 | 3 | |
| 10 | 34 | New Queuing System for Pubs | 2010-07-15 | 3 | |
| 11 | 35 | Innuendo | 2010-07-22 | 3 | |
| 12 | 36 | Trains | 2010-07-29 | 3 | |
| 13 | 37 | Unattended Luggage | 2010-08-05 | 3 | |
| 14 | 38 | Signing Boobs | 2010-08-12 | 3 | |
| 15 | 39 | David Mitchell in 3D | 2010-08-18 | 3 | |
| 16 | 40 | Public Mastication | 2010-08-26 | 3 | |
| 17 | 41 | Signs | 2010-09-01 | 3 | |
| 18 | 42 | Kids' Stuff | 2010-09-09 | 3 | |
| 19 | 43 | Extreme Makeover | 2010-09-16 | 3 | |
| 20 | 44 | Summing Everything Up | 2010-09-23 | 3 | |
Season 3
| Episode No. | No. Overall | Title | Airdate | Runtime | Summary |
| --- | --- | --- | --- | --- | --- |
| 1 | 45 | Phone Calls | 2011-05-26 | 3 | |
| 2 | 46 | LOL | 2011-06-02 | 3 | |
| 3 | 47 | Machines | 2011-06-09 | 3 | |
| 4 | 48 | Weddings | 2011-06-16 | 3 | |
| 5 | 49 | Stag Nights | 2011-06-23 | 3 | |
| 6 | 50 | Naming Your Child | 2011-06-30 | 3 | |
| 7 | 51 | Sports TV | 2011-07-07 | 3 | |
| 8 | 52 | Chef's Special | 2011-07-14 | 3 | |
| 9 | 53 | Cheap Hotels | 2011-07-21 | 3 | |
| 10 | 54 | Friends | 2011-07-28 | 3 | |
| 11 | 55 | Dell Quiz | 2011-08-04 | 3 | |
| 12 | 56 | Television Credits | 2011-08-11 | 3 | |
| 13 | 57 | Gifts | 2011-08-18 | 3 | |
| 14 | 58 | Britain's Drinking Culture | 2011-08-25 | 3 | |
| 15 | 59 | Dell Quiz Answers | 2011-09-01 | 3 | |
| 16 | 60 | Sustainability | 2011-09-08 | 3 | |
| 17 | 61 | Burden of Proof | 2011-09-15 | 3 | |
| 18 | 62 | Young Man | 2011-09-22 | 3 | |
| 19 | 63 | Marathons | 2011-09-29 | 3 | |
| 20 | 64 | Not One | 2011-10-06 | 3 | |
Season 4
| Episode No. | No. Overall | Title | Airdate | Runtime | Summary |
| --- | --- | --- | --- | --- | --- |
| 1 | 65 | Bread & Butter | 2012-06-14 | 3 | |
| 2 | 66 | Pointy Shoes | 2012-06-21 | 3 | |
| 3 | 67 | Ready to Order | 2012-06-28 | 3 | |
| 4 | 68 | Wine Tasting | 2012-07-05 | 3 | |
| 5 | 69 | Hanging Up | 2012-07-12 | 3 | |
| 6 | 70 | The Great British Public | 2012-07-19 | 3 | |
| 7 | 71 | Gangster Movies | 2012-07-26 | 3 | |
| 8 | 72 | Problems and Challenges | 2012-08-02 | 3 | |
| 9 | 73 | Love or Hate | 2012-08-09 | 3 | |
| 10 | 74 | Talking to Strangers | 2012-08-16 | 3 | |
| 11 | 75 | Taste | 2012-08-23 | 3 | |
| 12 | 76 | Mensa | 2012-08-30 | 3 | |
| 13 | 77 | Going Forward | 2012-09-06 | 3 | |
| 14 | 78 | Downton Abbey | 2012-09-13 | 3 | |
| 15 | 79 | Emotional Intelligence Quiz | 2012-09-20 | 3 | |
| 16 | 80 | Choice is a Bad Idea | 2012-09-27 | 3 | |
| 17 | 81 | What the Hell is Going On? | 2012-10-04 | 3 | |
| 18 | 82 | I Wouldn't Have Minded, But... | 2012-10-11 | 3 | |
| 19 | 83 | Signing Autographs | 2012-10-18 | 3 | |
| 20 | 84 | Richard III | 2012-10-25 | 3 | |
| 21 | 85 | Social Signals | 2012-11-01 | 3 | |
| 22 | 86 | Living in the Moment | 2012-11-08 | 3 | |
Series Cast
| | | | |
| --- | --- | --- | --- |
| | David Mitchell | as Host | |
Related News
TVMaze