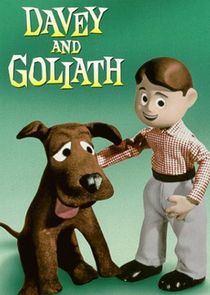 In this stop-action animated series, young Davey Hansen and his best friend (and dog) Goliath live ordinary suburban American lives. In each episode, Davey and Goliath experience some form of moral conflict either in themselves or in their friends. Drawing upon the guidance of his parents, his teachers, and his own religious beliefs, Davey doesn't always do the right thing, but he does always come away from the experience having learned valuable moral and life lessons
Series Overview
Rating
imDb Rating: 7.6 (296 Votes)
Metascore: N/A
Plot
In this stop-action animated series, young Davey Hansen and his best friend (and dog) Goliath live ordinary suburban American lives. In each episode, Davey and Goliath experience some form ...
Details
Rated: TV-G
Released: N/A
Runtime: 15 min
Genre: Animation, Family
Director: N/A
Writer: N/A
Actors: Hal Smith, Dick Beals, Norma MacMillan, Nancy Wible
Language: English
Country: USA
Awards: N/A
Total Seasons: 5
Previous Episode
Come, Come to the Fair
Episode 5x14; Feb 24, 1973
Previous Episodes 5x14: Come, Come to the Fair 5x13: The Watchdogs 5x12: Good Bad Luck 5x11: Doghouse Dreamhouse 5x10: Chicken 5x9: Pieces of Eight 5x8: Whatshisname? 5x7: Kum-Bay-Ah 5x6: Ready or Not

View All Episodes
Cast
Nancy Wible as Sally Hansen
Ginny Tyler as Sally Hansen
Norma MacMillan as David 'Davey' Hansen
Hal Smith as Goliath
Dick Beals as David 'Davey' Hansen
View Full Cast
Skip to:
Season 1
| Episode No. | No. Overall | Title | Airdate | Runtime | Summary |
| --- | --- | --- | --- | --- | --- |
| 1 | 1 | Lost in a Cave | 1960-08-01 | 15 | |
| 2 | 2 | The Wild Goat | 1960-09-08 | 15 | While on a hike, Davey rescues a mountain goat who had a leg broken by a fallen tree limb. When he brings the goat home to recuperate, the wild creature's antics soon have Davey in hot water. |
| 3 | 3 | Stranded on an Island | 1960-09-15 | 15 | Davey and his family rent a boat to picnic on an island far off shore. Davey's father loses track of the time and when the Hansen family prepares to return home, they discover the tide has run out and their boat is beached far from the water line. |
| 4 | 4 | The Winner | 1960-09-22 | 15 | |
| 5 | 5 | Cousin Barney | 1960-09-29 | 15 | |
| 6 | 6 | The New Skates | 1960-11-01 | 15 | |
| 7 | 7 | On the Line | 1960-11-08 | 15 | |
| 8 | 8 | The Polka Dot Tie | 1960-11-15 | 15 | |
| 9 | 9 | The Kite | 1960-11-22 | 15 | Davey and his friends try to build a kite, but their feverish efforts to get it aloft are at cross-purposes and result in disaster. |
| 10 | 10 | The Mechanical Man | 1960-11-29 | 15 | |
| 11 | 11 | The Pilgrim Boy | 1960-12-06 | 15 | |
| 12 | 12 | All Alone? | 1960-12-05 | 15 | |
| 13 | 13 | The Time Machine | 1960-12-12 | 15 | |
Season 2
| Episode No. | No. Overall | Title | Airdate | Runtime | Summary |
| --- | --- | --- | --- | --- | --- |
| 1 | 14 | The Silver Mine | 1961-09-01 | 15 | |
| 2 | 15 | The Waterfall | 1961-09-15 | 15 | |
| 3 | 16 | Down on the Farm | 1961-09-30 | 15 | |
| 4 | 17 | The Bell-Ringer | 1961-10-15 | 15 | |
| 5 | 18 | The Parade | 1961-10-25 | 15 | |
| 6 | 19 | Officer Bob | 1961-11-10 | 15 | Davey and the other kids are promised a ride on the fire engine for following Office Bob's safety lessons. Davey disobeys one and, feeling guilty, doesn't attend the group. His father teaches him the lesson of forgiveness. |
| 7 | 20 | The Shoemaker | 1961-11-20 | 15 | |
| 8 | 21 | Ten Little Indians | 1961-12-01 | 15 | |
| 9 | 22 | Not for Sale | 1961-12-10 | 15 | |
| 10 | 23 | Dog Show | 1962-01-15 | 15 | Davey trains Goliath to roller skate and decides he wants to organize a dog show for Goliath to compete in. The local television station hears of the dog show and decides to broadcast it but Davey breaks his leg while practicing. |
| 11 | 24 | Boy Lost | 1962-02-01 | 15 | |
| 12 | 25 | The Runaway | 1962-02-15 | 15 | |
| 13 | 26 | Sudden Storm | 1962-03-01 | 15 | |
Season 3
| Episode No. | No. Overall | Title | Airdate | Runtime | Summary |
| --- | --- | --- | --- | --- | --- |
| 1 | 27 | Man of the House | 1962-09-01 | 15 | |
| 2 | 28 | Happy Landing | 1962-09-15 | 15 | |
| 3 | 29 | Bully Up a Tree | 1962-09-30 | 15 | Davey and Goliath get into a fight with a bully and his dog, but later seeing the boy in trouble, Davey forgives him. |
| 4 | 30 | The Big Apple | 1962-10-10 | 15 | Davey is angry because his father allowed his younger sister, Sally, to join them on what he thought would be a father-son outing. When Davey meets a fatherless farm boy on the trip, he realizes how important a father is to all his children. |
| 5 | 31 | The Bridge | 1962-10-18 | 15 | |
| 6 | 32 | Lemonade Stand | 1964-09-17 | 15 | When Mr. Hansen fixes Sally's doll carriage instead of helping Davey build a lemonade stand, a jealous Davey soon learns his father loves his children equally. |
| 7 | 33 | Rags and Buttons | 1964-09-24 | 15 | |
| 8 | 34 | A Diller, a Dollar | 1964-10-01 | 15 | Davey and Teddy are sent to Principal Denny's office for tardiness, but to their surprise Principal Denny is understanding, not harsh. |
| 9 | 35 | Hocus Pocus | 1964-10-08 | 15 | Davey and Teddy, helping Lorenzo the magician with his magic act, learn that magicians only do tricks, but God's miracles are real. |
| 10 | 36 | Editor in Chief | 1964-10-15 | 15 | |
| 11 | 37 | Jeep in the Deep | 1964-10-22 | 15 | During a ferry ride, the Hansen family's jeep falls overboard. Davey and his father go scuba diving to see where it landed. |
| 12 | 38 | The Jickets | 1964-10-29 | 15 | |
| 13 | 39 | Good Neighbor | 1964-11-05 | 15 | To celebrate "Good Neighbor Week" the townspeople give out balloons to the children. Davey misses out on the festivities because he decides to help a small child find her way home instead. |
Season 4
| Episode No. | No. Overall | Title | Airdate | Runtime | Summary |
| --- | --- | --- | --- | --- | --- |
| 1 | 40 | The Stopped Clock | 1971-09-11 | 15 | |
| 2 | 41 | Who, Me? | 1971-09-18 | 15 | |
| 3 | 42 | If at First, You Don't Succeed... | 1971-10-09 | 15 | |
| 4 | 43 | Finder's Keepeers | 1971-10-23 | 15 | |
| 5 | 44 | Kookaburra | 1971-11-13 | 15 | |
| 6 | 45 | The Caretakers | 1971-11-27 | 15 | |
| 7 | 46 | The Hard Way | 1971-12-11 | 15 | |
| 8 | 47 | Rickety Rackety | 1971-12-25 | 15 | |
| 9 | 48 | Help | 1972-01-08 | 15 | |
| 10 | 49 | Boy in Trouble | 1972-01-22 | 15 | |
| 11 | 50 | The Greatest | 1972-02-05 | 15 | |
| 12 | 51 | Blind Man's Bluff | 1972-02-19 | 15 | |
| 13 | 52 | Who's George? | 1972-03-04 | 15 | |
Season 5
| Episode No. | No. Overall | Title | Airdate | Runtime | Summary |
| --- | --- | --- | --- | --- | --- |
| 1 | 53 | The Family of God | 1972-06-17 | 15 | |
| 2 | 54 | Six-Seven-Six-Three | 1972-09-09 | 15 | |
| 3 | 55 | The Zillion-Dollar Combo | 1972-09-23 | 15 | |
| 4 | 56 | Upside Down and Backwards | 1972-10-07 | 15 | |
| 5 | 57 | Louder, Please | 1972-10-21 | 15 | |
| 6 | 58 | Ready or Not | 1972-11-04 | 15 | |
| 7 | 59 | Kum-Bay-Ah | 1972-11-18 | 15 | |
| 8 | 60 | Whatshisname? | 1972-12-02 | 15 | |
| 9 | 61 | Pieces of Eight | 1972-12-16 | 15 | |
| 10 | 62 | Chicken | 1972-12-30 | 15 | |
| 11 | 63 | Doghouse Dreamhouse | 1973-01-13 | 15 | |
| 12 | 64 | Good Bad Luck | 1973-01-27 | 15 | |
| 13 | 65 | The Watchdogs | 1973-02-10 | 15 | |
| 14 | 66 | Come, Come to the Fair | 1973-02-24 | 15 | |
Series Cast
| | | | |
| --- | --- | --- | --- |
| | Nancy Wible | as Sally Hansen | |
| | Ginny Tyler | as Sally Hansen | |
| | Norma MacMillan | as David 'Davey' Hansen | |
| | Hal Smith | as Goliath | |
| | Dick Beals | as David 'Davey' Hansen | |
Related News
TVMaze