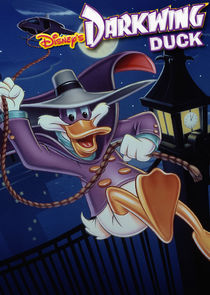 In the city of St. Canard, the people are plagued by the most bizarre criminals, but they have a protector as well, "Darkwing Duck". This bumbling and egoistical superhero battles evil in that fair city with the help of his pilot sidekick, Launchpad McQuack and his rambunctious adopted daughter, Gosalyn.
Series Overview
Rating
imDb Rating: 7.6 (13,689 Votes)
Metascore: N/A
Plot
A bumbling superhero battles crime with the help of his daughter and pilot sidekick.
Details
Rated: TV-Y7
Released: 06 Sep 1991
Runtime: 30 min
Genre: Animation, Action, Adventure, Comedy, Family, Mystery, Sci-Fi
Director: N/A
Writer: N/A
Actors: Jim Cummings, Terence McGovern, Christine Cavanaugh
Language: English
Country: USA
Awards: 1 win & 11 nominations.
Total Seasons: 3
Previous Episode
Extinct Possibility
Episode 3x13; Dec 05, 1992
Previous Episodes 3x13: Extinct Possibility 3x12: Malice's Restaurant 3x11: Mutantcy on the Bouncy 3x10: Clash Reunion 3x9: Fraudcast News 3x8: Hot Spells 3x7: Paint Misbehavin' 3x6: The Frequency Fiends 3x5: The Steerminator

View All Episodes
Cast
Jim Cummings as Darkwing Duck
Terence McGovern as Launchpad McQuack
Christine Cavanaugh as Gosalyn Waddlemeyer-Mallard
Dan Castellaneta as Megavolt
Jack Angel as The Liquidator
Joey Camen as Stegmutt
View Full Cast
Skip to:
Season 1
| Episode No. | No. Overall | Title | Airdate | Runtime | Summary |
| --- | --- | --- | --- | --- | --- |
| 1 | 1 | Darkly Dawns the Duck (1) | 1991-09-08 | 25 | |
| 2 | 2 | Darkly Dawns the Duck (2) | 1991-09-08 | 25 | |
| 3 | 3 | Beauty and the Beet | 1991-09-09 | 25 | |
| 4 | 4 | Getting Antsy | 1991-09-10 | 25 | |
| 5 | 5 | Night of the Living Spud | 1991-09-11 | 25 | |
| 6 | 6 | Apes of Wrath | 1991-09-12 | 25 | |
| 7 | 7 | Dirty Money | 1991-09-13 | 25 | |
| 8 | 8 | Duck Blind | 1991-09-16 | 25 | |
| 9 | 9 | Comic Book Capers | 1991-09-17 | 25 | |
| 10 | 10 | Water Way to Go | 1991-09-18 | 25 | |
| 11 | 11 | Paraducks | 1991-09-19 | 25 | |
| 12 | 12 | Easy Come, Easy Grows | 1991-09-20 | 25 | |
| 13 | 13 | A Revolution in Home Appliances | 1991-09-23 | 25 | |
| 14 | 14 | Trading Faces | 1991-09-24 | 25 | |
| 15 | 15 | Hush, Hush Sweet Charlatan | 1991-09-25 | 25 | |
| 16 | 16 | Can't Bayou Love | 1991-09-26 | 25 | |
| 17 | 17 | Bearskin Thug | 1991-09-27 | 25 | |
| 18 | 18 | You Sweat Your Life | 1991-09-30 | 25 | |
| 19 | 19 | Days of Blunder | 1991-10-01 | 25 | |
| 20 | 20 | Just Us Justice Ducks (1) | 1991-10-02 | 25 | |
| 21 | 21 | Just Us Justice Ducks (2) | 1991-10-03 | 25 | |
| 22 | 22 | Double Darkwings | 1991-10-04 | 25 | |
| 23 | 23 | Aduckyphobia | 1991-10-07 | 25 | |
| 24 | 24 | When Aliens Collide | 1991-10-08 | 25 | |
| 25 | 25 | Jurassic Jumble | 1991-10-09 | 25 | |
| 26 | 26 | Cleanliness Is Next to Badliness | 1991-10-10 | 25 | |
| 27 | 27 | Smarter Than a Speeding Bullet | 1991-10-11 | 25 | |
| 28 | 28 | All's Fahrenheit in Love and War | 1991-10-14 | 25 | |
| 29 | 29 | Whiffle While You Work | 1991-10-15 | 25 | |
| 30 | 30 | Ghoul of My Dreams | 1991-10-16 | 25 | |
| 31 | 31 | Adopt-a-Con | 1991-10-21 | 25 | |
| 32 | 32 | Toys Czar Us | 1991-10-22 | 25 | |
| 33 | 33 | The Secret Origins of Darkwing Duck | 1991-10-23 | 25 | |
| 34 | 34 | Up, Up, and Awry | 1991-10-24 | 25 | |
| 35 | 35 | Life, the Negaverse, and Everything | 1991-10-25 | 25 | |
| 36 | 36 | Dry Hard | 1991-10-28 | 25 | |
| 37 | 37 | Heavy Mental | 1991-10-29 | 25 | |
| 38 | 38 | Disguise the Limit | 1991-10-30 | 25 | |
| 39 | 39 | Planet of the Capes | 1991-10-31 | 25 | |
| 40 | 40 | Darkwing Doubloon | 1991-11-01 | 25 | |
| 41 | 41 | It's a Wonderful Leaf | 1991-11-04 | 25 | |
| 42 | 42 | Twitching Channels | 1991-11-05 | 25 | |
| 43 | 43 | Dances with Bigfoot | 1991-11-06 | 25 | |
| 44 | 44 | Twin Beaks | 1991-11-07 | 25 | |
| 45 | 45 | The Incredible Bulk | 1991-11-08 | 25 | |
| 46 | 46 | My Valentine Ghoul | 1991-11-11 | 25 | |
| 47 | 47 | Dead Duck | 1991-11-12 | 25 | |
| 48 | 48 | A Duck by Any Other Name | 1991-11-13 | 25 | |
| 49 | 49 | Let's Get Respectable | 1991-11-14 | 25 | |
| 50 | 50 | In Like Blunt | 1991-11-15 | 25 | |
| 51 | 51 | Quack of Ages | 1991-11-18 | 25 | |
| 52 | 52 | Time and Punishment | 1991-11-19 | 25 | |
| 53 | 53 | Stressed to Kill | 1991-11-20 | 25 | |
| 54 | 54 | The Darkwing Squad | 1991-11-21 | 25 | |
| 55 | 55 | Inside Binkie's Brain | 1991-11-22 | 25 | |
| 56 | 56 | The Haunting of Mr. Banana Brain | 1991-11-25 | 25 | |
| 57 | 57 | Slime OK, You're OK | 1991-11-26 | 25 | |
| 58 | 58 | Whirled History | 1991-11-27 | 25 | |
| 59 | 59 | U.F. Foe | 1991-11-28 | 25 | |
| 60 | 60 | A Star is Scorned | 1991-11-29 | 25 | |
| 61 | 61 | The Quiverwing Quack | 1991-12-02 | 25 | |
| 62 | 62 | Jail Bird | 1991-12-03 | 25 | |
| 63 | 63 | Dirtysomething | 1991-12-04 | 25 | |
| 64 | 64 | Kung Fooled | 1991-12-05 | 25 | |
| 65 | 65 | Bad Luck Duck | 1991-12-06 | 25 | |
Season 2
| Episode No. | No. Overall | Title | Airdate | Runtime | Summary |
| --- | --- | --- | --- | --- | --- |
| 1 | 66 | That Sinking Feeling | 1991-09-07 | 25 | |
| 2 | 67 | Film Flam | 1991-09-14 | 25 | |
| 3 | 68 | Negaduck | 1991-09-21 | 25 | |
| 4 | 69 | Fungus Amongus | 1991-09-28 | 25 | |
| 5 | 70 | Slaves to Fashion | 1991-10-05 | 25 | |
| 6 | 71 | Something Fishy | 1991-10-12 | 25 | |
| 7 | 72 | Tiff of the Titans | 1991-10-19 | 25 | |
| 8 | 73 | Calm a Chameleon | 1991-10-26 | 25 | |
| 9 | 74 | Battle of the Brainteasers | 1991-11-02 | 25 | |
| 10 | 75 | Bad Tidings | 1991-11-09 | 25 | |
| 11 | 76 | Going Nowhere Fast | 1991-11-16 | 25 | |
| 12 | 77 | A Brush with Oblivion | 1991-11-23 | 25 | |
| 13 | 78 | The Merchant of Menace | 1991-11-30 | 25 | |
Season 3
| Episode No. | No. Overall | Title | Airdate | Runtime | Summary |
| --- | --- | --- | --- | --- | --- |
| 1 | 79 | Monsters R Us | 1992-09-12 | 25 | |
| 2 | 80 | Inherit the Wimp | 1992-09-19 | 25 | |
| 3 | 81 | Revenge of the Brainteasers, Too | 1992-09-26 | 25 | |
| 4 | 82 | Star Crossed Circuits | 1992-10-03 | 25 | |
| 5 | 83 | The Steerminator | 1992-10-10 | 25 | |
| 6 | 84 | The Frequency Fiends | 1992-10-17 | 25 | |
| 7 | 85 | Paint Misbehavin' | 1992-10-24 | 25 | |
| 8 | 86 | Hot Spells | 1992-10-31 | 25 | |
| 9 | 87 | Fraudcast News | 1992-11-07 | 25 | |
| 10 | 88 | Clash Reunion | 1992-11-14 | 25 | |
| 11 | 89 | Mutantcy on the Bouncy | 1992-11-21 | 25 | |
| 12 | 90 | Malice's Restaurant | 1992-11-28 | 25 | |
| 13 | 91 | Extinct Possibility | 1992-12-05 | 25 | |
Series Cast
| | | | |
| --- | --- | --- | --- |
| | Jim Cummings | as Darkwing Duck | |
| | Terence McGovern | as Launchpad McQuack | |
| | Christine Cavanaugh | as Gosalyn Waddlemeyer-Mallard | |
| | Dan Castellaneta | as Megavolt | |
| | Jack Angel | as The Liquidator | |
| | Joey Camen | as Stegmutt | |
| | Katie Leigh | as Honker Muddlefoot | |
| | Kenneth Mars | as Tuskerninni | |
| | Michael Bell | as Quackerjack | |
| | Michael Gough | as Jambalaya Jake | |
| | Ronald Feinberg | as Vladimir Goudenov Grizzlikof | |
| | Tim Curry | as Taurus Bulba | |
Related News
TVMaze