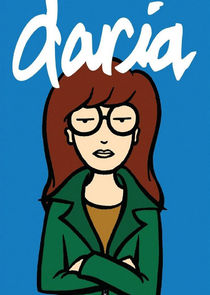 The people of Lawndale just don't get Daria Morgendorffer. She's cool with that. See, Daria was born alienated, and now she's just trying to make it through high school with as little human contact as possible. Popularity, friends, activities... whatever. Daria lacks enthusiasm, but she makes up for it with sarcasm. Daria is the spin-off of MTV's most sucessful cartoon, Beavis and Butt-Head.
Series Overview
Rating
imDb Rating: 8.0 (22,444 Votes)
Metascore: N/A
Plot
A smart and cynical girl goes through teenage life as a proud outsider in a world of mainly idiotic adolescents and condescending adults.
Details
Rated: TV-14
Released: 03 Mar 1997
Runtime: 30 min
Genre: Animation, Comedy, Drama, Romance
Director: N/A
Writer: Glenn Eichler, Susie Lewis
Actors: Tracy Grandstaff, Wendy Hoopes, Julian Rebolledo, John Lynn
Language: English
Country: USA
Awards: 3 nominations.
Total Seasons: 5
Previous Episode
Boxing Daria
Episode 5x13; Jun 25, 2001
Previous Episodes 5x13: Boxing Daria 5x12: My Night at Daria's 5x11: Prize Fighters 5x10: Aunt Nauseam 5x9: Life in the Past Lane 5x8: One J at a Time 5x7: Art Burn 5x6: Lucky Strike 5x5: The Story of D

View All Episodes
Cast
Tracy Grandstaff as Daria Morgendorffer
Wendy Hoopes as Jane Lane
Wendy Hoopes as Helen Morgendorffer
Wendy Hoopes as Quinn Morgendorffer
Julian Rebolledo as Jake Morgendorffer
Alvaro J. Gonzalez as Trent Lane
View Full Cast
Skip to:
Season 1
| Episode No. | No. Overall | Title | Airdate | Runtime | Summary |
| --- | --- | --- | --- | --- | --- |
| 1 | 1 | Esteemsters | 1997-03-03 | 30 | The Morgendorffers move to Lawndale, where Quinn becomes a member of the popular Fashion Club and Daria meets an equally cynical artist named Jane during a self-esteem class taught by their neurotic, wimpy English teacher, Mr. O'Neill. |
| 2 | 2 | The Invitation | 1997-03-10 | 30 | To Quinn's horror, Daria is also invited to Brittany's party after helping her solve an art class problem, and Jane tags along. |
| 3 | 3 | College Bored | 1997-03-17 | 30 | The Morgendorffers visit Middleton College – Jake and Helen's alma mater, where Quinn goes to a frat party and Daria finds brisk business writing term papers. |
| 4 | 4 | Café Disaffecto | 1997-03-24 | 30 | |
| 5 | 5 | Malled | 1997-03-31 | 30 | |
| 6 | 6 | This Year's Model | 1997-04-07 | 30 | |
| 7 | 7 | The Lab Brat | 1997-04-14 | 30 | |
| 8 | 8 | Pinch Sitter | 1997-06-09 | 30 | |
| 9 | 9 | Too Cute | 1997-06-16 | 30 | |
| 10 | 10 | The Big House | 1997-06-30 | 30 | |
| 11 | 11 | Road Worrier | 1997-07-07 | 30 | |
| 12 | 12 | The Teachings of Don Jake | 1997-07-14 | 30 | |
| 13 | 13 | The Misery Chick | 1997-07-21 | 30 | |
Season 2
| Episode No. | No. Overall | Title | Airdate | Runtime | Summary |
| --- | --- | --- | --- | --- | --- |
| 1 | 14 | Arts 'n' Crass | 1998-02-16 | 30 | |
| 2 | 15 | The Daria Hunter | 1998-02-23 | 30 | |
| 3 | 16 | Quinn the Brain | 1998-03-02 | 30 | |
| 4 | 17 | I Don't | 1998-03-09 | 30 | |
| 5 | 18 | That Was Then, This is Dumb | 1998-03-16 | 30 | |
| 6 | 19 | Monster | 1998-03-23 | 30 | |
| 7 | 20 | The New Kid | 1998-03-30 | 30 | |
| 8 | 21 | Gifted | 1998-06-29 | 30 | |
| 9 | 22 | Ill | 1998-07-06 | 30 | |
| 10 | 23 | Fair Enough | 1998-07-13 | 30 | |
| 11 | 24 | See Jane Run | 1998-07-20 | 30 | |
| 12 | 25 | Pierce Me | 1998-07-27 | 30 | |
| 13 | 26 | Write Where It Hurts | 1998-08-03 | 30 | |
Season 3
| Episode No. | No. Overall | Title | Airdate | Runtime | Summary |
| --- | --- | --- | --- | --- | --- |
| 1 | 27 | Daria! | 1999-02-17 | 30 | |
| 2 | 28 | Through a Lens Darkly | 1999-02-24 | 30 | |
| 3 | 29 | The Old and the Beautiful | 1999-03-03 | 30 | |
| 4 | 30 | Depth Takes a Holiday | 1999-03-10 | 30 | |
| 5 | 31 | Daria Dance Party | 1999-03-17 | 30 | |
| 6 | 32 | The Lost Girls | 1999-03-24 | 30 | |
| 7 | 33 | It Happened One Nut | 1999-07-07 | 30 | |
| 8 | 34 | Lane Miserables | 1999-07-14 | 30 | |
| 9 | 35 | Jake of Hearts | 1999-07-21 | 30 | |
| 10 | 36 | Speedtrapped | 1999-07-28 | 30 | |
| 11 | 37 | The Lawndale File | 1999-08-04 | 30 | |
| 12 | 38 | Just Add Water | 1999-08-11 | 30 | |
| 13 | 39 | Jane's Addition | 1999-08-18 | 30 | |
Season 4
| Episode No. | No. Overall | Title | Airdate | Runtime | Summary |
| --- | --- | --- | --- | --- | --- |
| 1 | 40 | Partner's Complaint | 2000-02-25 | 30 | |
| 2 | 41 | Antisocial Climbers | 2000-03-03 | 30 | |
| 3 | 42 | A Tree Grows in Lawndale | 2000-03-10 | 30 | |
| 4 | 43 | Murder, She Snored | 2000-03-17 | 30 | |
| 5 | 44 | The F Word (aka Fail) | 2000-03-31 | 30 | |
| 6 | 45 | I Loathe a Parade | 2000-04-07 | 30 | |
| 7 | 46 | Of Human Bonding | 2000-04-14 | 30 | |
| 8 | 47 | Psycho Therapy | 2000-06-28 | 30 | |
| 9 | 48 | Mart of Darkness | 2000-07-05 | 30 | |
| 10 | 49 | Legends of the Mall | 2000-07-12 | 30 | |
| 11 | 50 | Groped by an Angel | 2000-07-19 | 30 | |
| 12 | 51 | Fire! | 2000-07-26 | 30 | |
| 13 | 52 | Dye! Dye! My Darling | 2000-08-02 | 30 | |
Season 5
| Episode No. | No. Overall | Title | Airdate | Runtime | Summary |
| --- | --- | --- | --- | --- | --- |
| 1 | 53 | Fizz Ed | 2001-02-19 | 30 | |
| 2 | 54 | Sappy Anniversary | 2001-02-26 | 30 | |
| 3 | 55 | Fat Like Me | 2001-03-05 | 30 | |
| 4 | 56 | Camp Fear | 2001-03-12 | 30 | |
| 5 | 57 | The Story of D | 2001-03-19 | 30 | |
| 6 | 58 | Lucky Strike | 2001-03-26 | 30 | |
| 7 | 59 | Art Burn | 2001-04-02 | 30 | |
| 8 | 60 | One J at a Time | 2001-05-21 | 30 | |
| 9 | 61 | Life in the Past Lane | 2001-05-28 | 30 | |
| 10 | 62 | Aunt Nauseam | 2001-06-04 | 30 | |
| 11 | 63 | Prize Fighters | 2001-06-11 | 30 | |
| 12 | 64 | My Night at Daria's | 2001-06-18 | 30 | |
| 13 | 65 | Boxing Daria | 2001-06-25 | 30 | |
Series Cast
| | | | |
| --- | --- | --- | --- |
| | Tracy Grandstaff | as Daria Morgendorffer | |
| | Wendy Hoopes | as Jane Lane | |
| | Wendy Hoopes | as Helen Morgendorffer | |
| | Wendy Hoopes | as Quinn Morgendorffer | |
| | Julian Rebolledo | as Jake Morgendorffer | |
| | Alvaro J. Gonzalez | as Trent Lane | |
| | Nora Laudani | as Ms. Angela Li | |
| | Sarah Drew | as Stacy Rowe | |
| | Sarah Drew | as Tricia Gupty | |
| | Amir Williams | as Michael Jordan "Mack" Mackenzie | |
| | Ashley Paige Albert | as Ms. Barch | |
| | Danielle Accarino | as Ms. Claire Defoe | |
| | Delon Ferdinand | as Michael Jordan 'Mack' Mackenzie | |
| | Evan Farmer | as Eric Schrecter | |
| | Geoffrey Arend | as Charles "Upchuck" Ruttheimer III | |
| | Jessica Cydnee Jackson | as Jodie Abigail Landon | |
| | Katie Kingston | as Marianne | |
| | Kevin Daniels | as Michael Jordan "Mack" Mackenzie | |
| | Paul Williams | as Michael Jordan "Mack" Mackenzie | |
| | Russell Hankin | as Tom Sloane | |
| | Steven Huppert | as Joey | |
| | Susie Lewis Lynn | as Andrea | |
| | Tim Novikoff | as Jeffy | |
| | Willy Schwenz | as Jesse Moreno | |
| | Marc Thompson | as Kevin Thompson | |
| | Marc Thompson | as Anthony DeMartino | |
| | Marc Thompson | as Timothy O'Neill | |
| | Marc Thompson | as Jamie White | |
| | Janie Martz | as Brittany Taylor | |
| | Janie Martz | as Sandi Griffin | |
| | Janie Martz | as Brittany Taylor | |
| | Janie Martz | as Linda Griffin | |
| | Janie Martz | as Andrea | |
| | Ashley Paige Albert | as Tiffany Blum-Deckler | |
Series Crew
| | Position | Name |
| --- | --- | --- |
| | Creator | Glenn Eichler |
| | Executive Producer | Glenn Eichler |
| | Supervising Producer | Glenn Eichler |
| | Executive Producer | Abby Terkuhle |
| | Creator | Susie Lewis Lynn |
| | Supervising Producer | John W. Lynn, Jr. |
| | Associate Producer | Lemon Krasny |
| | Co-Producer | Lemon Krasny |
| | Associate Producer | Maria Rodas |
| | Supervising Producer | John G. Andrews |
Related News
TVMaze