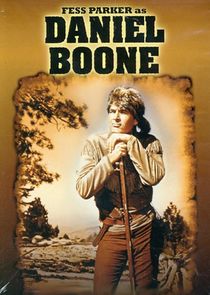 Fess Parker starred as legendary frontiersman Daniel Boone who conducted surveys, interacted with friendly and hostile Native Americans, and fought for the American cause during the Revolutionary War all the while providing wise leadership to the new Kentucky settlement of Boonesborough. Daniel was aided in his adventures by Oxford educated Cherokee Mingo, lovely redheaded wife Rebecca, precocious son Israel, teenage daughter Jemima, tavern keeper Cincinnatus, runaway slave turned Native American chief Gabriel Cooper, and amiable oafs Yadkin and Josh Clements.
Series Overview
Rating
imDb Rating: 7.3 (1,558 Votes)
Metascore: N/A
Plot
Frontier hero Daniel Boone conducts surveys and expeditions around Boonesborough, running into both friendly and hostile Indians, just before and during the Revolutionary War.
Details
Rated: N/A
Released: 24 Sep 1964
Runtime: 60 min
Genre: Adventure, Western
Director: N/A
Writer: N/A
Actors: Fess Parker, Patricia Blair, Darby Hinton, Dal McKennon
Language: English
Country: USA
Awards: 1 nomination.
Total Seasons: 6
Previous Episode
Israel and Love
Episode 6x26; May 07, 1970
Previous Episodes 6x26: Israel and Love 6x25: How to Become a Goddess 6x24: Bringing Up Josh 6x23: The Homecoming 6x22: Noblesse Oblige 6x21: Readin', Ritin', and Revolt 6x20: The Landlords 6x19: A Matter of Vengeance 6x18: Run for the Money

View All Episodes
Cast
Fess Parker as Daniel Boone
Dal McKennon as Cincinnatus
Jimmy Dean as Josh Clements
Patricia Blair as Rebecca Boone
Darby Hinton as Israel Boone
Albert Salmi as Yadkin
View Full Cast
Skip to:
Season 1
| Episode No. | No. Overall | Title | Airdate | Runtime | Summary |
| --- | --- | --- | --- | --- | --- |
| 1 | 1 | Ken-Tuck-E | 1964-09-24 | 60 | |
| 2 | 2 | Tekawitha McLeod | 1964-10-01 | 60 | |
| 3 | 3 | My Brother's Keeper | 1964-10-08 | 60 | |
| 4 | 4 | The Family Fluellen | 1964-10-22 | 60 | |
| 5 | 5 | The Choosing | 1964-10-29 | 60 | |
| 6 | 6 | Lac Duquesne | 1964-11-05 | 60 | |
| 7 | 7 | The Sound of Wings | 1964-11-12 | 60 | |
| 8 | 8 | A Short Walk to Salem | 1964-11-19 | 60 | |
| 9 | 9 | The Sisters O'Hannrahan | 1964-12-03 | 60 | |
| 10 | 10 | Pompey | 1964-12-10 | 60 | |
| 11 | 11 | Mountain of the Dead | 1964-12-17 | 60 | |
| 12 | 12 | Not in Our Stars | 1964-12-31 | 60 | |
| 13 | 13 | The Hostages | 1965-01-07 | 60 | |
| 14 | 14 | The Returning | 1965-01-14 | 60 | |
| 15 | 15 | The Prophet | 1965-01-21 | 60 | |
| 16 | 16 | The First Stone | 1965-01-28 | 60 | |
| 17 | 17 | A Place of 1000 Spirits | 1965-02-04 | 60 | |
| 18 | 18 | The Sound of Fear | 1965-02-11 | 60 | |
| 19 | 19 | The Price of Friendship | 1965-02-18 | 60 | |
| 20 | 20 | The Quietists | 1965-02-25 | 60 | |
| 21 | 21 | The Devil's Four | 1965-03-04 | 60 | |
| 22 | 22 | The Reunion | 1965-03-11 | 60 | |
| 23 | 23 | The Ben Franklin Encounter | 1965-03-18 | 60 | |
| 24 | 24 | Four-Leaf Clover | 1965-03-25 | 60 | |
| 25 | 25 | Cain's Birthday (1) | 1965-04-01 | 60 | |
| 26 | 26 | Cain's Birthday (2) | 1965-04-08 | 60 | |
| 27 | 27 | Daughter of the Devil | 1965-04-15 | 60 | |
| 28 | 28 | Doll of Sorrow | 1965-04-22 | 60 | |
| 29 | 29 | The Courtship of Jericho Jones | 1965-04-29 | 60 | |
Season 2
| Episode No. | No. Overall | Title | Airdate | Runtime | Summary |
| --- | --- | --- | --- | --- | --- |
| 1 | 30 | Empire of the Lost | 1965-09-16 | 60 | |
| 2 | 31 | The Tortoise and the Hare | 1965-09-23 | 60 | |
| 3 | 32 | The Mound Builders | 1965-09-30 | 60 | |
| 4 | 33 | My Name Is Rawls | 1965-10-07 | 60 | |
| 5 | 34 | The Old Man and the Cave | 1965-10-14 | 60 | |
| 6 | 35 | The Trek | 1965-10-21 | 60 | |
| 7 | 36 | The Aaron Burr Story | 1965-10-28 | 60 | |
| 8 | 37 | Cry of Gold | 1965-11-04 | 60 | |
| 9 | 38 | The Peace Tree | 1965-11-11 | 60 | |
| 10 | 39 | The Thanksgiving Story | 1965-11-25 | 60 | |
| 11 | 40 | A Rope for Mingo | 1965-12-02 | 60 | |
| 12 | 41 | The First Beau | 1965-12-09 | 60 | |
| 13 | 42 | The Perilous Journey | 1965-12-16 | 60 | |
| 14 | 43 | The Christmas Story | 1965-12-23 | 60 | |
| 15 | 44 | The Tamarack Massacre Affair | 1965-12-30 | 60 | |
| 16 | 45 | Gabriel | 1966-01-06 | 60 | |
| 17 | 46 | Seminole Territory | 1966-01-13 | 60 | |
| 18 | 47 | The Deserter | 1966-01-20 | 60 | |
| 19 | 48 | Crisis by Fire | 1966-01-27 | 60 | |
| 20 | 49 | The Gun | 1966-02-03 | 60 | |
| 21 | 50 | The Prisoners | 1966-02-10 | 60 | |
| 22 | 51 | The Fifth Man | 1966-02-17 | 60 | |
| 23 | 52 | The Gun-Barrel Highway | 1966-02-24 | 60 | |
| 24 | 53 | The Search | 1966-03-03 | 60 | |
| 25 | 54 | Fifty Rifles | 1966-03-10 | 60 | |
| 26 | 55 | The Trap | 1966-03-17 | 60 | |
| 27 | 56 | The Accused | 1966-03-24 | 60 | |
| 28 | 57 | Cibola | 1966-03-31 | 60 | |
| 29 | 58 | The High Cumberland (1) | 1966-04-14 | 60 | |
| 30 | 59 | The High Cumberland (2) | 1966-04-21 | 60 | |
Season 3
| Episode No. | No. Overall | Title | Airdate | Runtime | Summary |
| --- | --- | --- | --- | --- | --- |
| 1 | 60 | Dan'l Boone Shot a B'ar | 1966-09-15 | 60 | |
| 2 | 61 | The Allegiances | 1966-09-22 | 60 | |
| 3 | 62 | Goliath | 1966-09-29 | 60 | |
| 4 | 63 | Grizzly | 1966-10-06 | 60 | |
| 5 | 64 | First in War, First in Peace | 1966-10-13 | 60 | |
| 6 | 65 | Run a Crooked Mile | 1966-10-20 | 60 | |
| 7 | 66 | The Matchmaker | 1966-10-27 | 60 | |
| 8 | 67 | Onatha | 1966-11-03 | 60 | |
| 9 | 68 | The Loser's Race | 1966-11-10 | 60 | |
| 10 | 69 | The Enchanted Gun | 1966-11-17 | 60 | |
| 11 | 70 | Requiem for Craw Green | 1966-12-01 | 60 | |
| 12 | 71 | The Lost Colony | 1966-12-08 | 60 | |
| 13 | 72 | River Passage | 1966-12-15 | 60 | |
| 14 | 73 | When a King Is a Pawn | 1966-12-22 | 60 | |
| 15 | 74 | The Symbol | 1966-12-29 | 60 | |
| 16 | 75 | The Williamsburg Cannon (1) | 1967-01-12 | 60 | |
| 17 | 76 | The Williamsburg Cannon (2) | 1967-01-19 | 60 | |
| 18 | 77 | The Wolf Man | 1967-01-26 | 60 | |
| 19 | 78 | The Jasper Ledbedder Story | 1967-02-02 | 60 | |
| 20 | 79 | When I Became a Man, I Put Away Childish Things | 1967-02-09 | 60 | |
| 21 | 80 | The Long Way Home | 1967-02-16 | 60 | |
| 22 | 81 | The Young Ones | 1967-02-23 | 60 | |
| 23 | 82 | Delo Jones | 1967-03-02 | 60 | |
| 24 | 83 | The Necklace | 1967-03-09 | 60 | |
| 25 | 84 | Fort West Point | 1967-03-23 | 60 | |
| 26 | 85 | Bitter Mission | 1967-03-30 | 60 | |
| 27 | 86 | Take the Southbound Stage | 1967-04-06 | 60 | |
| 28 | 87 | The Fallow Land | 1967-04-13 | 60 | |
Season 4
| Episode No. | No. Overall | Title | Airdate | Runtime | Summary |
| --- | --- | --- | --- | --- | --- |
| 1 | 88 | The Ballad of Sidewinder and the Cherokee | 1967-09-14 | 60 | |
| 2 | 89 | The Ordeal of Israel Boone | 1967-09-21 | 60 | |
| 3 | 90 | The Renegade | 1967-09-28 | 60 | |
| 4 | 91 | Tanner | 1967-10-05 | 60 | |
| 5 | 92 | Beaumarchais | 1967-10-12 | 60 | |
| 6 | 93 | The King's Shilling | 1967-10-19 | 60 | |
| 7 | 94 | The Inheritance | 1967-10-26 | 60 | |
| 8 | 95 | The Traitor | 1967-11-02 | 60 | |
| 9 | 96 | The Value of a King | 1967-11-09 | 60 | |
| 10 | 97 | The Desperate Raid | 1967-11-16 | 60 | |
| 11 | 98 | The Spanish Horse | 1967-11-23 | 60 | |
| 12 | 99 | Chief Mingo | 1967-12-07 | 60 | |
| 13 | 100 | The Secret Code | 1967-12-14 | 60 | |
| 14 | 101 | A Matter of Blood | 1967-12-28 | 60 | |
| 15 | 102 | The Scrimshaw Ivory Chart | 1968-01-04 | 60 | |
| 16 | 103 | The Imposter | 1968-01-18 | 60 | |
| 17 | 104 | The Witnesses | 1968-01-25 | 60 | |
| 18 | 105 | The Flaming Rocks | 1968-02-01 | 60 | |
| 19 | 106 | Then Who Will They Hang from the Yardarm If Willy Gets Away? | 1968-02-08 | 60 | |
| 20 | 107 | The Spanish Fort | 1968-02-15 | 60 | |
| 21 | 108 | Hero's Welcome | 1968-02-22 | 60 | |
| 22 | 109 | Orlando, the Prophet | 1968-02-29 | 60 | |
| 23 | 110 | The Far Side of Fury | 1968-03-07 | 60 | |
| 24 | 111 | Nightmare | 1968-03-14 | 60 | |
| 25 | 112 | Thirty Pieces of Silver | 1968-03-28 | 60 | |
| 26 | 113 | Faith's Way | 1968-04-04 | 60 | |
Season 5
| Episode No. | No. Overall | Title | Airdate | Runtime | Summary |
| --- | --- | --- | --- | --- | --- |
| 1 | 114 | Be Thankful for the Fickleness of Women | 1968-09-19 | 60 | |
| 2 | 115 | The Blackbirder | 1968-10-03 | 60 | |
| 3 | 116 | The Dandy | 1968-10-10 | 60 | |
| 4 | 117 | The Fleeing Nuns | 1968-10-24 | 60 | |
| 5 | 118 | The Plague That Came to Ford's Run | 1968-10-31 | 60 | |
| 6 | 119 | The Bait | 1968-11-07 | 60 | |
| 7 | 120 | Big, Black and Out There | 1968-11-14 | 60 | |
| 8 | 121 | Flag of Truce | 1968-11-21 | 60 | |
| 9 | 122 | The Valley of the Sun | 1968-11-28 | 60 | |
| 10 | 123 | The Patriot | 1968-12-05 | 60 | |
| 11 | 124 | The Return of Sidewinder | 1968-12-12 | 60 | |
| 12 | 125 | Minnow for a Shark | 1969-01-02 | 60 | |
| 13 | 126 | To Slay a Giant | 1969-01-09 | 60 | |
| 14 | 127 | A Tall Tale of Prater Beasely | 1969-01-16 | 60 | |
| 15 | 128 | Copperhead Izzy | 1969-01-30 | 60 | |
| 16 | 129 | Three Score and Ten | 1969-02-06 | 60 | |
| 17 | 130 | Jonah | 1969-02-13 | 60 | |
| 18 | 131 | Bickford's Bridge | 1969-02-20 | 60 | |
| 19 | 132 | A Touch of Charity | 1969-02-27 | 60 | |
| 20 | 133 | For Want of a Hero | 1969-03-06 | 60 | |
| 21 | 134 | Love and Equity | 1969-03-13 | 60 | |
| 22 | 135 | The Allies | 1969-03-27 | 60 | |
| 23 | 136 | A Man Before His Time | 1969-04-03 | 60 | |
| 24 | 137 | For a Few Rifles | 1969-04-10 | 60 | |
| 25 | 138 | Sweet Molly Malone | 1969-04-17 | 60 | |
| 26 | 139 | A Pinch of Salt | 1969-05-01 | 60 | |
Season 6
| Episode No. | No. Overall | Title | Airdate | Runtime | Summary |
| --- | --- | --- | --- | --- | --- |
| 1 | 140 | A Very Small Rifle | 1969-09-18 | 60 | |
| 2 | 141 | The Road to Freedom | 1969-10-02 | 60 | |
| 3 | 142 | Benvenuto... Who? | 1969-10-09 | 60 | |
| 4 | 143 | The Man | 1969-10-16 | 60 | |
| 5 | 144 | The Printing Press | 1969-10-23 | 60 | |
| 6 | 145 | The Traitor | 1969-10-30 | 60 | |
| 7 | 146 | The Grand Alliance | 1969-11-13 | 60 | |
| 8 | 147 | Target Boone | 1969-11-20 | 60 | |
| 9 | 148 | A Bearskin for Jamie Blue | 1969-11-27 | 60 | |
| 10 | 149 | The Cache | 1969-12-04 | 60 | |
| 11 | 150 | The Terrible Tarbots | 1969-12-11 | 60 | |
| 12 | 151 | Hannah Comes Home | 1969-12-25 | 60 | |
| 13 | 152 | An Angel Cried | 1970-01-08 | 60 | |
| 14 | 153 | Perilous Passage | 1970-01-15 | 60 | |
| 15 | 154 | The Sunshine Patriots | 1970-01-22 | 60 | |
| 16 | 155 | Mama Cooper | 1970-02-05 | 60 | |
| 17 | 156 | Before the Tall Man | 1970-02-12 | 60 | |
| 18 | 157 | Run for the Money | 1970-02-19 | 60 | |
| 19 | 158 | A Matter of Vengeance | 1970-02-26 | 60 | |
| 20 | 159 | The Landlords | 1970-03-05 | 60 | |
| 21 | 160 | Readin', Ritin', and Revolt | 1970-03-12 | 60 | |
| 22 | 161 | Noblesse Oblige | 1970-03-26 | 60 | |
| 23 | 162 | The Homecoming | 1970-04-09 | 60 | |
| 24 | 163 | Bringing Up Josh | 1970-04-16 | 60 | |
| 25 | 164 | How to Become a Goddess | 1970-04-30 | 60 | |
| 26 | 165 | Israel and Love | 1970-05-07 | 60 | |
Series Cast
| | | | |
| --- | --- | --- | --- |
| | Fess Parker | as Daniel Boone | |
| | Dal McKennon | as Cincinnatus | |
| | Jimmy Dean | as Josh Clements | |
| | Patricia Blair | as Rebecca Boone | |
| | Darby Hinton | as Israel Boone | |
| | Albert Salmi | as Yadkin | |
| | Ed Ames | as Mingo | |
| | Veronica Cartwright | as Jemima Boone | |
Related News
TVMaze