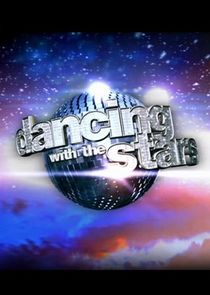 Dancing with the Stars pairs celebrities with professional ballroom dancers who each week compete against each other in a dance-off to impress a panel of judges and ultimately the viewing public in order to survive potential elimination. Through a telephone and SMS voting, viewers vote for the duo they think should remain in the competition. Judges' scores are combined with the viewer votes when determining which duo is eliminated.
Series Overview
Rating
imDb Rating: 4.7 (455 Votes)
Metascore: N/A
Plot
Australian television series where celebrities are coupled with professional dancers and compete for the title of Dancing With The Stars Champion.
Details
Rated: N/A
Released: 05 Oct 2004
Runtime: 90 min
Genre: Family, Game-Show, Music
Director: N/A
Writer: N/A
Actors: Todd McKenney, Helen Richey, Sonia Kruger, Mark Wilson
Language: English
Country: Australia
Awards: 3 wins & 4 nominations.
Total Seasons: 15
Previous Episode
Episode 10
Episode 16x10; Apr 22, 2019
Previous Episodes 16x10: Episode 10 16x9: Episode 9 - Semi Final 16x8: Episode 8 16x7: Episode 7 16x6: Episode 6 16x5: Episode 5 16x4: Episode 4 16x3: Episode 3 16x2: Episode 2

View All Episodes
Skip to:
Season 1
| Episode No. | No. Overall | Title | Airdate | Runtime | Summary |
| --- | --- | --- | --- | --- | --- |
| 1 | 1 | Episode 1 | 2004-10-05 | 60 | |
| 2 | 2 | Episode 2 | 2004-10-12 | 60 | |
| 3 | 3 | Episode 3 | 2004-10-19 | 60 | |
| 4 | 4 | Episode 4 | 2004-10-26 | 60 | |
| 5 | 5 | Episode 5 | 2004-11-02 | 60 | |
| 6 | 6 | Episode 6 | 2004-11-09 | 60 | |
| 7 | 7 | Episode 7 | 2004-11-16 | 60 | |
| 8 | 8 | Grand Final | 2004-11-23 | 60 | |
Season 2
| Episode No. | No. Overall | Title | Airdate | Runtime | Summary |
| --- | --- | --- | --- | --- | --- |
| 1 | 9 | Episode 1 | 2005-02-08 | 60 | |
| 2 | 10 | Episode 2 | 2005-02-15 | 60 | |
| 3 | 11 | Episode 3 | 2005-02-22 | 60 | |
| 4 | 12 | Episode 4 | 2005-03-01 | 60 | |
| 5 | 13 | Episode 5 | 2005-03-08 | 60 | |
| 6 | 14 | Episode 6 | 2005-03-15 | 60 | |
| 7 | 15 | Episode 7 | 2005-04-05 | 60 | |
| 8 | 16 | Episode 8 | 2005-04-12 | 60 | |
| 9 | 17 | Episode 9 | 2005-04-19 | 60 | |
| 10 | 18 | Grand Final | 2005-04-26 | 60 | |
Season 3
| Episode No. | No. Overall | Title | Airdate | Runtime | Summary |
| --- | --- | --- | --- | --- | --- |
| 1 | 19 | Episode 1 | 2005-09-06 | 60 | |
| 2 | 20 | Episode 2 | 2005-09-13 | 60 | |
| 3 | 21 | Episode 3 | 2005-09-20 | 60 | |
| 4 | 22 | Episode 4 | 2005-09-27 | 60 | |
| 5 | 23 | Episode 5 | 2005-10-04 | 60 | |
| 6 | 24 | Episode 6 | 2005-10-11 | 60 | |
| 7 | 25 | Episode 7 | 2005-10-18 | 60 | |
| 8 | 26 | Episode 8 | 2005-10-25 | 60 | |
| 9 | 27 | Episode 9 | 2005-11-01 | 60 | |
| 10 | 28 | Grand Final | 2005-11-08 | 60 | |
Season 4
| Episode No. | No. Overall | Title | Airdate | Runtime | Summary |
| --- | --- | --- | --- | --- | --- |
| 1 | 29 | Episode 1 | 2006-02-21 | 60 | |
| 2 | 30 | Episode 2 | 2006-02-28 | 60 | |
| 3 | 31 | Episode 3 | 2006-03-07 | 60 | |
| 4 | 32 | Episode 4 | 2006-03-14 | 60 | |
| 5 | 33 | Episode 5 | 2006-03-28 | 60 | |
| 6 | 34 | Episode 6 | 2006-04-04 | 60 | |
| 7 | 35 | Episode 7 | 2006-04-18 | 60 | |
| 8 | 36 | Episode 8 | 2006-04-25 | 60 | |
| 9 | 37 | Episode 9 | 2006-05-02 | 60 | |
| 10 | 38 | Grand Final | 2006-05-09 | 60 | |
Season 5
| Episode No. | No. Overall | Title | Airdate | Runtime | Summary |
| --- | --- | --- | --- | --- | --- |
| 1 | 39 | Episode 1 | 2006-09-26 | 60 | |
| 2 | 40 | Episode 2 | 2006-10-03 | 60 | |
| 3 | 41 | Episode 3 | 2006-10-10 | 60 | |
| 4 | 42 | Episode 4 | 2006-10-17 | 60 | |
| 5 | 43 | Episode 5 | 2006-10-24 | 60 | |
| 6 | 44 | Episode 6 | 2006-10-31 | 60 | |
| 7 | 45 | Episode 7 | 2006-11-07 | 60 | |
| 8 | 46 | Episode 8 | 2006-11-14 | 60 | |
| 9 | 47 | Episode 9 | 2006-11-21 | 60 | |
| 10 | 48 | Grand Final | 2006-11-28 | 60 | |
Season 6
| Episode No. | No. Overall | Title | Airdate | Runtime | Summary |
| --- | --- | --- | --- | --- | --- |
| 1 | 49 | Episode 1 | 2007-02-20 | 60 | |
| 2 | 50 | Episode 2 | 2007-02-27 | 60 | |
| 3 | 51 | Episode 3 | 2007-03-06 | 60 | |
| 4 | 52 | Episode 4 | 2007-03-13 | 60 | |
| 5 | 53 | Episode 5 | 2007-03-20 | 60 | |
| 6 | 54 | Episode 6 | 2007-03-27 | 60 | |
| 7 | 55 | Episode 7 | 2007-04-10 | 60 | |
| 8 | 56 | Episode 8 | 2007-04-17 | 60 | |
| 9 | 57 | Episode 9 | 2007-04-24 | 60 | |
| 10 | 58 | Grand Final | 2007-05-01 | 60 | |
Season 7
| Episode No. | No. Overall | Title | Airdate | Runtime | Summary |
| --- | --- | --- | --- | --- | --- |
| 1 | 59 | Episode 1 | 2007-09-25 | 60 | |
| 2 | 60 | Episode 2 | 2007-10-02 | 60 | |
| 3 | 61 | Episode 3 | 2007-10-09 | 60 | |
| 4 | 62 | Episode 4 | 2007-10-16 | 60 | |
| 5 | 63 | Episode 5 | 2007-10-23 | 60 | |
| 6 | 64 | Episode 6 | 2007-10-30 | 60 | |
| 7 | 65 | Episode 7 | 2007-11-06 | 60 | |
| 8 | 66 | Episode 8 | 2007-11-13 | 60 | |
| 9 | 67 | Episode 9 | 2007-11-20 | 60 | |
| 10 | 68 | Grand Final | 2007-11-27 | 60 | |
Season 8
| Episode No. | No. Overall | Title | Airdate | Runtime | Summary |
| --- | --- | --- | --- | --- | --- |
| 1 | 69 | Episode 1 | 2008-09-07 | 60 | |
| 2 | 70 | Episode 2 | 2008-09-14 | 60 | |
| 3 | 71 | Episode 3 | 2008-09-21 | 60 | |
| 4 | 72 | Episode 4 | 2008-09-28 | 60 | |
| 5 | 73 | Episode 5 | 2008-10-05 | 60 | |
| 6 | 74 | Episode 6 | 2008-10-12 | 60 | |
| 7 | 75 | Episode 7 | 2008-10-19 | 60 | |
| 8 | 76 | Episode 8 | 2008-10-26 | 60 | |
| 9 | 77 | Episode 9 | 2008-11-02 | 60 | |
| 10 | 78 | Grand Final | 2008-11-09 | 60 | |
Season 9
| Episode No. | No. Overall | Title | Airdate | Runtime | Summary |
| --- | --- | --- | --- | --- | --- |
| 1 | 79 | Episode 1 | 2009-07-05 | 60 | |
| 2 | 80 | Episode 2 | 2009-07-12 | 60 | |
| 3 | 81 | Episode 3 | 2009-07-19 | 60 | |
| 4 | 82 | Episode 4 | 2009-07-26 | 60 | |
| 5 | 83 | Episode 5 | 2009-08-02 | 60 | |
| 6 | 84 | Episode 6 | 2009-08-09 | 60 | |
| 7 | 85 | Episode 7 | 2009-08-16 | 60 | |
| 8 | 86 | Episode 8 | 2009-08-23 | 60 | |
| 9 | 87 | Episode 9 | 2009-08-30 | 60 | |
| 10 | 88 | Grand Final | 2009-09-06 | 60 | |
Season 10
| Episode No. | No. Overall | Title | Airdate | Runtime | Summary |
| --- | --- | --- | --- | --- | --- |
| 1 | 89 | Episode 1 | 2010-06-27 | 60 | |
| 2 | 90 | Episode 2 | 2010-07-04 | 60 | |
| 3 | 91 | Episode 3 | 2010-07-11 | 60 | |
| 4 | 92 | Episode 4 | 2010-07-18 | 60 | |
| 5 | 93 | Episode 5 | 2010-07-25 | 60 | |
| 6 | 94 | Episode 6 | 2010-08-01 | 60 | |
| 7 | 95 | Episode 7 | 2010-08-08 | 60 | |
| 8 | 96 | Episode 8 | 2010-08-15 | 60 | |
| 9 | 97 | Episode 9 | 2010-08-22 | 60 | |
| 10 | 98 | Grand Final | 2010-08-29 | 60 | |
Season 11
| Episode No. | No. Overall | Title | Airdate | Runtime | Summary |
| --- | --- | --- | --- | --- | --- |
| 1 | 99 | Episode 1 | 2011-05-08 | 60 | |
| 2 | 100 | Episode 2 | 2011-05-15 | 60 | |
| 3 | 101 | Episode 3 | 2011-05-22 | 60 | |
| 4 | 102 | Episode 4 | 2011-05-29 | 60 | |
| 5 | 103 | Episode 5 | 2011-06-05 | 60 | |
| 6 | 104 | Episode 6 | 2011-06-12 | 60 | |
| 7 | 105 | Episode 7 | 2011-06-19 | 60 | |
| 8 | 106 | Episode 8 | 2011-06-26 | 60 | |
| 9 | 107 | Episode 9 | 2011-07-03 | 60 | |
| 10 | 108 | Grand Final | 2011-07-10 | 60 | |
Season 12
| Episode No. | No. Overall | Title | Airdate | Runtime | Summary |
| --- | --- | --- | --- | --- | --- |
| 1 | 109 | Episode 1 | 2012-04-15 | 60 | |
| 2 | 110 | Episode 2 | 2012-04-22 | 60 | |
| 3 | 111 | Episode 3 | 2012-04-29 | 60 | |
| 4 | 112 | Episode 4 | 2012-05-06 | 60 | |
| 5 | 113 | Episode 5 | 2012-05-13 | 60 | |
| 6 | 114 | Episode 6 | 2012-05-20 | 60 | |
| 7 | 115 | Episode 7 | 2012-05-27 | 60 | |
| 8 | 116 | Episode 8 | 2012-06-03 | 60 | |
| 9 | 117 | Episode 9 | 2012-06-10 | 60 | |
| 10 | 118 | Grand Final | 2012-06-17 | 60 | |
Season 13
| Episode No. | No. Overall | Title | Airdate | Runtime | Summary |
| --- | --- | --- | --- | --- | --- |
| 1 | 119 | Episode 1 | 2013-10-01 | 60 | |
| 2 | 120 | Episode 2 | 2013-10-08 | 60 | |
| 3 | 121 | Episode 3 | 2013-10-15 | 60 | |
| 4 | 122 | Episode 4 | 2013-10-22 | 60 | |
| 5 | 123 | Episode 5 | 2013-10-29 | 60 | |
| 6 | 124 | Episode 6 | 2013-11-05 | 60 | |
| 7 | 125 | Episode 7 | 2013-11-12 | 60 | |
| 8 | 126 | Episode 8 | 2013-11-19 | 60 | |
| 9 | 127 | Episode 9 | 2013-11-26 | 60 | |
| 10 | 128 | Episode 10 | 2013-11-19 | 60 | |
| 11 | 129 | Grand Final | 2013-11-26 | 60 | |
Season 14
| Episode No. | No. Overall | Title | Airdate | Runtime | Summary |
| --- | --- | --- | --- | --- | --- |
| 1 | 130 | Episode 1 | 2014-09-30 | 60 | |
| 2 | 131 | Episode 2 | 2014-10-07 | 60 | |
| 3 | 132 | Episode 3 | 2014-10-14 | 60 | |
| 4 | 133 | Episode 4 | 2014-10-21 | 60 | |
| 5 | 134 | Episode 5 | 2014-10-28 | 60 | |
| 6 | 135 | Episode 6 | 2014-10-30 | 60 | |
| 7 | 136 | Episode 7 | 2014-11-04 | 60 | |
| 8 | 137 | Episode 8 | 2014-11-11 | 60 | |
| 9 | 138 | Episode 9 | 2014-11-18 | 60 | |
| 10 | 139 | Grand Final | 2014-11-25 | 60 | |
Season 15
| Episode No. | No. Overall | Title | Airdate | Runtime | Summary |
| --- | --- | --- | --- | --- | --- |
| 1 | 140 | Episode 1 | 2015-07-19 | 60 | |
| 2 | 141 | Episode 2 | 2015-07-26 | 60 | |
| 3 | 142 | Episode 3 | 2015-08-02 | 60 | |
| 4 | 143 | Episode 4 | 2015-08-09 | 60 | |
| 5 | 144 | Episode 5 | 2015-08-16 | 60 | |
| 6 | 145 | Episode 6 | 2015-08-23 | 60 | |
| 7 | 146 | Episode 7 | 2015-08-30 | 60 | |
| 8 | 147 | Episode 8 | 2015-09-06 | 60 | |
| 9 | 148 | Grand Final | 2015-09-07 | 60 | |
Related News
TVMaze