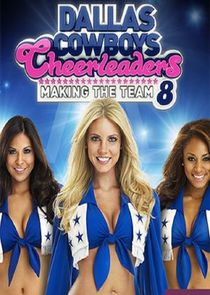 Kelli Finglass, the DCC director, has a mandate to have a squad of 36, making this a super competitive year. New to the mix of judges this year are two celebrities -- former DCC and Dancing with the Stars winner Melissa Rycroft and platinum-selling country music recording artist Neil McCoy. With 55 high caliber new girls making it to finals, it's intimidating for the 30 veterans as they must fight to keep their place on the team. Unfortunately for a few vets, it's the end of the line. For the super talented 43 who make training camp, the exhilaration is short lived as the reality of the most demanding dance audition in professional sports becomes real. Season nine brings everything you love -- girls reaching for their dreams and the emotional, drama-ridden journey to make them come true. The payoff is becoming part of the best team in the business -- the Dallas Cowboys Cheerleaders.
Series Overview
Rating
imDb Rating: 6.2 (338 Votes)
Metascore: N/A
Plot
Reality show following the auditioning process and making of the annual Dallas Cowboys Cheerleading Squad.
Details
Rated: N/A
Released: N/A
Runtime: 30 min
Genre: Reality-TV, Sport
Director: N/A
Writer: N/A
Actors: Kelli Finglass, Judy Trammell, Sydney Durso, Jay Johnson
Language: English
Country: USA
Awards: N/A
Total Seasons: 13
Previous Episode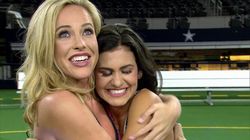 Game Day
Episode 14x13; Oct 25, 2019
Kelli has a major decision to make before announcing the new squad, while the rookies try to overcome all of the Game Day distractions
Previous Episodes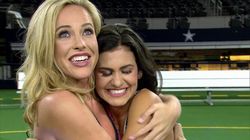 14x13: Game Day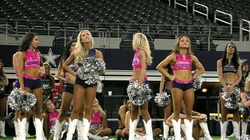 14x12: Time Is Running Out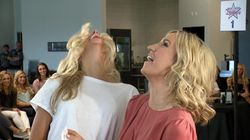 14x11: Picture Perfect


14x10: Welcome to the Triangle!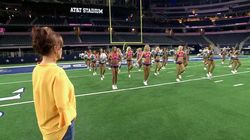 14x9: Field Ready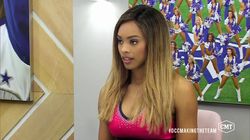 14x8: Who's Got the Magic


14x7: Proving You're the Best 14x6: Adventures in Dance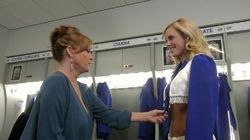 14x5: The Transformation Begins

View All Episodes
Skip to:
Season 1
| Episode No. | No. Overall | Title | Airdate | Runtime | Summary |
| --- | --- | --- | --- | --- | --- |
| 1 | 1 | Episode 1 | 2006-09-29 | 60 | |
| 2 | 2 | Episode 2 | 2006-10-06 | 60 | |
| 3 | 3 | Episode 3 | 2006-10-13 | 60 | |
| 4 | 4 | Episode 4 | 2006-10-20 | 60 | |
| 5 | 5 | Episode 5 | 2006-10-27 | 60 | |
| 6 | 6 | Episode 6 | 2006-11-03 | 60 | |
| 7 | 7 | Episode 7 | 2006-11-10 | 60 | |
| 8 | 8 | Episode 8 | 2006-11-17 | 60 | |
Season 2
| Episode No. | No. Overall | Title | Airdate | Runtime | Summary |
| --- | --- | --- | --- | --- | --- |
| 1 | 9 | Episode 1 | 2007-09-14 | 60 | Professional cheerleading takes hard work, determination and nerves of steel as the new crop of recruits quickly finds out in the second season of CMT's DALLAS COWBOYS CHEERLEADERS: MAKING THE TEAM. CMT's eight-episode series reveals all the behind-the-scenes action of the Dallas Cowboys Cheerleading try-outs as girls struggle to make the team, survive boot camp and make their big debut as one of the most famous cheerleaders in America. In the one-hour season premiere, hundreds of excited and anxious Dallas Cowboys Cheerleaders hopefuls arrive at Texas Stadium for the preliminary auditions. After performing their freestyle dance routines for the judges, only half make it to the semi-finals. At semi's, they are taught the Dallas Cowboys Cheerleaders' style of dance, along with the legendary kick line. Amid tears of joy and disappointment, only half the girls are called back for the finals, where they'll compete against the seasoned veterans to earn a spot in the Dallas Cowboys Cheerleaders Training Camp. |
| 2 | 10 | Episode 2 | 2007-09-21 | 60 | |
| 3 | 11 | Episode 3 | 2007-09-28 | 60 | |
| 4 | 12 | Episode 4 | 2007-10-06 | 60 | Only two weeks into training camp, it's time to start making cuts in the second season of CMT's DALLAS COWBOYS CHEERLEADERS: MAKING THE TEAM. While "veteran" cheerleaders model bikinis for their upcoming calendar shoot, anxious training camp "rookies" dance their hearts out to prove to Kelli and Judy that they deserve to stay another week. One girl battles weight issues, while several others struggle with dance technique. In the end, whose blood, sweat and tears just wasn't enough? |
| 5 | 13 | Episode 5 | 2007-10-13 | 60 | After saying goodbye to one of their own on DALLAS COWBOYS CHEERLEADERS: MAKING THE TEAM, reality sets in for the remaining training camp candidates: nobody's position on the squad is secure. The girls are fitted for the revealing DCC uniforms, and then sweat their way through a punishing physical workout. Two girls struggle to perform dance kicks, while another learns the hard way what DCC Director Kelli thinks about punctuality. Evaluations in Kelli's office can mean only one thing: another girl is getting cut from the squad. |
| 6 | 14 | Episode 6 | 2007-10-20 | 60 | In the sixth episode of DALLAS COWBOYS CHEERLEADERS: MAKING THE TEAM, the training camp candidates don't know what hit them when tough as nails and brutally honest guest choreographer Kitty Carter teaches a class. Then, the rookies get one step closer to transforming into Dallas Cowboys Cheerleaders with professional beauty makeovers. After another brutal Jay workout, there's a surprise cut that nobody saw coming. |
| 7 | 15 | Episode 7 | 2007-10-27 | 60 | The rookies get to wear the iconic Dallas Cowboys Cheerleaders uniform for the very first time during a professional modeling shoot this week on DALLAS COWBOYS CHEERLEADERS: MAKING THE TEAM. Then, the girls have a life changing experience skydiving with the legendary Army parachute team, the Golden Knights. However, tears flow later in Kelli's office when another girl is cut from training camp. |
| 8 | 16 | Episode 8 | 2007-11-03 | 60 | On the finale of DALLAS COWBOYS CHEERLEADERS: MAKING THE TEAM, training camp comes down to the last grueling rehearsals and whose long legs fit into the famous kick-line. The cheerleaders attend a poolside bikini boot-camp for last minute toning. Then, amid tears of disappointment and shock, Kelli makes the final cuts for the 2007 squad. Big Texas smiles come easily as the cheerleaders pose for their Squad Photo and a very famous guest reveals herself in the DCC uniform. The girls head to Texas Stadium for their very first Cowboys football game, where they wow 65,000 fans with a wild and rowdy opening dance number. |
Season 3
| Episode No. | No. Overall | Title | Airdate | Runtime | Summary |
| --- | --- | --- | --- | --- | --- |
| 1 | 17 | Episode 1 | 2008-10-04 | 60 | |
| 2 | 18 | Episode 2 | 2008-10-11 | 60 | |
| 3 | 19 | Episode 3 | 2008-10-18 | 60 | |
| 4 | 20 | Episode 4 | 2008-10-25 | 60 | |
| 5 | 21 | Episode 5 | 2008-11-01 | 60 | |
| 6 | 22 | Episode 6 | 2008-11-08 | 60 | |
| 7 | 23 | Episode 7 | 2008-11-15 | 60 | |
| 8 | 24 | Episode 8 | 2008-11-22 | 60 | |
Season 4
| Episode No. | No. Overall | Title | Airdate | Runtime | Summary |
| --- | --- | --- | --- | --- | --- |
| 1 | 25 | Episode 1 | 2009-10-10 | 60 | |
| 2 | 26 | Episode 2 | 2009-10-17 | 60 | |
| 3 | 27 | Episode 3 | 2009-10-24 | 60 | |
| 4 | 28 | Episode 4 | 2009-10-31 | 60 | |
| 5 | 29 | Episode 5 | 2009-11-07 | 60 | |
| 6 | 30 | Episode 6 | 2009-11-14 | 60 | |
| 7 | 31 | Episode 7 | 2009-11-21 | 60 | |
| 8 | 32 | Episode 8 | 2009-11-28 | 60 | |
Season 5
| Episode No. | No. Overall | Title | Airdate | Runtime | Summary |
| --- | --- | --- | --- | --- | --- |
| 1 | 33 | Episode 1 | 2010-10-15 | 60 | |
| 2 | 34 | Episode 2 | 2010-10-22 | 60 | |
| 3 | 35 | Episode 3 | 2010-10-29 | 60 | |
| 4 | 36 | Episode 4 | 2010-11-05 | 60 | |
| 5 | 37 | Episode 5 | 2010-11-12 | 60 | |
| 6 | 38 | Episode 6 | 2010-11-19 | 60 | |
| 7 | 39 | Episode 7 | 2010-11-26 | 60 | |
| 8 | 40 | Episode 8 | 2010-12-11 | 60 | |
Season 6
| Episode No. | No. Overall | Title | Airdate | Runtime | Summary |
| --- | --- | --- | --- | --- | --- |
| 1 | 41 | Auditions Begin | 2011-10-20 | 60 | |
| 2 | 42 | On the Field | 2011-10-27 | 60 | |
| 3 | 43 | Training Camp | 2011-11-04 | 60 | |
| 4 | 44 | The Famous Uniform | 2011-11-11 | 60 | |
| 5 | 45 | Makeovers | 2011-11-18 | 60 | |
| 6 | 46 | Cameo Photos | 2011-11-25 | 60 | |
| 7 | 47 | Field Rehearsal | 2011-12-02 | 60 | |
| 8 | 48 | Finale | 2011-12-09 | 60 | |
Season 7
| Episode No. | No. Overall | Title | Airdate | Runtime | Summary |
| --- | --- | --- | --- | --- | --- |
| 1 | 49 | Preliminary Auditions | 2012-09-07 | 60 | |
| 2 | 50 | 50th Episode: Training Camp | 2012-09-14 | 60 | |
| 3 | 51 | Jump Split | 2012-09-21 | 60 | |
| 4 | 52 | Makeover | 2012-09-28 | 60 | |
| 5 | 53 | Week Five | 2012-10-05 | 60 | |
| 6 | 54 | Final Cuts | 2012-10-12 | 60 | |
| 7 | 55 | Announcing the Squad | 2012-10-19 | 60 | |
| 8 | 56 | High Performance | 2012-10-26 | 60 | |
| 9 | 57 | Swimsuit Calendar | 2012-11-02 | 60 | |
| 10 | 58 | First Home Game | 2012-11-09 | 60 | |
| 11 | 59 | Season FInale | 2012-11-16 | 60 | |
Season 8
| Episode No. | No. Overall | Title | Airdate | Runtime | Summary |
| --- | --- | --- | --- | --- | --- |
| 1 | 60 | The Journey Begins | 2013-09-06 | 60 | Season 8 begins with 500 candidates trying out for 2013-2014 squad. Their number is quickly reduced to 139 and then down to 54 ladies who are in compete against cowboys cheerleaeers |
| 2 | 61 | Return of the Vets | 2013-09-13 | 60 | |
| 3 | 62 | Pressure to Perform | 2013-09-20 | 60 | |
| 4 | 63 | Harsh Reality | 2013-09-27 | 60 | |
| 5 | 64 | Appearance Counts | 2013-10-04 | 60 | |
| 6 | 65 | A Toxic Situation | 2013-10-18 | 60 | |
| 7 | 66 | The Pressure Cooker | 2013-10-25 | 60 | |
| 8 | 67 | Game Day | 2013-11-01 | 60 | |
Season 9
| Episode No. | No. Overall | Title | Airdate | Runtime | Summary |
| --- | --- | --- | --- | --- | --- |
| 1 | 68 | The Journey Begins | 2014-08-08 | 60 | Begin the journey to see who will survive the most demanding dance audition in professional sports. Five hundred ladies put their dreams on the line as they try... |
| 2 | 69 | Dancing for Your Life | 2014-08-15 | 60 | With 55 high caliber girls making it to the finals, it's intimidating for the 30 veterans as they join the audition process and must fight to keep their place on the team. |
| 3 | 70 | Welcome to Valley Ranch | 2014-08-22 | 60 | Seven girls will be cut to make a squad of 36. Deep anticipation becomes a reality with the first rehearsal and the pace is a bit overwhelming for some with the thought of looming cuts. |
| 4 | 71 | A Week of Firsts | 2014-08-29 | 60 | Fear takes over for the new training camp candidates as they face the reality of doing the DCC kick line and jump splits for the first time. |
| 5 | 72 | Getting the DCC Look | 2014-09-05 | 60 | To be a Dallas Cowboys Cheerleader, you need to look like a Dallas Cowboys Cheerleader. This week, Kelli makes sure all the girls have the look. |
| 6 | 73 | Time to Get Serious | 2014-09-12 | 60 | As the candidates enter the sixth week of training camp -- they need to start looking like a DCC --or their spot is in jeopardy. Whose dream will end this week? |
| 7 | 74 | A Lucid Dream | 2014-09-19 | 60 | With three girls left to cut and the first game around the corner, the pressure is intense as the girls return to take the field for the first time since auditions. |
| 8 | 75 | The Payoff | 2014-09-26 | 60 | The final day of training camp has everyone nervous because Kelli and Judy might take a squad of less than 36. |
Season 10
| Episode No. | No. Overall | Title | Airdate | Runtime | Summary |
| --- | --- | --- | --- | --- | --- |
| 1 | 76 | Dare to Dream | 2015-08-09 | 60 | For the super talented few that make it to training camp, the exhilaration is short lived as the reality of the most demanding dance audition in professional sports. |
| 2 | 77 | Dance Your Heart Out | 2015-08-13 | 60 | 23 veterans join the audition process and go up against 59 rookie candidates who are vying for their spots. |
| 3 | 78 | An Emotional Beginning | 2015-08-20 | 60 | As training camp starts Kelli lays down the law, and the girls start to crack. |
| 4 | 79 | The Cuts Begin | 2015-08-27 | 60 | Kelli and Judy must cut 10 girls to get to the magic number of 36 for the squad. |
| 5 | 80 | Becoming World Class | 2015-09-03 | 60 | As the girls get the DCC look, it helps some and not others. Two surprise guests stop by rehearsal and rock the TCC's world. Kelli has one of the most awkward. |
| 6 | 81 | Having a Bad Day | 2015-09-10 | 60 | As the girls get the DCC look, it helps some and not others. Two surprise guests stop by rehearsal and rock the TCC's world. Kelli has one of the most awkward |
| 7 | 82 | The Cutting Board | 2015-09-17 | 60 | Kelli and Judy make many tough cuts to keep up the quality of the team, which causes emotions to run high; Melissa Rycroft offers invaluable field experience. |
| 8 | 83 | Living the Dream | 2015-09-24 | 60 | Kelli finally announces the squad. Injuries threaten the opening of Cowboys training camp. Game Day chaos endangers a flawless performance. |
Season 11
| Episode No. | No. Overall | Title | Airdate | Runtime | Summary |
| --- | --- | --- | --- | --- | --- |
| 1 | 84 | The Dream Begins | 2016-08-25 | 60 | Hundreds of beautiful and talented hopefuls arrive to try out for the best cheerleading team in the world while many of the returning girls look for redemption. |
| 2 | 85 | Comeback Girls | 2016-09-01 | 60 | Veterans fight for their jobs as new girls try to live their dreams and make DCC Training Camp as they face panel Interviews, solos, an exhausting dance combination and a room full of very tough judges. |
| 3 | 86 | These Are the Big Dogs | 2016-09-08 | 60 | The new candidates get an eye-opening taste of what it means to be a DCC; girls struggle to learn the dances; Melissa Rycroft meets the new girls for the first time. |
| 4 | 87 | Time to Push | 2016-09-15 | 60 | With the first cut looming, the girls must push their dance skills to the limit; Melissa Rycroft works to bring out showmanship; stress increases on makeover day as the girls try to get the DCC look. |
| 5 | 88 | Big Surprises | 2016-09-22 | 60 | A new choreographer shakes things up; uniform fittings and the Belk fashion show approach; two-time Grammy winner Kacey Musgraves stops by rehearsal. |
| 6 | 89 | Dance Intervention | 2016-09-29 | 60 | Melissa Rycroft makes a house call to help Yuko; Kitty Carter rocks some of the candidate's worlds; cameos give Kelli and Judy a fresh perspective on the girls; at Show Group auditions, the girls let it all hang out. |
| 7 | 90 | Rehearsals with the Stars | 2016-10-06 | 60 | Kellie Pickler comes to a rehearsal to share her experience and motivate the girls as Training Camp comes to an end; Melissa Rycroft makes Kelsey aware of a big mistake; Candace Romo helps with a big night of cuts. |
| 8 | 91 | The Finish Line | 2016-10-13 | 60 | Squad announcement feels bittersweet as some favorites go home; the team has their first appearance at the Star Ribbon cutting; Game Day arrives. |
Season 12
| Episode No. | No. Overall | Title | Airdate | Runtime | Summary |
| --- | --- | --- | --- | --- | --- |
| 1 | 92 | Auditions Begin | 2017-08-03 | 60 | Hundreds of beautiful and talented women converge on AT&T Stadium to start the hardest audition process in professional sports, trying out for a coveted spot on the most famous NFL cheerleading squad in the world. |
| 2 | 93 | Semis | 2017-08-10 | 60 | The 119 remaining women have one hour to learn a power pom routine and the famous kickline; the stress of mastering the choreography in such a short time leads to numerous mistakes. |
| 3 | 94 | Finals | 2017-08-17 | 60 | The veterans finally enter the audition process; all 83 women are judged head to head during a panel interview, a solo dance performance and on their appearance on the football field. |
| 4 | 95 | Empty Your Bucket | 2017-08-24 | 60 | Forty-four women begin the first training camp at The Star, the Cowboys' new billion-dollar facility. At the first meeting, Kelli makes it clear that eight women will be sent home over the summer. |
| 5 | 96 | Getting the Look | 2017-08-31 | 60 | The ladies first need to have the ``classic'' Dallas Cowboys cheerleader look; Kelli's legendary hair and makeup transformations; assessing the ladies with a new fitness test, ``Styku.'' |
| 6 | 97 | Media Training | 2017-09-07 | 60 | Kelli media trains the rookie candidates to determine who best represents the DCC at press events; news anchor Meredith Land tests the ladies on-camera interview skills. |
| 7 | 98 | Personality Testing | 2017-09-14 | 60 | Kelli takes the ladies on location to see how they interact during a public appearance with War Veterans. Later tears are shed after a very hard decision. |
| 8 | 99 | Picture Perfect | 2017-09-21 | 60 | Katy Perry's choreographer, Nick Florez, stops by to offer some performance advice to the ladies. Later, the cheerleaders pose for their cameo photos. |
| 9 | 100 | Hit the Field | 2017-09-28 | 60 | The squad goes on an appearance to support pop music star, Demi Lovato. The ladies learn the entrance to the famed pre-game dance. It's a make or break moment. If a woman can't learn it quickly it might be her last night. |
| 10 | 101 | The Next Step | 2017-10-05 | 60 | The team must re-block their formations for their Hall of Fame performance, due to two suspended veterans; new vets step up as a new point of the triangle is named; the rookie candidates try to get their footing during a rehearsal. |
| 11 | 102 | Hall of Fame Week | 2017-10-12 | 60 | Twenty three veterans travel to Canton, Ohio, to perform at Jerry Jones' induction into the Pro Football Hall of Fame. |
| 12 | 103 | Down to the Wire | 2017-10-19 | 60 | Training camp winds down and the pressure skyrockets, as another lady is sent home. |
| 13 | 104 | The Pre Season Test | 2017-10-26 | 60 | Kelli announces the official squad and the women realize the hard-fought dream of becoming a Dallas Cowboys Cheerleader. The squad then prepares for their very first football game at AT&T Stadium. Season 12 finale. |
Season 13
| Episode No. | No. Overall | Title | Airdate | Runtime | Summary |
| --- | --- | --- | --- | --- | --- |
| 1 | 105 | The Road to World-Class Begins | 2018-08-02 | 60 | Four hundred nervous and excited ladies flock to AT&T Stadium to try out for the best cheerleading squad in the world. |
| 2 | 106 | Field of Dreams | 2018-08-09 | 60 | 125 ladies try to conquer a DCC dance routine and the kickline to advance to Finals. |
| 3 | 107 | Leave It All on the Dance Floor | 2018-08-16 | 60 | Twenty three vets join 50 new candidates at the finals for a place in training camp. |
| 4 | 108 | Success Is Such Hard Work | 2018-08-23 | 60 | The returning veterans go to the Bahamas to compete to be the calendar cover girl. Then Training Camp begins for all. |
| 5 | 109 | Getting the DCC Look | 2018-08-30 | 60 | The ladies learn to look and dance like a DCC. |
| 6 | 110 | Jump Split Reckoning | 2018-09-06 | 60 | First, the ladies learn the famed kickline and the scary jump splits. Then, they must pass Jay's boot camp fitness test or be called out. Finally, a dream comes true as the new ladies try on the legendary uniform. |
| 7 | 111 | Big Time Dance | 2018-09-13 | 60 | Nick Florez, choreographer for Katy Perry, Pink and the Super Bowl, comes to rehearsal; Kelli and Judy must pick the best of the best for "Show Group"; Katie Schaar attempts to prevent injuries. |
| 8 | 112 | Here Comes Kitty | 2018-09-20 | 60 | Kitty comes to a rehearsal and stirs thing up; the new candidates bond, then are judged as they perform at a mock appearance; Travis Wall comes to town. |
| 9 | 113 | Field of Fears | 2018-09-27 | 60 | Candidates hit the football field for the first time as Judy teaches them the DCC entrance. If a candidate can't pick it up quickly, she will be cut. |
| 10 | 114 | The Next Level | 2018-10-04 | 60 | Candidates take their publicity photo. Being photogenic is a must. Kelli puts the ladies through media training. |
| 11 | 115 | Staying Strong | 2018-10-11 | 60 | Michael Jackson dancer, Marcea Lane, comes to town to shake things up. The candidates learn how to rejuvenate. The swimsuit calendar covers are revealed at a special event. |
| 12 | 116 | Time's Up | 2018-10-18 | 60 | Judy gets tough at rehearsal. The candidates learn how to carry themselves under pressure at etiquette training. The first Show Group performance of the year. New members of Show Group, the ladies must shine in front of Charlott. |
| 13 | 117 | Game Day | 2018-10-25 | 60 | The final rehearsal. Dreams come true as the squad photo is taken and the ladies hit the field for their first game, but first they must prove the moment isn't too big for them. |
Related News
TVMaze