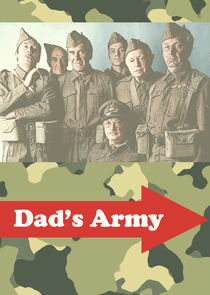 A classic sitcom about a collection of elderly, unfit, or eccentric citizens unfit for military service who nonetheless plan, with no budget and incompetent training, to defend the British Isles from a possible German invasion at the height of World War II.
Series Overview
Rating
imDb Rating: 8.1 (5,056 Votes)
Metascore: N/A
Plot
A ragtag group of Home Guard volunteers prepare for an imminent German invasion during World War II.
Details
Rated: N/A
Released: 31 Jul 1968
Runtime: 30 min
Genre: Comedy, War
Director: N/A
Writer: Jimmy Perry
Actors: Arthur Lowe, John Le Mesurier, Clive Dunn, John Laurie
Language: English
Country: UK
Awards: 1 win & 9 nominations.
Total Seasons: 9
Previous Episode
Never Too Old
Episode 9x6; Nov 13, 1977
Jones marries Mrs Fox but the service is interrupted when an invasion warning is sounded.
Previous Episodes 9x6: Never Too Old 9x5: Number Engaged 9x4: The Miser's Hoard 9x3: Knights of Madness 9x2: The Making of Private Pike 9x1: Wake-Up Walmington 8x6: The Face on the Poster 8x5: High Finance 8x4: Come In, Your Time Is Up

View All Episodes
Cast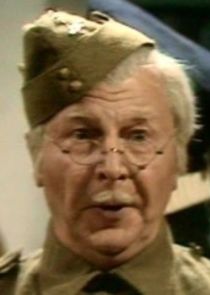 Clive Dunn as LCpl. Jack Jones
John Laurie as Pte. James Frazer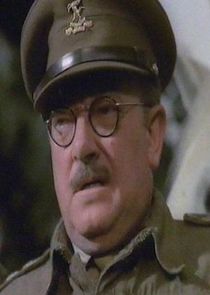 Arthur Lowe as Capt. George Mainwaring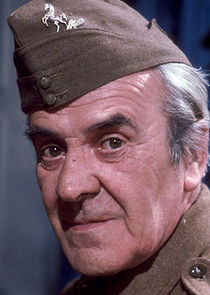 John Le Mesurier as Sgt. Arthur Wilson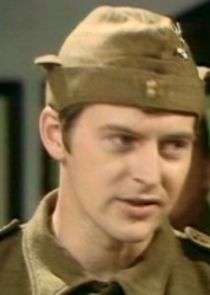 Ian Lavender as Pte. Frank Pike
Arnold Ridley as Pte. Charles Godfrey
View Full Cast
Skip to:
Season 1
| Episode No. | No. Overall | Title | Airdate | Runtime | Summary |
| --- | --- | --- | --- | --- | --- |
| 1 | 1 | The Man and the Hour | 1968-07-31 | 30 | After hearing of the formation of the Home Guard,George Mainwaring, a bank manager, takes it upon himself to form a platoon in Walmington-on-Sea. He declares himself captain and names his chief clerk Arthur Wilson, sergeant. |
| 2 | 2 | Museum Piece | 1968-08-07 | 30 | Mainwaring, worried that the Nazis could attack at any time, attempts to requisition much-needed weapons from the local Peabody Museum of Historic Army Weapons. |
| 3 | 3 | Command Decision | 1968-08-14 | 30 | In exchange for weapons, Mainwaring hands over command to Captain Square, but the weapons are muskets and Square wants the platoon to fight on horseback. |
| 4 | 4 | The Enemy Within the Gates | 1968-08-28 | 30 | Lance Corporal Jones and Private Walker capture two Luftwaffe airmen, earning a monetary reward; however, a Polish officer wishes to claim the reward for himself. |
| 5 | 5 | The Showing Up of Corporal Jones | 1968-09-04 | 30 | Major Regan from area headquarters decides that Jones is too old to be in the Home Guard, and announces that unless Jones can complete the assault course in fifteen minutes, he will be removed from the platoon. |
| 6 | 6 | Shooting Pains | 1968-09-11 | 30 | The platoon is chosen to provide the guard of honour for the Prime Minister on his visit to Walmington-on-Sea, but poor performance at the shooting range causes Major Regan to have them compete with the neighbouring Eastgate platoon for the honour. |
Season 2
| Episode No. | No. Overall | Title | Airdate | Runtime | Summary |
| --- | --- | --- | --- | --- | --- |
| 1 | 7 | Operation Kilt | 1969-03-01 | 30 | The platoon participates in an invasion exercise with Captain Ogilvie and a Highland regiment. |
| 2 | 8 | The Battle of Godfrey's Cottage | 1969-03-08 | 30 | The platoon mistakenly believes an invasion is in progress, and splits into two sections. One section, though, mistakes the other for the enemy. |
| 3 | 9 | The Loneliness of the Long Distance Walker | 1969-03-15 | 30 | Walker is called up into the army. The platoon, anxious at how they will obtain off-the-ration supplies without him, fight to keep him. |
| 4 | 10 | Sergeant Wilson's Little Secret | 1969-03-22 | 30 | Private Pike's mother agrees to take in a child evacuee, but Wilson misunderstands her and believes she is pregnant. Mainwaring orders Wilson to marry her. |
| 5 | 11 | A Stripe for Frazer | 1969-03-29 | 30 | Mainwaring has the opportunity to promote someone to corporal. Rather than promote Jones, he tests who has the greatest potential by temporarily promoting Private Frazer to lance corporal. Frazer's increasingly dictatorial manner soon alienates the platoon. |
| 6 | 12 | Under Fire | 1969-04-05 | 30 | When Frazer spots what he believes to be a German spy signalling planes, the platoon arrests a suspect who protests that he is a naturalised Englishman. |
Season 3
| Episode No. | No. Overall | Title | Airdate | Runtime | Summary |
| --- | --- | --- | --- | --- | --- |
| 1 | 13 | The Armoured Might of Lance Corporal Jones | 1969-09-11 | 30 | Jones donates his van as a troop transport, but Walker wants to use it for his black market activities. Both men are sent with the van to work with Air Raid Precautions during an exercise. |
| 2 | 14 | Battle School | 1969-09-18 | 30 | The platoon is selected to attend a weekend camp run by a tough Spanish captain. |
| 3 | 15 | The Lion Has Phones | 1969-09-25 | 30 | Mainwaring teaches the men to use the public telephone system as emergency communication. Jones and Hodges attempt to phone general headquarters when a German aeroplane crashes in the reservoir. |
| 4 | 16 | The Bullet Is Not for Firing | 1969-10-02 | 30 | The platoon's supply of ammunition is used up when engaging a low-flying German plane, and Mainwaring sets up a court of inquiry to determine who should be held responsible. The inquiry descends into farce when the platoon attempts to re-enact the event. |
| 5 | 17 | Something Nasty in the Vault | 1969-10-09 | 30 | The bank takes a direct hit during an air-raid, but the bomb fails to explode, leaving Mainwaring and Wilson stuck in the vault with it. When the bomb disposal officer leaves to collect the right tools, the platoon members take matters into their own hands. |
| 6 | 18 | Room at the Bottom | 1969-10-16 | 30 | General headquarters determines that Mainwaring has never held a commission, and he is demoted to private. Wilson temporarily leads the platoon while Mainwaring attempts to regain his command. |
| 7 | 19 | Big Guns | 1969-10-23 | 30 | The platoon is given a heavy naval artillery piece but the town's bandstand, a rare example of Victorian ironwork, stands in its field of fire. The town council insists it must be preserved but Mainwaring reasons that a demonstration of the gun's capabilities will quiet any protests. |
| 8 | 20 | The Day the Balloon Went Up | 1969-10-30 | 30 | A runaway barrage balloon must be retrieved. After a series of mistakes, Mainwaring is dragged through the countryside by one of the balloon's cables. |
| 9 | 21 | War Dance | 1969-11-06 | 30 | Mainwaring announces that a dance will be held to raise morale. He is less than pleased when Pike announces that his date for the evening will be the daughter of Mainwaring's cleaning woman. |
| 10 | 22 | Menace from the Deep | 1969-11-13 | 30 | The platoon is placed on guard duty, and mans a machine gun post at the end of the pier. When Pike loses the food and the boat, morale begins to fall. The situation worsens when they spot a drifting sea mine. |
| 11 | 23 | Branded | 1969-11-20 | 30 | When Private Godfrey admits to having been a conscientious objector during the Great War, he is branded a coward, sent home in disgrace and thereafter ostracised by the platoon. When he saves Mainwaring's life, though, and it emerges that he holds the Military Medal for bravery under fire as a medical orderly, he is forgiven and reinstated |
| 12 | 24 | Man Hunt | 1969-11-27 | 30 | Mainwaring uses Walker's new tracking dog to locate a discarded parachute. After finding dozens of ladies' undergarments made from the parachute's silk, an enemy airman is finally cornered. |
| 13 | 25 | No Spring for Frazer | 1969-12-04 | 30 | Frazer the undertaker loses the spring of the Lewis gun, He believes it may be in a recently made coffin which is shortly to be buried. |
| 14 | 26 | Sons of the Sea | 1969-12-11 | 30 | The platoon requisitions a boat and sets off to guard the local river. After getting lost in what they think is the English Channel, they believe themselves to be stranded behind enemy lines. |
Season 4
| Episode No. | No. Overall | Title | Airdate | Runtime | Summary |
| --- | --- | --- | --- | --- | --- |
| 1 | 27 | The Big Parade | 1970-09-25 | 30 | The platoon joins the Spitfire Week parade, but has to compete with the Sea Scouts and the ARP wardens for pole position. Mainwaring thinks a mascot will help their chances. |
| 2 | 28 | Don't Forget the Diver | 1970-10-02 | 30 | The platoon participate in a training exercise in which their goal is to detonate a bomb inside a mill occupied by the Eastgate Platoon. Jones wants to dress up as a tree and creep up to the front door too slowly for them to notice; Fraser acquires an ancient diving suit and plants to infiltrate by water. Meanwhile, the Eastgate Platoon has recruited the Verger as their spy. |
| 3 | 29 | Boots, Boots, Boots | 1970-10-09 | 30 | Mainwaring puts the platoon on a foot-toughening regime, including 20 miles (32 km) route marches and playing football in bare feet. |
| 4 | 30 | Sgt - Save My Boy! | 1970-10-16 | 30 | Pike is caught in barbed wire in the middle of a mine field on the beach. The army engineers are slow to arrive so the platoon takes action to save him. |
| 5 | 31 | Don't Fence Me In | 1970-10-23 | 30 | The platoon is sent to guard a camp full of Italian prisoners of war, but Walker's attitude toward them makes Mainwaring wonder if he is a fifth columnist. |
| 6 | 32 | Absent Friends | 1970-10-30 | 30 | In Mainwaring's absence, the platoon foregoes parade to compete in a darts match against the ARP wardens. Upon his return, Mainwaring orders Wilson to bring them back. With two pints for the winners, though, the platoon refuses to leave. |
| 7 | 33 | Put That Light Out | 1970-11-06 | 30 | The platoon mans a local lighthouse as defence against a seaborne assault. During an air raid, the light is switched on and the town is illuminated. |
| 8 | 34 | The Two and a Half Feathers | 1970-11-13 | 30 | A new platoon member who served with Jones during the Mahdist War accuses him of cowardice. |
| 9 | 35 | Mum's Army | 1970-11-20 | 30 | Mainwaring allows women into his platoon but rumours begin to circulate that he has become personally involved with one of the new members. |
| 10 | 36 | The Test | 1970-11-27 | 30 | The ARP wardens challenge the Home Guard to a game of cricket. While Mainwaring is happy to play fairly, Hodges recruits Ernie Egan, a professional cricketeer. |
| 11 | 37 | A. Wilson (Manager) | 1970-12-04 | 30 | Mainwaring is shocked to discover that Wilson has been both made manager of the Eastgate branch of the bank and commissioned as Captain of the Eastgate platoon. Mainwaring is left with Pike as his chief clerk and Jones as his sergeant. |
| 12 | 38 | Uninvited Guests | 1970-12-11 | 30 | After the ARP headquarters is bombed, the platoon is forced to share the church hall with the wardens. |
| 13 | 39 | Fallen Idol | 1970-12-18 | 30 | aptain Square gets Mainwaring drunk in the officers' mess, damaging Mainwaring's reputation in the eyes of the platoon. Mainwaring must repair his image. |
Season 5
| Episode No. | No. Overall | Title | Airdate | Runtime | Summary |
| --- | --- | --- | --- | --- | --- |
| 1 | 40 | Asleep in the Deep | 1972-10-06 | 30 | Godfrey and Walker are trapped when a bomb falls on the local pumping station. When the rest of platoon tries to free them, they all become trapped. A pipe bursts and the room begins rapidly filling with water. |
| 2 | 41 | Keep Young and Beautiful | 1972-10-13 | 30 | The older members of the platoon try to make themselves look younger to avoid transfer to the ARP. |
| 3 | 42 | A Soldier's Farewell | 1972-10-20 | 30 | Mainwaring, unhappy because his men are not living up to his expectations and believing his leadership to be unappreciated, dreams he is Napoleon after eating too much toasted cheese. |
| 4 | 43 | Getting the Bird | 1972-10-27 | 30 | Wilson goes AWOL and is seen with his arm round a younger woman, who turns out be his daughter. Walker acquires 250 pigeons for Jones to sell as off-the-ration meat. When Jones then hears of an unexplained shortage of pigeons in Trafalgar Square, he changes his mind. |
| 5 | 44 | The Desperate Drive of Corporal Jones | 1972-11-03 | 30 | A misread map leads the platoon to a barn marked as a target for artillery practice. Jones and Godfrey try to stop the firing by 'phoning, but Godfrey cuts the wire. Jones must reach the barn before it is blown up. |
| 6 | 45 | If the Cap Fits... | 1972-11-10 | 30 | After Frazer complains that Mainwaring is wasting his time with irrelevant lectures, Mainwaring allows Frazer to act as captain for a couple of days. Frazer begins abusing his power. |
| 7 | 46 | The King Was in His Counting House | 1972-11-17 | 30 | To boost morale, Mainwaring holds a party in his home. A bomb hits the bank during the party; thousands of pounds must be counted and guarded by the party guests, then taken to the Eastgate branch by horse and cart. |
| 8 | 47 | All Is Safely Gathered In | 1972-11-24 | 30 | Private Godfrey requests leave to help a widowed friend gather the harvest and Mainwaring, citing the harvest as vital to the war effort, offers the assistance of the platoon. |
| 9 | 48 | When Did You Last See Your Money? | 1972-12-01 | 30 | When Jones arrives at the bank to deposit £500 from local shopkeepers for the servicemen's canteen, he realises his packet contains half a pound of sausages instead of the money. |
| 10 | 49 | Brain Versus Brawn | 1972-12-08 | 30 | The platoon is challenged to plant a dummy bomb in the officer commanding's office. They disguise themselves as firemen travelling in an old fire engine, but Hodges spots a real fire. |
| 11 | 50 | A Brush with the Law | 1972-12-15 | 30 | Mainwaring is charged with showing a light and taken to court by a gleeful Hodges. When Mr Yeatman tries to correct Hodges, he is blackmailed into remaining silent. |
| 12 | 51 | Round and Round Went the Great Big Wheel | 1972-12-22 | 30 | Operation Catherine Wheel is the testing of the War Office's new, radio-controlled explosive wheel. The platoon is chosen for fatigues, but Pike and Walker sneak off to listen to the radio, unknowingly pushing the wheel out of control. |
| 13 | 52 | Time on My Hands | 1972-12-29 | 30 | An enemy pilot has bailed out and is trapped on the town hall clock. The platoon climbs up the precarious ladder to reach him, but getting down becomes more difficult when Jones breaks the ladder. |
Season 6
| Episode No. | No. Overall | Title | Airdate | Runtime | Summary |
| --- | --- | --- | --- | --- | --- |
| 1 | 53 | The Deadly Attachment | 1973-10-31 | 30 | The platoon is ordered to guard the crew of a sunken U-boat until the escort arrives. The escort is delayed, though, and the platoon must guard the crew all night. |
| 2 | 54 | My British Buddy | 1973-11-07 | 30 | A group of American soldiers arrives at Walmington-on-Sea, but their presence is unappreciated when they begin flirting with the platoon's girlfriends. |
| 3 | 55 | The Royal Train | 1973-11-14 | 30 | The platoon will provide a guard of honour for George VI as he passes through Walmington-on-Sea. A mix-up stops another train in the station, though, blocking the King's route. |
| 4 | 56 | We Know Our Onions | 1973-11-21 | 30 | The platoon takes an efficiency test that will promote the platoon to twelve stars if successful. |
| 5 | 57 | The Honourable Man | 1973-11-28 | 30 | Wilson inherits a title and consequently receives an invitation to become a member of the golf club that Mainwaring has been trying to join for years. |
| 6 | 58 | Things That Go Bump in the Night | 1973-12-05 | 30 | The platoon runs out of petrol and spends the night in a deserted – and apparently haunted – house. |
| 7 | 59 | The Recruit | 1973-12-12 | 30 | When Mainwaring takes leave due to an ingrown toenail, Wilson takes charge. He angers the rest of the platoon, though, by allowing the vicar and Mr Yeatman to join. |
Season 7
| Episode No. | No. Overall | Title | Airdate | Runtime | Summary |
| --- | --- | --- | --- | --- | --- |
| 1 | 60 | Everybody's Trucking | 1974-11-15 | 30 | The platoon is given the job of signposting the area for an Army exercise, but a steam engine is blocking the route. When Jones tries to drive round it, his van becomes stuck, blocking both Hodges in his van and Mr Farthing with his bus of pensioners. |
| 2 | 61 | Man of Action | 1974-11-22 | 30 | A landmine has destroyed 100 yards (92 m) of railway track, along with the water and gas mains, and the telephone line. Compounding the problem, Pike gets his head stuck between the bars of a gate. Mainwaring declares martial law. |
| 3 | 62 | Gorilla Warfare | 1974-11-29 | 30 | On a field exercise acting as commandos meeting a secret agent (represented by Mainwaring), the platoon must trust no one for GHQ has sent out counter agents to catch them. The appearance of a gorilla compounds their problem. |
| 4 | 63 | The Godiva Affair | 1974-12-06 | 30 | The platoon dresses up as morris dancers as part of a carnival to raise money for the town's Spitfire fund, which is still £2,000 short. A Lady Godiva figure will lead the parade but there is confusion over who this will be. |
| 5 | 64 | The Captain's Car | 1974-12-13 | 30 | Lady Maltby donates her Rolls-Royce for use as a staff car. Wilson and Pike are assigned to paint it for camouflage, but instead they mistakenly paint the Mayor's Rolls-Royce, just before a French general is due to visit the town. |
| 6 | 65 | Turkey Dinner | 1974-12-20 | 30 | After Jones mistakenly shoots a turkey on patrol and its owner cannot be found, the platoon decides to hold a turkey dinner and treat the town's senior citizens. |
Season 8
| Episode No. | No. Overall | Title | Airdate | Runtime | Summary |
| --- | --- | --- | --- | --- | --- |
| 1 | 66 | Ring Dem Bells | 1975-09-05 | 30 | The platoon is chosen to play Nazis in a training film. After arriving on the set a week early, they are mistaken for real Nazis on the way home. |
| 2 | 67 | When You've Got to Go | 1975-09-12 | 30 | Despite his bad chest, blocked sinuses, weak ankles and a recently acquired facial tic, Pike passes the medical exam and is set to join the army. |
| 3 | 68 | Is There Honey Still for Tea? | 1975-09-19 | 30 | Godfrey's cottage is under threat from the building of a new aerodrome, but Frazer blackmails the minister in charge to save it. |
| 4 | 69 | Come In, Your Time Is Up | 1975-09-26 | 30 | The platoon goes camping and discovers three Nazis in adinghy on the reservoir. Pike wants to shoot through the dinghy and sink them, but Mainwaring dismisses this as unfair. Wilson must devise a more civilised strategy. |
| 5 | 70 | High Finance | 1975-10-03 | 30 | Mainwaring stops Jones from cashing any more cheques because his bank balance is in the red. An investigation reveals an increasing train of debtors, leading back through an orphanage Jones has been supplying with meat to Hodges. |
| 6 | 71 | The Face on the Poster | 1975-10-10 | 30 | Mainwaring prepares a poster for a recruitment drive, eager to increase his platoon to a company and so gain promotion to Major. A mix-up at the printer, though, lands the platoon in trouble and Jones, the face of the recruitment drive, in a prisoner of war camp. |
Season 9
| Episode No. | No. Overall | Title | Airdate | Runtime | Summary |
| --- | --- | --- | --- | --- | --- |
| 1 | 72 | Wake-Up Walmington | 1977-10-07 | 30 | As the threat of invasion lessens, the towns people become lax. Mainwaring orders Operation Wake-Up, dressing up the platoon members as fifth columnists and telling them to act suspiciously. Eventually, the Eastgate platoon is called in to deal with them. |
| 2 | 73 | The Making of Private Pike | 1977-10-14 | 30 | Pike borrows Mainwaring's recently acquired staff car to drive his new girlfriend to Eastgate, but it runs out of petrol on the way home, forcing Pike to spend all night pushing it back. |
| 3 | 74 | Knights of Madness | 1977-10-21 | 30 | As part of a Wings for Victory campaign, the platoon decides to stage a reenactment of the battle between Saint George and the Dragon. The ARP wardens, though, have been planning the same thing. |
| 4 | 75 | The Miser's Hoard | 1977-10-28 | 30 | Frazer, distrustful of banks, keeps his savings in the form of gold sovereigns, but Mainwaring believes his hoard would be better in the bank. Rumours spread about the savings and when Frazer is seen carrying a box to the graveyard, the platoon follows. |
| 5 | 76 | Number Engaged | 1977-11-04 | 30 | The platoon is given the job of guarding telephone lines. Mainwaring spots an unexploded bomb caught in the wires. |
| 6 | 77 | Never Too Old | 1977-11-13 | 30 | Jones marries Mrs Fox but the service is interrupted when an invasion warning is sounded. |
Series Cast
| | | | |
| --- | --- | --- | --- |
| | Clive Dunn | as LCpl. Jack Jones | |
| | John Laurie | as Pte. James Frazer | |
| | Arthur Lowe | as Capt. George Mainwaring | |
| | John Le Mesurier | as Sgt. Arthur Wilson | |
| | Ian Lavender | as Pte. Frank Pike | |
| | Arnold Ridley | as Pte. Charles Godfrey | |
| | James Beck | as Pte. Joe Walker | |
Series Crew
| | Position | Name |
| --- | --- | --- |
| | Creator | Jimmy Perry |
Related News
TVMaze